Human Ventures is building the next generation of your new favorite brands and apps. Leading this change and the Core Human Team at Human Ventures is Heather Hartnett; a woman with a skill to build running through her veins.
Heather is a Founding Partner at Human Ventures (HV), a next-generation venture capital firm that works with the understanding that more than just capital is needed at the beginning stages of creating a valuable business. Heather and her team have created a firm that leans into a company building approach to investing, where they work with talented founders to co-build their companies, to quickly move them into their next stage of growth.
Heather is a busy woman who spends her days reshaping the way that we all engage with the world, but not too busy to sit down with Her Agenda for a quick chat.
If you are a founder or looking to build something; a business, stronger relationships, or a more fulfilling life, Heather shares a ton of practical advice; you'll want to have a pen and paper ready to take notes.
Her Agenda: You mentioned that you have a diverse background. Did you set out wanting to create your own VC firm? What path did you take to get here?
Heather Hartnett: When I left college my parents asked me what company I was going to build. I felt like that was a lot of pressure so I found my way into venture capital pretty early on in the early 2000's because it was a way for me to get exposed to companies being built. That really started my obsession with figuring out how innovation is conceptualized at very early stages before I started a long and winding career in many different areas; real estate, startups and technology, and philanthropy.
Article continues below advertisement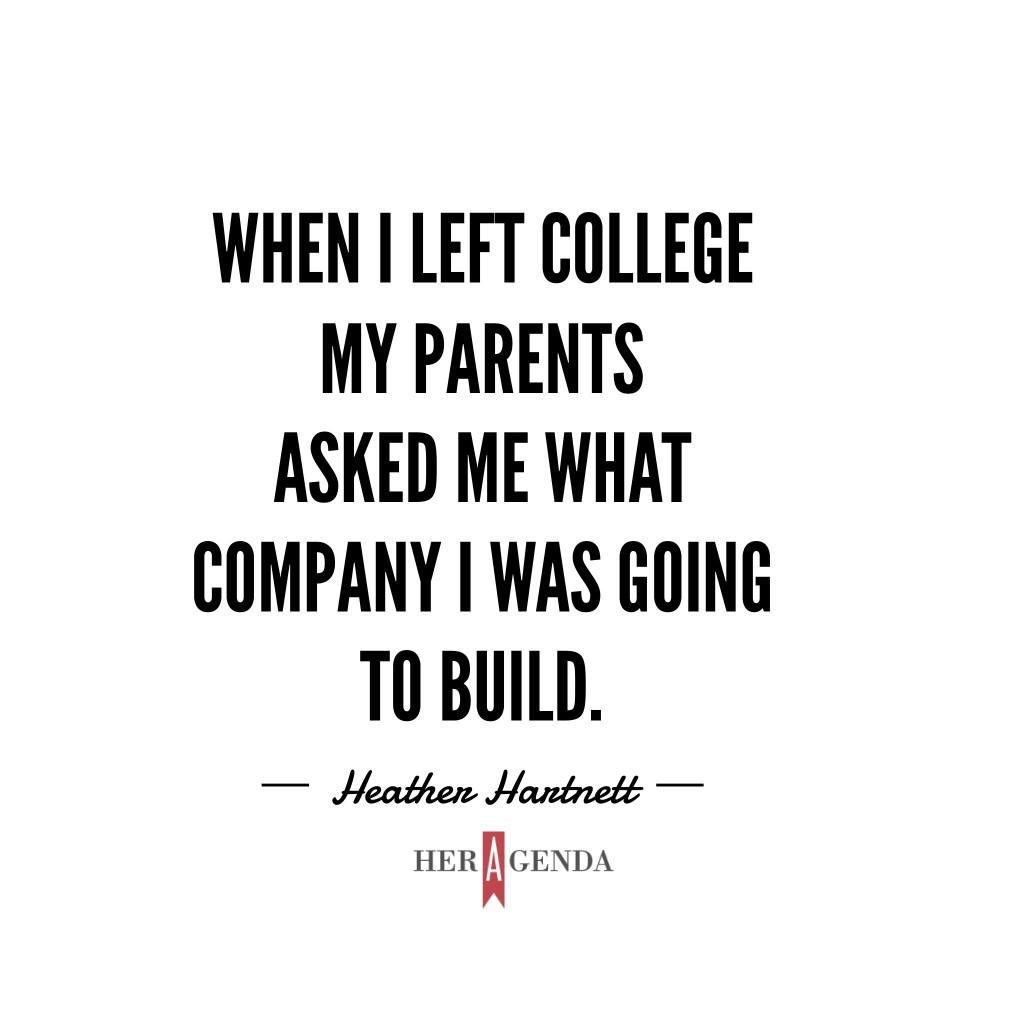 I eventually went back to investing at an impact investing fund. I was brought on board to incubate two companies, and I started to see that venture capital was changing. It wasn't just capital that was going to be the differentiator — capital is now a commodity — it was really how are you able to support founders in a way where you're really able to build the business. When creating Human Ventures about three years ago, we thought, how can we pick unconventional founders who have attributes that we think could really succeed, and help them navigate the startup ecosystem; give them a leg up to succeed.
Article continues below advertisement
The way that you approach business and entrepreneurship really starts very early on in your life. I come from a long line of entrepreneurs and was exposed to an entrepreneurial way of thinking without even knowing that's what it was. I was constantly challenged by my parents to think about new ways to generate money, to think about businesses, to think about what people wanted even as early as 10 and 12 years old. It's a muscle that I started to build really early, but I think one of the big things that I've noticed is my ability to take risks and how much that really played into what I decided to do for my career.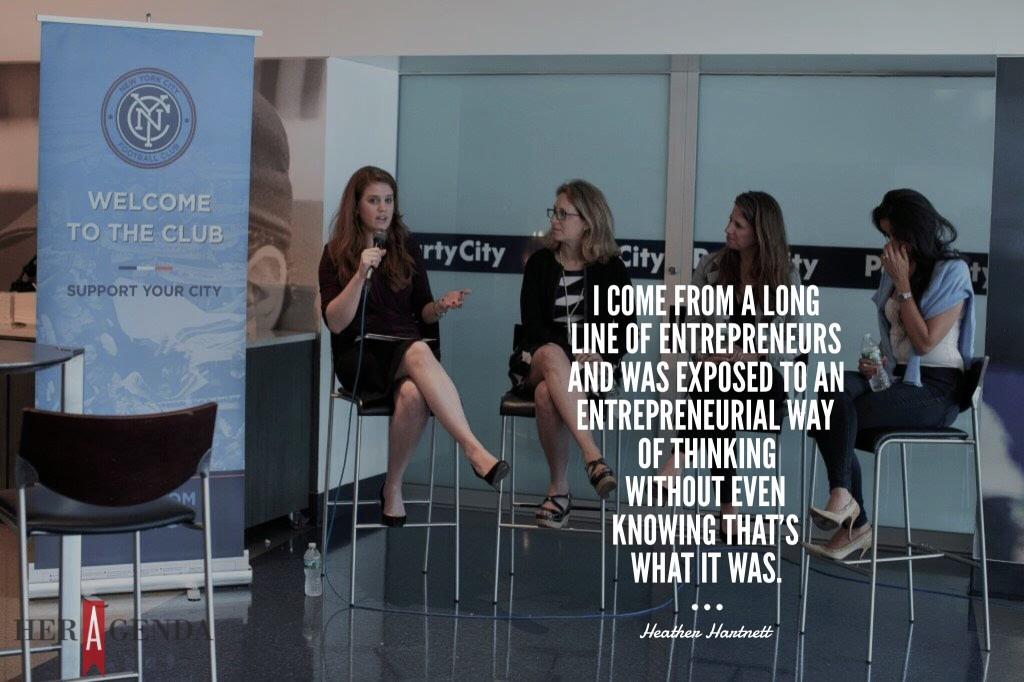 Article continues below advertisement
Her Agenda: What about the young lady out there who wants to start something, or who has started something and wants to work with you, but didn't get the same entrepreneurial exposure. What would you say to her?
Heather Hartnett: Figure out what you really enjoy doing and what you feel uniquely qualified to do. There is so much information that's available. The number one skill that we (Human Ventures) look for are the people who never feel that they can learn enough. They are insatiable learners, they can adapt and understand and are very resilient, but who know the only constant in life is change. If you know what you're really passionate about, learn as much as you possibly can about that area and learn why you're uniquely qualified to share insights. If you're someone who makes excuses, this isn't the path for you. Meaning, there are always reasons why things can't be, what are the reasons that they should be, and how can you be a pioneer for that?
Article continues below advertisement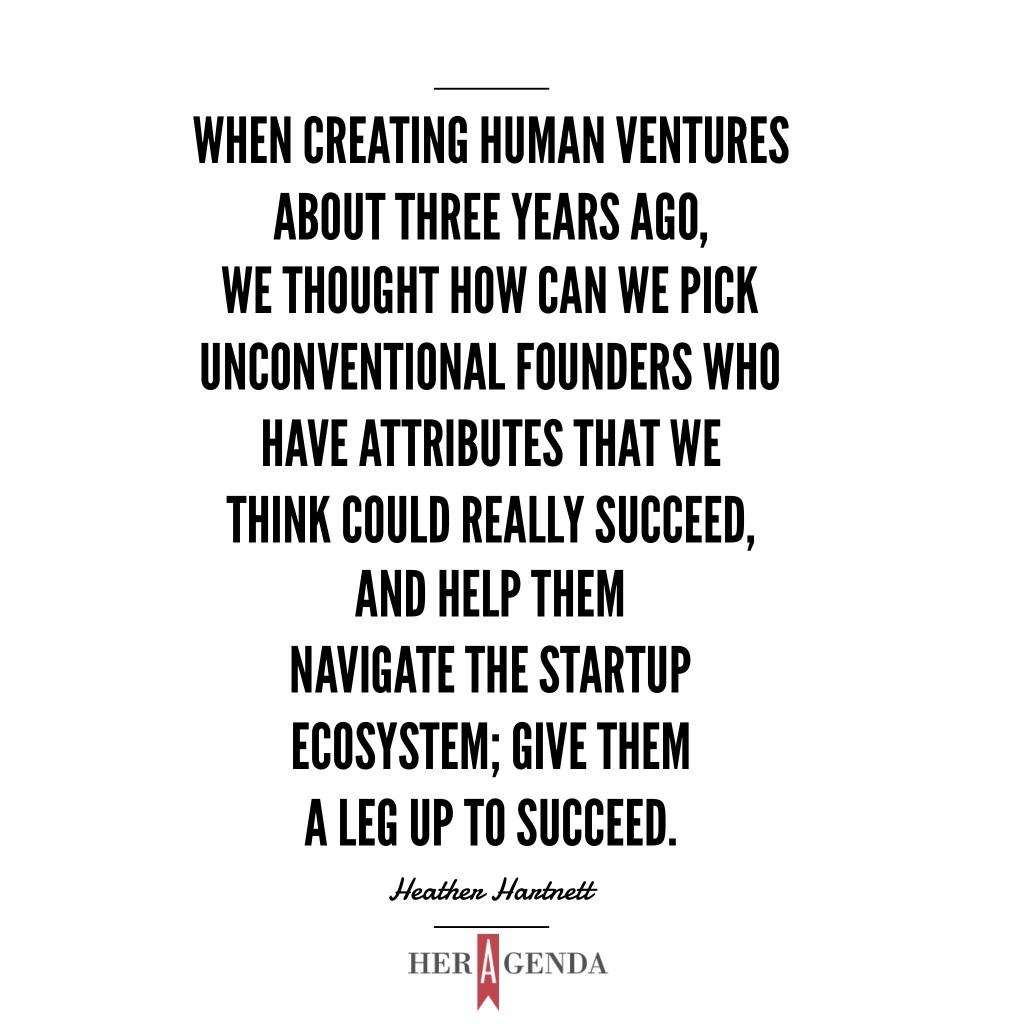 Her Agenda: If someone has an idea, and they don't have a tech or engineering background, how should they get started? What resources could they use to find a technical partner?
Heather Hartnett: To be a founder 15, 20 years ago, being someone who knows how to code was a fundamental prerequisite. Now I think to have some sort of domain expertise, or industry expertise, or business expertise is just as valuable, but knowing what you need to have to compliment your skill set is even more important.
Article continues below advertisement
So if a technical co-founder is what you need to find, you need to be very resourceful about what that means. First, start looking at what types of businesses are similar to what you're looking to build and see who the competitors are in the market. Identify what types of people have been in that type of product build before and start building relationships with people who know those types of engineers.
See if you can also find someone who you really resonate with on a personal level as well. It's really important that if you have complementary skill sets, that you also have really aligned values. So know what your objectives are. Are you trying to disrupt an industry, are you trying to change lives, are you trying to build a lucrative business? What are the underlying values that you want to stand for as a company? That will help you with your recruiting tactics to bring in someone who might be looking for that same thing.
Article continues below advertisement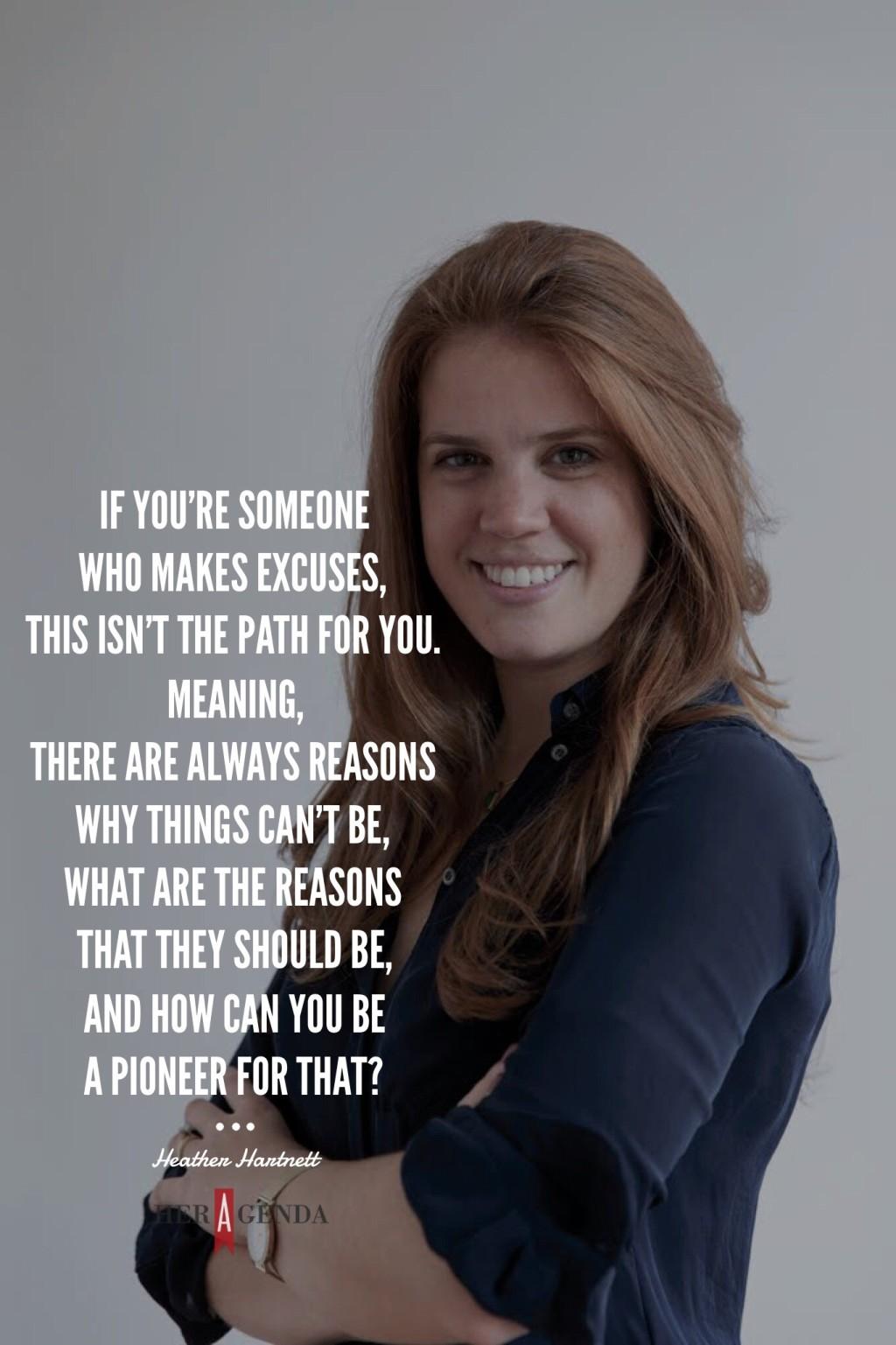 Her Agenda: What should we be teaching our daughters, our sisters, our nieces etc.?
Heather Hartnett: To identify the skills that they want to lean in on is important. Test your ideas and don't be afraid to fail, but how do you really teach 12 and 13 year old girls not to be afraid of failure? It's something that we should all put a lot of attention on.
Media plays a big part. There are really great media campaigns and ad campaigns out now on how do we not pigeon hole young girls. Having really strong role models early on is important, and finding people who resonate with you early age is an important feature and pattern that we don't emphasize enough early on.
Article continues below advertisement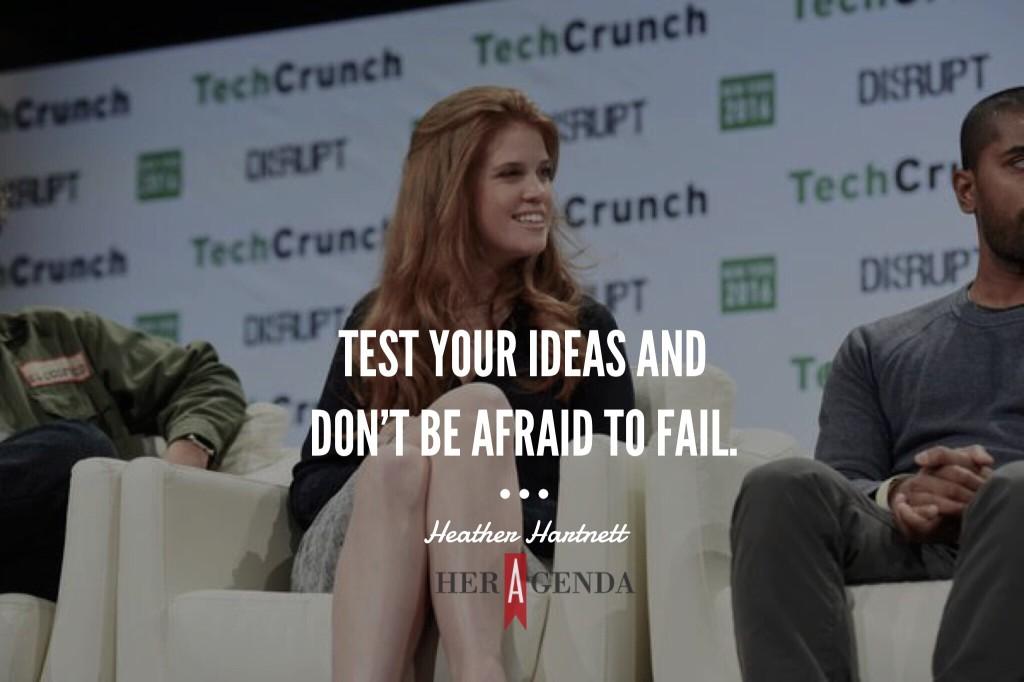 Her Agenda: What do you think that you're really good at, and how did you find that out?
Heather Hartnett: I'm really good at building value within relationships, so understanding what motivates people and how you can align a relationship for both so that they get the most out of that relationship. People say, your network is your net worth. But there is a difference in knowing a lot of people, knowing how those people can help one another, and creating that trust amongst the network. How to create value for your network is a really important skill. I've always been focused on it from an early age.
I'm also good at picking talent and understanding what people are really good at, and how that can be applied towards business. That's probably one of the best skills I've developed over time.
Article continues below advertisement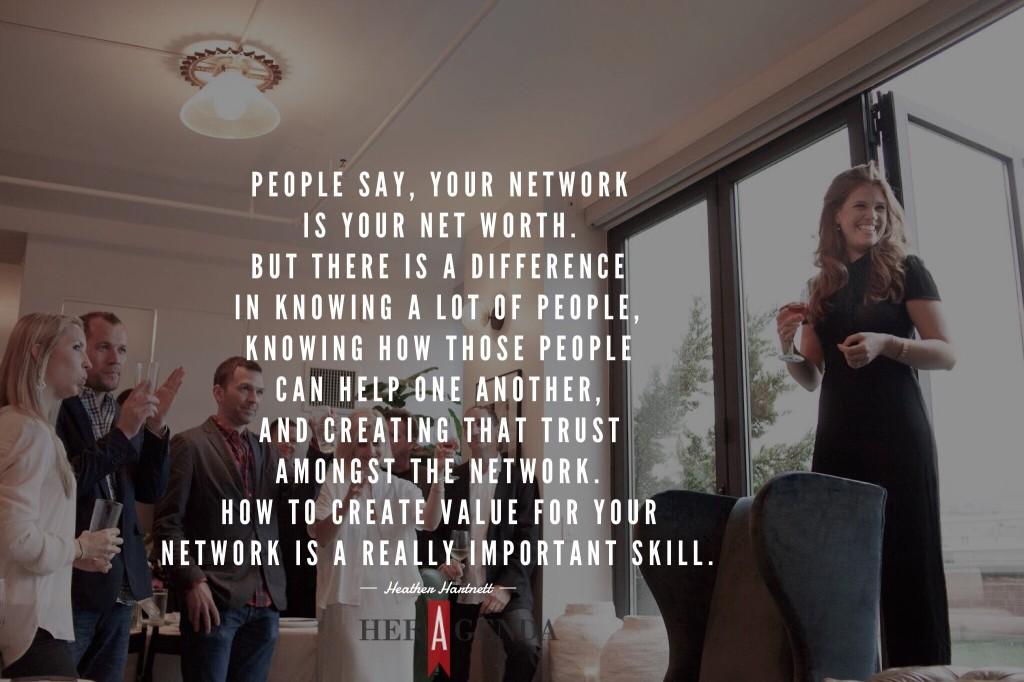 Her Agenda: Do you have any non-negotiables?
Heather Hartnett: Life is too short to work with people who you don't enjoy working with. A lot of times that means if they don't have integrity, if you don't trust them, if they don't make you feel empowered, if they don't understand your value, life is too short, try to figure out how not to work in those situations. It might seem like a luxury to many people who think, "I have to work where I am" but I think that's where resourcefulness has to come into play. How can you meet people who understand those things and put yourself in a situation where those people value you.
Article continues below advertisement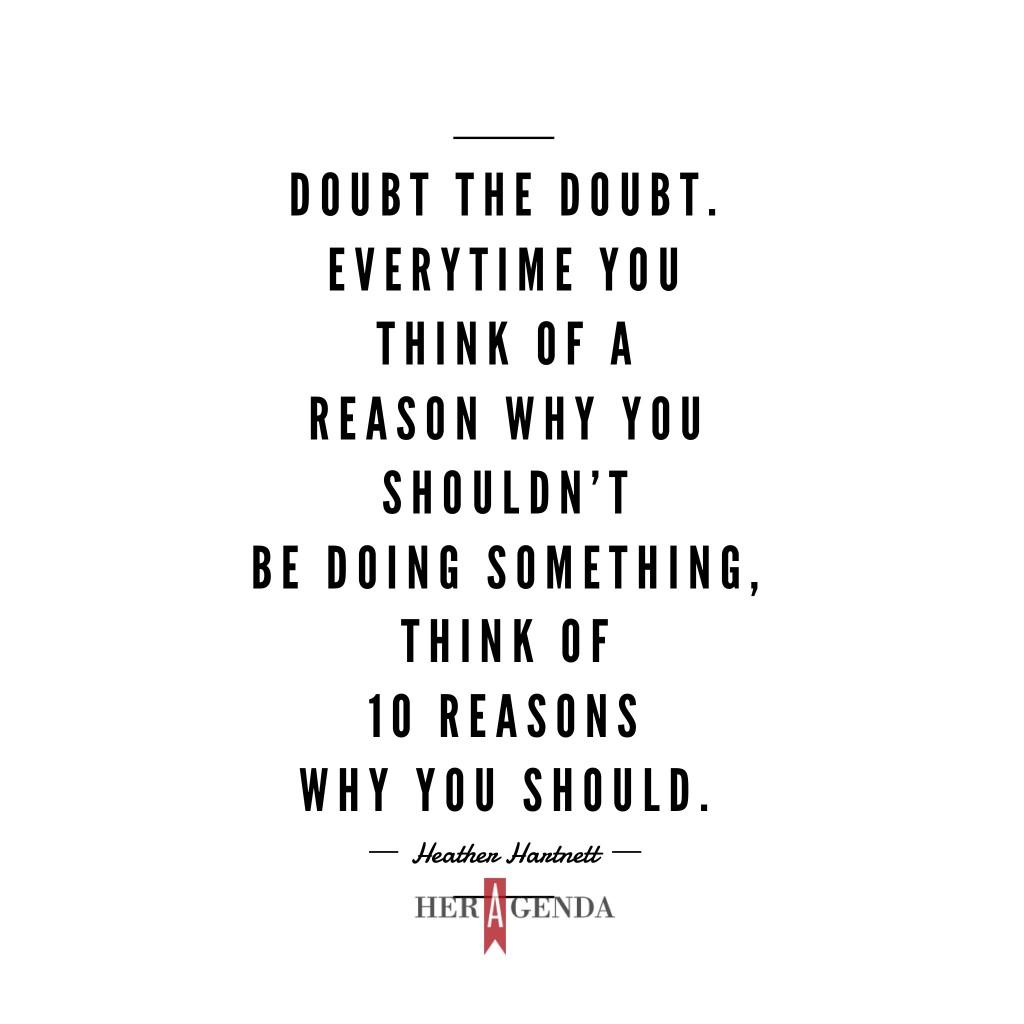 Her Agenda: Have you found any life hacks that have been helpful that you can share?
Heather Hartnett: What you put your attention on will be the output that you can expect. Make the habit of laying out short-term goals and long-term goals. Map out the amount of time that you're spending on those goals, and you'll see sometimes that there is a big discrepancy. If you want x,y, and z, but you're spending all of your time on a,b, and c; you're not going to get x, y, and z. So make sure that you're spending the biggest percentage of your time on what you're trying to achieve.
Article continues below advertisement
Also, get an accountability buddy. It's been said that you are the sum of the five people that you spend the most time with, so make sure that the people you surround yourself with are running forward at the same speed that you are.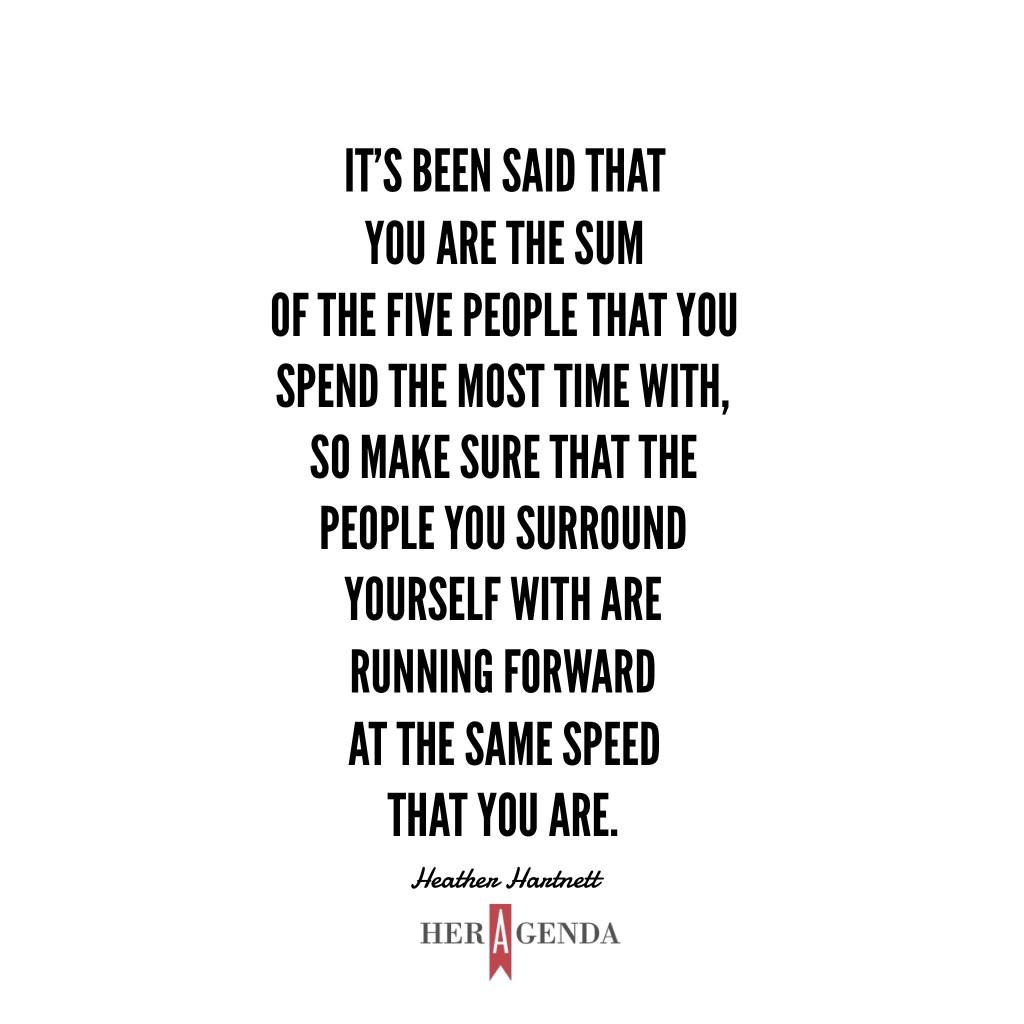 Article continues below advertisement
Her Agenda: What advice do you think every woman needs to hear?
1. Have conviction and perseverance. Conviction for me is really more of a depth, a vertical, mental image. Perseverance is for a long period of time. There is a saying in our industry that an overnight success takes 10 years. It's so easy to believe what you see in the media, what looks like an overnight success, but really, if you dig in, someone has been working on that for a very long time in a very smart way. Don't think that anything comes any easier to anyone else. It's hard work and conviction in what you're doing that makes the difference, and don't let anyone tell you otherwise.
2. Doubt the doubt. Every time you think of a reason why you shouldn't be doing something, think of 10 reasons why you should. We have a tendency to think "why me?" Why is this something that I can do? Why not? If this is something that should be out in the world, and if you have that conviction and believe in yourself, don't let anyone tell you otherwise.
Article continues below advertisement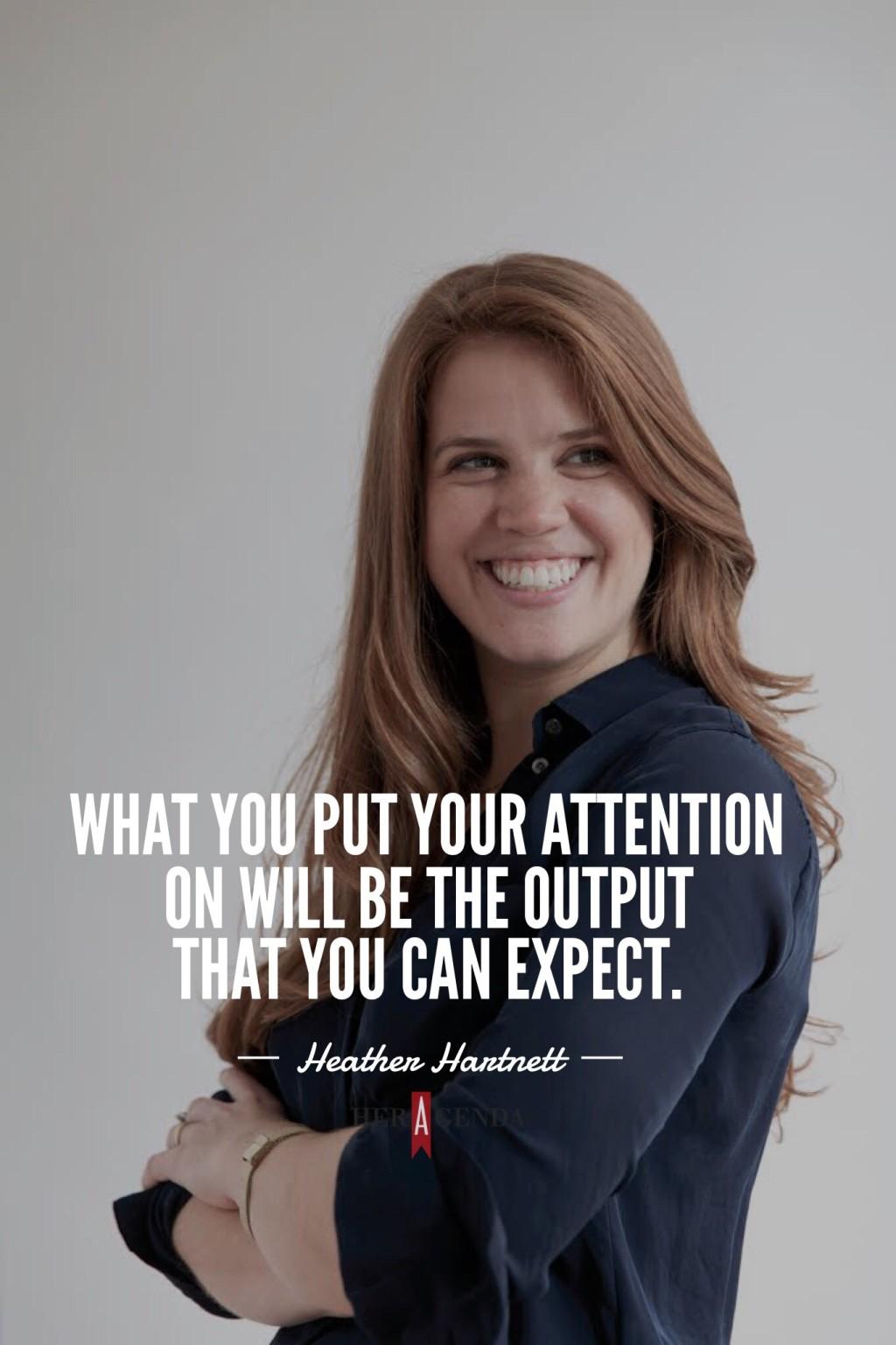 [Editor's note: This feature published on February 5th 2018. It has been edited for length and clarity.]