There are those power women who sail cleanly through life. The ones who handle adversity with a smile, whose charming Instagram life takes over our feed during coffee breaks, and whose inbox is zero.
Then there's the rest of us. For we, the imperfectly weird ones, adversity can spike our anxiety into small panic attacks, our Instagram life is less than charming, and our inboxes haven't been at zero since the invention of inboxes. But according to Jennifer Romolini chief content officer of Shondaland.com and author of the book, Weird in A World That's Not – our weirdness is far from limiting. In fact, it may be the key to our career success.
Her Agenda: I thought maybe we could start this interview a bit differently. Instead of an introduction, I wanted to ask you if your twenty-five-year-old self would have believed she would be doing this interview? Or have written this book? Or be on this book tour?
Jennifer Romolini: 25-year-old me — I didn't have a college degree. I was waiting tables. I was broke. I didn't know what I wanted to do with my life. I think there was some floating idea at that point that writer might be the right thing for me. But certainly, it wasn't something I would feel comfortable to say out loud – put my hand in the air – punching my fists. I was directionless. I was lost. I was broke. I didn't think I was ever going to be a success in the way we think of successes.
Article continues below advertisement
Her Agenda: What changed for you in the process?
Jennifer Romolini: At some point frustration kicks in. I talk about this a lot in the book, but I had been unhappy for a long time. Twenty-five [years old] seems young to be that unhappy. But I was in a sad and loveless marriage. I was living in places that were not right for me around people that didn't get me. [It was] that kind of "unhappiness cloak" where everything feels wrong.
I didn't know what else there was. But I knew there had to be more. That was sort of the hope I was rolling with – it has to be better than this. I have to feel more satisfied than this. Life has to feel more engaging than this. I had very little to lose and mostly everything to gain. So, I sort of kept going.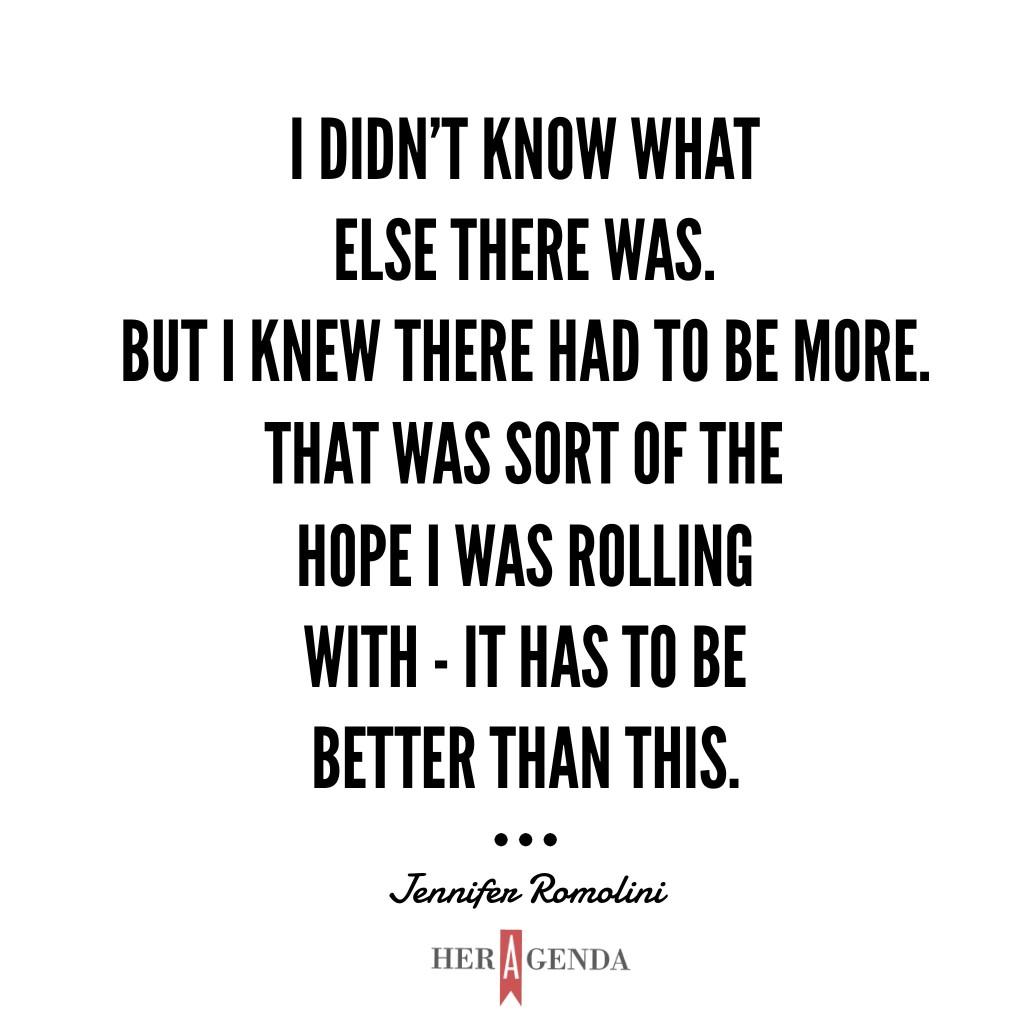 Article continues below advertisement
Her Agenda: What about your experiences led you to write this book?
Jennifer Romolini: I was reaching a point in my career where, I was objectively a success. I was seeing all the people around me who were success. I felt they were all putting on a posture. They were telling you, "Lets wonder woman pose" and "it's so great" and "here is what it's like. I have it all together. I'm inbox zero. I'm polished." I didn't feel like any of those things. I felt like, if people could see that there are people who are successful, who [are] fallible and clumsy and don't have it all together, then maybe more people would go for their dreams. I wanted to create a picture of success that wasn't perfect.
Her Agenda: What is the difference between being weird and being an individual? What does it mean to be weird? How might that definition of weird differentiate itself from being creative or being an individual?
Jennifer Romolini: I think of weird more as an emotional state in terms of being anxious, hypersensitive, perceptive – an empath. I think a lot of times people who are very empathetic feel everything else that is going on in a room and it's overwhelming for them.
I think of weird as being a physical state as well – people who are physically awkward, clumsy.
[Weird also means] socially awkward – where office politicking doesn't come naturally to them. People who don't engage with small talk with any kind of ease. Where networking is kind of a drag.
Article continues below advertisement
That's the kind of person who I'm talking about, when I talk about weird. Because that's the kind of person we've been told, to some degree, are not going to be successful. That those kinds of qualities are going to preclude you from success. Because it's only the extroverts and the slicksters who succeed. I wanted to say that's not true. You can also succeed. You might be overthinking some stuff, or you might need to get out of your own way. But you can retain who you are and succeed.
[As for] individuality, it can be anything: you think creatively. You're wired a bit differently. Your ideas are unconventional, outside the norm. All of that is wonderful. A lot of times, people whom I'm describing as weird have all of that as well. But it's really more of this emotional state of feeling awkward, anxious, disgusting. These things that bring up so much self-doubt and can be paralyzing.
Article continues below advertisement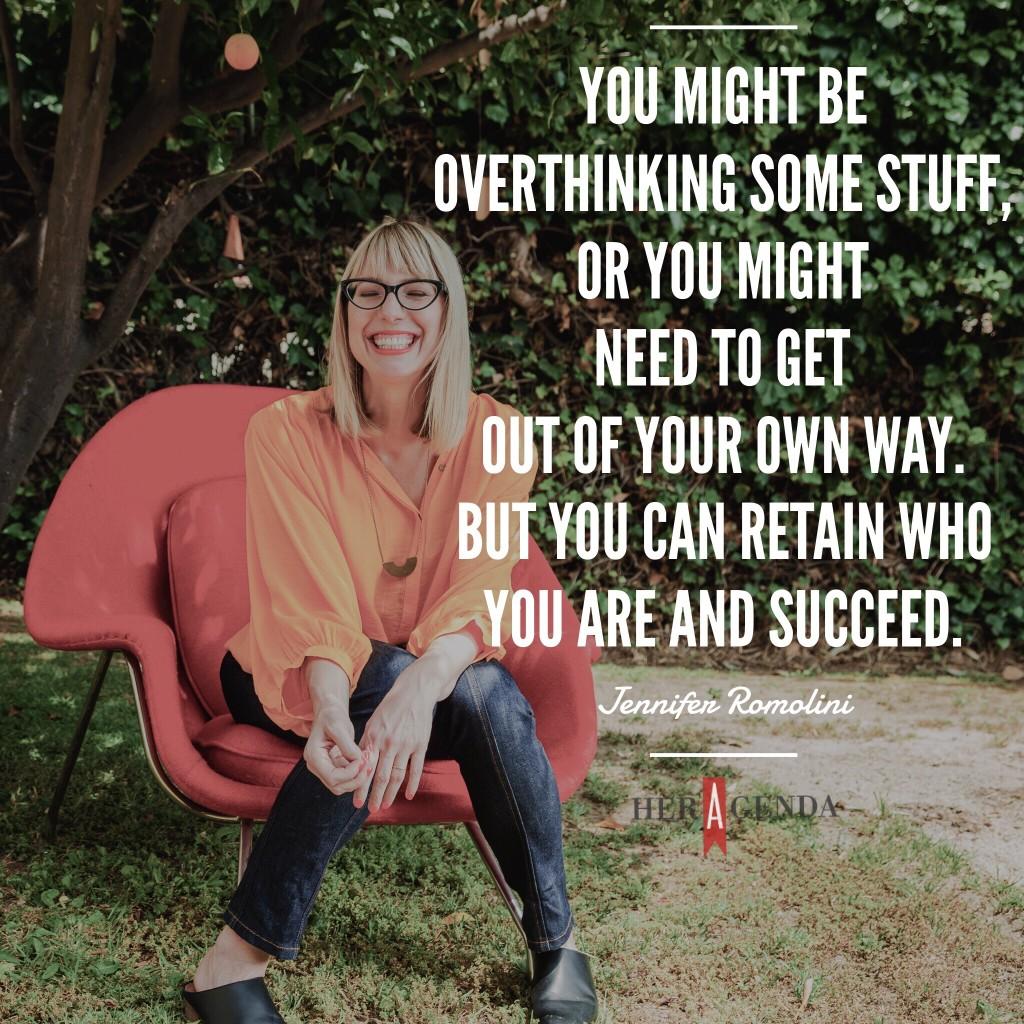 Her Agenda: On that topic – what are some of the things weird people do to make themselves flop at work?
Jennifer Romolini: I think that it's this idea of – you have all this stuff going on inside their head "I'm so anxious. I'm no good at meetings. My boss hates me." And you start to really project these fantasies into the world. It starts to distract you and it starts to get in the way of your work. It starts to distract you because you are spiraling in your head all the time.
Article continues below advertisement
Also, making it so much about [you] that you don't see the bigger picture. You're not seeing that your boss as 20,000 things to do a day and you are not the top priority. So if she doesn't email you back, it doesn't mean she hates you. It means she has 20,000 things to do that day. Those are the ways I've seen weird people flop. There's something about being self-contained that is necessary to succeed in business. It's not that all those things can't be going on in your head, but you need to know how to contain them.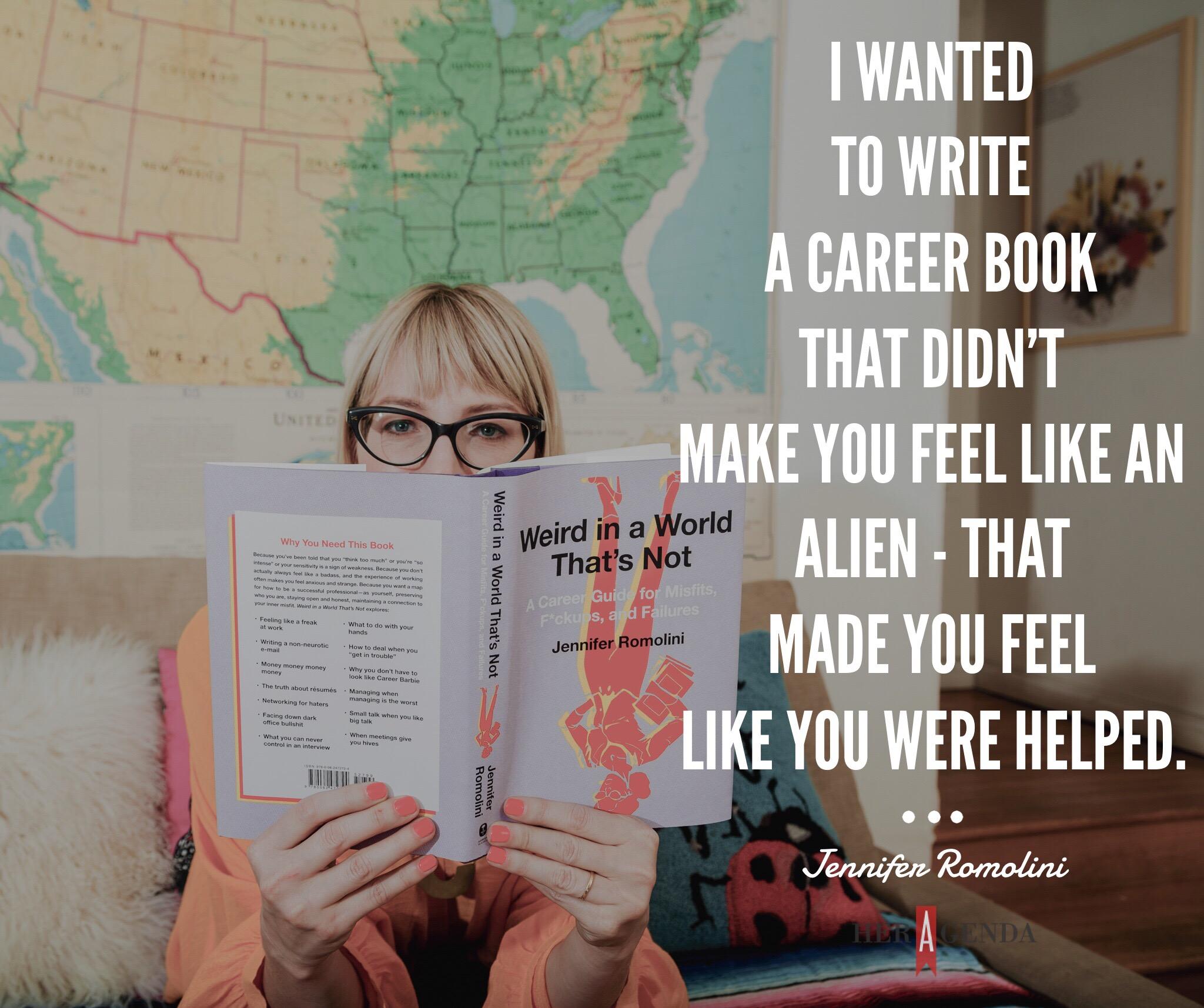 Article continues below advertisement
Her Agenda: What are some of the benefits weird people bring to the workplace that can help their careers?
Jennifer Romolini: Big wild ideas. Thinking about things from an angle that nobody else has thought about. That sensitivity and ability to read a room can actually work to your advantage if you can get away from the self-loathing. Understanding that your message is not connecting is a really, really powerful tool. Your perception and emotional way of being in the world can be a great benefit to you. It can make you a great manager who is really perceptive and empathetic. It can make you a person who knows when to express something and knows when not to. It's just a matter of cutting back on the self-loathing.
Her Agenda: During our Her Agenda panel discussion on "Getting Unstuck" in Your Career this past June, you spoke with our community about the concept of finding courage, not confidence in the workforce. Can you explain that concept to our readers?
Jennifer Romolini: I think we place way too much emphasis on confidence. We treat confidence as if it's a fixed state when in fact, it's not. It is fleeting. It comes and goes. It's quite frankly bullshit. Because you don't need confidence. You need courage. Every great opportunity in your life is going to make you feel afraid. The only way to do it is to have the courage to do it.
Article continues below advertisement
The worst managers in the world are cowards. They are cowards because they won't confront employees' problems. They are cowards because they won't set goals because they are too afraid to not be liked. They are cowards because they won't say no. Bravery is what will get your through every stage of your career. There really is nothing more valuable.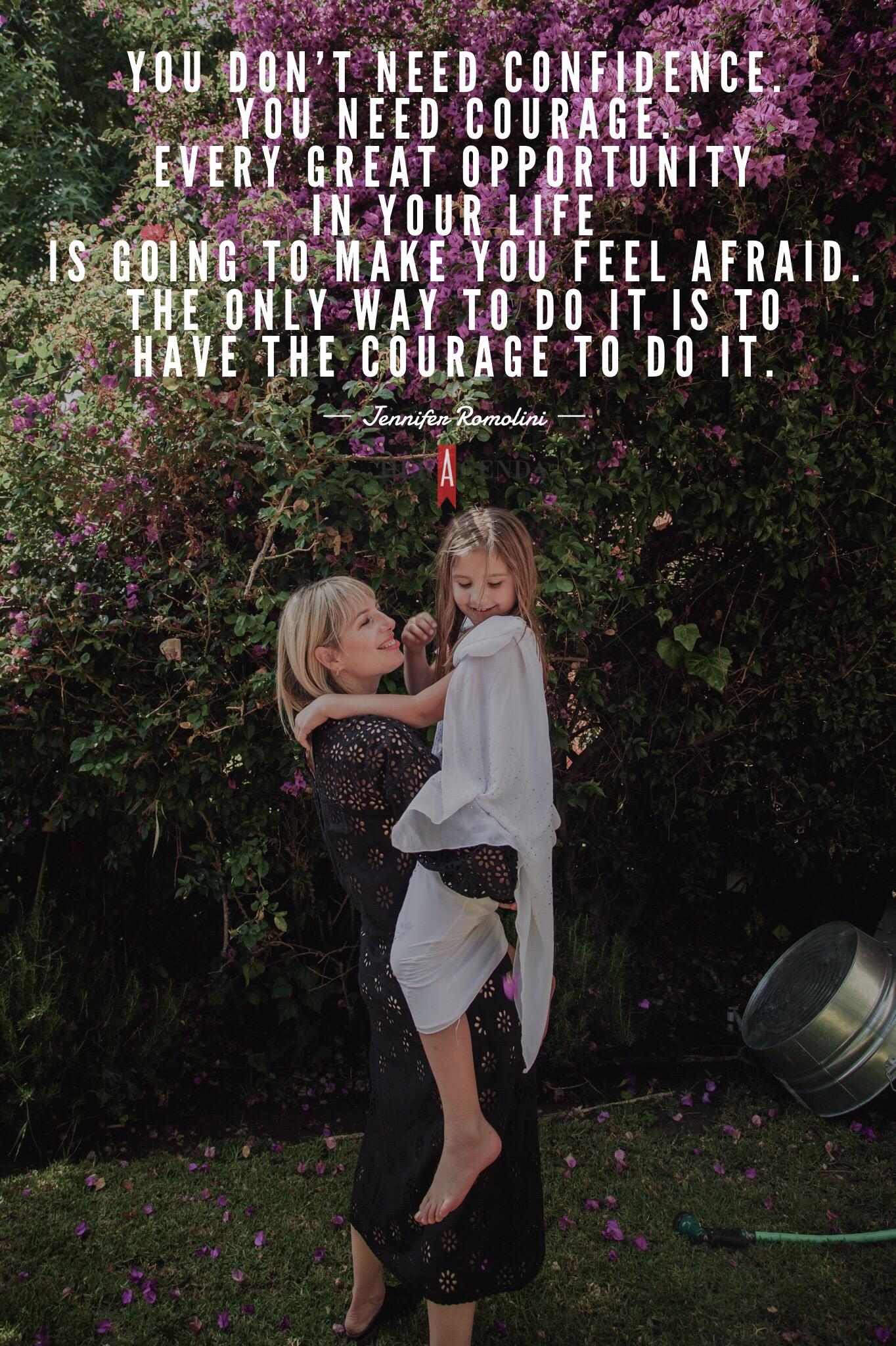 Article continues below advertisement
Her Agenda: You achieved the American Dream during the time when an American Dream more or less came undone – the media industry was in an upheaval, the financial crises hit and the housing bubble was bursting. Yet you never used the term American Dream in the book. Was that cognoscente decision and if so, why?
Jennifer Romolini: It wasn't necessarily intentional, but if we think about the American Dream, the American Dream is problematic. I was very careful in the book, and one of the things I wanted to be careful about was not conflating class and race. The American Dream is a lot easier for some people – white people, able bodied people, straight people. I acknowledge in the book white privilege, because even if I felt out of place and awkward, as a white woman I passed entering an industry of mostly white people.
Article continues below advertisement
My struggle was whatever my struggle was. But certainly, if I didn't have that privilege, it would have been harder in ways I can't even begin to understand. So, the American Dream is problematic, and I don't think we can tell people, work harder – it's just going to work out for you. [But] I wanted to show that persistence is going to help you. Courage is going to help you.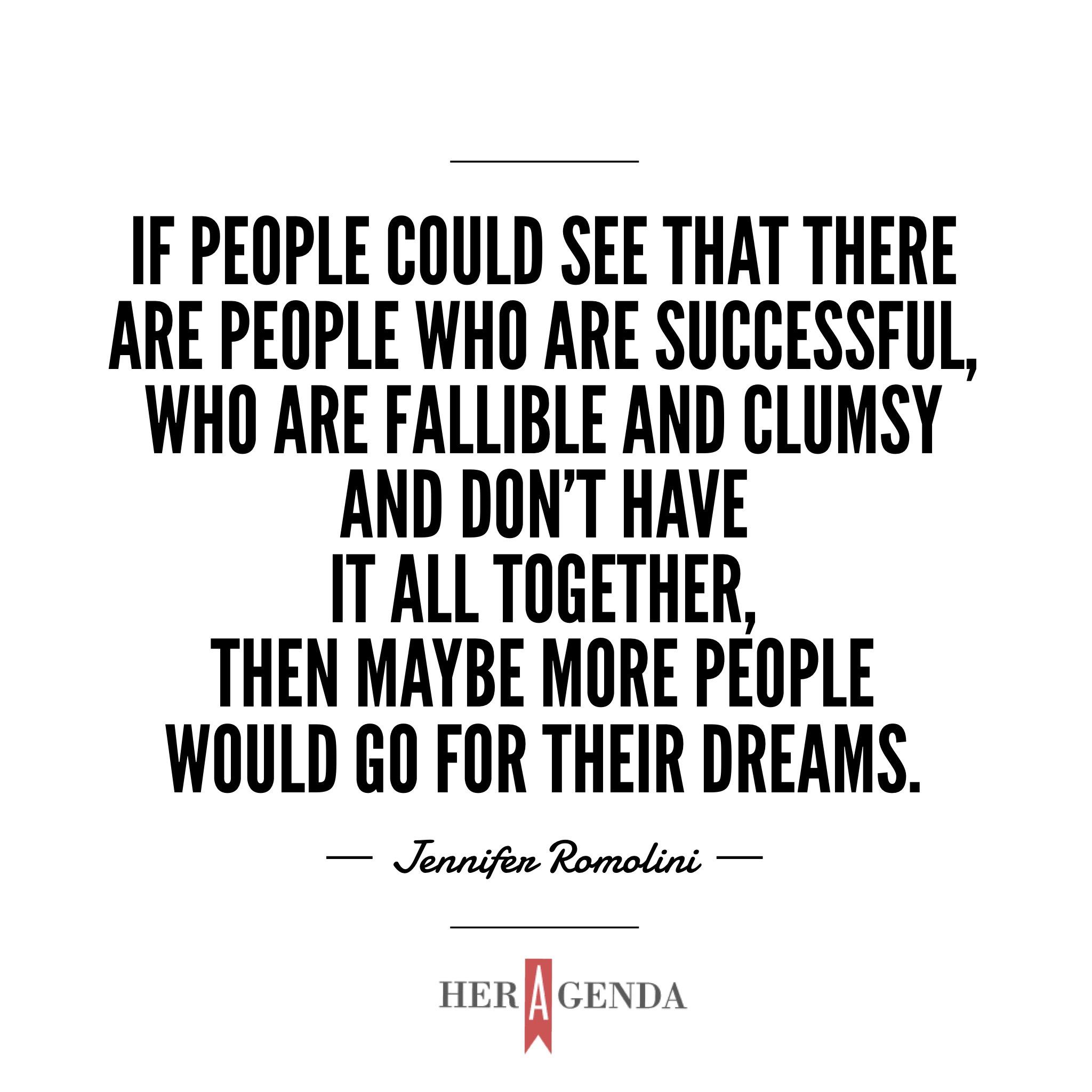 Article continues below advertisement
Her Agenda: What has your experience been in presenting the non-perfectionist point of view? Has there been any pushback?
Jennifer Romolini: The reception has mostly been, 'Thank God, thank you. I feel like you're in my brain. I feel all of these things. I think all of these things. Thank god someone is saying it.'
Her Agenda: Has there been pushback from influencers or people who are pushing the idea of a polished, perfect life?
Jennifer Romolini: The people who are not going to be your people are not going to be the people who read this book. The people who are trapped in that sort of cell of success porn and keeping everything perfect and typed and controlled – are not having those kinds of conversations. I tend to be very warm, and intimate and open. I want to talk about this stuff. And if you don't, we probably aren't going to be talking to begin with.
Article continues below advertisement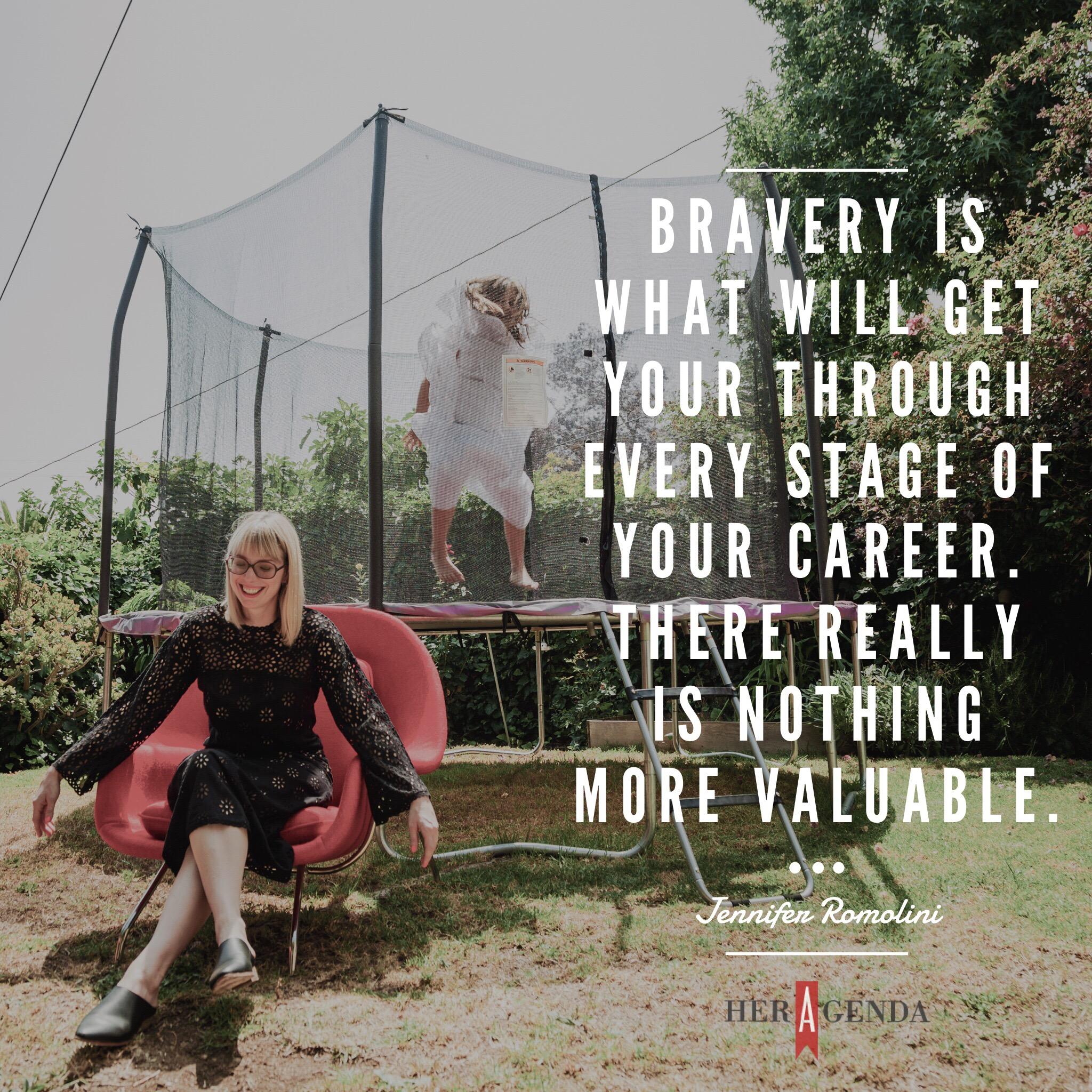 Her Agenda: At the end of your book, you mentioned that you wrote this book in part because you saw your daughter struggling with many of the same issues you did. Did that moment inspire your insights and the candid advice you gave?
Article continues below advertisement
Jennifer Romolini: These are two different issues. First off, we are telling girls to be whatever they want. But we are still putting them in institutions that expect them to behave in a certain way and expect them to be conventional. I think it's very hard for a girl who is outside of the realm of what society understands. I think there are still these cultural norms that we place on girls. But I wanted to truly support my daughter and weird girls, and girls like her and young women like her and older women. I feel like we are a tribe of women who have been told, stop being so sensitive. Stop being so intense. Stop being so weird. I don't accept it
To the second point, I didn't feel like I could tell an honest story without being honest about my own fallibility. My own failures. I also wanted to show an example – there is no way you are messing up in a way I haven't messed up. If I can do it, you can do it too.
Article continues below advertisement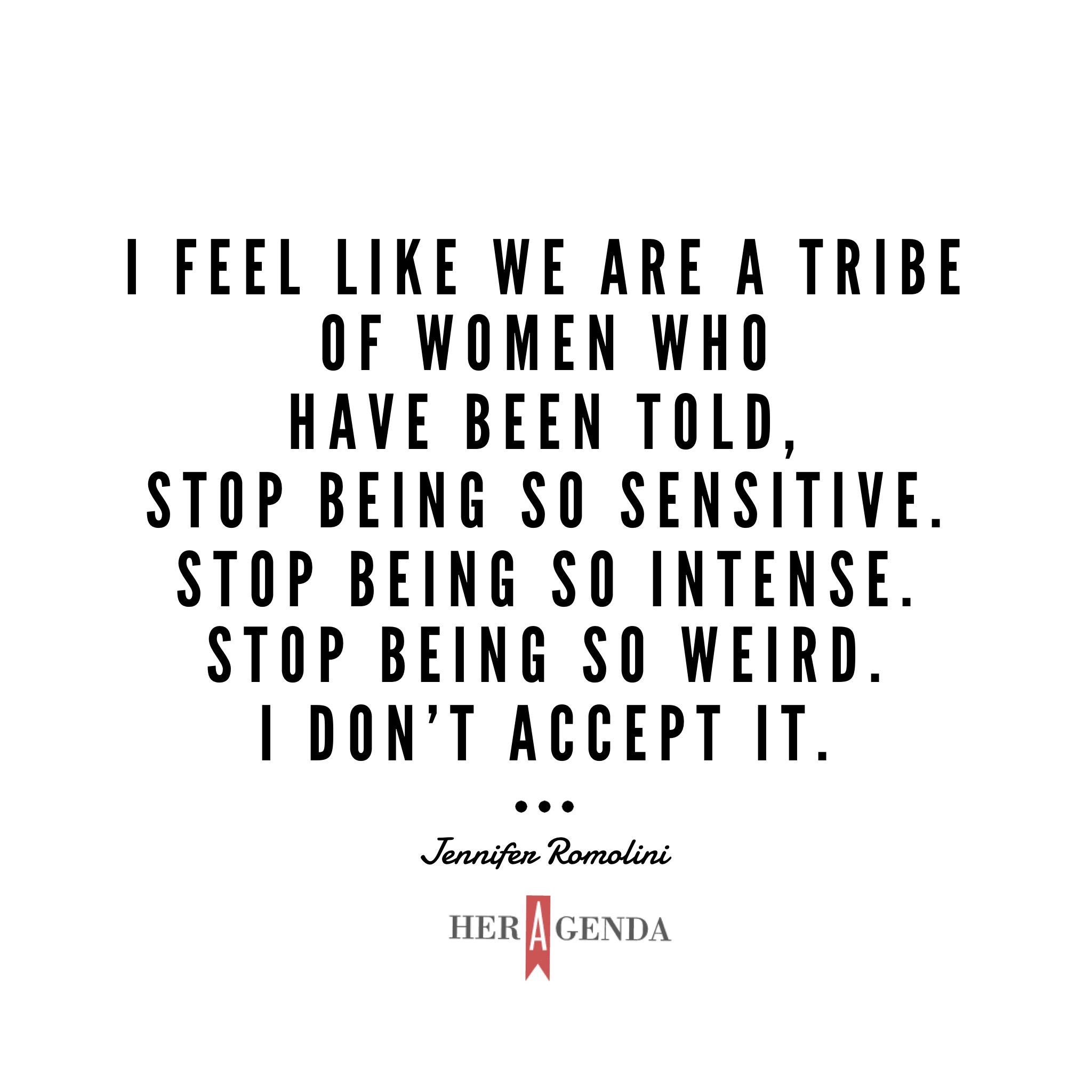 Her Agenda: What benefits have you seen from sharing your story with others?
Jennifer Romolini: I wrote this book really, because I wanted it to be useful. I wanted to write a career book that didn't make you feel like an alien- that made you feel like you were helped –like you were understood. I feel like that's happening. That's the most gratifying thing. That was my only hope for the book. In a way, that dream came true.
[Editor's note: This interview published on August 7th, 2017. It has been edited for length and clarity.]