As a long-time journalist, Joi-Marie McKenzie understands the value of building strong connections in order to produce the best story possible. From her days blogging about the hottest nightlife scenes with the award-winning website The Fab Empire, to contributing to outlets like NBC Washington, NBC New York and ABC Radio, Joi-Marie has always made sure to lead with authenticity, good faith and hustle.
In her current role as an entertainment and lifestyle writer for ABC News, she has interviewed many of Hollywood's A-list celebrities: from glamorous red carpet premiere chats with Kerry Washington, to thought-provoking discussions with producer Mara Brock Akil, to a one-on-one with the legendary Spike Lee in his Brooklyn-based 40 Acres And A Mule film studio.
Now, she has added yet another title to her resume: author.
In her memoir, The Engagement Game: Why I Said 'I Don't' to Marriage and 'I Do' to Me, Joi-Marie shares her personal journey of a relationship that she believed should have ended in holy matrimony, but ultimately led to her rediscovering love and appreciation for herself. The book also spotlights more of her exciting adventures as an entertainment reporter living in New York City.
This week, Her Agenda sits down with Joi-Marie to discuss her new book, what it's like to interview some of the most known names in Hollywood, and how she has been able to carve her unique path in the fast-paced entertainment industry.
Her Agenda: What inspired you to write "The Engagement Game?"
Joi-Marie McKenzie: I honestly didn't know I was writing The Engagement Game when I started. I've always kept a journal since I was eight years old. It was a regular Friday night, I was watching another episode of "Say Yes To The Dress," I got up from my couch and I was just so frustrated and asked myself, "Why is that not me?" I had been in a relationship for five years and thought that this was what should be happening for me. So I went over to my desk and wrote out my frustrations and 20 pages later I look up and think, "Huh, this could be a book!" I sent it on to my mom, who is also an author, for her review. She then shared it with one of her old editors who just so happened to be at Hachette (Book Group) and was interested in buying the book. The rest is history. I always say, God is super good.
Article continues below advertisement
Once I got all of my thoughts down on paper, I wanted other women to know that they're not alone if you're feeling anxious and frustrated about your relationship not going to the next level. And also, no one is talks about how crazy it can be when you're pre-engaged.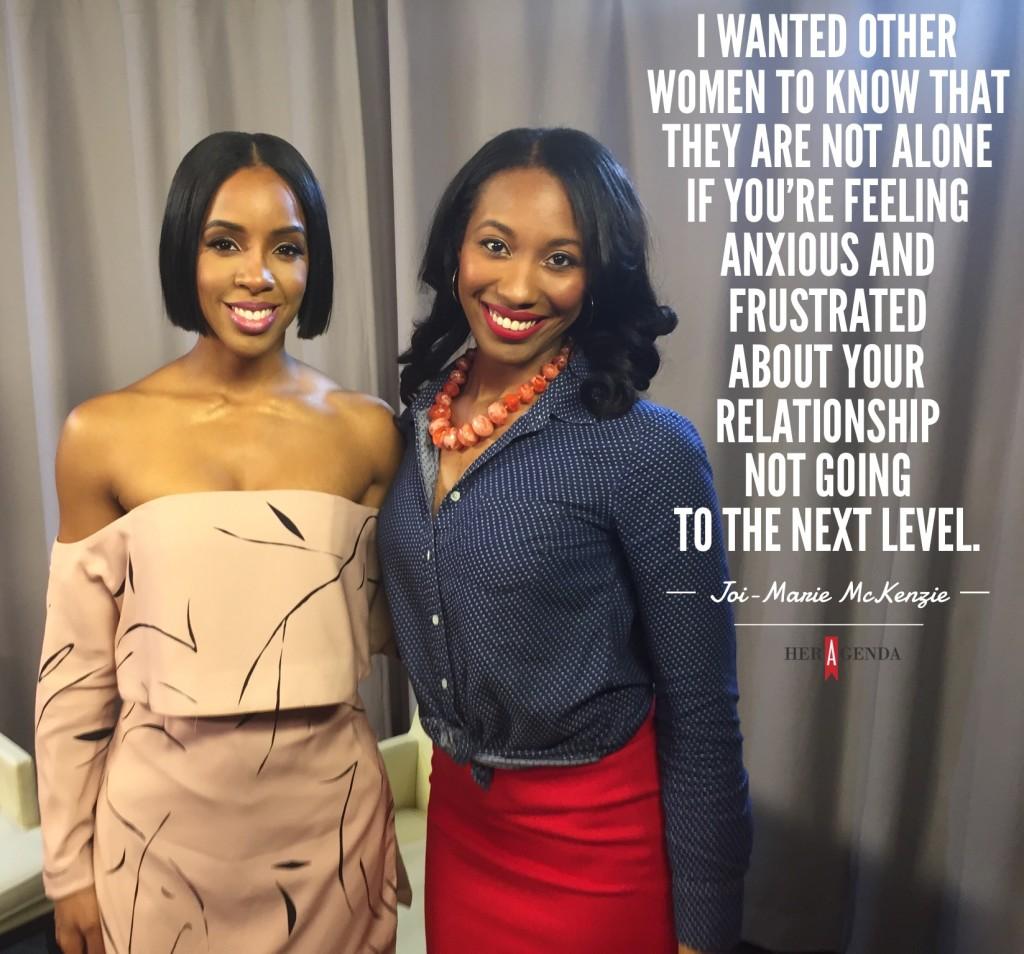 Article continues below advertisement
Her Agenda: How has it been managing the entire book process as you continue your career?
Joi-Marie McKenzie: I've had to be very disciplined, and write a lot of to-do lists and outlines. For the book writing process, I had a dedicated writing schedule where I would write three times a week for two hours. As you know, I'm a writer for ABCNews.com, so I would already be writing four to five stories a day at my day job, each being 500-800 words a piece. I would then have to find the strength to go home and write. But I learned very quickly that I couldn't go back to my apartment because I would just want to crash on the couch and not get anything done. Instead, I would go straight from work to a coffee shop and try to write 1000 to 1500 words a day. If you stick to that schedule, you can get to a full book in about three months.
Article continues below advertisement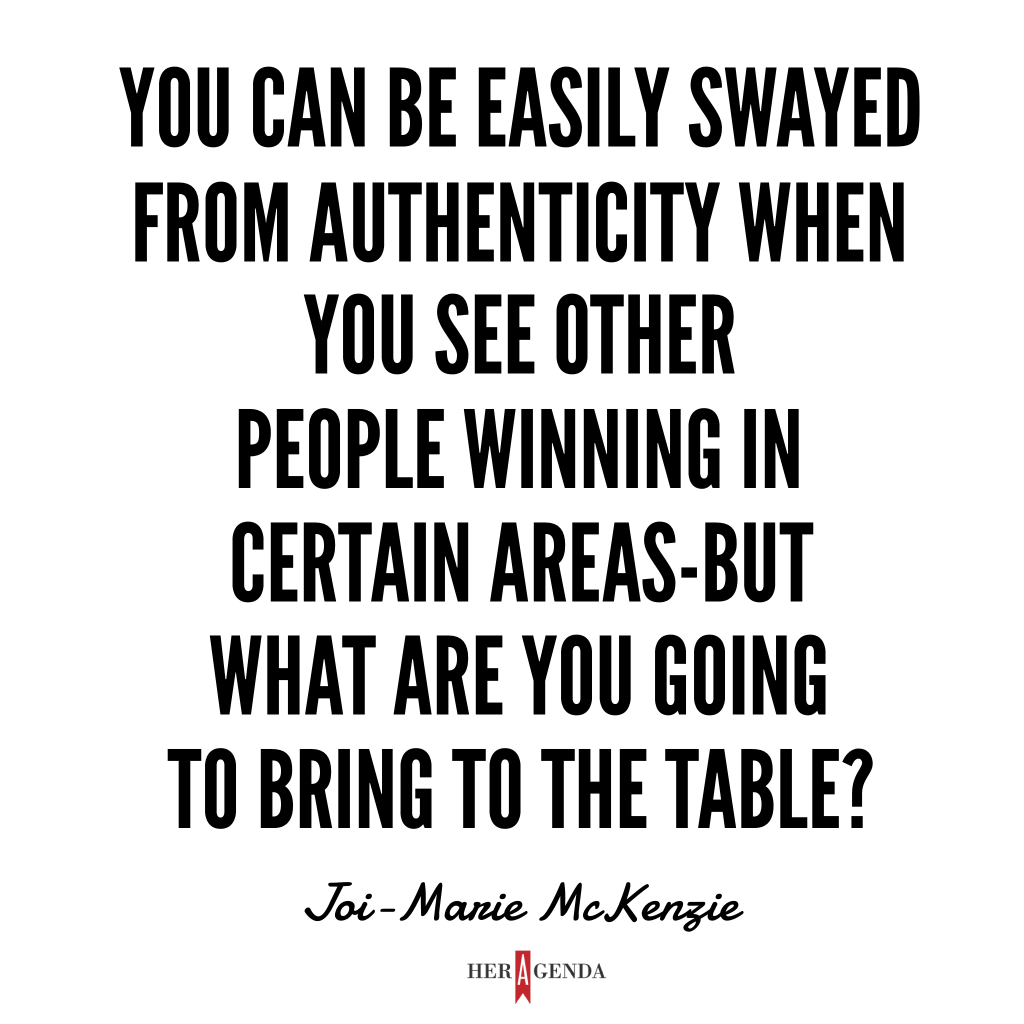 Even now that the writing and editing processes are over, I'm still using every resource I have within in my reach to get things done. Not only am I working on my lunch hour, but I may be writing an email on the way to the subway or using the Notes and Voice apps on my iPhone to keep a list of things I need to remember. I'm not the biggest fan of pulling all-nighters (I love sleep), so I try to squeeze in getting as much work as I can.
Her Agenda: The transition from D.C. to NYC is pretty common for journalists and communications professionals. The move was clearly a good look for you professionally, but how did this transition impact you personally?
Article continues below advertisement
Joi-Marie McKenzie: I've been in New York City for six years, but initially as a 20-something from Baltimore, the transition was pretty difficult. In fact, I think I went home every single weekend the first six months of living here. Part of being home so much was that I was still running DC Fab, which then grew into The Fab Empire. I didn't want to tell a lot of people that I had moved at first because a majority of my sponsors and partners were based in D.C. and I didn't want to miss out on the opportunity to work with them. Eventually, that does take a physical toll on you. Although I got great perks on Amtrak, my body and bank account were both like, "girl, stop."
Once I was able to set my intentions on living in New York City full-time, I was able to let go of my friends and family, and foster relationships. The good thing was, I had line sisters that lived here and my boyfriend (at the time) lived in New Jersey, so I had an easier transition than most because of my support system.
Her Agenda: How important is diversity in the newsroom, and do you think the industry as a whole is making strides to be more inclusive?
Article continues below advertisement
Joi-Marie McKenzie: Oh, it's super important. I think the reality is we live in a country where we're diverse, and were supposed to be this melting pot. Especially as a Black woman, or any minority group, you want to have the power to tell your own stories because those are the stories that are going to be the most accurate and truthful. If those people aren't present in the newsroom, then something is going to get lost in translation.
At ABC, I've never worked with as many Black people in my life. I'm so happy to look around the newsroom and see faces that look like me. I'm also happy to be in the room and more so, happy to be able to tell our stories accurately.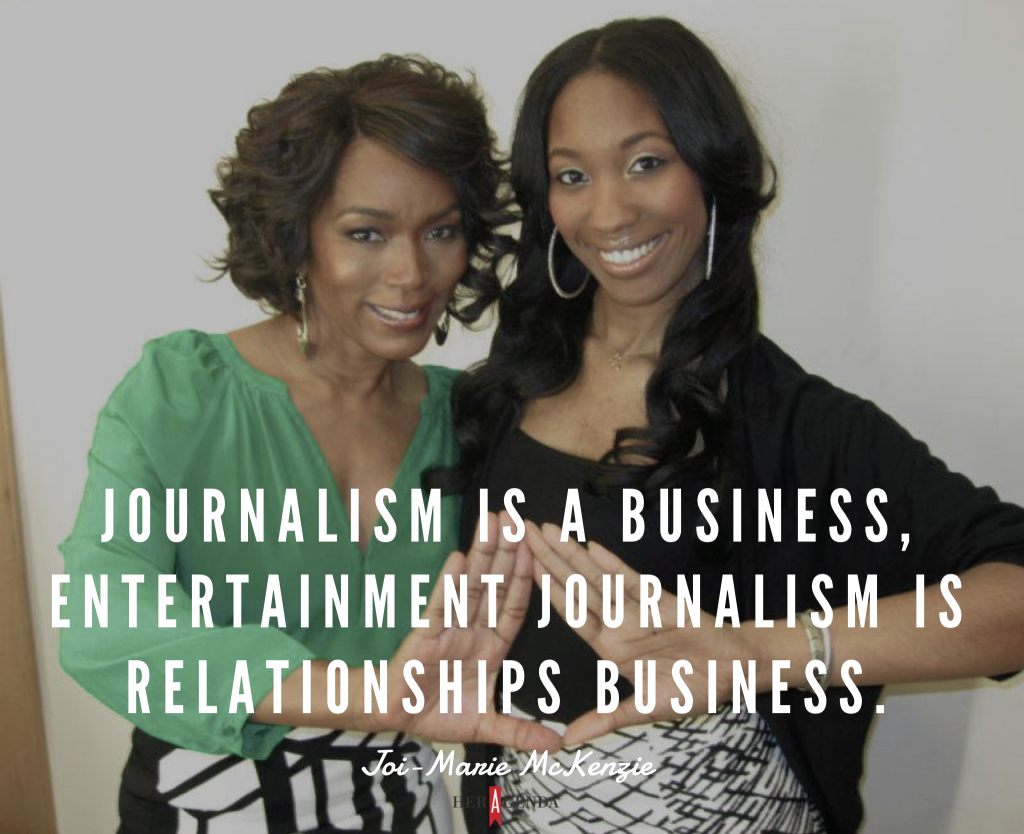 Article continues below advertisement
Her Agenda: You touch on the hustle of being a journalist early on in "The Engagement Game." What lessons have you learned professionally that have set you apart as a journalist?
Joi-Marie McKenzie: I learned early on not to take anything personally. Especially as a newcomer in New York. I came from a city where I knew everyone, I could walk into any room, any party, any event, any gala and I would know people in the room. But when you're in New York, you're don't know as many people. At the end of the day, journalism is a business; entertainment journalism is relationships business. You have to foster those relationships. If you don't get that interview or access to that event, don't take it personally. But next time, try to foster that relationship so someone can look out for you because that's just how it works in entertainment.
Article continues below advertisement
Do the best where you are. There's a quote that says "start where you are," but it's not enough to start where you are, you have to do it the best.No one gave me a job in journalism when I started, I created one. I created DC Fab which grew into The Fab Empire because that was what I could do at the time to show off my writing and reporting skills, and I wanted to be the best in that lane. That eventually got me a job at NBC Washington and then led me to my move to New York and a job at ABC News. A lot of us say to ourselves, "I've started this thing" but are you being consistent with your content? Are you producing the best, original content? You really have to do be the best, especially in this crowded ecosystem of journalism.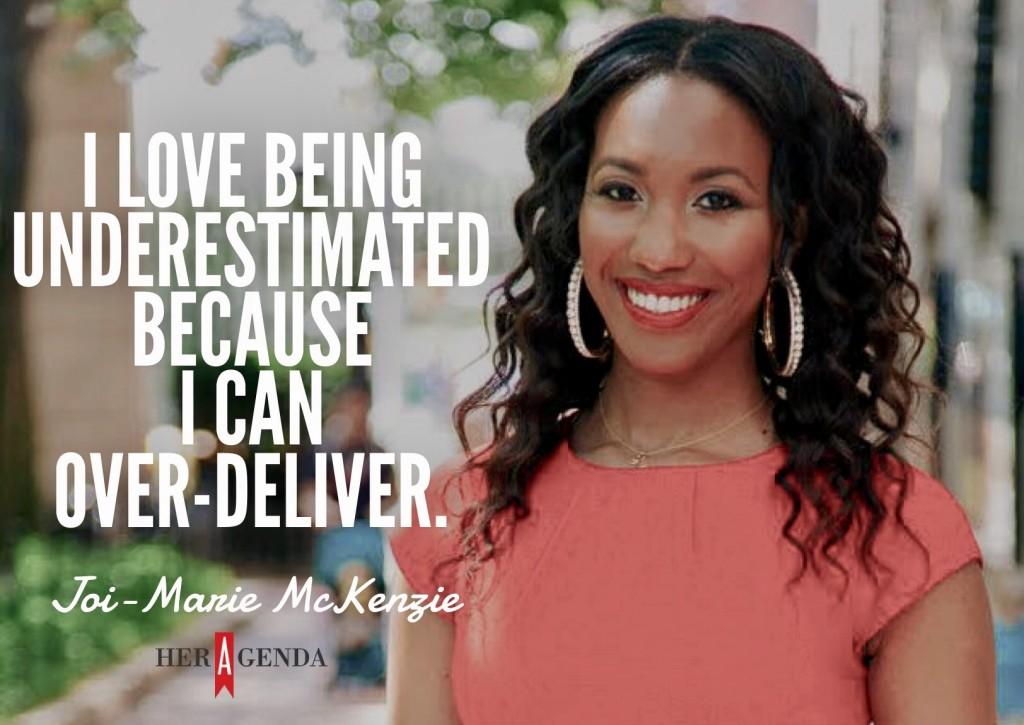 Article continues below advertisement
Her Agenda: What challenges have you encountered specifically as a Black woman journalist, and how have you overcome them?
Joi-Marie McKenzie: I'm so glad you asked me that because no one has ever asked me that. I'm always underestimated. Always. There have been times when I've been mistaken as an intern or a junior writer, when it wasn't my title at all. I've been in this industry for 10 years, but like I've said before – you can't take it personally. However, I tend to use that to my advantage. I love being underestimated because I can over deliver.
My grandmother was an entertainment editor until the very day that she died, but she always told me, "Be an iron hand in a velvet glove," meaning, be strong, be resilient, be dependable – but never let them see you coming. I'm not really concerned about telling someone what I'm capable of doing, I love to show them. So my head is down, and I'm doing the work – that's how I choose to live out my life.
Her Agenda: What's your motto?
Joi-Marie McKenzie: It's not necessarily career oriented, but my motto in life is "Don't lose your mystery." I know it sounds counterintuitive now that I've written a tell-all book about my five-year relationship, but I believe in always leaving them wanting more. This can apply to your relationships or your job – but I strongly believe in not losing your mystery.
Article continues below advertisement
Her Agenda: What inspired you to pursue your career in entertainment journalism?
Joi-Marie McKenzie: I didn't know that I was going to be a journalist at all. While at the University of Maryland, I studied communications, which is different from journalism – it's the science of communicating. Although I did write for the school paper, I was not interested in going into the family business. My grandmother and mother were both journalists, and I knew that wasn't what I wanted to do. As my mom always says, "Your gifts make room for you," and when I graduated, I loved to write so I created a blog. I fell into journalism, but I was moving in the direction of my gift. When I tried to do communications jobs, I would hit dead ends and got pretty bored. Once I moved into the direction of my gift, I saw that I was growing in my career and fast.
Article continues below advertisement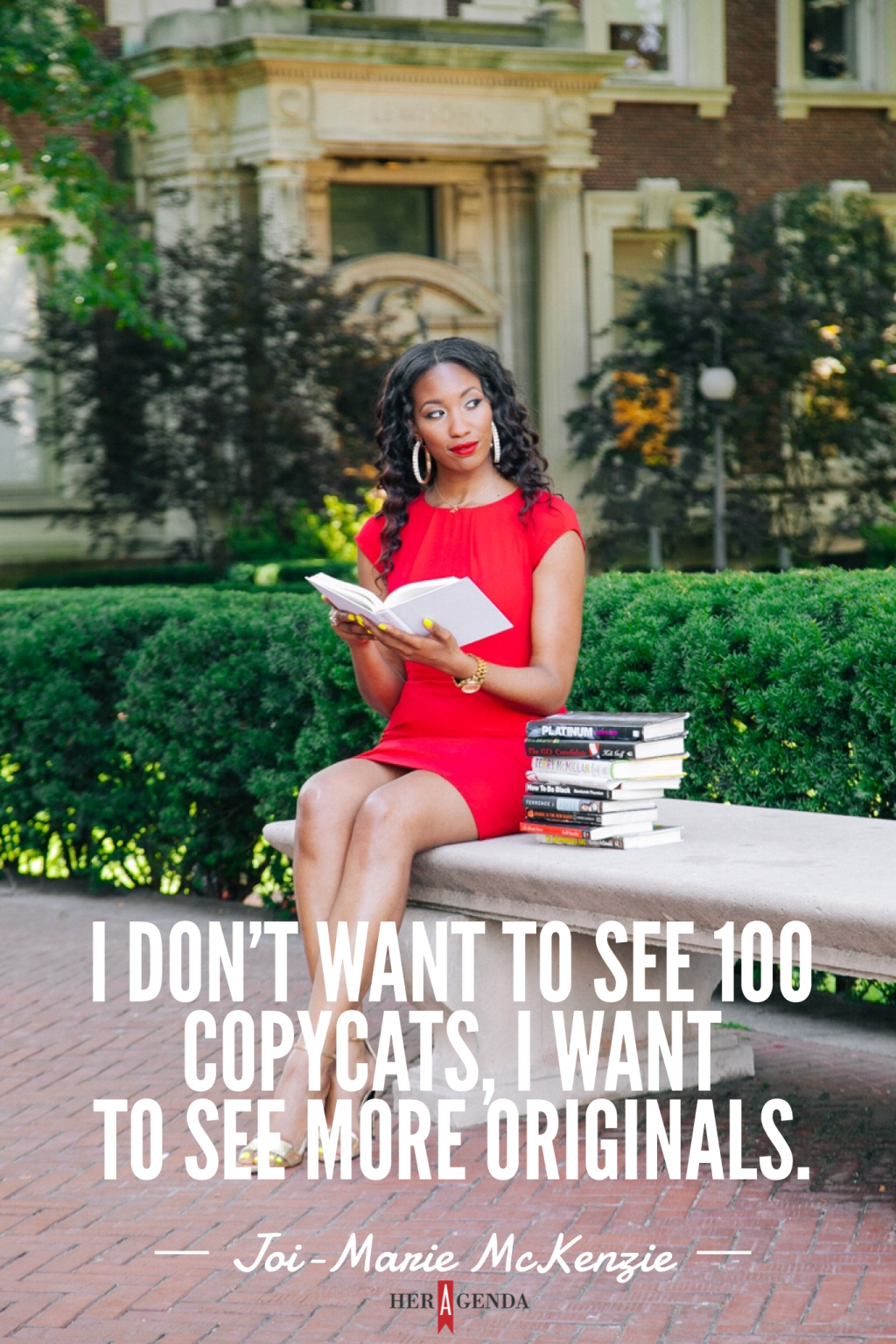 Her Agenda: What's the best career advice that you've ever received?
Joi-Marie McKenzie: Stay in your lane. Don't try to be someone else. Now that I'm an author, I've come to learn that very quickly being new to this industry. There is so much comparison to anyone who is new. Recently someone told me, "Maybe you should tweet like this person," or "Maybe you should be a little bit more snarky," and that's not my personality. I can't win in snark, but I can win in being genuine and preaching a little bit – I'm not going to be anybody else.
I forget who told me this, but early on in my career someone said, "Joi, you have to be yourself. Being authentic is the only way people are going to connect with you." And you have to tap into that. You can be easily swayed from authenticity when you see other people winning in certain areas – but what are you going to bring to the table? I don't want to see 100 copycats, I want to see originals. Imagine the ecosystem we could have as women if we were all ourselves, and confident and strong. That is what I want to see.