Headline after headline seems to convey that magazines are dying and the media landscape is in disarray. Layoffs are in abundance. Jobs are scarce. Yet, if you speak to digital media expert Julie Hochheiser Ilkovich you'll likely shift your mindset when it comes to opportunities within the media industry.
Her journey began 12 years ago when she entered the industry after graduating from  Boston University's College of Communication.
Her impressive professional resume includes Warner Bros., Alloy Entertainment, AOL and Hearst to name a few. Following her years in corporate digital at places including Warner Bros., Alloy Entertainment, AOL and Hearst she noticed a gap that needed to be filled. Brands needed a better solution for content creation and there was potential to match them with qualified freelancers who were former magazine editors and writers. This is where her entrepreneurial journey began — Masthead Media Company was the birth of something new and necessary.
Today, Julie runs her company full time as the managing partner and president of editorial operations. Julie is also the host of the podcast Coffee Break w/ NYWICI.
Article continues below advertisement
Her Agenda spoke with Julie about entrepreneurship, the shifts she's seen in media, and why she chose communications as a career. Read on for a glimpse into her colorful career path.
Her Agenda: Why did you and the Masthead Media team believe there was a need for a full-service media company?
Julie Hochheiser Ilkovich: So many of my friends (and this is just the nature and way magazines were going) were losing their jobs. At the same time, so many brands were hiring people to write content for them but it wasn't very good. So I had a lightbulb moment with my friend and business partner, 'what if we started a company that connected these magazine writers with people who need good writing?' That's how Masthead Media was born. It was born out of a need.
I didn't know how to start a business, essentially what we ended up doing was meeting once a week, figuring out how to write a business plan, and figuring out what the structure of the business would be, how it should work and then about a year later we got our first client. And now I just I love being an entrepreneur; I love the flexibility. It's made me really my best self.
Her Agenda: What would people be surprised to know about your editorial and digital journey?
Article continues below advertisement
Julie Hochheiser Ilkovich: Even though I went to the College of Communications [at Boston University], I don't come from a traditional journalism background. I've been a digital editor for my entire career and that's pretty unique for someone who's at my point because it was very early on for digital editing. There weren't necessarily a lot of [digital] jobs [at the time I started]. I have really just been open to new opportunities and new technologies, which has been really beneficial. I've never kept a closed mind [or said to myself] I only want to do this, or I only want to be a print journalist. That's really helped my journey because I've had all these great opportunities but they were nontraditional. The point that I'm at now running a business a lot of people [would find it] interesting that I come from an editorial background because coming from the editorial side you don't get the business experience which I think is really detrimental to your career. You're kept separate from the sales side, separate from the marketing team and it's really important to learn all those skills especially now when the jobs are evolving so much.
Article continues below advertisement
Her Agenda: What challenges or roadblocks have proved to be your greatest lessons along your journey in media?
Julie Hochheiser Ilkovich: The biggest challenge I've faced has been starting my own company. I wasn't necessarily amping up for it so I had to learn a lot and a lot of it had to be self-taught. I decided that I didn't want to take on [outside] investment so we are self-funded which means we're doing it on our own and trying to earn [money] through clients. It's just a really different beast. But it's been such a joy to learn.
Her Agenda: What so far has been the most rewarding experience since creating Masthead Media?
Julie Hochheiser Ilkovich: It's just such a dream to see your vision come to life. I have an office to go to everyday versus working out of my apartment. [I have] a team in place, and clients who really love our work who we work very closely with. Right now is our time we're feeling like we're in the groove and it's completely our time to shine. That has been extremely rewarding and fulfilling. You go from feeling like an individual working at home chugging along not knowing what's going to happen, to  being a company.
Article continues below advertisement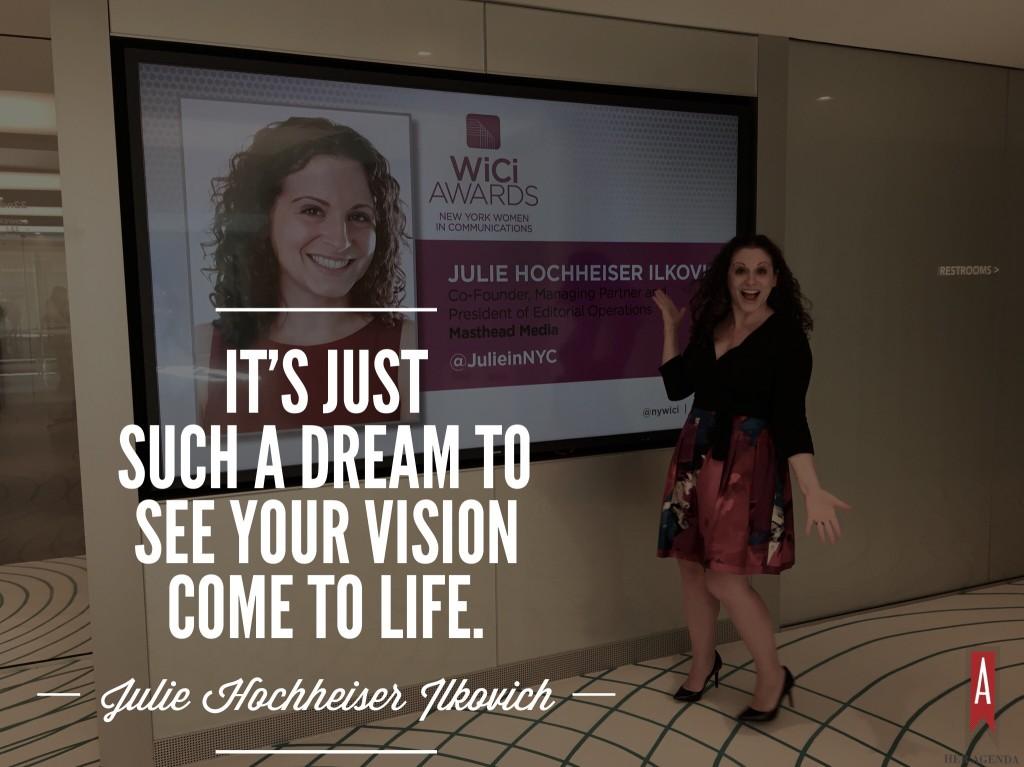 We've had some really great wins. Now that we have a little bit more bandwidth, we've done panels helping freelancers. We're able to get some of the other goals of our company achieved. Obviously, we had financial goals, but one of the [other] goals of Masthead Media is to support freelance careers. We know there are people who want to be freelancers and we want to help them to make it work. That has been the goal all along so that has been incredibly satisfying. We've had educational panels for them. We have support, we do all the invoicing and billing for the clients so that they don't have to do all the paperwork. They don't necessarily have to be business people. That's [all] been incredibly fulfilling.
Article continues below advertisement
Her Agenda: What is it about the media industry that attracted you to it, was it something that captured your interest years ago, or does it keep you going on a daily basis?
Julie Hochheiser Ilkovich: I love working in the media industry. It's so exciting and I've worked [in it] my entire life. I was originally attracted to it because it fits my personality in terms of the skillset that you need to have to get into it. As I've grown in the media industry I really love the work we're doing. I love the people and to see those I've worked with all along, [going] to all these amazing places. I love to network, I love to keep in touch with everyone and seeing what they're doing, learning about their companies. I really have kept that up, and it keeps it very exciting. The industry is fast-paced, I like to keep up with the news. Obviously, it has its highs and lows and there are challenges. But I feel very committed to and interested in the media community.
Her Agenda: Do you believe that the media industry is shifting to a place of being more inclusive of different audiences? Or is that something you believe the industry needs to work more on?
Julie Hochheiser Ilkovich: It's such a unique time because things are changing so quickly. It's funny because if you look at magazines it looks like the industry is shrinking, right? You see less magazines, but to your question: if you look at the media landscape in general, it's really growing. There are so many more outlets, there's something for everyone whether it's on TV, or if it's a digital property if it's on the radio (podcasts). It is the most exciting time. Anyone can be a creator, and there really is something for everyone. It used to be that only a certain group of people could create the content in the media and now [that's not the case]. If you feel underrepresented you can create a media outlet essentially, which is such an incredible change. So if you look at the corporate media, it feels a little less inclusive and I think there's kind of that general conception, but I actually think it's much more inclusive and there really is something for everyone. Everyone can have a voice.
Article continues below advertisement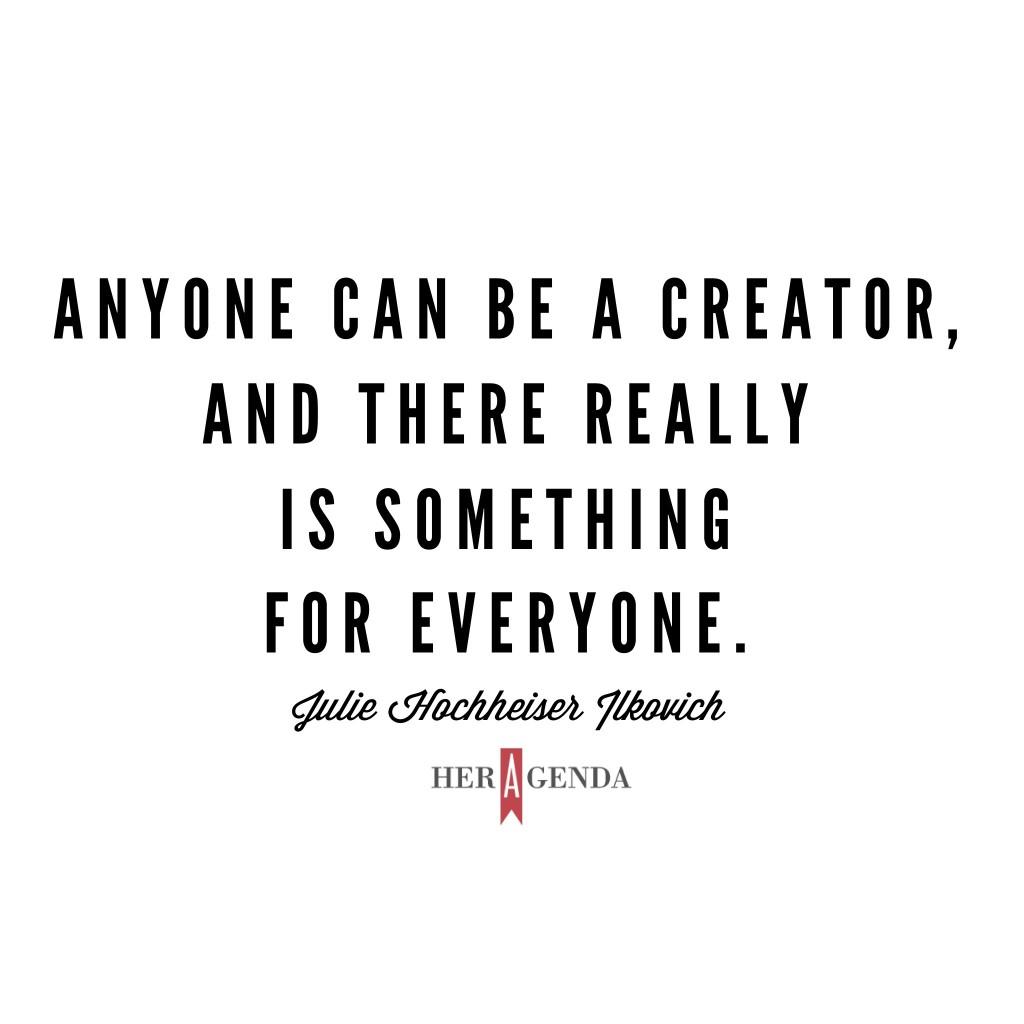 Her Agenda: What is the most important piece of career advice (or best) that you have ever received?
Julie Hochheiser Ilkovich: The thing I've learned in terms of advice is that communication is key. It's really important to communicate with people the way that they need to be communicated with. I know that sounds so obvious but it's really not that common. So if you're working with a coworker, or you're working with a boss or you're working with a client, understanding how they need to be communicated with versus just doing what you usually do. For example, if you're a big, long emailer but they're never going to read your long email, understanding that that's ineffective communication is really important. One of the best pieces of career advice and the most important thing you can learn is how to communicate effectively.
Article continues below advertisement
Her Agenda: How do you feel about the rise of entrepreneurship and the current rise of women entrepreneurs?
Julie Hochheiser Ilkovich: I'm now obsessed with the entrepreneur community. It's been such a different change for me. I entered into this world kind of backwards and it's been so exciting. It's such an exciting time to be a female entrepreneur. There are so many opportunities, there's such a good support system. There's so many resources for us. There's an openness and [a] community. I'm very excited about the rise of women entrepreneurs. I don't see it in any way being a competition. I don't think women are being competitive with each other. It's a very open and accepting community. It's been a great way to network. It's fun to have one leg in media industry which is much more corporate and another leg in the entrepreneur start-up world.
Article continues below advertisement
It's hard to be an entrepreneur. I don't think it takes one kind of personality type. It's hard work and it takes time. It took five years for me to get to a place [where] I finally feel comfortable. And I can't make myself too comfortable because you never ever know. It's not for the faint of heart.
Her Agenda: What words of advice would you give to budding journalists just starting out or aspiring media professionals?
Julie Hochheiser Ilkovich: It's obviously a challenging time to get into media, but there are lots of opportunities. My biggest piece of advice would be to have an open mind. I think it's really challenging now if you come into the industry and you're like 'I only want to work at Vogue, that's it.' For sure, follow your dreams, I would tell everyone to follow their dreams. But if you do only want one job it's going to take longer, and it's going to take more time. And so if you're really willing to dive right in, I would say have an open mind, be open to new media companies, be open to start-ups, be open to different roles. Like I said the job I had when I graduated college, it wasn't something I studied for, it wasn't something I even knew existed. If you can, keep an open mind and just be willing to explore. I'm not saying settle, I would never say settle for any job. Definitely make sure it's something you want to do. You spend more time there than you spend with your friends and family. Don't settle for a job but, have an open mind and explore. Learn about new things, learn about new technologies, new careers. It can really set you on an exciting path.
Article continues below advertisement
Her Agenda: How important would you say personal branding is for journalists and media professionals? Do you have any tips you can offer on personal branding?
Julie Hochheiser Ilkovich: I think people get very overwhelmed by [personal branding] and think [they have] to be an influencer. But it's really just creating how you want people to see you, that's essentially it, to be honest. It's really important to know what you stand for, know what your job is, what your role is, and how you want to be identified.
For example when I worked at Seventeen people knew me as Julie at Seventeen, whereas now, I'm Julie first and then my job is second. I'm an entrepreneur, I'm a podcast person and I like that more. Even thinking about things on a small level, how do you want people to view you? Because you really can control it. You don't want to be in a situation where people are viewing you one way, and you're not able to control it. That's another huge benefit to be able to control it.
You want to have a place to represent your work that's really important. So it's important to be strategic. Where do you want to be on social media? You don't have to be everywhere, but where you are, you should be active in those places. In this world if you are a journalist if you want to be in the forefront of media it is important to be out there and figuring out how to make that work for you.
The other thing to keep in mind with personal branding is you don't have to choose your personal brand now, and make it super specific and stick with that. It can be evolving.
[EDITOR'S NOTE: THIS WAS PUBLISHED ON JANUARY 2ND, 2017. IT'S BEEN EDITED FOR LENGTH AND CLARITY.]