"I'm a person who has poise under pressure."
As Comcast's Executive Director for the Multicultural Consumer Service Department, Keesha Boyd firmly believes that maintaining a calm and collected composure even during the most stressful of situations will always help her get the job done.
Keesha has served in her current role for the last two years, but has spent the last ten of her career at Comcast. As Executive Director, she is responsible for managing African American content across all of Comcast's platforms, fostering and maintaining relationships with several cable networks that cater to this audience, and ensuring that this community's stories are told not just in the month of February, but all year round.
As our global society becomes more diverse, accurate representation of African Americans on the big and small screen is becoming even more critical. At Comcast, Keesha and her team are making it a priority to elevate content that mirrors the authenticity of African American culture, as well as the diversity of their tastes in television and film.
Her Agenda sat down with Keesha to learn more about why diversity and inclusion are so important in today's media landscape, and how her unique perspective on how we consume media as a culture has influenced her career path.
Her Agenda: What are some trends that you have noticed in the African American consumer market in the last few years, and how do they have an impact on the quality of content that Comcast produces?
Keesha Boyd: For one, the advancement and the growth and development of the Black community and our adoption of new technology shows that we continue to be powerful consumers of content across all platforms. We consume more media than any other group, so this in essence makes the Black community powerful consumers because what we choose to watch succeeds. It's been fascinating to watch this community grow and be early adopters and leaders in this space in terms of things like social media. We're more likely to be "second-screening" – which means watching a show and tweeting about it at the same time. For my job, it's all about understanding those behaviors and patterns, and what we're consuming and why and figuring out how do we continue to grow our product and add value to it so that this consumer feels happy with the product they're paying for.
Article continues below advertisement
Her Agenda: How does a day in the life look for you? What are some things that you are accomplishing during the day/week that set you aside as an executive?
Article continues below advertisement
Keesha Boyd: Everyday looks different! My team and I specifically focus on African American content – so networks like BET, TVOne, Aspire and the Africa Channel are the networks we're typically speaking too, as well as other networks that have content that leans into this community. One day, I might be on a phone call with a network, and the next I might be in a meeting with a senior executive team discussing everything from a pricing and packaging strategy to figuring out how we're going to innovate on top of our existing product. And then there are times I get to speak directly to the media. Last month, I spoke on NBC about our Black History Month collection that we have in partnership with Maori Holmes, who is the artistic director for the Blackstar Film Festival. I'm responsible for the end-to-end consumer experience, so that includes understanding the product, the content that we have on the product and how we grow our partnerships and connect best with the community in ways that are meaningful and bring value to the overall customer experience.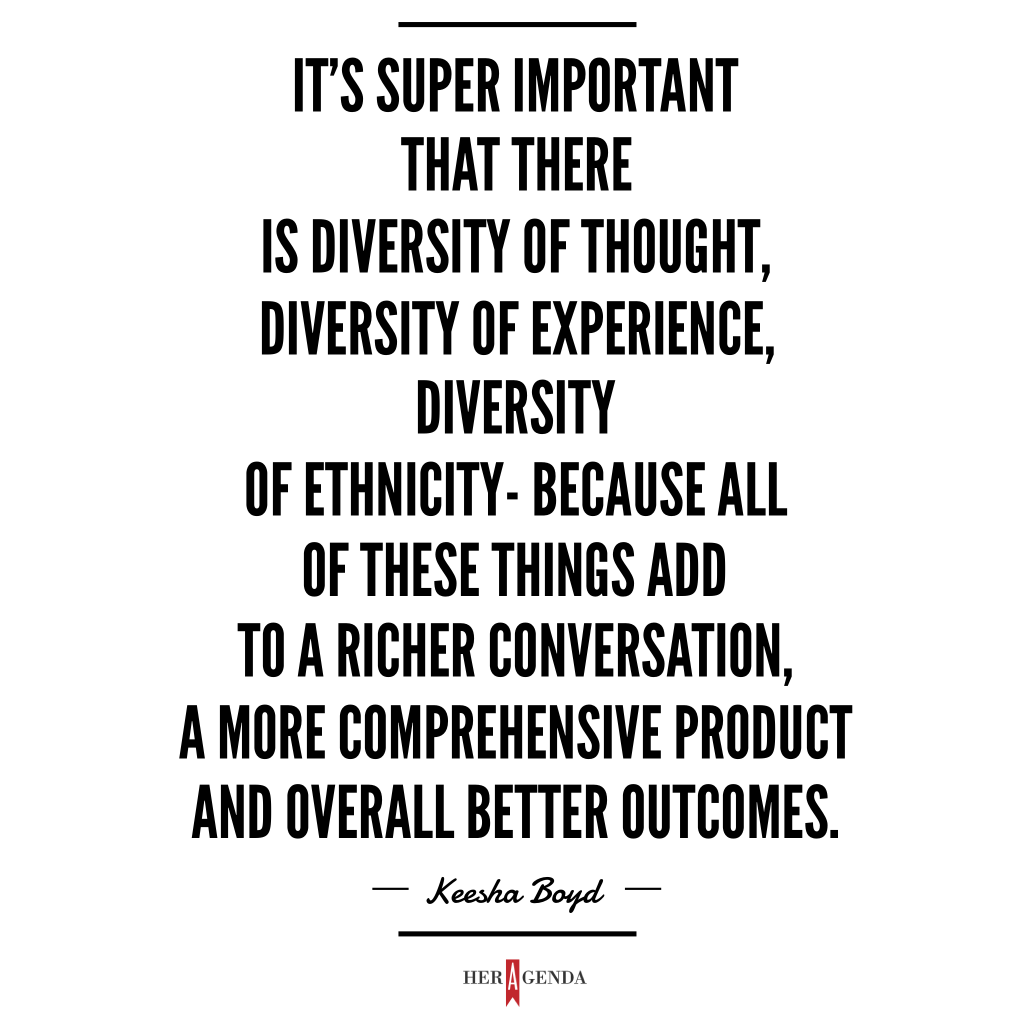 Article continues below advertisement
Her Agenda: How important do you think diversity is within the media industry? Do you think the industry as a whole is making strides when it comes to inclusion?
Keesha Boyd: It's super important that there is diversity of thought, diversity of experience, diversity of ethnicity – because all of these things add to a richer conversation, a more comprehensive product and overall better outcomes. Specific to the media industry, we know from research that it's important for communities to see themselves represented on the screen. I think at least for the last few years, we've seen great strides when it comes to diversity on the big screen and the small screen, in front of and behind the camera. You're starting to see more content where Black actors and actresses are in principal roles; we're not only a part of the story but we're telling the story. There's something to be said for the importance of communities getting to see themselves expressed in all of the diverse facets in which they actually live. At Comcast, we're an aggregator and we're focused on elevating the next generation of diverse content creators and storytellers.
Article continues below advertisement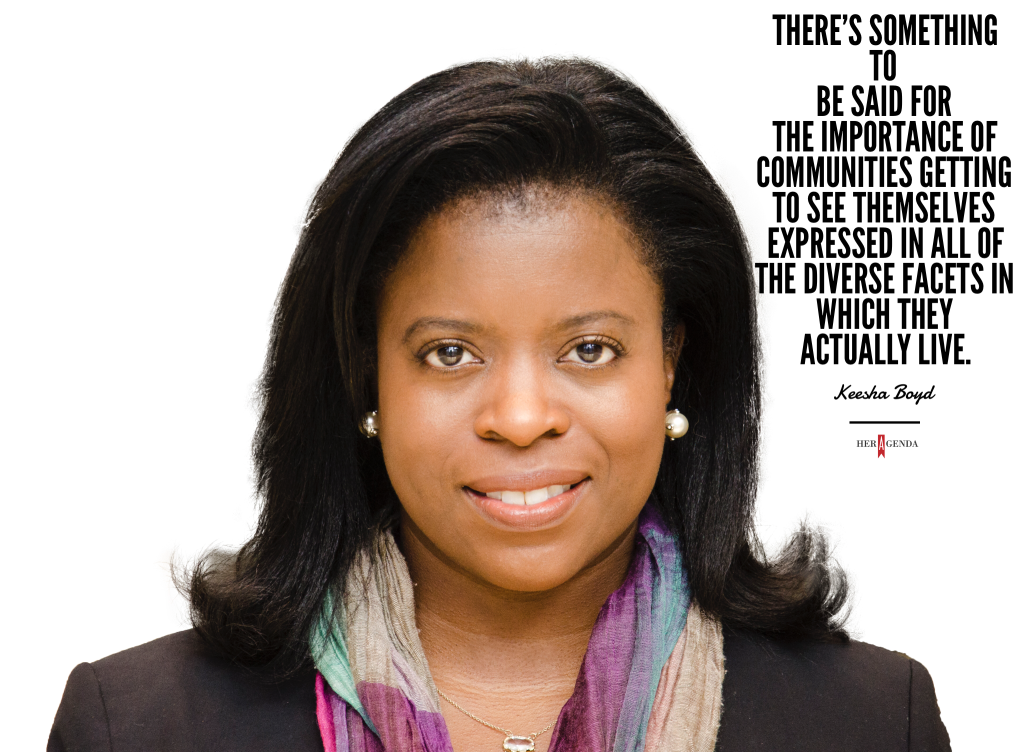 Her Agenda: Mentoring is a big part of your life. What advice do you have for millennial women who are looking for mentors, and what can we start doing now in order to prepare ourselves to become mentors in the near future?
Article continues below advertisement
Keesha Boyd: Mentoring, or finding a mentor is really about taking time to develop a relationship. As a millennial, know that when you reach out to someone or when you have identified someone you would consider your ideal mentor, sometimes using the word mentor is a little heavy to anyone. What I would like to suggest is just reach out and ask if that person is willing to give you 30 minutes for coffee to just chat. Your only goal in that 30 minute coffee is to start to build a a real authentic rapport with this person. So in the beginning, keep it light and know that it's all about the long-term building of the relationship, and I think you'll be surprised at how people are much more open to talk if they know it's a little less formal.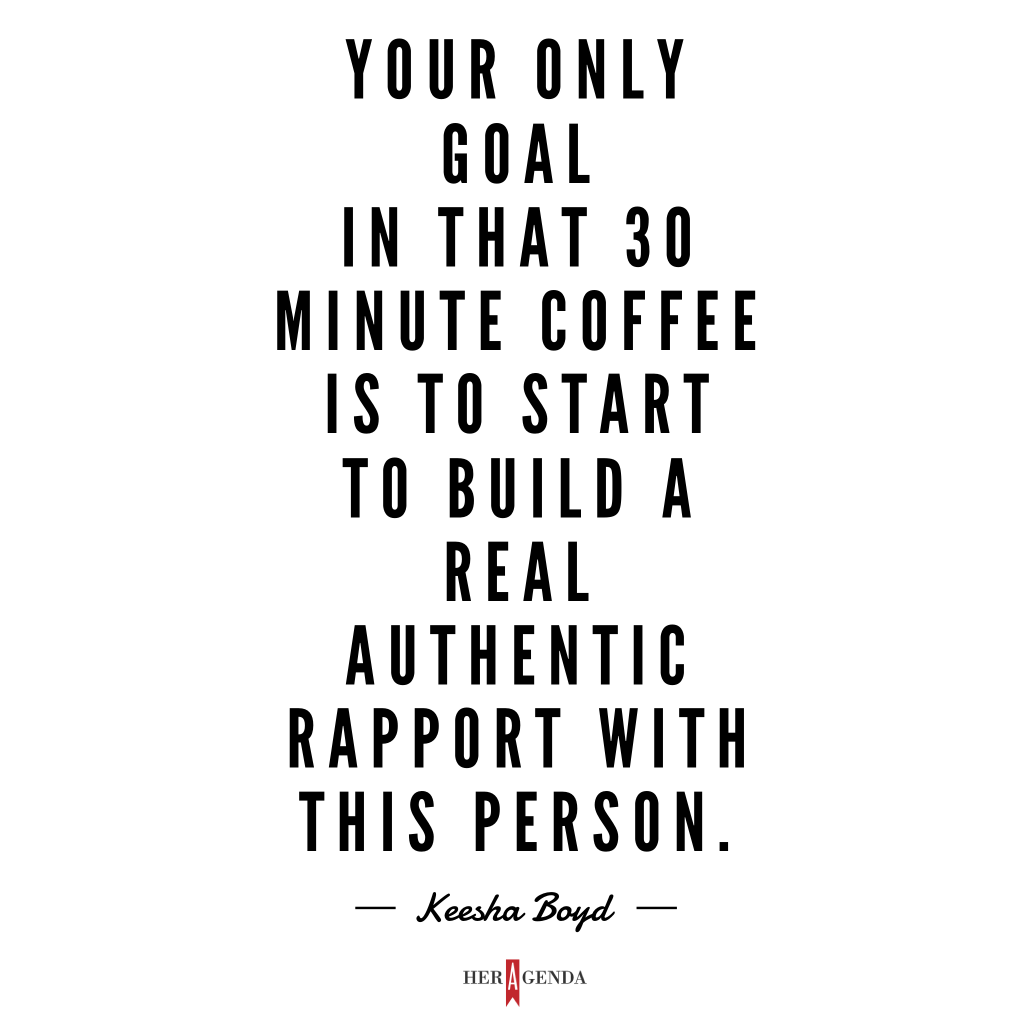 Article continues below advertisement
Her Agenda: What is your personal motto?
Keesha Boyd: I'm a person who has poise under pressure. No matter what happens during the day or how difficult it may be to get buy-in on a particular idea or effort, I try to remind myself that I am all about poise under pressure. So keeping my composure, recognizing what's happening in the moment, taking a beat to think it through and stay focused. One of my favorite quotes is, "how you do anything is how you do everything," so I try to make sure that whatever it is I'm doing, I bring joy, passion and commitment.
Her Agenda: It's Women's History Month, and now more than ever women from all walks of life are lifting their voices on that matter. How is Comcast encouraging its employees, especially those of color to use their creativity and communicate their values to connect with consumers and external partners?
Article continues below advertisement
Keesha Boyd: One thing that we have at Comcast are Employee Resource Groups. Our largest resource group is the Women's Network, and it's comprised of women within the company at all levels. Every Friday, there is a coffee and networking session where we bring in one woman leader in the company for a Q&A session. So I think one of the things that Comcast does is encourage employees to network with one another and grow and learn from one another. Another thing that we're able to do is volunteer within the local communities that we're serving as a network. I think that to me has been a value-add as an employee to know there is a network that I can rely on for honest conversation, and to continue not only mentoring but being mentored by other senior women leaders within the company who are willing to do so.
Her Agenda: What has the best career advice you've ever received?
Keesha Boyd: "Be willing to go left or right before you go up." Basically what that means in order to really start to step upwards, you might have to grow your skill set. And in order to do that, it might require you to move left or right, and take an opportunity that's lateral in order to grow your skill set and sharpen your capabilities before you start moving in an upward fashion with your career. I had a fantastic mentor who told me that fairly early on to not be afraid to move left or right in order to learn what you need to learn in order to move up. It's a piece of advice that I've held fast to and has contributed to much of my career growth.
Article continues below advertisement
Her Agenda: What inspired you to pursue a career in the media industry? Who are some people that you look up to and have served as your mentors?
Keesha Boyd: I actually started out in psychology, and have always been fascinated with people in general. But as I started to grow and develop my own interests in media and social media, I started to gain an interest in the media consumption habits of black women. When I joined Comcast, I brought my experience in organizational psychology and I noticed that I had joined the industry, but wasn't necessarily doing the work. It took some time, but over the years I've refined and evolved as a professional and eventually got to a place where I wanted to marry my passions around diversity, our business and this notion of media and entertainment.
As far as who I look up to, there are certainly women– and men– within Comcast who have been formal and informal mentors for me and so gracious with their time. And of course women like Oprah Winfrey and our former First Lady Michelle Obama, who are both so inspiring to watch. It's been incredible to watch their careers morph and grow. Again, it's all about representation and seeing women like them in the positions that they were in and are currently in, just inspires you to do better and keep thriving in your own space.
[Editor's note: This interview published on March 27th, 2017. It has been edited for length and clarity.]