When it comes to young game changers in Hollywood, Keke Palmer is one of the names that immediately come to mind.
[Editor's note: This article was originally published in July 2015. It's been five incredible years since we featured Keke's incredible journey. At 21, she was very accomplished, and now 5 years later at the age of 27, she's continuing to raise the bar. Since our feature we've seen her co-host a morning talk show (Good Morning America's third hour, NBD), host the VMAs, land countless deals with brands like Olay and continue to "secure the bag." What remains constant is her passion for social justice and her motivation to speak out and show up for those who need it. I hope you read this feature of where Keke was five years ago, and take note: great things take time, remain true to your principles and who you are. That's what Keke has done, and continues to do. Congrats Keke! – Rhonesha Byng]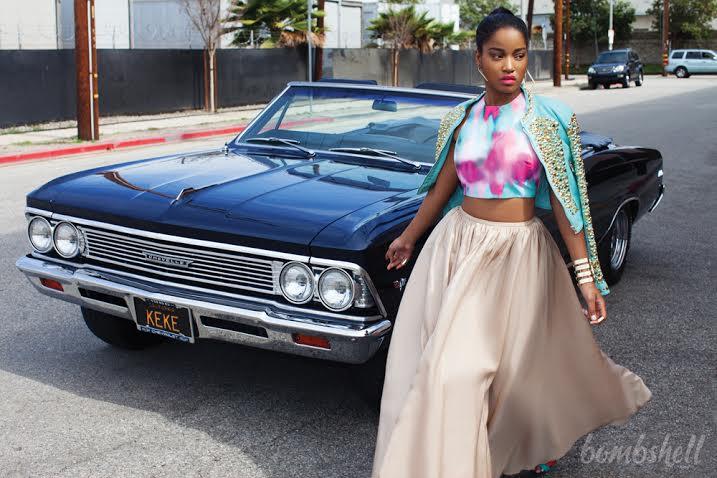 Article continues below advertisement
Her Agenda: What does it mean to you to be an empowered woman?
Keke Palmer: To me it means not abiding by society's ideas of you despite what people may perceive you to be. To be comfortable in your skin and loving yourself exactly who are. Being able to express yourself and living by your own rules.
Her Agenda: What is your personal motto?
Keke Palmer: I'm a quote person- I like to apply quotes to my life and situations, so I have a lot of quotes that I go to for positive reinforcement. My mantra would be that change is good. Even if things aren't playing out how I want them to, I try to embrace it and take it as me being led in a new direction that God and the universe want me to be on.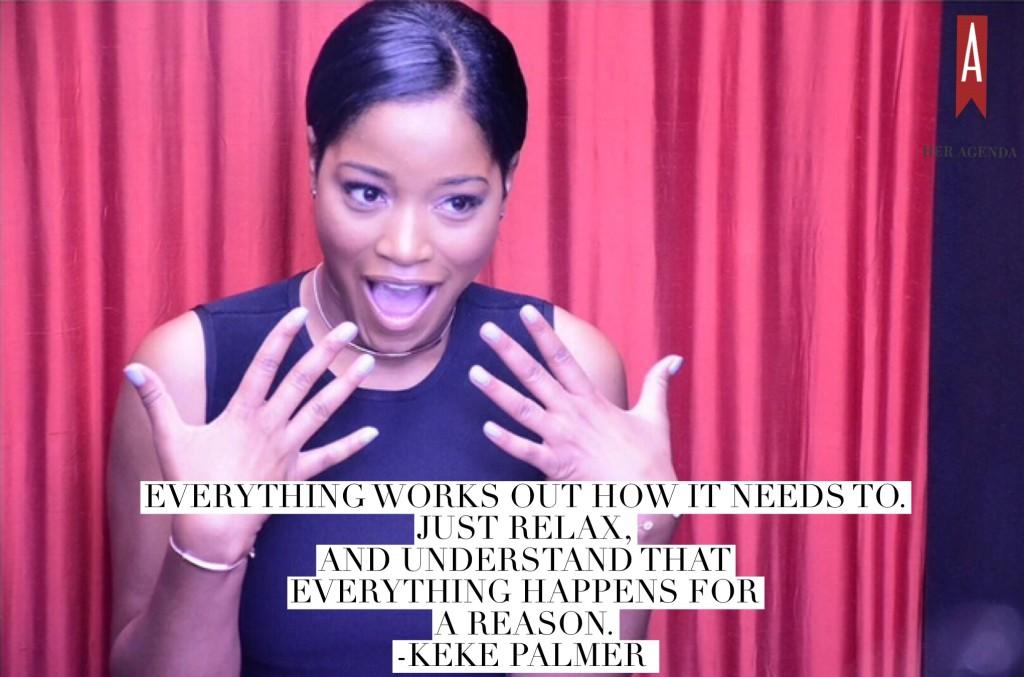 Article continues below advertisement
Her Agenda: So you had a really successful run with your show 'Just Keke' last year and you're filming a second season, what can your fans expect from you and the show this season?
KP: It won't be too different than the first season, but I do think it'll be a bit more polished and tighter as far as topics go and the way the show flows. The first was a trial season so now my team and I know what worked, what didn't really work and can put together a tighter season.
I want to keep the conversations going about the influence of social media on our generation, relationships, careers, sex, love, and all of the things we touched on last time. This season I want to put an overall emphasis on uplifting social consciousness. I think with everything going on right now in America and the world [in Baltimore, Florida, Ferguson], we need to have a platform where young activists can have a dialogue about these issues (outside of social media). I want to have a platform where we can come together and discuss those issues and all the facets of those issues. So I'm excited to share that with the audience.
Article continues below advertisement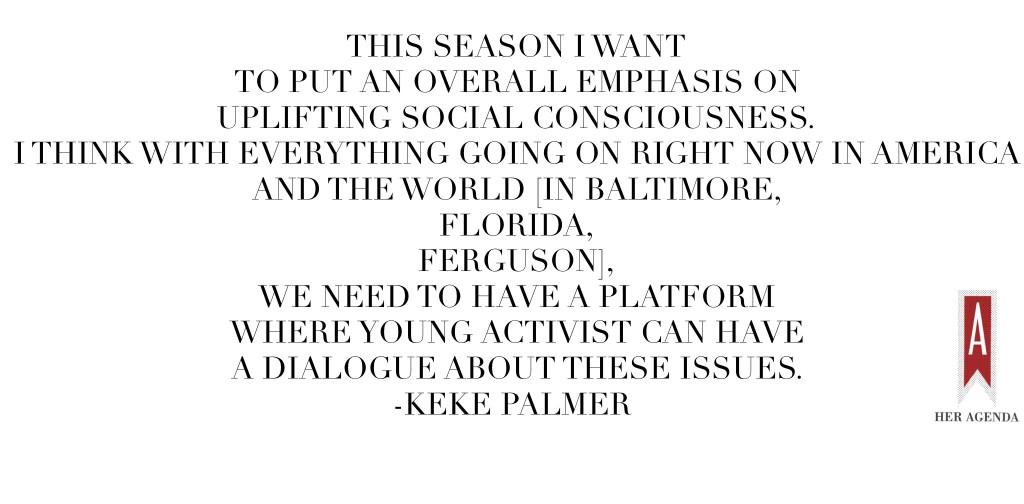 Her Agenda: You've accomplished so much at a young age. But if you could go back and give a piece of advice to your younger self, what would that be?
KP: I'd tell myself that everything works out how it needs to. Just relax, and understand that everything happens for a reason. I used to be really anxious about my future, personally and professionally, and sometimes it got to the point where I was actually overwhelmed about my future and things that were beyond my control. So I would definitely tell myself to chill and relax and just trust the process.
Article continues below advertisement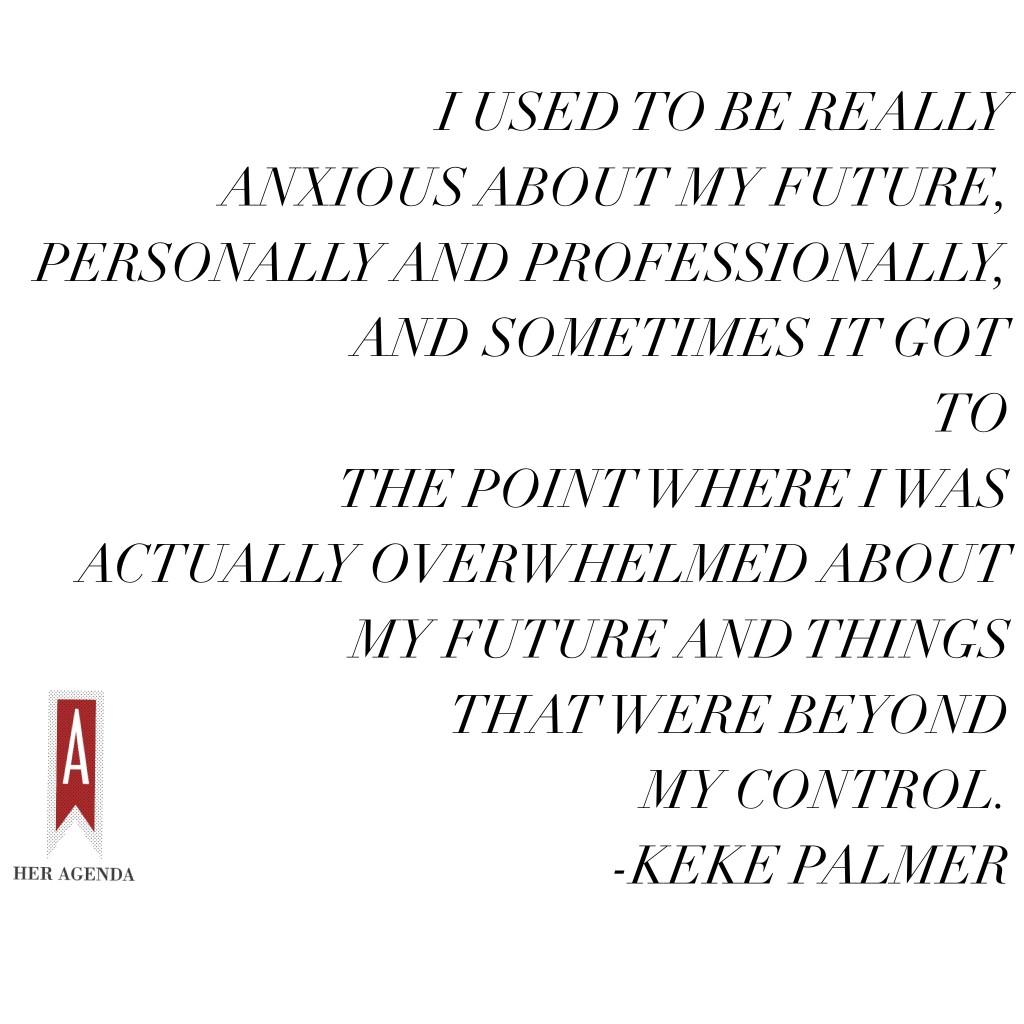 Her Agenda: At your age, many young people are considering college or entering into the workforce. Since you already have established your career, if you were going to go to college at any point, what would you study?
Article continues below advertisement
KP: Definitely psychology. I could see myself definitely wanting to major in that because I'm so inquisitive and curious. I'm curious about people and why they think what they think, do what they do, feel what they feel, and perceive life the way they perceive it. I like digging into how people's experiences affect and shape their world view. I like to talk a lot but I also like to listen, I'm fascinated by personal stories and the experiences that other people have. The word fascinates me, so I think I would love psychology so I could explore all the theories and concepts as to why we all interpret and experience things differently.
Her Agenda: Nowadays, when you find yourself being stressed or overwhelmed, what is it that you do to unwind?
KP: I meditate a lot, which I think is important [in order] to in tune with myself and be more driven my spirit. I really believe your spirit is where you find what's important to you and how to express yourself. I'm also into journaling- what I'm thinking, what I'm feeling, how it's affected me. I've done it ever since I was a child and it helps me release and funnel all of my energy, good or bad, into one place. I also have learned not to take things so personally, which helps especially when it's a situation with friends or family that's affecting me.
Her Agenda: A lot of young women look up to you. What do you say to those women who are struggling to find their own identity?
Article continues below advertisement
KP: I'd say understand that it's going to be difficult, but accepting yourself, embracing your flaws, and being true to yourself is what's ultimately going to bring you the most joy and happiness. Everyone's version of happiness is different, and with difference comes disagreement and criticism and that's okay. It's always tricky to be in a place where you have learn to accept and love yourself for who you truly are and not conform to societal pressures. My biggest piece of advice would be to never be ashamed of what makes you happy.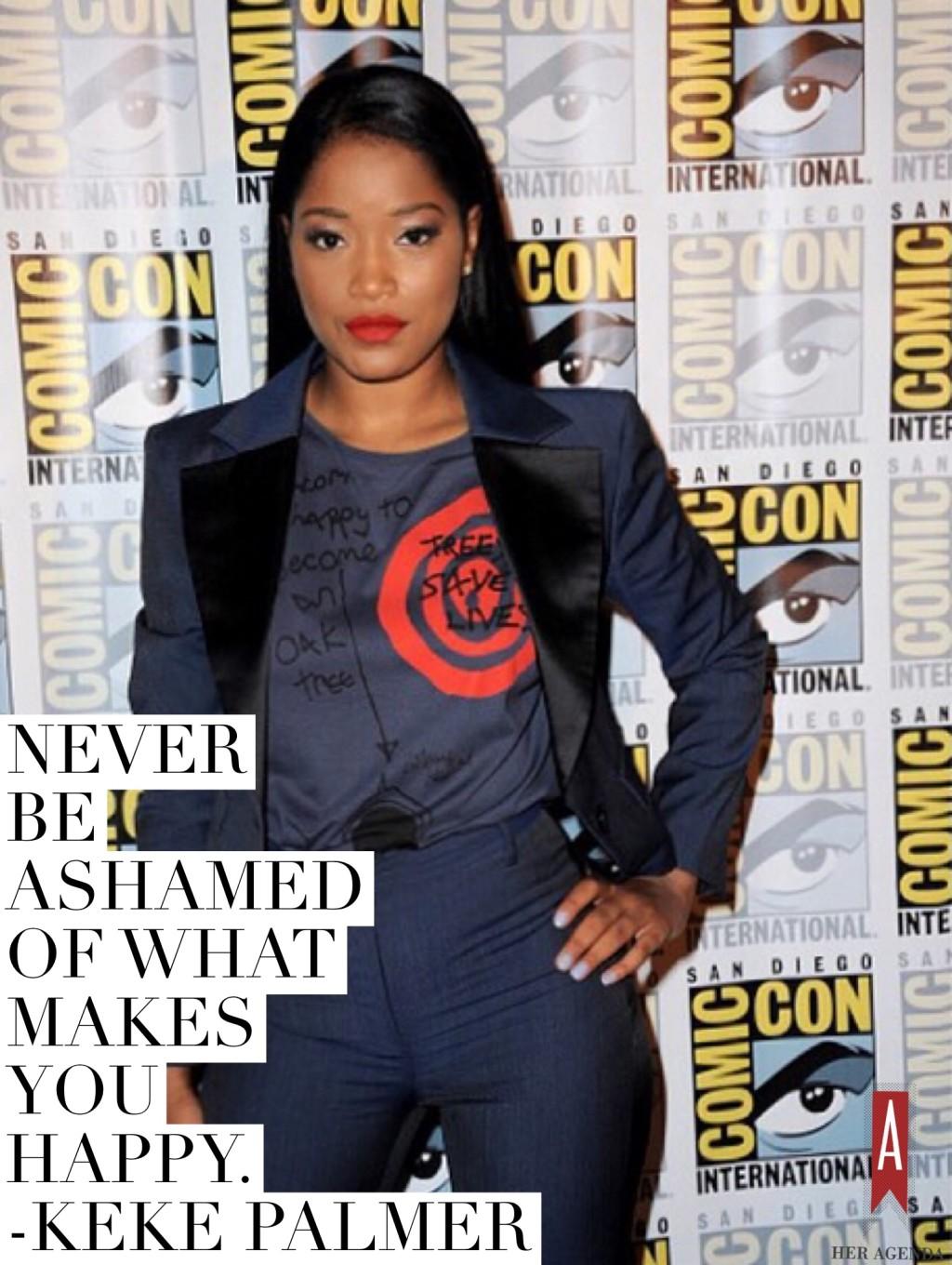 Her Agenda: If you had to describe your thoughts on where you are right now in your life, what would you say?
KP: I'd say that right now I'm in a curious state. It's a good state, but I'm personally at a crossroads with all I have going on [Scream Queens, Brotherly Love, Just Keke]. I'm learning a lot about people and about myself. I'm in a place where I'm really learning to be driven by my spirit and let it guide me as to how I express myself and interact with others and the way I lead my life. So I'm curious to see where all this discovery I'm in the midst of leads me.
[Editor's note: This interview was originally published on July 13th, 2015. It has been edited for length and clarity.]