Before Lea Goldman began 2017 as the Editor In Chief at Lifetime and FYI, she spent over two decades in media.
After working as a reporter for 10 years and then as a Senior Editor for – at the time – a male dominated Forbes, Lea transitioned to a media platform by and for women at Marie Claire as a Special Projects Director and Executive Editor. Lea also shined as the Editorial Director of Refinery29 before moving onto Lifetime and FYI, where she now specializes in career and workplace matters.
In addition to adding teaching to her résumé as an adjunct professor at NYU's School of Professional Studies, Lea has made frequent TV appearances on Forbes on Fox, Your World with Neil Cavuto, the Today Show, and Entertainment Tonight. Her accolades include the James Aronson Award for Social Justice in Journalism and a National Magazine Award nomination for her piece on "The Big Business of Breast Cancer."
Lea shared her passion, grit, and motivation with Her Agenda. Read on below to find out how she learned to own her story, navigate work life "balance," and the advice she wishes she received earlier on.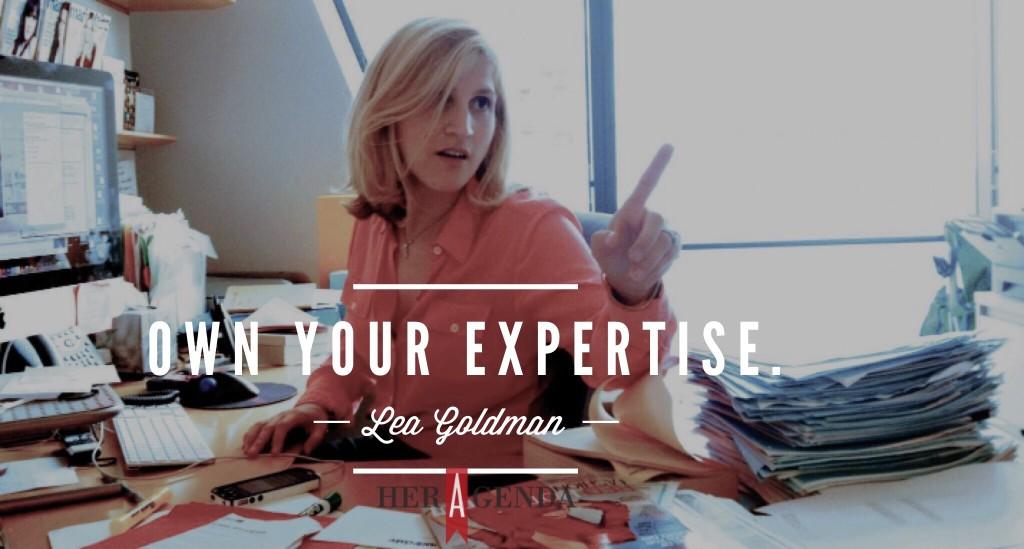 Article continues below advertisement
Her Agenda: Tell me more about your story outside of what's covered in LinkedIn or your resume?
Lea Goldman: I have an unusual background in women's media in that I started as a business journalist. I was at Forbes for 10 years which is a long time to be in an environment like that and then shift gears to join a women's organization. I was at an ostensibly a men's brand, it was produced largely by men and its audience was largely made up by men. I grew up in an environment, career wise, that was influenced by this Wall Street, Gordon Gekko type, heroes of capitalism mind set. To go from that to women's media was not only a culture shock but really formative in that I saw first hand how men worked together in an environment that largely excluded women, and then I got to see what it was like working in an environment of women that largely excluded men.
Article continues below advertisement
In many ways, it was a master class in gender and informed [my views on] how men and women differ as leaders. When I was at Marie Claire I was lucky because one of my roles was to introduce successful women, and that was my job at Forbes. It's been a guidepost for me in how I deal with different environments and different leaders, male or female. It was very pivotal and that's a story I don't think anyone has. I worked with only men for 10 years and then only with women for 8 years. I have a keen insight into what the differences are and how media has evolved. It happens to be we are in an era of women's media. A lot of what I saw at Forbes, informs the reaction and backlash that I saw at Marie Claire.
Her Agenda: Outside of work, what are different social groups that have helped your career and lead to your success?
Lea Goldman: I'm very choosy about how I spend my off hours. I now count among some of my closest friends the women that I've covered. It's not calculated, it's just that they are interesting and stimulating. At this stage of my life I'm about learning, not 2am. How do I maximize the few hours I have? It's either with my husband or these women, so I'm really meticulous on where I spend my hours.
Article continues below advertisement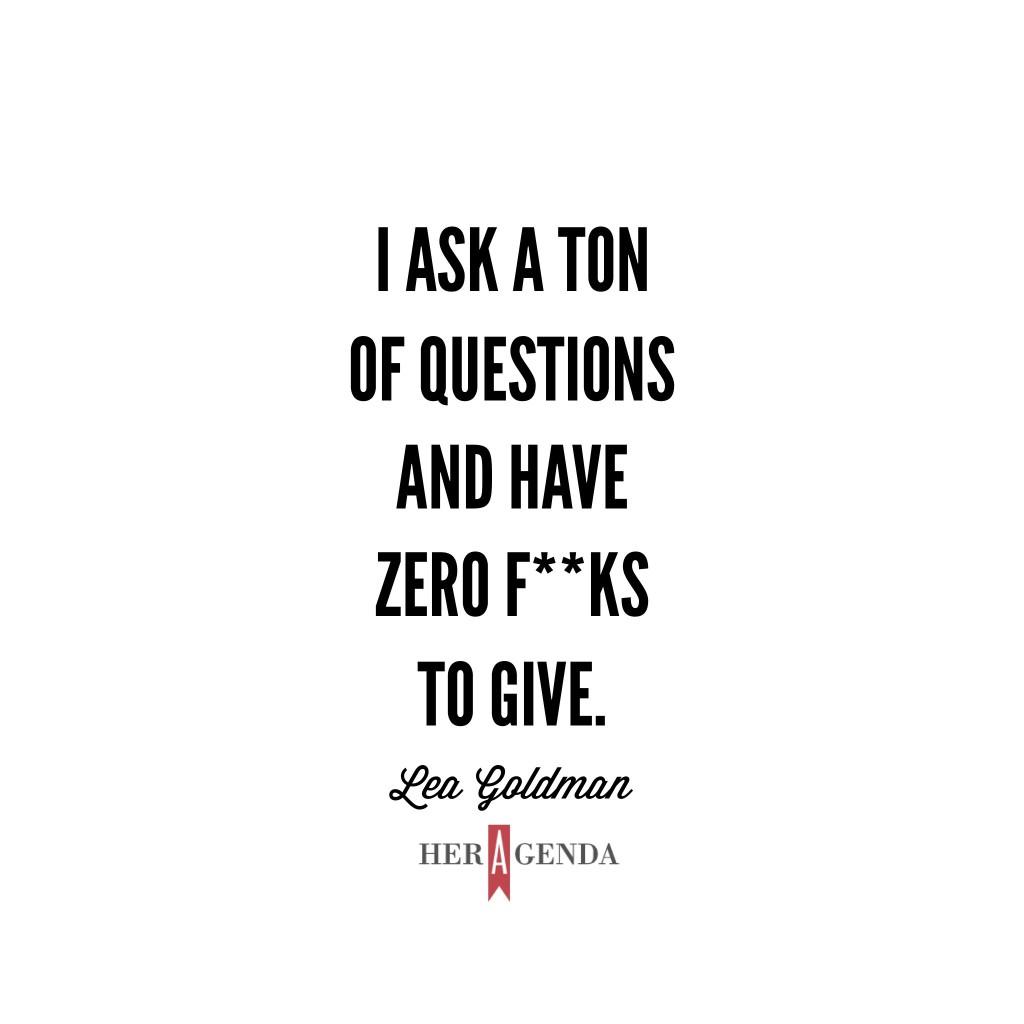 Her Agenda: What's one piece of advice you wish you got earlier on in your career?
Lea Goldman: Now in my older years, I think a lot about how intimidated I was at Columbia University and how I spent most of those four years in the back row, rarely asking questions. Now I ask a ton of questions and have zero fucks to give. I'm happy to sound stupid as long as I learn something from the conversation. I think a lot about how often in my career I've been too afraid to ask. What compels women to keep quiet? It is usually fear or the impostor syndrome. If you can overcome that intimidation factor, you will be better for it.
Article continues below advertisement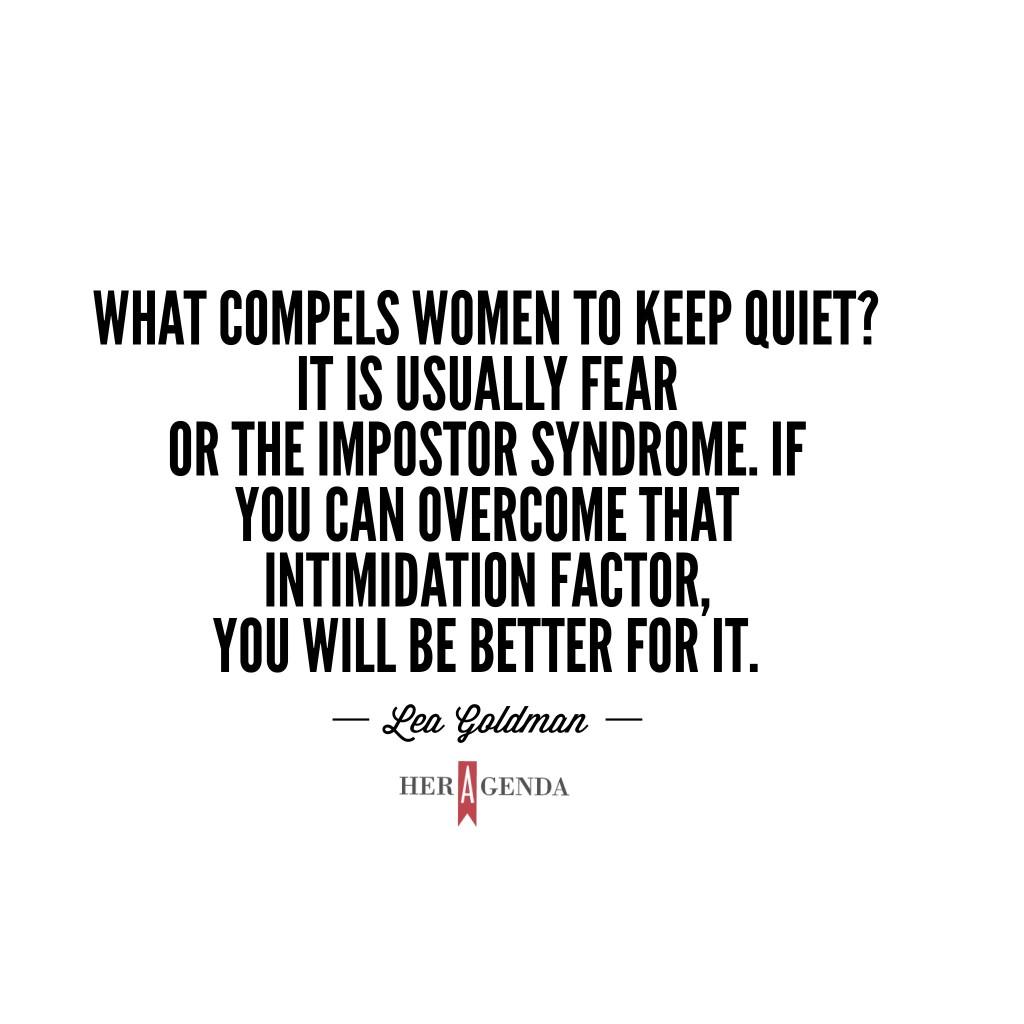 Her Agenda: What's one tool you use or habit you have to stay on top of all of your work?
Lea Goldman: I very much rely on the help of my assistant Joey. I am upfront that the calendar is a blind spot for me. I'm really bad at keeping and maintaining a schedule. It took me a while to own that, because there are certain things you're expected to handle not only without complaint, but you're supposed to handle well. I can't tell you how many times I've blown a calendar and it's not a small thing because people's time is valuable as yours is. So I finally just owned it and was like, I can't manage this and I don't want to manage this.
Article continues below advertisement
It's really difficult for me. I'll handle everything else but I need someone else to take over my calendar. Once I owned it without fear, and got the help that I needed – I leaned into it. You don't have to be excellent at everything. You don't have to be the CEO to say that you don't want to or you can't handle it. You can get the resources you need to focus on the things you are excellent at – all you need to do is ask.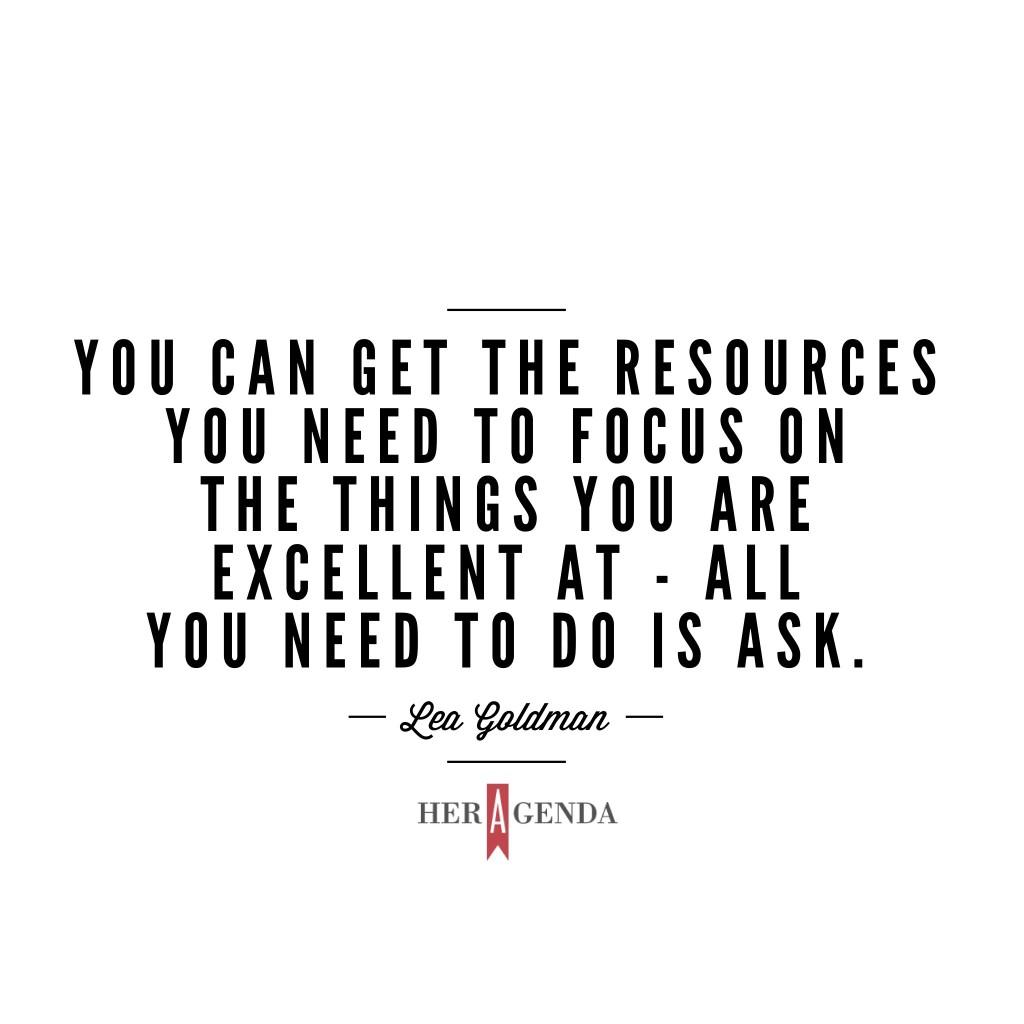 Article continues below advertisement
Her Agenda: What project are you most proud of and why?
Lea Goldman: I co-produced the "Power Trip," while I was at Marie Claire which I'm incredibly proud of. It was the culmination of everything I had been working on for years. We chartered a Jet Blue jumbo jet and flew 100 women of note from New York to San Francisco where we met another 100 women of note for one night only of networking. From top to bottom, everything about it was geared towards the women I had been meeting. Everything was executed perfectly. I worked with a masterful team at Marie Claire. Really the source of pride for me, was that guest list was essentially the network I had built for the duration of my career and it was only by staying in touch with those women, keeping up with their projects, congratulating them when they had a moment, and just staying front and center in their world, and being of value to them. Relationships are things you forge, they don't just happen. You have to nurture them, you have to water them, you have to stay on top of them, and then they bear fruit, but you can't rush them.
Article continues below advertisement
Her Agenda: What's the biggest lesson you've learned from going through different career transitions at different companies in front of the public eye?
Lea Goldman: I think what has been helpful for me, was having spent 10 years at one magazine, and eight years at another. On the face of it, that's not terribly interesting – it doesn't sound new or forward thinking. So I realized I have to stay on top of the narrative. I was having trouble constructing my resume when I was looking to leave Marie Claire and a colleague told me, rethink my resume as a less traditional resume and more of a story.
If you have a hiccup in your career and have something that needs explaining – explain! That resume doesn't have to look the way everyone else's looks. You can take a moment to explain yourself, which is exactly what I did. I own my story. I don't let my circumstances dictate my story.
Article continues below advertisement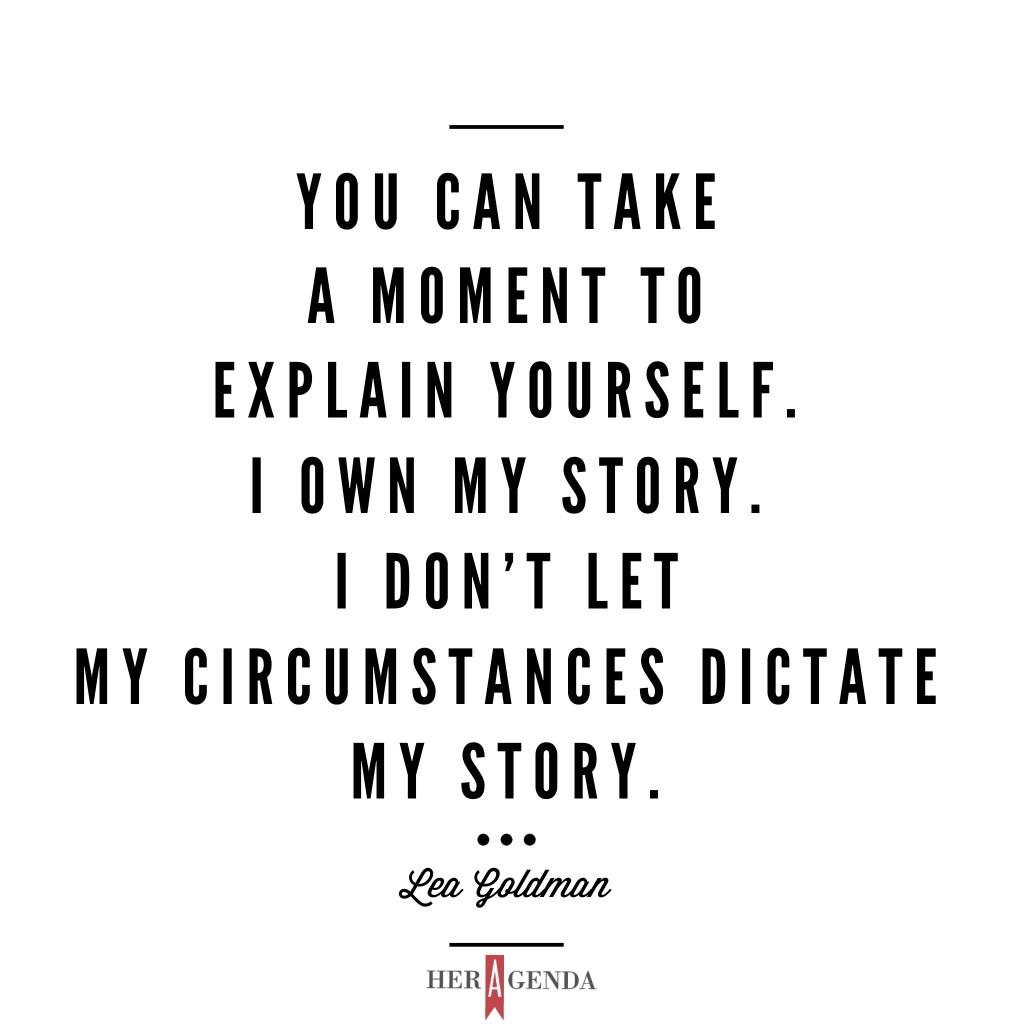 Her Agenda: A lot of young people feel this pressure that they need to go from the bottom to the top within a year or two, versus building your background and working your way up.
Lea Goldman: When I meet young people one of the things I'm often asked is, I don't have any writing experience but I really want to be a writer or, how do I break into this and I always say the same thing. That is part of your story and so now craft your story for me as you would in an actual article. If you have a side hustle I want to hear about that because I find that fascinating and speaks to other skills that you might have beyond just writing. It's the hustlers that rule the world right now, so if you've got a side hustle, make it part of your narrative.
Article continues below advertisement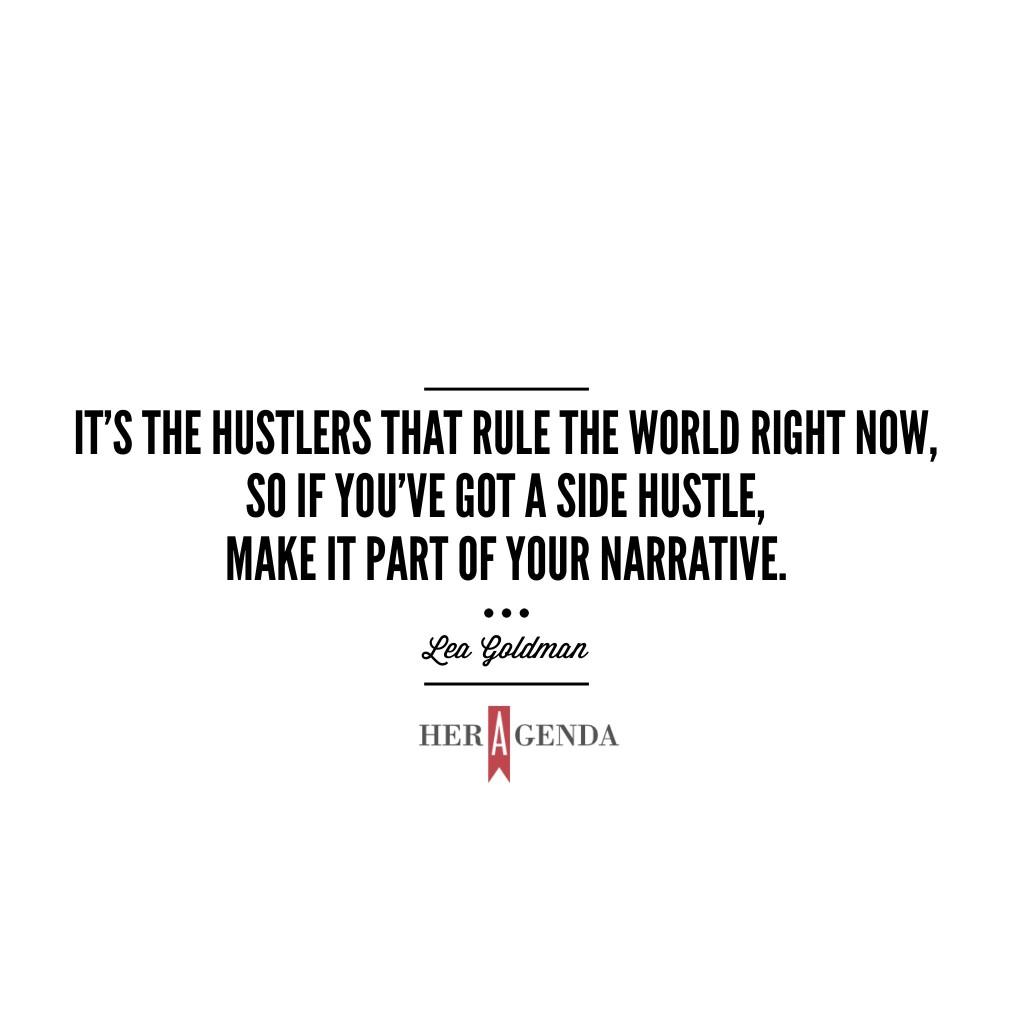 Her Agenda: How does one juggle wearing all these different hats while still remaining reliable as an expert in something. Would you say that's something you've learned along the way?
Lea Goldman: I feel like I am an expert on women's media and media. I know many women who are similarly expert but don't own it. The example I use is, I ran two marathons. To look at me, you'd never guess that I ran two marathons, but I ran them so I'm a runner. If you write, you're a writer – so I own my expertise. That's what I am, I've earned it, and I feel very comfortable owning it.
Her Agenda: What mantra do you live by?
Article continues below advertisement
Lea Goldman: I believe you should mean what you say, and say what you mean. I'm often described as blunt and direct, which is very often a backhanded compliment. I get that sometimes you have to know your audience, play to the room, and be diplomatic when the situation calls for it. But I feel like whether it be men or women, a lot is left unsaid – I like to say it. I like for everyone to leave a room understanding where they are at. I'm all about asking, airing, and transparency. I leave everything at the door when I leave work. I don't bring home grudges or anger. It's work, we can be open about our feelings and opinions in a respectful way, and improve. All those things are important, but often overlooked, in the service of being nice.
[Editor's note: This interview published on May 30th, 2017. It has been edited for length and clarity.]