This past fall, Georgia native Maria Taylor continued to expand on her groundbreaking career as co-host on ESPN's College Gameday as a sideline reporter for ABC's Saturday Night Football. She is the first ever Black female reporter in each of these roles, and while these are achievements in their own right, there is no doubt she has her sight set on even more goals.
Maria's world revolved around sports her whole life, both as a young adult and at the University of Georgia where she played volleyball and basketball. She graduated from Georgia in 2009 with a degree in broadcast news and returned to pursue her Masters of Business Administration which she completed in May 2013.
Before working for primetime, Maria worked with analysts Tim Tebow, Marcus Spears and Paul Finebaum as host of the SEC Network's traveling pregame show SEC Nation in addition to years of working as an analyst, reporter, and host for college sports.
However, most inspiring is, The Winning Edge Leadership Academy, a non-profit organization Maria cofounded in 2015. There her mission is to educate, foster professional mentoring relationships, provide networking opportunities and enrichment scholarships to ethnic minorities and women who are seeking careers in the sports industry.
Maria spoke with Her Agenda on how she fell into journalism, her vision to build diversity in sports, gender dynamics, and the motivational advice we all need to hear over and over again.
Her Agenda: Were you always in sports?
Article continues below advertisement
Maria Taylor: Yes. I always played softball or something and then when we moved to Georgia in 6th grade I started playing basketball. So, sports have been a part of my life for forever. Then I played basketball and volleyball in college.
Her Agenda: Why sports? What connected you to them?
Maria Taylor: For me, because I've been lanky and tall my whole life, sports was the place that I thrived. When everyone else was dating guys and looking really cute, I was wearing high water pants and whatever sweatshirt my brother passed down to me, and a headband. Playing sports was where I was the most comfortable. It's where I felt the most myself and I could be one of the guys and it was cool to be that way. It was the only space I had so I really threw myself into it.
Article continues below advertisement
Her Agenda: As you got older, what drew you to first basketball and then volleyball?
Maria Taylor: I think naturally, it was the sport that worked for me. Volleyball ended up being such a dynamic sport. I was explosive growing up. My Dad could jump high and I could too. So that's why I really loved it. But I know I could not have played an individual sport, I needed teammates. I played tennis for a while but I was too hard on myself and I needed someone else's energy. I'm energized by people, so I couldn't run track or something.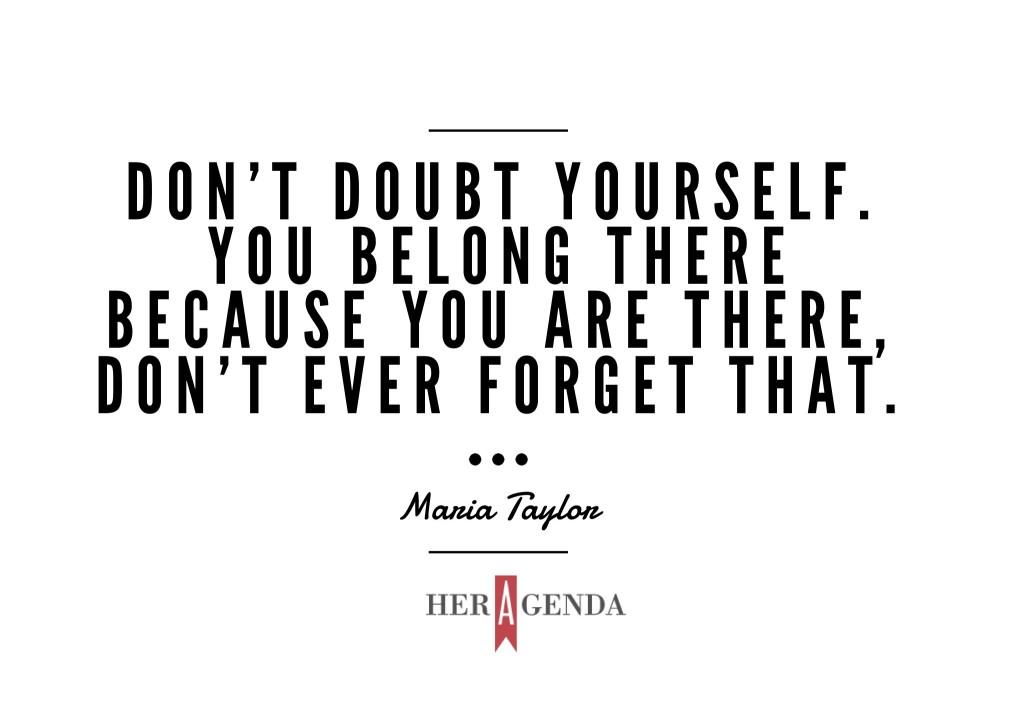 Article continues below advertisement
Her Agenda: Going into your recruiting process, being an athlete that gets recruited into two sports for a Division I school, what was going through your mind?
Maria Taylor: It seemed normal to me. But you are basically playing sports all the time, so as soon as my high school basketball season ended, I rolled right into playing club volleyball in the summer.
Her Agenda: In college, you were thinking of majoring in biology, then business, and then eventually found journalism. How did that happen?
Maria Taylor: I thought I was going to be a doctor. Then I took biology and realized I hated science. Then I went into business because everyone goes into school and says business. Then I took accounting and a finance class, and realized I am horrible at these two. Then my teammate and best friend was majoring in journalism. All she ever wanted to do was be a news broadcaster, journalist. Then I went to class with her and was like, 'I love this! This is it.' And that's how I fell into it, literally.
Her Agenda: Did you know sports is what you wanted to do?
Maria Taylor: I knew once I got into it, yes. We had people coming to our games and realized, I can do that with this major. That was when the total switch flipped, after seeing that.
Article continues below advertisement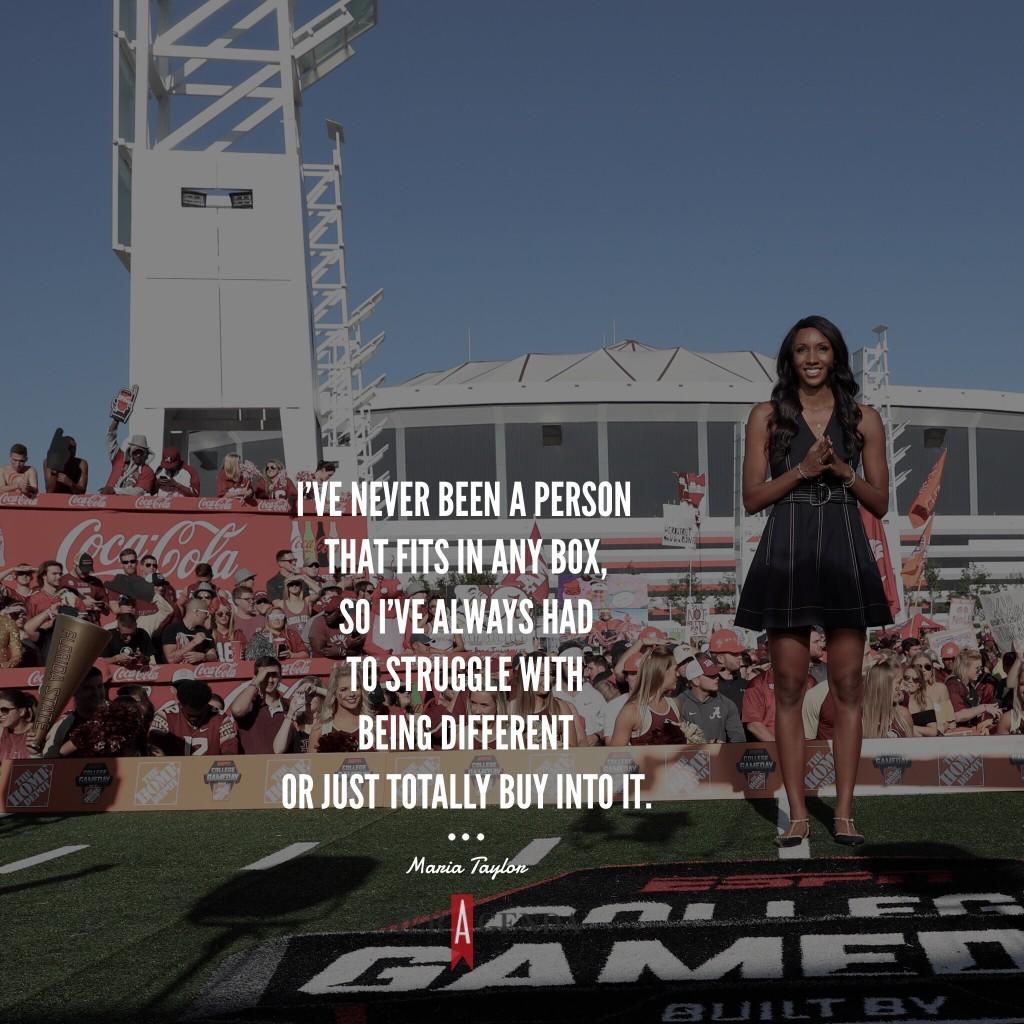 Her Agenda: Women in sports journalism is definitely not represented nearly enough, which is so odd when we think about sports. But then I look around, and at my college, everyone in the athletic administration was a white man. What was your experience realizing, there is only one of me?
Article continues below advertisement
Maria Taylor: At first you are confused or feel like an outcast. What I've learned over time though is that it takes [time to] learn to use your uniqueness to your advantage. Because at the end of the day, when I walk into an all white room, I stand out like a sore thumb and people want to hear your story. So if you can eloquently express that story, then you already won. I think too, being tall and all these things that made me not like a lot of other people, I've never been with a group. I've never been a person that fits in any box, so I've always had to struggle with being different or just totally buy into it. That helped me along the way. It was the hardest thing when I was in middle school but then learning to be confident, and knowing what you bring, and your value has helped me moving forward.
But also seeing it as, I want to change it. I want more women to be in sports. I want more minorities to have jobs. It's not just broadcasting, it's in the offices. I want general manager's to be Black men. I want a woman to be general manager. I think we should have women who are athletic directors, why don't we have that many? So these are all things that are very important to me, because I have a platform and I see it everyday – I want to be apart of the solution.
Her Agenda: Let's talk about the solution. You have an organization called, The Winning Edge Leadership Academy. How did that start and where is it going?
Article continues below advertisement
Maria Taylor: My friend and I, at the time, were coworkers at ESPN. We were talking one day about how to build diversity in our industry. There are people who want to have a diverse workforce, and there are kids, and minorities, and women that want to be in that workforce but no one is connecting the dots. Then we realized, we have both of those things. I'm constantly getting reached out to by young women and minorities, and I also have the ear of athletic directors. We learned about how to build a non-profit, filled out all the paperwork, got online, became official, and literally worked from the ground up.
What we do is bring kids in and give them mentors for a year. We have resume building classes, public speaking, and try to build them up and make them more confident. This is our fourth year, I think the future of it is building a whole database of diverse members with their skill sets.
Article continues below advertisement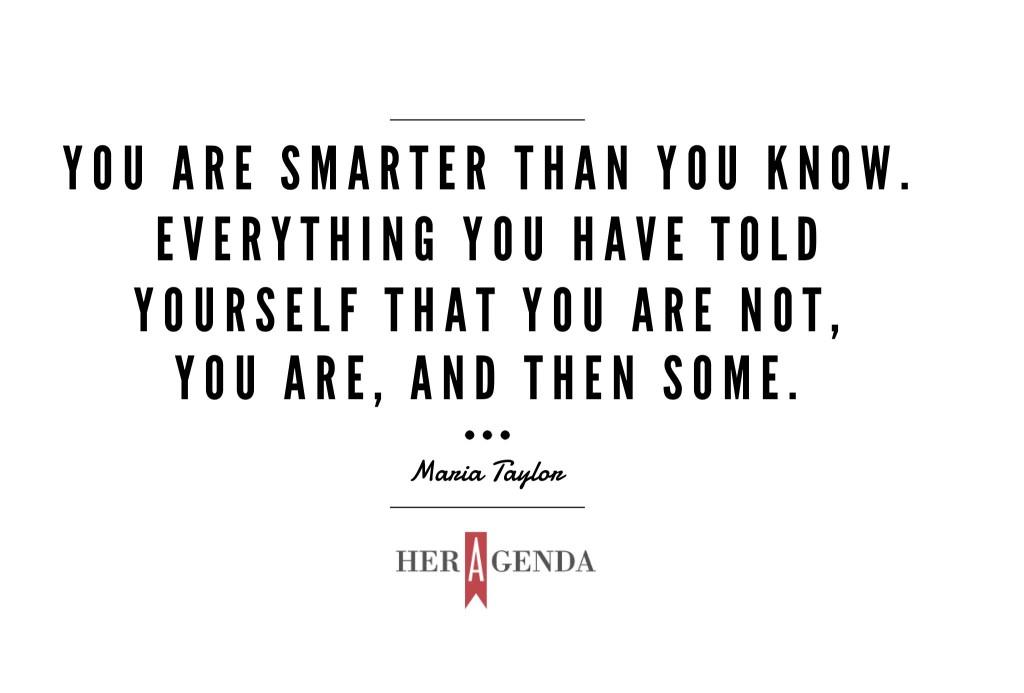 Her Agenda: What are you doing at ESPN with College Game Day?
Maria Taylor: It is a completely different level of television. The last few years I was with SSC network and we were a brilliant family and we operated perfectly. But College Game Day is the last big show we have that everyone wants to watch at all times. We have a live studio audience for every single show, that's pretty cool.
Her Agenda: So you travel around the country? How many cities are you visiting?
Maria Taylor: It will be 12 different ones. Every single week we are in a different city.
Her Agenda: What has been the most memorable in your experience thus far?
Article continues below advertisement
Maria Taylor: I think the biggest thing is starting off my Game Day/ABC primetime career in the city that I grew up in. The first game I did was in the brand new Mercedes Benz Stadium, can't write a better script.
Her Agenda: You're the only woman on your show's team. Do you think there is a specific attribute that you bring as a woman to your reporting style or to your team as a whole?
Maria Taylor: I think I am that annoying sister on the team. I don't let them get away with anything. I think I'm a little bit rougher maybe around the edges, but it's fun. That's been fun building that chemistry with the guys, especially on a Friday show live.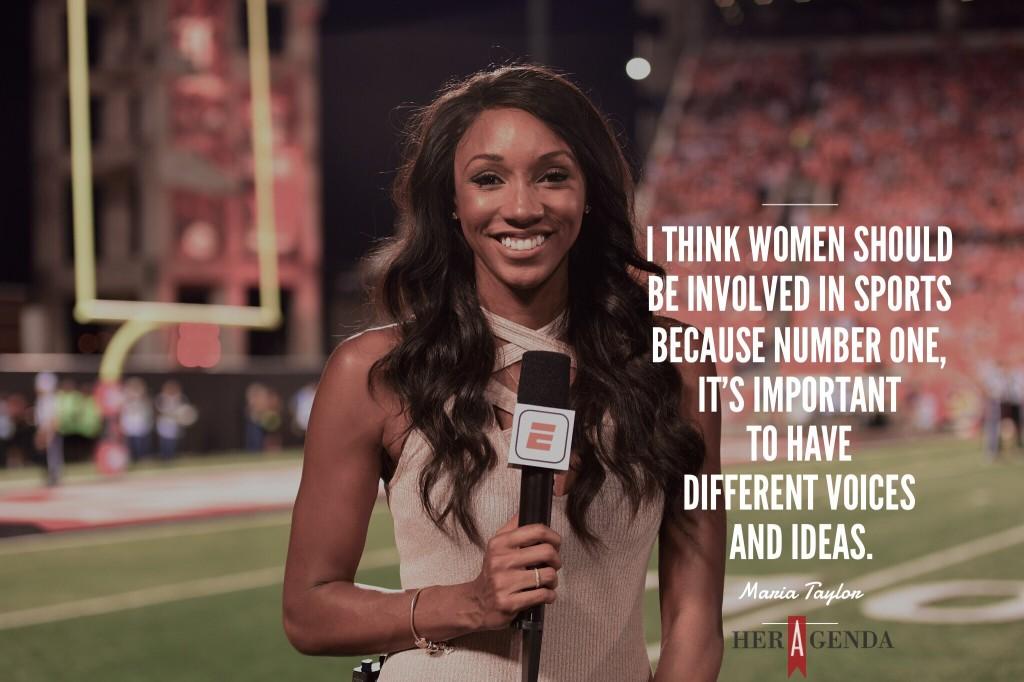 Article continues below advertisement
Her Agenda: Do you have a specific goal for what you want to come out of this?
Maria Taylor: I think I have always told people a morning show is what I ultimately want to be on or something that covers even more than sports. Something that transcends everything. Now that I have been doing it longer I want to create content too. There are so many great shows and avenues to make them happen now. Or doing unscripted and following a team that goes through adversity, so I want to produce eventually too.
Her Agenda: Why should women get more involved in sports?
Maria Taylor: I think women should be involved in sports because number one, it's important to have different voices and ideas. Sports is one dimensional when only one type of person is talking about it. Because not one type of person plays it. Women play sports, every color of person plays sports, people who speak different languages play sports so why should just one person be in journalism or the industry in general? And that is why it's so important.
Also, because it's a really fun environment. I love covering sports because the competitive nature of it, the way that people are so tied to a common goal and working so hard. Nowhere in sports can one person be successful just by themselves. Again, I'm energized by people and I think a lot of women are as well. That's what we need more of.
Article continues below advertisement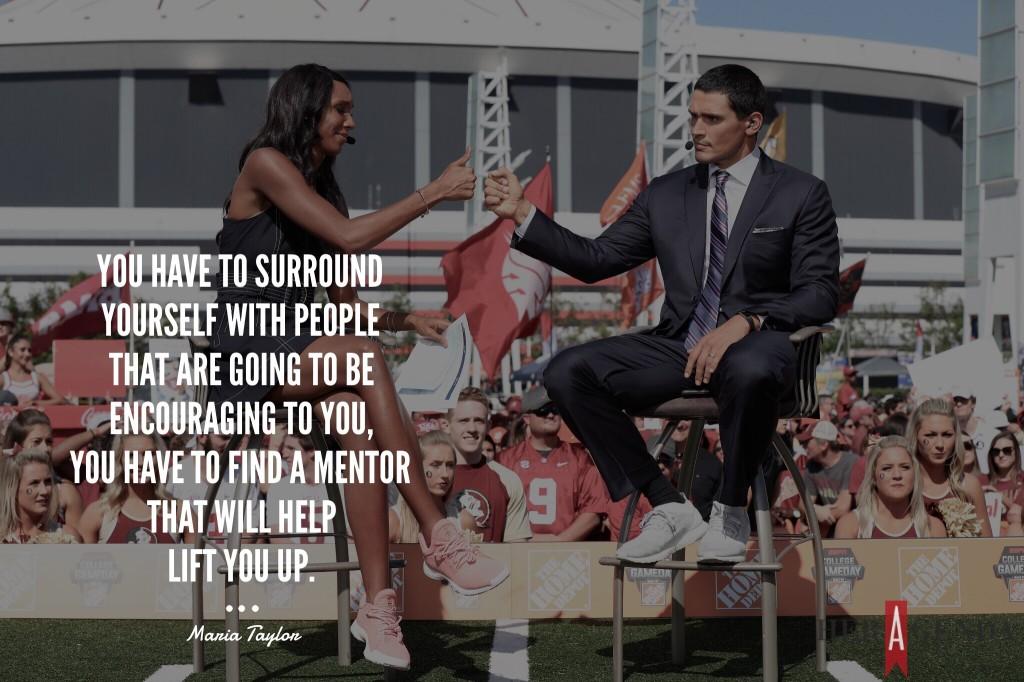 Her Agenda: Do you have any advice for women who are in sports or those industries where they are bumping up against glass ceilings or concrete barriers?
Maria Taylor: I always tell women, first of all, you are smarter than you know. Everything you have told yourself that you are not, you are, and then some. Just because you are on the outskirts, doesn't mean you are less than. Or just because you are not the same as someone else doesn't mean that you don't matter as much as they do.
At the end of the day you have to positive self talk yourself in that way. You have to surround yourself with people that are going to be encouraging to you, you have to find a mentor that will help lift you up. You need a champion in the industry that looks like everyone else who can get the ear of everyone else.
Don't doubt yourself. You belong there because you are there, don't ever forget that.
[Editor's note: This interview published on October 9th. It has been edited for length and clarity. Credit: Shanthi Marie Blanchard and Eve Stern.]