Shiba Russell has no time to waste. As a single mom and full-time anchor, she fits in workouts when she can, and is driven by her passion to tell stories. Despite her on the go schedule she makes sure she finds the time to help out the next generation. She is inspired by social media, and her connection to her audience.
Currently Russell is the evening news anchor at NBC's 11Alive affiliate in Atlanta, Georgia and prior to that, she worked at NBC's New York City affiliate at 30 Rock.
You may think an anchor simply gets up and reads the news but for Shiba it's a lifetime of experience. She's an Emmy award winning journalist who believes digital news is the future. Russell also knows in order to have a long and fulfilling career you need to understand every aspect of the job.
Russell spoke with Her Agenda on what it means to be a journalist, and how she handled her career moves with grace and balance.
Her Agenda: Now that you've transitioned into the evening anchor role at 11Alive, do you prefer evenings to mornings?
Shiba Russell: I think my preference always in news is to do a banker's hours shift. In New York, I was [working] 10 to 6:30pm and that is probably the most perfect shift I've had in all my years in television. There are pros and cons to waking up in the morning and there are pros and cons to working in the evenings. For me, it is important to work, it's important to tell stories, to continue to be a journalist, and do what I went to school to do – which is my passion.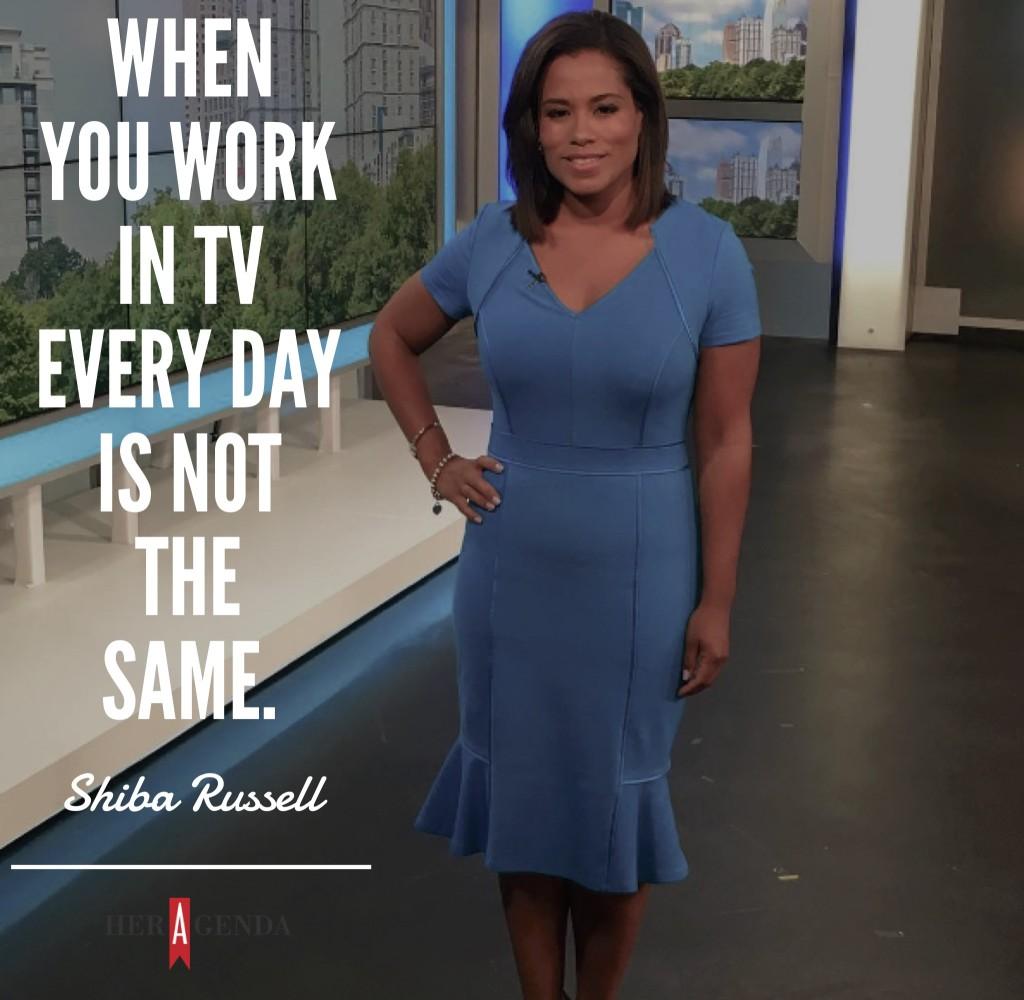 Article continues below advertisement
Her Agenda: What made you want to be a journalist? Was there one issue that inspired you to be a journalist?
Shiba Russell: I recognized early on, in high school, that I get bored easily. I love visual storytelling, I'm a visual person. I'll remember things more if I see them in writing and TV journalism also allows me to use my writing skills. When you work in TV, every day is not the same. I'm nosy and I love to write, and I love to gather information. As an anchor, a lot of people think we come in and just read the news. Well, there's never a script I don't touch. I always touch my scripts, meaning, I always change them and make them mine. That's where my writing comes into it – we're the final eyes on those scripts.
Her Agenda: What would you say your typical morning routine is?
Shiba Russell: I have a 12-year-old daughter and I have to be really diligent in making sure I get to bed when I get home, no TV, no eating. I have to literally come home, take off my makeup, get ready for bed and go to bed because I have to wake up at 7:45 in the morning. Basically I have to be as present as I can for her because I'm not there in the evening.
A couple times a week, maybe once or twice a week, I'll try to go home to see her, but I don't live as close to work like I did in Manhattan. Between FaceTime and making sure I'm wide awake for her in the morning and not on my phone. She has a lot to tell me in the morning. That's really important to me and then I'll go workout. I'm doing a class similar to Barry's Bootcamp called Orange Theory. I do that three times a week, run errands, do grocery shopping, fill up the gas tank. Sometimes I don't get my cup of coffee until 4:30 in the afternoon because I work until midnight.

Article continues below advertisement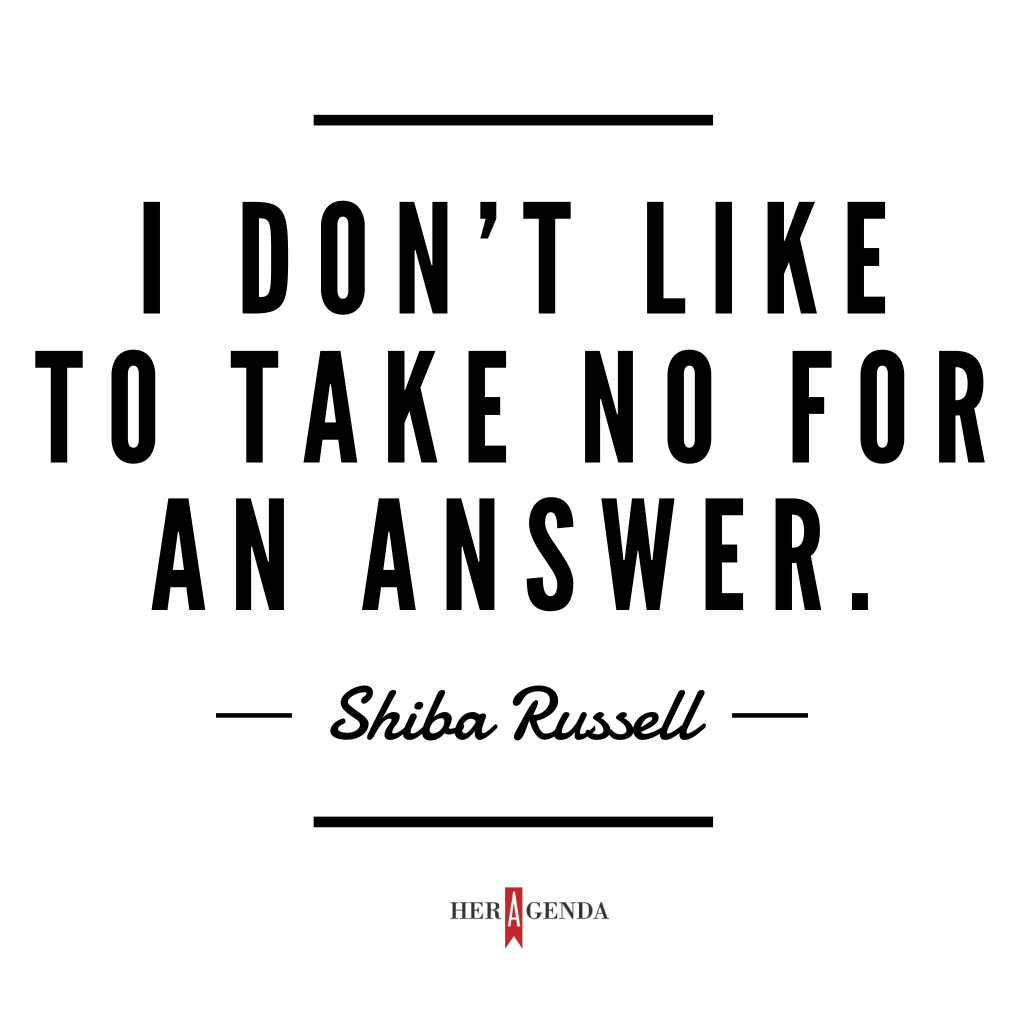 Her Agenda: Right, so that's kind of your morning!
Shiba Russell: Yes, but it's a long day. I think the real difference between [working] mornings and evenings is that it feels like a long day. When people are going home and go sleep and get ready for the next day, you're just starting your day.
Article continues below advertisement
Her Agenda: How do you find the energy to be "on" after such a long day?
Shiba Russell: You have to take your day in segments. Don't think of it as one day, think of it as a segment. It's sort of like when you do morning news, you have three hours ahead of you. If you think about it as three hours, you will get so exhausted after just a half hour. You have to think about every half hour as a new show, so you can rev up the engine again. That's how I try to treat the day. I try not to use too much of my energy before I get into work but I think working out, eating right, and drinking all of your water, helps keep you going.
It is really important to stay healthy when you work in news and have a demanding schedule. I am a single mom and an evening anchor in a top 10 market – I can't go home and drink and party.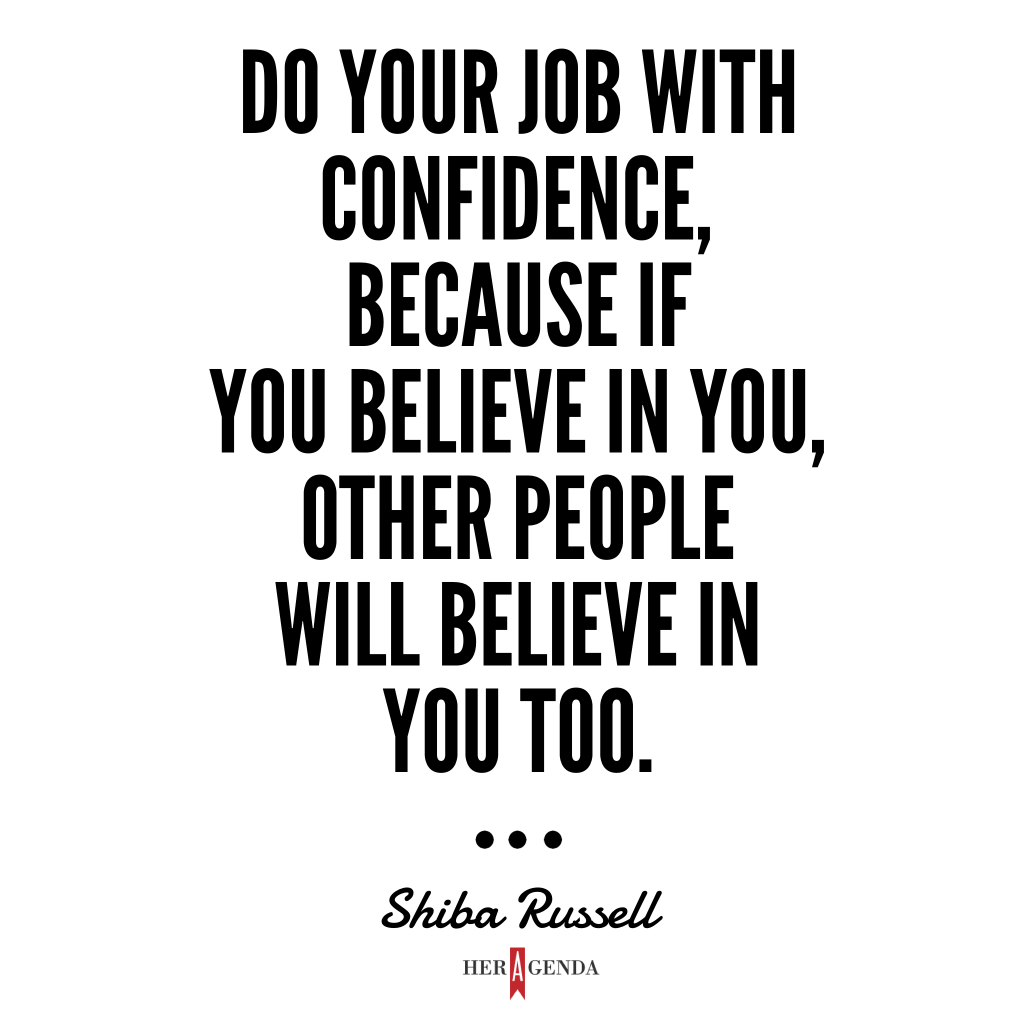 Article continues below advertisement
Her Agenda: Do you think that being a one woman-band was helpful to your career overall?
Shiba Russell: I remember in the beginning, [at the stage of] no longer having to shoot and edit my own stuff where I was able to really understand where the photographer was coming from and what they needed. So, when you shoot your own stuff, you know where you need to stand in relation to the sun. A reporter who hasn't shot their own stuff wouldn't know where to stand but I know when the sun is behind you, that isn't the place to stand. I only knew that because I was shooting my own stuff. It's important to do as many jobs around the newsroom as you can, before you finally get settled into you own. Most of the jobs in the newsroom, I can say I've been there and done that, so I can understand where everyone is coming from. I've been a producer before, I've run the camera before, I've have directed the newscast in college.
Her Agenda: How has social media changed the way you do the news?
Shiba Russell: I think it's all a good thing. One of the reasons why I came to this station is because they are really on the forefront of incorporating television, broadcast, and digital together.
Article continues below advertisement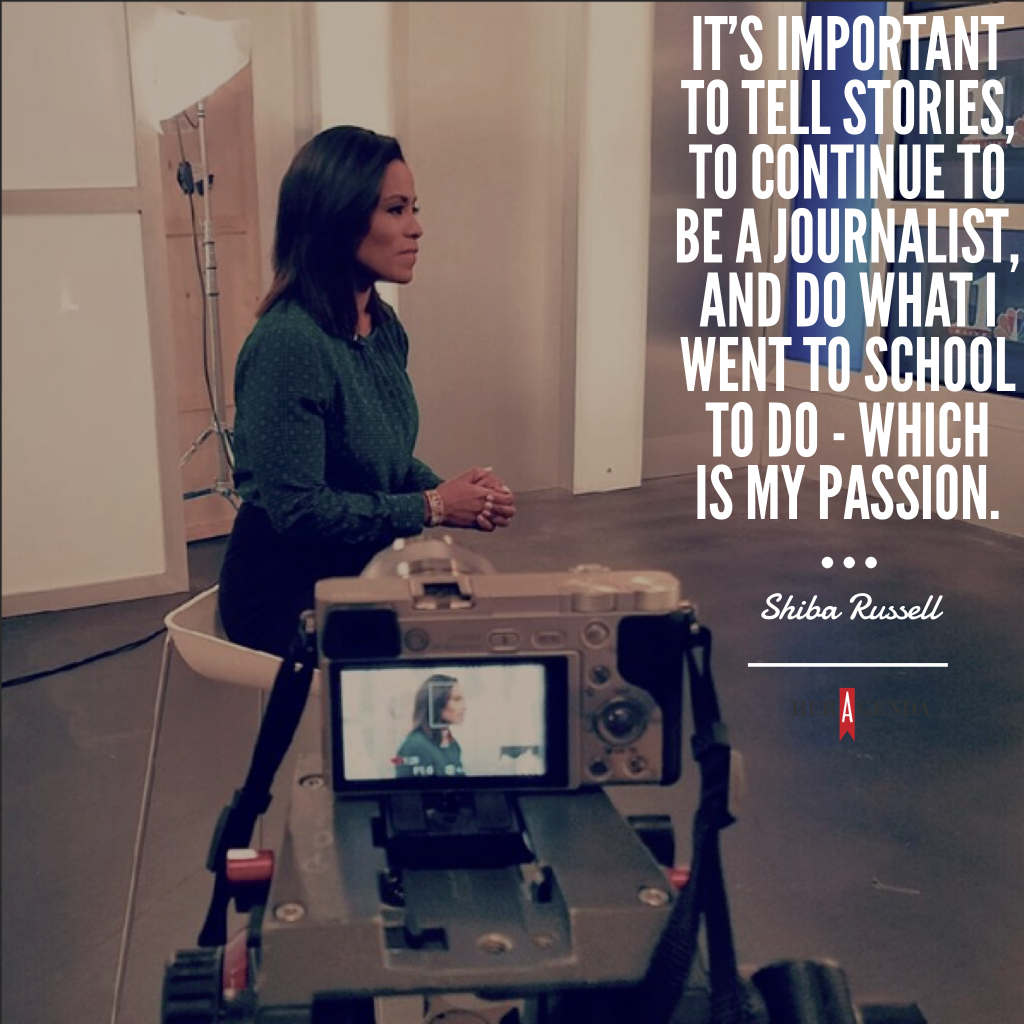 Her Agenda: Should young journalists should have a digital brand?
Shiba Russell: Oh yes, it is very important to be careful about what you put out there. A lot of young kids don't really know the importance of how people see these pictures. You really have to be careful about what you put out there. Employers are looking at those things!
Article continues below advertisement
Her Agenda: If your daughter came to you and said "Mom, I want to be a reporter," what would you say?
Shiba Russell: I would be supportive of her. I would ask her many questions as to why she wants to do that. Whatever she wants to do in life, I would lead her through the world of journalism, but I would also let her know that the world is changing. You just never know.
Her Agenda: What challenges should young women should look out for?
Shiba Russell: That's my passion. Young women, and young minorities too. I always say it is important to get an education, I don't think that ever goes away. It is important to not let people take advantage of you and it's important to show initiative. Initiative is so important. It is important to learn from those around you. I see a few 20-something year-olds who think they have nothing else to learn in this world. When you get to a place in your life, no matter how old you are, and you think there is nothing else for you to learn in this world, then you should wrap it up.
Article continues below advertisement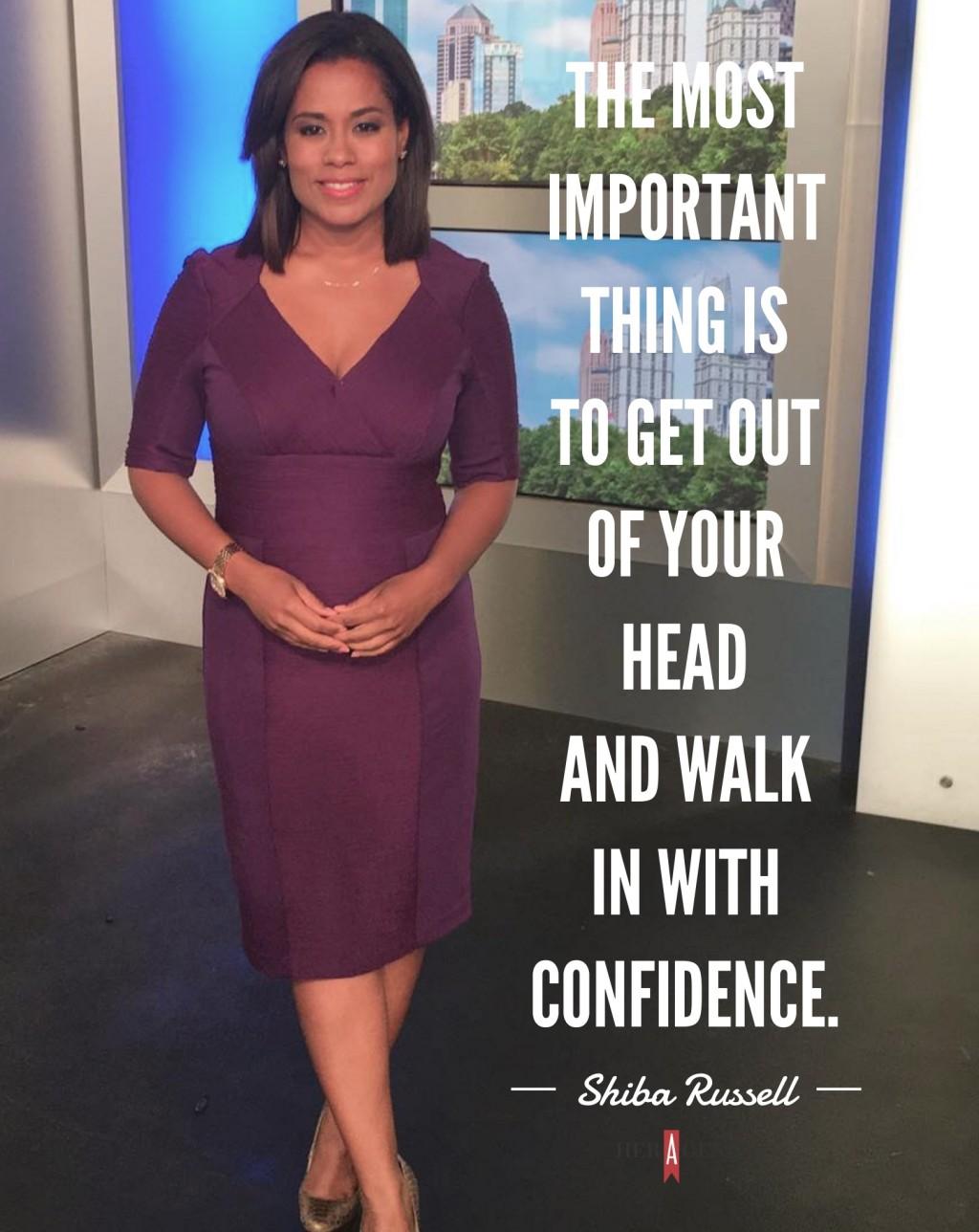 Her Agenda: For women who maybe feel it is a more difficult time, due to what's happening in the world – any advice for young women who may feel like all hope is lost?
Shiba Russell: I feel like I've been fighting my entire career-life, but I choose not to see obstacles. I don't like to take no for an answer and I don't think these women should either. I think sometimes, we women get stuck in our heads about what people may think and see, and how they see us before we even enter a room. The most important thing is to get out of your head and walk in with confidence. Do your job with confidence, because if you believe in you, other people will too.
[Editor's note: This interview published on April 10th, 2017. It has been edited for length and clarity.]