At the time of this interview, Monday, August 17, Tracy Oliver, writer of Girls Trip had just received some great news.
"We just grossed over $100 million worldwide as of this weekend — and that's huge," said the 32 year-old, Columbus, South Carolina native. "There's a lot of movies with a primarily white cast that have not done that this year. So for us to do that, it's even bigger than I expected."
This recent record-breaking feat made Oliver and the team behind Girls Trip the first movie to gross over $100 million produced, directed, written and starring Black people. It sends a strong message to society: there's a need for more stories about Black women to be told in the media.
Though this is Oliver's greatest accomplishment thus far, her resume is pretty stacked. Her start? She worked with Issa Rae, creator of HBO's hit series Insecure, on The Misadventures of an Awkward Black Girl as the character J. Then she went on to write a few films and shows like Barbershop 3: The Next Cut and Survivor's Remorse.
Here, the University of South California alum goes into detail about Black culture, writing for it, the need for more diversity in entertainment, and her advice to young writers trying to get their big break.
Article continues below advertisement
Her Agenda: You were up against a lot of movies [during the time Girls Trip came out]. It's a testament that as Black women our stories need to be told. Who inspired some of the characters in the movie?
Tracy Oliver: I wanted to come up with a group of people that reflected different personalities in my circle. We're so different, but, at the end of the day, we love each other and get along. I have a friend who's very much like Lisa Cooper (Jada Pinkett): the conservative one, who has to be at the airport three hours in advance. Whereas someone like me shows up right before the plane takes off and makes it on time. Then you have friends who are like Dina (Tiffany Haddish), who you're not going to come at crazy. They're going to speak up and say whatever it is that's on their mind. And you have someone like me who's less outspoken and little more reserved with what I wear.
Article continues below advertisement
I was trying to get all personality types represented within the four and I think there's a lot of layers that weren't shown. [Black women] all aren't one way or the other. And I think within the four, hopefully, we did a good job representing a lot of different personality types. At the end of the day, they're all friends and these women do love each other.
Her Agenda: Do you feel as a writer you have a responsibility to Black culture?
Tracy Oliver: I do. I know that a lot of writers don't feel that way. But I personally feel that I am an activist/writer. What I mean by that is I rarely take on projects that don't further the conversation about Black people in a way that I like. I don't write just for money and I don't write characters or storylines that I'm not passionate about. One of the reasons why I got into writing in the first place is because I noticed there was a lack of representation for Black women in particular. You can complain about it or you can do something about it.
Article continues below advertisement
So, I picked up the pen as a response to that. I started writing literally because if it needed to be done, and someone needed to do it, that person should be me. At this point, I make it my mission to try to help Black women in everything that I do.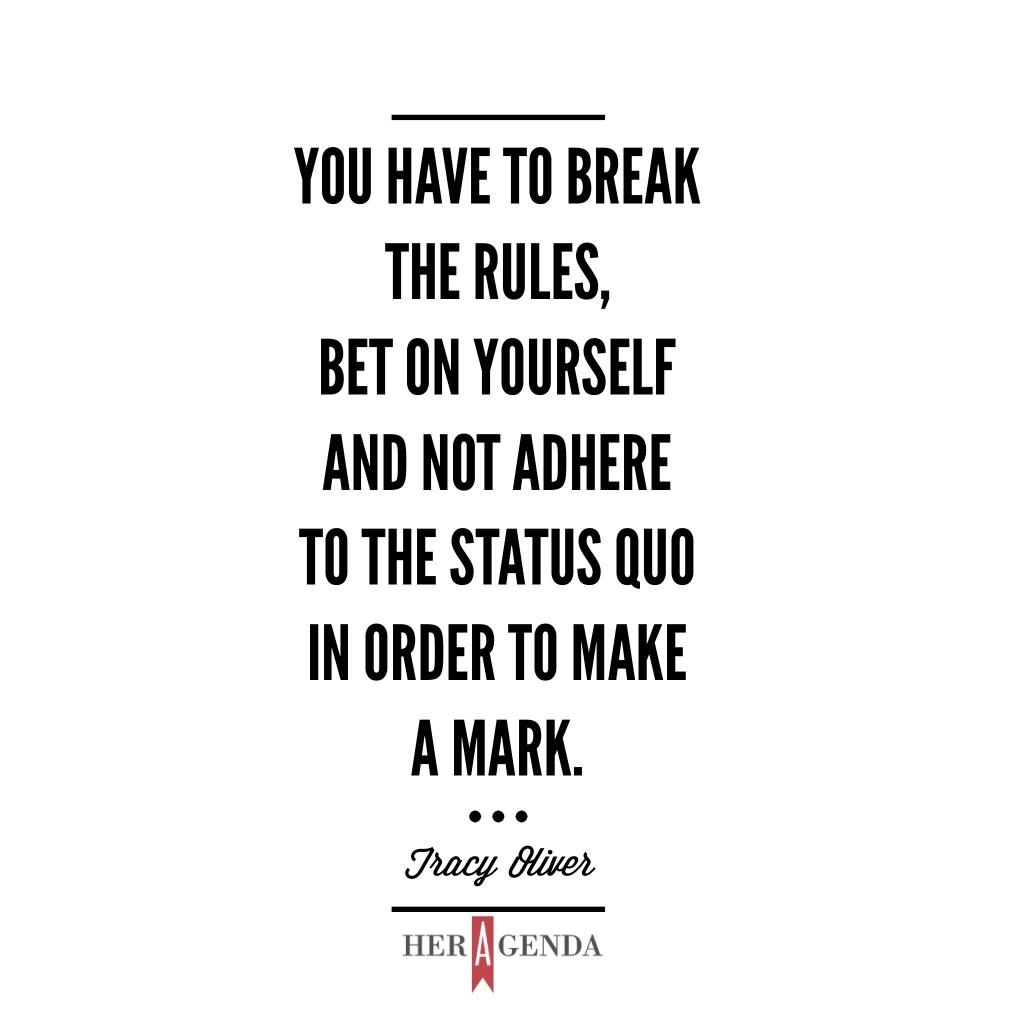 Article continues below advertisement
Her Agenda: That's so true. People don't realize the importance of television. I was just speaking with Yvonne Orji just a few weeks ago and she said it's important to tell those stories to further the conversation to educate people.
Tracy Oliver: A lot of [the way] young kids feel about themselves [comes] from the imagery they see around them. If you see images of women with straight hair, or white women that don't look like you all the time, you internalize that as not being good enough. I think it's important to show people different images, a variety of images. I don't think Blackness is one thing. Blackness is a variety of things. It's important to show a variety images because there's so many different people out there that want to see some version of themselves on screen and it really does help your self-esteem and helps you realize your place in the world when you see yourself.
Article continues below advertisement
Her Agenda: Now that we see more Black women in leading roles, if you were to grade diversity in entertainment, what would your grade be?
Tracy Oliver: I'd give it a C because I think there's a long way to go. Girls Trip will be the only movie like this the entire year. That's not enough. Every few months there should be an option for Black women to see themselves. I really don't think it should be once a year or every three years. I think the [same] frequency in which white people are allowed to see themselves on screen, we should have those movie options as well.
Television has been better than movies with diversity. But even with television, I still think there's a lot of space to have more content. I won't give it an A because it means we're perfect and we're far from it. But I won't give it an F because we've come a long way. I'll go right in the middle with C.
Article continues below advertisement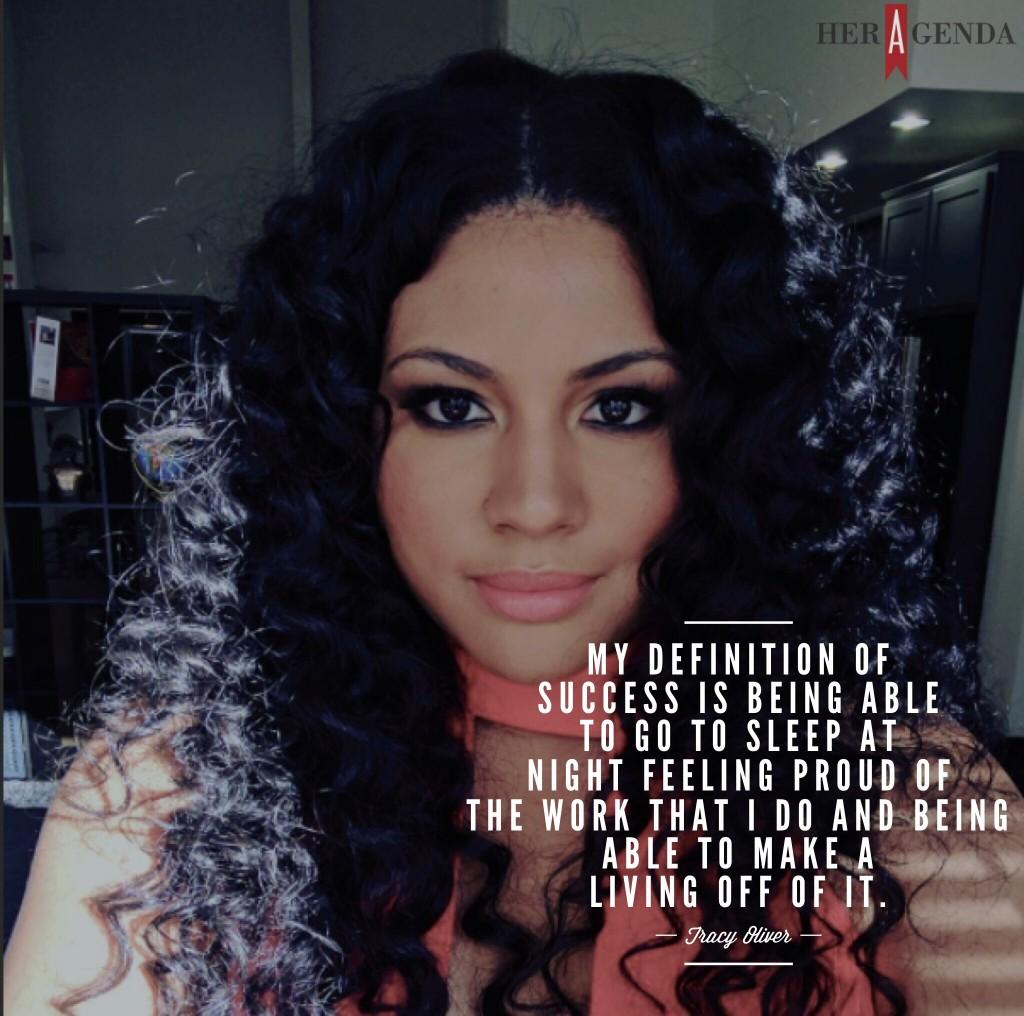 Her Agenda: What is your definition of success?
Tracy Oliver: My definition of success is being able to go to sleep at night feeling proud of the work that I do and being able to make a living off of it in some way, shape or form. It doesn't mean you have to be rich, but being able to support yourself and your loved ones while also being proud of the work that you do.
Her Agenda: Do you feel that you've attained it?
Tracy Oliver: I do. I feel like there's a lot more for me to do. I'm not satisfied. But I was also brought up to be grateful for what you have. I am grateful, but also wanting more at the same time.
Her Agenda: How do you cope with rejection?
Article continues below advertisement
Tracy Oliver: I always spend a day processing my feelings and go through many emotions: frustration, anger, outrage. Then I don't allow it to go into day two because then you're not being productive. No matter what happens, you have two choices: you can let this rejection consume you or can figure out to push that project again and move on to something else. Either way, don't live in the rejection for too long. Force yourself to keep moving.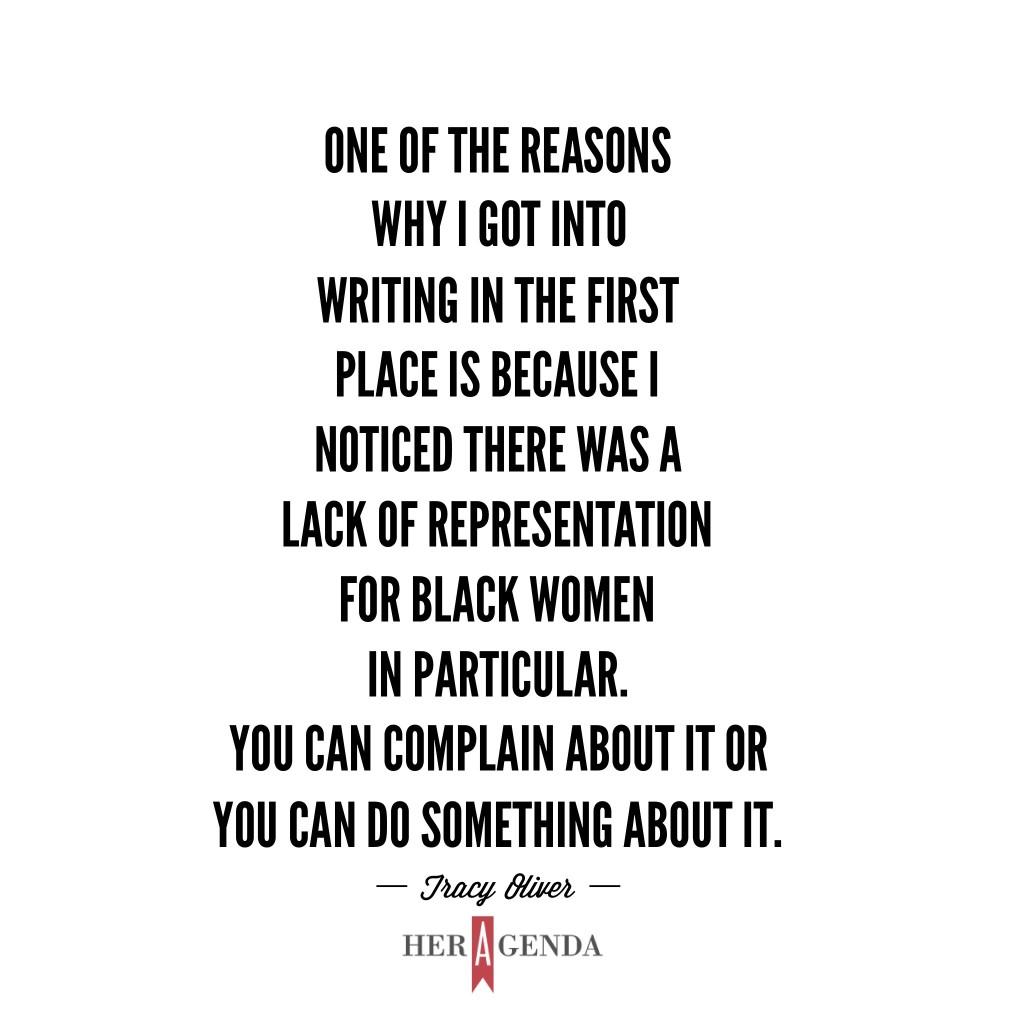 Article continues below advertisement
Her Agenda: What's your advice to young writers?
Tracy Oliver: Try to not write what you think is popular or hot and write what you're really passionate about because that will resonate way more than when you're trying to fit into a box. Every time I tried to fit into a box, it didn't work. Every time I wrote what I want to see myself and what I knew other people wanted to see and didn't worry about the economics of it, that excitement and passion leaped from the page. You can tell when you're reading something from someone's heart verses they're just writing because they think this is what people want to read. I tell people all the time lean into what they care about and what they know. It's going to take them further than writing someone else's story.
Her Agenda: One thing that I've realized about you and your career, you've built a lot on relationships. With you making these amazing connections, why do you think it's important to have mentors?
Article continues below advertisement
Tracy Oliver: In entertainment, it's almost entirely relationships. Every job you get out here, you need someone to vouch for you. How you did on the job prior is important and you really have to have a community around you to survive. Every movie, and television show is a collaboration. There isn't a way you can do it on your own. It's important to have relationships and meet people. Not even just that, but nurture those relationships, too. Do right by people. Do good work. Your character and your integrity is just as important as knowing people because every job that I've ever gotten has come from somebody saying something positive about me and once people start knowing who you are, that's everything.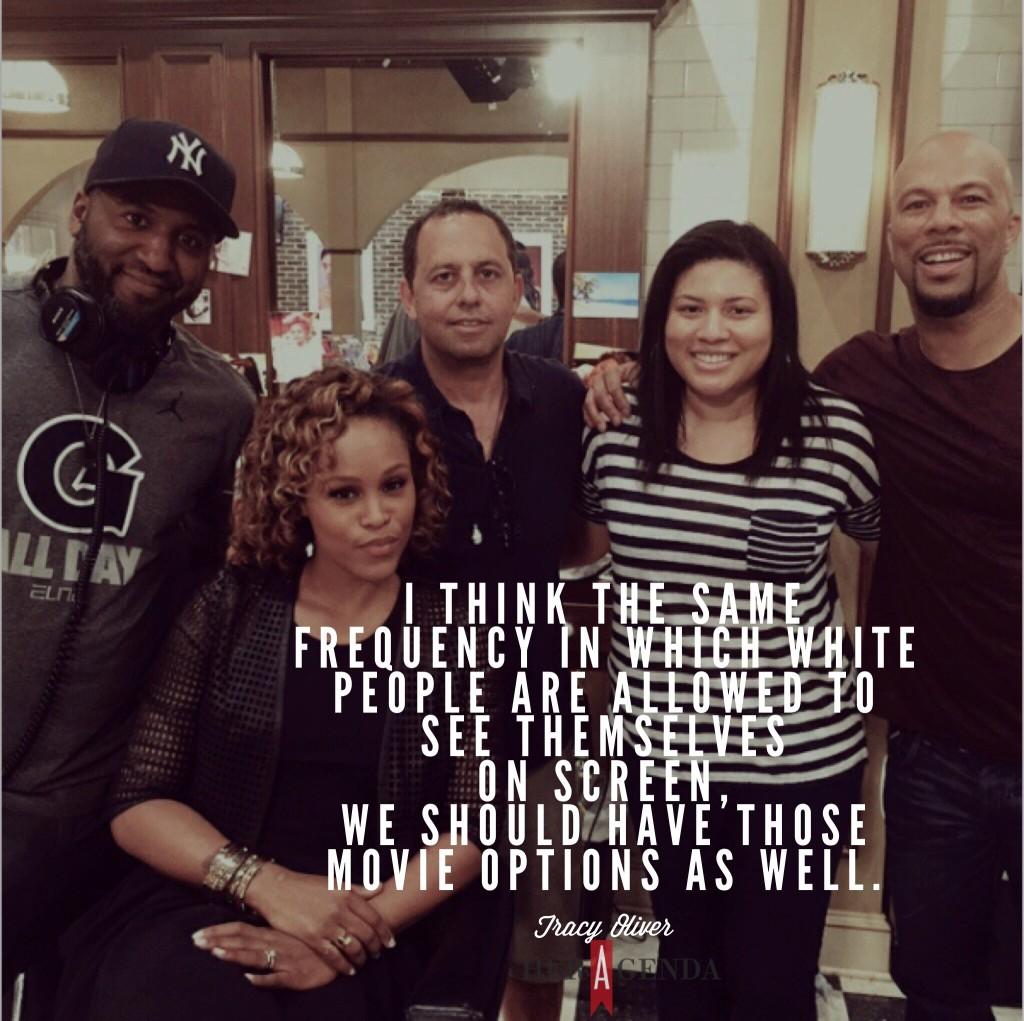 Article continues below advertisement
Every job depends on how you did on the last one and the relationships that you have. I learn a lot working with mentors. Sometimes, when I was back at USC, I would take unpaid internships just to learn, even if it was getting coffee, answering phones or doing things you don't think are that important. I learned something from each of those internships and those relationships that I got there, I continue to use. A lot of the relationships that I have now come from college days of networking and working for free for certain people and trying to do good work. Not only do you learn from people, these are opportunities for people to vouch for you later on — which you'll need.
Her Agenda: Lastly, what's your motto?
Tracy Oliver: 'Well behaved women seldom make history.' It means sometimes you have to break the rules, bet on yourself and not adhere to the status quo in order to make a mark. My whole career, thus far, I've gone a different path than what people have recommended and sometimes that can be disruptive in the sense of, if someone says something won't work, I go out of my way to prove them wrong. I think you just can't behave the way people want you to. If you want to make your mark and stand out you have to go against the grain, shake things up, be entrepreneurial, roll your sleeves up and get your hands dirty.
Article continues below advertisement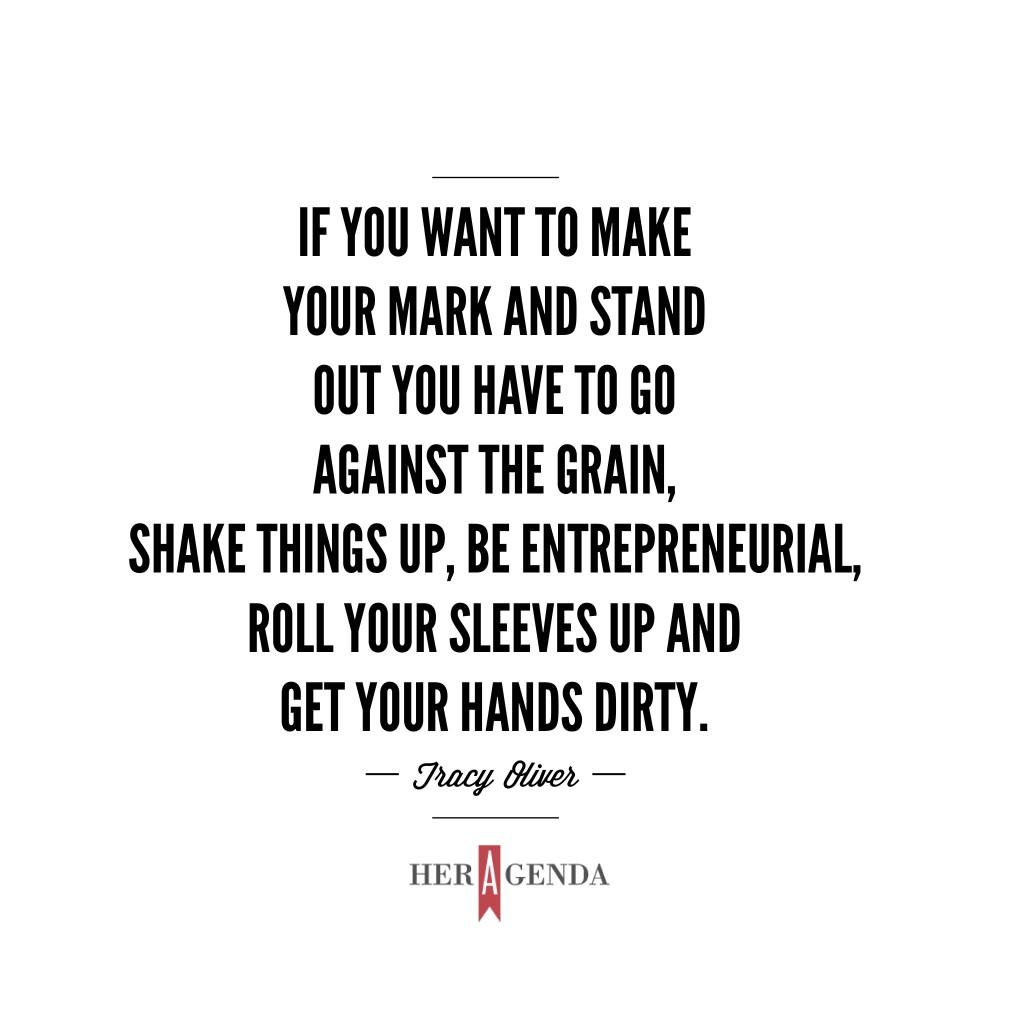 [Editor's note: This interview published on September 11th, 2017. It has been edited for length and clarity.]