With Yvonne Orji, what you see is what you get, especially when it comes to her comedy. But it wasn't always the case for the 33-year-old, comedienne and co-star of HBO's hit TV show Insecure.
The Nigerian native graduated from George Washington University in 2008 with a Masters in Public Health. If you ask her what made her make the switch from public health to entertainment, her answer is simple: her faith in God.
"My faith was the bridge for that. I wasn't checking for the entertainment industry. I didn't even know I could be a part of the entertainment industry or to to what capacity," said Orji. "Nothing about this seemed right, anything I've ever done or ever wanted to do, but…it's really [about] practicing trust [in God] and saying 'Yes.' Getting that internship for the Writer's Room was saying 'Yes.'"
Since then Orji has been booked, busy and blessed. Not only did she score the role of Molly in HBO's TV show Insecure, a stylish, funny attorney who's a hopeless romantic, she's also opened for Chris Rock's Total Black Out tour in Atlanta, hosted a TedTalk titled 'The Wait is Sexy' where she discusses the benefits of waiting and also shares she's currently waiting to have sex until she's married (yes, she's a virgin!), and co-hosts a podcast called Ball Girl Magic on LeBron James' media platform Uninterrupted.
Article continues below advertisement
But out of everything on her plate, the most important project she's working on is her pilot TV series calledFirstGen, a semi-autobiographical TV sitcom about a first generation Nigerian-American woman named Joanna, who trades a career in medicine for a career in stand up comedy, executive produced by Oprah and David Oyelowo.
Read on to learn more about Orji's dream role, why it should always be faith over fear, and her goals for the rest of 2017.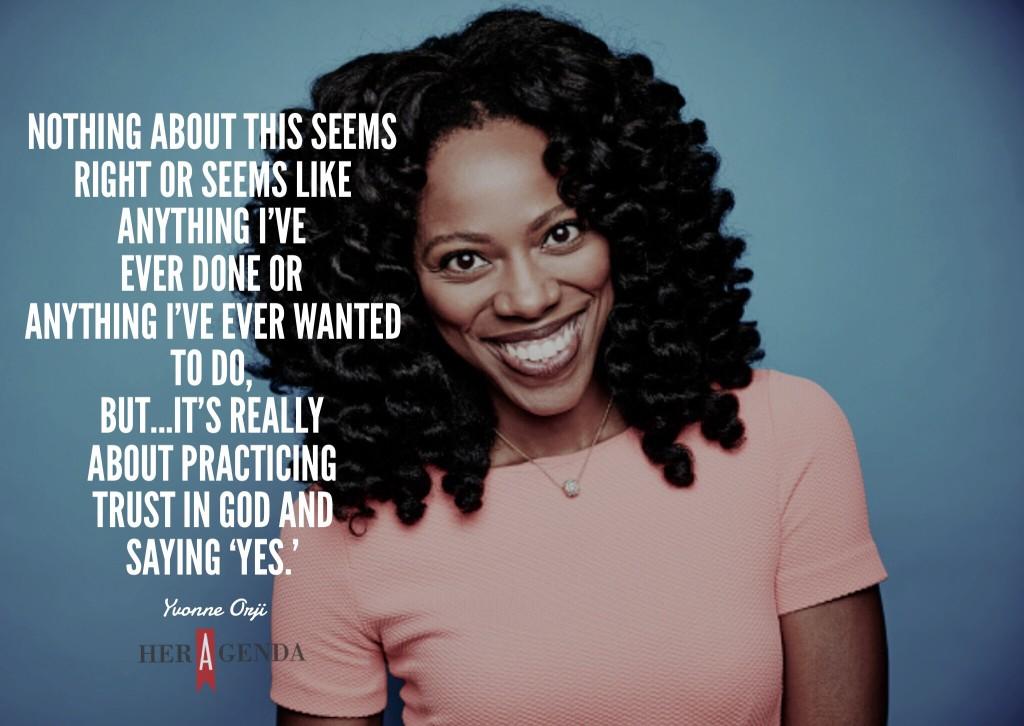 Article continues below advertisement
Her Agenda: You and I have a lot in common. I'm Haitian American, so you know how it is growing up. I think that's why people gravitate towards you. You make them feel a part of the story, they can see themselves a little bit in your comedy. With that being said, tell me what's going on with your TV series FirstGen?
Yvonne Orji: For me it's only a matter of time. I say all the time, it takes nine months to have a baby. Anything before that is premature. Yes, it still works and you might go through different hoops and challenges, but you want to go through the full destination experience. However, long it's going to be, it's going to come out like 'Kaboom!' guess who just stepped in the room. It's going to be dope.
There's so many stories I want to tell with this show that I think will resonate, not only with people who are FirstGen, but with anybody who comes into contact with FirstGen. Like 'My best friend is from Ghana, and I didn't know that her parents put pressure on them. This show has helped me see why they're 4.0 students.' TV has the opportunity to educate in a way that opens you up to understand other people and start conversations you probably wouldn't know how to start. It gives you an entry way.
I've been saying coming soon since we released it and one day I'll be saying, 'Coming now!'
Her Agenda: Tell me a little bit about graduating with a Master's in Public Health switching paths and becoming an intern at the Writer's Room?
Article continues below advertisement
Yvonne Orji: I didn't even know what the Writer's Room was when they called me. They were like, 'Do you want to be part of this?' And I was like 'Yup!' Girl, I didn't know what to do. But a lot of my life has been me just saying yes and being obedient. For me, that's the best scenario that God loves in order to use us. In other scenarios, you could be like 'I know about this, so I'm going to use my strength, my abilities, thoughts and ideas to put me on.' But God is like 'Well, then how do I get the glory, when you think you're doing this on your own?'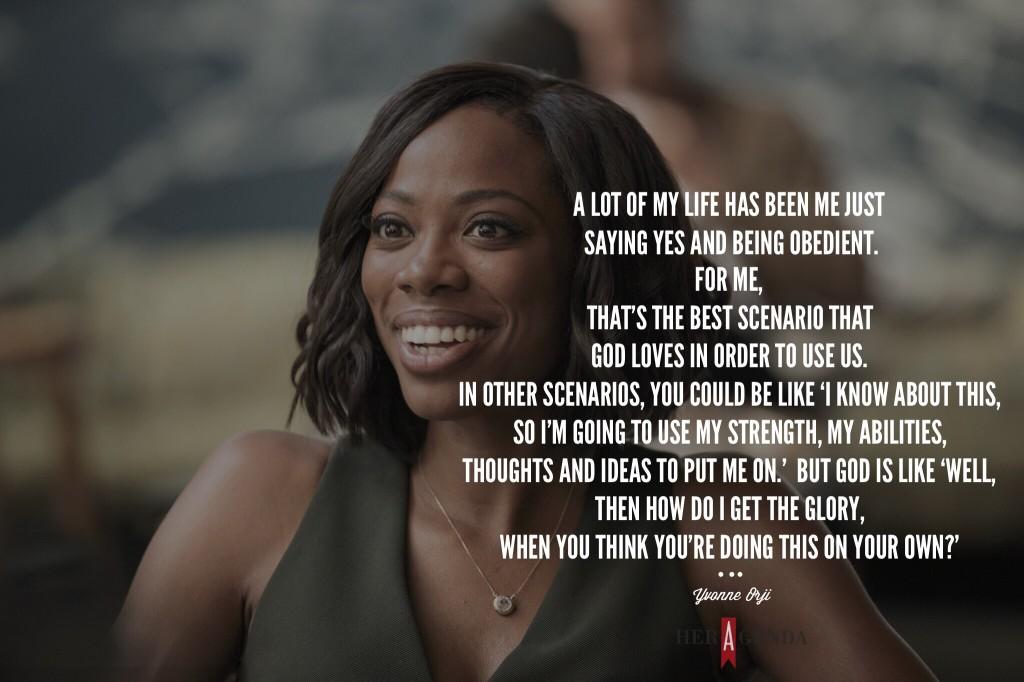 Article continues below advertisement
I think He loves [when we're like] 'God, I am out in the middle of the ocean without a raft. What does this mean?' And He's like 'Perfect! I can set this all up and you know that my hand was all over on it.' And that's all He's done. Not only with the comedy, but also getting that internship and being able to create the show and being part of Insecure. It's such an improbable story. Coming from an immigrant and medical background not even remotely creative to being able to surrender, discovering things in me that I didn't even know were there and allowing him to mold and shape that and see what it could become— that's the bridge.
Then once you do that, there's the work to be done. How do I make this work? How do I not ruin this moment or how do I maximize this opportunity? And that takes work.
Article continues below advertisement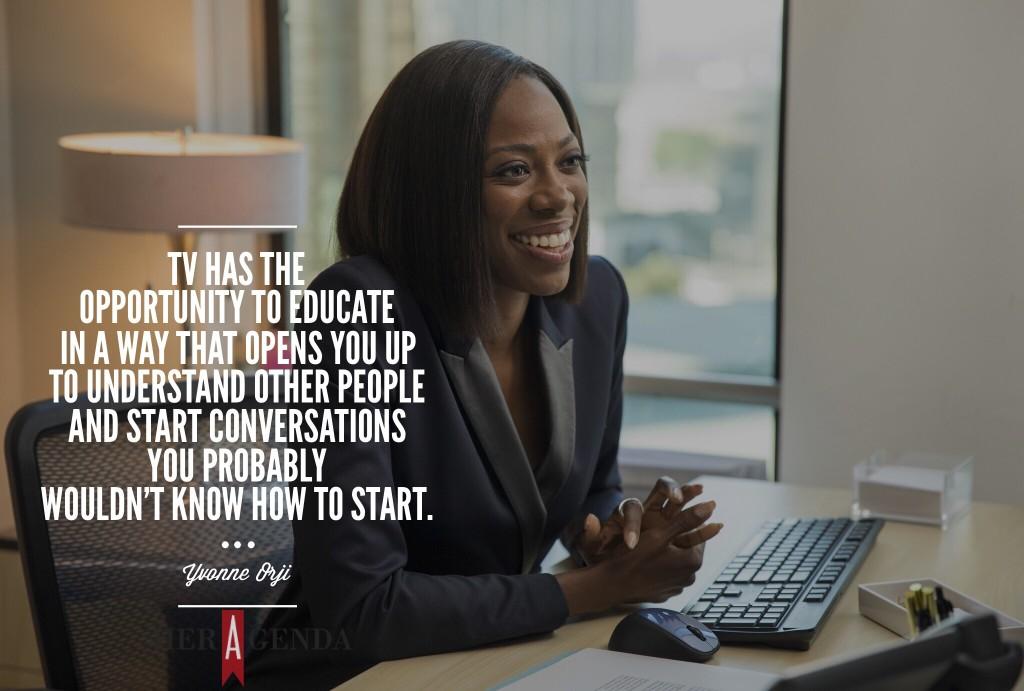 Her Agenda: Who are your comedy mentors or those that inspire your comedy?
Yvonne Orji: I remember watching Sommore coming up on Comic View. I was like 'Yo, she's mad funny. She just owns the crowd. She didn't care. I could rock with the guys and still have my hair and my edges snatched back.' I really like people who have something to say. When you think about Bernie Mac, he had something to say and he wasn't afraid to say it. You could tell he had this crazy family experience, but he had this deep love. It takes a man with a heart to take his sister's kids in.
Article continues below advertisement
We all have those moments where it's like 'I'm going to say some off-the-wall stuff, you might not even agree with me, but I can only be honest.' I really gravitate to comedians who have something to say because a lot of times, you can go to a comedy show and see 12 performers and say 'I can't remember a single joke that guy said. He made me laugh, but I don't remember who is he?'
When it comes to humor, my brand on comedy is that I don't like to alienate anybody. I don't want anyone to leave. I want you to have as good of a time as I'm having on stage. I come out with a lot of energy and a hype song. I'll probably Harlem Shake or body roll when I hit the stage, so I can disarm you. Whatever you're going through somebody else is probably going through it. So, let's have fun for the 10 to 20 minutes I'm on stage. Let's live our best life right now, and hopefully you get me. I just want to be relatable. I talk about being African, the good and the bad. I'm like 'Hey! You can't be upset. You know we do this.' It's all love. I love being Nigerian. It's how do you tell the truth without alienating somebody? That's my brand.
Article continues below advertisement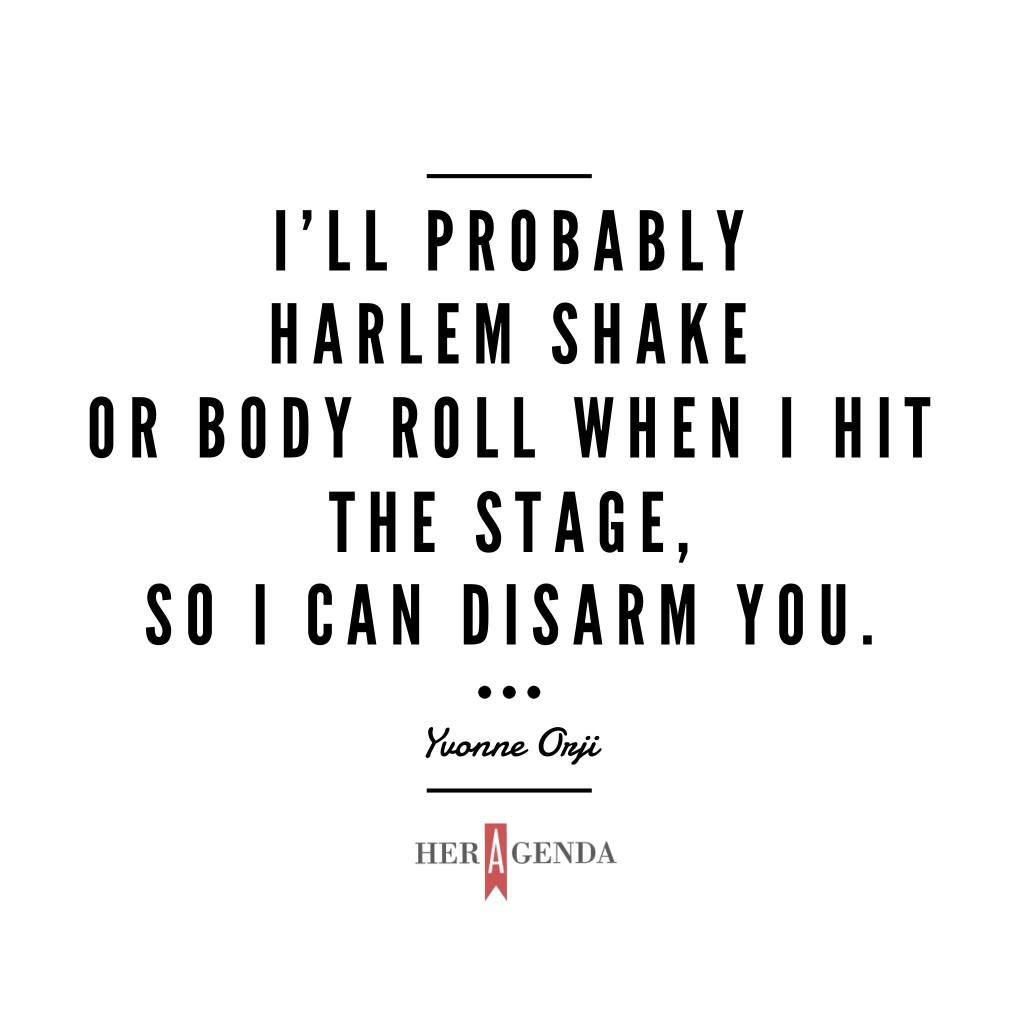 Her Agenda: Let's talk about your work ethic. How do you constantly push or discipline yourself? I think people tend to forget when it comes to entertainment, the amount of work that goes behind it.
Yvonne Orji: I'm a night person. At 4 a.m., I get the most done. I'm more like 'let me sleep until noon and let me go to bed at 5 a.m.' because I do work best when there's no distraction.
Article continues below advertisement
You've got to know yourself. As far as work ethic, Diddy coined the phrase 'can't stop won't stop,' and I tell people all the time I've been broke and I don't ever want to go back to that. So, how can we keep this train going? Not just about money, but work. I've been out of work and that's not fun. For me, if I can work, then let's put in work. I'm always pushing for more. How can we pack on more to that? For me, I live by can't stop won't stop. Yea, I can use a vacation, but there's work to be done.
But rest is important and I take it. When my body is like 'Sit down! Be humble.' [I listen] because I have to replenish. I love people so much and I want to give so much of myself to people, but if there's nothing there to give, then it'll be a bad experience for everybody. It's best to tap out because then when you [do] see me, you get the best of me.
Article continues below advertisement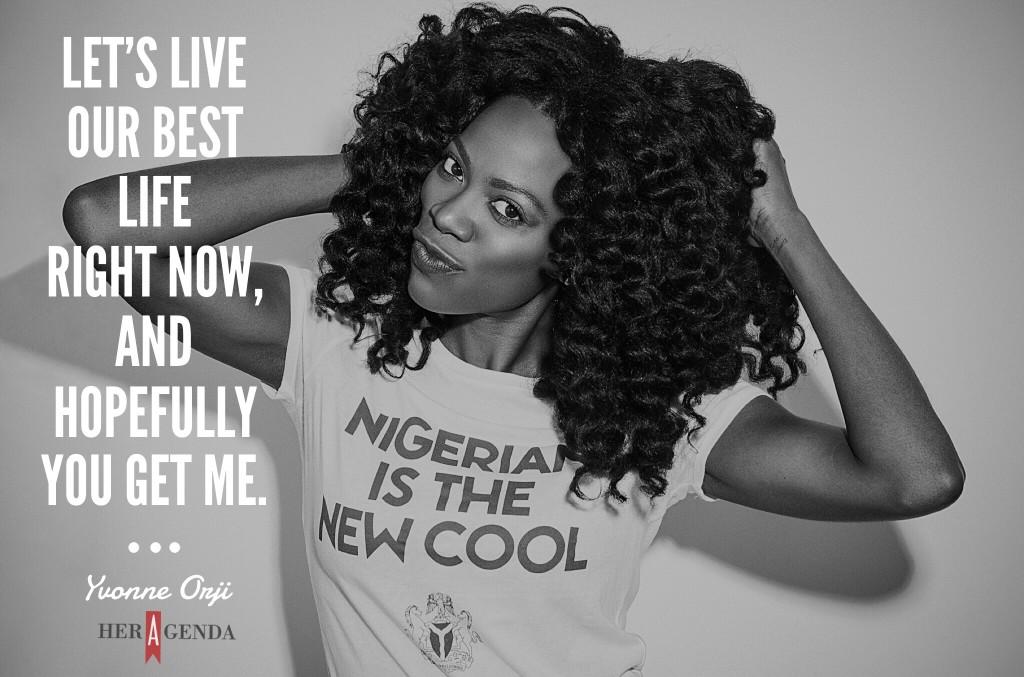 Her Agenda: If there's a character you'd like to be, who would that be?
Yvonne Orji: I would be on Game of Thrones and I would be Khaleesi's black twin sister that she didn't know she had. I, too, am mother of dragons and together we get on the throne. I mean I've got braids. I can put two braids in my hair, be fierce and have fiery dragons I can fly around town with. Come on, Khaleesi!With our powers combined, let's knock this out! [laughs]. Khaleesi gets to Westborough and realizes that her family has this big secret and that she has a black twin sister. And here I come and together we join forces and defeat everybody; True queens of the north.
Her Agenda: What are your plans for the rest of 2017?
Article continues below advertisement
Yvonne Orji: My dream is by 2018 by the grace of God to premiere FirstGen. We're so close, I can taste it. I also want to do a feature. It could be a drama or a comedy. But I really want to do a romantic comedy. I've been searching and I may just have to write it, but I am desperate for an amazing romcom, not grounded in foolishness. I think about Love and Basketball or watching Beyond the Lights and fell in love all over again. Gina Prince-BytheWood knows how to write a good love story and I'm here for it! [laughs]
When you think about Brown Sugar, I need these romantic comedies to resurface again. They give me something to hope for because a lot of things are being thrown at us, like love doesn't exist or these hoes ain't loyal and I don't believe that. I believe that good men and women exist and they need to find each other and live happily ever after. It may be naive, then I'll be naive.
Article continues below advertisement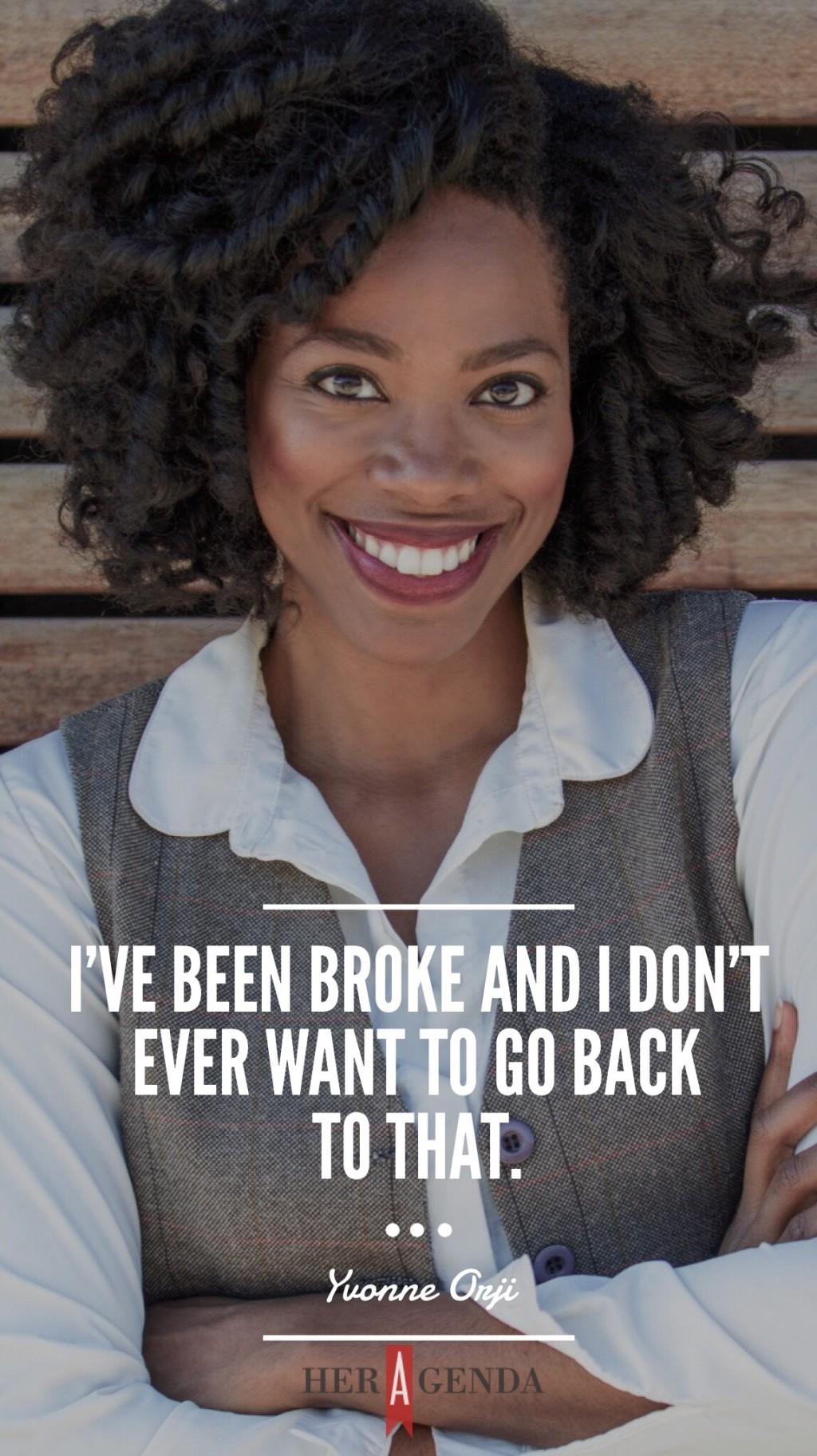 Her Agenda: What's your motto?
Yvonne Orji: For me it's 'All things work together for the good for them that love God and are called upon Him.' Whenever things happen, even when the bad stuff that happens or things that I don't understand, it all comes together. I'm an African woman. So, sometimes I get agitated and I'll burn this whole thing down, but I'm like you know what all things work together for my good. God is moving people out of the way or just adding people to the situation. Whatever it is, at the end of the day, we win because it all works together for good. That's something that I keep in mind.
[Editor's note: This interview published on July 17th, 2017. It has been edited for length and clarity.]