Iman Oubou is living and breathing the American Dream; a dream that's changed, that's no longer the 1950's picture of a house in the suburbs with a white picket fence. A Muslim woman born in Morocco and raised in Colorado, her dream took her from getting her masters in bioengineering in Colorado to New York City where she was crowned Miss New York 2015. She went on to found SWAAY in 2016, a growing online media platform for modern women.
Oubou has learned the importance of timing. She launched her podcast, Entrepreneurs En Vogue, the day after she was crowned Miss New York United States in 2015. She wanted to use her platform as an opportunity to tell the stories of women and she's done just that in founding SWAAY, a full-fledged media platform to provide a fresh and stylish voice that speaks to today's generation of women entrepreneurs, innovators, and disruptors. Think Forbes meets Vogue.
Women face unique challenges in career and business. Oubou's goal is to create a space where women don't feel alone; a platform that's changing the narrative. In our interview, Oubou shares what drew her to make a major move to New York, what it will take for women founders to get more funding, and what the American Dream means for us all in 2017 given the current political climate.
Article continues below advertisement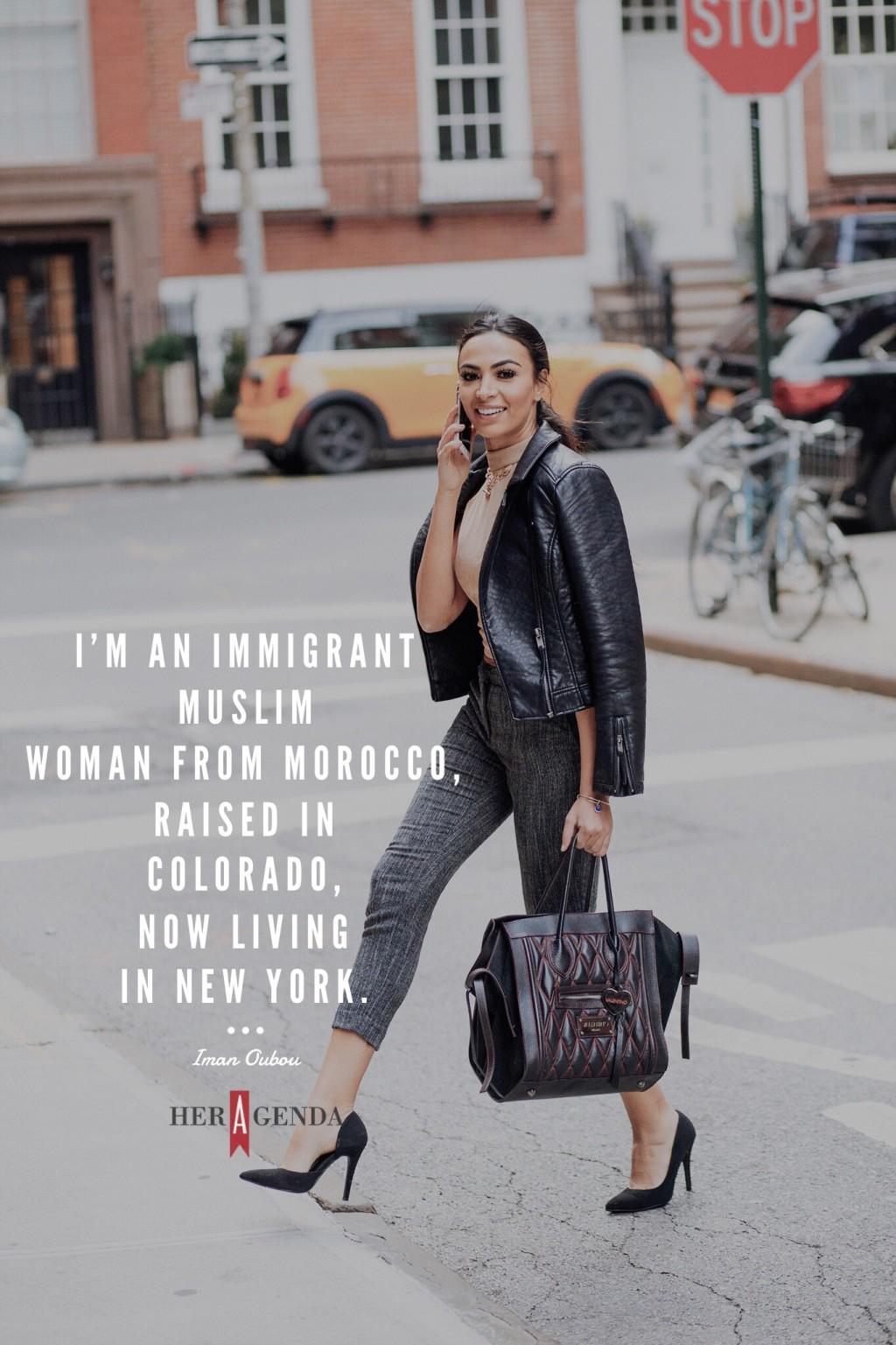 Her Agenda: What's your origin story?
Iman Oubou: I was born and spent my childhood in Morocco before my parents immigrated to Colorado in 2005 when I was 15 years old. So, I'm an immigrant Muslim woman from Morocco, raised in Colorado, now living in New York. Initially, I wanted to be a doctor growing up so I majored in biochemistry in college. I went on to work in Germany for my first internship at a biotech company. That experience shifted my perspective from going into traditional medicine and instead into the biotech field. That lead me to graduate school where I studied bioengineering.
Her Agenda: You made a big move to New York. Why did you make the move?
Article continues below advertisement
Iman Oubou: I was working as a cancer research scientist in Colorado, I decided to quit my job and go on a medical mission to my home country of Morocco. No job was going to give me a month and a half of vacation so I had to quit and figure out what I was going to do next. I didn't really have anything to go back to in Colorado, so nothing was holding me back. I decided that this was the time for me to really make a big change. I didn't feel like I was growing personally or professionally in Colorado. I love it there, I had a great start to my career there, but in terms of surroundings, social network, opportunities, and self-development, it wasn't giving me enough.
I traveled to New York quite a bit. I realized that this was where I wanted to be if I was really going to push myself to the limit and use my full potential; it was a scary place. I thought, 'what if I lived here?' imagine what I could achieve if I was surrounded by this environment every single day. It's the hustler mentality that drew me to New York.
Article continues below advertisement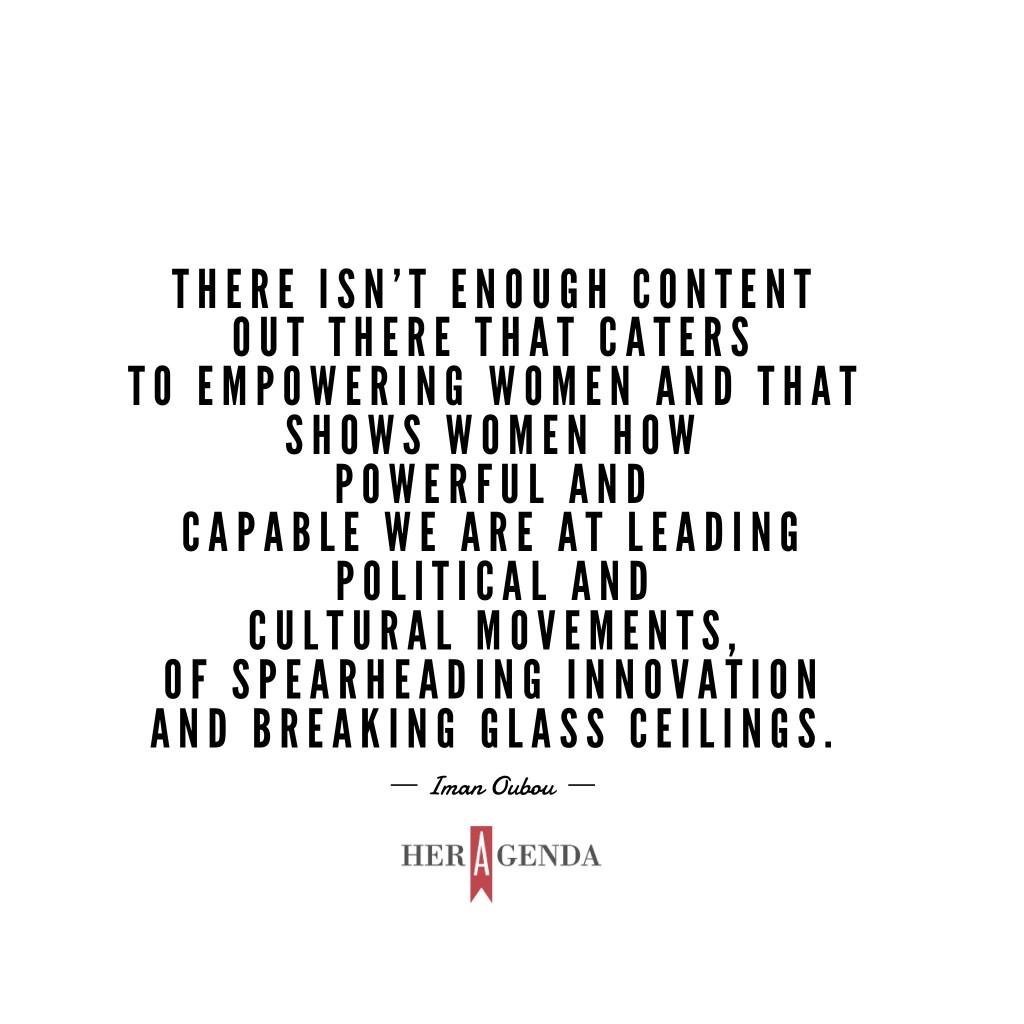 Her Agenda: You made the transition to the city and a few years later transitioned from your day job into working for yourself. How did it happen?
Article continues below advertisement
Iman Oubou: I had a full-time job here working for one of the best health care agencies in New York, it was probably the dream career I would have wanted back in graduate school. Yet, I couldn't believe how miserable I was. I had the best team, I had freedom, it was a well-paying job, great benefits, great company culture. It was the perfect scenario for any young woman living in New York. But deep inside I dreaded going to work every day, and I don't think it had anything to do with the company I was working for. It was a burning fire inside of me telling me that this is not where you're supposed to be, I had to find my other purpose. Miss New York and starting the podcast really helped me to figure that part out.
I got the inspiration for my podcast in my corporate cubicle. In my prep for Miss New York, I spent a lot of time at work listening to podcasts; inspiring content. I listened to a lot of women who were very successful in their careers, who were a lot further than me, so they didn't relate to me as a young woman. Or I listened to a lot of men, it was a very male-dominated space at that time. I thought, "where can I find a podcast that speaks to me? How can I find the women that could be mentors and helpful to me?" At the time, there wasn't a lot to choose from, so I thought, why don't I start one. Of course, that was just an idea that I had in my cubicle, I had no idea how to even start a podcast. But as soon as I got the title of Miss New York, it gave me the platform and the voice I needed to make my idea happen.
Article continues below advertisement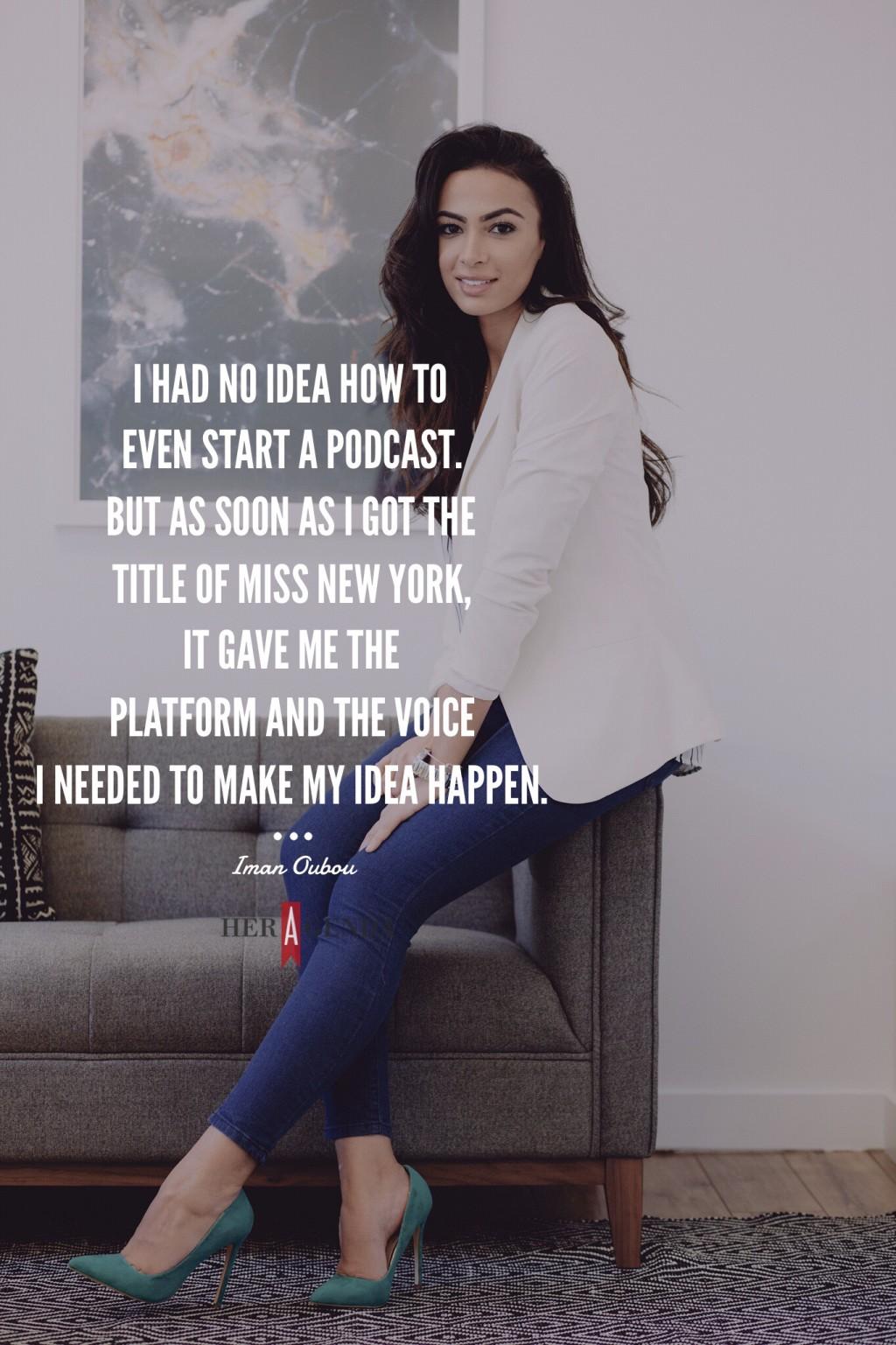 Her Agenda: Tell me a bit about the women's empowerment challenge that SWAAY is launching in November?
Article continues below advertisement
Iman Oubou: The campaign is about how do we get more women to open up about the challenges they face when pursuing their careers. This came about because I was inspired by the response I got from my recent op-ed in Harper's Bazaar, I was told I was too pretty to be a CEO. I received so much positive feedback from the article when I was expecting the opposite. I was amazed at how many women sent me emails, LinkedIn messages etc. with their own version of that stories saying things like, "I was told I was too glamorous to apply for NASA." That made me feel like I'm not alone. I think the more support you have, the more motivated you are to defy those stereotypes and challenge the status quo.
#SWAAYtheNarrative is social media challenge and editorial campaign about challenging stereotypes and creating your own narrative. The campaign is launching on our first anniversary to celebrate the impact that we've made through our content and the community that we've built. We want to keep pushing for the mission behind SWAAY, which is to change the narrative and create your own empire no matter what people may say about you. It's a social media challenge for women to open up about the biggest limitation they have faced and that has fueled her motivation to achieve great things.
Article continues below advertisement
I love to hear other women's stories, it motivates me to hear how other women are doing it and what kind of obstacles and hardships they are overcoming. I want to see more of it. You never know who you're inspiring or who you could change by sharing one anecdote of your story and how you've overcome certain challenges.
Her Agenda: You had a negative experience with a male funder. What are your thoughts on what it will take for women to get more funding and to be taken more seriously in male-dominated spaces?
Her Agenda: What do you attribute your drive to?
Iman Oubou: My parents sacrificing everything they've ever worked for, and the lives they built for themselves, and the great careers they had in Morocco to bring us here to achieve the American Dream. I'm a big, big, big believer in the American Dream. I still think it exists, however, I do think that it's changed, it's more modern. I'm motivated to prove that it still exists and it looks different for everyone. It's not one thing, it's not getting a great job and buying a house anymore. It's through impact and fulfillment, through building a legacy.
Article continues below advertisement
That's what keeps me going no matter how hard things get. I've realized that it's not about me anymore. It's about all of the other women and the young girls who look up to me that look up to the women that we feature to keep giving hope and inspiration among the current political, social, and cultural climate that we are experiencing.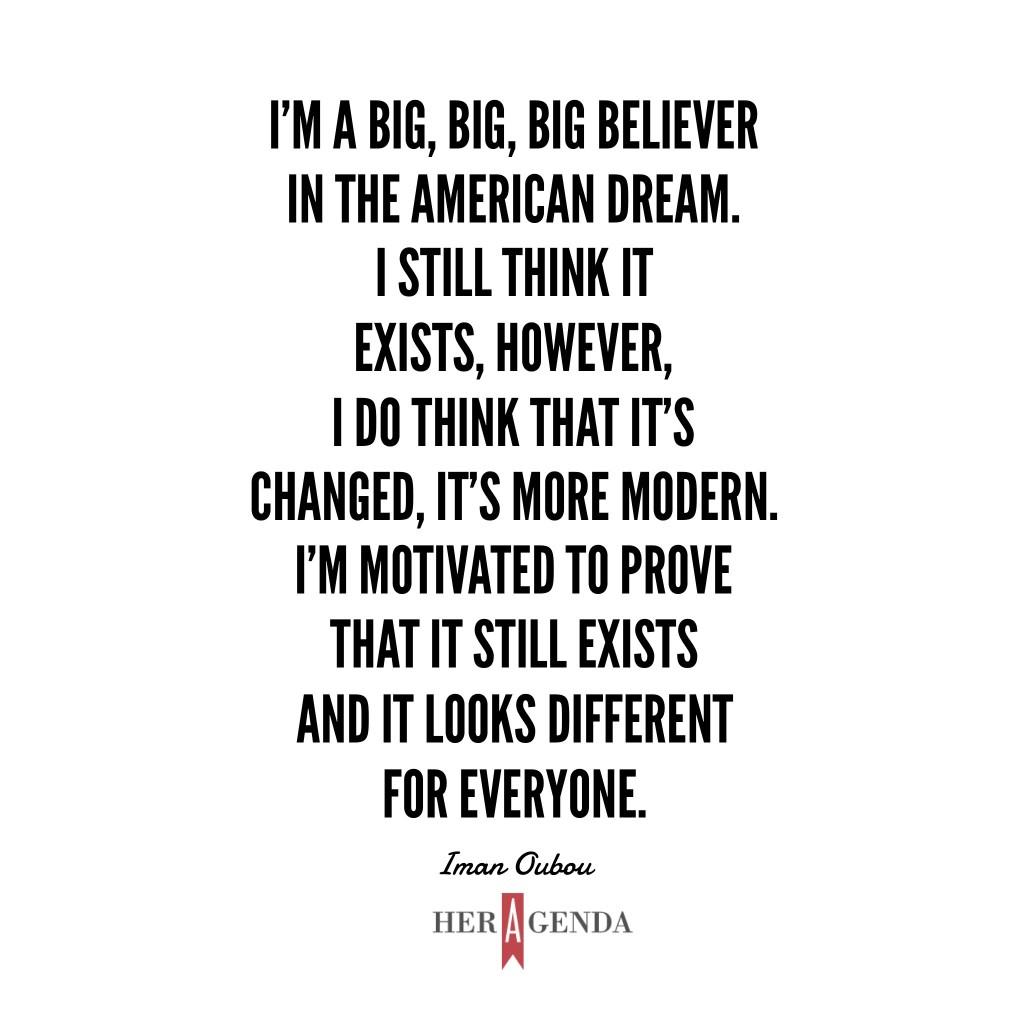 Her Agenda: What words of wisdom do you have to share?
Iman Oubou: Don't start seeing yourself through the eyes of those who don't value you. People can trick themselves into believing that other people's opinions matter. If people don't know you and don't have your best interest in mind, don't get caught up in the negative message. When you put your blinders on you will see how everything literally falls into place. You need to develop an enormous sense of self-awareness.
[Editor's note: This interview published on October 30th. It has been edited for length and clarity.]