In 1997, Peabody award nominated producer and founder of television and film production company Just A Rebel, Aaliyah Williams, witnessed a small revolution in Black film firsthand at her local movie theatre in Tulsa, Oklahoma.
Williams fondly recalls seeing the iconic film, Love Jones, with her high school boyfriend. If you're not familiar with Love Jones, the film is a jazzy, Black love story set in Chicago's poetry scene. Released by a then-unknown director, Theodore Witcher, during the height of the gangsta genre (think Boyz N The Hood and Menace II Society), there wasn't crime, drugs, or immobilizing poverty — instead the film presented witty Black people falling in and out of love against a timeless Neo Soul soundtrack. Iconic.
In the present day, Aaliyah Williams' latest film Really Love is being compared to the lasting style and legacy of Love Jones. A full-circle moment for sure but Williams' is just getting started.
Self-dubbed as 'your friendly neighborhood rebel,' Williams' production company, Just A Rebel, focuses on contemporary stories that center and celebrate Black women. Williams spoke with Her Agenda about her motivation behind establishing her production company, working on projects that amplify Black voices including Really Love, and being an entrepreneur in the entertainment industry.
Her Agenda: Your production company, Just A Rebel, is home to the fearlessly creative; those who are unabashedly specific, ethnic, and other. Can you share with us your motivation behind establishing your production company?
Article continues below advertisement
Aaliyah Williams: I've always loved storytelling. I realized I had an eye for talent and an eye for certain stories that we don't get enough [production] support behind. As my company has evolved, and I have evolved as a producer, I want to make sure that I identify stories from Black women writers and directors and make sure that Black women's voices are heard, in every aspect of storytelling. It's super important to me that we have comedic stories. A lot of comedy comes from the drama of life, and even if it is something dramatic, I think we deserve to have joy. I really am focused on finding those stories and those voices that can share the full breadth of who we are as humans and Black women specifically.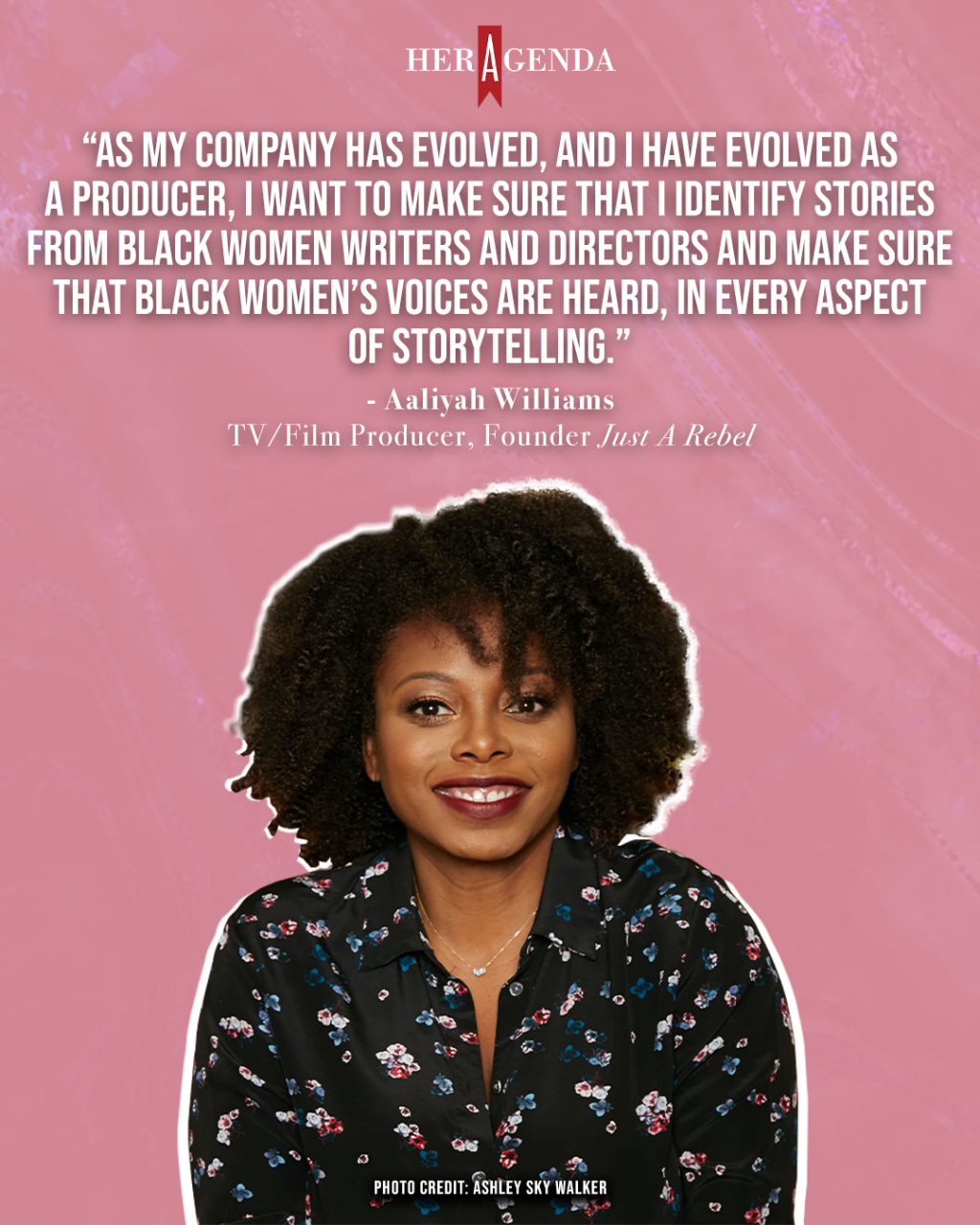 Article continues below advertisement
Her Agenda: Would you label yourself as a rebel in entertainment?
Aaliyah Williams: Yes! I think I'm your friendly neighborhood rebel. When I was thinking about what the name for my company should be, I was listening to a lot of music trying to figure it out; just thinking about all the energy that it takes to get something off the ground and to continue to have this drive within yourself no matter what. I was listening to this Lupe Fiasco song, there's this chorus line 'kick push, kick push, coast, and away he rolled just a rebel to the world with no place to go' and I was like 'omg, I feel like that sometimes!' Artists feel like that sometimes. That is definitely the role of an artist – being those rebels that bring great entertainment to life and great characters to life and help us look at ourselves in new ways.
Article continues below advertisement
Her Agenda: Before debuting in Netflix Top 10, your film Really Love won a Special Jury Recognition for Acting at the 2020 SXSW Film Festival. Do you have any tips for filmmakers currently learning to navigate the festival circuit?
Aaliyah Williams: Be strategic. There's a vast number of festivals and it's very helpful to be strategic about it. Put together a grid of all of the festivals that you think your film would be best showcased at. Obviously, it depends on what you're looking to get out of the festival experience. One obviously would be for your film to be experienced by audiences, and two, if you are looking for distribution or to sell the film, if that hasn't been done already. You have to weigh out all of the factors.
I strongly suggest putting together a grid of all of these festivals to figure how much it's going to cost you to submit to all of the festivals that are going to be important to the health of the film so you can budget for that. Reach out to producers and other filmmakers that have played at those festivals. Get to know some of the festival programmers. Go to the festivals if you can so you can get that experience.
Do your research. These [festival] programmers are humans. If you go to the festivals and connect with them and get a sense of how they program the festival, they can be helpful to you as you are putting together all of your plans.
Article continues below advertisement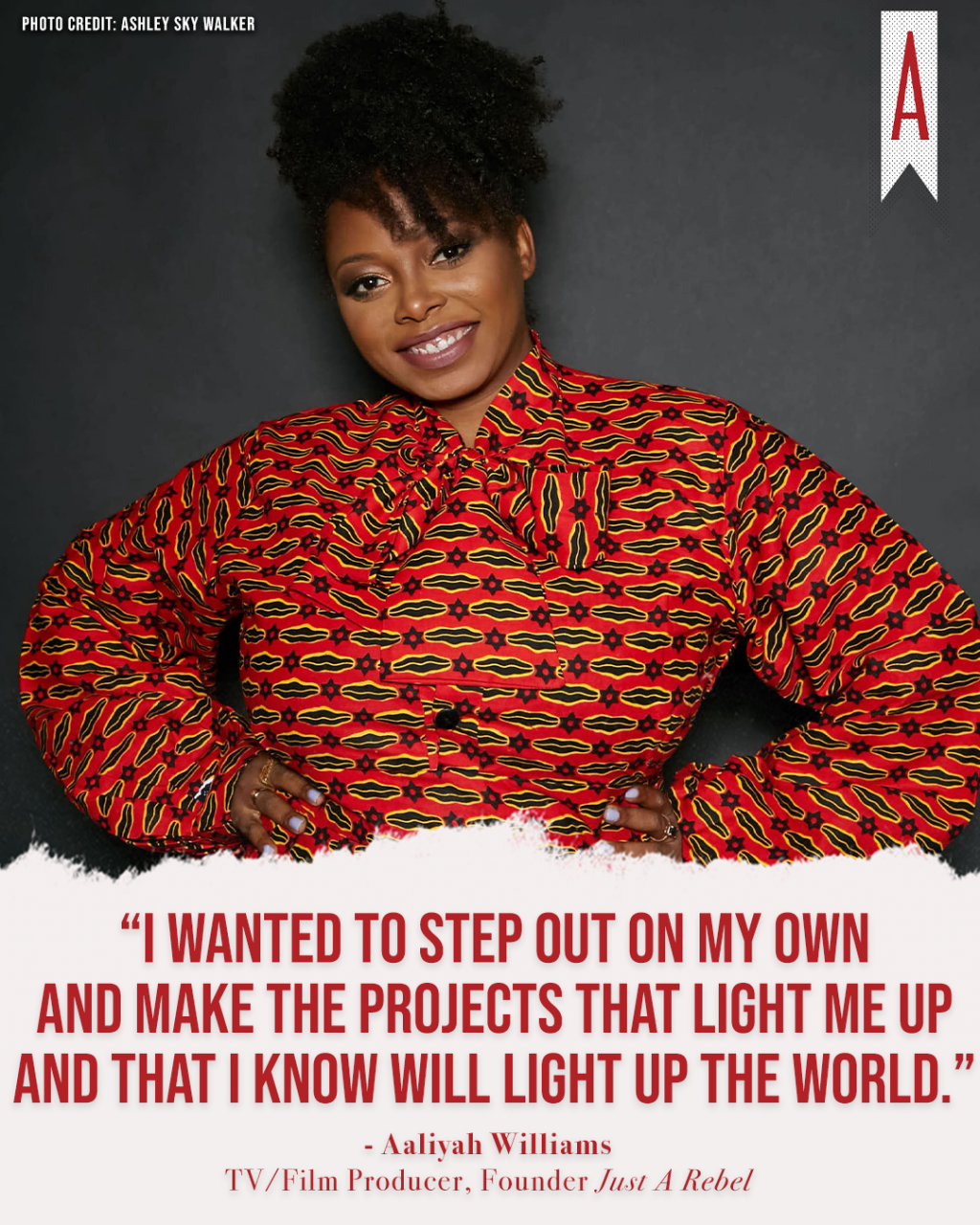 Her Agenda: Previously, you ran The Digital Studio at MACRO, where you developed and produced Gentefied, which was acquired by and adapted as a half-hour series for Netflix. Why did you transition away from MACRO to your own company?
Article continues below advertisement
Aaliyah Williams: Thank God for Charles King, because after working for Charles at MACRO, he gave me my first POD (production overall deal), which led me to where I am today. At the time I joined MACRO, my company, Just A Rebel, was consulting with MACRO, and then I came on full time. I learned a lot from the process of being one of the first employees and bringing Charles' dream of MACRO to life. I always ultimately had ideas and a desire to work in long-form. I also have a very entrepreneurial spirit and Charles recognized that. Coming off of the production of Really Love, [Charles and I] sat down to talk about my goals. As we were having this conversation, he was very encouraging of my entrepreneurial spirit. I wanted to step out on my own and make the projects that light me up and that I know will light up the world. It's been a great journey with the support of people I've worked with in the past, Charles and all of the wonderful people at MACRO being a part of that.
Her Agenda: What about 'Really Love' is rebellious?
Aaliyah Williams: 'Really Love' is radical in that it is a story about two Black people loving each other, striving for their own individual ambitions. It's a quiet meditation on what that looks like. How do you handle this version of love you may not be ready for? I think that in the landscape of film and content, we don't see enough of that, young Black people just being themselves, loving each other, living and striving, and supporting each other. Also, it's radical in that the love interest in this film is a beautiful dark-skinned Black woman with natural hair. We celebrate a lot of Black art from visual art to music in the film.
Article continues below advertisement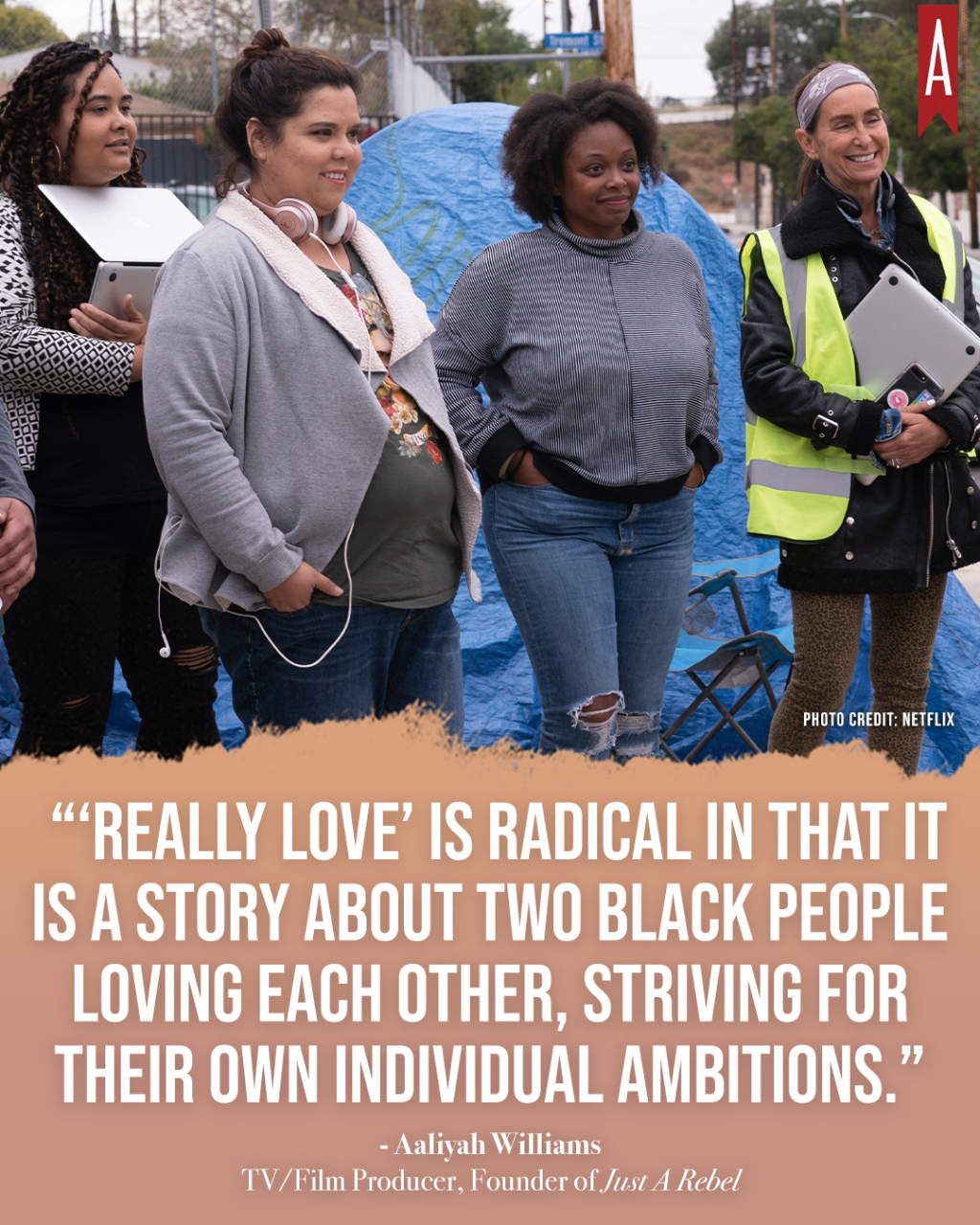 Her Agenda: What advice would you give to aspiring entrepreneurs in the entertainment industry?
Article continues below advertisement
Aaliyah Williams: My advice would be to get clear about what it is you want to do, and your vision, and find your tribe of people that support that. This is a tough industry. Whether you are an entrepreneur in entertainment or any other industry, it's tough to be an entrepreneur in general. I think having your tribe of folks that you can bounce ideas off of and writing things down and having accountability to stay true to your vision and keep pressing forward when obstacles come your way, it's very important. Yes, as an entrepreneur you are kind of on this individual path but successful entrepreneurs have a great tribe of folks that provide support and perspective when you may lose your way in some ways or get discouraged.
Her Agenda: What is your main motivation behind working on projects that amplify Black voices?
Aaliyah Williams: My motivation always goes back to my family. I grew up in Little Rock, Arkansas, and Tulsa, Oklahoma, and I want little Black kids and kids of color to watch television and film and see themselves or see things that take them completely out of their world and that's what television and film and books did for me as a kid and I want to contribute to that.
Article continues below advertisement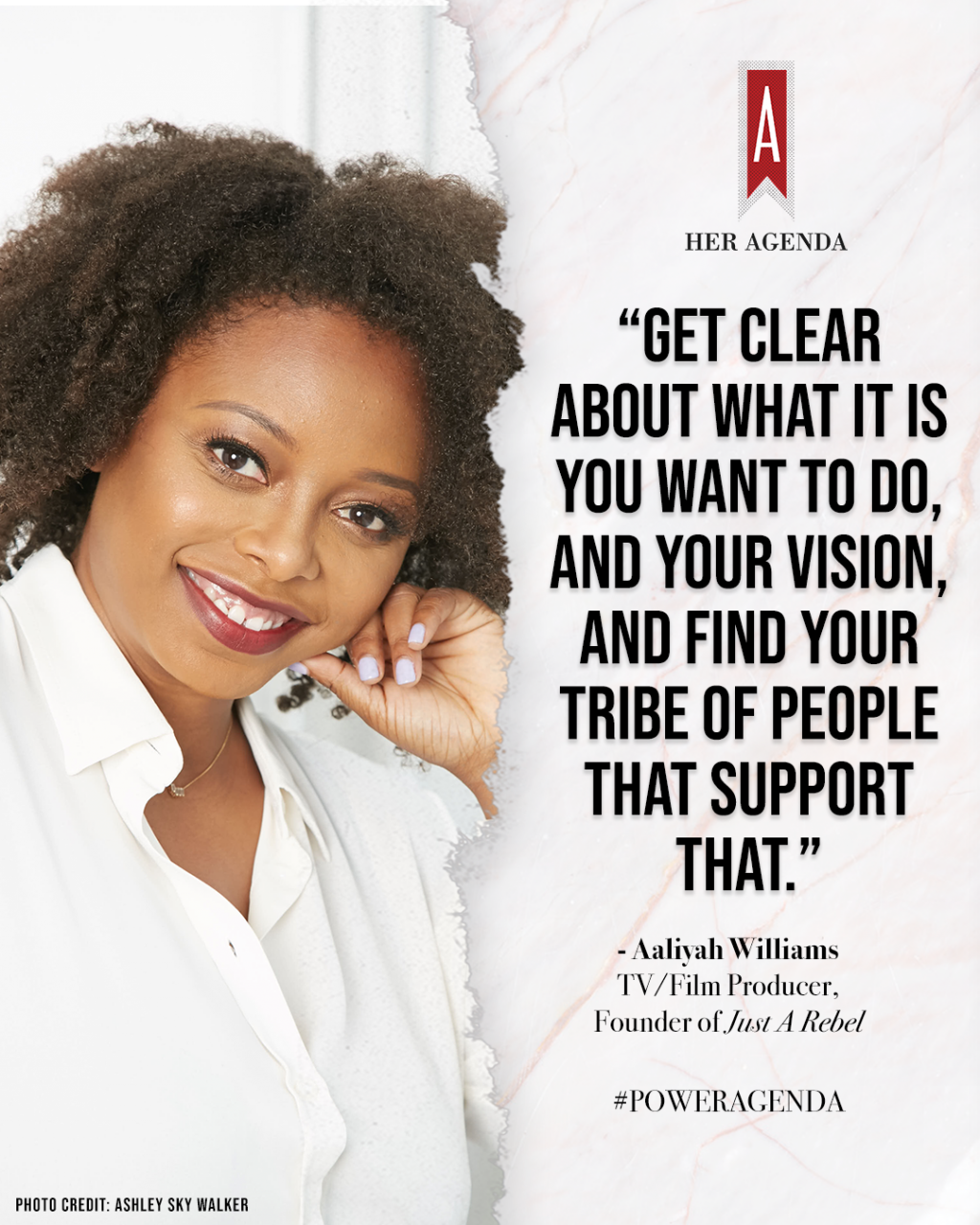 Her Agenda: What is your mantra?
Aaliyah Williams: My personal mantra is 'I am abundance and love.' I definitely try to bring that to the table for all aspects of my life.
Her Agenda: Just A Rebel's first-look deal with CBS Television Studios has been renewed for a second year with several projects in development. What stories are next?
Aaliyah Williams: There's a bunch that we're working on. I'm working on a really wonderful film called The Last Class that is directed by Tiffany Johnson and it's written by a brilliant writer Kimberly Nicole Walker. I am producing that alongside Marsai Martin's company Genius Productions. Marsai is attached to star. It's a really wonderful coming-of-age story of two best friends making it through their senior year of high school growing up in Flint, Michigan. It's set in the 2000s so it's all of that nostalgia of the 99s and the 2000s. That's one big project that I am really excited about.
[Editor's note: This interview has been edited for length and clarity.]