To Alexandra Lee, success is rooted in follow through not perfection. She believes success is simply doing what you say you're going to do. But simple doesn't mean easy. When you come from a background where there's high standards around what you decide to do, sometimes taking action or making a switch can be hard.
Currently, Lee serves as Head of Growth for a strategy and innovation agency, a position that's a result of her following through on a commitment to herself to pivot from nonprofit to for-profit leadership. As Lee evolved and pivoted in her career she never abandoned her inner values and principles. Lee's career journey began in non-profit with roles in fundraising, advocacy, and community development. Once she resigned from non-profit, she started working for Redscout, as a member of a global management team where she divides her time between San Francisco and Los Angeles. Through her work, she also established partnerships with profitable brands such as General Mills, BMW/MINI, The Gap, Vox Media, Peloton, and Hello Fresh.
In our interview Alexandra Lee discusses her career pivot, personal growth, and the importance of establishing better relationships with your family once you're off the clock.
Article continues below advertisement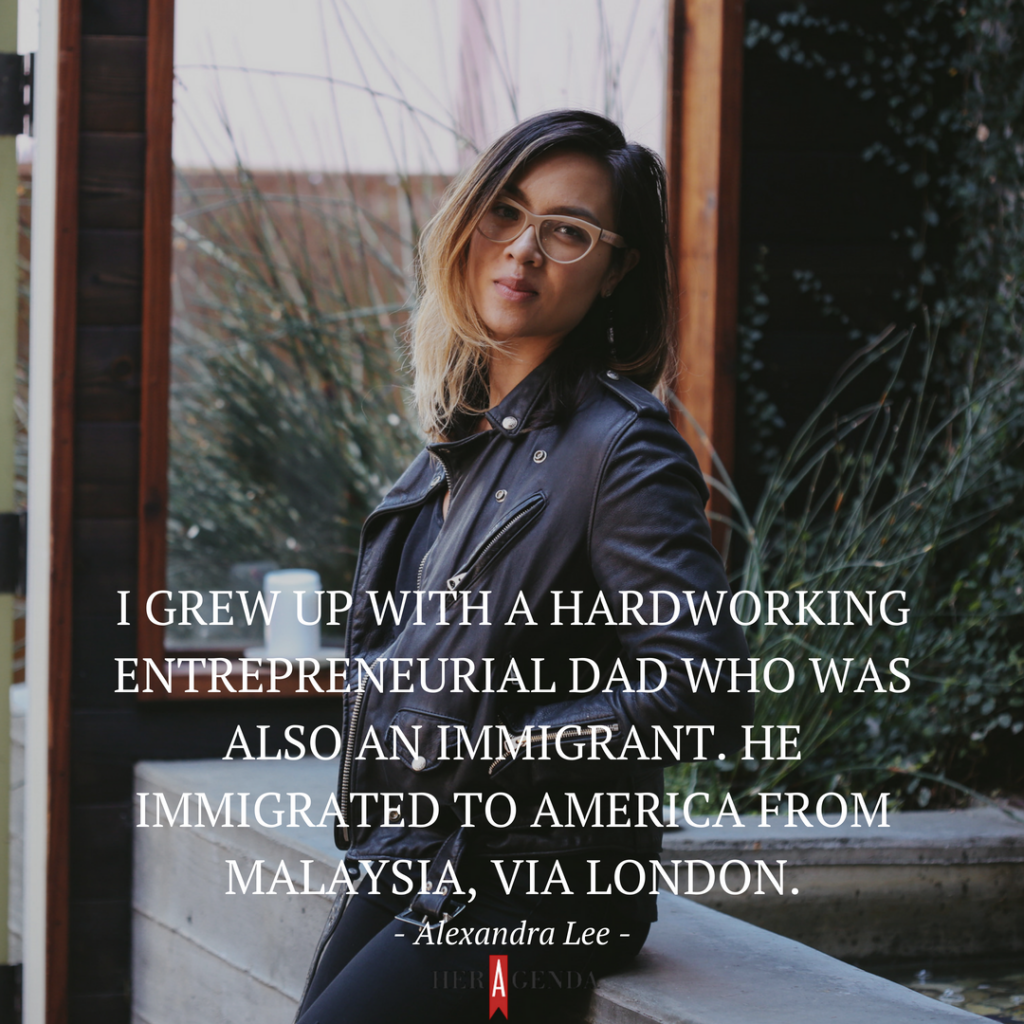 Her Agenda: What do you love most about your current job as a New Business Director?
Alexandra Lee: I actually just got a new title; I got a promotion. My new job is Head of Growth. The greatest thing about my gig is the fact that I've always been someone who likes getting to know other people. I moved a lot growing up; I probably moved to a new city every two years. I wasn't an army brat, that was just how my family was so from an early age, I taught myself not to be scared to talk to strangers. I made conversations with everyone to get comfortable and showed interest in getting to know them. When you're a kid, it's pretty cut-throat when you show up to a new school. Everyone has their table in the lunchroom and their friends. The greatest thing I get to do now as Head of Growth is that I get to be the first person that speaks to anyone that can potentially work with Redscout as a client. I get to ask questions, I get to hear what they're thinking about right now and breakdown the strategic challenges. It keeps me on my toes all the time, and constantly learning and meeting new people. I don't show up at work and do the same thing everyday; my Monday was different from my Tuesday, and given the industry I work in, it changes even more.
Article continues below advertisement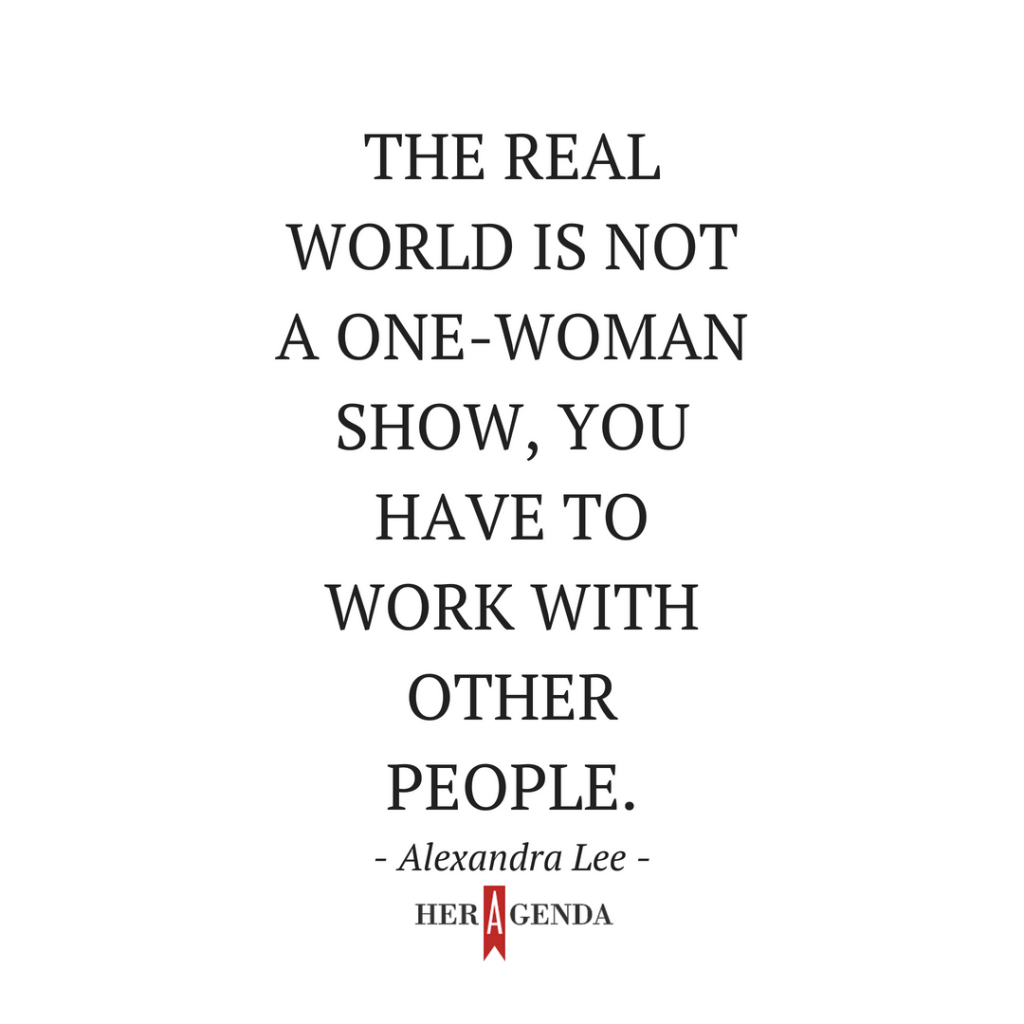 Her Agenda: What was it like transitioning from nonprofit to Redscout, a brand strategy and innovation agency?
Alexandra Lee: It was scary, honestly. I spent the first decade of my career working in non-profit fundraising for performing arts centers or writing grant proposals. When I made the switch to for-profit, it was important to take what I loved about working for mission based companies and find that mission in a for-profit setting.
Article continues below advertisement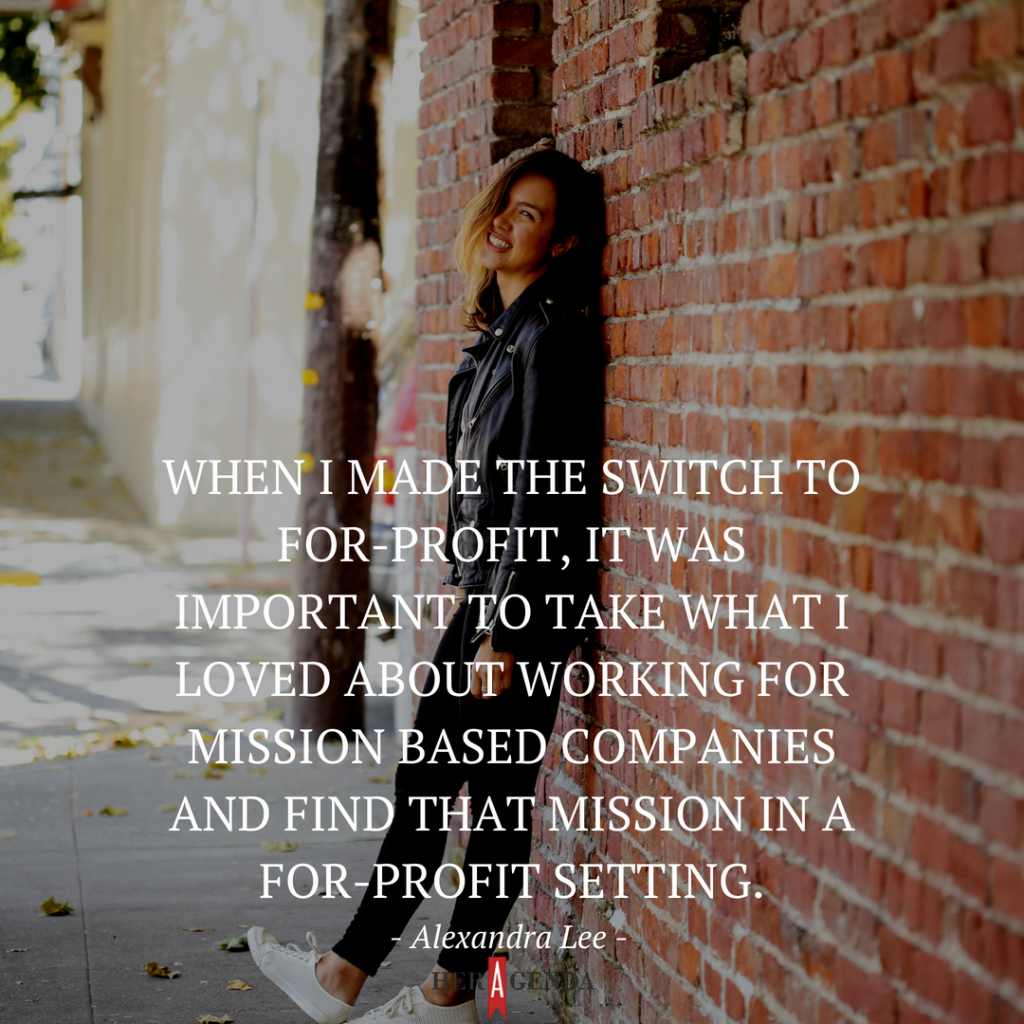 One of the reasons why I made the switch, I was concerned if I only worked in non-profit my entire career, I wouldn't be taken seriously as a leader. Oh, Alex works in non-profit, that's nice. That's a soft job. I had a feeling that if I didn't try the other side of the equation, people wouldn't give me credit as a true business leader.
Article continues below advertisement
Luckily, I was able to make that transition successfully, and not all agencies are like Redscout. When I joined Redscout, the Founder was the CEO and even in the spectrum of agencies that are out there, the company felt like a non-profit by spirit. I have incredibly smart colleagues and they're brilliant, tough, fast, opinionated and I was like let me see if I can hang with these people. Let's make sure they treat me with respect. I am doing a career flip and they might say, 'Who does this girl think she is?' I had to be confident in myself and my abilities and work really hard to overcome some knowledge gaps that I had…I knew if I took the time to educate myself; it wasn't that I wasn't capable, I just didn't know some things.
Article continues below advertisement
Her Agenda: What shapes your values as a professional?
Alexandra Lee: I grew up with a hardworking entrepreneurial dad who was also an immigrant. He immigrated to America from Malaysia, via London. In the '70's, he felt like being Chinese meant that people wouldn't take him seriously as a business leader. He felt in England, which is where he went to school [there] was very much an established way [to go about things]. You had to come from the right family. You couldn't be a Chinese guy that moved from Malaysia. So he came to America because here's a country that he could succeed in if he worked hard. And that mindset was instilled in me at an early age. If you work really hard, commit to who you are, and know your strengths, there is nothing that can stop you from doing what you want to do. It doesn't mean you don't have disappointments or failures, but, if you truly commit to yourself and work really hard, you will succeed.
And when it comes to the values I bring, coming from a family that immigrated to America, if you truly work hard, you can do something and better than you can ever imagined. I'm in my mid-30's now, and [I'm existing] in a moment [in time] where there have been more opportunities for women to succeed because of the fights of our moms, grandmothers, aunts, sisters, and sometimes our dads and uncles. Now, we really have an opportunity to push and for me, that's an amazing thing. Also, stop being a jerk! I'm not someone who bashes other people to get a head in my career. Just because I work hard, it doesn't mean that I make someone else look bad. It was important for me to be appreciative of everyone I work with. I think if you can't be appreciative of others, then, they can't appreciate you and won't work with you. The real world is not a one-woman show, you have to work with other people. You have to collaborate. I believe in being very grateful and appreciative to the people that are around you. You can't expect people to be a delight to you if you're being a jerk to them.
It goes both ways. You have to decide how to establish boundaries. I grew up in a household where my mother was an alcoholic and I think that that makes you think that if you keep everyone happy, that everything will be happy. That meant I had to learn a hard lesson about establishing boundaries with people too. Just keeping someone happy isn't good enough. There also has to be shared mutual respect there. Bullies are bullies. People who are sick are sick. It's not your job to make a bully be a nice person or make someone who is sick healthy. It's a hard lesson to learn because you want to be accommodating and be perceived as a team player. Tracee Ellis Ross said, 'There is enough room under the sun for everyone,' I truly believe that. Just because someone else is gaining, it doesn't mean I am losing. There is enough sunshine for everyone.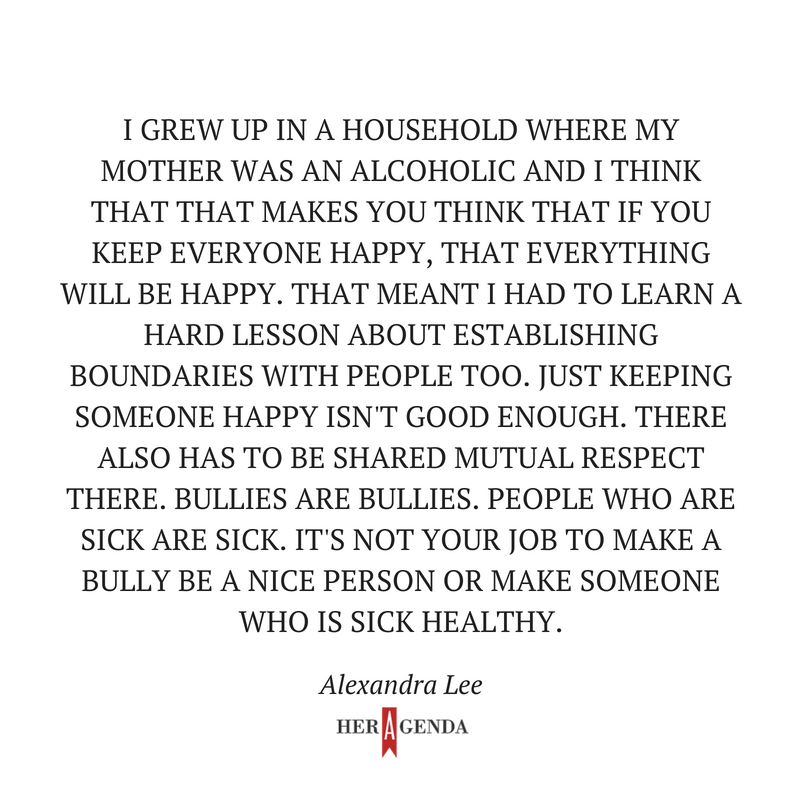 Article continues below advertisement
Her Agenda: A lot of people try to isolate the personal and the professional but it's all intertwined. How did the way you grew up impact the direction you took your career and how you show up as a professional?
Alexandra Lee: My dad was amazing and when I was a teenager and a college student, [he told me] don't waste your time with boys, 'they will get in your way; you're a phenomenal woman that can do anything she wants. Be yourself, be strong, and be independent. Pursue what you want to pursue and do not compromise what you want for other people.'
At you get older, you start to develop relationships. I have an amazing partner who has two kids from a previous marriage. My life looks really different from how 20-year-old college Alex thought her life was going to look. I struggle because I really love working. I could be on a business trip and work 20 hours straight and be pretty happy. I never want to fail at something at work because I didn't put enough effort in. Sometimes you just need to sit down and put in the hours. But what I'm trying to learn as I get older is as you get more comfortable in your career, you get more confident in yourself, you become more of an expert in the thing that you are uniquely good at and you don't have to put in 20 hours at work just to have a great day. I am more than just my job. And the kids start to notice when you're traveling too much. I have a real responsibility, not just to myself anymore, but, to other people. There has to be time out moments because I need to go home and spend time with my kids and partner. My boyfriend Rob said, 'You're not going to regret that one email you didn't send at work, but you will regret that you didn't have dinner with us because you're trying to wrap up work at the office.' That's an adjustment. I am work in progress on that one.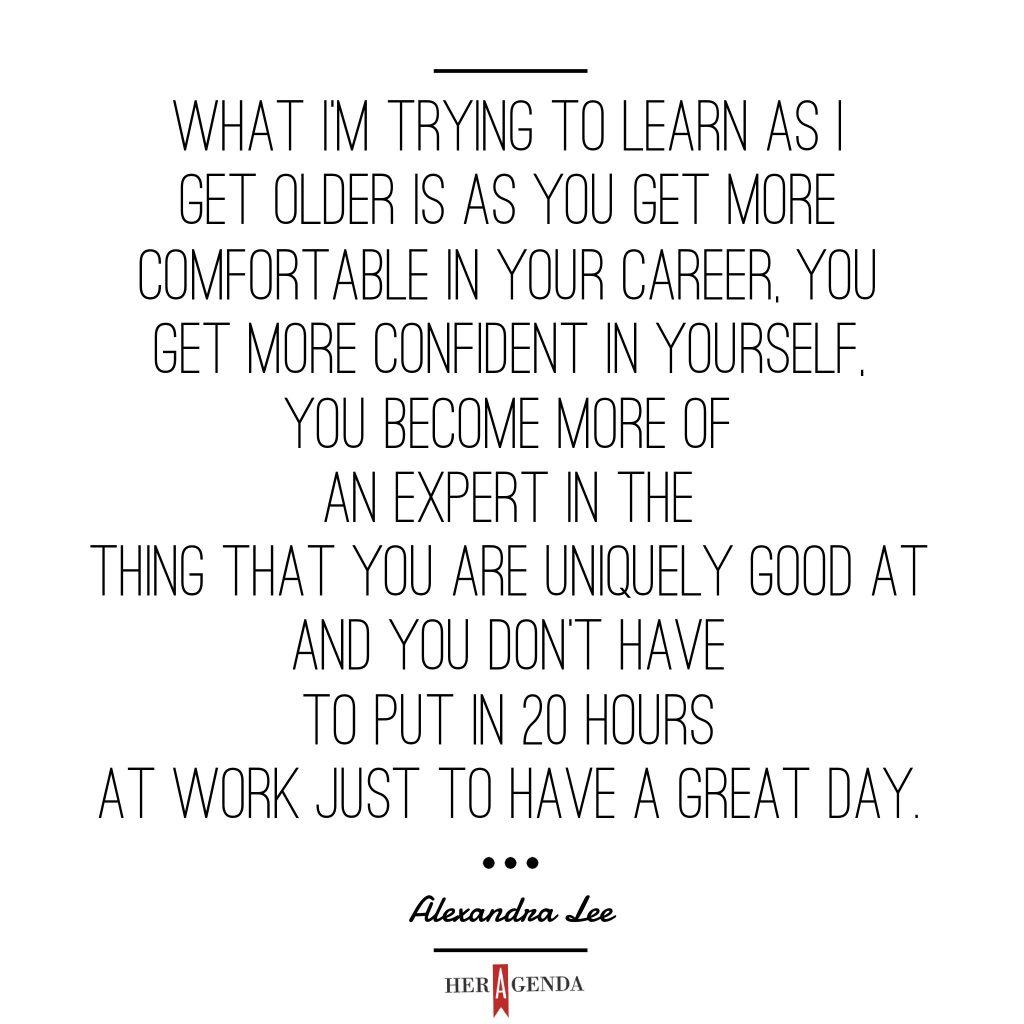 Article continues below advertisement
Her Agenda: What is your management style? How do you direct your team?
Alexandra Lee: I try to be really upfront with people, no b.s. I will give you as much information that I possibly can. I will praise you when you did something phenomenal. And I will do my best to tell you that you haven't done something well so you can learn and grow. You have to judge based on your individual team member to know how to convey that kind of information. For some people, you can just be super [direct.] With other people, you may have to take a different approach.
The key is never to treat anyone with anything less than respect. In some offices, you can get this dynamic where people are like 'the kids just don't understand,' I agree, they're young they don't have a lot of experience. We have to explain to them then what they did wrong or they are never going to learn. That goes both ways. I often hear some younger members of companies go 'management doesn't understand what's going on. They don't understand what it feels like.' You have to take the responsibility of explaining that and you have to do it in a respectable way. You can't complain about stuff, and not help people understand how to do better. I try to get people to feel comfortable expressing the good and bad. We're all figuring stuff out together.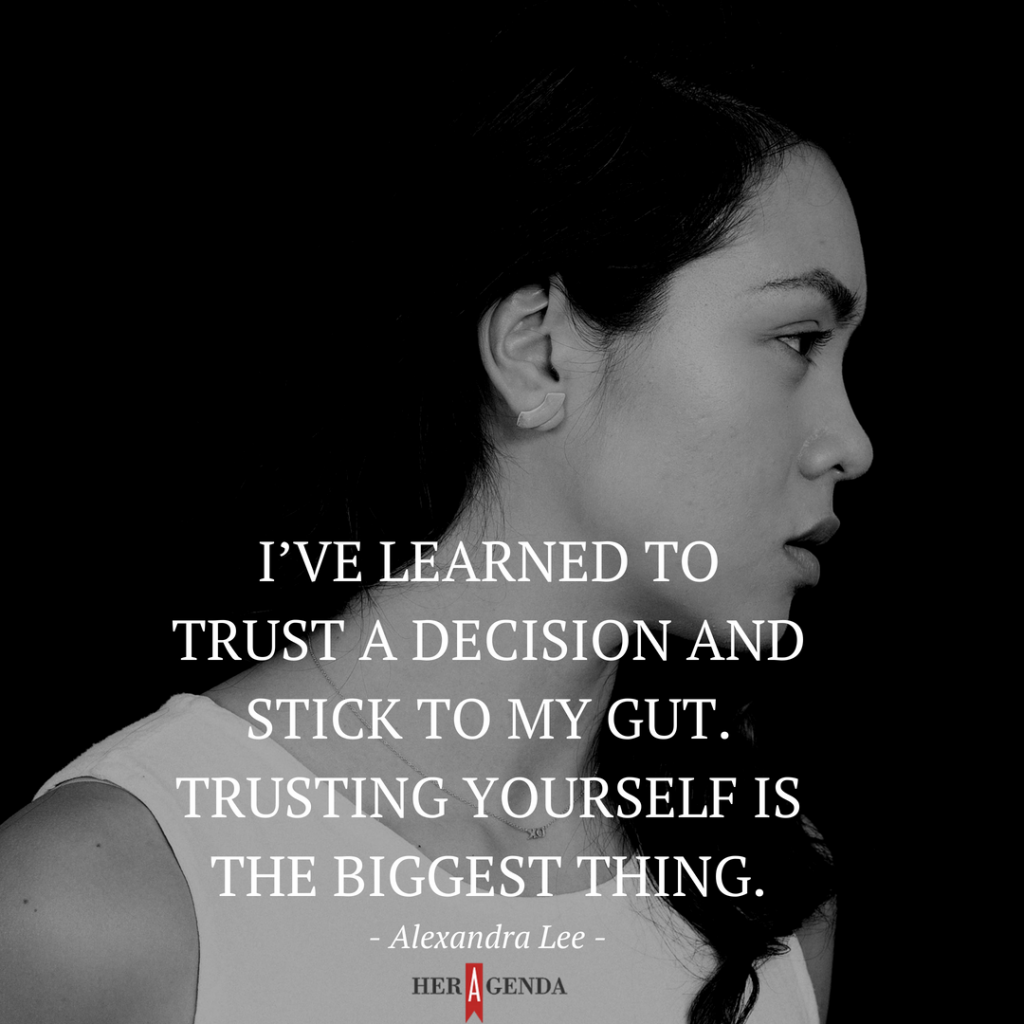 Article continues below advertisement
Her Agenda: What in your life has given you the greatest satisfaction?
Alexandra Lee: I think it's just learning to trust myself more. A lot of my teen years, my twenties and even my early thirties, I had a lot of self-doubt. Did people think I was smart? Did people think I was a great colleague? I grew up in household where it was important for you to do well in school. I was really hooked on getting good grades. I was like, "Am I getting an A?" I went to an intense school so there was this pressure to really be on it. And I'm starting to emerge from that which is not needing as much external validation. I've learned to trust a decision and stick to my gut. Trusting yourself is the biggest thing. You will make mistakes but you understand why you made those decisions at that time. You have to have the ability to own up to that. You may be proud of yourself, while, other times, you're like, okay, maybe not my best moment. I can rely on myself and trust myself more and more everyday.
Article continues below advertisement
Her Agenda: What advice do you have about pivoting careers or switching industries?
Alexandra Lee: Jump in! I think a lot of people get hung up on what if, what if. The one thing my mom always asked me, 'What is the worst thing that can happen?' Put yourself in the frame [of mind] like the worst thing that can happen from this leap is saying this is not for me. And how bad is that really? If you have a family to support and you're the only one working, then the risk is higher. But if you can identify what's the worst thing and then make a move, you just have to make that leap.
Her Agenda: How do you define success?
Alexandra Lee: I think success is the ability to do the things that you said you were going to do. It doesn't mean you will knock it out of the park every time. But, if you go up to take the swing, you've done it. Now, if you say you're going to hit a homerun and you don't, that's a different thing. Success is the ability to truly follow through with the commitment that you make to yourself and to others.
Article continues below advertisement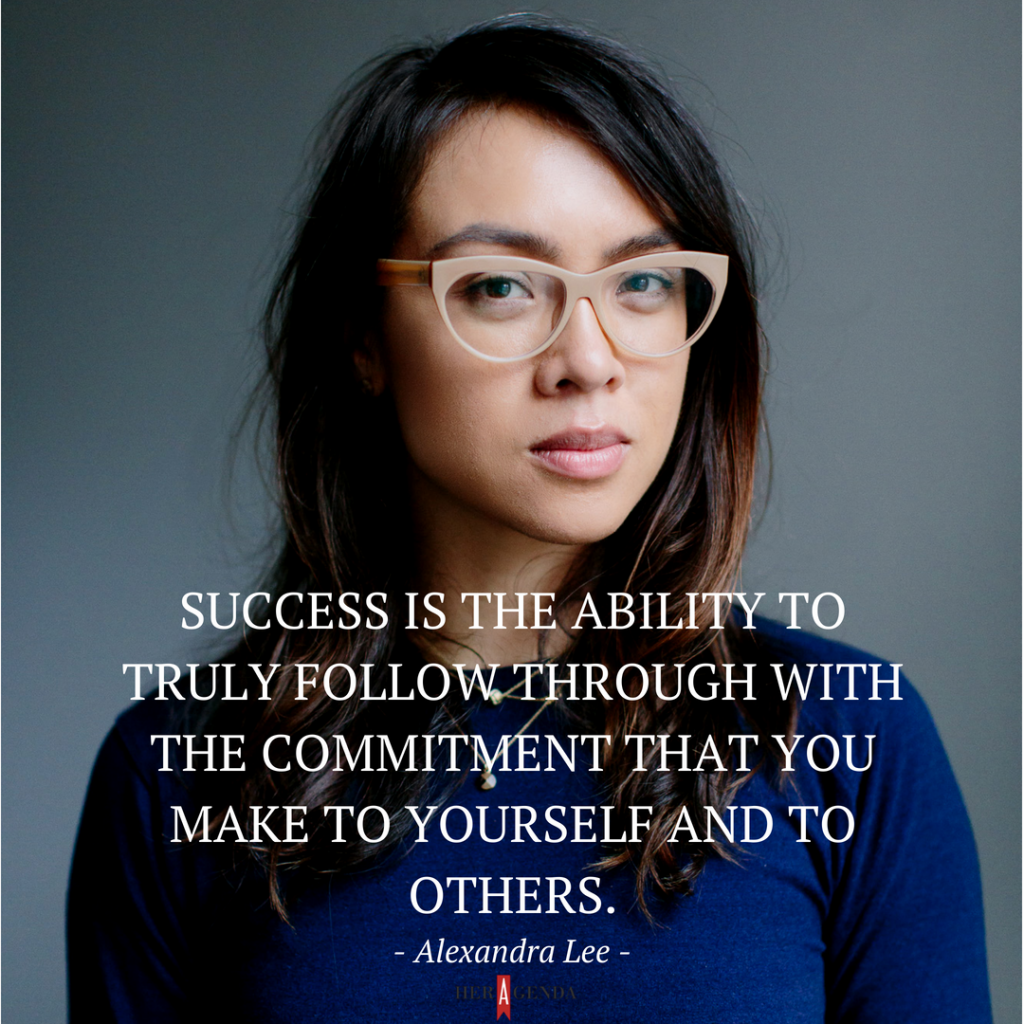 [Editor's note: This interview published on August 27th, 2018. It has been edited for length and clarity.]