Alyson Charles, also known as "the rockstar shaman" accepted her calling long ago (in another lifetime) to deliver light and love to the world through media. As the executive producer and host of the talk show "Soul Reboot," with more than 50,000 followers on Instagram, and as the resident energy guru for "Best Health Site" Well and Good Magazine, among many, many more — it's safe to say that she is living out that calling by meeting people where they are to deliver her message of love.
Charles credits her early years as an elite athlete with helping to develop her work ethic while also unfortunately teaching her that her worth was tied to how well she performed. It was this learned behavior that later served as the catalyst for her awakening. After that awakening, she became clear on her purpose, "…to help welcome people over to the awakened path without having to go through a really traumatizing moment or divine intervention the way some of us do, because it doesn't have to be that way."
In this interview Charles shares insightful thoughts on the rise in consciousness happening around the world today, she's breaks down what mindfulness is, and how to cultivate it among the noise and busyness of everyday life.
If you're feeling inspired and want to work with Alyson, you can check out one of her upcoming New Moon meditations.
Article continues below advertisement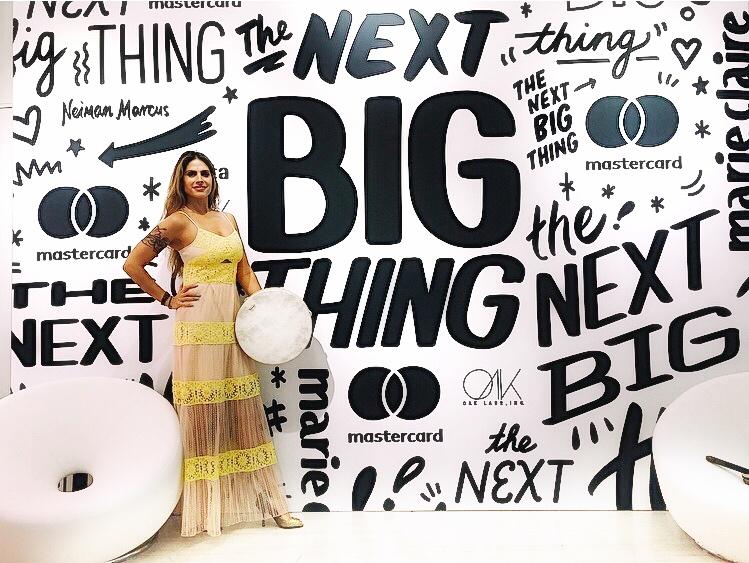 Her Agenda: If someone were to ask you "What do you do?" at a cocktail party, what would you tell them?
Alyson Charles: I would tell them that I am a television host and a shaman, and that it's my mission to merge the world of consciousness with as many forms of media as possible. I'm really here to be a conduit from source and from Mother Earth to deliver whatever consciousness, light, medicine, or love that supposed to be administered to the world. I'm here as a public figure shaman, so my medicine goes out through TV, radio, podcasts, and magazines.
Article continues below advertisement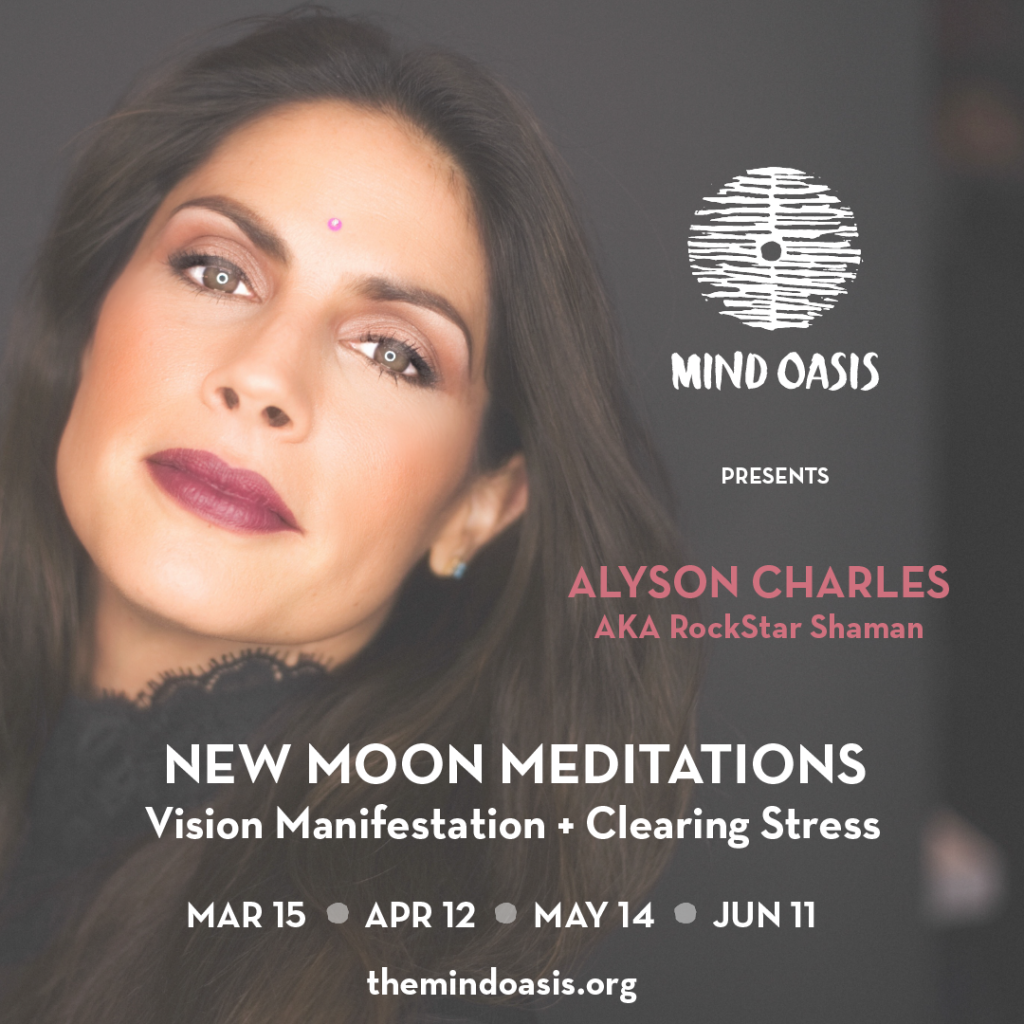 Her Agenda: A public figure shaman is a unique assignment, how and when did you feel your calling to this work?
Alyson Charles: The origin story is that I've been a mystic, a shaman, and a sage for many, many lifetimes. I signed on in full contract to incarnate this lifetime to be one of the people to assist in the rise of consciousness that's happening on the planet right now. I'm just here to do my part to facilitate that.
Article continues below advertisement
In terms of this lifetime, I grew up in a really small town in Indiana. I was born into the world of elite athletics and fitness. I was a track (and field) national champion and ran for the University of Alabama. Athletics helped me to develop my work ethic, my dedication, and commitment to a goal, but it also brought with it some core woundings that would end up being the catalyst for my awakening. When you're that engrained in competitive athletics before the age of three like I was, you start to believe that your worth is dependent upon if you're a champion or not. For me, it was based on what can my physical body do to prove to other people that I'm worth it, to prove to other people that I'm enough. What can my physical body do to make other people feel happy and good about themselves and their lives.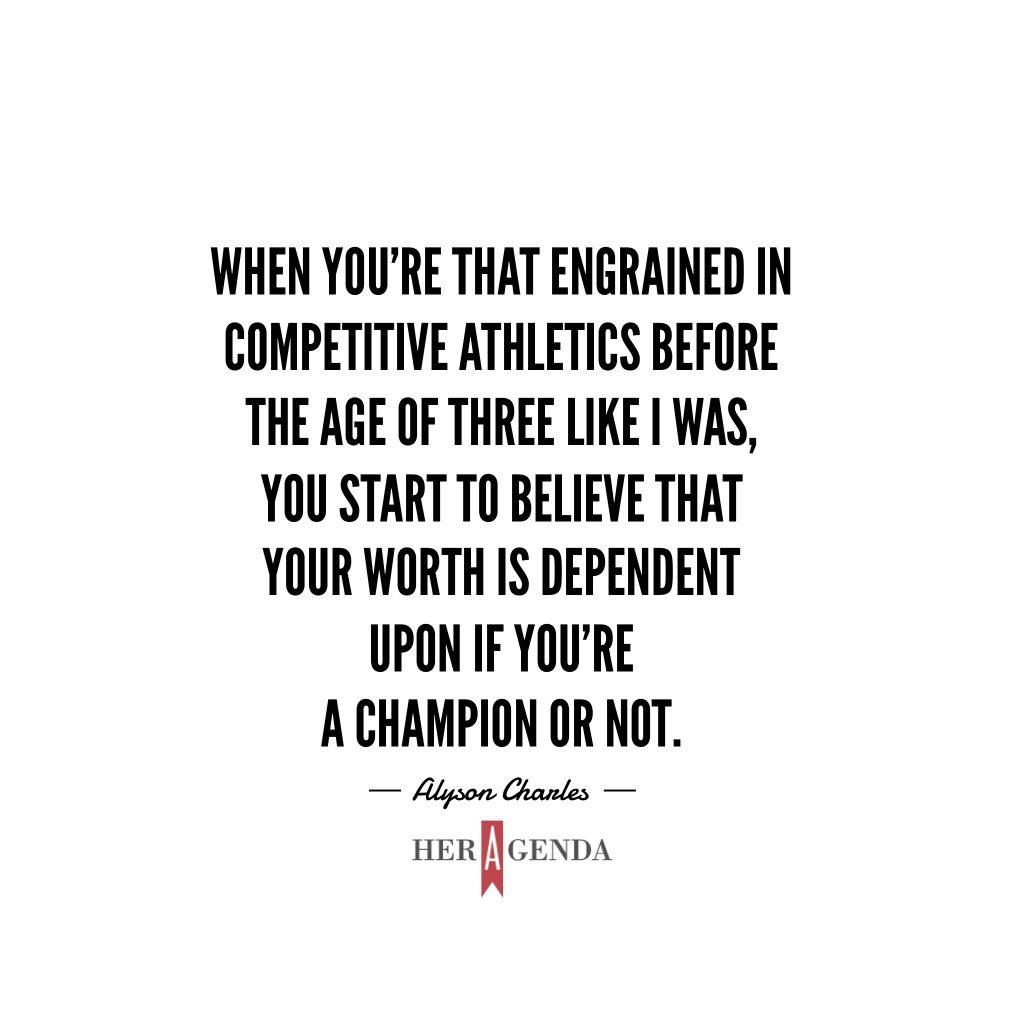 Article continues below advertisement
It's been a wild journey, but when my body started breaking down, I really started to question, what is my truth? It wasn't until I got my first job in radio in Florida right after college that I started to feel like I was finding my home and my truth.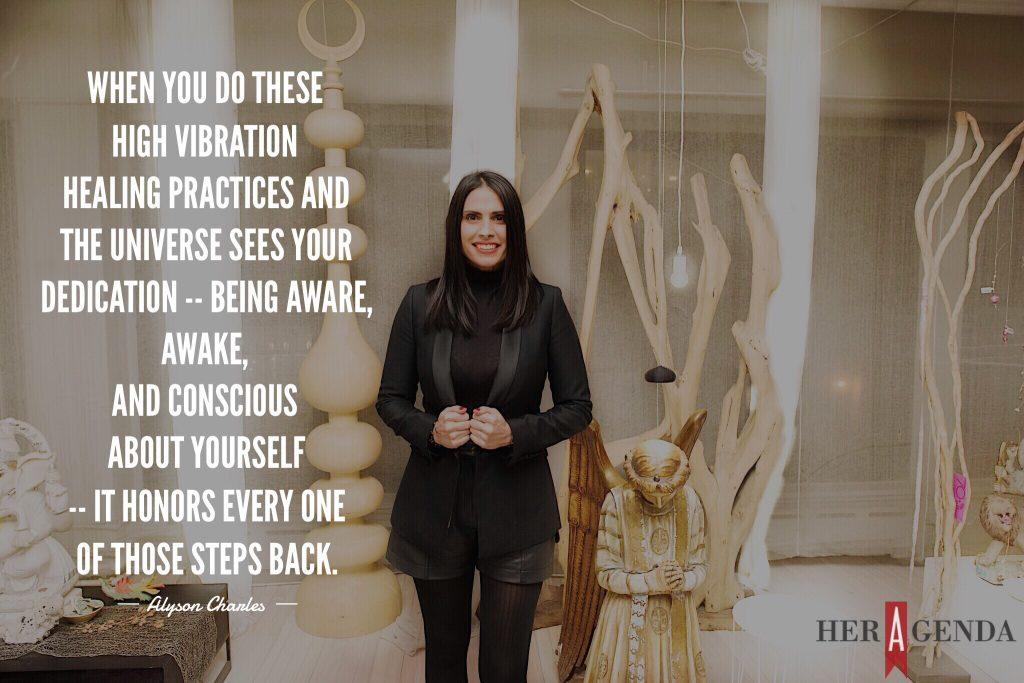 Article continues below advertisement
Her Agenda: Was there one moment that solidified your calling?
Alyson Charles: The awakening of course was a compounded mixture of a number of facets, but the main catalyst for my awakening moment actually came via my ex-fiance. I have one of those heart shattering, ego-shattering stories of awakening.
A lot of what I teach people — all of the talks, and the purpose of my shamanism is to help welcome people over to the awakened path without having to go through a really traumatizing moment or divine intervention the way some of us do, because it doesn't have to be that way.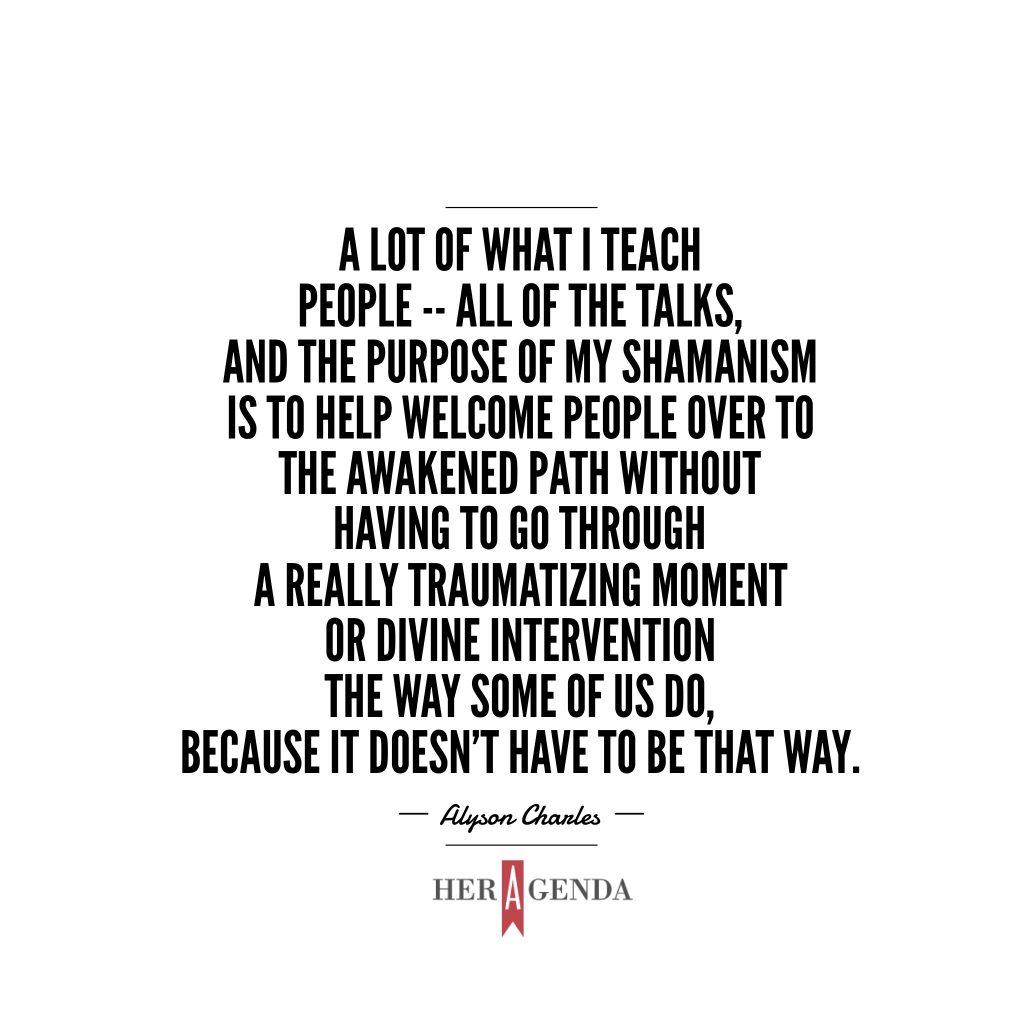 Article continues below advertisement
My divine intervention moment was shattering enough to me and my soul that it obliterated that ego shell and it forced me to finally open my eyes to the reality of everything, the relationship, myself, and planet earth.
My shaman path and journey began from me wanting to heal myself. There was no intention for me to become a shaman. I wanted to heal me. The journey began when I declared that I didn't know what I was doing, that I needed help, and when I demanded that the universe show me the way. And from that moment, the universe started showing me different psychotherapists, shamans, energy healers, and therapists for me to work with on my own healing. When you do these high vibration healing practices and the universe sees your dedication — being aware, awake, and conscious about yourself — it honors every one of those steps back. The more activated I became, the more I was remembering who I was.
Article continues below advertisement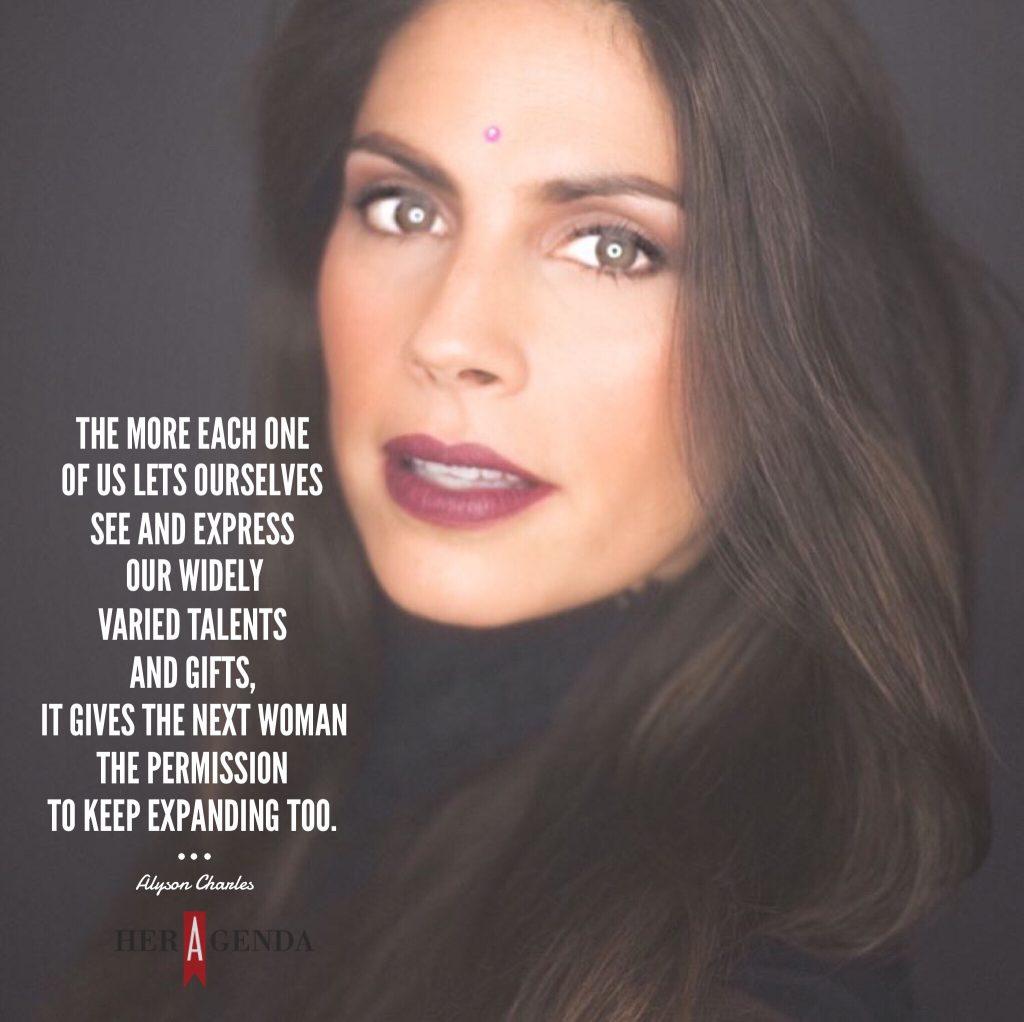 Her Agenda: Mindfulness is something that many are trying to understand. What is it and where can we start?
Alyson Charles: It starts with a simple decision. That decision is really that moment of surrender when you're clear enough to realize that there is something greater inside of you that wants to be expressed.
Make the decision to communicate to whoever you talk to — Universe, Source, God, Mother Earth — all that matters is that you get clear in your decision that you're choosing to be more conscious, mindful, and awake and that you verbally communicate this decision.
Article continues below advertisement
Once you communicate that you're ready, and you ask the universe to show you the way, you will be shown the way. Maybe you'll meet someone at a bookstore and they happen to be a tarot card reader. And maybe your entry point into mindfulness is supposed to be through card reading. Then you venture into a metaphysical bookshop and you learn that there are all kinds of cards; angel cards and oracle cards, and tarot cards. You get the card deck that speaks the most to you, and you begin to practice and play with this card deck on your own, you begin to cultivate your inner wisdom. You begin to activate your own intuition, and in this practice your ancient wisdom is waking up more and more, because it's seeing your courage in trying out these card readings. So the easiest step is that communication and asking to be shown the way and then being aware of the signs that the universe is sending you.
Article continues below advertisement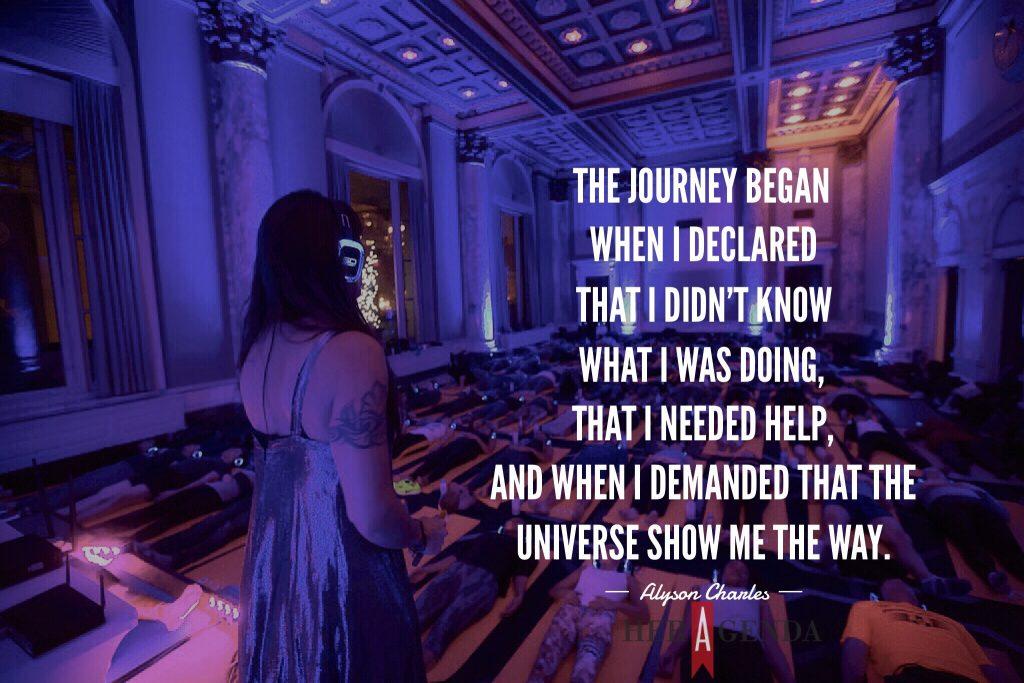 Because of the rise in consciousness most cities have incredible healers, shamans, and meditation events. Another great step is going to consciouscityguide.com where they list some of the top practitioners in the space and the events they host. You'll start to see what's speaking to your soul the most. Once you enter into this mindful space, the path continues to always, infinitely reveal itself to you. It really does take that stepping in, and that's usually the hardest for people.
Her Agenda: Living in a city like NYC, how do you stay grounded and not cave into the chaos?
Article continues below advertisement
Alyson Charles: New York City is very intense. Her potency ignites peoples dreams; it ignites inspiration and our ideas, but if you are not mindful of her intensity, it can sweep you up and burn you from the inside out. For me my saving grace is the altar in my apartment; I start every single day there. An altar doesn't have to have any religious ties, it's simply a beautiful, sacred space that has a few objects that evoke joy, that speak to your soul, that help you to remember your power and your truth. At my altar I've got some of my favorite crystals, a tuning fork, different card decks…in the mornings, I'll chant sometimes or I'll mediate sometimes, but I always land there for a minimum of 20 minutes.
It's finding a few rituals that bring you back. Have a sacred space in your home that brings you back home in your own body. I recommend starting your day with it so that you return to your truth first thing in the morning.
Article continues below advertisement
Her Agenda: What's one thing that you've learned that you'd like to share with other women?
Article continues below advertisement
Alyson Charles: I want women to remember their divinity. To remember the powerful queens and goddesses and wildly creative creatures that we are. For so many lifetimes, we as women have been oppressed; whether that be for our light and our power and being called witches, or being killed, or being hated for our race or skin color, or for simply being women. For many of the ancient past lifetimes there was an energetic layer of suppression. But what's occurring right now along with this rise in consciousness is the return to the knowingness of our truth, our divinity, our kingdom and power within. It is safe for you to shine in this lifetime. You are light, you're exuberant, you're multidimensional; give yourself permission and give yourself the space to let the fullest expression of yourself be known. If that fullest expression of yourself wants to go out into the world and be of service to the world, then allow it to be so.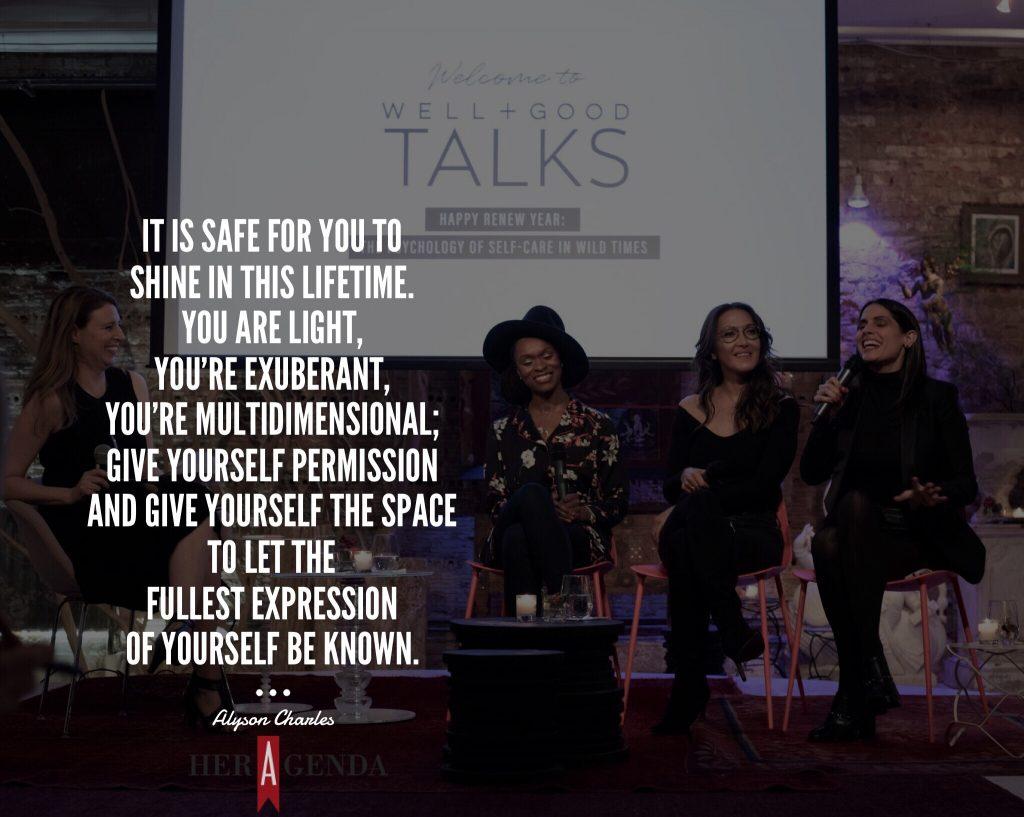 Article continues below advertisement
Her Agenda: How do you recommend that we keep shining brighter and brighter?
Alyson Charles: Many of us are so multi-talented, and that can be a little confusing to people, but the more each one of us lets ourselves see and express our widely varied talents and gifts, it gives the next woman permission to keep expanding too. Know who you are, own it, embody it. Give yourself permission to be who you authentically are and be as bright and multidimensional as your soul wants to be.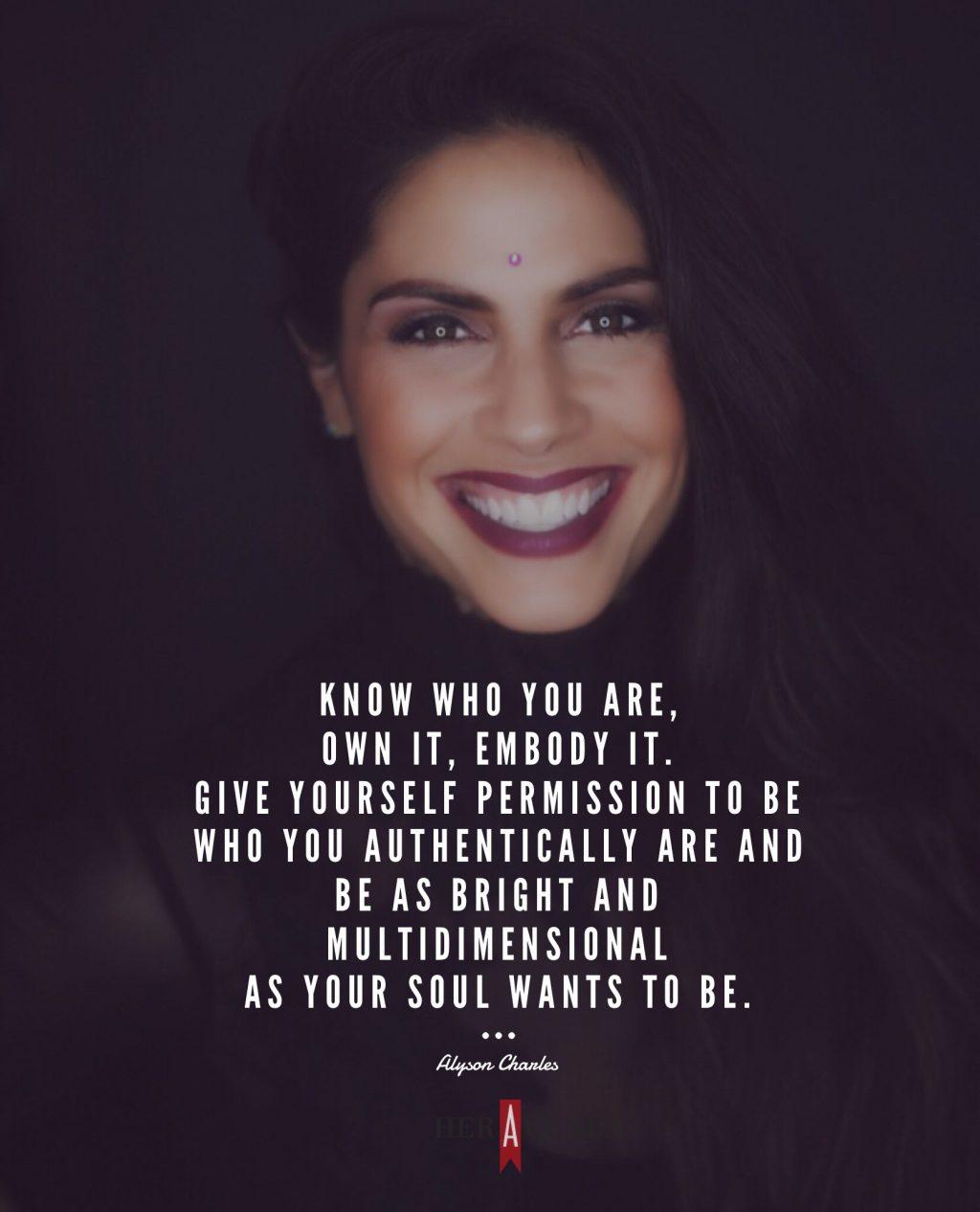 [Editor's note: This interview was published on April 9th, 2018. It has been edited for length and clarity.]