Amanda Edwards is many things. An accomplished attorney, a millennial, a founder and community leader. She's now running to become the next Democratic U.S Senator from Texas. If she wins, she will be the first Black woman to hold the seat.
The former Houston City Council member did not start her career with political dreams. In fact, the former finance attorney doesn't like politics at all. However, her passion to serve has landed her on the doorsteps of her constituents in the aftermath of Hurricane Harvey and might possibly lead her to D.C.
As she prepares for the Democratic primary where she will face eleven other Senate candidates, Edwards talks with Her Agenda about her unwavering confidence, finding her purpose and how she wants to transform the way we look at politics in this country.
Her Agenda: What is your motto? How has it helped you in your career?
Amanda Edwards: In the context of my service, my motto is 'Be the solution.' We can talk about problems all day long but the real question is, 'What is the solution to the problem and how are you a part of it?' Being the solution summarizes that proactive approach to creating the community you want to see.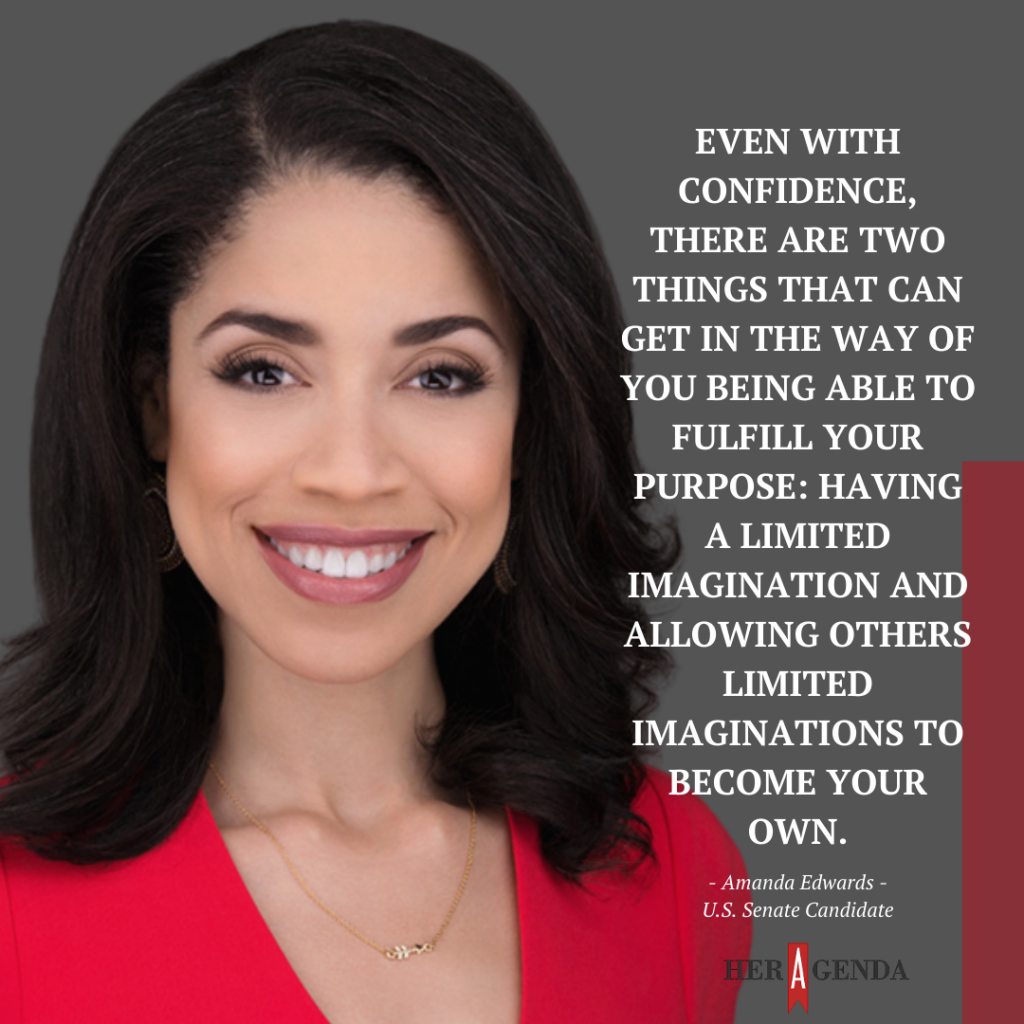 Article continues below advertisement
Her Agenda: In the Dallas Morning News, you said that you are "ready to turn my next position on its head in terms of what people have grown accustomed to thinking it is." What does that look like and why is it important that a Black woman lead that charge?
Amanda Edwards: Most people look at the US Senate as this very far away role that holds space in DC, that doesn't connect to people and can't deliver results. In fact, I looked at it that way too. However, that's the wrong way to think about it. That's just been the status quo.
In the office of city council, I turned what people perceived would be impossible for me to achieve for people into reality. People told me not to run for city council. They said that I couldn't be effective and so many other discouraging things. But, I had these visions in my mind of what we could accomplish together if we just had the community behind us. I'm proud to say that we did it on a number of fronts. I think we can do it again in the Senate seat. This can be a transformation in politics as we know it. Right now, we are in a political climate that is largely ineffective and completely disconnected from people. When you have that type of environment, you are eroding democracy whether you know it or not.
Article continues below advertisement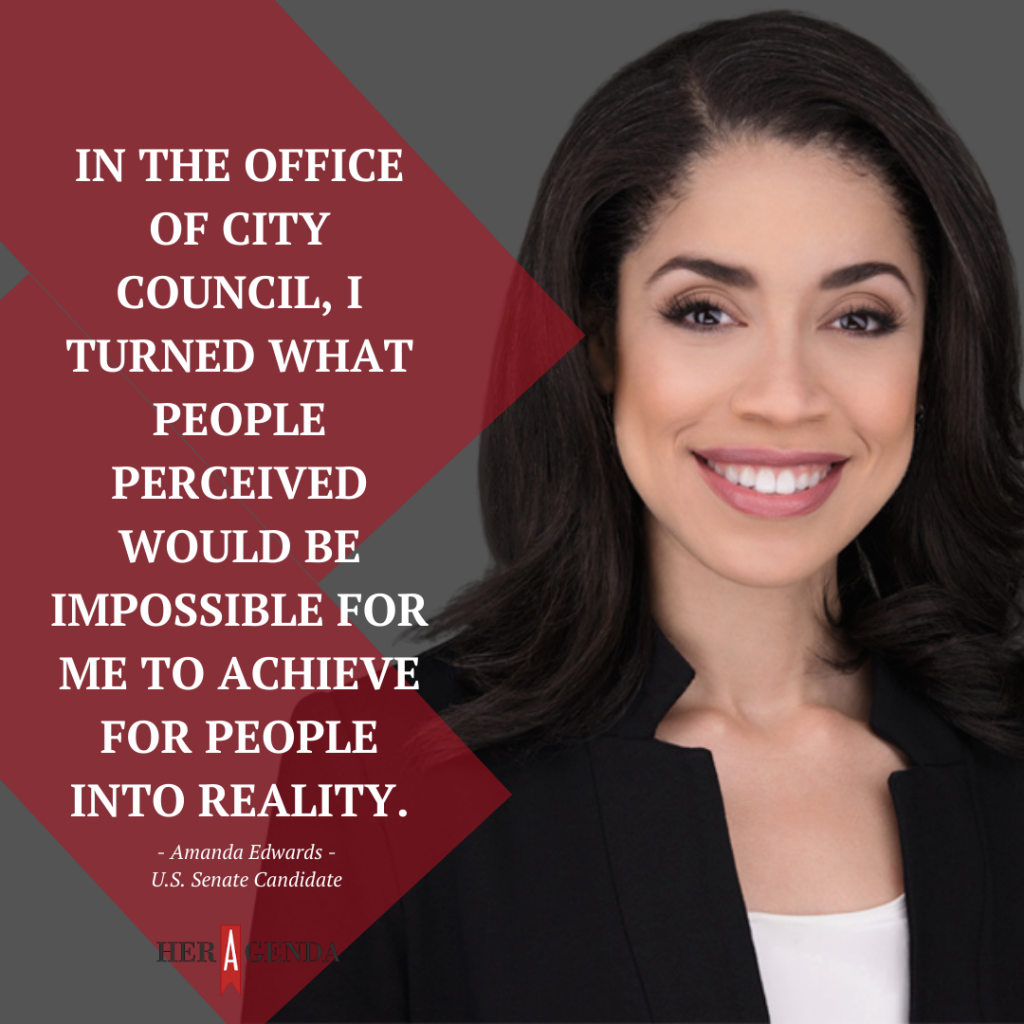 I want this seat to be a space where people know that they can come and have an advocate. To know that they can tell their stories and issues and receive timely responses. One of my favorite things that President Obama said before he left office is that the power lies in the hands of the average, ordinary American citizen. If we think about that, that means there is a line of accountability that must be drawn no matter how many miles separate my Washington, DC office from the state of Texas. I want to use this seat to empower people not only to hold me accountable but also to hold their elected officials accountable. This is how we create an enlightened, empowered citizenry in which people begin to see results instead of just seeing campaign promises that are never delivered.
Article continues below advertisement
Her Agenda: You are running for Senate against one of the most powerful senators in the country after serving just one term on the city council. That requires confidence. Where does your confidence come from and how do you maintain confidence when things seem impossible?
Amanda Edwards: I was very fortunate to grow up in an environment where my parents never imposed any limitations on my dreams. They told me that I could do and be whatever I wanted. I really internalized that to my core. Oftentimes, children's imaginations are stifled by the environments in which they grow up. I remember asking my father if he thought I could go to Harvard. He told me yes. I remember asking questions expecting that my parents would put limitations on my dreams. That never happened. I had it in my mind that I could do whatever my heart desired as long as I was willing to do the work to earn it. In my house, hard work was a prerequisite to everything. You don't get handed anything. There is no substitute for hard work and preparation. Until this day, in all that I've accomplished, I have not been handed anything.
Article continues below advertisement
I was very fortunate to grow up in an environment where my parents never imposed any limitations on my dreams. They told me that I could do and be whatever I wanted. I really internalized that to my core.
-
Even with confidence, there are two things that can get in the way of you being able to fulfill your purpose: having a limited imagination and allowing others limited imaginations to become your own. One part of my life story has been people telling me what I wouldn't be able to do. The other part of my life story? I can show you better than I can tell you. Just because I've had tremendous accomplishments early on doesn't mean that I haven't had rejections along the way or won't get told no in the future. That comes with the territory. You must be willing to face setbacks in order to pursue your dreams. That's a part of the journey. I have been fortunate to have good building blocks of support to go along the way. I also have a will to lead with courage instead of fear. That's what it is: people are fearful of rejection and failure. We often think: What happens if it doesn't happen? What if I don't achieve my goals? Well, you have to face those 'what ifs,' otherwise you will be forever controlled by that fear.
Article continues below advertisement
You must be willing to face setbacks in order to pursue your dreams. That's a part of the journey.
-
Her Agenda: You've accomplished a lot from graduating from Harvard Law School to serving as board president and on city council. On the other side of that, being in the public also brings criticism. How do you handle criticism?
Article continues below advertisement
Amanda Edwards: I face it head-on. You can't get into public service without thick skin. That's a part of the job. I come from a customer service background having practiced law. As a lawyer, you have to satisfy your clients. In a service role, you must be able to accept criticism. If you are so thin-skinned that you can't accept criticism from the people that you are supposed to be delivering for, then that's problematic. That's an incompatibility with the role. My approach is to show up where my presence should be. I don't come with excuses. If there is something that's inexcusable, acknowledge it. You then talk about how you fix it. That's what you do.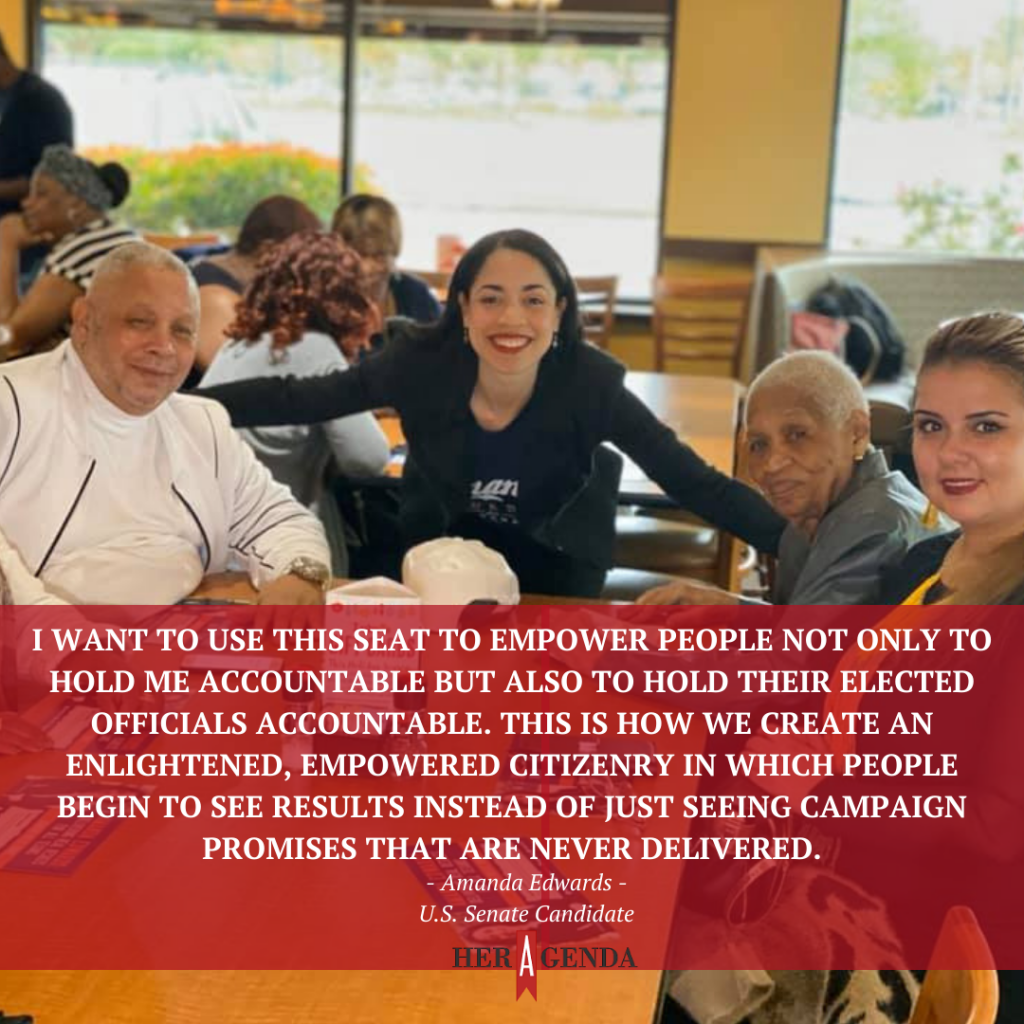 Article continues below advertisement
I think we need more accountability and responsibility in leaders. It's not about covering yourself and saving face. I don't just say here's the problem and here's the answer. I tell people what role we all play. Sometimes it's an asymmetry of communication. I provide information in a way that is digestible for people. That's how you prevent misunderstandings. The same thing holds true for being in Washington, DC. There is nothing that requires you to suddenly become ineffective at communication because you are further away in distance. You come back to the districts that you represent.
There is no substitute for hard work and preparation.
Her Agenda: When did you know that you had discovered your 'purpose'? What is it? How did you then align your life and work with your purpose?
Amanda Edwards: We all should be on a search for our purpose. I've always generally known the direction I wanted to go in but didn't know precisely what that looked like. Especially when you get to a point when you are trying to make next steps. So maybe you say, public service is what I think I'm supposed to be doing. But for a lot of people, there are a lot of years before you enter public service. What do you do before that? I had the problem of knowing that I wanted to enter public service, but my challenge is that I don't like politics. I really don't like politics. I say that from the standpoint of someone that's been in politics for years.
Article continues below advertisement
Finding your purpose and aligning with that does not mean that you're going in the space that you're most comfortable with. I know what I'm supposed to be doing as far as leadership and uplifting and empowering but that doesn't that mean it's the space that I'm most comfortable in all the time.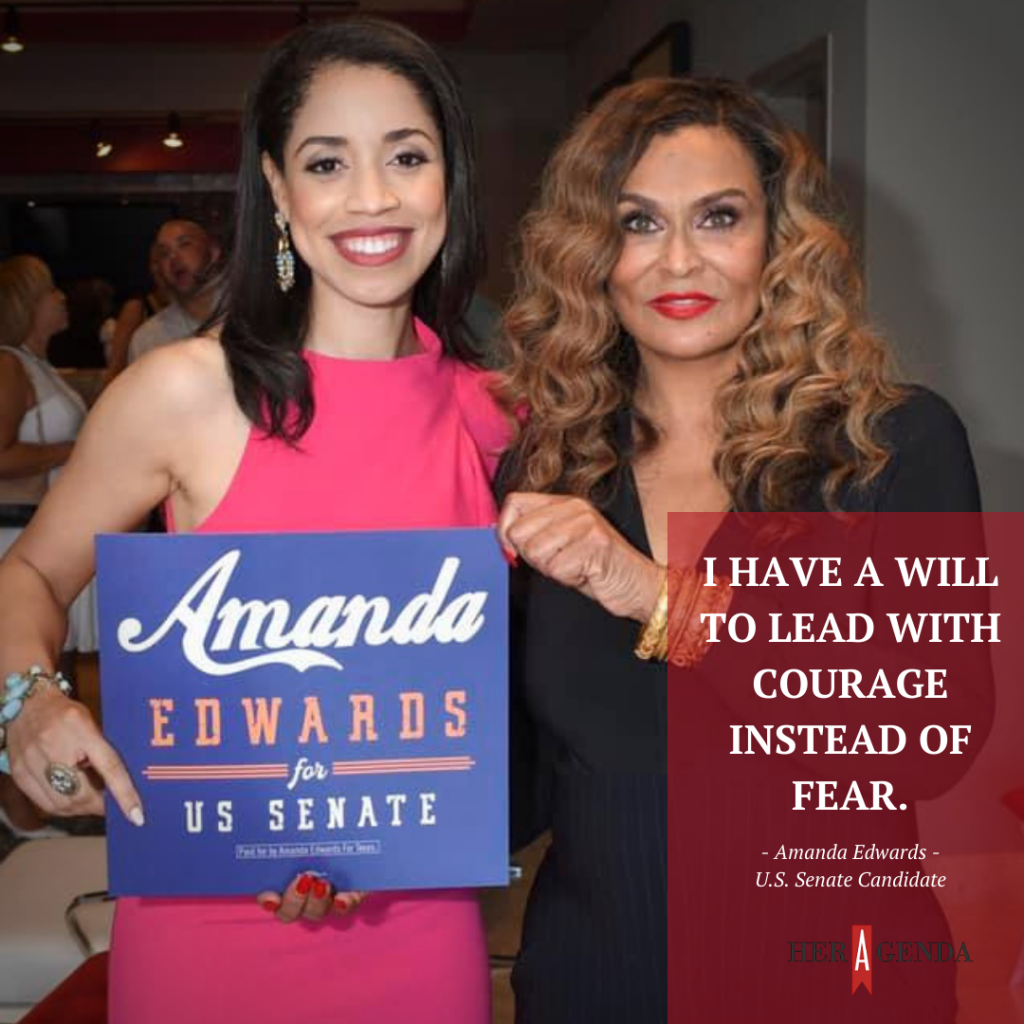 Article continues below advertisement
Ask yourself what would you do for no or little compensation? What makes you not look around the corner at the next thing? For me, it may not always be the same role. I practiced law for many years. Do I think I made the right choice? Absolutely. I felt fulfilled in the work that I've done. Even the work that didn't get done, I knew I needed to be a part of those fights. Finding your purpose doesn't come about easily and you don't have to know it when you are 21. You should spend time trying new things. Discovering what you like and don't like will help you discover what it is that you are called to do.
Her Agenda: You are building great relationships. Tina Knowles-Lawson hosted a fundraiser [for your campaign]. You've met with U.S. Senate Minority Leader Chuck Schumer and had positive discussions with him and the Senate Democratic campaign arm. You've built relationships with Emily's List and other organizations. What are some of your tips for building relationships and networking effectively?
Amanda Edwards: Authenticity is the key piece to building strong relationships. There have been people that I've met and exchanged contact information with but there wasn't a real connection in terms of things to keep in touch about. Look to make real connections and not just to fill a Rolodex.
Article continues below advertisement
I didn't have social media accounts prior to pursuing the run for public office. Before that time, I had to rely on getting on the phone and talking to people or sending emails. I made it a point to keep up with people. Not often, but often enough to where you have a real connection. I think having real connections and not being so heavily reliant on social media is a tool for connectivity. My recommendation is to try to develop relationships where you talk to people. Relationships evolve and change shape over time. Sometimes, people that start out as your mentor may need your advice. If they've done their job well, now you're in a place where you can help them.
Her Agenda: You've talked about how millennials and people of color registered to vote in large numbers in the last election but did not turn out to vote. What do you bring to the table that will drive this population of voters to the polls?
Amanda Edwards: When you see that differential between the number of registered and voter turnout, there are several things to think about. First, there are tactical concerns like transportation and accessibility. Then, there are other elements that relate to motivation. Voters are saying to themselves, 'Is it really going to matter in my life if I go vote?' They also think about standing in long lines or taking time off work. When people have to weigh competing interests, you have to have a candidate that can answer those questions.
Article continues below advertisement
They've heard the campaign speeches before. When Hurricane Harvey happened in 2017, I got a call asking me to go check on seniors in low-income communities. I went out and showed up and talked to people. I learned that they were not removing walls that had been impacted by floodwaters. You have to remove those walls to prevent mold. I mobilized hundreds of volunteers to connect the community with non-profits to get the walls removed. The first thing they'd ask, 'Are you up for re-election?' They asked very innocently but that was telling of a much broader concern.
In our society, we've conditioned people to believe that the only time a politician or elected official shows up on their doorstep is when we need something like a vote – as opposed to being there to deposit into their lives. I want to change that paradigm. We have to start delivering on our promises. That's when democracy works when elected officials deliver results. I want people to say [about me], 'Not only was she there but she did what she said she would do.' That distinguishes me and can be a motivating factor for someone to say, 'Maybe it will be different this time because I have a restored sense of trust.' We have to restore confidence by making it about service and delivering on those promises.
Article continues below advertisement
Her Agenda: What is the biggest lesson that you've learned over the course of your career?
Amanda Edwards: There is no substitute for hard work and preparation. You have to prepare. You have to work hard. You're going to face adversity. You have to be resilient. It's not going to be an easy journey. Make sure you're ready for it. Have a clear goal in mind, don't just get out there. Then, create a plan and execute it.
[Editor's note: This interview has been edited for length and clarity.]