When no one expects you to succeed and then you do, the success is even sweeter. Through obstacles and challenges, one builds a level of character and tenacity that allows them to both appreciate and sustain that success. We often hear this about rappers and athletes but there are many of these stories within the journey of some of the top entrepreneurs. Angela Benton is among those entrepreneurs. She is founder and and CEO of NewME Accelerator LLC, which also includes the NewME Community, and NewME Conference. Previously, she founded Black Web Media which published BlackWeb20.com. From the outside, the beginning of her story does not match it's ending. She became a mom at age 16, but that did not stop her, it fueled her. She graduated from high school in three years, went on to graduate college Magna Cum Laude, and made her way into the digital world by way of design and ultimately entrepreneurship. Benton is recognized as a change agent and influencer by publications including Fast Company, Ebony Magazine, TheRoot, TheGrio, The National Urban League and Black Enterprise Magazine. The accelerator she founded has a mission to educate, accelerate, and empower underrepresented tech entrepreneurs throughout the world. Angela and the NewME Accelerator were featured in CNN's award winning documentary series Black in America: The New Promised Land: Silicon Valley in 2011. But her story isn't as simple as it sounds. There were many bumps along the road and her journey is still not complete.
Despite all she has going on, running her own company and her role as a mom she took the time to let HerAgenda.com get a peek inside Her Agenda. Read on to see how she balances it all, and what's next for her and her team.
Article continues below advertisement
Her Agenda: I read that you have a personal mantra: "Per angusta ad augusta" meaning "Through trial to triumph." How did that become your mantra?
Angela Benton: I guess everybody's life ends up being different in some way shape or form. I just find that the people who experience hardship and things that they have to overcome in life are actually more prepared for any kind of excellence or success that they may receive. That includes myself but it includes the entrepreneurs we have that come into NewME. Those are the kinds of things that I'm looking for. I'm not necessarily looking for a person who has had sort of a normal life in suburbia and went to Stanford, Harvard or some kind of Ivy League school. Those aren't the people we are necessarily looking for. And that's not to say those people won't be successful, because obviously many of them have been, but people who have to go through things in their life, have a different level of appreciation once you actually attain that success.
Article continues below advertisement
Her Agenda: You are a mom, a founder, and a CEO so what is a typical day like for you? If you could even describe it.
Anglea Benton: Well there are no typical days first and foremost. Everyday is different. In the morning, I typically talk to Ashley on our team. She actually handles all logistical stuff related to NewME and related to me, in general.
[As] for the rest of the day, I go get my kids at school and I try to make a point to actually pick up my kids from school every day. I try to schedule my meetings during the morning, I'll leave to pick my kids up from school, and then finish working from home. On occasion I'll have meetings in the afternoon, and then I'll have to pick them up and spend some time with them and then I'll go to my meeting.
Article continues below advertisement
But yesterday was a whole different day. I woke up, did the whole morning routine with my kids, got them up and ready to go to school, and came to the office, and did some work here. Then I left, went to go get my kids. But [later] I had to head out again because I had to go mentor some inmates at San Quentin. It's actually an accelerator in the jail there its called The Last Mile. That was very, very amazing and enlightening and very fulfilling so I was there until 8 or so, its an hour away from me and got home around 9 to spend some time with my kids. But everyday is different.
Wednesday I had several meetings with people from the city and from the local community. We are in a neighborhood called Bayview and its in San Francisco but its one of those hidden neighborhoods here in the city where basically nobody knows about it. It's being revitalized. I like being in this neighborhood, because it's kind of away from honestly the whole hipster crowd.
Article continues below advertisement
For our entrepreneurs its a great way for them to get focused on what it is they're building and not run into the trap of copycatting what other people are doing. When you are in certain areas, you may see or run into somebody who has this app that barely does anything but they just raised money. If you run into that a lot , it makes it harder to keep going. So we're in this neighborhood, there aren't a lot of tech companies here and its a really cool neighborhood.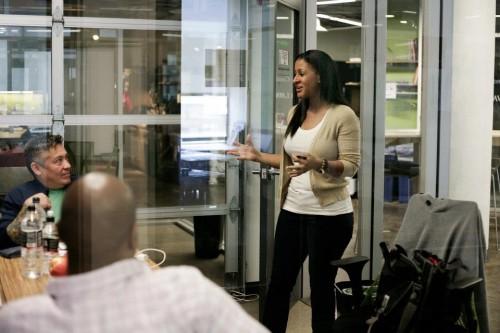 Article continues below advertisement
HA: You just moved your company, you're mentoring at the San Quentin jail in their accelerator program. What's on your agenda for 2013?
Angela Benton: What we're going to focus on is actually executing some other things and one of which is, we have these NewME communities across the country, so we do popups. We did a popup in Miami. That was hugely successful. So in 2013 one of the things that we are going to work on and roll out soon is a tour of popups in different locations all throughout the year. And then we are experimenting with what it might look like to have physical, kind of mobile locations in different cities so that we can offer some mentorship and advice to folks in other cities. And then of course the accelerator. We have two cycles of that this year.
HA: And you're mentoring?
AB: I have mentored girls in technovation challenge which basically focuses on getting girls interested in technology. I mentored at the Brain Academy and they focus on low income kids and getting them interested in technology. I just did the thing at The Last Mile in San Quentin. We do a lot in terms of giving back. We invite people to come work out of the space, we give tours to kids.
Article continues below advertisement
AB: I contribute when I can there. It's really exciting for me. That kind of came out of the blue. I started BlackWeb2.0 [around] 5 years ago, and for several years I was in the habit of literally writing about tech everyday. I haven't gotten to do that in a while so it's very nice and refreshing to actually write and it's not short, it's not a tweet, it's not a facebook post, it's an actual article. That feels really good.
Article continues below advertisement
HA: I read an interview you did where you mentioned the importance of accomplishing things quick and dirty. And earlier, you mentioned with NewME when it first launched there wasn't really a business plan per say, it was more so an idea. So what's the importance of accomplishing things in a quick and dirty way as an innovator?
AB: When you accomplish things quick and dirty, you get the information that you need the quickest way, but you also get it with the least amount of effort. So I meet a lot of people, and this is not so much on the West coast because I think it's embedded in the culture here to execute in that way. But more so on the East coast, I tend to meet people that still want to have the full blown out business plan, and the executive summaries. For entrepreneurs it's easy to get caught up in doing that and then you turn around thinking you have this idea, but you spent two or three months working on a business plan. Essentially you spent all this time working on the theory not the execution. So if you just focus on having an overall plan that you can execute, just execute on it and see what happens. At the end of the day, it's all an experiment, and your experiment could be totally wrong. [So] if you've invested the time and money into a business plan or the theory of 'is this going to work?' — that's not the way to do it, at all.
Article continues below advertisement
HA: Do you still feel like an outsider in Silicon valley?
AB: Um, yes. I do. But I don't feel like an outsider because I'm not accepted because I am accepted. I've had amazing opportunities, that one can only dream of. I've been to the White House several times, and met Michelle Obama, and spoke on panels gained tons of support from there. I've had an amazing number of great experiences here. So that in and of itself says that I guess I'm kind of adapted to the culture here or "in the club." However, I still feel like an outsider. I tend to think about things a little bit differently. And what's super easy to do in Silicon Valley is be part of the echo chamber. So somebody has an idea, and everybody else jumps on the bandwagon, so its not really original, it's actually a lot of me too's.
I really realized it's super important for [NewME] to be in communities elsewhere but for us to be based here in Silicon Valley. We're almost like a bridge between everyone else who wants access to Silicon Valley and thinks they don't fit in or whatever their reason is.
I went to [a] meet up [one day], and I was actually feeling really down. This scenario has happened to me several times since I've been here. I've been feeling kind of down and out, and things aren't going, not necessarily the way I would want them to go, but maybe not the speed that I would want them to go. Or I'm thinking something and everyone else is saying no no no, this is what you should do.
Article continues below advertisement
HA: It is hard to go to those meetups, you have to work yourself up and if you're having a bad day it's kind of hard. It takes a lot of energy.
AB: It does. There's a lot of super wealthy super smart people here and people are telling you what you should do where you should go. It's very difficult to step back from that and step away from their success and figure out what's best for you because a lot of people can get jaded by that.
So, I was feeling down about something so I had to go to this meetup. Anyway when I came back to Silicon Valley I felt revived and refreshed but it was because of the people that I was meeting and the stories I was hearing in other cities and what people were working on in other cities. So the fact that I'm still somewhat an outsider that's fine with me. I want to bridge the gap. I love being here. I love working with people here, but I also love what everyone else is working on across the country and that gives me an immense amount of satisfaction and purpose in addition to what we're doing here.
Article continues below advertisement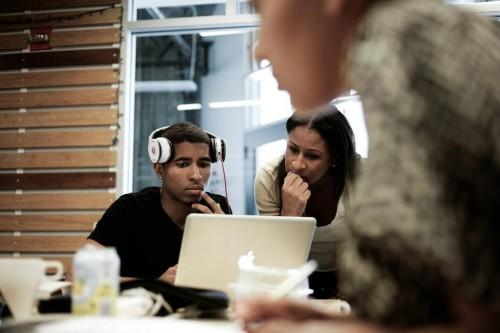 HA: What do you think it will take for blacks in tech to get "in the club" — is it happening now? If so what signs do you notice?
Article continues below advertisement
AB: Well its not that they are out of the club. Its not even really about race actually. Silicon valley is actually elitist. So its more about where you went to school. That's why people keep saying 'oh its a meritocracy' even though its not. But what Silicon Valley is, they have more so an image problem where people think you have to be a certain way to come to Silicon Valley. The people in Silicon Valley, they're only most impressed by if you went to Stanford or if you have a computer science degree, where in reality there are engineers all across the country that taught themselves how to code but have a history degree and then picked up a job with coding. And I'm not talking about black folks, latino folks, its white folks that have that background. So the issue is less about race and its more about classism and elitism.
HA: What inspired you to go into tech?
Article continues below advertisement
AB: I have a fine arts degree in design, graphic design. So I actually started out in print publishing I was laying out magazines. I love magazines. However, at that time, it was the first dotcom boom, and so everyone in design was talking about oh we're not going to have any jobs, because we don't know how to code, its going to take over everything. It was really just a survival mechanism. I taught myself how to code. I knew how to design websites, I just needed to know how to code them. And I ended up freelancing and developing a portfolio and getting jobs as a designer and front end engineer. It's more prevalent now, but at the time no designers really knew how to code so it was a kind of rare skill set to have. So I was able to get a lot of jobs. Then I moved into creative direction, and digital strategy, so when I say I'm a product person what I'm really saying is my background is in design so I'm more of a visual person. I'm more focused on my product, and the user experience and the user interface and all of that.
HA: As an entrepreneur, how do you keep from being overwhelmed? I'm sure you get ideas all the time, other people give you their ideas.
Article continues below advertisement
AB: I have notes eveeeeerywhere. I have notebooks where I'll jot down different ideas. And especially my team will let you know, I'm always like "so I have this idea" and I know they're looking at me like I'm crazy…this is going to be more work…and we have a small team. So it's definitely hard to reel it in, however one of the things that I realized about my personality super early on was that I do like to do a lot of things and I'm a really creative person. So I had to actually teach myself how to focus. It's the only way I was able to stop switching majors, its the only way I graduated college. I think its just part of who I am now. There's so many times I want to switch things or change things up. Sometimes at the end of the day you have to stick with things especially with a start up. You meet so many people you saw them two months ago and they were working on a totally different start up, you have to pay attention to how that looks to other people though. I don't ever want to be perceived as someone who is not in love with their idea, or their passion but is in love with start ups. So I try to just make sure that I'm focused on what it is we want to do.
At NewME we have a lot of ideas that we work on, no one really knows this. We have a lot of ideas that we kind of incubate in NewME that we work on. The different ideas that I have that are related to NewME and may affect the business but they are not an "accelerator" per say but they support that business.
Article continues below advertisement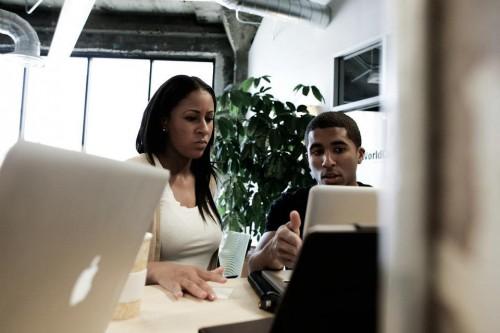 HA: Personally, do you have any mentors?
AB: Yea I have mentors everywhere. I actually don't call people my mentors per say. The people who mentor me they probably don't even know that they mentor me. I really believe in different types of relationships. I [recently] met this woman who is phenomenal and who is amazing– and she's like a mentor to me, she gives me advice, but like she's cool. But there's more there than just that. I have people that I know and that I respect that I ask for advice from time to time. But I don't have a mentor that I meet with every month, and they give me advice and direction. Mainly because I believe that somewhat limiting to your own progress if you're always getting certain advice from certain people about certain areas of expertise.
Article continues below advertisement
HA: Is there anyone who inspires you?
AB: I get inspiration from a lot of different places or different people. But if I have to name one person thats really inspiring to me, I mean, I guess everybody would say Oprah. She does amazing stuff, but she might be kind of cliche to say. I would love to meet her, she totally inspires me. She's not afraid of who she is. She doesn't apologize for it, she's not ashamed of it and actually has been able to innovate and change industries.
HA: You became a mom at a young age. Sometimes when young women become pregnant they tend to get discouraged and see it as a setback, but for you it seemed to be the opposite– like having a child motivated you. You graduated high school in three years and went on to accomplish such amazing things. Those early years when you first became a young mom, how did you find the strength to make it through and go after your goals, and still pursue what you needed to pursue?
Article continues below advertisement
AB: So theres a line from Kanye West, its something like he uses "self esteem to power his dream." So back to what we were talking about at the beginning of the conversation, where people who go through things are so much more resilient, they're stronger. I think they make better entrepreneurs. At the time I had no idea what it is I wanted to be, but the fact that everybody knew how my life was going to be, or thought they knew what my life was going to be, that actually fueled me for it to be otherwise. It really really did. I think when you go through situations like that it's actually a very lonely and isolating time, literally everyone around you thinks of you a certain way including your family, it's like, you're literally alone, or it feels that way.
You can either crumble under that, you can conform to it and say 'yup this is what my life is going to be like and I'm fine with that,' or you can choose to do otherwise. And I chose to do otherwise.
Article continues below advertisement
That's not to say my life has been like everyone elses just with a child. Yes, I went to school. Yes, I graduated high school in three years, but I graduated in three years out of necessity. I knew if I had to be in school one more year with a child, I would not graduate. Luckily I was in advanced classes already so I was able to just take a few more credits and I was able to graduate. I took 11th grade english in night school or whatever, but that's what I had to do at the time. I felt like that was a decision I made out of necessity. After that I went to a community college, I bounced through majors, I took years off of college. So what everyone sees now is the end result, but it certainly wasn't as straightforward as it seems. But through all of the different things, I think one thing that I never lost sight of, is I knew what I was going to be able to accomplish, so I had this kind of confidence, or this kind of light this kind of destiny within myself that I knew that this is not for me. This is not what I'm supposed to be doing. This is not how my life is supposed to be.
*This interview was conducted on January 18th, 2013. It has been edited for length and clarity.