Looking at the majority of the advertisements we see, the content we consume, and the products we buy, it's pretty obvious that we're still way behind with incorporating inclusivity when considering how the world looks today.
In many industries, especially the tech industry, we're still experiencing a lack of diversity and inclusion in products and services – and it's probably because these same industries are still at the majority, very male-dominated and white.
Thankfully, we have leaders and game-changers like Annie Jean-Baptiste working tirelessly to change that narrative.
Supporting and implementing diversity and inclusion measures has always been at the core of Annie's heart. After graduating from the University of Pennsylvania and studying International Relations & Political Science, she took a path down a road that she never imagined. Although now Annie is the Head of Product Inclusion, Research, and Activation at Google, she never dreamt of working there. However, after the encouragement of her brother, she joined their team and is now working to make sure we all see ourselves in products.
Before working in the product inclusion space, she worked with the diversity talent management and career development team at Google.
Outside of Google, the University of Pennsylvania grad is an unapologetic advocate for underserved communities and in educating everyone on how to build inclusively in business.
Recently, Her Agenda caught up with Annie and learned more about her journey at Google in building inclusive products, and we also snagged some tips for business owners on how you can incorporate inclusive measures in your own business operations.
Article continues below advertisement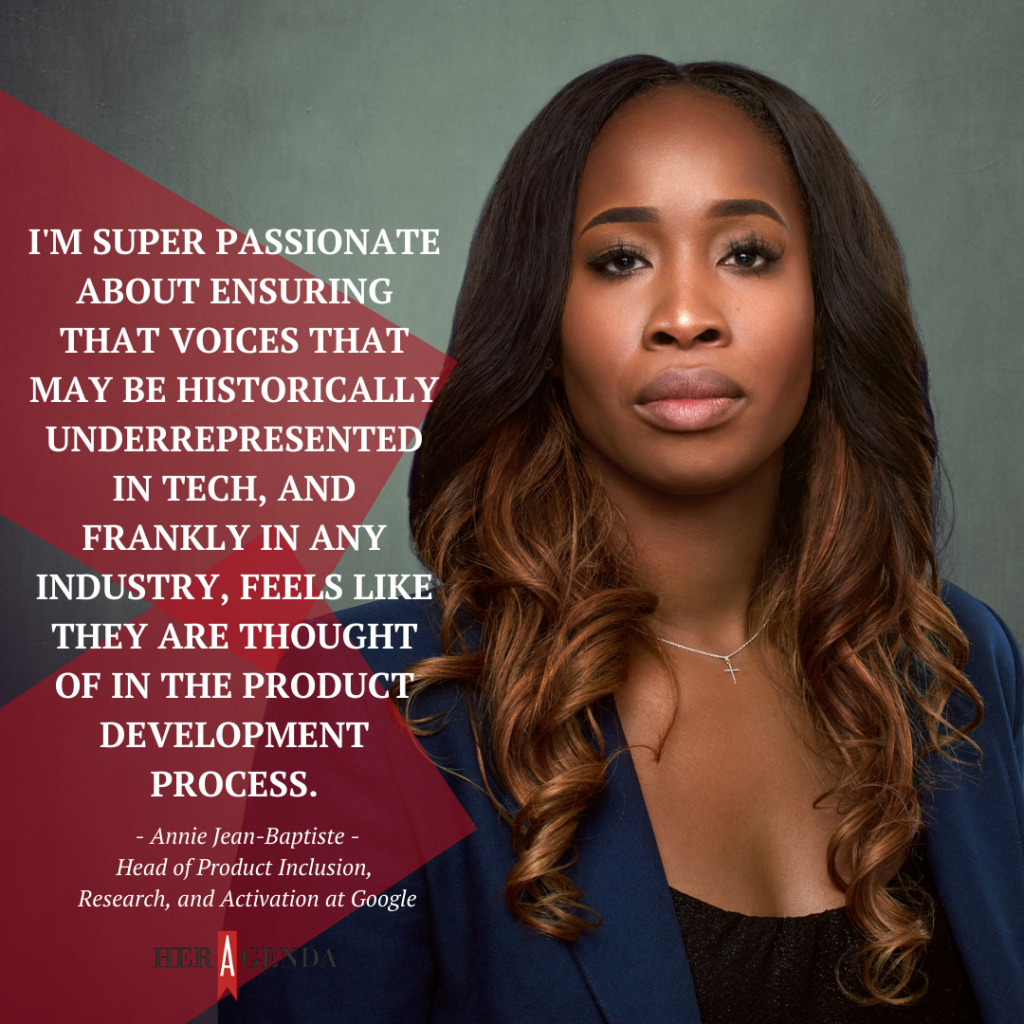 Her Agenda: How did your career journey with Google start?
Article continues below advertisement
Annie Jean-Baptiste: So I started working at Google nine years ago, and actually I applied because my younger brother had done an internship there and he encouraged me to apply. I studied International Relations and Political Science at school so I didn't think I was going to work in tech and I didn't know that there were jobs that were available that I could be good at, but my brother definitely encouraged me. Also, after speaking with different Googlers and the recruiter, I decided I wanted to apply. I ended up starting in our global business organization and I was in that organization for four years. I think without my brother having a good experience at Google and having met people who did all different types of things, I wouldn't have applied. I think I definitely had the misconception that there's only one type of person that works in tech or in one type of job, and that's definitely not true. There needs to be a diversity of backgrounds and experiences to really make better products and services.
I definitely had the misconception that there's only one type of person that works in tech or in one type of job, and that's definitely not true.
-
Article continues below advertisement
Her Agenda: At what point did you transition to the department that you're in now?
Annie Jean-Baptiste: I've been doing product inclusion for two years now. It started as what we call 20% projects which essentially is you can spend 20% of your time doing something that's not your core role but maybe it's a passion project. The thought behind that is that it may lead to something that should be your full-time role right which it did. And so I was a diversity business partner before that, which means I was helping some of our tech product areas create their holistic diversity, equity, and inclusion strategy. Through that, a few of us started to see that there was a potential to expand on how we talked about diversity inclusion, and to not just focus on cultural representation, but to also talk about our products and help shift the narrative in tech around diversity and inclusion on only being the right thing to do right. It definitely is the right thing to do but it also should be core to the business because we're serving all people.
Article continues below advertisement
Her Agenda: What are some of the initiatives that Google is looking forward to in regards to creating inclusive products and experiences for their users?
Annie Jean-Baptiste: Two years is not that long and we're definitely on a journey, but we're learning a lot. It's really fun to not only learn from other Googlers but also from other partners externally. I think what we're excited about is to continue to expand the work, the tools, and resources that we have so that all Googlers can have a stake in building for everyone and with everyone.
We work on things like our sensors for a lot of products. We have to make sure that skin tones are rendered accurately. We work on the Google Assistant to make sure that it's not saying anything offensive, but that it is also proactively recognizing the beautiful things that make us all unique. I think across Google people are starting to think about what does building with an inclusive lens means and how you can bring underrepresented voices to the table during those key movements in the product development.
Her Agenda: Why is having a role in product inclusion so important to you? At Google, there are several other departments that you could've joined to implement inclusive measures.
Article continues below advertisement
Annie Jean-Baptiste: When I look back on my career, I didn't know that I would be doing this when I first started working. But this role uses both my business background and my diverse background together. I think being a Black woman, a first-generation, left-handed person, there are a lot of things that make me unique and I totally understand when you feel like something isn't made for you and how painful that can be. Because of this, I'm super passionate about ensuring that voices that may be historically underrepresented in tech, and frankly in any industry, feels like they are thought of in the product development process. I really feel like this was my destiny to work in this space. It's something that I'm super excited about, always learning about, and I feel a personal, deep commitment to making sure that everyone feels seen in their products.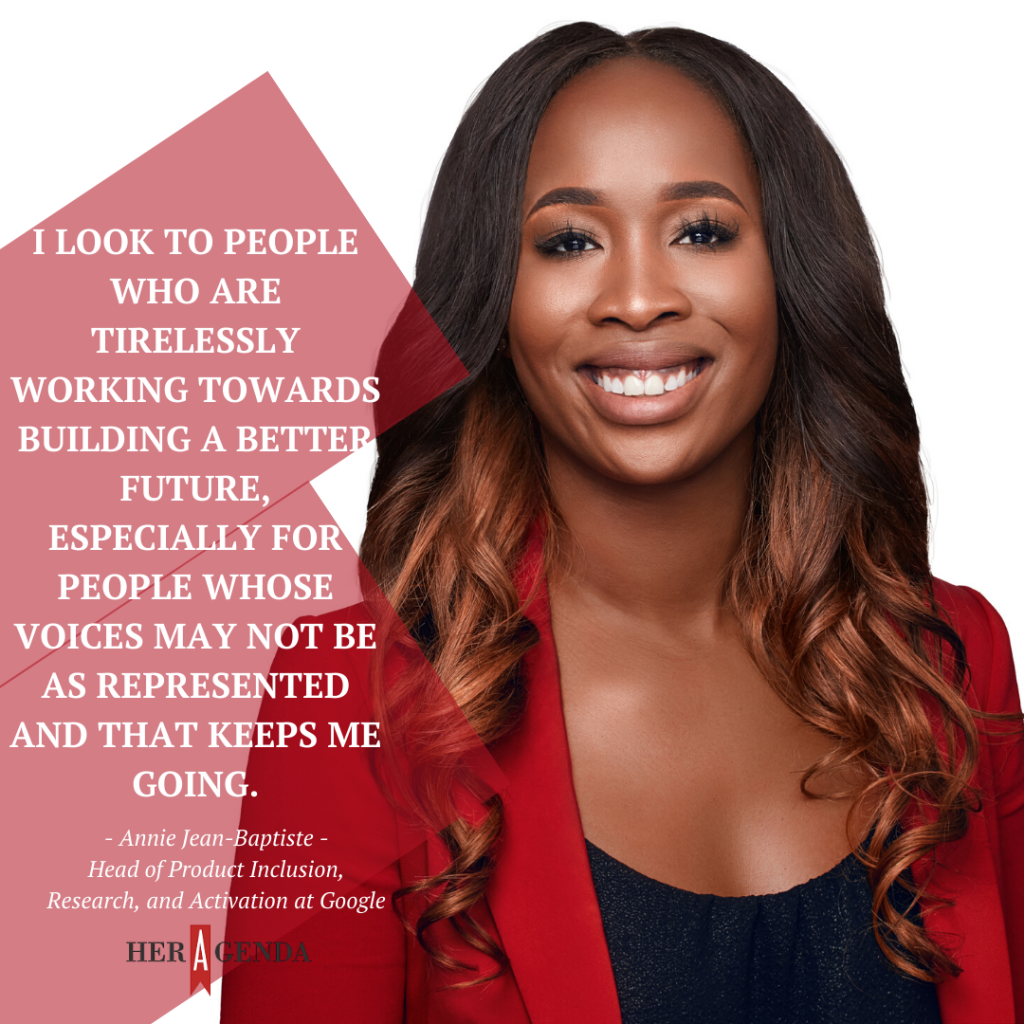 Article continues below advertisement
Her Agenda: What does that strategy or that planning process look like for someone in your role in building inclusive products?
Annie Jean-Baptiste: We like to look at the entire product design process, and not just one piece of the process. Ideally, we would look holistically from the idea to all the way when a product launches. So what we do is kind of isolate those really major moments in the product, and then figure out what resources and infrastructures need to be created around those.
An example of that would be the user testing phase. We do a lot of what we call "dogfooding" at Google, which we call eating your own dog food. It's kind of odd, but you have to make sure when you're doing user testing, you have people from different backgrounds and experiences testing. My perception of a product will be different from someone else's because we all grew up differently; we may have different languages, grew up somewhere else, have different experiences, etc. So what we've done is identify multiple dimensions of diversity and then the intersection of those dimensions, and then at those critical phases in the process, we'll figure out who else we can bring to the table.
Article continues below advertisement
Once we have the feedback, we figure out how we can build that out into the product design. Over the past year, we've also been doing some research to kind of crystalize and drill down on everything. We're figuring out what are the practices that we've been doing over the past few years that actually lead to more inclusive products, and we're excited to share that over the next year externally.
Her Agenda: How do you measure the effectiveness of the products that you're building, and how do you know that you're really building inclusive products?
Annie Jean-Baptiste: We definitely love to measure things, and we've outlined some key metrics that we feel matter and are really important from a general phase, and individually for the product. One of the big things that we've done is to make sure that we're working with teams to figure out how this is measured as it relates to the things that they're already measuring.
I also think that this work should be separate and should be embedded into how everyday people do their day in and day out work. So with the measurement practices, other departments are already using, it's also about embedding product inclusion into those things.
Article continues below advertisement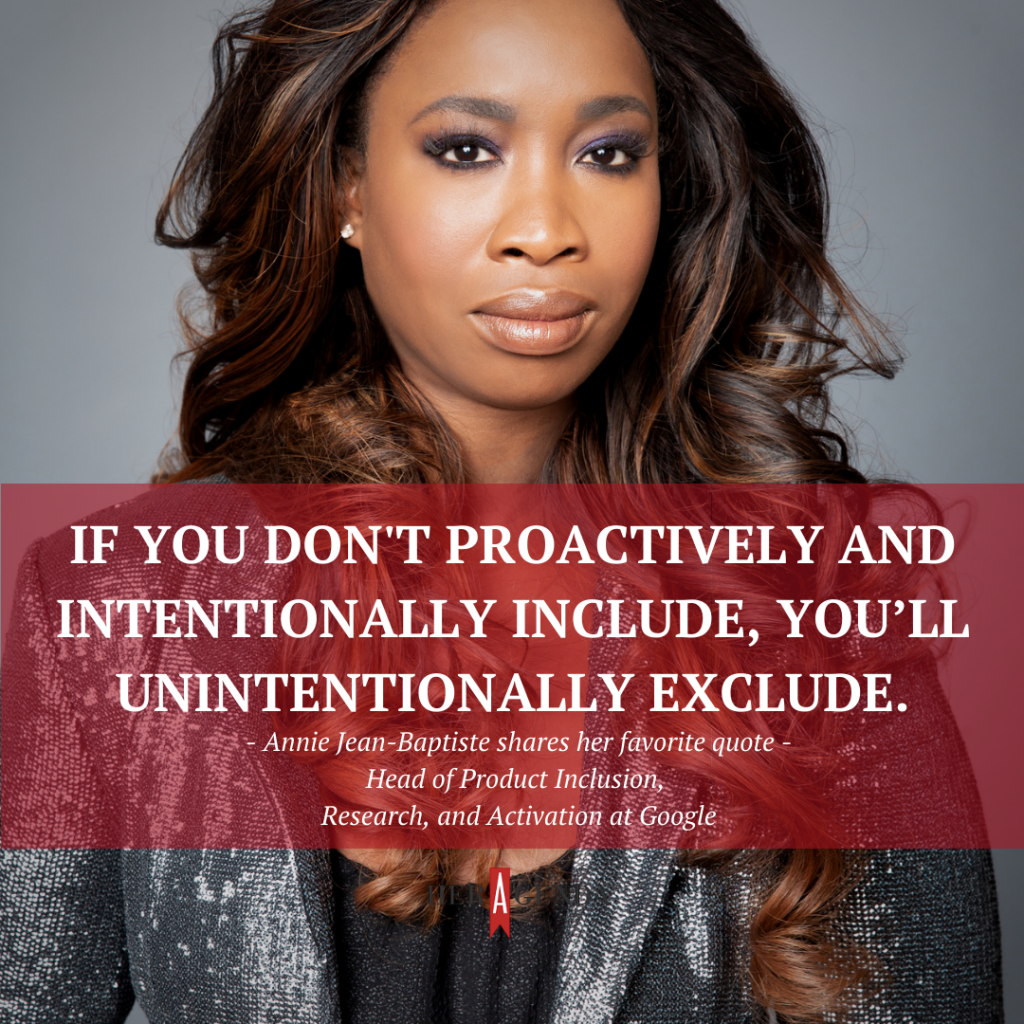 Her Agenda: If you're on a team that's not including inclusion measures in their business, how do you hold them accountable and have those types of conversations when it can be hard and uncomfortable to do so?
Annie Jean-Baptiste: Start with the data. There's already a lot of public data around underrepresented groups. So look at the data and when you approach them and start with it as an opportunity. Share your data and frame it as this really big opportunity to unlock.
Her Agenda: What is a motto or quote that keeps you motivated while doing the important work you do?
Annie Jean-Baptiste: One of them, and I'm paraphrasing obviously, but it's a quote by Joe Gertstandt and it says if you don't proactively and intentionally include, you'll unintentionally exclude.
I think that quote is really the core of what we're talking about. This quote powers a lot of how we think about the work we do because it really is about being intentional, and about being proactive.
When I need motivation, I look to that, and I look to people who are tirelessly working towards building a better future, especially for people whose voices may not be as represented and that keeps me going.
[Editor's note: This interview has been edited for length and clarity.]