When she was accepted into Harvard Law School, Antonia Dean felt like it was a dream and in reality she was just waiting for someone to tell her she didn't belong. Even with a pristine LSAT and as one of the top graduates of her Florida A&M class, Antonia was initially hesitant about the Ivy League world.
The imposter syndrome she felt in the beginning melted away as school started, where she met some of her closest friends within the first two days of class. Her classmates proved to be supportive and welcoming—now some of her closest confidants.
After completing an internship at a law firm and graduating with her Juris Doctor, she pumped the breaks on her courtroom career, and took a hard left down a completely new path: the beauty industry. In 2014 she received the "40 Under 40 Achiever Award" from the Network Journal, and most recently she started a new job as Director of Marketing at Venture for America in New York City. Antonia is passionate about mentorship and proving that loving your job can be more than just a dream.
No stranger to carving her own path, Antonia took a moment to share her story with Her Agenda and discuss her passion for career coaching young professionals of color with the New York Junior League and her side passion project, CubicleHustler.com.
Her Agenda: Who taught you how to hustle and strive to be so successful?
Antonia Dean: In general, my family always instilled in us (I have two sisters) that to whom much is given much is required. So if you can get an A, don't settle for the B-. If you can handle the challenge, take it on, don't leave it for someone else to do. I was just always raised to push, to do my best, and to reach higher. It was ingrained that this was our duty and to not use our gifts was to disrespect them. So my life doesn't feel to me like being successful, it feels just natural and normal because this is what I'm supposed to be doing. There are a ton of things that I can't do, or that I'm not good at, so I'm just using the ones that I can to be who I am called to be.
Article continues below advertisement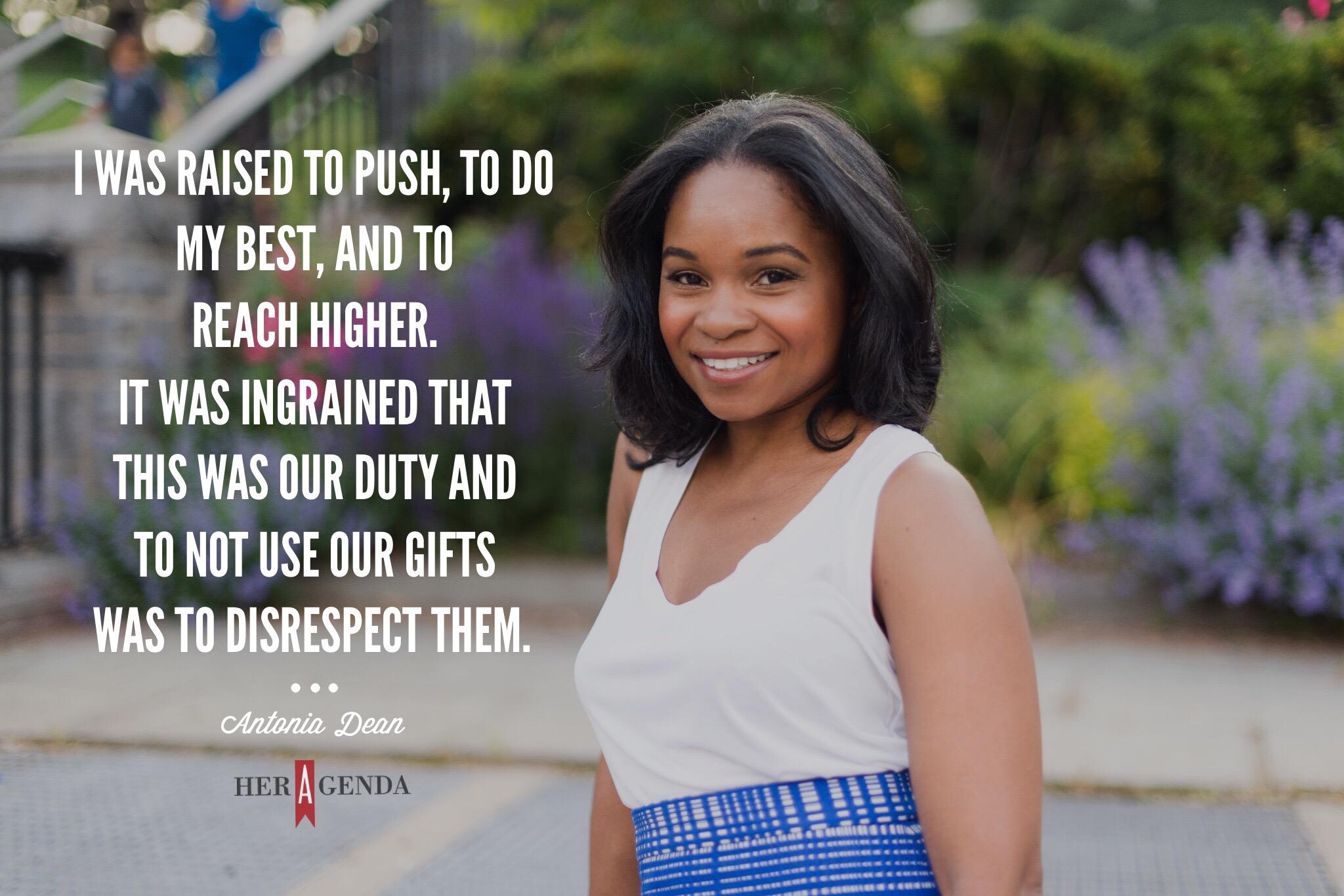 Her Agenda: What did your career switch post-law school to the beauty industry look like?
Antonia Dean: It looked like struggle! It was so hard. There was literally no game plan, no path, no "here's how to do it" for switching from law to the beauty industry. I did it because I knew that law just was not for me. I had no intention of being a practicing lawyer when I went to law school. I was going to use it as a backdoor into business school and get my JD/MBA. So I was pretty clear that life as a lawyer was not going to work for me. But in law school, I thought that maybe I'd practice for a few years to make some money and then try to transition into another industry that I'd like better. I decided against the joint degree.
I interned at a corporate law firm in Washington DC. They paid me a lot of money, they were very nice to me, but the work was mind numbingly boring. I just did not like it. On my last day of my internship, I was sitting in my summer sublet and decided to start a beauty blog. This was 2006, so the idea of blogging as a career was on nobody's mind. I hadn't even read a beauty blog before. I just knew that I loved beauty products, loved telling people about my favorites and my reviews, and that no one was writing what I wanted to read. So I registered for a blogspot (no judgment! It was 2006) and started my own beauty blog.
After a few months, I had my lightbulb moment, that this was what I was supposed to be doing instead of law. I turned down the full time offer to join that firm after graduation with no other job lined up and set my mind to getting a job in the beauty industry. It took a lot of networking, and informational interviews and applying to jobs, but eventually, I stalked my way into an unpaid internship at a skincare company just to learn the nuts and bolts of the industry. Finally, almost a year after I graduated law school, I finally got a full time job at a major brand.
Article continues below advertisement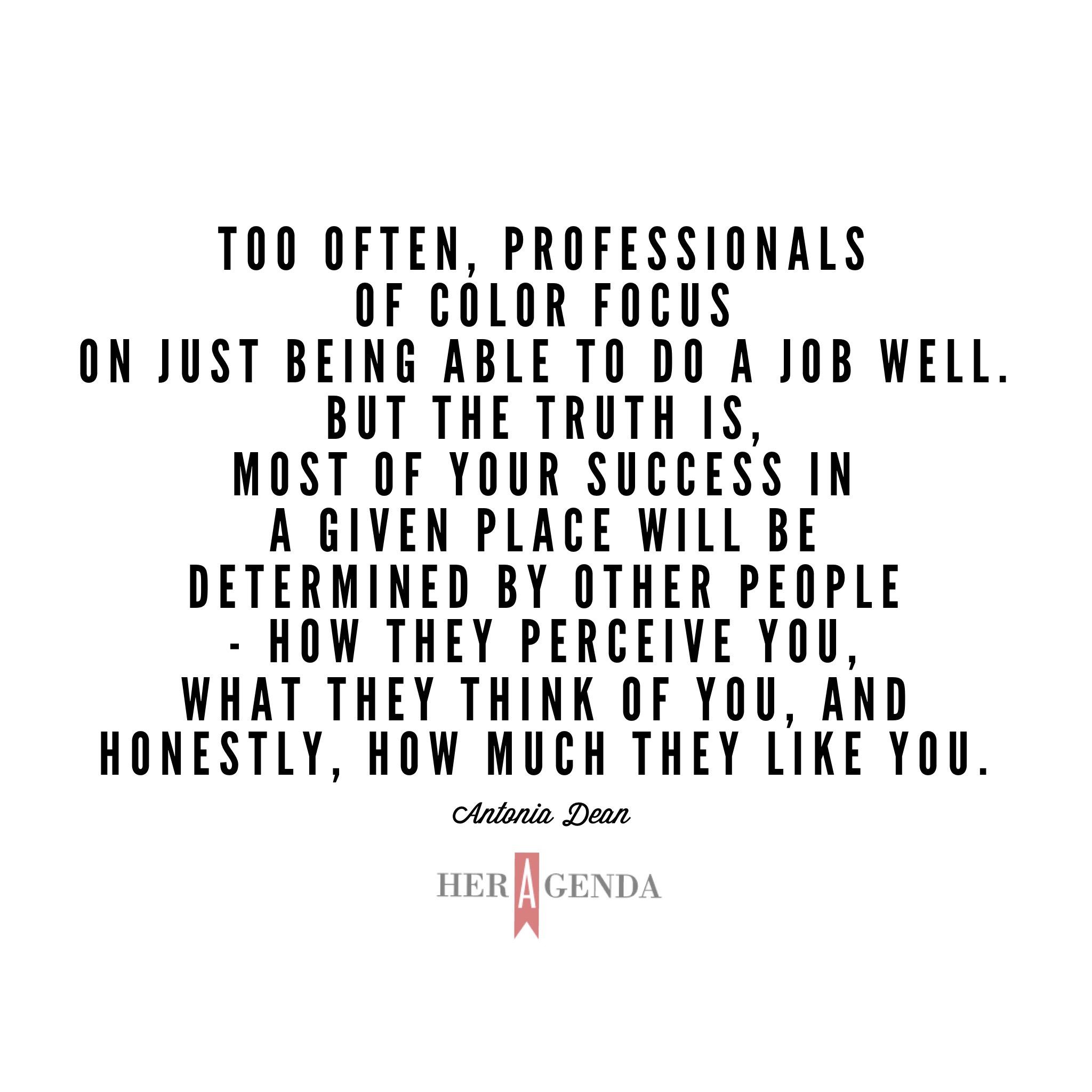 Her Agenda: In your experience, what are some of the biggest hurdles you've seen that young professionals of color encounter?
Antonia Dean: One of the biggest I've seen consistently is underestimating the power of "fit" in your success in a given company or team. Too often, professionals of color focus on just being able to do a job well. But the truth is, most of your success in a given place will be determined by other people – how they perceive you, what they think of you, and honestly, how much they like you. We spend most of our waking hours at work so it's not unreasonable for folks to want to like the other people they're working around. Time and again, I've seen brilliant, ambitious, hard working men and women of color get shut out of promotions or pushed out of an organization after a year or two because the fit just isn't there.
To get over this hurdle, I advise professionals of color to be as focused on fit as much as they are on the fundamentals of their jobs. When you're interviewing, ask yourself can I take being with this person 8-9 hours per day? Would I want to travel with this team to a remote city? Do I feel comfortable sharing the details of my life (i.e. my family, my friends, my background) with these people? Can I bring my full self to this place everyday? If the answer is no, consider honing in on places where you could say yes. Along with that, realize that as a person of color, you will likely have to bend to meet the majority in your given office or environment more than they will have to meet yours. So find a place where it doesn't feel like a chore.
Article continues below advertisement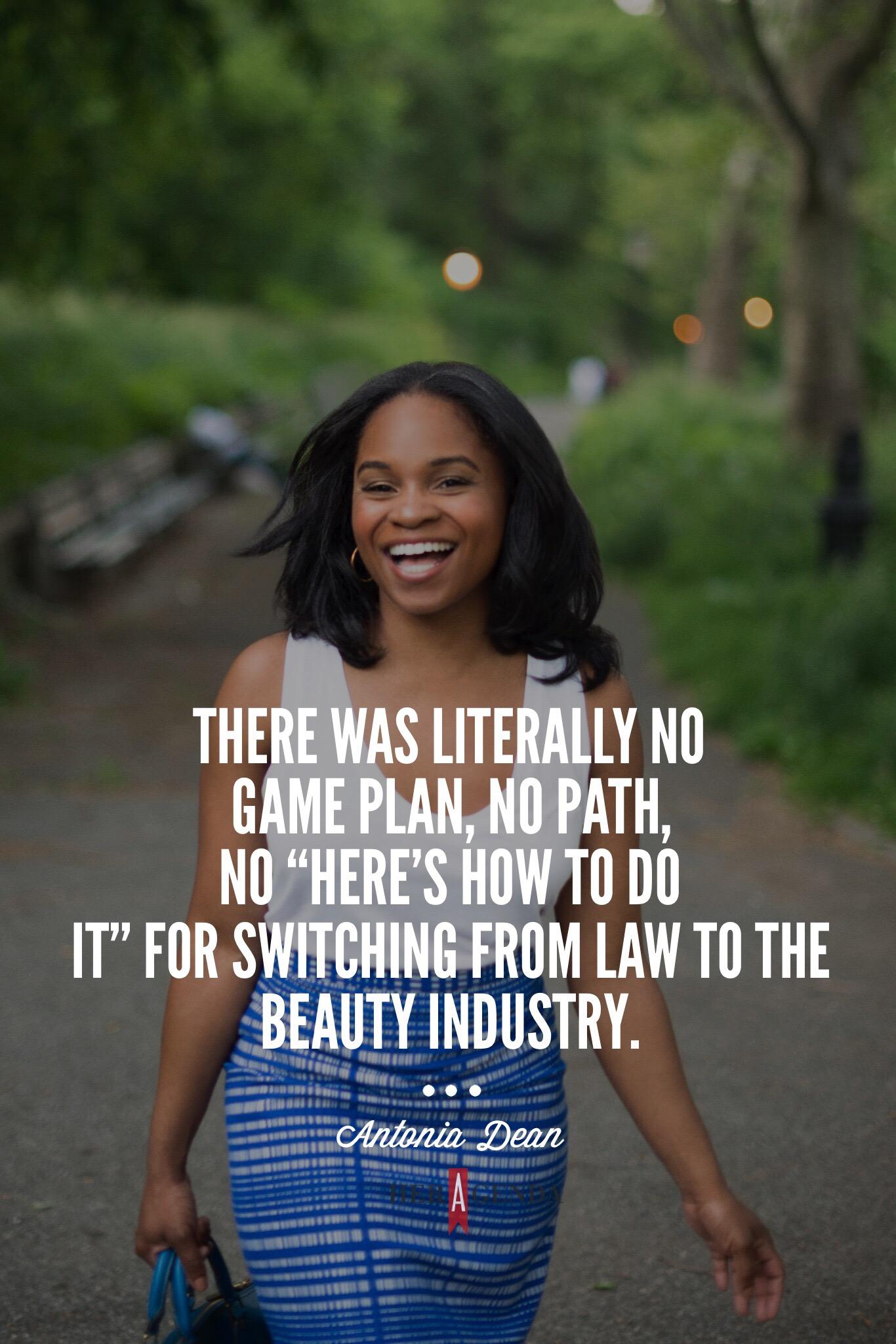 Her Agenda: What are the top three career survival skills that you think young professionals need to learn?
Article continues below advertisement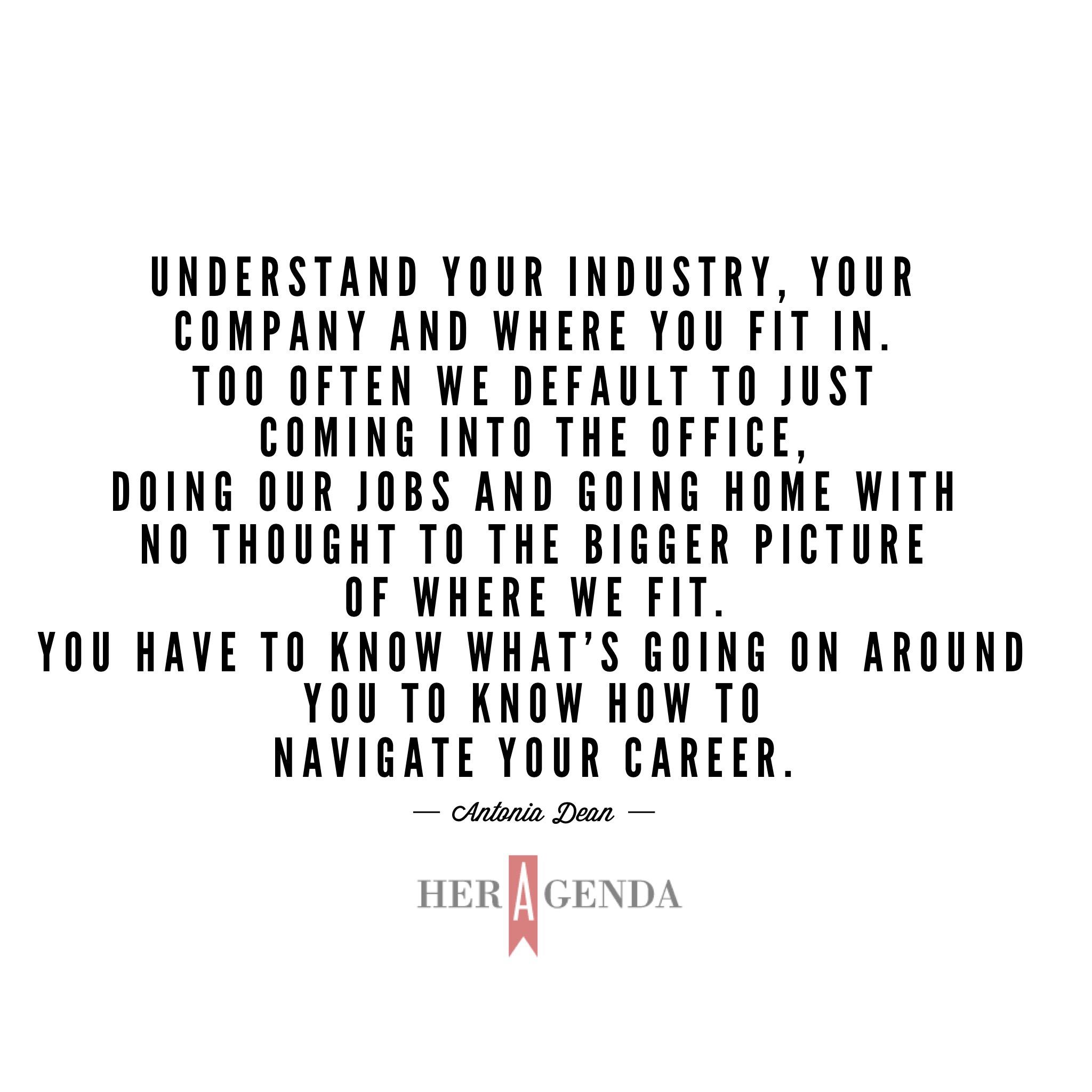 Her Agenda: How important has professional development been to your career growth? Is there anything specific that you think young women professionals should be investing in?
Antonia Dean: Public speaking. People are more scared of speaking in public than they are of dying. Dying. Death. The only thing that is truly no coming back from. That's mind blowing to me.
But it's also a huge opportunity for those willing to take on the challenge. Most people are too petrified to even try. Then you have a solid chunk that will try but just don't present well. After that you have a small fraction of people who are engaging, speak well and can present and persuade audiences.
Learn to speak and present publicly. I have two degrees and have taken more classes than I can count, but the course I took on Public Speaking as a college sophomore is by far the most valuable of them all. Being able to present, to speak to a room truly makes you stand out from the crowd and gives you that elusive "executive presence" that leaders are known for.
Invest in learning how to speak publicly. Take a class if you are still in school. Join toastmasters. Or enroll in the University of Youtube and watch some tutorials. Then practice in the mirror at home. Practice in front of family and friends. Practice until you get good at it. It'll be the best investment in your professional life and serve you well regardless of what industry, job or function you end up in.
Article continues below advertisement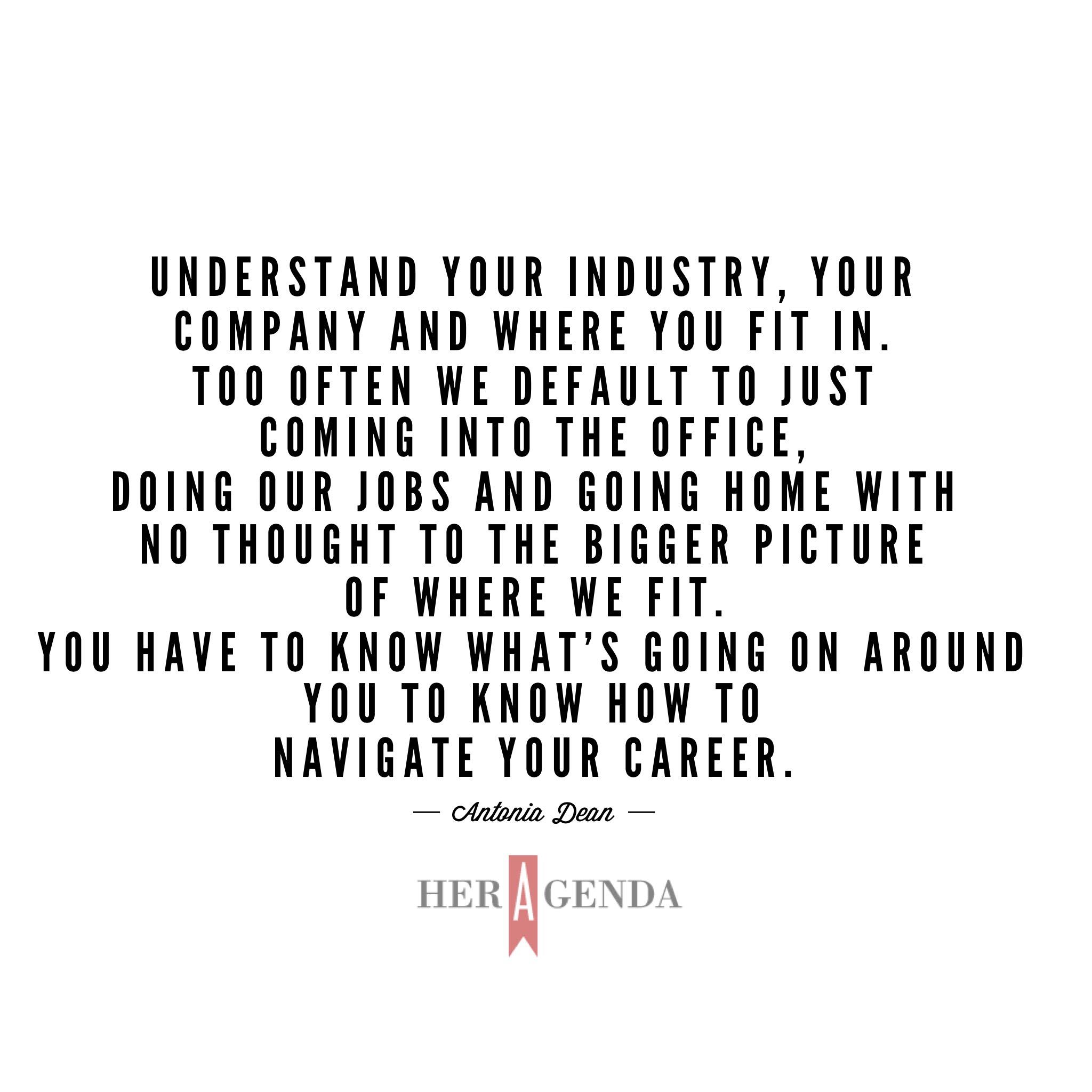 Her Agenda: What is your life motto?
Antonia Dean: True leaders are not afraid to get uncomfortable. Growth and learning happen just on the other side of your comfort zone.
Article continues below advertisement
Her Agenda: What is the biggest mistake you see young professionals make on their resume/cover letter?
Antonia Dean: Including an objective. It's so old school and very generic. Instead, create a short summary for yourself that tells the story of your experience and the value you add to an organization.
Also, don't just list out the actions and responsibilities of your job. The focus should really be on the impact you had and the value you delivered back to your team and company. That works at any level. Even if you were an assistant or receptionist, there is something you did that either made it easier for the company to make or save them money. Spell that out and make it obvious to any human resources or hiring manager how they'll benefit from you being on board.
Her Agenda: Assign us some homework! What would you want budding young professionals to be absorbing to be better at cultivating their careers?
Antonia Dean: Learn how to present and speak publicly. Watch TED Talks, on any subject, but focus on what the speakers are doing – how they're engaging with their audience, how they are telling a cohesive story – and practice that any chance you can get. Give a toast at a friend's birthday. Volunteer to lead the team meeting. Anything that gives you a chance to speak to a group of people will help you hone those skills.
Know your industry. Sign up for your industry's trade organization or professional newsletter. Know what's going on and identify the people and companies that are setting the agenda.