Former Division I athlete and Northwestern Basketball Hall of Famer. Human-centered leader. Gender equity and children's rights advocate. Mother of three. Anucha Browne is a force to be reckoned with.
She is currently the Chief Engagement, Advocacy and Global Programs Officer at UNICEF USA. She credits her success to her supportive community and the discipline that she developed as a student-athlete.
Her Agenda spoke with Anucha to learn more about her motivations and current UNICEF USA projects.
Her Agenda: How would you describe yourself?
Anucha Browne: I am a compassionate, direct and human-centered leader.
Her Agenda: You were a star student-athlete at Northwestern and inducted into the Northwestern Women's Basketball Hall of Fame in 1993. Where does your love of basketball stem from?
Anucha Browne: I was raised in a family with a father who believed that your way to success was through education. Once my parents had their 4th child, they realized that either I was going to look elsewhere for fun, or they could strategically channel my energy. I found joy in basketball pretty early on. It was very accessible, in that it doesn't cost much to learn. Basketball helped center me, providing direction and focus. Early on the agreement was if I spent two hours on the court I spent four hours in the books. There were six of us growing up during a time when Brooklyn was not a friendly place. Maintaining structure and scheduling helped keep us on track.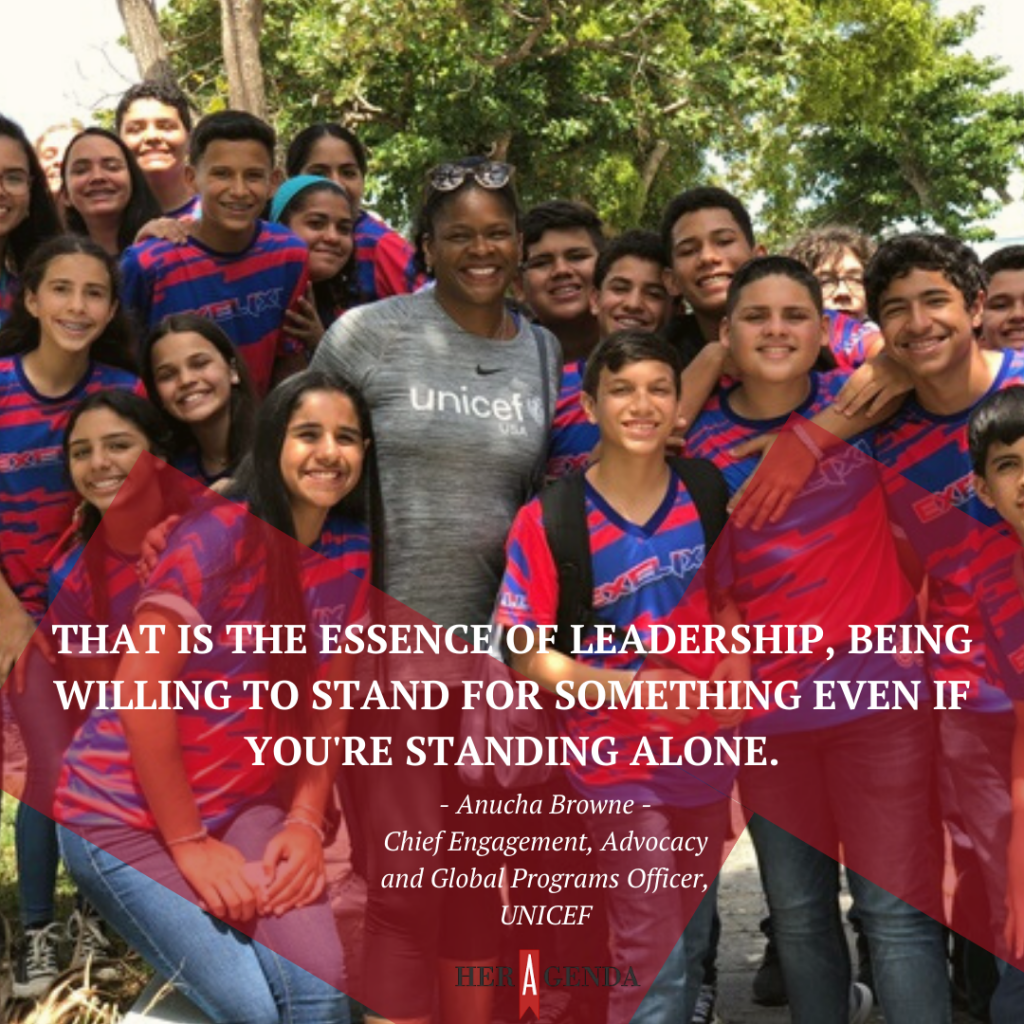 Article continues below advertisement
Her Agenda What or who kept you grounded as you transitioned from student-athlete to working professional?
Anucha Browne: Sports taught me many lessons even before my transition into the professional world. I was a member of the USA National Women's Basketball Team. I traveled internationally and worked with diverse teams. I also played a leadership role on the team. All of those experiences shaped me. We know now that 90% of women in C-suite positions have played sports at some level in their lives. The data suggests that not only does sports change lives, but it also helps women, in particular, see a faster upward career trajectory. After I began work, adding kids to my world was a bigger transition!
Her Agenda: You worked for IBM, the NBA, and the NCAA before your current role at UNICEF. How did those experiences prepare you?
Anucha Browne: My training at IBM was critical to my career. I learned how to build relationships, negotiate and plan strategically. I had an opportunity to work on 3 Olympic games because IBM provided the technologies to help the games to run. Our success hinged on our ability to appreciate cultural diversity and diversity of thought. As a leader, I had to develop strategies for success because the endgame was real.
I then began working for the New York Knicks at Madison Square Garden. I was a Senior Vice President responsible for managing marketing and revenue streams. I had a challenging moment where I made a sexual harassment complaint, was fired because of it, and endured a public trial in federal court. I ultimately prevailed by standing on firm moral ground. I think that is the essence of leadership, being willing to stand for something even if you're standing alone.
That experience catapulted me into the next phase, which was working with young people and supporting issues related to gender equity and inclusion in both academia and the NCAA. The NCAA was a full-circle career moment and a tremendous opportunity to give back. I wanted to highlight the incredible work that athletes and their coaches were involved in and the importance of Title IX legislation to leveling the playing field for women in athletics. My work at the NCAA helped me channel a desire to give back to communities and elevate others. Servicing others shouldn't be something that you do on the side, but integrated into the day to day. When the UNICEF opportunity presented itself, it was a no-brainer.
Article continues below advertisement
Her Agenda: What are the UNICEF and UNICEF USA programs, respectively?
Anucha Browne: UNICEF (United Nations Children's Fund) provides humanitarian and developmental aid to children in 190 countries and territories globally. We've helped save more lives than any other humanitarian organization. We work with international governments behind the scenes and local communities to support emergencies, health and nutrition, immunizations and Water, Sanitation & Hygiene (WASH). Our work is focused in underserved countries and some middle-income countries. We are guided by the philosophy that we belong in any environment where there is a child in need.
UNICEF USA work is rooted in youth leadership, engagement and fundraising. Youth are encouraged to develop civic responsibility and cultivate the idea of being global citizens. Some of the youth work involves reaching out to public officials to advocate for policies that support and protect children locally and globally.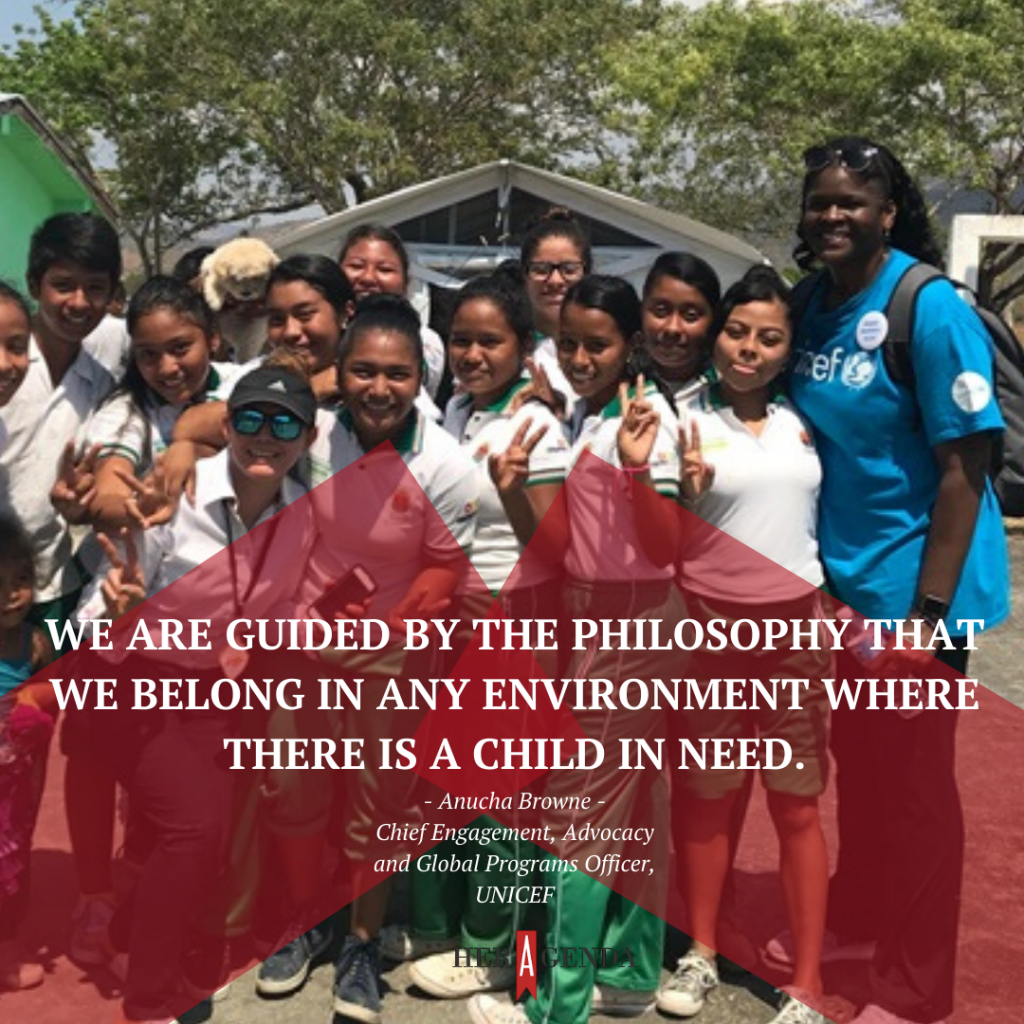 Article continues below advertisement
Her Agenda: What has been your biggest highlight or proudest moment during your time at UNICEF USA?
Anucha Browne: I am most proud of the work that focuses on enabling youth voices. We've seen an explosion of youth advocacy from people like Malala and Greta Thunberg. Many older people were raised with the idea that children are seen not heard, that the youth voice is not important. Youth are 25% of the population, but 100% of our future. The Child Friendly Cities Initiative works with cities and municipalities to address child wellbeing indicators and build in policy that protects children's well-being. Vision for Children works with politicians to address children and their needs.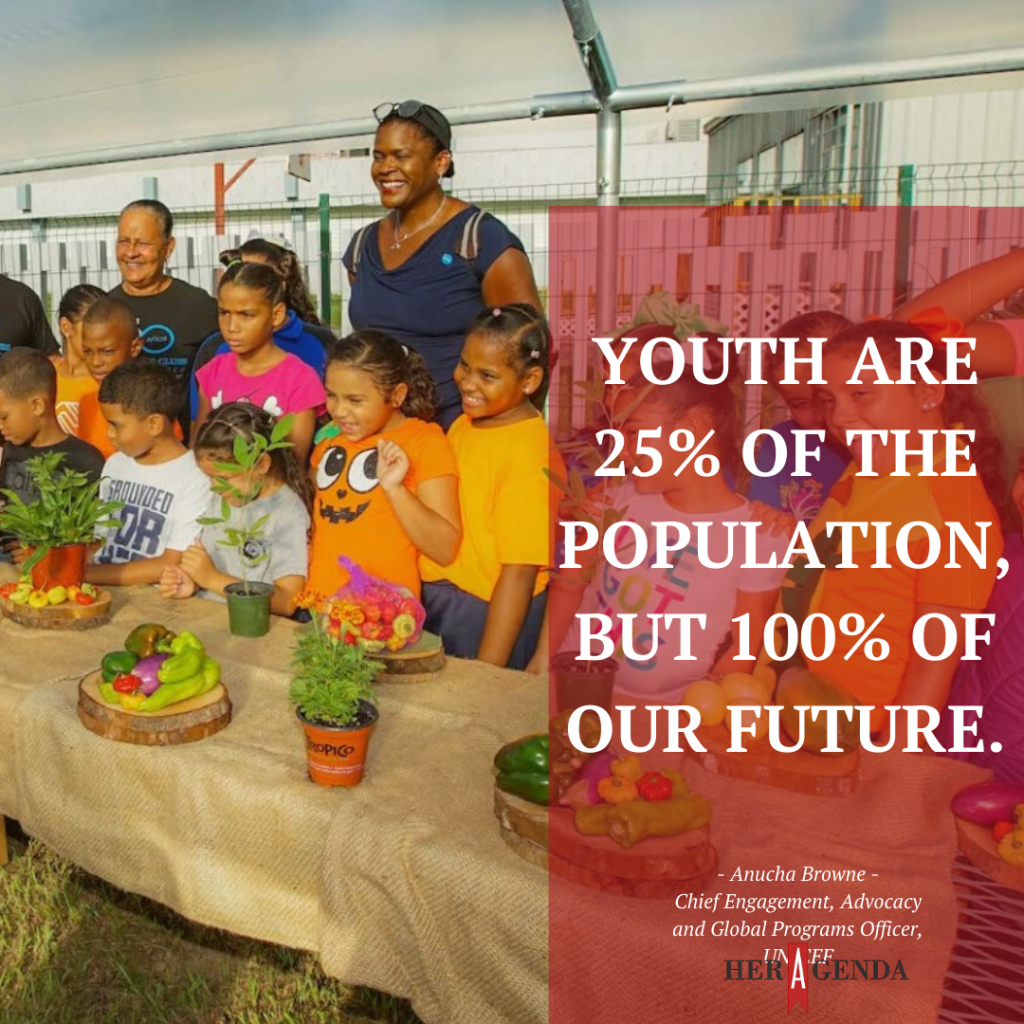 Article continues below advertisement
Her Agenda: Your career is truly remarkable! What advice do you have for readers who are looking to advance their careers?
Anucha Browne: Look for leadership opportunities, be brave, present bold ideas. Make sure that you're presenting opportunities that make your environment better with you in it.
Her Agenda: It's the start of a new year, which for some can mean creating wildly ambitious resolutions. Do you have any resolutions to share?
Anucha Browne: Professionally, I'd like to make sure that our network of youth UNICEF uniters lean into the climate crisis in a way that can drive progress in this country. Personally, I want to assert myself more regarding the importance of developing women.
[Editor's note: This interview has been edited for length and clarity.]