Before moving to New York to combine her passion for tech and comedy, Ashley Gavin was a software engineer at a research laboratory in MIT, where she worked on different national security problems.
Following her time at MIT, Ashley co-founded a digital sheet music startup and consulted with schools & non-profits on their computer science programs. Some of the well-known organizations she has worked with include Girls Who Code, All Star Code, and Hopscotch. In fact, until very recently, Ashley was the Director of Curriculum at Girls Who Code.
In addition to her technical background, Ashley is also an up and coming comedian. Her material particularly focuses on feminism, gender & sexuality, common observation jokes, as well as a commentary on society.
Her Agenda spoke with her to discuss her unconventional background and career path.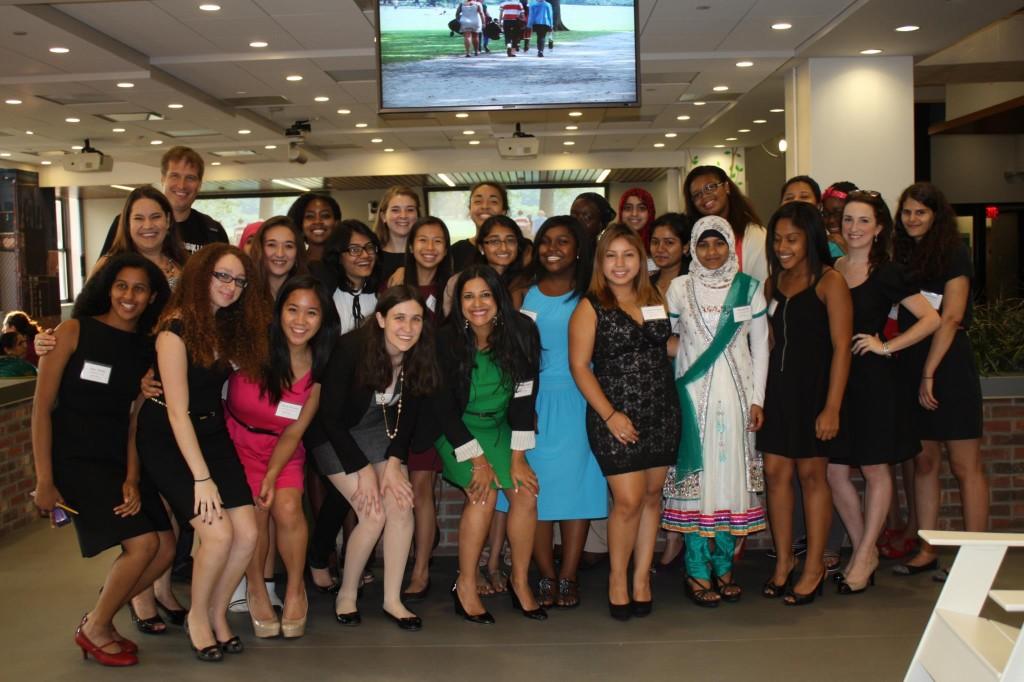 Article continues below advertisement
Her Agenda: Can you describe your experience at Girls Who Code?
Ashley Gavin: I think working at Girls Who Code was one of the biggest and best decisions that I made in my life. One of the really cool parts about it was that it was my first time being the only technologist at a company with no computer scientists. I was the girl who codes at Girls Who Code. I was actually the second hire at Girls Who Code, and it was very cool to watch it grow to what it is now. For me, working with the girls was the best part of the job. They were the best students I've ever worked with and helping to change and shape their lives felt immensely rewarding.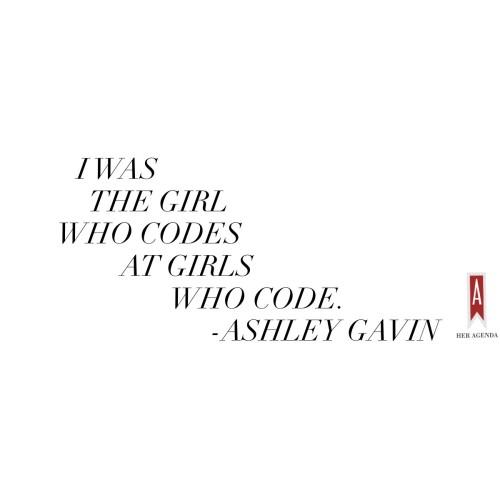 Article continues below advertisement
Her Agenda: When developing the curriculum for organizations like Girls Who Code, All Star Code, and Hopscotch, what were some of the challenges you came across?
Ashley Gavin: One of the more basic challenges was that people don't even know what computer science is. It's hard when a client really has no idea that computer science is a liberal arts field, and that it's actually taught in the same way you would teach physics or English and that it's not a technical field. I mean, it's technical in that you make technology, but the skills you would learn – you could use them forever, and they are transferrable. For example, the things that make someone a really great computer scientist also make them a really great writer.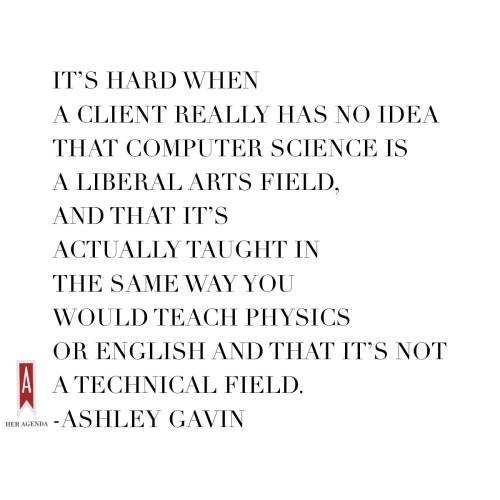 Article continues below advertisement
Another challenge was a common attitude in computer science teaching: debating what language we should teach our kids. For example, some teachers will tell their students that if they don't learn Java, then they won't get a job. The reality is that by the time these students graduate, the "new tool" will be completely different from the programming language they learned in school. So, the fact that we're even talking about what language we should teach our students is ridiculous. It doesn't matter what language we teach them, as long as we teach the core concepts that are in every language. That way, students can quickly learn new languages.
Her Agenda: Where do you think a person with zero coding background should start?
Ashley Gavin: That's probably the number one question I get, and it's the absolute hardest to answer, because there are so many online schools out there! But, if you really want to learn how to code, the best resources are the more mixed learning classes, like something you can do on Coursera or Udacity. My favorite mixed learning class is actually Harvard's CS50x, because it really gets into that problem solving nature of computer science. It starts out at an extremely low level—absolutely no background knowledge is required.
Her Agenda: How do you feel about the girl power movements that are emerging across various industries, and what is something that women today still need to overcome?
Article continues below advertisement
Ashley Gavin: We need them because it's obvious that the current system isn't working. If the current system were working, we would have equality, but we don't. So, we obviously need to try something else and there's a lot of data to support that women only environments create more successful women. In terms of what women still need to work on – what women struggle the most with is risk-taking and confidence, and those things are related. It's good to be calculating and to weigh the pros and cons, but at a certain point, you just have to jump.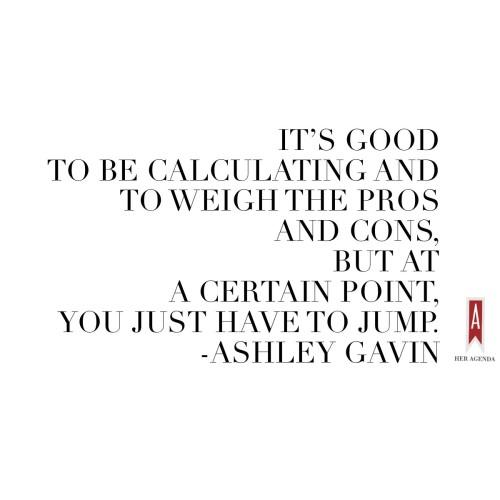 Article continues below advertisement
Here's the story that I tell my students when it comes to risk-taking and confidence: "This 20 year old kid at Stanford—he woke up one day and thought, 'Why don't I send picture text messages, but they're going to delete after 3 seconds?'" I tell my students that if they came up with that idea, they would probably think that it was stupid and go about their day. But, this kid had so much confidence in his idea that he not only built this business, but he turned down $3 billion from Facebook, for an application that essentially does absolutely nothing. My girls can build things like Snapchat in 2 weeks, and so I always tell them: "Think about Snapchat. Does your thing do more than Snapchat? Then you should be willing to turn down a $3 billion investment." For whatever reason, we're been trained not to jump headfirst, not to take risks, and not to have confidence. That's why when I'm designing curriculum, I try my best to inject confidence into the material. At the end of the day, if you're not confident in yourself, it affects your learning.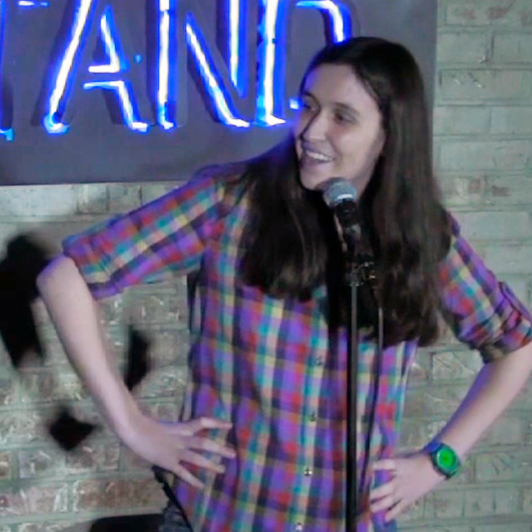 Article continues below advertisement
Her Agenda: Tell us more about being a comedian.
Ashley Gavin: I always loved theater and acting, and I never knew how these would combine with computer science. I tend to keep them separate, except when I teach, because teaching is very much a performance. When I moved to New York, I really just wanted to find a way to make people laugh, whatever it was. So, I tried improv and did that for three years. I also did sketch writing and videos, and the one thing I never tried was standup comedy. So, I decided to take a course. I specifically signed up with a woman because I wanted a woman's perspective. My instructor's name was Veronica Mosey—you may have seen her on Comedy Central or Letterman.
At my first class, I found out that in standup comedy, it's terrible to follow someone who does really poorly. It's the worst because the audience is dead no matter how funny you are. You have to pick them up out of the grave, which can be very hard to do. So in class, we were going around and doing our material. The guy before me was truly atrocious, and when it was my turn and I said my jokes, no one laughed. And I thought, "Oh my god. I tested this on a bunch of people." It was the first time in my life where I had tried to be funny, and no one laughed. So, I went home and cried; I had to tell myself what I tell my students: have confidence in yourself. I eventually got over it.
Article continues below advertisement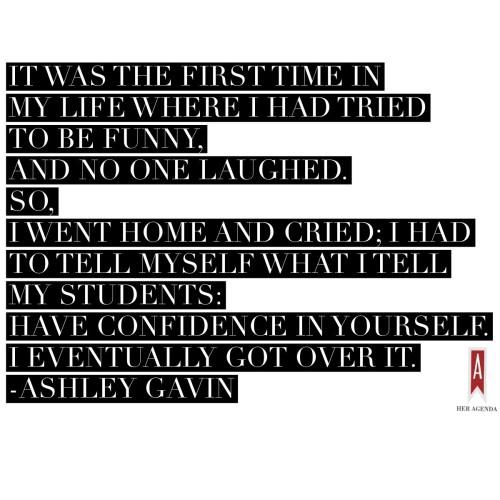 Her Agenda: As a comedian, who are your role models and why?
Ashley Gavin: I love basically every female comedian ever: Joan Rivers, Amy Schumer, Moms Mabley, Phyllis Diller. In terms of influences, I love Amy Poehler just because of her scrappiness and confidence. There's a story about Amy Poehler and SNL: she was backstage and telling a joke. Some people laughed and apparently Jimmy Fallon said, "I don't think that's so funny." Then Amy Poehler, according to the story says, "Well I don't give a shit if you think it's funny." And I just…I love that. I think that's so great! The idea that we should just do the material that we want to do and not worry about whether or not this one certain kind of person thinks it's funny.
Article continues below advertisement
I believe Sarah Silverman made a comment on that, also. A lot of people think that for a woman comedian to be successful, she needs to make her material accessible for everybody. But there are tons of male comedians out there who are just not funny to women. They're kind of abusive to women, and men think they're hilarious. Why can't that be the same way for women? Why can't there be female comedians that men hate and women love?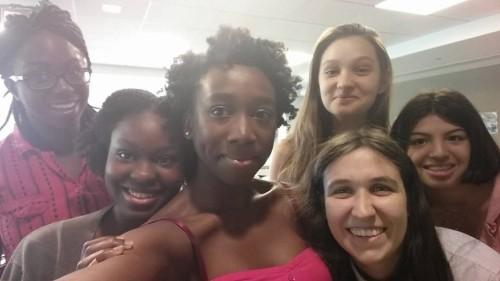 Article continues below advertisement
Her Agenda: What motivates you?
Ashley Gavin: I think in both teaching and comedy, the same thing: I hope that after someone has a lesson with me or comes to a comedy show, that they will leave thinking about the world and themselves a little differently.
Her Agenda: Any parting thoughts or words of wisdom?
Ashley Gavin: Here's an interesting story that people like to hear: when I was in high school, I got a lot of D's and C's. Math and science were where I did the worst. It wasn't that I was lazy – I had a tutor and was trying really hard. So, people frequently ask, "How the hell did you end up working at MIT?"
My students think that if you're not a math geek, then you can't do computer science. In fact, math has very little to do with computer science. We use things that are part of math, like addition, subtraction, multiplication, and division—things that pretty much everyone comes out of high school knowing.
So, here's what I'd like people to know: anyone can learn how to code. You shouldn't worry about your educational background or your math background. It can be easily overcome.