In 2008, Ashley Ocampo started a blog while living in Miami, Florida. Today, the pint-sized powerhouse is better known by her brand name Ashley Outrageous, and since then she's evolved from blogger to CEO of her own brand. As the founder of AshleyOutrageous.com her following of close to 25K on twitter, and 20K on Instagram is significant and it's the result of creating something that stood out in a sea of content.
In the digital space, what sets those who make it work apart from those who are here today and gone tomorrow? Persistence, hard work and consistency. These themes come to light as Ashley tells her story, but what is also worth noting is her openness about the fact that she still struggles to maintain the persistence, and consistency. Despite this battle, she continues to push forward.
What started as a small personal blog on blogspot, is now a widely recognized lifestyle, culture and music website that highlights exclusive content and keeps you informed on what you need to know about each of those topics from those who are in the know.
On top of running AshleyOutrageous.com, 25-year-old Ocampo serves as the Director of Digital Media for Top Dawg Entertainment (TDE). In case you don't know, that's the label for artists including Kendrick Lamar and Sza.
Read our interview with Ashley, who stopped by our booth during Afropunk to chat about how she got started, and how she overcomes her challenges as she builds her name and her brand in an industry she loves.
Article continues below advertisement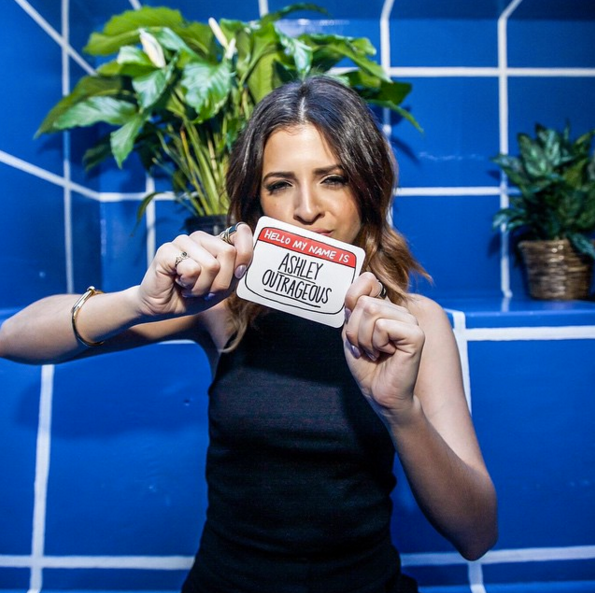 Her Agenda: What does it mean to really be the CEO of your own brand? Especially a brand that carries your name.
Ashley 'Outrageous' Ocampo: It's very tough. I'm like, 'arrghhhh' sometimes. It's a very big deal. It takes a lot of hard work and determination but being my own boss allows me to do what I want and switch up things when I want. Like right now, I'm going through a phase of transitioning my blog to more lifestyle content and being more of a multimedia personality rather than just being a box of just music.
Her Agenda: If someone didn't know you or what AshleyOutrageous.com is about, how would you describe it?
Article continues below advertisement
Ashley 'Outrageous' Ocampo: AshleyOutrageous.com is a lifestyle website, a cultural website, everything that surrounds the culture of hip-hop and every other genre that I am getting into. Really it's what I'm doing in my life. I like to showcase my friends who are doing cool stuff, so it's like, cool people doing cool sh*t.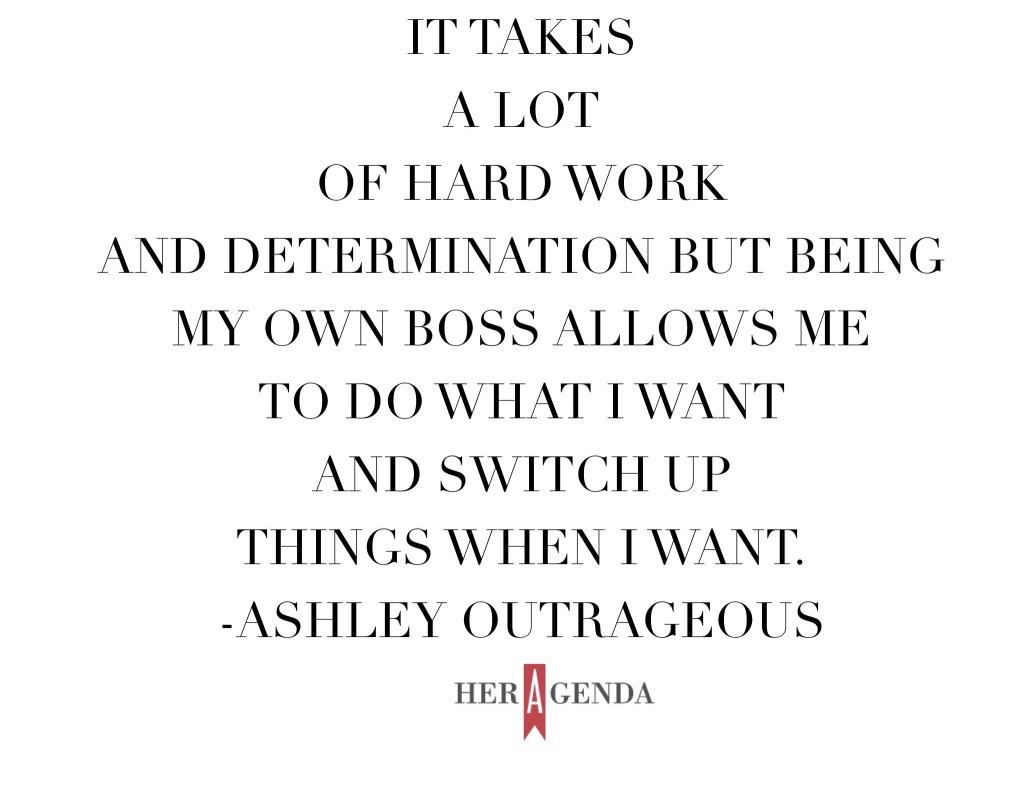 Article continues below advertisement
Her Agenda: You mentioned being your own boss which sounds amazing and glamorous. People often see the results, the awards or the picture with the celebrity of the interview that you did –but what is the real behind the scenes? What is one unexpected task or skill that you had to develop because you're your own boss?
Ashley: Time management has been my biggest challenge. Sometimes I can get stuck on one project or something for so long that I forget I have other things to do. Even getting to places on time, I'm always like, 'I'm 10 minutes away!'
Her Agenda: The core of what you do is based on the platform you've built, your website. There are a lot of personalities, and bloggers on social media right now trying to figure out how to utilize those channels to drive traffic to their website. What is your reach and what social media platform do you feel is most connected to the audience that drives traffic for you?
Article continues below advertisement
Ashley: My Instagram is my biggest platform right now that drives traffic for me. But at first it was definitely Twitter, and still is Twitter for the most part. I hopped on Twitter in the early stages. I even had a party at my friends' house one day back in Florida and I remember that night I signed everyone up for Twitter. I've used Twitter a lot to talk to people. I got it when it was early on and a lot of people we're just getting it. I would reach out to artists that way, I would reach out to managers because at that time, no one was really on it. I made a lot of connections through Twitter which I still have. Everything I post on my website automatically goes to my Twitter. Everything I share on Twitter I usually share on Instagram. Instagram I feel is more visual and a lot of people are into seeing something visually now.
Her Agenda: So what made you actually start a site in the beginning? When you first started you said there weren't a lot of music bloggers, especially women covering music.
Ashley: I started because my friend had a blog where he was documenting random things like, nights going out with friends, flashback videos on Friday's and writing random articles. I would always see him doing that and I would say 'what are you doing? and he would say 'blogging' and I said 'blogging? What the hell is that?' So he put me on to all these other blogs. At the time it was dctobc. So I would look at those, especially dctobc, shout out to Modi, and I really liked what they were talking about.
Article continues below advertisement
I would visit all these blogs and ask all my friends, 'did you hear these new songs? Did you see these new music videos?' and they were like, 'no, where could I see it?!' So I would always show them different sites and my friends were like, 'why don't you just make your own website so we can go to yours and we don't have to go to these different sites you're telling us about.' Then I made my own site and I started to document all these things I would find online.I was doing it with respect and linking it back to where I found it, and then I was documenting me and my friends on nights out.
I was going to concerts since I was a kid so I always had a digital camera. So I shot with my digital camera everywhere and put it up on my blog and it was very much so personal, until when Twitter came along and I started using Twitter to reach out to people and people were sending me stuff asking if I wanted to premiere their songs. I met other bloggers through Twitter like Modi from dctobc, he became like a mentor to me. At the time I was on blogspot and he geared me into getting a WordPress and it all went from there. I got into the rhythm of it and studying things on my own and just flourished.
Her Agenda: When was your breakthrough moment?
Article continues below advertisement
Ashley: In 2010 when the Source Magazine put me in their first ever Digital Power 30. Yeah, that was like whaaaaaat? I was like no way! I started my blog in 2008, October 2008 and throughout 2009 it was all personal. February 2010, I re-launched to WordPress and then November 2010 was when they put me in the Digital Power 30, and that was based off of Twitter and my website so I was like 'whaaat?' Then I was like, 'okay, I can do this.'
Her Agenda: What keeps you going? What keeps you wanting to update and keep your website up and going?
Ashley: I've definitely been at that point where I'm like, 'I don't want to do this anymore.' Even recently, when I re-launched, it was because I got very bored of standard blogging and before that I felt like I was in a creative rut. There were so many blogs out there. Everyone has the same stuff up, what can I do that's different that's going to make me stand out again? What did I do before that made me stand out? Okay, now I need to do something again, I need to revamp myself [and my website]. We really want people to read about what we're posting and writing more [so we narrowed down the content.] Now I would like to get into more video.
Article continues below advertisement
Her Agenda: You're pitching things, you had to reach out to people when you first started on Blogspot. You were reaching out to major artists to do interviews with you. What gives you that confidence to go after these type of people, and ask them to do something for you/your site?
Ashley: You've got one chance. And where I started everything in Miami, there wasn't anyone there. There were only a few blogs — me, the 305, which is like a big Miami blog not just about music it's everything Miami, they are a big site. And this website imflashy, it was like us three. So when artists came there, artists are in Miami and South Beach all the time, posting and in clubs and stuff. So I was like, 'okay, let's do an interview! Let's do something. Let's shoot a cool piece on the beach. Let's go eat, let's do something.' Even back then, no one was covering these unsigned artists there. I covered Big Sean's first show in Miami, [interviewed] Kendrick Lamar, Dom Kennedy, The Cool Kids, and Joe Budden randomly. No one was doing those things there so I was like, what can we do different?! What can we do to make ourselves stand out? [In Miami], it was easy because no one was doing it so I had to take advantage of that and that's why I wanted to move to New York. I built my brand [in Miami] for five years. I started to hit my glass ceiling and to go to the next level I had to leave and go somewhere else.
Article continues below advertisement
Her Agenda: Your path seem pretty straight and narrow. It seems like you launched the site and everything was great. What are some obstacles you had to overcome to really get to where you are now?
Ashley: Staying consistent. Staying consistent was a very big challenge for me. Even now, I just re-launched and I still want to go harder with original content. The point of the re-launch was to really push for more and more original content so people can be like, 'so yeah I'm going to go to so and so's to see all the music that came out today. But then I'm going to go to Ashley's site to see who she interviewed and who's on her weekly soundcloud playlist or what new artists she discovered. I want it to be more consistent — always giving the people something original. I want to travel more and document festivals –more of that.
Her Agenda: Do you ever feel moments of doubt? And if you do, how do you overcome those moments?
Article continues below advertisement
Ashley: Oooo yeah I feel moments of doubt. I feel like everyone does. It's normal and when I do feel those moments of doubt, I have to look back at what I've done and how far that I've come. I tell myself, 'okay, you can't give up on yourself now.' Even now, all that I did, moving to New York a lot of my friends that live here were like, 'Ashley, New York is tough, it can make or break you,' trying to scare me. There's been times that I've been here in New York and I'm like 'omg! It's so crazy I want to go back home.' I've had those moments of doubt and then I just look at all I did to get here…selling my car. I used to be a sneakerhead and now I'm like 'I don't like those anymore!' Sold all my shoes, I made a Tumblr called The AOFlee, like a flee market of all my Nike's and stuff and Jordan's. I did a lot. I [even] promoted parties that I didn't want to in order to save up money and move up here.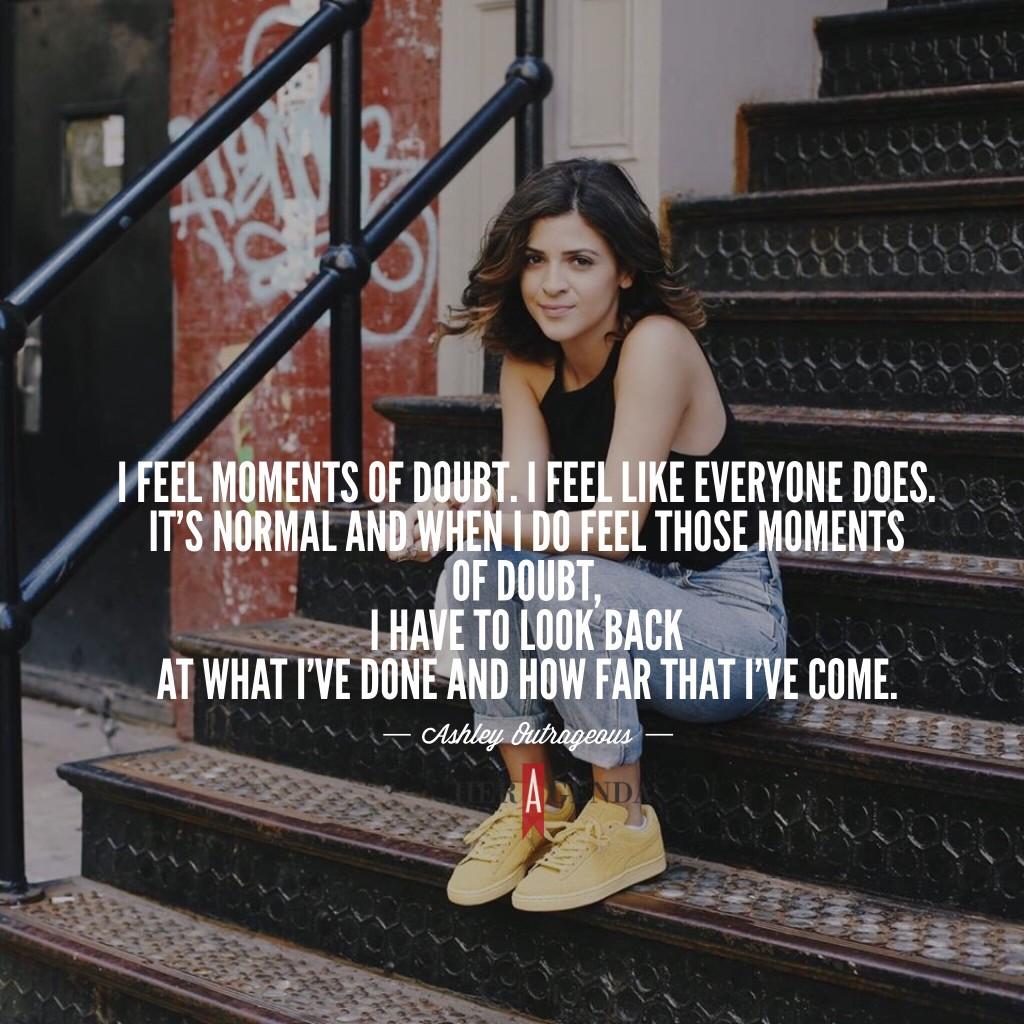 Article continues below advertisement
Her Agenda: So how did you even get to a point where you were consistent enough and in terms of making a living from blogging, to even make a move to New York like that?
Ashley: I was very cheap! I was cheap. I had to be. Back home, I don't feel like I was spending as much like as I spend here but I still haven't done any calculations. I don't know if I spend more money here or not. At home, [in Miami] I was able to do a lot of campaigns for brands that wanted to get their presence there. So that and just save and save and save.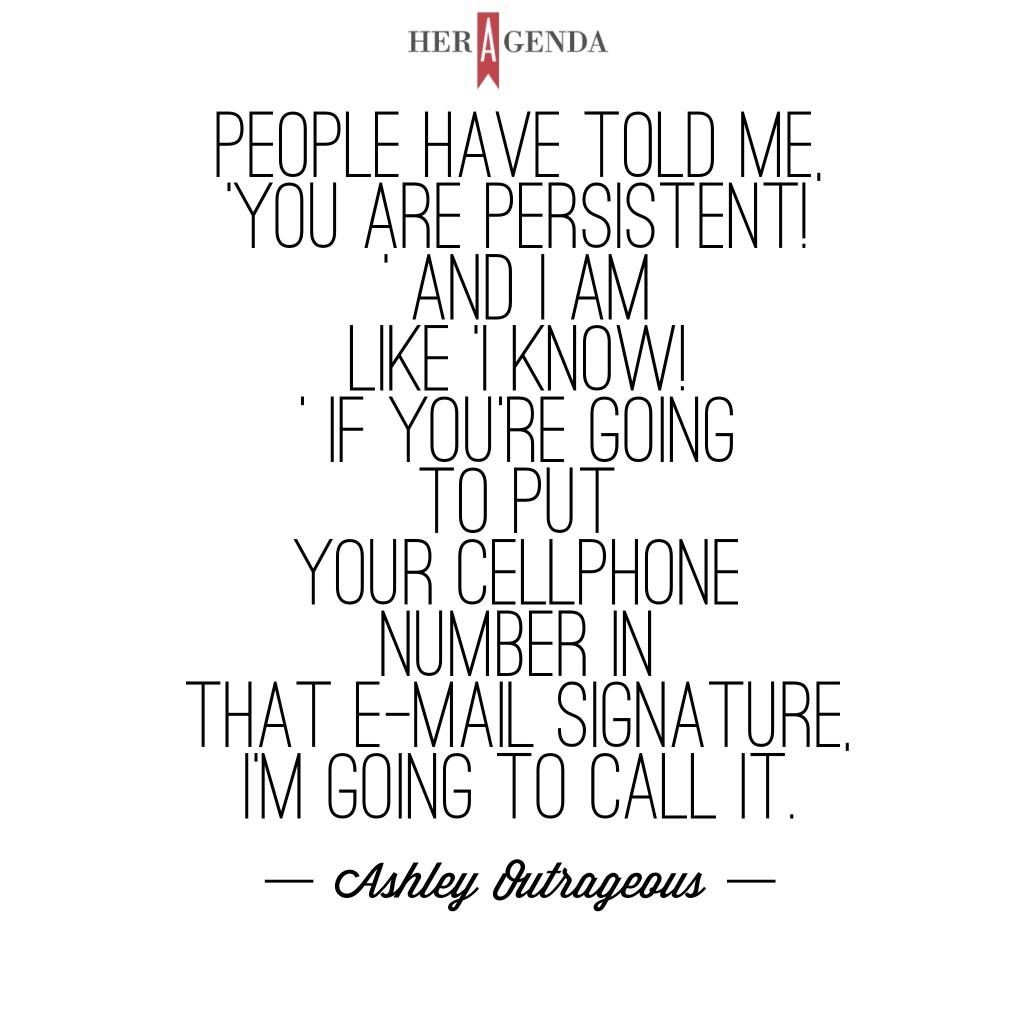 Article continues below advertisement
Her Agenda: Do brands approach you or do you approach them, or is it mostly a mix of both?
Ashley: Brands approach me mostly but I still like to approach them myself if I see that I can collaborate with them.
Her Agenda: How do you get them to actually pay attention and work with you on paid opportunities?
Ashely: I mean, annoy them. People have told me, 'you are persistent!' and I am like 'I know!' If you're going to put your cellphone number in that e-mail signature, I'm going to call it. Yeah, so I just say be persistent. It's been to the point where I've called then they've answered, I guess they've saved it as my number, and then when I called again they didn't answer. Then I called on someone else's phone like yup, it's me! Be persistent and show them that you want it.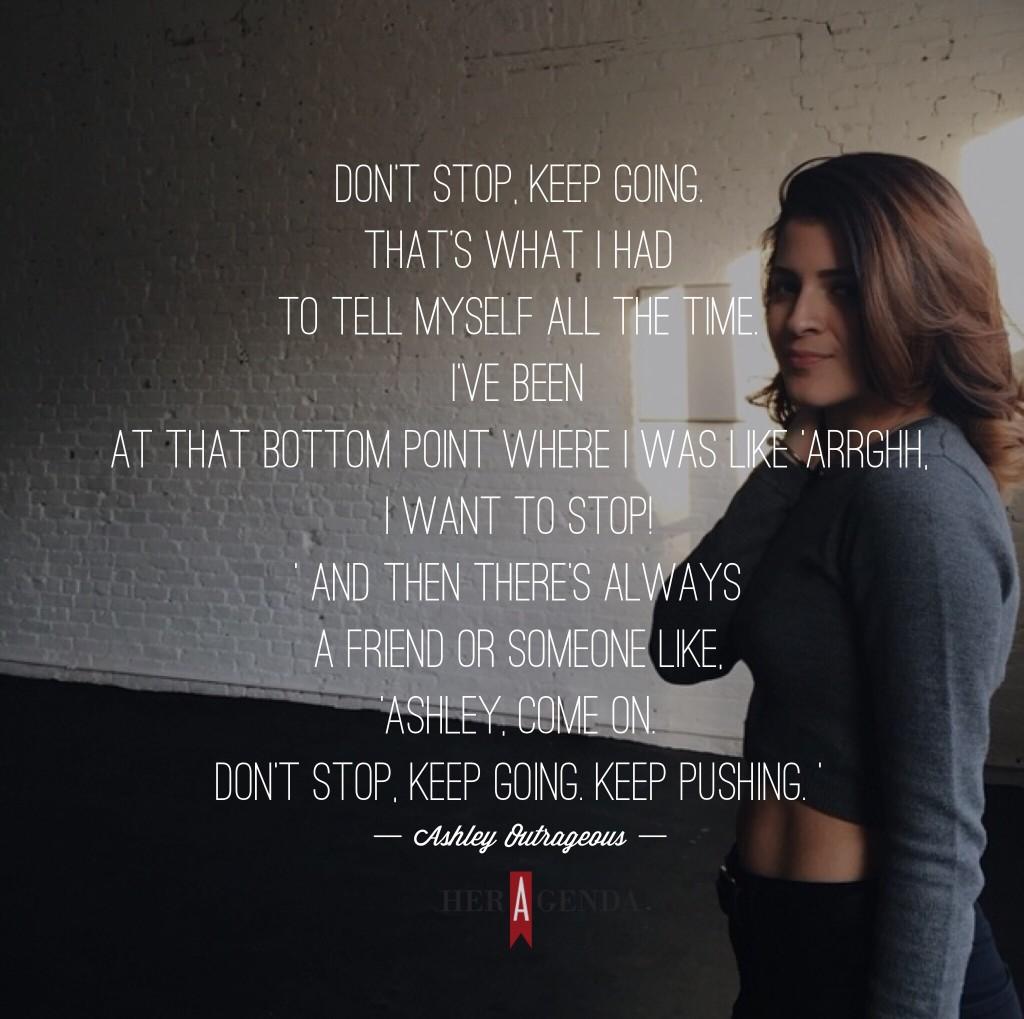 Her Agenda: Do you have a personal motto? Or a quote you use to get you through everything?
Ashley: Don't stop, keep going. That's what I had to tell myself all the time. I've been at that bottom point where I was like "arrghh, I want to stop!" And then there's always a friend or someone like, 'Ashley, come on. Don't stop, keep going. Keep pushing.'