When the going gets weird, the weird turn pro.
-
Ashley Simon wants you to know that it always looks so much easier on the outside than it feels on the inside. From the midwest to the big city, Simon got her first big break at MTV doing creative development for MTV University and went on to build a profession helping build recognizable and emerging startup brands—including her own.
From being a co-founder of a booze-free drink alternative to authoring a successful guide for penises (yes, you read that correctly), Simon chatted with Her Agenda about all the things that have led her to being a proud and unapologetic generalist. She has a refreshing take on life and work—with a candid self-awareness that guides her through the unknowns and keeps her always landing on her feet.
Her Agenda: What do you think most contributed to your success today?
Ashley Simon: The number one thing is resilience. I've not had a career where every step of the way is perfect. I've had difficult bosses. I've had moments where I broke up with a boyfriend and could barely function at work for two weeks. I've had all the things that everyone else has had…and that you go through…and resilience is the thing that's led to my success. I keep on moving on. You kind of have to. Learn what you can from a failure and then move on. Don't dwell on it; it doesn't do you any service. I think part of resilience is learning how to move on from things that didn't work out well and reminding yourself that a past failure doesn't mean future failure. They're not related.
Article continues below advertisement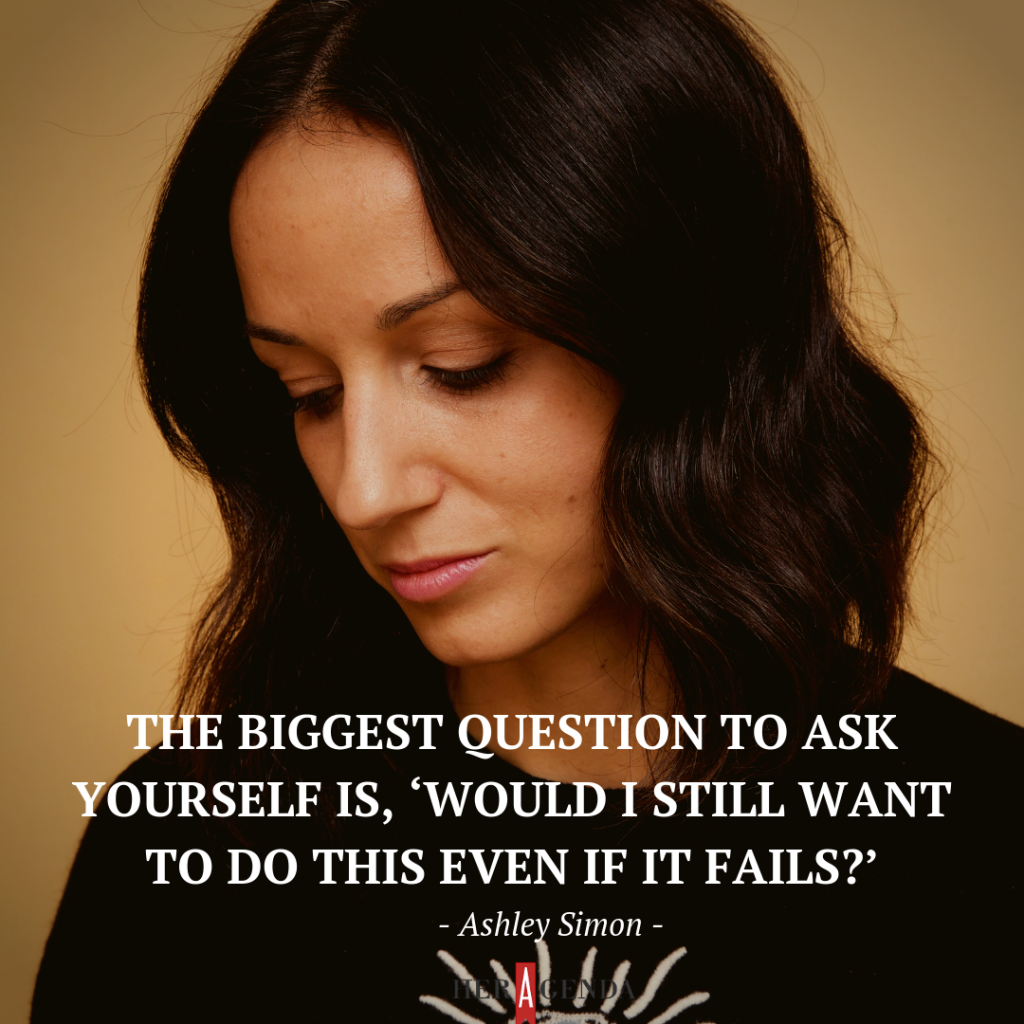 Her Agenda: You recently stepped away from your co-founder role at the booze-free cocktail alternative, Curious Elixirs—can you share more about how you made that decision?
Ashley Simon: Ultimately, me and my co-founder disagreed on some pretty foundational things and it just didn't make sense for us to keep moving forward if we couldn't resolve it and we parted amicably. I still care deeply about the business and believe in the mission of the business, but I had to make the right decision for me and for me the right decision was to move on. Don't let sunk cost dictate your decisions—which is really hard to do. When you've worked on something for a very long time and put a lot of energy into it, it makes it that much more difficult to walk away. You have to stop and really take a catalogue of where you are now and how you want to move forward even if that means that something you've put a lot of of time and resources into isn't going to be something you continue to invest in.
Article continues below advertisement
Her Agenda: What's it like building a company from scratch? Favorite part/least fave part?
Ashley Simon: [Building a company] is one of the best and hardest things I've ever done. I found large parts of it really fun. Building the brand from scratch, without having to do that by committee, was an incredibly freeing. Also making a real product where you can see people experience it in real-time was always fun for me. We got a lot of feedback from people who were recovered alcoholics, or didn't drink for some reason, thanking us for finally thinking of them and creating something for them and that was really gratifying knowing that we were serving a real need.
The hardest part is, especially with a physical product, for me was the logistical and operational pieces—which are not fun, but are integral to the business working. Everything from making sure your product ships without breaking, to getting shipping costs to a reasonable place, to making sure product is consistent every time you make it. All of those pieces are incredibly time consuming but they are super necessary to do well and that was the part of the business that I had the least experience doing, so it was the biggest learning curve.
Her Agenda: For someone thinking about starting their own business, what is the biggest question they should ask themselves?
Ashley Simon: The biggest question to ask yourself is, 'Would I still want to do this even if it fails?' You shouldn't start a company that you know is going to fail, but [ask yourself] is it so intrinsically important to you, or so valuable to the market or society, that even if you're company doesn't emerge as the winner will it have been worth it? You should always be working to be the winner in the space, but the reality is that it's really, really hard and there aren't that many successful companies so you have to love it so much and be so excited to spend your time on it, so then if it does fail in two, or five, or ten years, you won't have regrets.
Article continues below advertisement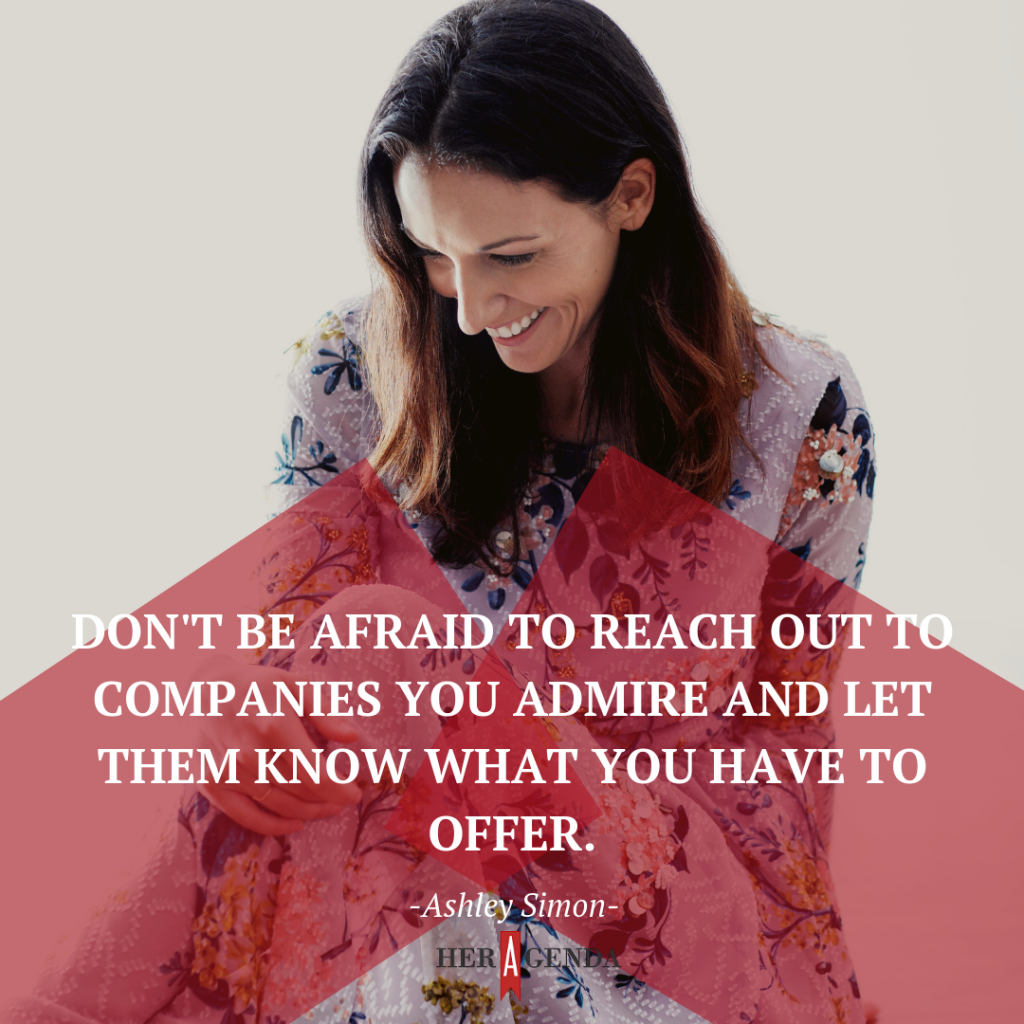 Her Agenda: In your experience working and consulting for startups, what do successful startups do well?
Ashley Simon: As a consultant coming in, I find that the better run companies have a pretty clear vision and they relentlessly prioritize it to get there. They also don't let the pressure of growth drive decisions. Especially when you take venture money there can be pressure to grow and grow and grow. Growth just for growth's sake isn't always the right decision—it can be at the expense of other important things—it can be expense of customer satisfaction, brand integrity, product quality. I think the startups who end up lasting over time do grow very quickly, but not at the expense of every other aspect of the business.
Article continues below advertisement
Her Agenda: As a marketing consultant, do you have any advice to someone who wants to do consulting as a full-time or side hustle gig?
Ashley Simon: Don't be afraid to reach out to companies you really admire and let them know what you have to offer. You never know, especially with startups; there's a lot of unmet needs. Get on people's radars. They might not have something right now, but it could be half a year later they have something they do really need you for. In terms of consulting, you have to go in with sense of humility. Your outsider perspective is very valuable, but you also don't know a whole lot about how the company's run, about who does what, about what they've tried in the past, about relationships with people on staff. The best way to approach a consulting job is to learn as much as you can for the first couple of weeks, and make sure the client you are working with understands why you are taking the time to do a lot of research and get to know you stuff up front. Put yourself out there and approach the job with humility.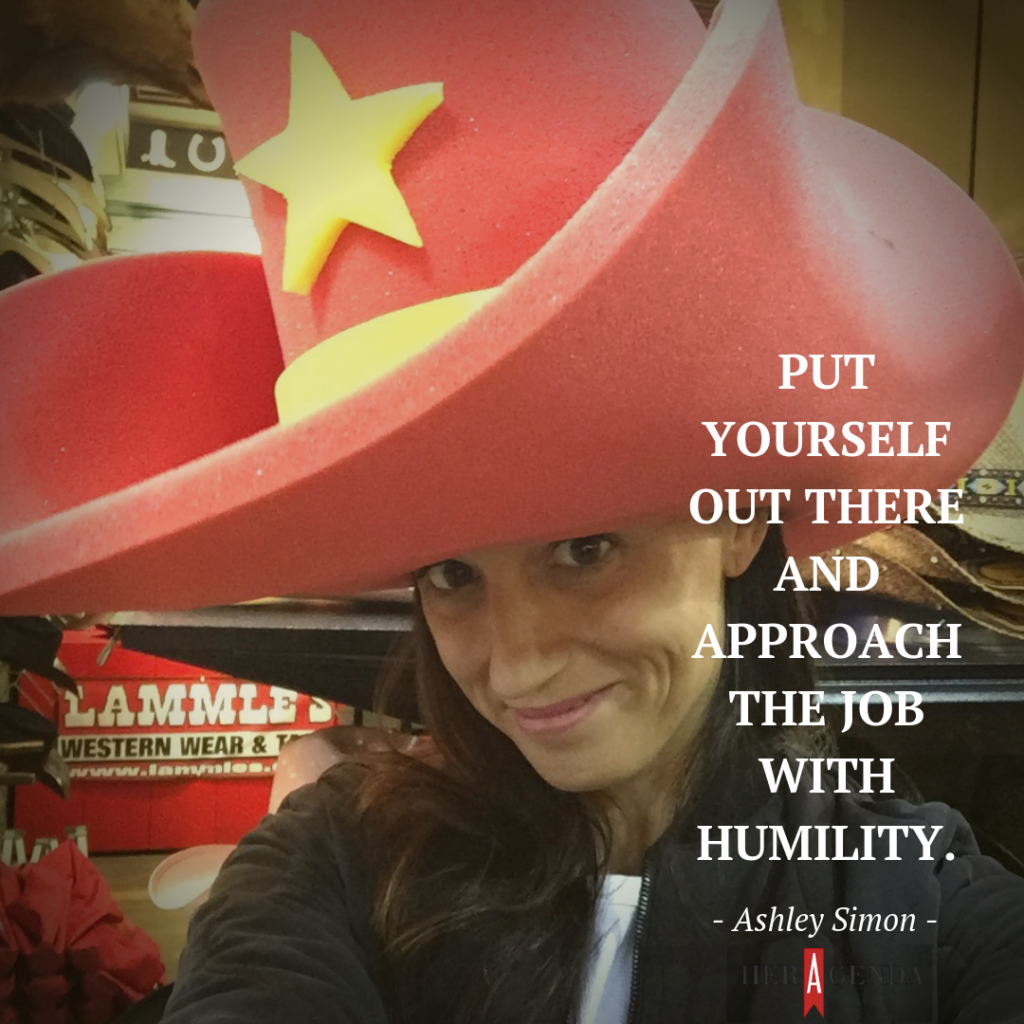 Article continues below advertisement
Her Agenda: In college you majored in Social Thought & Analysis and Gender Studies—it seems so different than the field you went into. How did you get into marketing?
Ashley Simon: The truth is I graduated and I couldn't figure out how to create a career around the issues that I studied and continue to care about. I worked for some nonprofits and for some reason it didn't feel like a fit for me. I was craving something intellectual and creative. The combination of those two is what I really love to do—the thinking and the making piece. So I just started applying for jobs in a creative field to just see if I could get an assistant job because I didn't have a creative background but I knew I wanted to be in that environment. I applied for a ton of jobs at ad firms and TV channels and publications and I ended up getting a pretty lucky break at MTV. They took a bet on me that I could figure it out and I ended up doing that for two years and I enjoyed the industry. I had never been exposed to that before. I didn't know anyone who was a writer or a producer a photographer. I didn't even know that people had those sorts of careers until I started working at MTV and seeing all of these people working together on large projects. It opened up my eyes to things I had never considered.
In terms of how that led to marketing, marketing is good for people like me because it's interdisciplinary and if you're kind of already like that by nature, it tends to lend itself better. I also think that good marketing, at its core, is about understanding people—their wants and needs—understanding culture at a macro level which isn't too crazy dissimilar to some of the academic sociology work that I was doing.
Ashley Simon: It was just an idea I had at the very beginning of the #metoo stuff when all the press was coming out about Harvey Weinstein. In general, I approach most things from a place of humor and so I pitched it at dinner to some friends but I don't know how to make a book…and I'm not an illustrator…the next day I reached out to a couple of friends who I knew had pretty deep networks and told them what I wanted to do do you know anyone who would be interested in working on this with me and getting it done really quickly? And I ended up being connected with a designer and she connected with our partner who did all of the illustrations. It took us one day to all get on the same page, we had a coffee, and we finished it three weeks later. We decided to self publish it so it could get out as quickly as possible. It was just an idea we wanted to become a reality. Thousands of books were ordered and people thought it was really funny. To this day, friends tell me they have it on their coffee table.
As I get older I've allowed myself more freedom to pursue really random ideas. If an idea comes up for me more than three times, I usually see it through. Life is short—if you really want to make something you can usually make it happen. It's nice to make things just for the sake of it. So much of our day to day is making things with a very specific end goal, and that is how business should be run, don't get me wrong…but it is satisfying making something that you want to make. I've tried to allow more space for those kinds of projects in my life.
Article continues below advertisement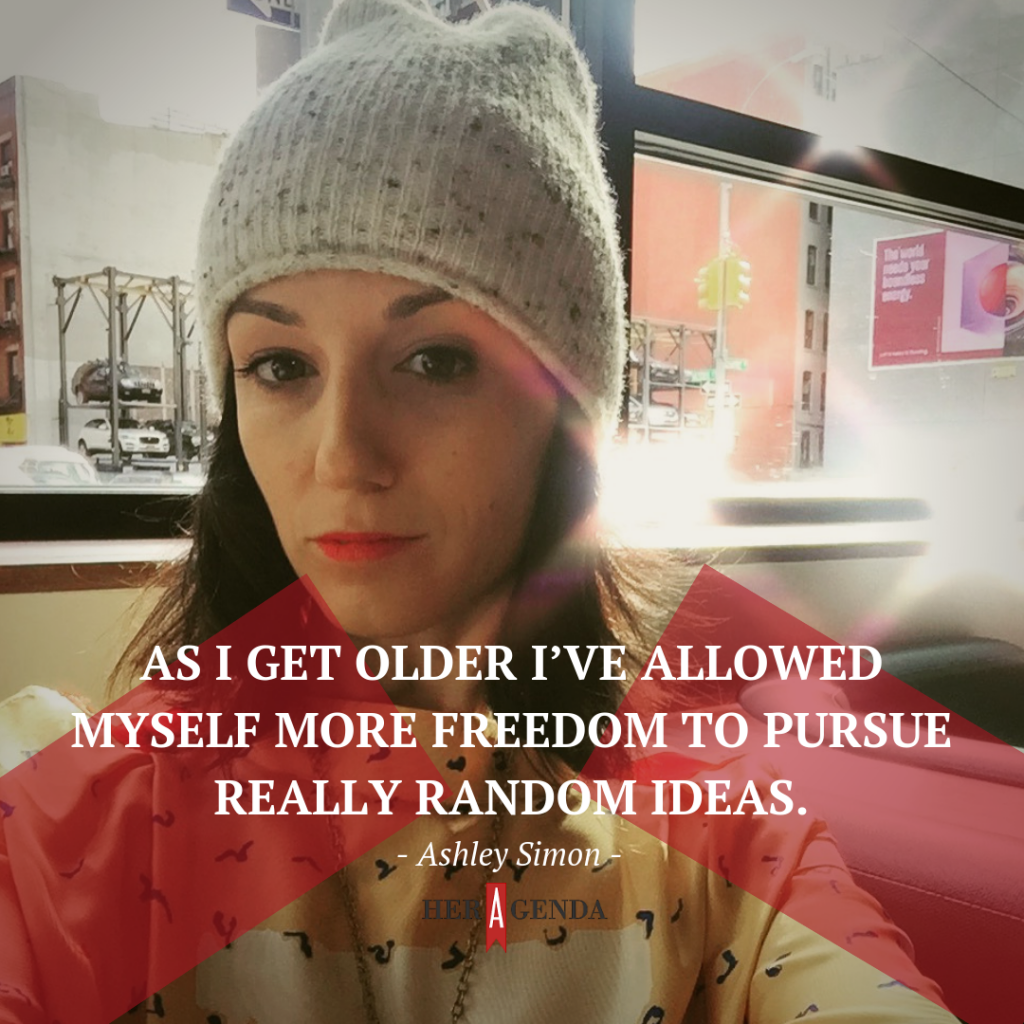 Her Agenda: Who's inspiring you right now?
Ashley Simon: Right now I'm reading a lot of Tony Hoagland. He's a contemporary poet who passed away earlier this year. He's a poet I really, really like. His poetry is really accessible but there's always a little bit of an edge to it. There's something about his poetry that just kind of wakes me up.
Article continues below advertisement
Her Agenda: How do you kick the self-doubt when it comes a knockin'?
Ashley Simon: I have a bunch of stuff I do because I suffer from crisis of confidence all of the time. I've gotten better at understanding what triggers me and I can identify when I'm going to feel a certain way. So, for example, whenever I start something brand new, which is often as a consultant, those first couple of weeks is the period where I feel the least confident because I don't have all the information I need yet…I'm trying to impress people. One thing is identifying what sets you off and, therefore, when you're in the moment you can remind yourself it's going to pass and to take care of yourself.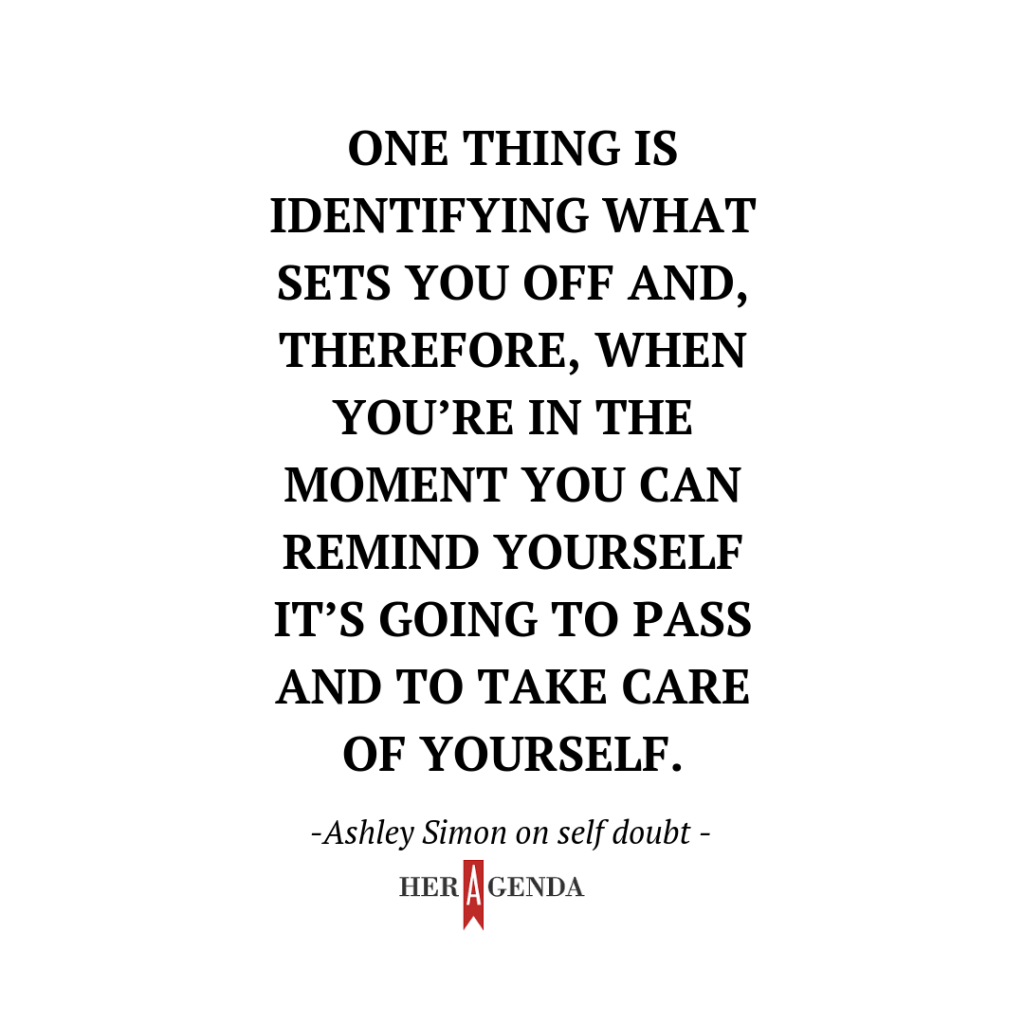 Article continues below advertisement
I'm a really big fan of having some sort of physical practice—running or yoga, or whatever that is—something that allows you to get out of your head and into your body and help you get perspective. It's a huge tool for me. And another thing I do is look back on my past successes in those moments—because in a way when you are feeling super self critical your brain is kind of tricking you in that moment and you have to almost redirect it…to take a bigger macro view and look back on things you've done and say, 'Ok, I think I've done something similar to this before…and how did that work out?' Nine times out of ten it was fine or really, really well.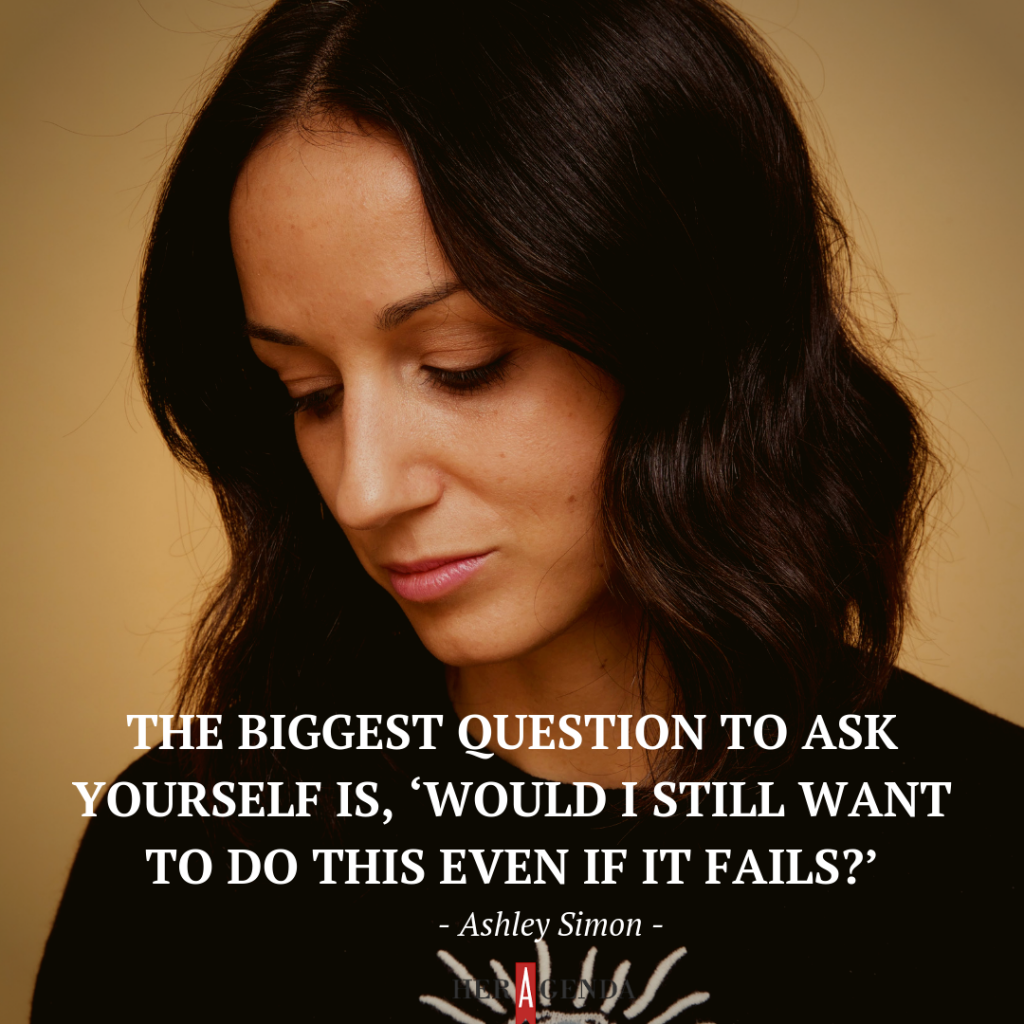 Her Agenda: Do you have a life motto?
Ashley Simon: There are a couple of things I go back to. I have a motto that I just think is fun, which is —"When the going gets weird, the weird turn pro." Because I work with so many startups where the going gets weird so many times…you just gotta roll with it…that's one of my favorite sayings.
Another text I turn to in a self reflective moment is, "Letters to a Young Poet." Rilke has this one specific passage that I remind myself of constantly where he says the point is to live the question: 'Be patient toward all that is unsolved in your heart and try to love the questions themselves, like locked rooms and like books that are now written in a very foreign tongue. Do not now seek the answers, which cannot be given you because you would not be able to live them. And the point is, to live everything.'
I think the biggest takeaway I have from that is to live the question and to remind myself that it's okay to be a question mark. If you can live in the questions themselves, as opposed to them feeling like a barrier, as opposed to feeling like you have to have all the answers, you can bring a lot of joy into your life that way. Don't sit around and worry in the questions. Especially in those moments where I'm in a state of transition. You don't have to have a clear cut answer for everything.
[Editor's note: This interview has been edited for length and clarity.]