Benish Shah grows companies, and that's not even the half of it. She is also a marketer, lawyer, and writer. With more than ten years of experience in taking companies and products to market, Shah has held a number of executive positions including being the Vice President of Marketing at Raised Real, and Head of Product Marketing and Strategy at Refinery29. She led her R29 team in launching the company's first-ever media app. Shah is also the winner of the 2019 Amazing Women in eCommerce Award and published in Touro Law Journal, Forbes Women, University of Pennsylvania Journal of Law and Social Change, and much more.
Aside from all of her professional accolades, Shah makes it clear that being an industry leader in growth marketing cannot be done without an amazing team. Her determined mindset to "build things" has helped her turn consumers' wants into needs, and grow startup companies to their fullest potential. Her success is not luck, it's a skill set.
Her Agenda: How did you know you wanted to transition from law to marketing and entrepreneurship?
Benish Shah: I don't think it was ever a conscious decision that I wanted to transition. It kind of just happened. I was advising a lot of different startups and running a law firm at the time. I'm a good lawyer, but I'm better at building things. That included building the firm and working with the startups and helping them build their businesses, and the strategy around those businesses. Things are kind of tied to one another and that's how I ended up there. Some people have a conscious moment where they say "I'm done doing this." I am not that.
Her Agenda: You've held many executive roles in marketing and strategy. How do you maintain fresh ideas or angles for marketing campaigns and product strategy?
Article continues below advertisement
Benish Shah: I think your best ideas come from the people you surround yourself with. That includes your team, as well as your friends, and frankly even family members. My mom has given me ideas for campaigns. I'll be having a conversation with her about a product that is about to be launched in the near future and she'll come up with something because she's curious and she has a question. I think that when you get into any type of leadership role it is instinctive to want to be the person with the idea in the room because you're so used to being that person. It's better when you're actually continuously looking to everyone around you, even if it's not in a formal meeting format.
Her Agenda: Do you ever feel like there are too many ideas in a room when you're in this leadership role?
Benish Shah: I think when there's a lot of ideas, that's a good thing. I think we're in trouble when there are no ideas.
Her Agenda: How do you anticipate consumer trends or behavior in the market/industry?
Benish Shah: I am non-traditional in this way. I know people prefer to look at the consumer trend reports, I don't. I find if you read enough media, and honestly watch enough TV, and watch the ads on TV, you'll start to get a feel of where the consumer market is moving. You have to keep your eyes and ears open constantly when you're in a role that involves marketing because marketing is basically understanding consumer psychology. What makes someone like your product? Well frankly, it's when they need your product.
Article continues below advertisement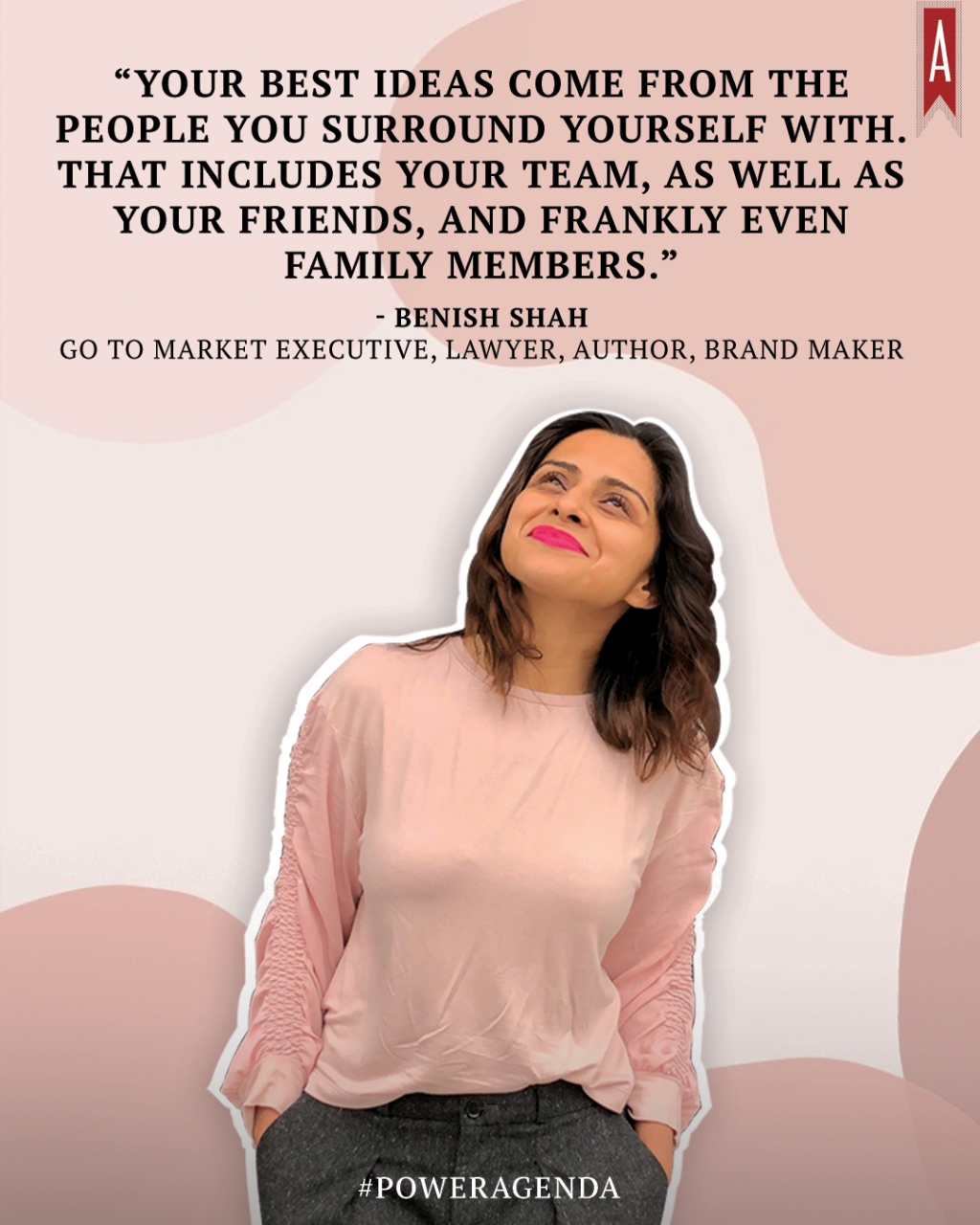 Her Agenda: While being VP of Marketing at Raised Real you increased the monthly revenue by 500% and won an award for Amazing Women in eCommerce (2019). What do you think were the main factors that led to Raised Real's growth and success?
Benish Shah: There's absolutely no question that we had an amazing team. The creativity and strategy that was able to come from that team, helped us exponentially. We did all of our creative in-house. We did all of our strategy in-house. That is very rare to do when you have a company that's that young and small, but from our creative direction, our shoots, and to our ad copy— everything was done by the team internally.
Her Agenda: When you're building a team like that how do you know what to look for?
Article continues below advertisement
Benish Shah: That is actually a question I've never had an answer to because I think that the need for each company is going to be different. Finding the right fit can take a very long time. A lot of companies will bring on employees because they believe bodies can solve a problem and then they will set their new hires up to fail because they don't have the systems in place – the records of data in place, they don't have processes in place. They bring on talent and expect them to do all of that work as well and that creates frustration for both the new hire, as well as the company.
Her Agenda: As Senior Director of Product Marketing & Strategy at Refinery 29, you maintained partnerships with companies such as Amazon, Birchbox, Casemate, and even celebrities. How do you foster your relationships in revenue partnerships?
Article continues below advertisement
Benish Shah: ​​Again, I think this is slightly nontraditional. I keep my business and personal life very separate because I think there's a professional line that I learned to draw as a lawyer. There are very few clients of mine in the past that I'm still friends with. Actually, our friendship developed after they were a client or partner. I think it's really important to keep it that way because you want to maintain a level of professionalism as well as understanding that when you are in a partnership, from a corporate perspective, you are a service provider.
So, you have to make sure that you're always putting the best foot forward – the best representation as a company, and the best representation as a team. Everybody has their own style of building a relationship. I think that anybody that's looking to build their own career should find a style that's going to work for them.
Article continues below advertisement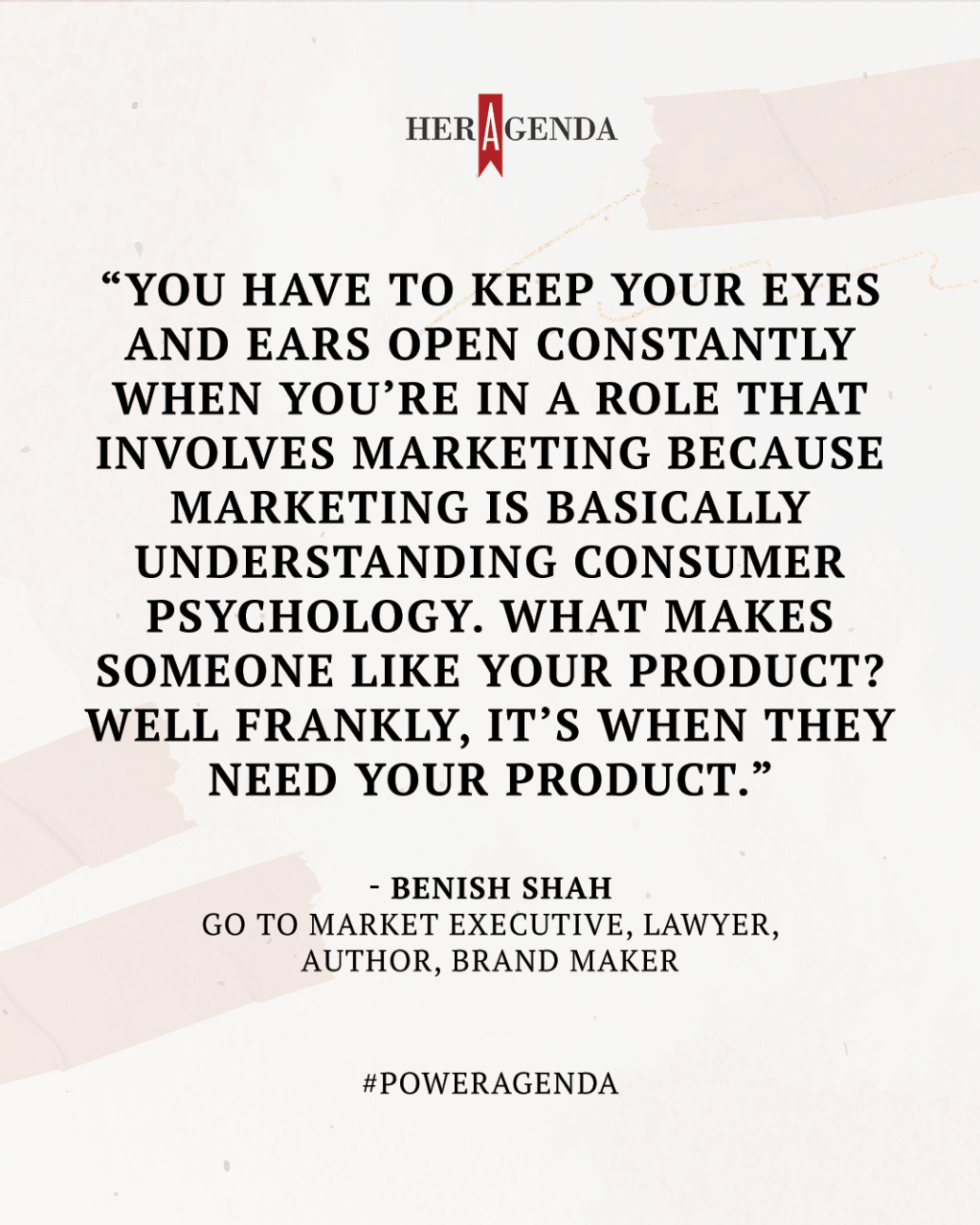 Her Agenda: Were there any challenges you faced while launching Refinery 29's first app?
Benish Shah: There were a lot of opportunities. When I first joined, we had three different apps that we were thinking about. We were thinking about which one would be the first one we launched and data showed that we should launch an astrology app because the astrology content on our site did phenomenally well. When we looked at markets of content, the natural answer was going to be 'oh this is doing the best for us, we should turn this into our first app.' Then we had really long conversations as a team. If we were going to launch the first app ever for the media company, it should be something that is in line with what we want to be known for.
Article continues below advertisement
At the time, we were really starting to push out into the news media world and that's how we landed on doing this app, which I use even after I left Refinery. It taught me the importance of understanding a perspective of data, but also bringing in market knowledge and helping other people understand that consumer behavior and market knowledge are often as important as data. One cannot override the other when you're making a decision like a big launch.
Her Agenda: ​How have your earlier experiences helped you in that specific role with this type of business model?
Benish Shah: When you go and hire an executive, or you go and hire a marketer, everyone looks for someone who's done it before. This always surprises me because they're like 'hey we want someone who's done this before but we also want them to be innovative.' That's usually two things that are diametrically opposed. I've built a career on saying, 'taking something to market is a skill set.' It can be a person, it can be a product, it can be a technology product. It can be whatever you want it to be but the art itself is taking something to market and getting people to want and need the thing you're bringing to them. That's what has been applied to anywhere I've been and that's what I've continued to apply. It's a very fascinating hiring strategy that people have which is 'I want you to have done exactly what I want you to do here' because that somehow shows you're going to be successful. I don't think that's always the case.
Article continues below advertisement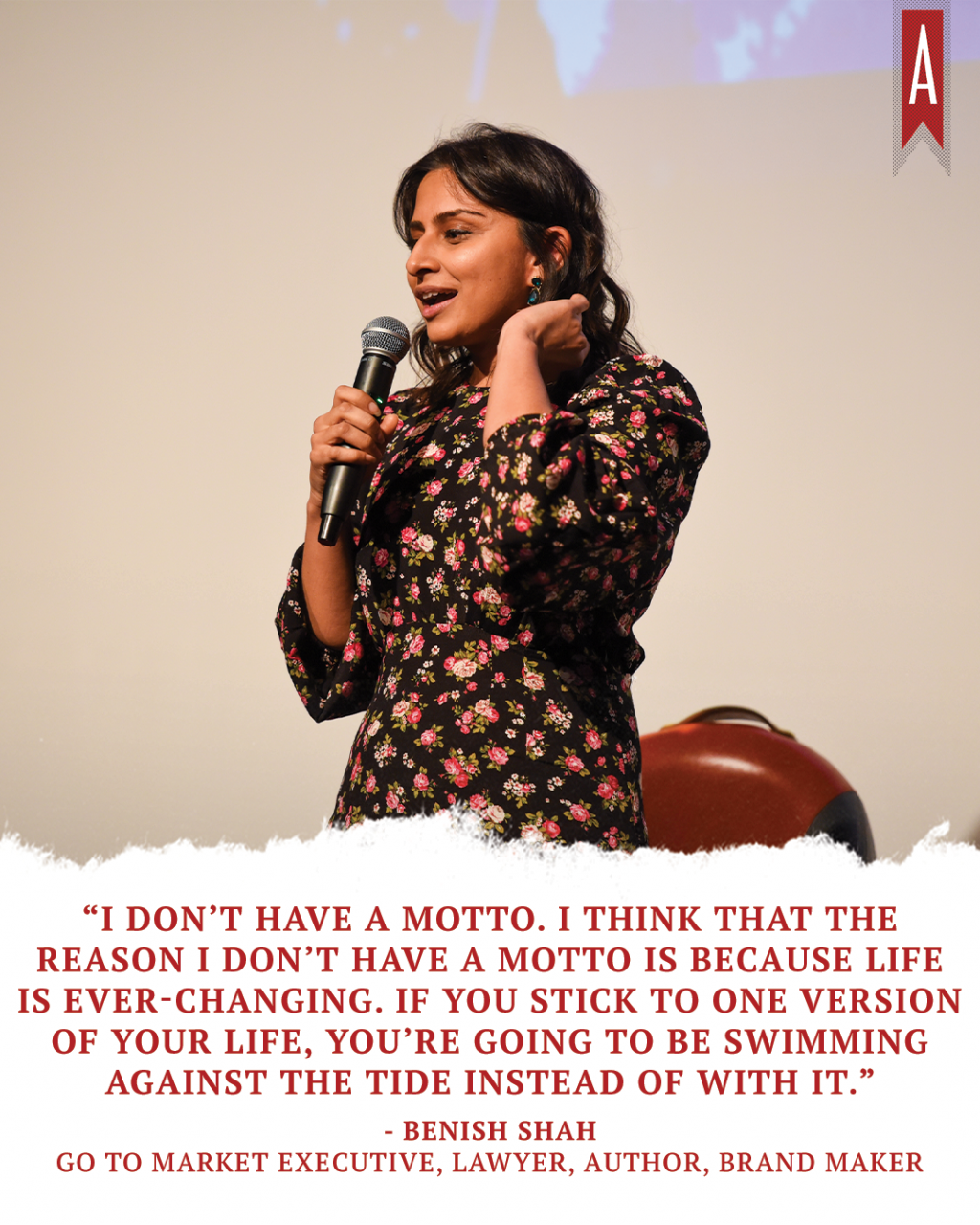 Her Agenda: What is the most memorable marketing campaign or accomplishment of your career thus far?
Benish Shah: I think honestly putting together the app at Refinery 29 was one of my favorites. We really worked together from the strategy of what it's going to be to the US research, to working with the designers to review what they had built, and how they could take that to market. It's what taking something to market should really look like. It's like a true partnership between all of the players with everybody having a voice, what we are doing, how we are doing it, and why we're doing it. Everyone was respectful of each other in their spaces and taking each other seriously.
Her Agenda: What is your motto?
Benish Shah: I don't have a motto. I think that the reason I don't have a motto is because life is ever-changing. If you stick to one version of your life, you're going to be swimming against the tide instead of with it.
[Editor's note: This interview has been edited for length and clarity.]