Black girls rock. Period. In a world where Black women are too often pushed aside, made to feel invisible, or hyper-sexualized this needs to be proclaimed — and thanks to Beverly Bond these words are more than just a mantra.
What began as a t-shirt evolved into a movement. A movement rooted in empowerment, mentorship, and the uplifting of positive imagery of Black women and girls across the globe.
As with most movements, it all began with an individual with an idea. An idea that model, turned DJ Beverly Bond acted upon after years of witnessing the misogyny and sexism in hip-hop. Lucky for us, it didn't end with the individual and it continues to grow thanks to the team and tribe around Bond that helps the vision to grow.
The funny thing about first steps, and taking action, is that you don't know where it will lead you. For Bond, once she created the shirt, she knew there was a need for something greater. So, she created a non-profit organization which ultimately led to the creation of an awards program that we'd never seen before. One that existed to empower Black women and girls, highlight positive images and narratives on women of color in media, and promote positive role models for girls. Launched in 2006, the awards program inked a deal with BET in 2010.
Beyond the awards program, the mentorship and education programming continues to evolve. Recently, Bond and her team launched two new platforms, one to empower girls through STEAM, GIRLS ROCK! TECH, and another to elevate women in music: ROCK! LIKE A GIRL.
EBONY magazine listed Bond amongst its Power 100 list five years in a row. Bond was also recognized as one of ESSENCE Magazine's "40 Fierce and Fabulous Women Who are Changing the World" and she was awarded for her work by the NAACP. It's clear that Bond has emerged as a force in her career and a respected voice around the world. Find out how it all started and what's next for her and Black Girls Rock:
Article continues below advertisement
Her Agenda: I want to start out by asking you about your beginning. After modeling, when you first started as a DJ what made you decide to go that route versus anything else you could've done?
Beverly Bond: I became a DJ by accident. I love music. I collected music like a DJ, I collected vinyl. But I never actually wanted to be a DJ, I always thought that was a huge responsibility, plus I had a job — I was a model. It was a hobby that turned into a career. So I say it's accidental but I think everything is on purpose when you're prepped for it.
Article continues below advertisement
Her Agenda: There weren't a lot of female DJs when you started out, there's still not a lot now still but they're more prevalent. With that said, what was the hardest thing about breaking in as a DJ especially as a former model? I could imagine perhaps people maybe not taking you as seriously as they should because of your background as a model.
Beverly Bond: One of the most interesting things was that I was underestimated as a DJ because I was a woman, because I was a model but to me that was my advantage because people would never see me coming. I looked at it as an advantage. The other one of the things, back in the day we had to carry crates so whether or not I had somebody to help me carry them I had to get those records up and down five flights of stairs — that was one of the hardest things. Also, as a woman in hip hop listening to a lot of music and loving hip-hop — it's funny because Ava Duvernay just said as women to love hip-hop the way we do it's like being in love with your abuser. Being a woman and constantly ingesting this kind of content there's a love hate relationship. And in the [music] industry, there was a huge amount of sexism and it was something that I was constantly paying attention to and that's why I started Black Girls Rock.
Article continues below advertisement
Her Agenda: What made you say 'okay, I'm the one that's going to make this change. I'm the one that's going to start this organization.' What was that moment?
Beverly Bond: As women in the industry a lot of [us] have conversations about the ridiculousness of the sexism and content. Unfortunately, a lot of the time women were always met with huge opposition — whether it was people dismissing their knowledge about music and hip-hop or whether it was that they were dismissing them saying that somehow there was some jealousy towards the women who were scantily clad in the videos all the time, and again nothing's wrong with that either — it's just that that was the one narrative that you would see with black women especially in a glamorized way. It was the only way we could be seen.
When I started Black Girls Rock, the idea was a t-shirt but I knew immediately as I started designing the t-shirt, the first thing I did was I decided that I wanted to do a t-shirt that had all of the black women who rocked in the world through time. So I wrote down every name of every black woman from Harriet Tubman to Sojourner Truth to Beyonce to Mariah Carey to Shirley Chisholm, you name them I was writing it down. And I'm running out of paper because there's so many black women that rocked for so long. I'm looking at these names and I'm thinking, 'wow, our girls don't know all of these women and they don't know the the incredible contributions that these women have have given to society. Why aren't these women being put on the pedestal that they are supposed to be put on?
Article continues below advertisement
I immediately thought, I've got to do something bigger. This affirmation is not just for me. This affirmation is bigger than me. It's for all of us. At that point, I was like I'm starting an award show. I'm starting a mentoring program and of course I'm a do these t-shirts right. I just literally had tunnel vision from that moment. From that moment I just never stopped and just never looked up.
In fact I didn't look up until, I'll tell you when. In 2010 I finally signed a deal with BET. I started Black Girls Rock in 2006, we had the award show our first honoree was DJ Jazzy Joyce because I always thought DJ's should have an award and MC Lyte. The second year we went to Lincoln Center. By the second year, I had TV offers on the table (in 2007.) I didn't make a deal until 2010 because I wanted to make sure that the message that Black Girls Rock represented would stay intact so that year BET actually hired me to DJ for their Upfronts. That's when they announce their new shows. We still were in the negotiating process so it wasn't clear whether or not they were going to announce my show.
Article continues below advertisement
But during the time I was at rehearsal we had already made enough of head way with my lawyers that we could go ahead and announce it. So as I'm up top DJ'ing at the rehearsal, they put the show up on the screen and at that moment I was overwhelmed like 'oh my God like look what I did.' I started crying and it just came out of nowhere.
Beverly Bond: And Debra Lee came up to me she was like 'Are you okay? Did we do something wrong?' I [said] 'No I just actually…I never looked up since 2006. I just was focused and I was just doing this and now I see what impact this is about to have on the entire world. I'm just overwhelmed and grateful.'
Her Agenda: That is amazing thank you so much for all of that. So you mentioned before you got other TV deals but you waited and even with the BET deal you wanted it to be just right. Who do you have around you making sure that you say yes to the right things and no to the things that aren't right?
Article continues below advertisement
Beverly Bond: Well I mean first I rely on my inner instinct. I've learned to be an independent thinker. I moved around a lot and I think that caused me to go within– which made me somewhat of an introvert but I think it also made me an independent thinker. I rely on my instinct and my own courage first, and I surround myself with a bunch of wonderful people who are on the same path, people who care about more than just their own success. Because of the platform that I've built, I attract those type of people around me. Even when we do our mentoring programs, when I pick up the phone and call people I'm always so surprised but they are always down. We just did a conference for young girls, a leadership conference and I got everyone from Dr. Helene Gayle to a Representative from the White House to Dutchess the tattoo artist to Vashtie to Lil Mama. Women from all walks of life. They all were just so willing to use their voices and use their platforms to help propel the next generation so I'm blessed in that way.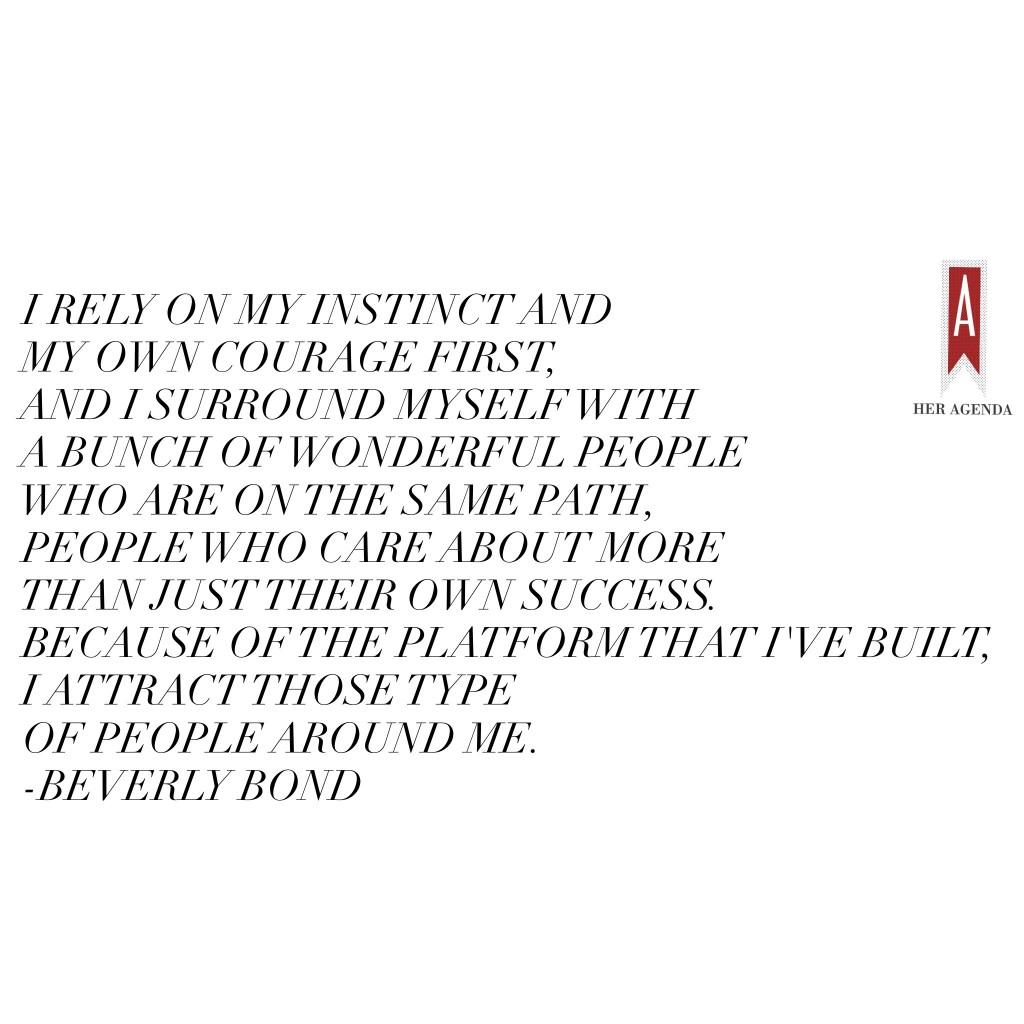 Article continues below advertisement
Her Agenda: How about as you've been scaling and you're running an organization at the end of the day, and a lot of the time people think it's all the glitz, glam and the fabulous award show and that's it. But it's a lot of grunt work, a lot of behind the scenes. So what's been the most surprising thing about starting this organization and having it scale?
Beverly Bond: When I decided to do the non-profit I thought that people would just come and support. I was like 'oh everyone is going to just give me donations and we're going to get grants' and that's not the case. It's one of the hardest things to do this kind of work but it's so rewarding and so fulfilling. The surprise is how much you can make happen, how far you have to push yourself. You have to do it whether somebody's there to help you or not. For me, because the purpose is much bigger than my own success it has to keep moving. For me, it's just been like that Diddy 'can't stop, won't stop' mentality.
Article continues below advertisement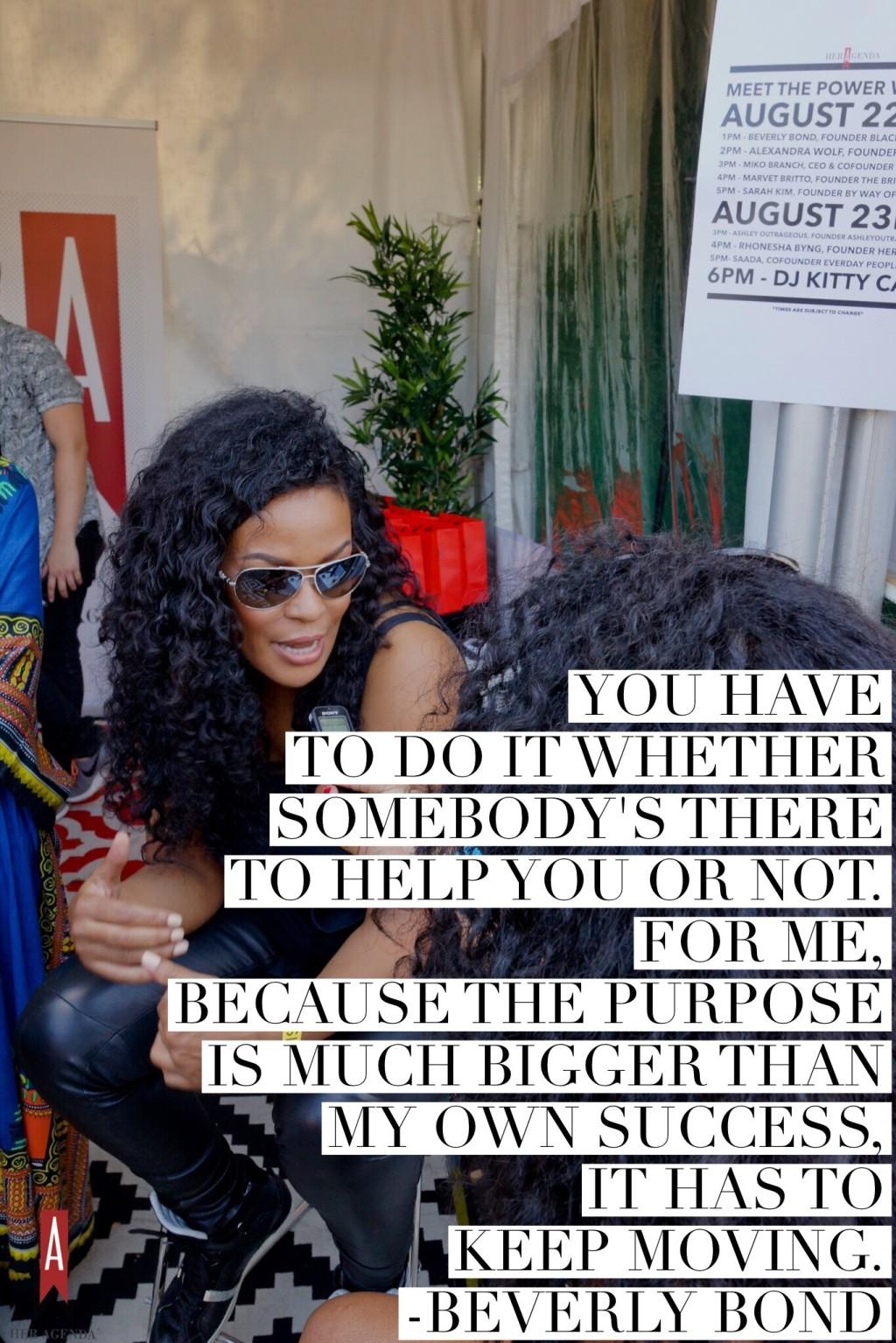 Her Agenda: Can you tell me about one of the girls who was in the BGR mentor program in the early days who is working now and what she's doing and what kind of lives those girls are living now?
Beverly Bond: Actually, one of our girls who's here today [at Afropunk] she works for Complex now. She loves music like me and I love that she's now a journalist at Complex Magazine. Most of our girls because they started so early with us, at 12 years old, I do believe this would be probably the first or second year that we have college graduates. But all of our girls are in college every single one of them has gone on to [schools like] Howard, NYU, Spelman, Tufts.
Her Agenda: What is your advice to someone who sees a problem and feels very moved to solve it and maybe feels hesitant to start?
Article continues below advertisement
Beverly Bond: You just have to start where you are. Honestly, I didn't know anything about mentoring before I started Black Girls Rock. I just knew I knew how to DJ. I knew that although I was shy and introverted, as a DJ I was powerful. I knew that it gave me confidence. So I [said to myself] if I can instill this kind of confidence in girls through this art form, I don't care if they never become DJs. I just want them to understand the importance of what you learn when you master a skill: discipline and work ethic and integrity and raising your bar. So, for me, starting with what I knew turned into what you see.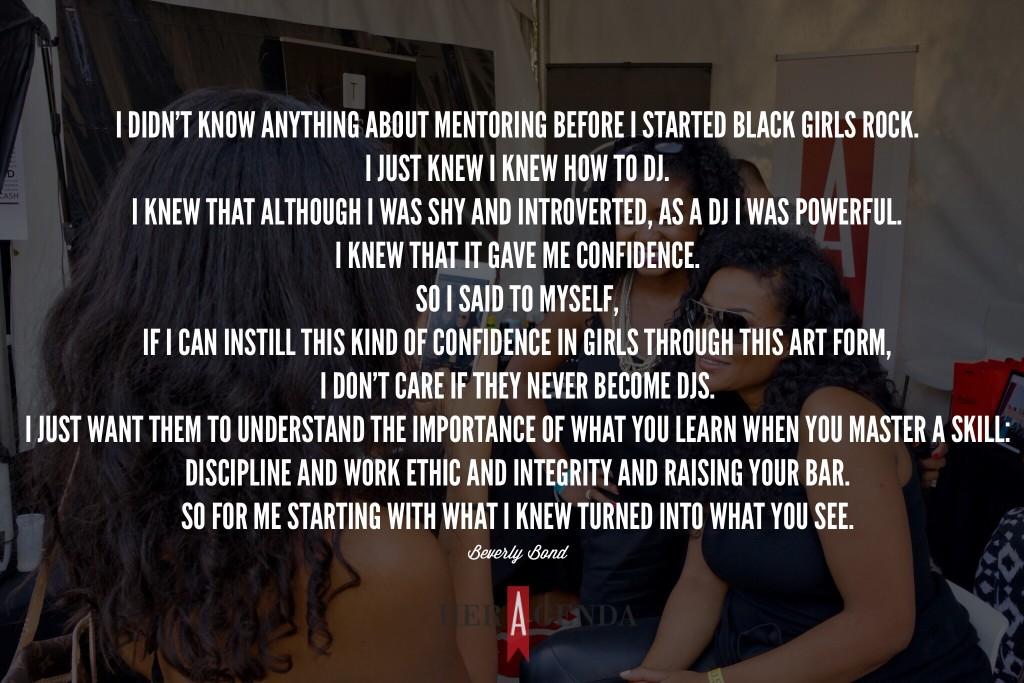 Article continues below advertisement
Her Agenda: What do you feel is the connection between music, entertainment and activism how do you feel like they work together and intersect?
Beverly Bond: I think that they should be more connected than they are today. We've seen in the history of music and entertainment, we saw our artist stand strong behind our activists and also become activists. There is a huge corporate hand on music and art [so] lot of artists aren't really speaking for themselves. History has shown us that artists have not been afraid to use their voices and their platform to propel movements that are for the advancement humanitarianism. Now, especially with this whole time period of black lives matter it is amazing to see so few artists using their voices and their platforms it's really sad, it's cowardly really. There's nothing else to call it. It's almost like they're waiting for this whole black lives thing to get over so we can get back to them. As consumers we have to start being aware of it and also holding not just our artists accountable but the companies that they work for — the management team, all of it. If the record company is purposely keeping out those artists that do have so much to say then we have to look at 'why is this the only choice? If I turn on the radio everyday why is this the only choice of music that I get to hear? Why do I have to come to something like this to get a diversity in my story?' My story is not this one thing but if you turn on the radio it is. It's kind of telling what's happening right now and how few voices are aligned with the movement that all of the rest of the world seems to be participating in.
Article continues below advertisement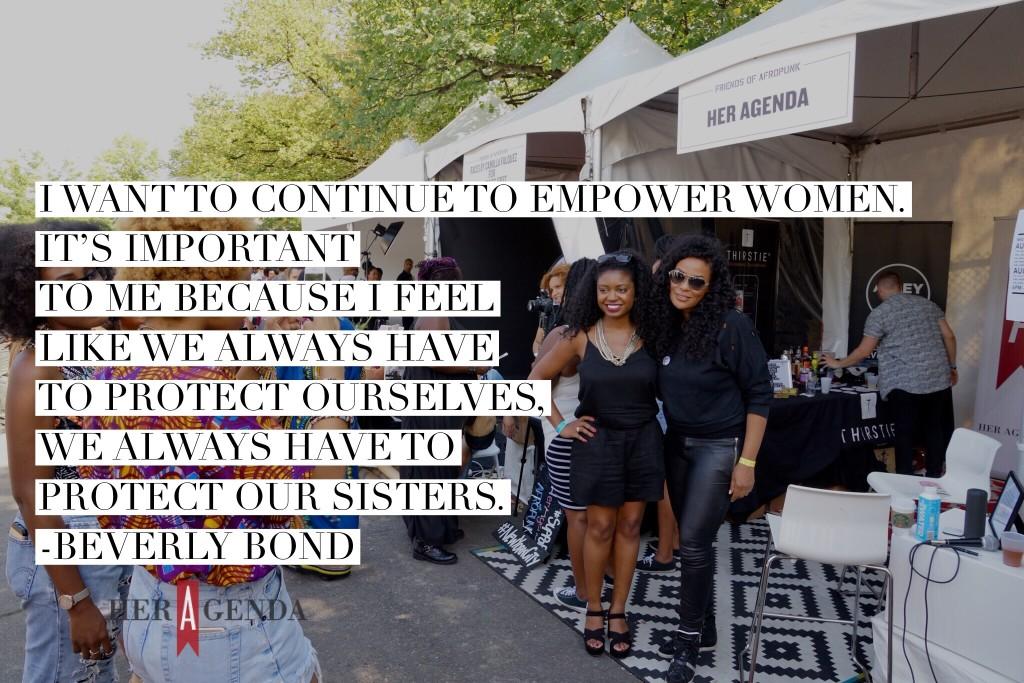 Her Agenda: With Black Girls Rock, what's the goal going forward?
Her Agenda: I want to continue to empower women. It's important to me because I feel like we always have to protect ourselves, we always have to protect our sisters. I don't know if you've seen the conversation around the Dr. Dre Straight Outta Compton movie right now but the comment sections –if you look at the comment sections and you look at all the women who are okay with abuse of women by saying 'oh that was a long time ago…why does she want this money.' It's crazy. We always have to be our sister's keeper. I want to continue to build platforms that support other women.
Article continues below advertisement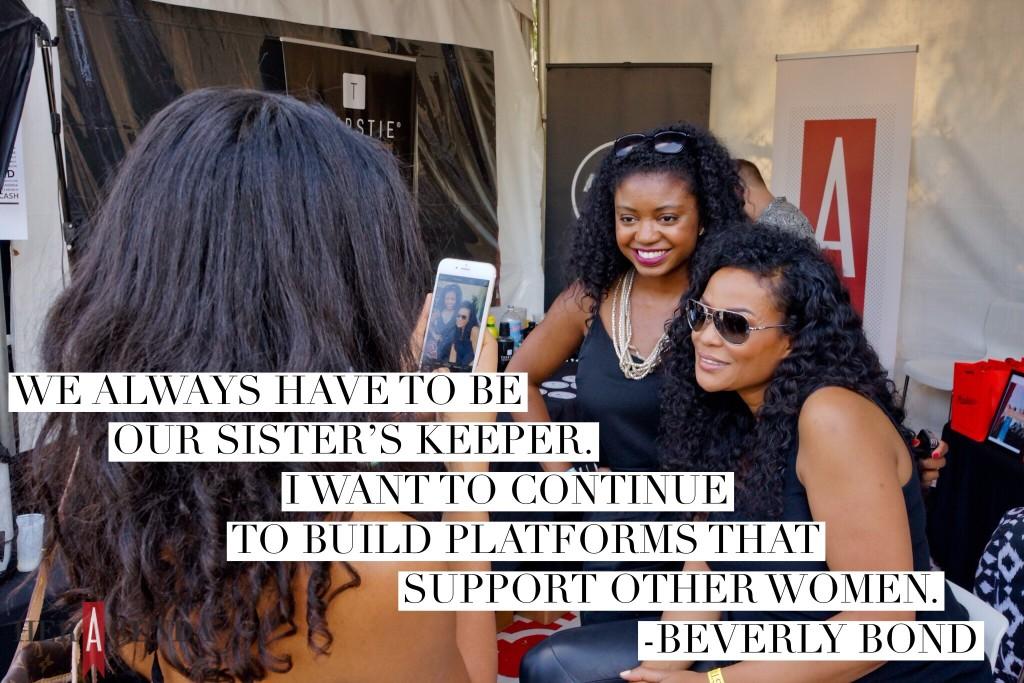 Her Agenda: What is your personal motto?
Editor's note: This interview was edited for length and clarity. This interview took place during AfroPunk 2015. Beverly Bond was one of the featured Power Women in our booth that we created in collaboration with AlleyNYC. Thank you to Beverly and her team for being our guest, and to all the amazing women who stopped by our booth.