Brandice Daniel is not your typical fashion executive. Firstly, she is not from the Big Apple and secondly, she did not have a network to tap when she left her hometown of Memphis, Tennessee. Furthermore, her fashion capital is Harlem, New York. As the founder and CEO of Harlem's Fashion Row, Daniel created a dynamic platform for multicultural fashion designers.
Never one to shy away from the outsider label in an industry known to cling to a few, Daniel keeps HFR exciting by challenging herself with bigger goals that leave her with one question, "Can I do that?"
Fresh off a new look–shorter, blonder hair–the adrenaline junkie spoke with Her Agenda in-between planning meetings to share the beginnings of HFR, its future, and where her sanctuary is.
Her Agenda: You are originally from Memphis, TN. Can you share more about the city's influence on your career?
Brandice Daniel: Memphis has such a big impact on me. I don't know anyone from Memphis that doesn't leave that city loving it, and realizing how much of the culture of Memphis contributed to their success. It's all about hard work. It's a very honest city. Memphis people are so blunt and so honest about things. That city, now that I look back on it, prepares you to go out into the world. It prepares you for rejection; it prepares you for so many things. I don't know if it's that raw grit of soul music and the struggle of civil rights, or that Dr. King was assassinated there. You grow up in a way that your eyes are wide open. They are taking you to the Civil Rights Museum in the kindergarten. My daughter hasn't even been yet but we grow up knowing everything. I think the city prepares you for the world.
Article continues below advertisement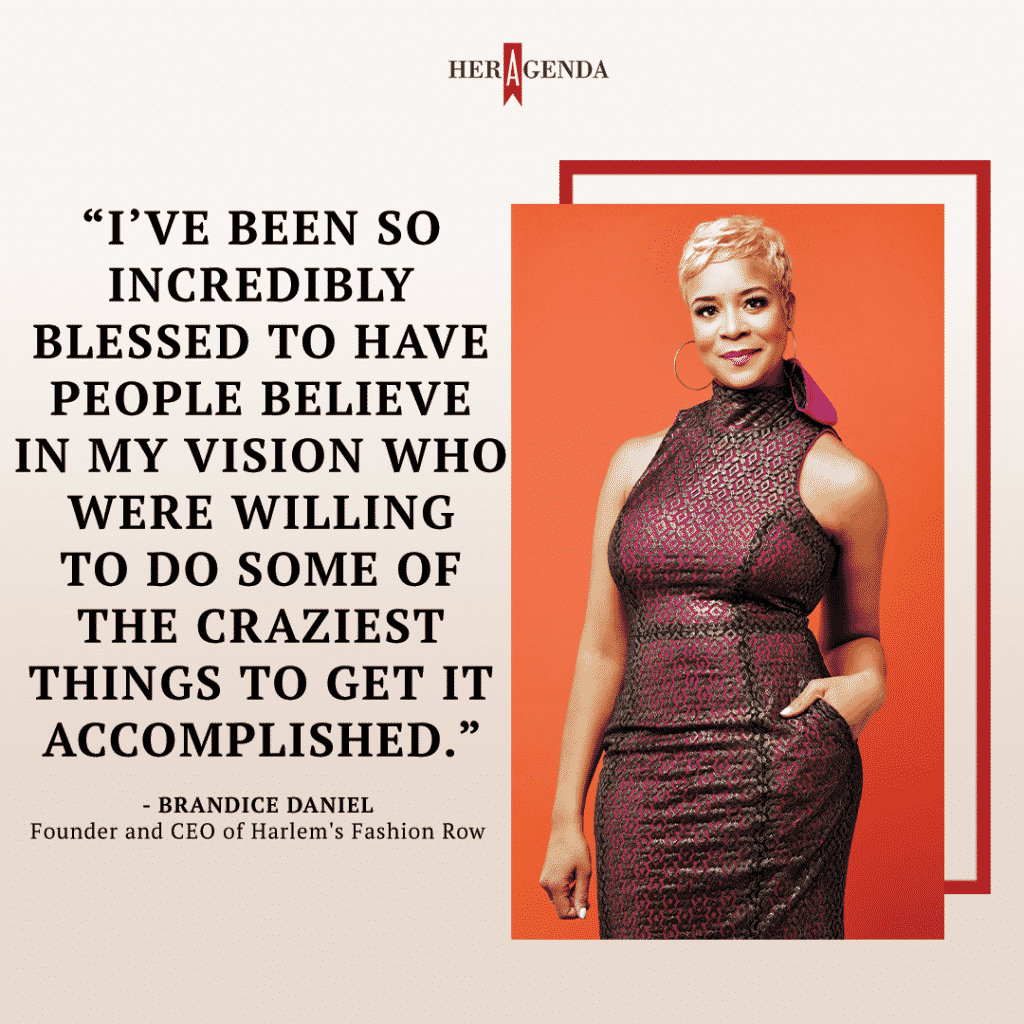 Her Agenda: What influence does Harlem have on your career?
Brandice Daniel: I don't think I would've started Harlem Fashion Row if I hadn't been living in Harlem. Harlem has this duality in that it's so worldly, and then it has this other feeling almost like a protective cocoon. You're in this beautiful neighborhood and people actually care about you and look after you. I think that duality allows you to dream really big but in a very protective environment. I don't think I've ever expressed that out loud before. I think that's what's made it so incredibly special.
Article continues below advertisement
When I came up with the idea of Harlem Fashion Row, the people who I talked to about it were in Harlem. I was meeting at coffee shops in Harlem. I had meetings about the event at my Harlem brownstone that we were renting. I think that duality of Harlem continues to have a great impact on me.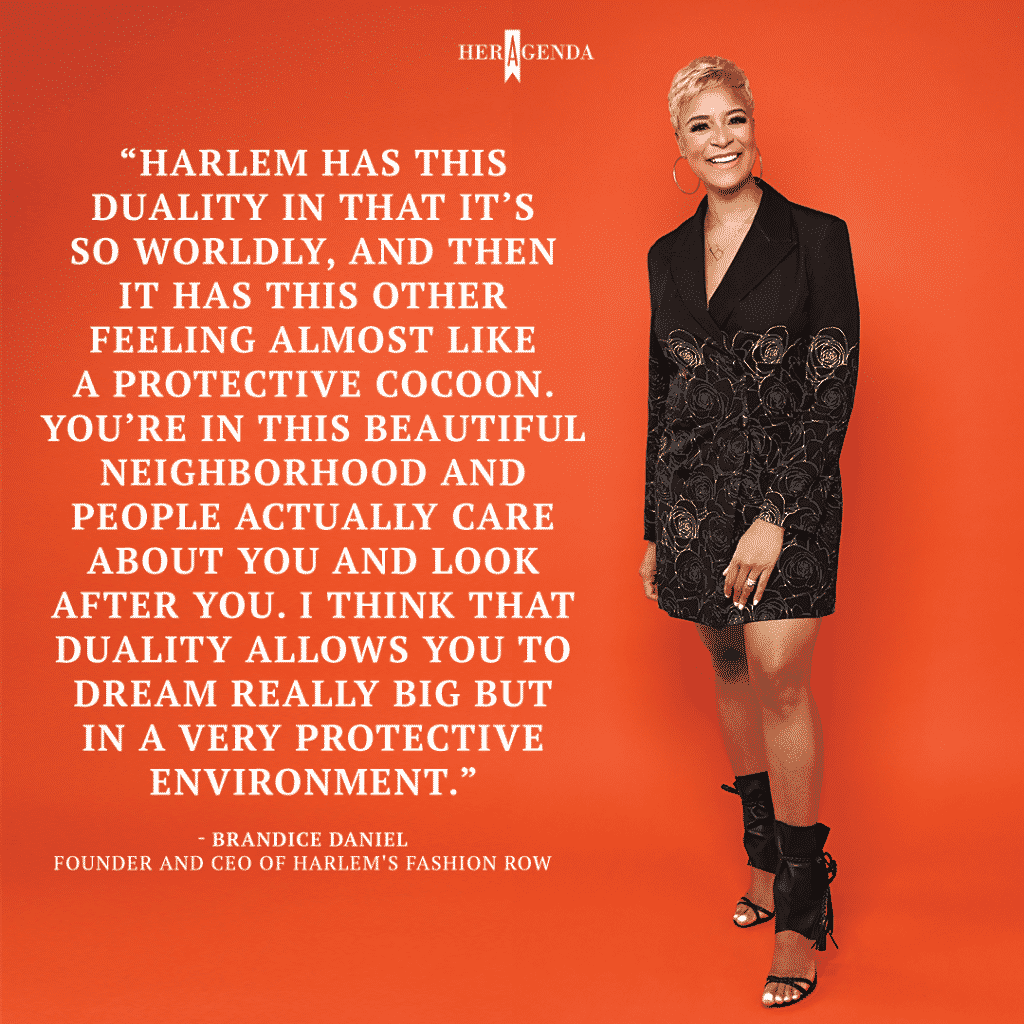 Article continues below advertisement
Her Agenda: Do you still feel like a fashion "outsider"? What's your take on the perception of outsider versus insider?
Brandice Daniel: This is the topic right now. I'm still a fashion outsider. I've chosen to keep the mindset of a fashion outsider. It's how I came into this. At first, I saw it as a disadvantage. I finally turned the corner and realized what an advantage it was. Now, I have to almost fight to maintain my position as an outsider. I am talking to so many insiders. It's really important for me to keep all the things that are special about being an outsider. As an outsider, you can come to the table with so many different unique ideas. My fear is losing that outsider mentality and blending in with the status quo, and I don't ever want to do that.
Her Agenda: You had a lot of friends and family support when you first started. Is there a story that exemplifies what you stand for?
Brandice Daniel: I have too many stories. I think about my friend, who is an attorney. She came in and took on the legal work for the first four years at no cost. The first show I ever did, my roommate, Alyssa, and a friend were pasting programs together at two o'clock in the morning. She said, "Go to sleep. You're just messing everything up. You're tired and you're not good at this." She cared enough about what I was doing. My niece, Deondra, who's been like my right hand, one night we were up all night long because I had committed to all these events for Fashion Week. I found her in my living room with her laptop in her lap asleep. She fell asleep working!
Article continues below advertisement
I've had a tribe of men and women. We had an issue in L.A. one time, and my photographer, Rog Walker, was in the pool trying to put together a runway. I've been so incredibly blessed to have people who believe in my vision who were willing to do some of the craziest things to get it accomplished.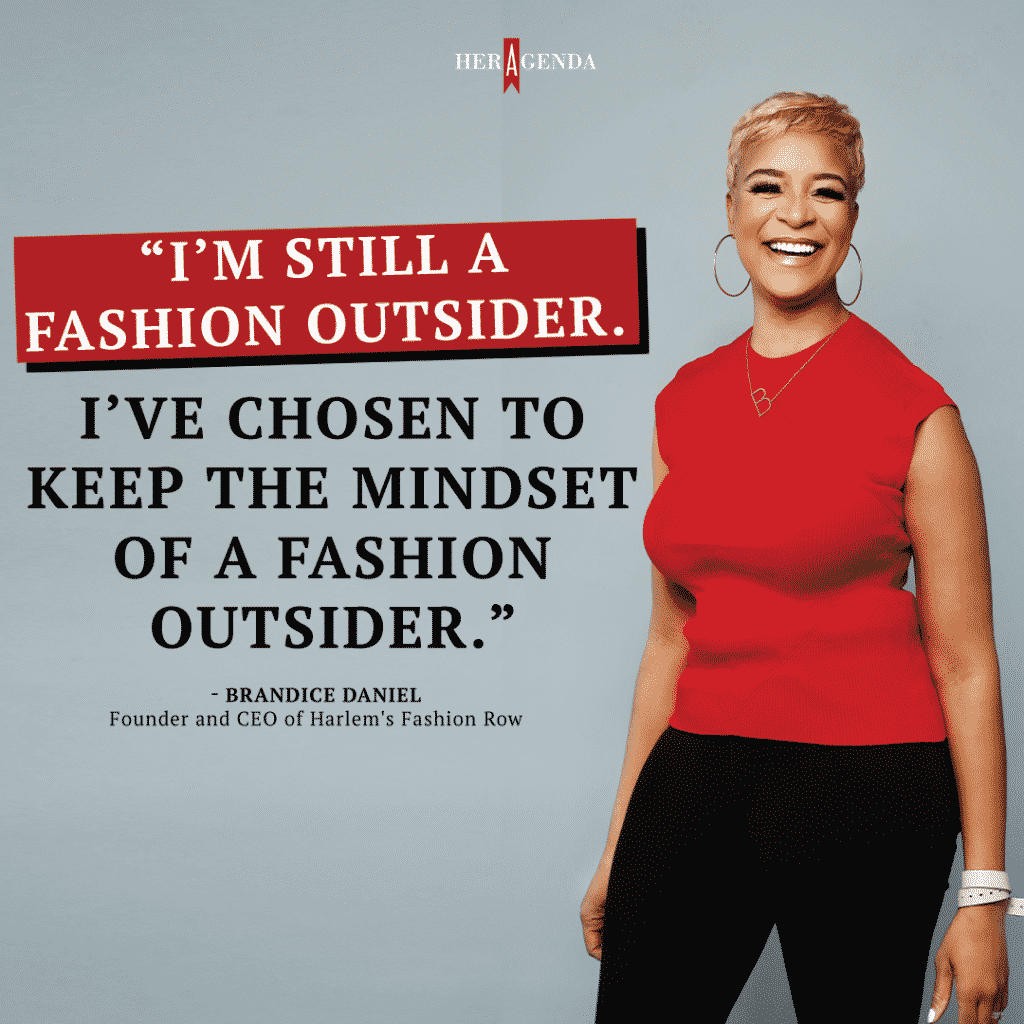 Article continues below advertisement
Her Agenda: On the flip side, were there learning lessons and pain points along the way?
Brandice Daniel: It's so funny, I had so much help in the beginning when I had nothing but a dream and so much passion and hustle. I have so much help now. In terms of people. I've been incredibly blessed. I do think you have to make sure people are really aligned with your vision and not their personal agendas. That hasn't been a running theme in my story, it's been some blips.
Listening, following your intuition, being clear about what your vision is, not shrinking, so that people know you are the leader, these are muscles that get better over time.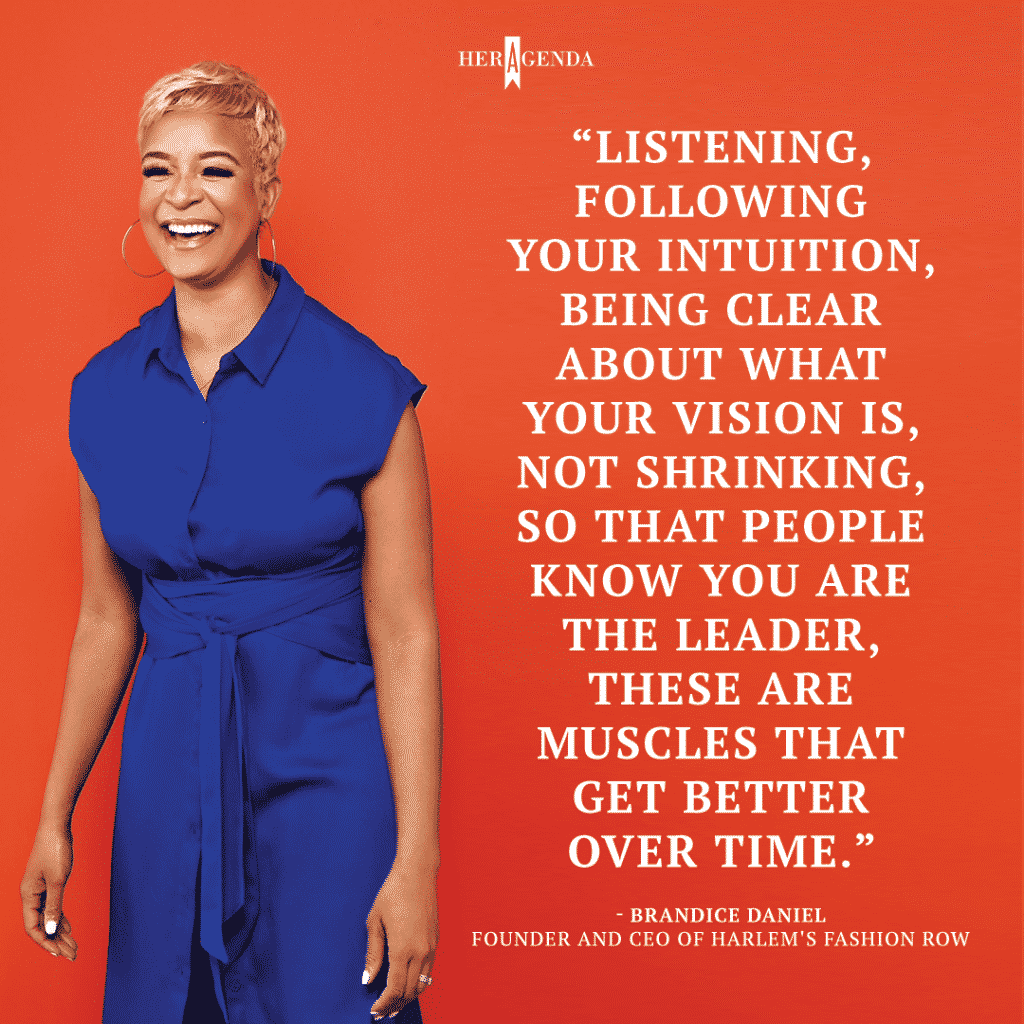 Article continues below advertisement
Her Agenda: As HFR approaches its 15th anniversary, do you think in this time or in the next 15 years, the industry won't need to wait for reckonings or cultural shifts to be more inclusive?
Brandice Daniel: Unfortunately, I haven't seen the shift that I'm seeing right now in the last 13 years. We've had more traction in the past year than we have had in the last 13 years. HFR turns 14 in August.
I'm of the mindset that when people show up, I have a drink in hand waiting for them. I don't really judge when people come or when they don't come. "You're here, great, let's go to work."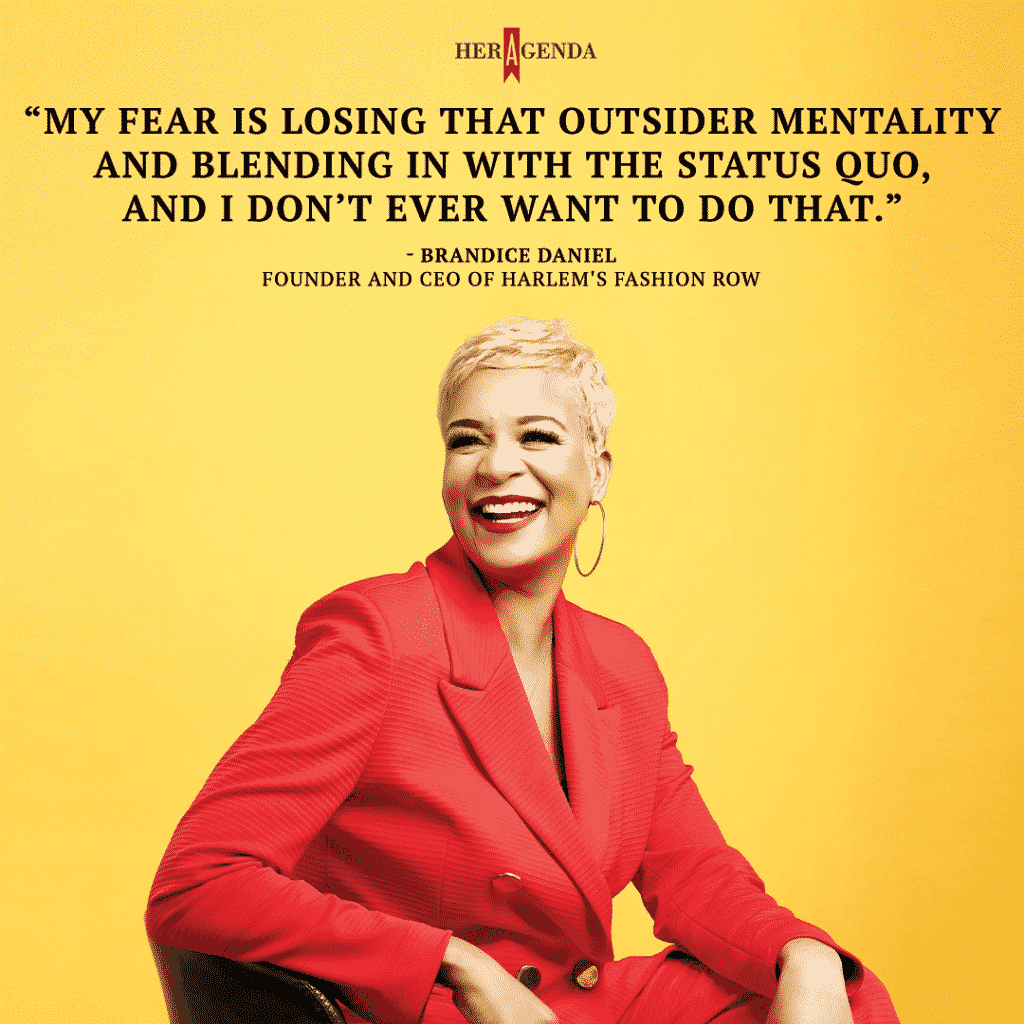 Article continues below advertisement
Her Agenda: What is it like to reflect on the production of your first show, compared to more recent years?
Brandice Daniel: Sometimes it brings me to tears. We did an event in 2019 at the top of the Freedom Tower. Sometimes it's so overwhelming. I don't think the heartbeat has changed. What people felt in the beginning of HFR is what they still feel now. We have tried very hard and been very intentional about keeping that.
Her Agenda: You've had successful partnerships with Nike, Janie & Jack, etc. What makes a successful partnership?
Brandice Daniel: A successful partnership requires a partner committed to our cause. Giving the designer and company autonomy and then it's about how do we tell this story–not put product out–but how do we tell this story as a way to invite other people. You also have to have a partner willing to invest in telling that story.
Her Agenda: What are your expectations for HFR post-Covid?
Brandice Daniel: We have not stopped or slowed down. We'll keep this virtual. Some of the things we do will stay virtual because I love it so much better virtual. That will be the big change for us.
Her Agenda: What do you do for you?
Brandice Daniel: I just took my first real vacation. It was amazing. I was so committed to that. It was my daughter's spring break. I love sitting in my backyard. I did all these things to set up my backyard. I have to buy pillows, new flowers, and all of this stuff just to make it my little sanctuary. I love hanging out with my girlfriends and their children to just let our hair down and talk about whatever.
[Editor's note: This interview has been edited for length and clarity.]