Briana Thompson, the founder of Spiked Spin, thrives on disruption. Her brand's notable tagline "insult the standard" is all about claiming space in the fitness arena, an industry that is not always as welcome or inclusive as it could be.
While Thompson prioritizes wellness daily, her relationship with wellness steers away from binging or intense dieting and instead focuses on sustainability. This intentional relationship transcends into her business where she creates space for Black women to come as they are in a space created for them to thrive in their own wellness journey.
After discovering a need for spin classes conveniently located in her community with people who look like her, Thompson was able to open her own fitness outlet. In November 2019 Thompson opened a first-of-its-kind flagship location for 'Spiked Spin' in Bedford-Stuyvesant, Brooklyn. She shares her journey with the fierceness and confidence of a woman who has put the work in, yet is determined to do more.
In this candid conversation, we spoke to Briana Thompson about the grind that it took to launch Spiked Spin from pop-up shops into a flagship store in Brooklyn, her journey in prioritizing wellness, and key tips for others to use intentionality to do purposeful and transformative work.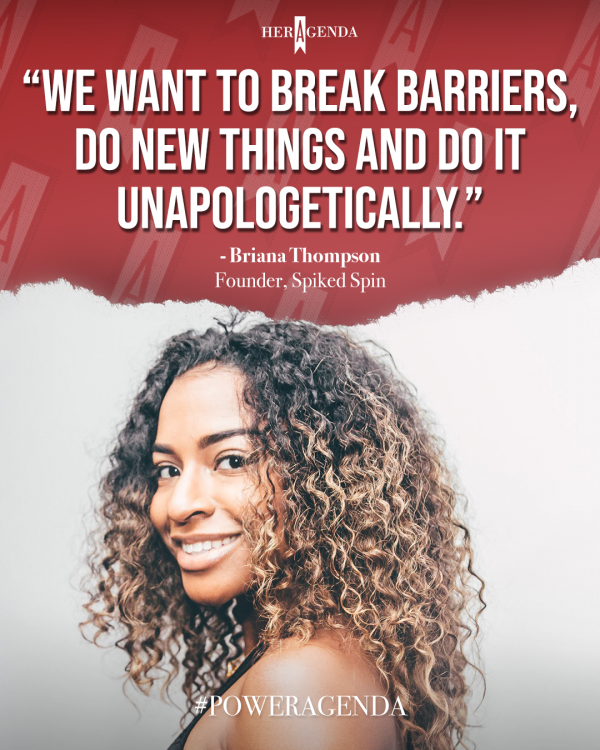 Article continues below advertisement
Her Agenda: Your tagline for your business is a strong statement: "insult the standard." Why was "insult the standard," the one you decided to go with?
Briana Thompson: [A few years ago], Shauna, who helps with all of the H.R. management for my company and then Michelle, who is my best friend and basically jumps in for whatever we need…we were brainstorming the pillars that we wanted to be the foundation of Spiked Spin. [The creation of] 'insult the standard' was definitely a joint effort. We didn't want to be associated with the same words and themes that are out there when you think of bikes. We want to break barriers, do new things and do it unapologetically. And when you hear the word insult, that's the level of grit, intention, confidence that we want to bring to the industry. It is an insult and we are okay with it being such a strong word because that is the passion that we have in what we are doing for the wellness space. That audacity. Being audacious is key.
Article continues below advertisement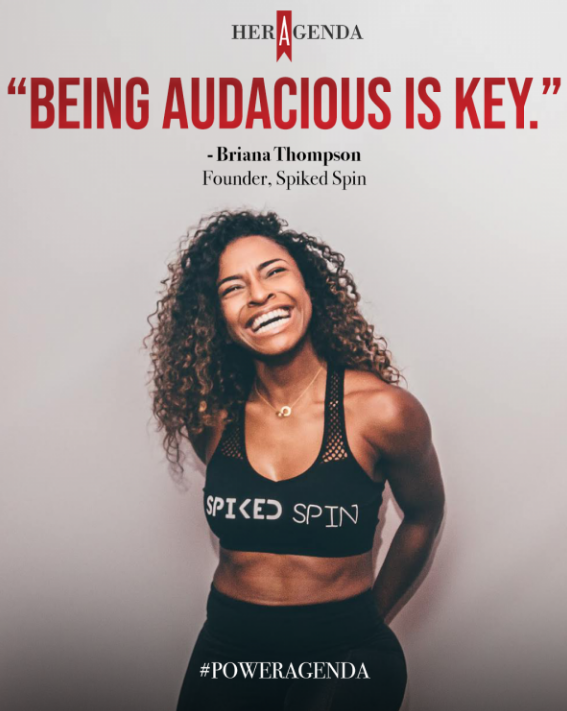 "Being audacious is key." -Briana Thompson via Her Agenda
Her Agenda: Recognizing a need is one thing, but acting on that need and putting passion into action is a completely different thing. What advice can you offer other women who want to make a difference and have passion, but feel overwhelmed by the process? What would be the first step for them?
Briana Thompson: The first step is identifying what really is underlying the passion. There are so many things that I'm passionate about, but they don't necessarily align with what was given to me to be my gift.
Article continues below advertisement
There's a difference between things that bother you and things that are truly put in your spirit to be a part of [creating a] solution. Realistically, I would like to be able to stop all of the [problems in the world], but I can't. Knowing where your spirit, experience, and background [can] take you is important. Wellness is something that I've been exposed to my entire life. When I look at it, it's like the stars have aligned for me to be in this position and go on this trajectory.
It's not just telling yourself, 'I need this, let me do something about it.' It's more, 'I don't like this, am I the person that can do something about it?' [Then ask yourself] 'Am I the person that should do something about it – and why?' And when those things add up, alright – get to it.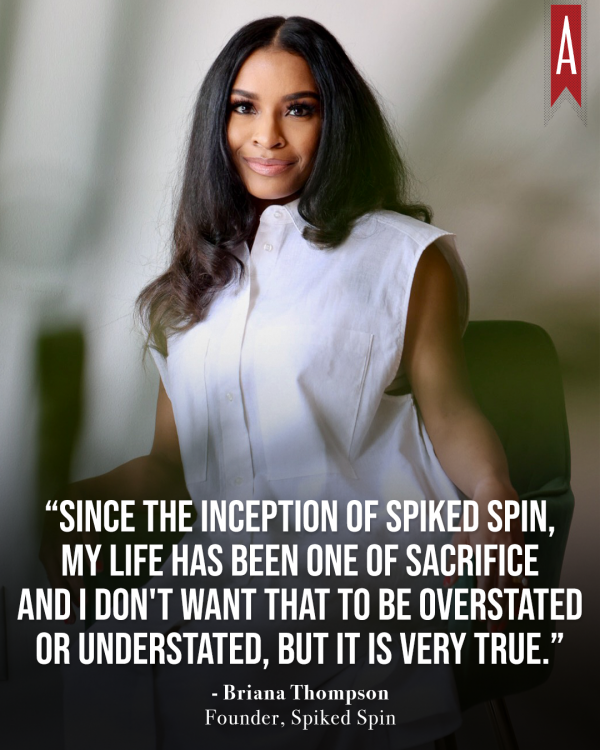 Article continues below advertisement
Her Agenda: Can you talk a bit about the grind that went into creating Spiked Spin? What was your schedule like and what kind of work did you have to put in? What sacrifices did you have to make?
Briana Thompson: Since the inception of Spiked Spin, my life has been one of sacrifice, and I don't want that to be overstated or understated, but it is very true. For the first four years, I was the only instructor. I was the social media manager. I built the website. I booked all of the partnerships. I negotiated all of the contracts. I traveled state to state to do pop-up experiences. The name of Spiked Spin that people know today was single-handedly built by me. I used to feel uncomfortable saying that. If you look back in past interviews you hear me say 'we' and 'us,' but I was referring to myself. For a long time, I felt uncomfortable because I didn't want other people to know that it was me doing everything because it feels like, oh, well, that's not a real business, and it diminishes all of the work. But now in retrospect, it actually prepared me to be an amazing leader and build a company culture.
Article continues below advertisement
I've done every role. I've cleaned the bikes. I've worked the front desk. I've swept the floors. There's no role that's above me or beneath me. That is the expectation of every person that will ever work at Spiked Spin. To take off that ego, because it's not welcome here. This is truly a company that at this stage at least everybody has to be willing to do everything.
[My] hustle really looks like me being willing to say I will do anything to make sure this company succeeds because it's not about me. It's about these lives that are going to be touched, these people who are going to be impacted, and this community that's being built.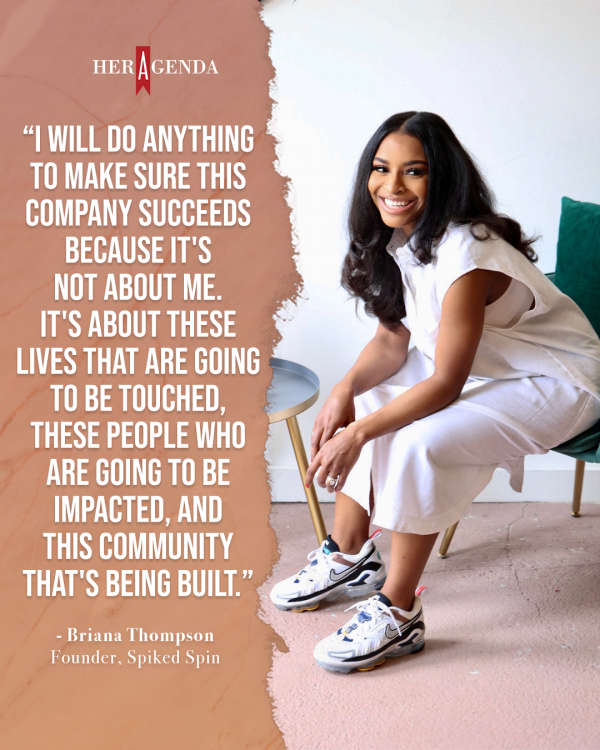 Article continues below advertisement
When I say sacrifice, it's not only a financial sacrifice but also sacrificing time. It's missing important moments with friends or family but also sacrifices of self. When you're truly building something that's going to last, it's not this beautiful picture. It really is a day in and day out grind.
Her Agenda: Can you talk more about opportunities not being available, where you live (or lived)? How did that correlate to you choosing your location in Bedstuy Brooklyn, home to predominantly African-Americans and many Black greats in history?
Briana Thompson: I was introduced to the boutique cycling and boutique fitness industry overall throughout my career, which was in digital advertising. We would get to go to all of these really amazing boutique studios that were all in Manhattan. They were all concentrated in the same areas of Manhattan- Chelsea, Tribeca, Soho, etc. And every time I would want to go to a class outside of work hours, I had to go all the way to the city. There [was] nothing in the immediate vicinity to my home, which is in Crown Heights.
Article continues below advertisement
When I say Spiked Spin is for underserved communities, that's exactly what I mean. There are people who live in these areas who have the discretionary income to go to a boutique studio. I think when we say underserved, people automatically equate that to poor, and that's not what it is.
When we were thinking about where should the first Spiked be I wanted it to be in a community that was so culturally rich. There's so much beautiful history in Bed-Stuy. I think that it's important for people of that community, who are seeing it being gentrified every day, to be able to come into my studio and be able to see that it is Black woman-owned.
I have so many clients who have been born and raised in Bed-Stuy, and they are so appreciative to know that this is theirs. That they have this beautiful new facility, that caters to all people in the community, that feels polished, that feels premium. All of those things matter to me. I didn't want to cut corners.
A lot of people associate Black-owned businesses with lesser. For me, I thought about what are the things that are offered by our competitors? How can we continue to provide as great of an experience or better at a lower price point and be able to compete in the wellness space, and be a wellness resource to people who need it?
Her Agenda: Besides cycling, what else is included in your wellness routine?
Article continues below advertisement
Briana Thompson: My lifestyle is wellness. That includes the way that I rest. I try to create a haven in my bedroom from the sheets that I use to the mattress that I use. That includes my skincare products, products I ingest, the food that I'm eating. A lot of times people make wellness more complicated than it has to be. It's just making the wiser, healthier option when you're given the chance. I'm all about balance. If you know me, you know that I eat donuts. I think that's what's important to show and share with my community. Because the reality is we get one life and I don't believe in deprivation. I just believe in balance. And so I think about all of those things every time I'm making a choice for me or my family– is this going to help us be better or worse? And then when I met with that option, I try to choose better, more times than not.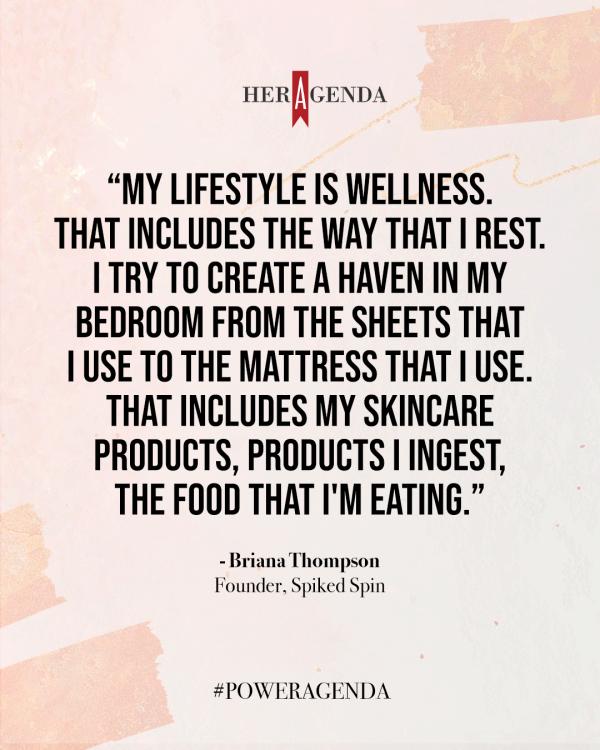 Article continues below advertisement
Her Agenda: I love what you said about it being less about deprivation and more about balance.
Briana Thompson: That is number one for me. I always mention donuts because I love donuts. That is very important for people to know. I acknowledge that there are a ton of fitness enthusiasts and trainers and they encourage people to not eat sugar or carbs, but you will never hear me say that. I understand why they do that, but that's never going to be me and what I'm pushing.
I just want people to live balanced lives and healthy lives, and I don't think that means depriving yourself.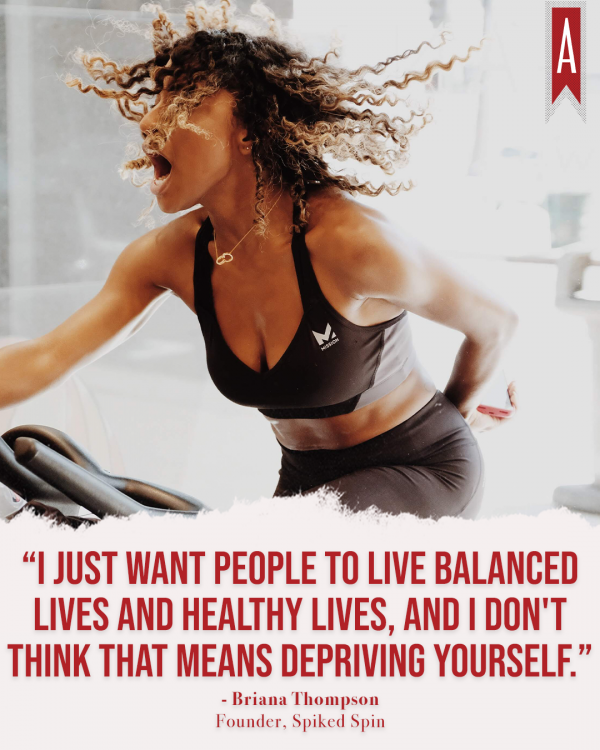 Article continues below advertisement
Her Agenda: How do you prioritize wellness in your day?
Briana Thompson: When I think about wellness I think about sustainability. Anytime you're doing something that is a binge or a quick fix, it's unsustainable. Therefore, you'll continue on this cycle of ups and downs, feeling like you've achieved, and then feeling depressed because you messed up. Then repeat.
Now I do think there's room for a jumpstart or saying I need to cut this just to refresh myself. I'm for that.
When you think about your lifestyle, every decision you make when it comes to health and wellness needs to be sustainable. Can you realistically never eat bread for the rest of your life? I don't think so. I'm never going to tell you cut bread. I'm always looking at wellness through the lens of what is actually sustainable because that's what's going to help you to feel accomplished. That's what we want people to think about.
Her Agenda: How important is intentionality in your business and what tips do you have for others hoping to grow and/or create their businesses with intention?
Article continues below advertisement
Briana Thompson: Intentionality is the number one way to be efficient and to see things through. When you do things without intention, you're kind of like throwing spaghetti at the wall and hoping for something. That's living life defensively. But when you're intentional about things, you are a bit more in control.
My advice to people is to think about what it is that you want and think about what it takes to get there and then be intentional in making decisions that align with that. If I know that I want to have 25 Spiked locations across the country and that costs money, then I can't buy the Prada loafers that I want. I have to buy a different version. That's living with intention. That's what I mean when I say sacrifice. What do you want?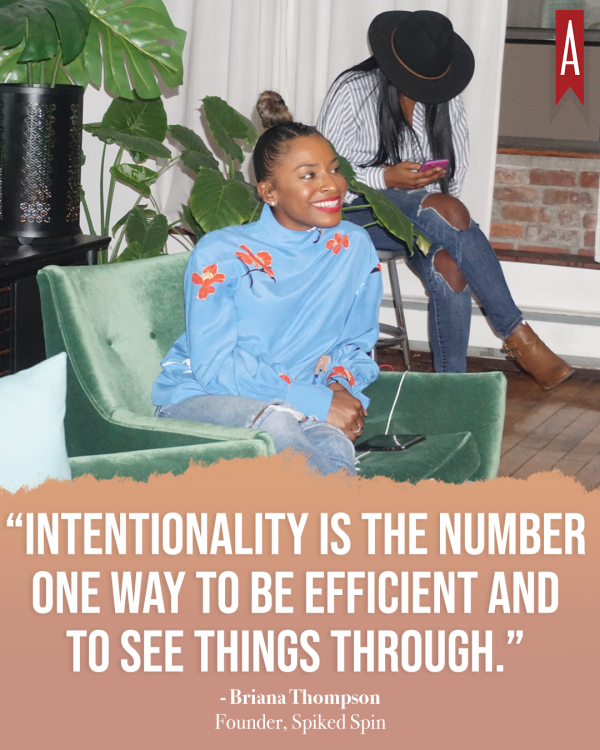 Her Agenda: Do you think your corporate career in digital advertising helped your business become successful?
Briana Thompson: I think my background in corporate is why my business is successful because I handle everything in the same way that I would handle my corporate clients. I am young, I look younger than I am, I am small and petite. There are a lot of things that can sometimes work against me. My corporate background has given me a bit of a backbone. When I come into a room I know what I'm talking about and I'm prepared to handle a situation as I would for one of the billion-dollar companies that I worked for.
[EDITOR'S NOTE: THIS INTERVIEW HAS BEEN EDITED FOR LENGTH AND CLARITY.]