Britt Stewart is making moves and making history, having been the first Black female professional dancer on ABC's hit television show, Dancing With the Stars.
She and her partner, figure skater and Olympic champion Johnny Weir, wowed the judges and audiences as they danced their way into 6th place. The pair managed to stay on well into mid-season which is a significant feat.
Having started dancing at age 3, Britt began exploring dance as a career at a young age. In her hometown of Colorado, Britt began training locally at Artistic Fusion Dance Academy, where she learned a variety of dance styles. At Denver School of the Arts, she dove even further into the world of dance and was tapped to join the dance troupe for High School Musical.
Not only did she go on to star in the trilogy of High School Music movies, but she also starred in the remake of Fame and toured the world in the dance company of some of the biggest acts, including Janet Jackson, Rihanna, Katy Perry, Demi Lovato, and Selena Gomez.
Having turned her passion into purpose and a seasoned career, Britt believes wholeheartedly in the power of goodness, authenticity, and manifestation.
In the competitive world of dance, Britt stands out among the crowd by pairing her immense talent with humility that speaks her name in rooms even when she's not there. She gives back to young Black girls by giving her time to mentorship programs and teaches dance education to young girls who dance competitively.
We caught up with Britt to get her insight on how to stay in love with your passion, yourself, and your dreams.
Her Agenda: How would you describe your journey in dance thus far? You've been dancing since you were a child, so walk us through what the journey has been like both personally and professionally.
Article continues below advertisement
Britt Stewart: I started dancing when I was three years old. It's all I know, which is why I say dance is [my] life and it's my first love. It's my passion. Neither of my parents were in the arts in any way, but it was always something I loved to do. When I was young, I had competitive dance training which is this whole other world to dance. I was a competitive dancer and I also went to a performing arts high school. I think those things really shaped my dance training as a young dancer. I am thankful that my parents and dance coach gave me access to amazing classes and opportunities. That diverse training really opened my eyes to all of the career possibilities in dance. By the time I was 13, I started my professional career and caught my first big break at age 15 when I got to do High School Musical. I did the first two High School Musical movies while I was actually a student in high school. I went on to college in L.A. (I grew up in Colorado) and while there I was given an opportunity to also do High School Musical 3. I was in this limbo between going on with college or pursuing these professional opportunities full-time in L.A., and with the guidance of my parents I went on to do dance full time. School would always be there but I felt the moment was right and so I followed my instincts.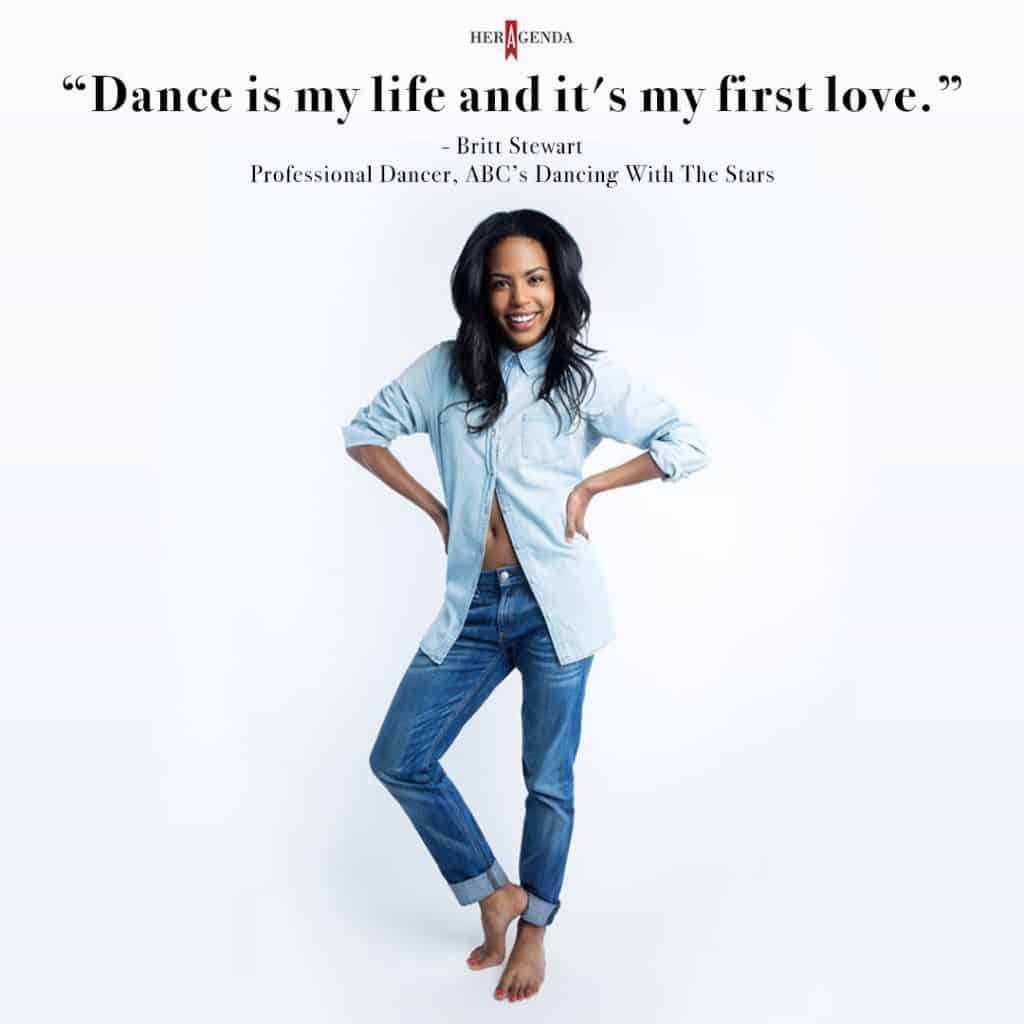 Article continues below advertisement
Her Agenda: Looking back, are there any opportunities or resources you wish you'd had when you were younger, or ones you wish you had taken advantage of?
Britt Stewart: I think having been in the competitive dance world, I had access to a lot of opportunities that other young dancers normally don't have access to. There were these "dance conventions" that happened throughout the year, and during the summer there were championships. I would go to those and there I would meet all of the top choreographers, dance educators, and kids from around the country. That was really where I built those strong dance relationships, many of which I still have today. People that I met at those conventions and competitions are some of the same people who tell me to audition, get me into rooms where I need to be, and help me to this day. So I am pretty fortunate.
Article continues below advertisement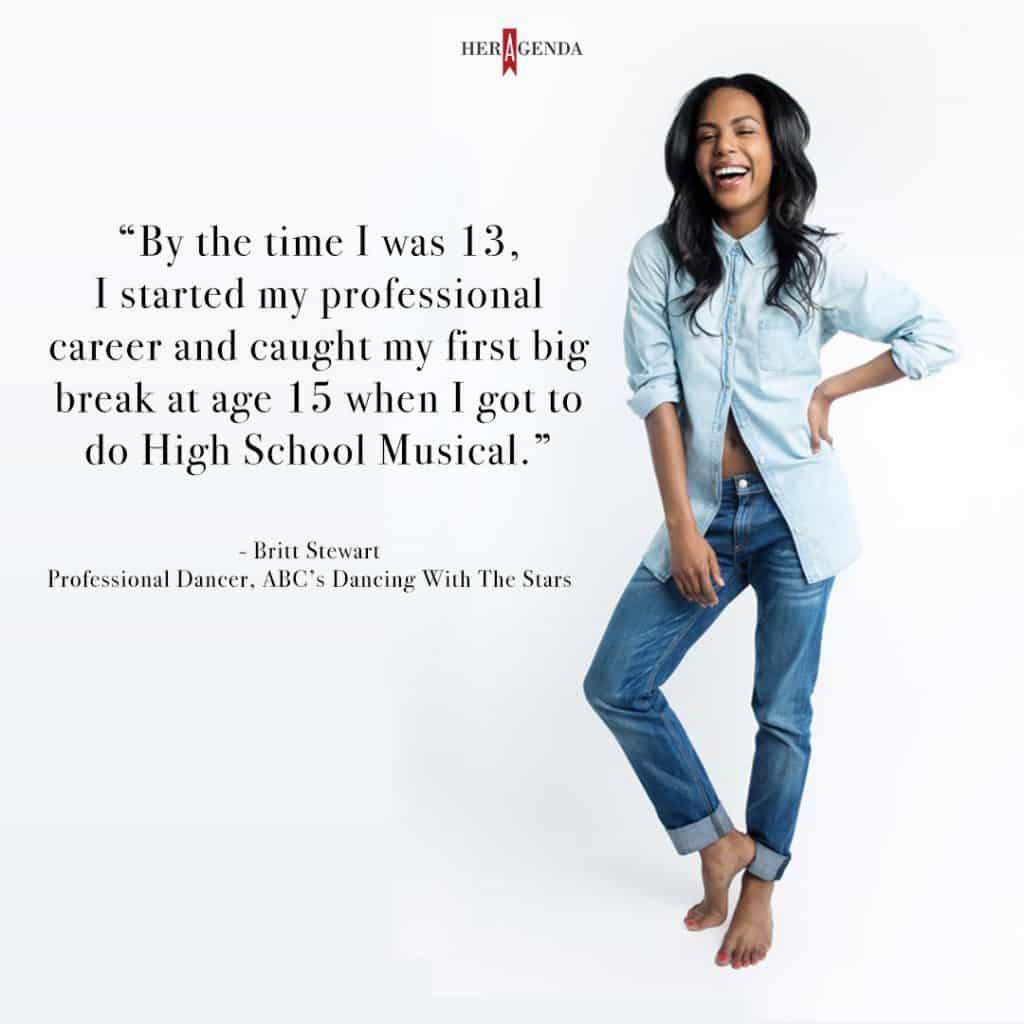 So now to give back and I make sure that I spend time with young dancers, teaching classes and helping them build those relationships for themselves and start early. Starting early helped me to be able to turn dance into a career at a pretty young age.
Her Agenda: Aside from dance, you're also an advocate for health, wellness, and self-care. As someone who dances professionally, how do you balance dancing as your business and brand, but also using it for your moments of self-care and wellness?
Article continues below advertisement
Britt Stewart: There was a period of time, in my early twenties, where I got totally burnt out with dancing. I think that's important to acknowledge that burnout can happen even when your job is your passion. It came to a point where I was thinking 'Okay, well, now I'm dancing to only make money. And I don't know if this is my passion anymore.' I went through a year or two where my relationship with dance was a lot different from when I first started. What helped me with that was learning to create balance in my life overall. I needed to find balance in different areas in my life and the only solution seemed to be dance. So first I centered myself as a human and as a woman and used dance to tap into those spiritual sides of me. I started to use dance. That helped me regain a love and appreciation for the fact that dance is art and there are so many ways to use it for healing and wellness.
"Burnout can happen even when your job is your passion."
-
Article continues below advertisement
Her Agenda: You mentioned having to pivot your mindset often as it relates to dance. With this pandemic, what is your advice to those who are having a difficult time pivoting and adjusting their lives? Especially for those who rarely have to pivot their mindset for their jobs or passions?
Britt Stewart: To be able to pivot is really difficult, but it's very important. And so for me, I think the first step is being aware of how you're feeling. It's okay to be frustrated with having to shift. It can be overwhelming to a point where you just don't want to do anything at all. I always remember to be open and embrace changes but also acknowledge how they make me feel. Sometimes you just have to say "yes" and do it in a mindful way. You have to be open to exploration and to creativity. I always remind myself that I can still be myself in this pivot and in this transformation. It can be hard and is easier said than done, but it's important to take those first steps no matter how small. Think of a comfortable place to start with small changes and go from there.
Article continues below advertisement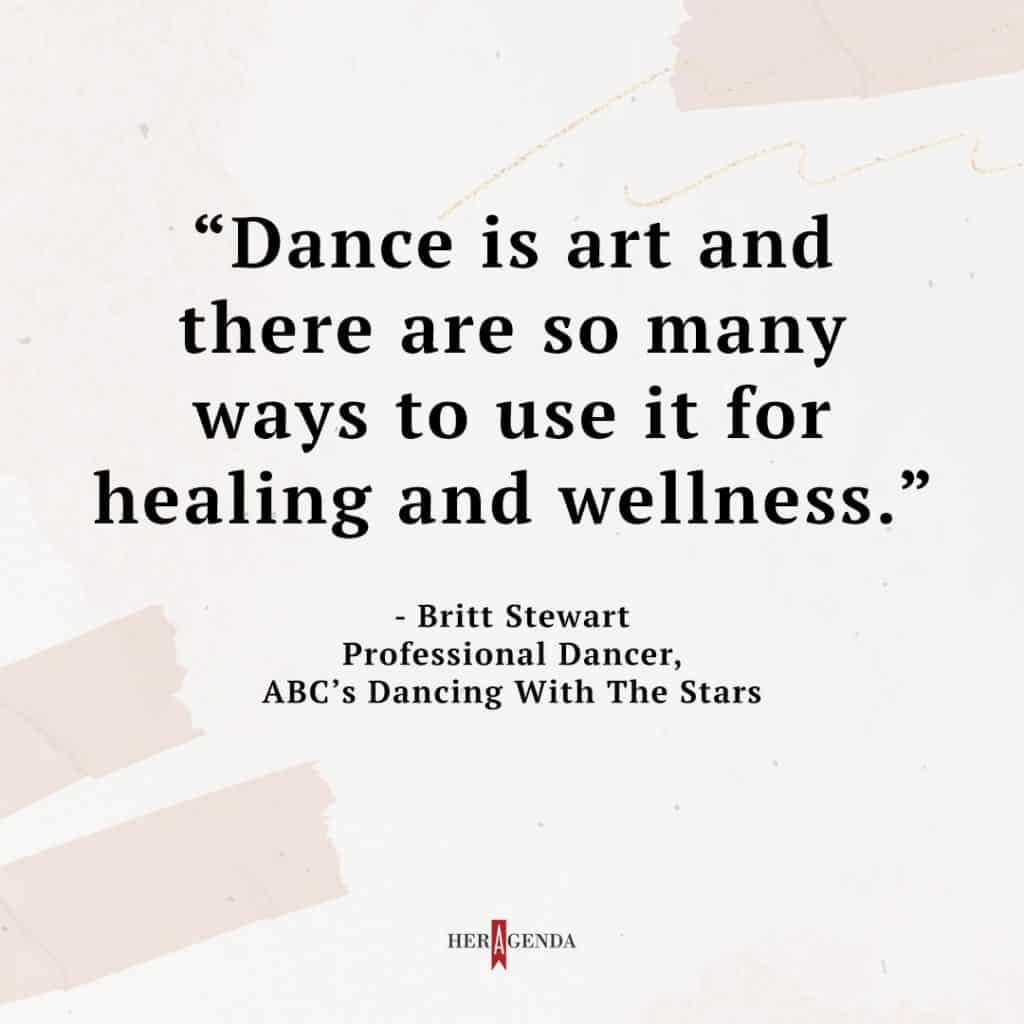 Her Agenda: Currently you're the first Black female professional ballroom dancer on Dancing With the Stars? What has that experience been like?
Article continues below advertisement
Britt Stewart: First off, I am so grateful and so blessed to be the first Black female pro-dancer on Dancing With the Stars. I do not take it lightly. I think that representation matters and is so important. The more representation that we can have, the more that people can see that it's possible. I want people to see that they don't have to feel like they have to do a certain style of dance, that they can do anything- even ballroom. I hope that my position on Dancing with the Stars will help to break some of those barriers and preconceived ideas in people's minds about what Black girls can do in the dance world. I'm really excited to be in the mix of the game-changing Black and Brown girls in dance. I love having the support from Black viewers, but I will say that overall I've had some extremely diverse support across demographics which is amazing as well. It's been amazing working with Johnny Weir and I [loved]n the experience. To the Dancing With the Stars fans, I just want to gives thanks to them for the overwhelming support and love that I've received as a first-time Pro.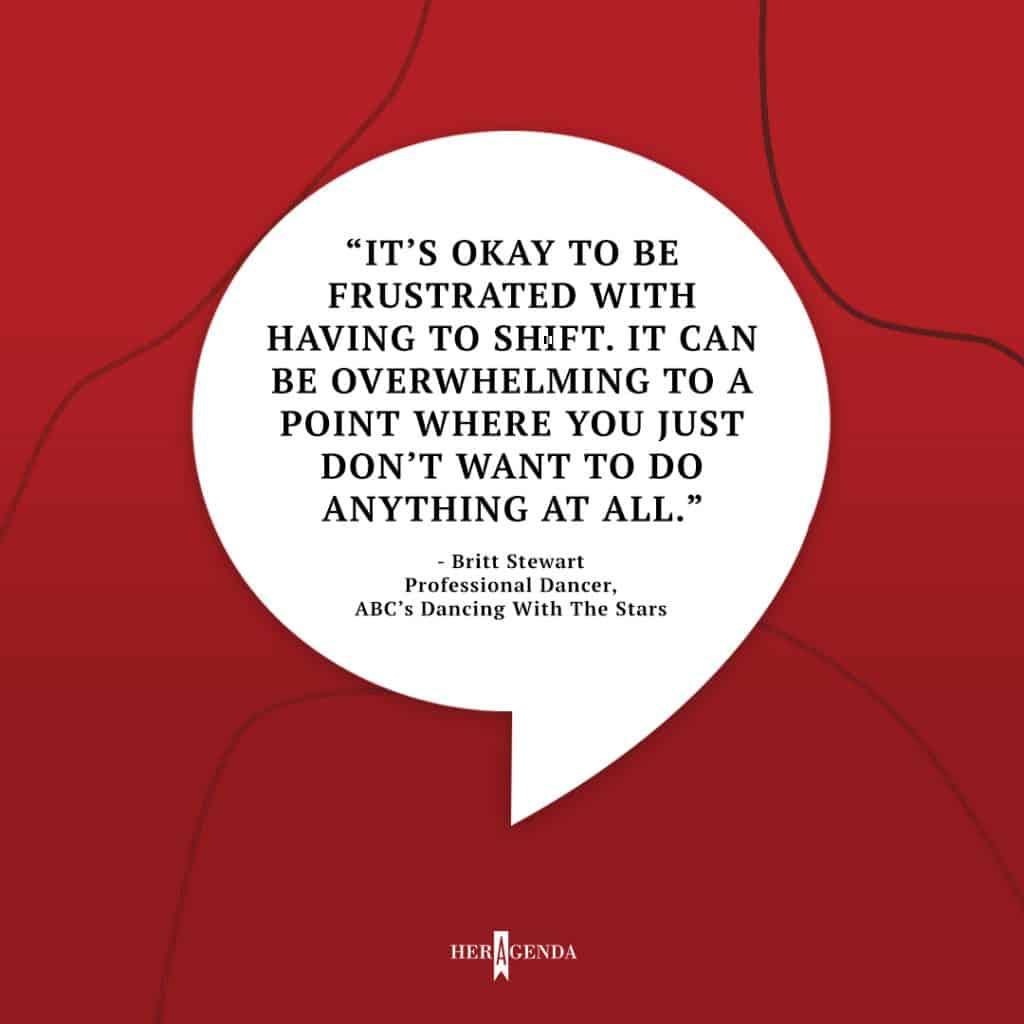 Article continues below advertisement
Her Agenda: People see you on TV and on tours and love the glamour of it all. What are some common misconceptions that people have about professional dancing?
Britt Stewart: Having been in the commercial dance industry for 16 years, it definitely harder than what people think. I feel grateful for every experience, but there is also a certain amount of pressure that comes along with being in the industry as well. Dance is hard on your body, so I feel like I have to do extra things to take care of myself. I'm very diligent about workouts, eating right, and wellness because, essentially, my body is my career. On TV or on the stage you see all the grace and the beauty but what is unseen is when I get home at night I'm waddling into my Epsom salt bath. You don't see that my feet are swollen and my calluses are protruding.
Article continues below advertisement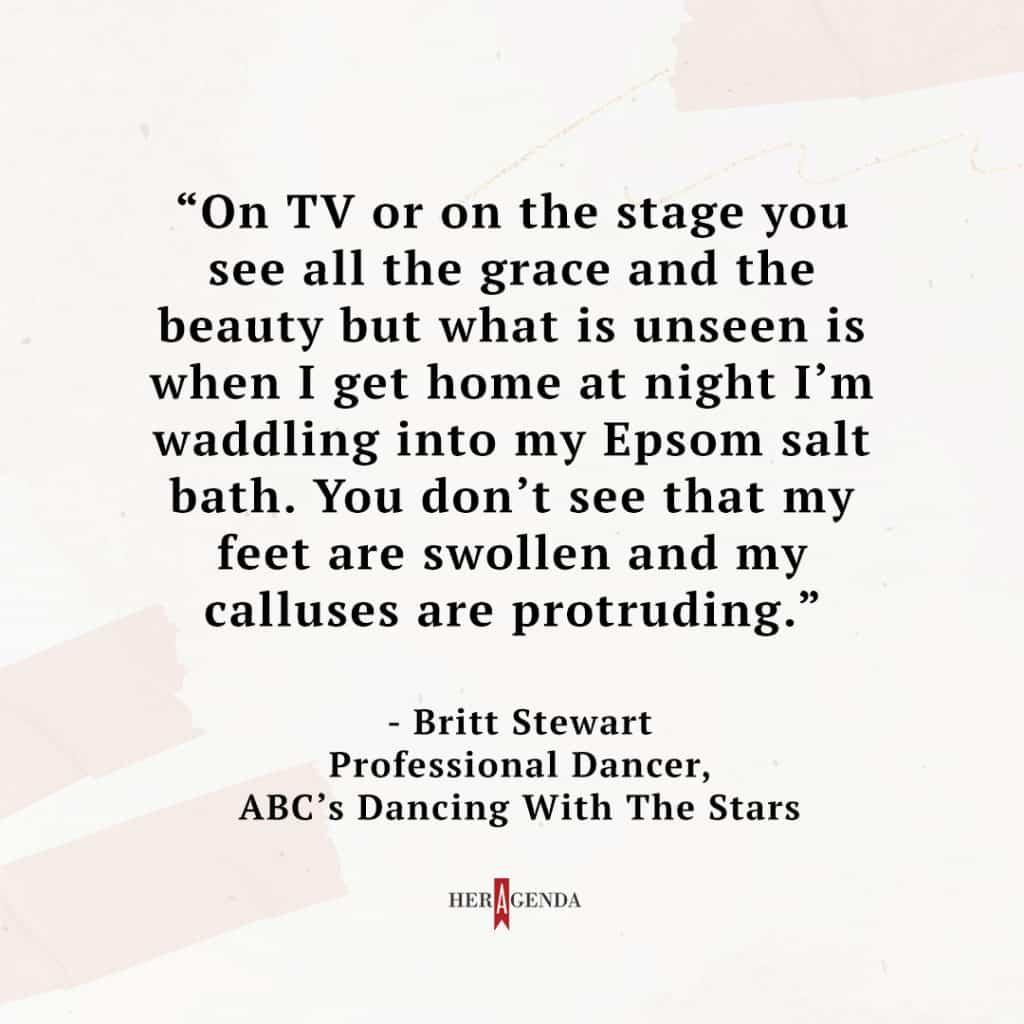 I would also add that dancers are always their own harshest critics. Then on top of that, we have judgments and critiques from others. I've had to learn (and be okay with) the fact that I can't please everybody. As long as I'm making myself proud, that's all that matters.
Article continues below advertisement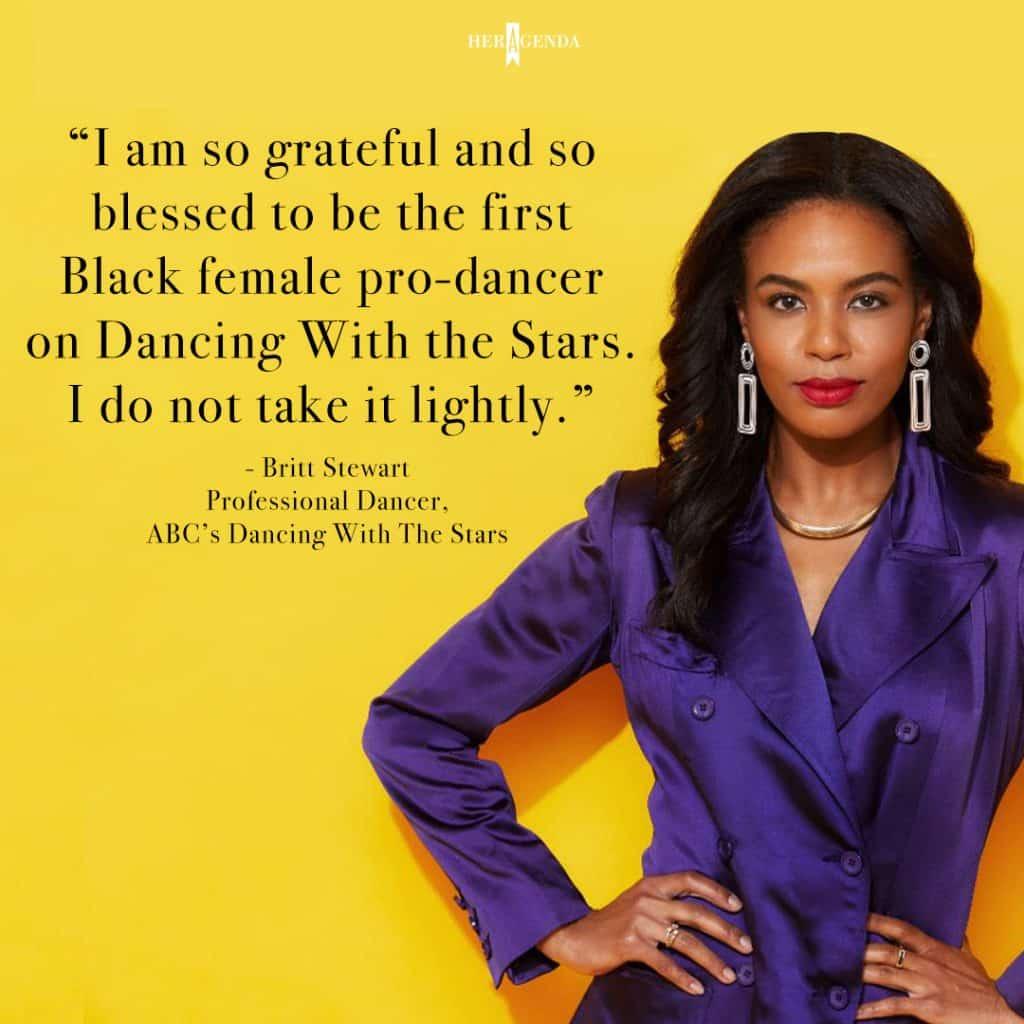 Her Agenda: Any beginner tips for those who want to dance to get more comfortable with their own bodies and tap into their spiritual sides?
Britt Stewart: I would say start by having a solo dance party in your room, lights low, and play your favorite song. Remember no one is there to judge you so however your body starts moving, follow it. As you're moving remember to love yourself and speak positive affirmations to yourself. Over time you'll begin to feel more liberated to move more and be free. Dancing is unique for everyone.
Article continues below advertisement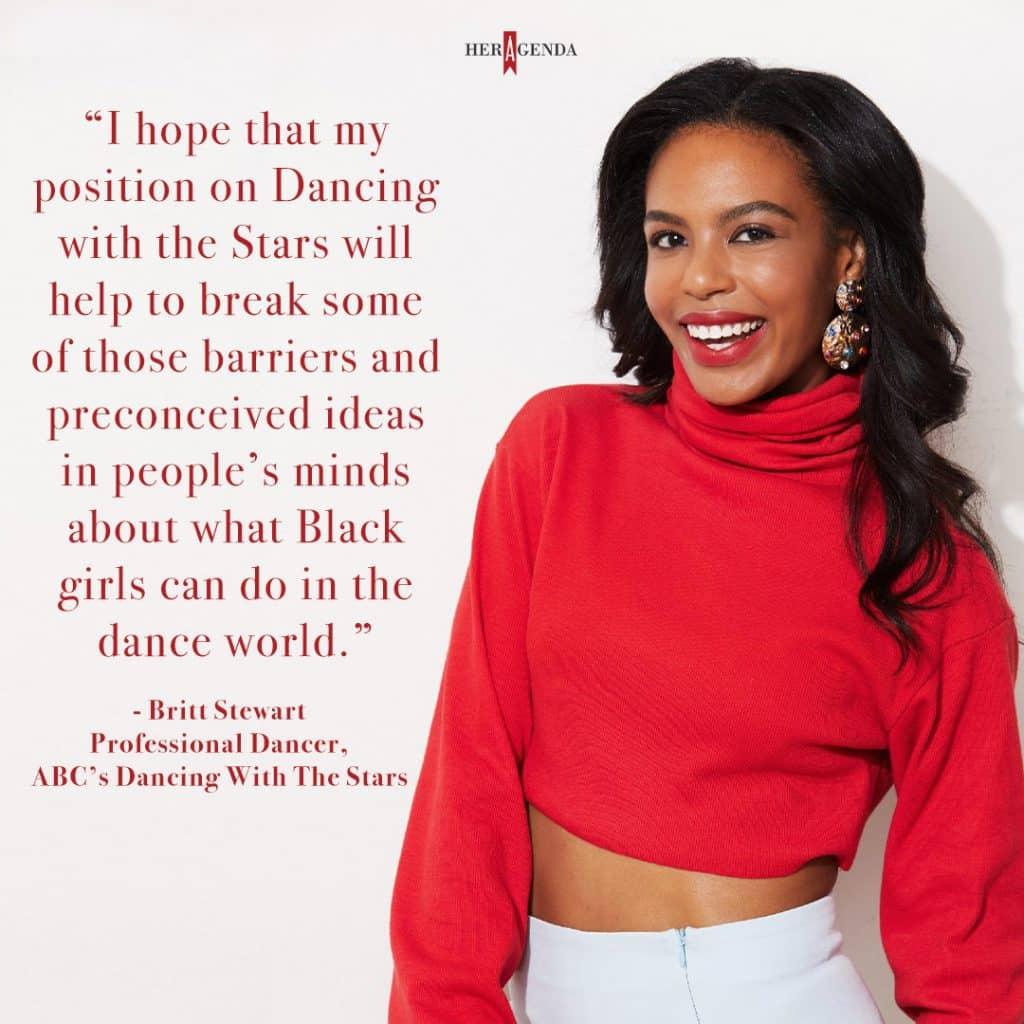 Her Agenda: What has your experience been like as a Black woman in the dance world? We often talk about how representation is important when it comes to Black girls seeing themselves reflected in spaces where there aren't many people who look like them. What was your experience like?
Britt Stewart: I will say that I'm really impressed by the dance industry now and how they're trying to make diversity a priority. I've really seen some beautiful conversations come about and things start to shift, and that makes me excited.
Article continues below advertisement
Growing up in the professional dance world, I personally can't say my experience was hard. Like I said I had the pleasure of having supportive parents who put me in classes where I was able to make connections and learn about the industry. I became used to being the only Black person in a room. That is something that is not uncommon to me. I am glad that now we can have those open conversations about diversity and that there are Black women in these heralded positions (like Misty Copeland being a Principal Ballerina).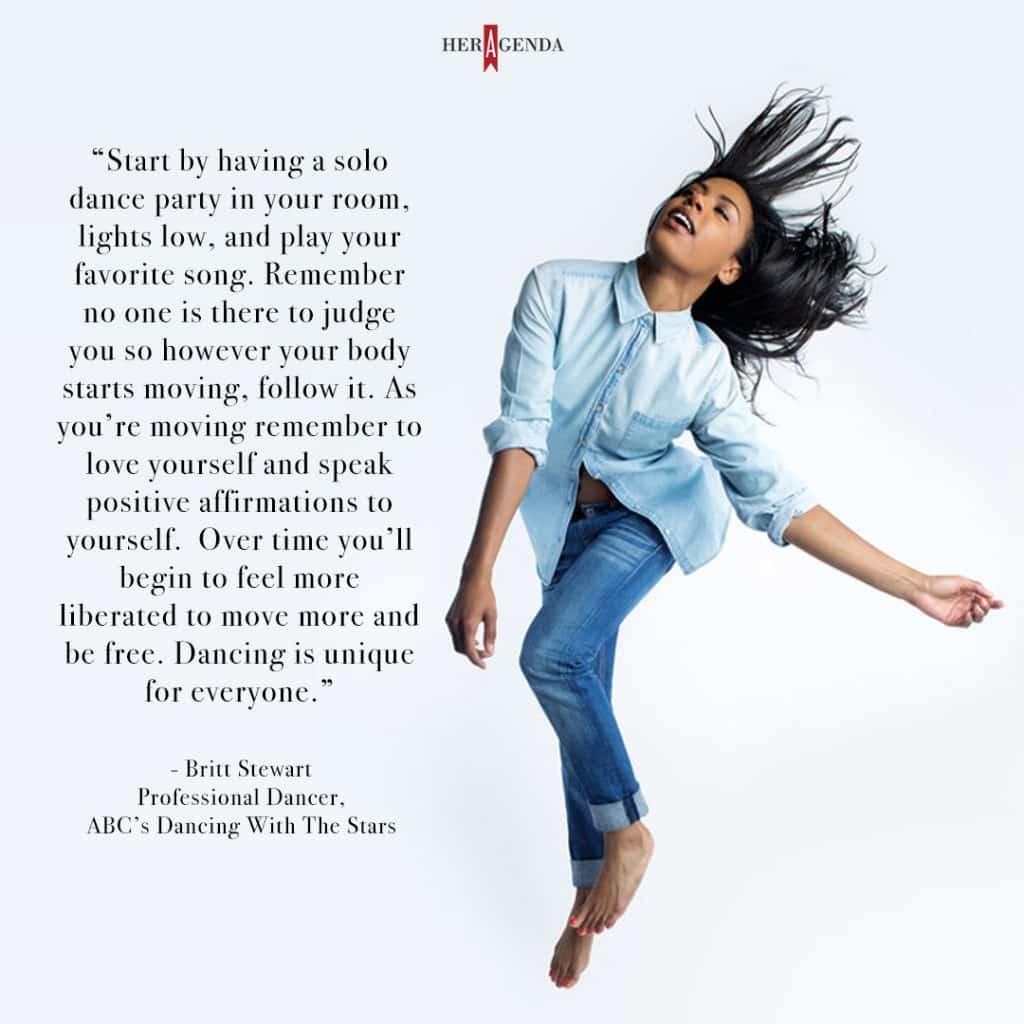 Article continues below advertisement
Her Agenda: What has it been like having traveled the world with superstars like Rihanna and Janet Jackson as a professional dancer?
Britt Stewart: It's amazing. Being able to travel the world with these artists are experiences that I will never forget and I will be forever grateful for them and those opportunities. I've always felt like, in all of the different camps I've been in, that the headline artists really celebrate the talent of their dancers. On shows (like Dancing With the Stars) I am more in the background because I'm not the "star," but I definitely feel appreciated by the artists and close with the other dancers in those camps. Some of my very best friends I've made because we did these tours together, or we just made sure to keep in touch.
Her Agenda: It's great that you all keep in touch. What is it like being in an industry that's super competitive? How do you maintain friendships and positive relationships with folks you compete with for spots on tours and shows?
Article continues below advertisement
Britt Stewart: This is actually very important to me because it gets so easy to compare yourself to others and get unnecessarily competitive. For me, I remember to remain confident in myself and know that I can bring things to the table other people can't. So, therefore, I always remember to just be myself and not try to copy or mimic what others are doing or mimic things just because it worked for someone else. I say this to myself and to the young dancers I mentor: you have to let your unique self shine. In the grand scheme of things, there might be another girl at that audition that has the same skin tone as me, with the same hair, and maybe our outfits are similar, but I always remember that she is still not me. So I still go out there and still bring my authentic self.
I'm a believer that being authentic and being a genuine person will allow you to succeed. So even if I don't book a particular gig and feel competitive about it, I believe in timing and always hold on to the thought that my time will come. For me, it's about longevity in this industry and I think being a good person with a good heart will allow you to have longevity.
Article continues below advertisement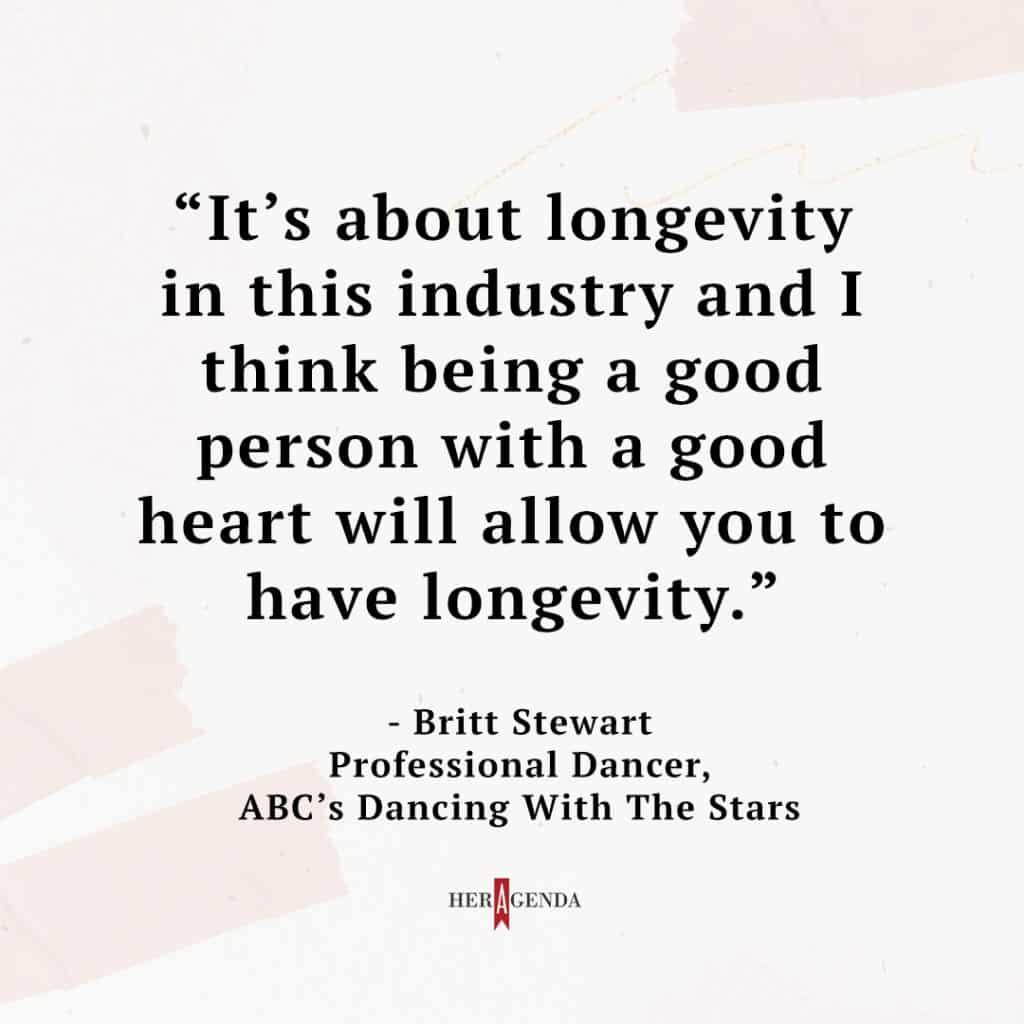 Her Agenda: What is next for you? What do you see 2021 and beyond holding for yourself?
Britt Stewart: Aside from my professional gigs, I am a dance educator, and I love doing that. I get to travel the country teaching and educating young dancers. Sometime in 2021 I'll be launching an organization with some fellow dancers, called Share the Movement. Our mission is to increase the number of professional dancers of color by giving financial and inspirational support to promising young dancers. Our hope is to find a young dancer that we can foster and rally support around offering financial support, formal dance training, access to a dance studio, a dance mentor, and more. We're working and hoping to launch next year.
Article continues below advertisement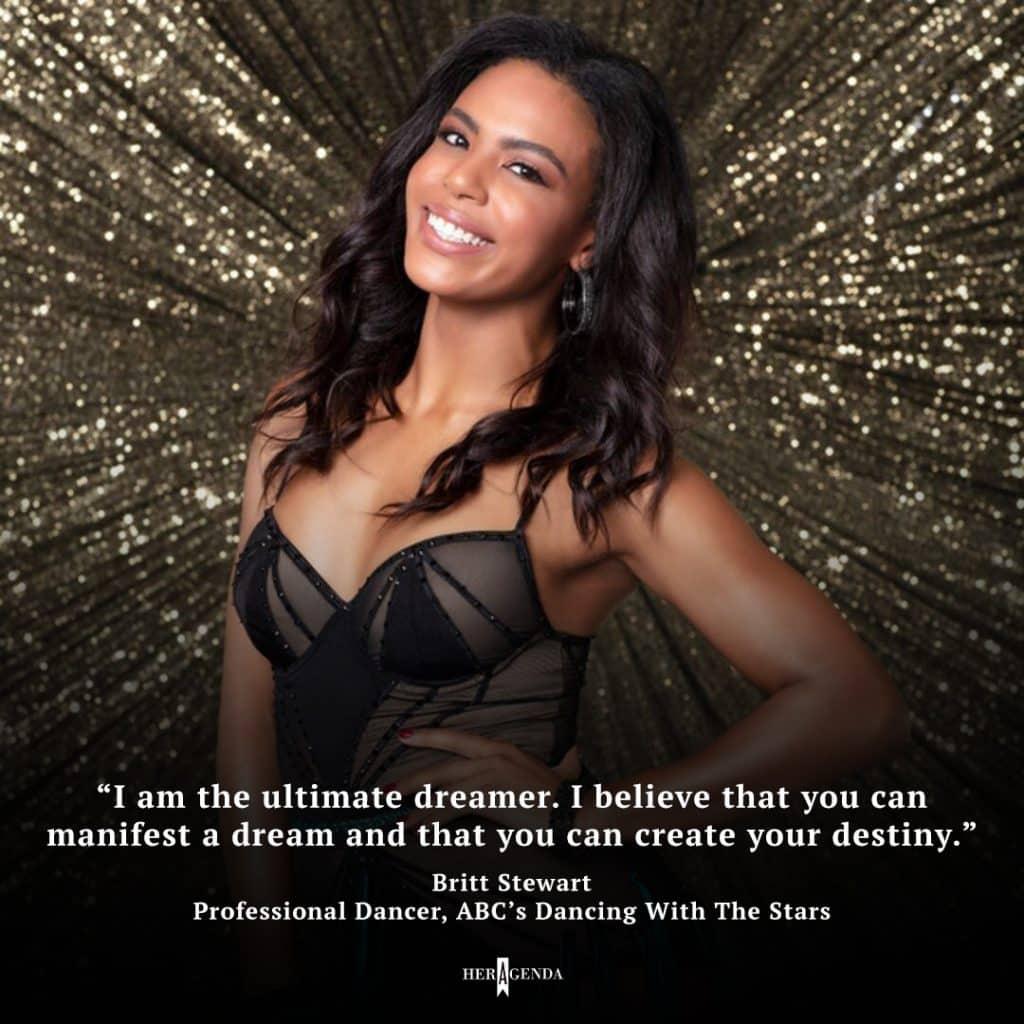 Aside from that, I do admit I'm a little bit of a workaholic. I'm always hoping for something magical to happen so I'm staying open and willing to take on whatever opportunities God brings for me in the New Year.
I am the ultimate dreamer. I believe that you can manifest a dream and that you can create your destiny.
[Editor's note: This interview has been edited for length and clarity.]