Turning trauma into healing, Brittney Alexandra Winbush turned her personal passion project into an experience that is helping women across the world. After being involved in a house fire during college, Brittney turned to candle making to overcome her fears, take back her peace, and begin to rebuild her sense of comfort and safety within her space.
From that healing process she birthed a self-care and wellness brand, Alexandra Winbush (AW), that uses candles, teas, and hand-selected playlists to help those who indulge set their intentions and create comfort in their space.
Although Brittney is only in year three of business, Alexandra Winbush has already amassed a cult following, with everyone from Issa Rae to Summer Walker collaborating with her to help create their own sensory experiences.
Brittney attributes much of her success to her sisterhood of close friends and community. On Instagram, fans of Alexandra Winbush have grown just as fond of her boss level friendships as they have over her products. While fabulous girl trips, opulent wine and charcuterie nights, and overall girl power are definitely swoon-worthy, what's even more empowering is the support that's been given to Brittney to advance her business. Having friends that spoke her names in rooms she wasn't in, believing in her product and vision so much that they shared it with others, and being available to bounce ideas off have all contributed to her and Alexandra Winbush's success.
Article continues below advertisement
Her Agenda took some time to chat more with Brittney about her experience as an entrepreneur thus far, what her community has meant to her, and the vision she has for Alexandra Winbush as being more than just candles and tea. Take a peek.
Her Agenda: Your business was created in response to an incident that occurred when you were in college. How did you turn that trauma into a business?
Brittney Winbush: I was involved in a house fire and that was what motivated me to get to this space. I was looking for a way to create my own sense of peace; something that felt tangible and that I felt in control of after having lost my room and everything I had growing up. It was all gone in one night. I had an immense feeling of loss of control of the situation and [creating candles] felt as though it were something within my reach. I felt it was a way in which to recreate my own space.
Aromatherapy reminded me of home, tea leaves were a way to tackle anxiety or feeling overwhelmed. Music has always been very therapeutic to me. The combination of using candles, tea, and music gave me back that sense of peace, comfort, and self-care I was looking for after the house fire.
Article continues below advertisement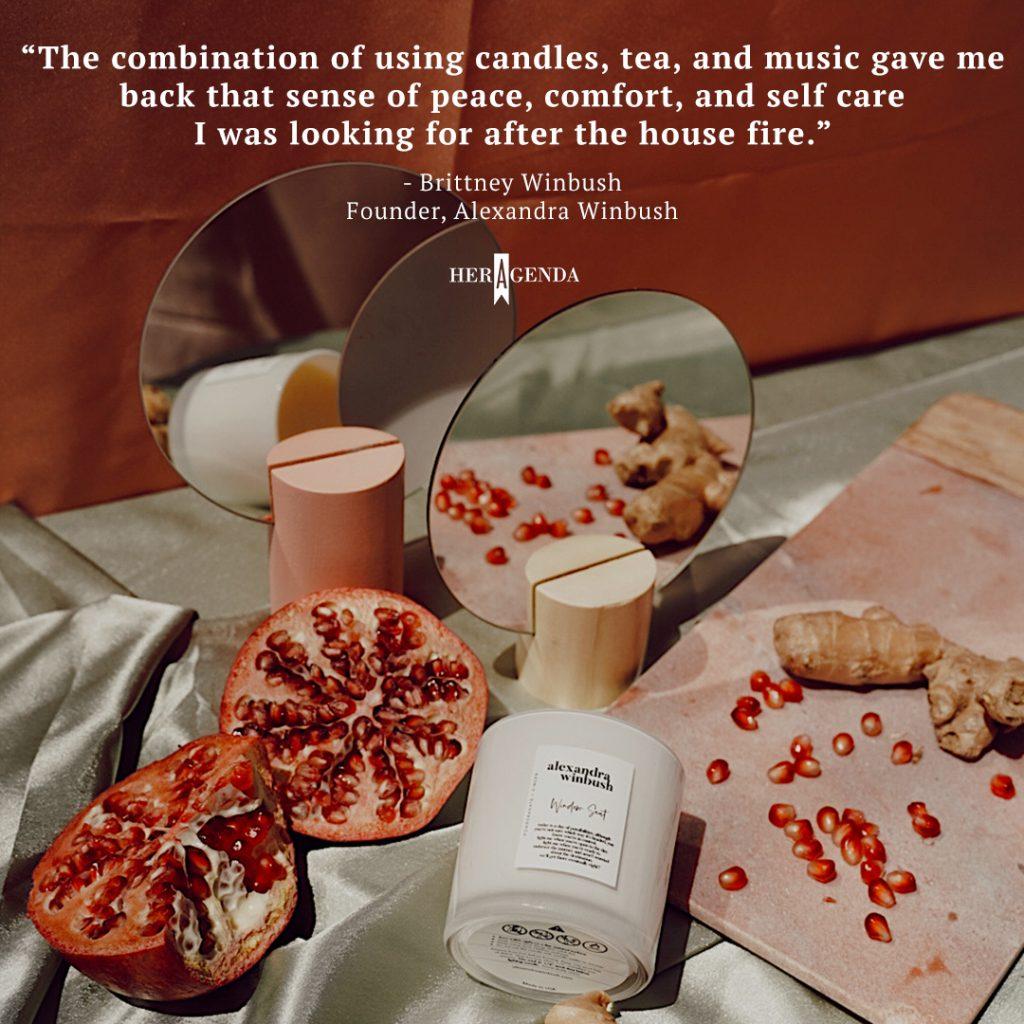 Her Agenda: How did you turn your healing ritual into a business? Did you intend to turn this project into a business? What did that trajectory look like?
Article continues below advertisement
Brittney Winbush: I think after five years of doing it for myself, I realized that I really created a whole experience. At the time there were no other companies offering the candle, tea, and music playlist intention setting experience. I decided I wanted to share it with my friends and community and it ended up growing. It didn't happen overnight but it was sooner than I'd ever thought. It's truly been a blessing to get the opportunity to share my products. After 3 months of launching the business, I dove into it full time. I was living in New York and tried jobs like social media management but I just wasn't passionate about them. I really believed in the business and my mission and knew that if I devoted my full attention to it that it would work out. Through the network of my close friends, I've been able to grow. They always mentioned my brand and spoke my name in rooms with opportunities and that's been a major way in how the business has grown and how AW the brand has gotten some cool opportunities.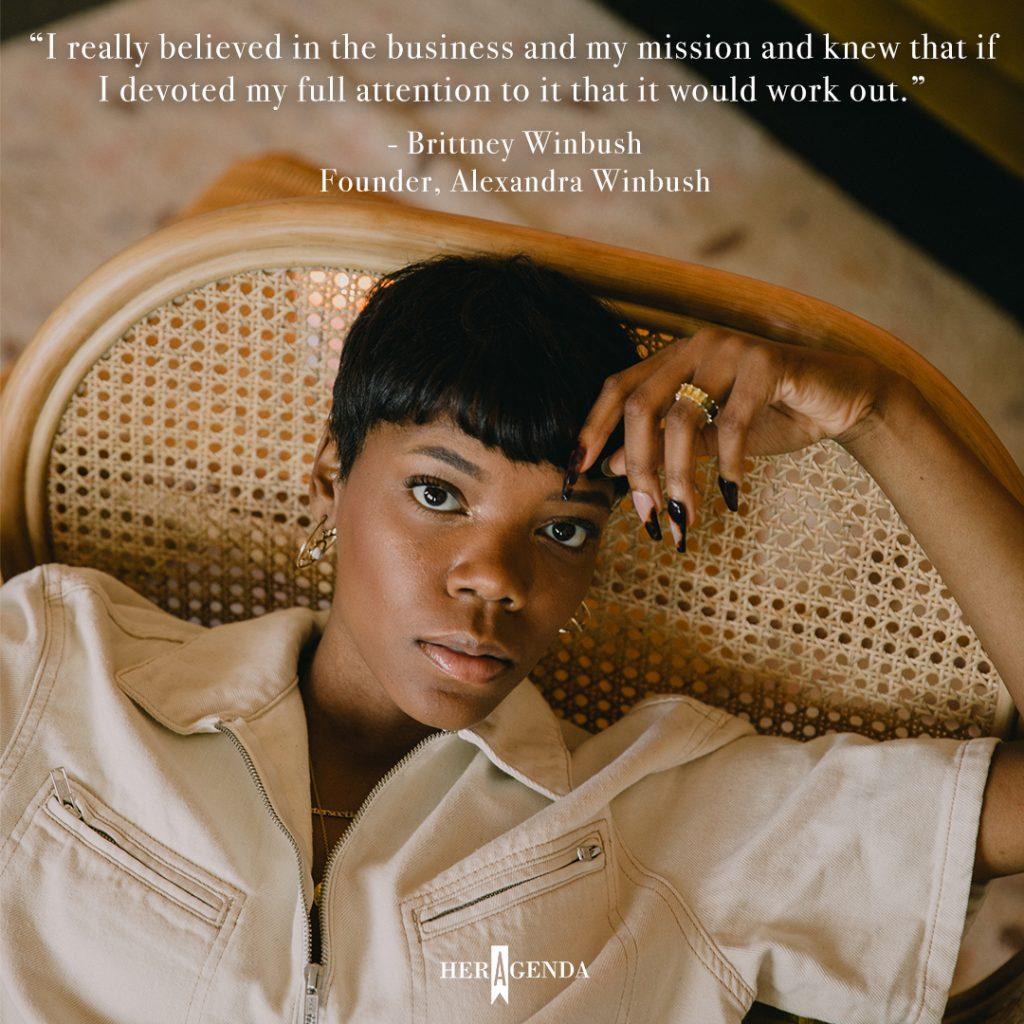 Article continues below advertisement
Her Agenda: How has community and sisterhood impacted your business growth and success?
Brittney Winbush: As you get older you figure out what your real friend group looks like. I found people that really get me, and they get and care about my business. We're always repping each other's brand and speaking highly of one another and it's just a given in our group because we want to see each other win.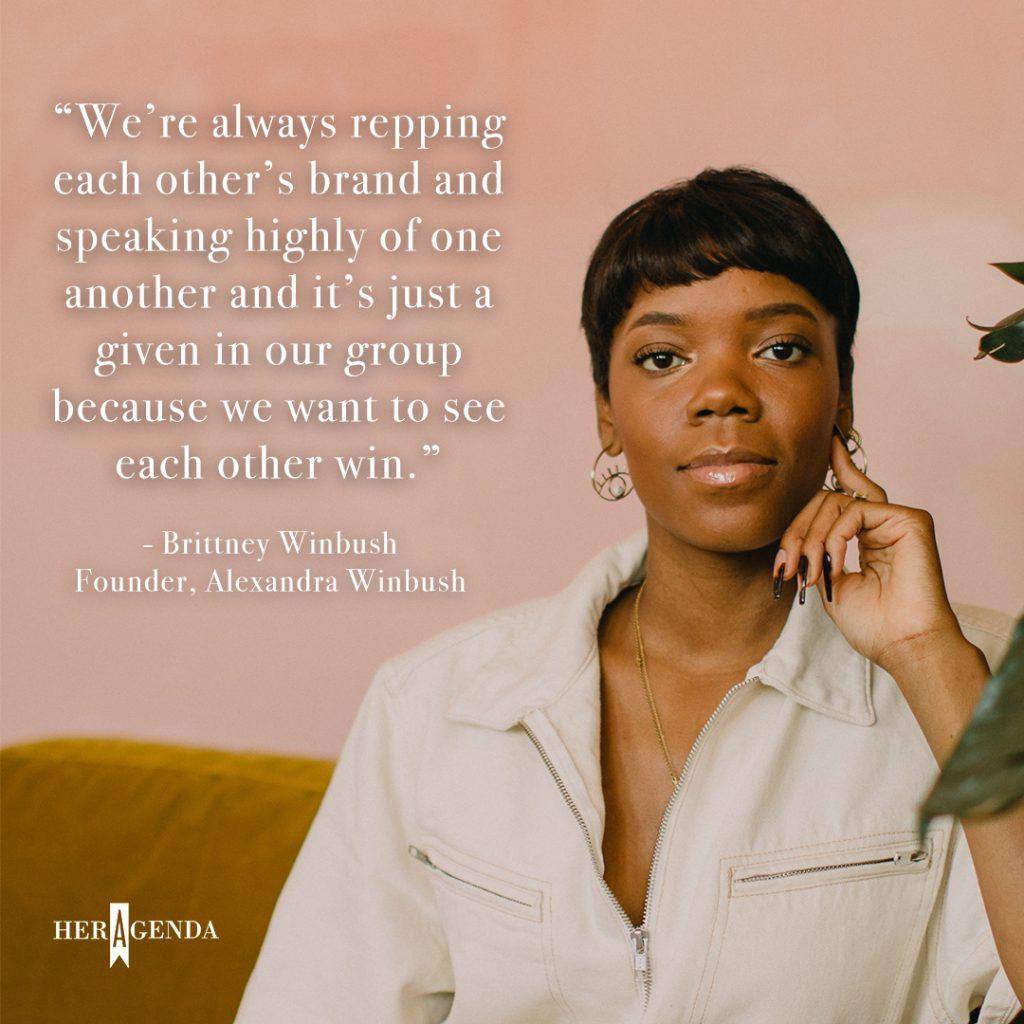 Article continues below advertisement
On top of that though I always make sure my product and offering is quality so my friends want to talk about it when I'm not around. I pride myself on quality and intentional products. So even if people hear about me through a friend or word of more, [the quality of my product] keeps them coming back. Even as I'm starting to hire a team I try to maintain that personal touch so people still feel like they have access to me. Whether the online community wants to talk to me via DM, email, or whatever, I respond to them and try to build those relationships as well.
Her Agenda: As the business has grown you've gotten some amazing collaborative opportunities outside of your shop. As a young business, how did such big opportunities come around and what did you gain from these experiences?
Brittney Winbush: AW got the opportunity to collaborate with Summer Walker on a candle by way of a friend of mine from college. We became close and supportive of each other after college and she was involved with Summer's team. She was one of those folks who supported my brand and when an opportunity in Summer's camp came about she brought up my name. We went from there. Even outside of that she still brought up my name in opportunities that didn't pan out but I just appreciated how she [and others] are always looking out for me.
Article continues below advertisement
We also got the opportunity to do a collaboration with Issa Rae. That one happened because I had a booth at a PopSugar Playground where Issa was one of the keynotes. I had a gift bag of a candle, tea, and a playlist set aside for her. When she was coming off the stage [she and her team] passed my booth, so I sent my dad off with the bag to try and give to her. It didn't land directly in her hands then, someone on her team took it. I never knew if Issa herself got it until fast forward a few months later and her team reached out to me telling me she loved the candle, that she wanted to support me, and had an opportunity they thought I'd be perfect for. It just went from there but again it showed me about the importance of having a quality product and also having people in your corner.
Her Agenda: Having a supportive network is something that most small business owners need to help grow their business, but capital is another important one. You had immense support from your community, but what did it look like trying to get capital and fundraising for your business?
Article continues below advertisement
Brittney Winbush: It was definitely a learning experience. The first year was a lot of mistakes and learning lessons. I used savings and credit cards a lot. Even though most businesses don't make a profit until their third year, we were able to make a profit in our second year. My mom is an accountant and is the accountant for AW so I'm lucky to have her. Three months after launching the business I was doing it full time and definitely wasn't in a financial place to do so, but I believed in the vision so much.
Gofundme was the first time I sought any capital outside of my own, and I did it so I could get an office space with my friends. Initially, it did not go the way I envisioned it. I kept the page up but didn't really push it. Then COVID hit and I took the time to really promote it strongly again because my friends and I found a space we loved and needed the money to get it and the things we needed. We met that goal and were able to secure the space.
Article continues below advertisement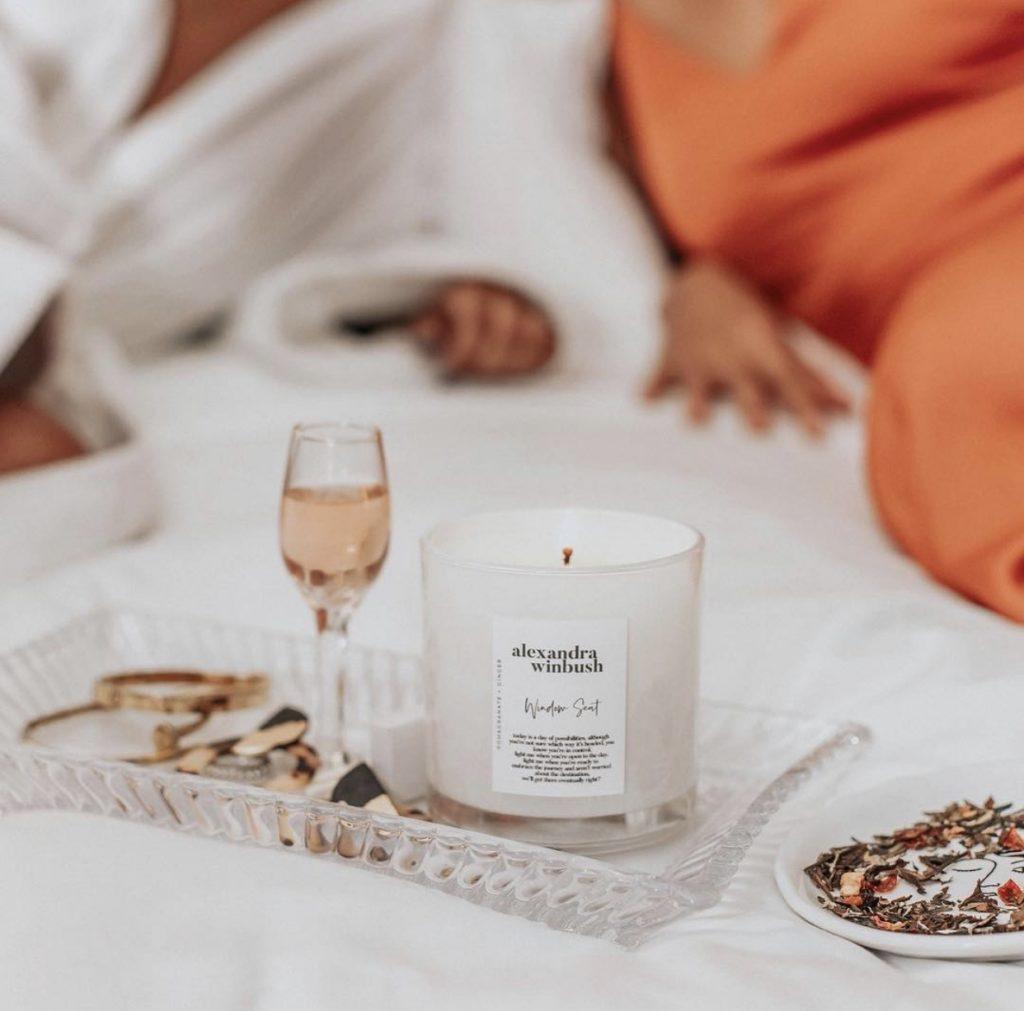 Her Agenda: Since getting the office space, what has the experience of co-working with friends been like? How has it impacted your friendship and business?
Article continues below advertisement
Brittney Winbush: Working in the office with them is the best. Having the space is the best thing we could've done for ourselves. We all live together as well, and we did have some haters online say "Y'all live together and work together, good luck with that." But we don't need the luck. We each have our own businesses, and at home, there were always packages, boxes everywhere, orders to fill, and it made our house start to lose the sense of home. Getting an office together was the best thing we could do to get our peace at home back. It feels lighter and more relaxing coming home because we have an office to get down to business at. We created our dream office space so it feels good to be in here. It's been rewarding to say the least. When things get safer we're looking forward to inviting people into our office space whether it's to shop our products or for one of our consulting sessions that we'll soon be offering. We're really excited to use the space to build up our community and help other business owners.
Her Agenda: Is there a project you and your friends are working on together?
Brittney Winbush: Eventually we may. Right now we're focused on offering our consulting services: taking our combined knowledge of business and packaging that into consulting sessions with other business owners. A place where they can come, pick our collective brains, and help them grow their own businesses.
Her Agenda: Your brand is all about an experience, and on social media we see you curating other experiences as well (such as dinners, yoga, etc.). What attracts you most about these curated event experiences with friends and community?
Article continues below advertisement
Brittney Winbush: Honestly it's another form of self-care. Thinking of a theme, getting cute, and making our space (wherever that may be) cute is what we love to do. Getting to indulge ourselves in luxury with the matching glassware, dinnerware, having wine, champagne, and food just makes us feel good. My parents are caterers and I've seen them do events since I was a child so I think that also has some influence there. Overall I'm always looking for ways to create new experiences in existing spaces. Especially in the time of COVID where we can't really go anywhere or do anything, we've been figuring out how to make these same four walls feel new and different. It all aligns back to what I'm doing with AW- creating and making space wherever you are.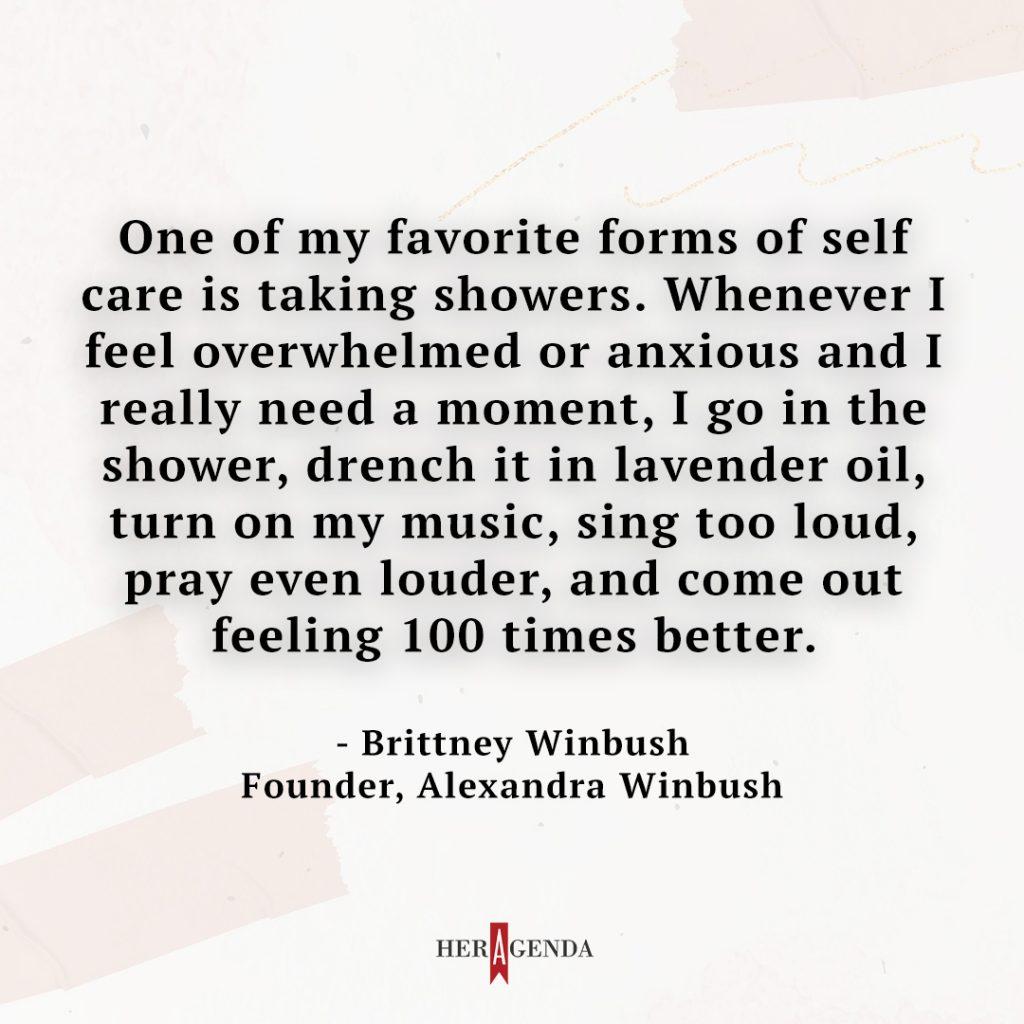 Article continues below advertisement
Her Agenda: As someone who is in the business of self-care, what does self-care look like for you outside of your brand?
Brittney Winbush: Self-care is so personal. It looks so different every day based on what I need at that moment to indulge. One of my favorite forms of self-care is taking showers. Whenever I feel overwhelmed or anxious and I really need a moment, I go in the shower, drench it in lavender oil, turn on my music, sing too loud, pray even louder, and come out feeling 100 times better. On a day I need a little break, I just want to get in the car with my friends, drive to Mcdonalds and get a McFlurry and that's all I need. Self-care looks different for me, my friends, and my partner, but I have several methods. It just depends on what I need at the moment.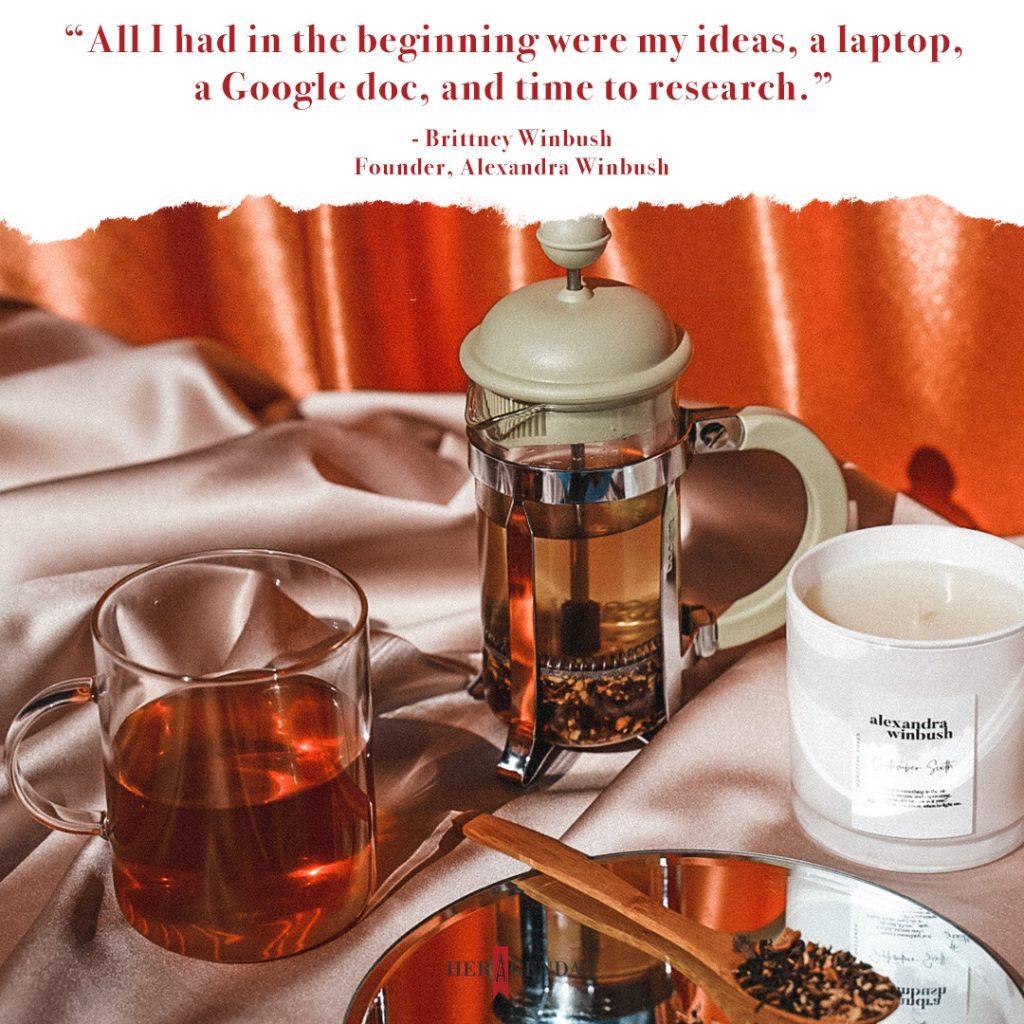 Article continues below advertisement
Her Agenda: So far in the journey of building your brand what would you say has been a standout moment so far?
Brittney Winbush: A standout moment for me has been building my team. Being able to hire and pay Black women has been everything I could dream of because at one point I couldn't even pay myself or afford my rent. Now, being able to pay other women, I can't even express how happy that makes me feel. I think that is such a reflection of where I'm at in the business and where it's going to go. By being able to pay Black women, it's a reflection of my financial success. I love that I'm able to see my success through a team- it warms my heart.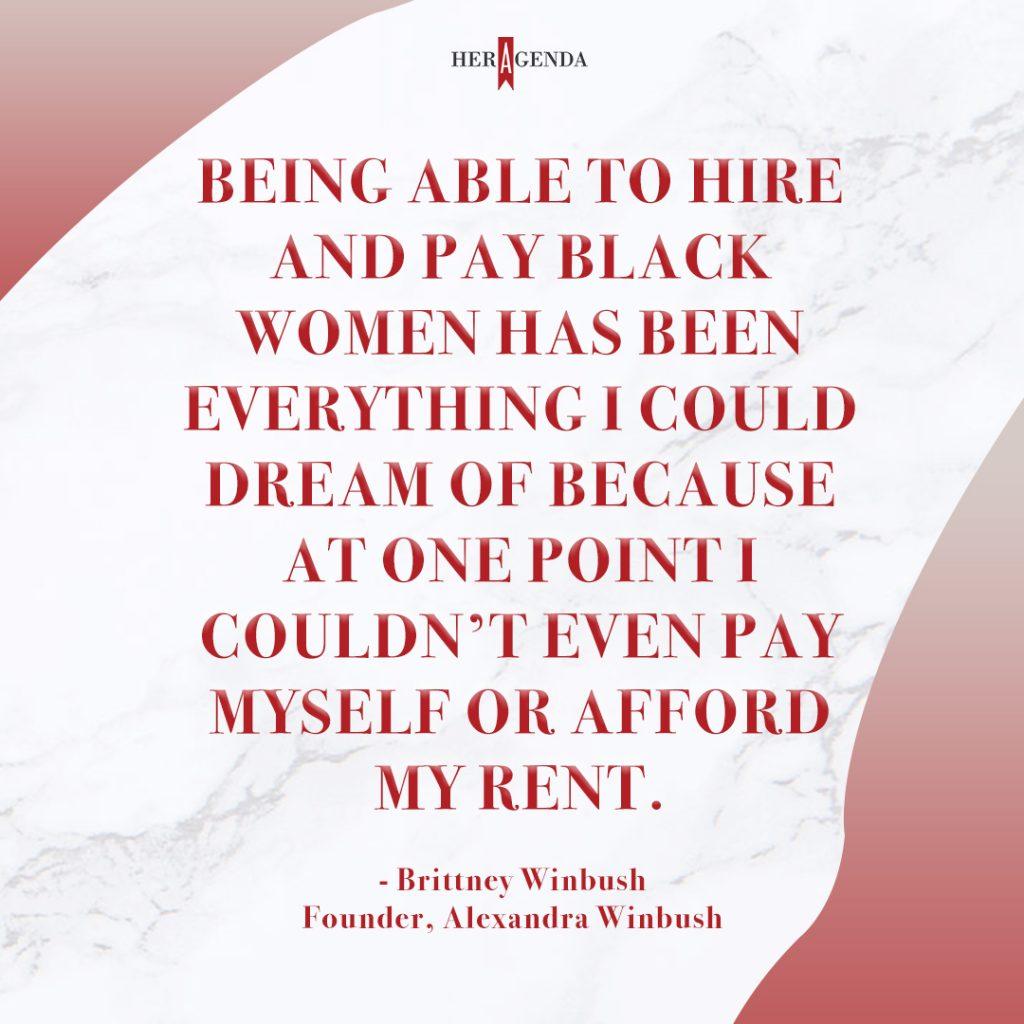 Article continues below advertisement
Her Agenda: In this last quarter of 2020, what is your vision for Alexandra Winbush in 2021 and beyond?
Brittney Winbush: The main reason I named the company Alexandra Winbush and not a name synonymous to just candles or tea was because I knew it could grow into so much more. I see AW expanding into a home line, tea shops, hotels, and boutiques. I feel I have the time, energy, and passion to make all of that come true. It doesn't feel out of reach to me, it's just a matter of where, next, and when. Right now I'm focusing on the online store. New holiday candles will be released soon. We'll be with some pretty cool retailers, so look out for that announcement in November. We're going to allow folks to come pick up their orders at our office in NYC, so that'll be a great opportunity for people to check out our space. When it's safe we'll start doing events and experiences there as well.
Article continues below advertisement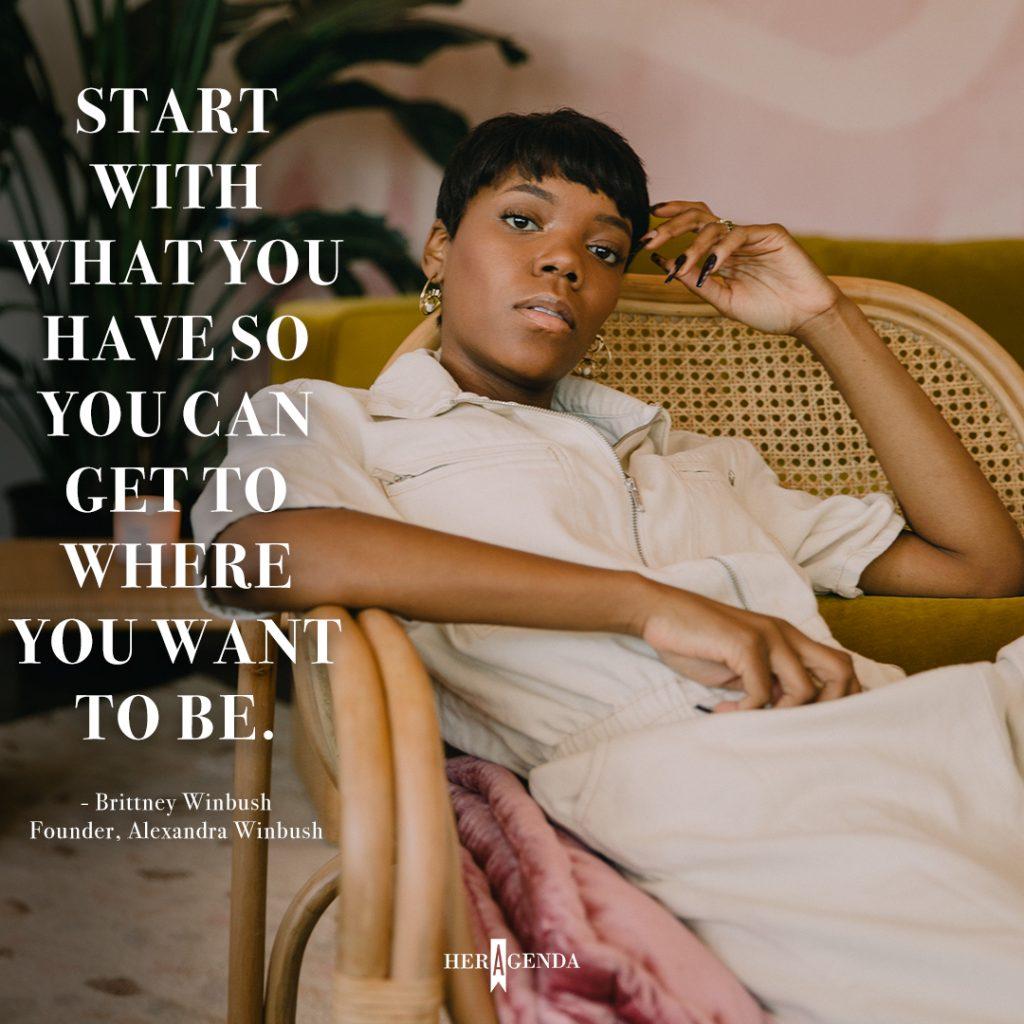 Her Agenda: What is the best advice you have for those who want to start a business but are unsure of where to even begin? What's the best gem you could give an entrepreneur?
Brittney Winbush: I think the best, and maybe even the most basic thing, is to start with what you have so you can get to where you want to be. Figure out what is around you right now and what resources you have access to. So many people wait because they feel they don't have all the "right things." Just start with what you have access to at this moment. For me, all I had, in the beginning, were my ideas, a laptop and a Google doc, and time to research. I spent three months compiling notes, doing research, and putting that all into a Google doc. I emptied my mind and began to flesh ideas out, the ball got rolling. I started using what I had and it grew into what I have now.
[Editor's note: This interview has been edited for length and clarity.]