It's a special gift to have the unique ability to transform women both inside and out. Camara Helps is an artist who embodies this gift. Her journey hasn't been an easy one but because of God, she shares her gift to help heal others.
She is the CEO of Camara AUnique Beauty and is behind some of your favorite celebrity glam looks including the likes of Angela Bassett, Cicely Tyson, and Ava DuVernay to name a few. Not only is she a powerhouse makeup artist but she has a lash line bearing her name.
Camara, spoke with Her Agenda to share her journey as a sought after Christian celebrity makeup artist, creating a lane for herself in Hollywood.
Her Agenda: How did launching a AUnique Beauty podcast in 2020 help you move out of your own way?
Camara Aunique: There's a lot of things that I didn't do in 2018 that I started to do in 2020. God was telling me to do it now. I'm really excited about this podcast. Every time I hit the save button, I think, I hope this makes sense. I hope they understand what I'm trying to say. I never thought of myself as someone just to speak out. Like it's kind of like a TED talk, I'm being very vulnerable by sharing my entire journey.
Her Agenda: How did you get your start in makeup?
Camara Aunique: When I started in makeup, I was working at The Beautiful Planet counter which was an organic makeup brand, in Macy's Herald Square. This is about 12 years ago, no organic products, no vegan products were made for people of color at all. I figured it out though. I worked in between two MAC counters, and I was inspired seeing the MAC girls walking past me all day. At the time, MAC girls were poppin'. I always thought wow look at the MAC girls. Look at her makeup. Oh, wow, she's the bomb. I would just look and think I want to learn how to do that.
Article continues below advertisement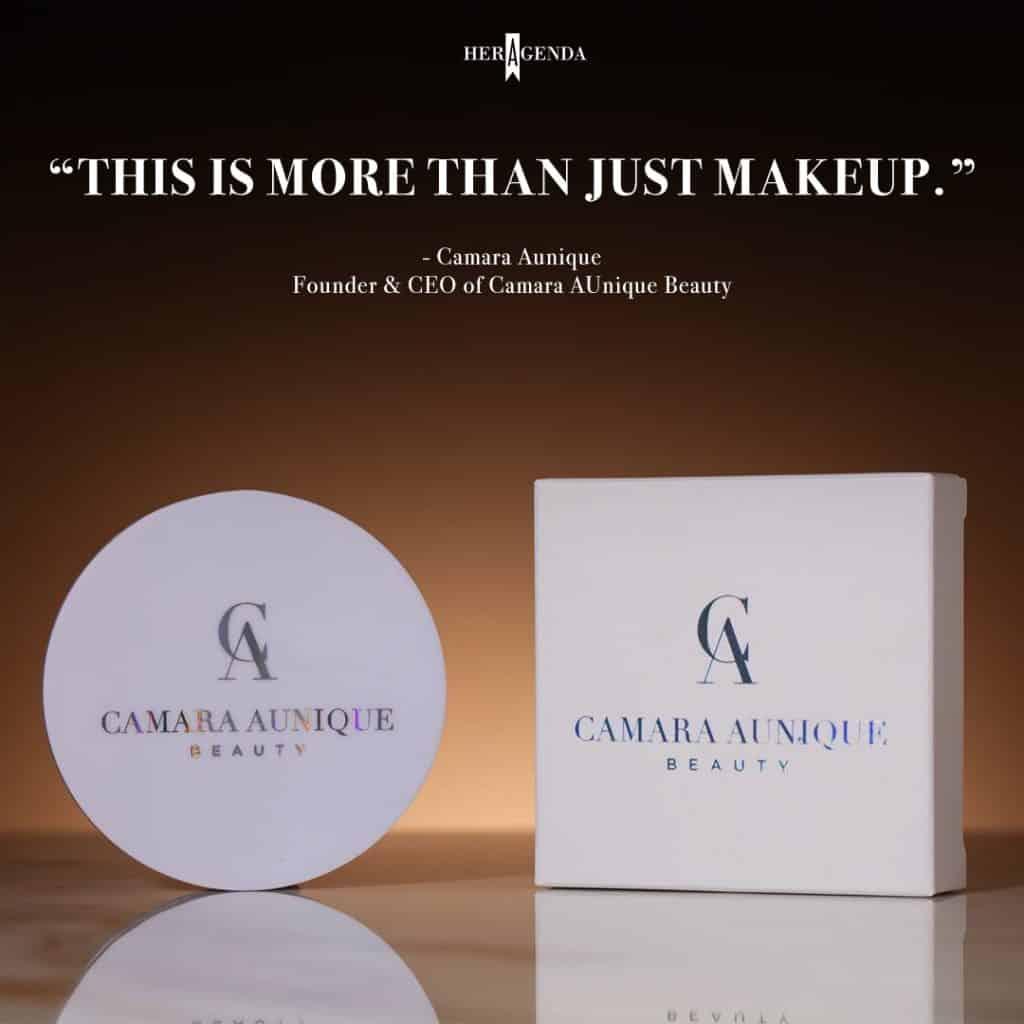 Her Agenda: When did you know you had a gift or something special?
Camara Aunique: I remember this woman came into the counter and MAC didn't have any appointments, she wanted to get a little done before a date. She had a long day at work and just wanted to brighten up her face a bit. It was a first date and she was excited. I did her makeup, applied a little shadow on her, and put some lipstick on her. She looked in the mirror and she started to cry. She said "Oh my god you made me look so beautiful like you enhanced my face and I don't look overdone. I look perfect." I thought I did something wrong and she said "No, you just made me feel so good. You made me feel so beautiful." That was when it unlocked. I thought there is something about makeup. That's when I started to go hard with trying to learn and asking people to teach me. No one wanted to teach me, I actually had to teach myself. All the girls were very mean to me. It also unlocked the fact that this is more than just makeup. I actually let that woman see the beauty that I saw in her. That's been my journey to glam.
Article continues below advertisement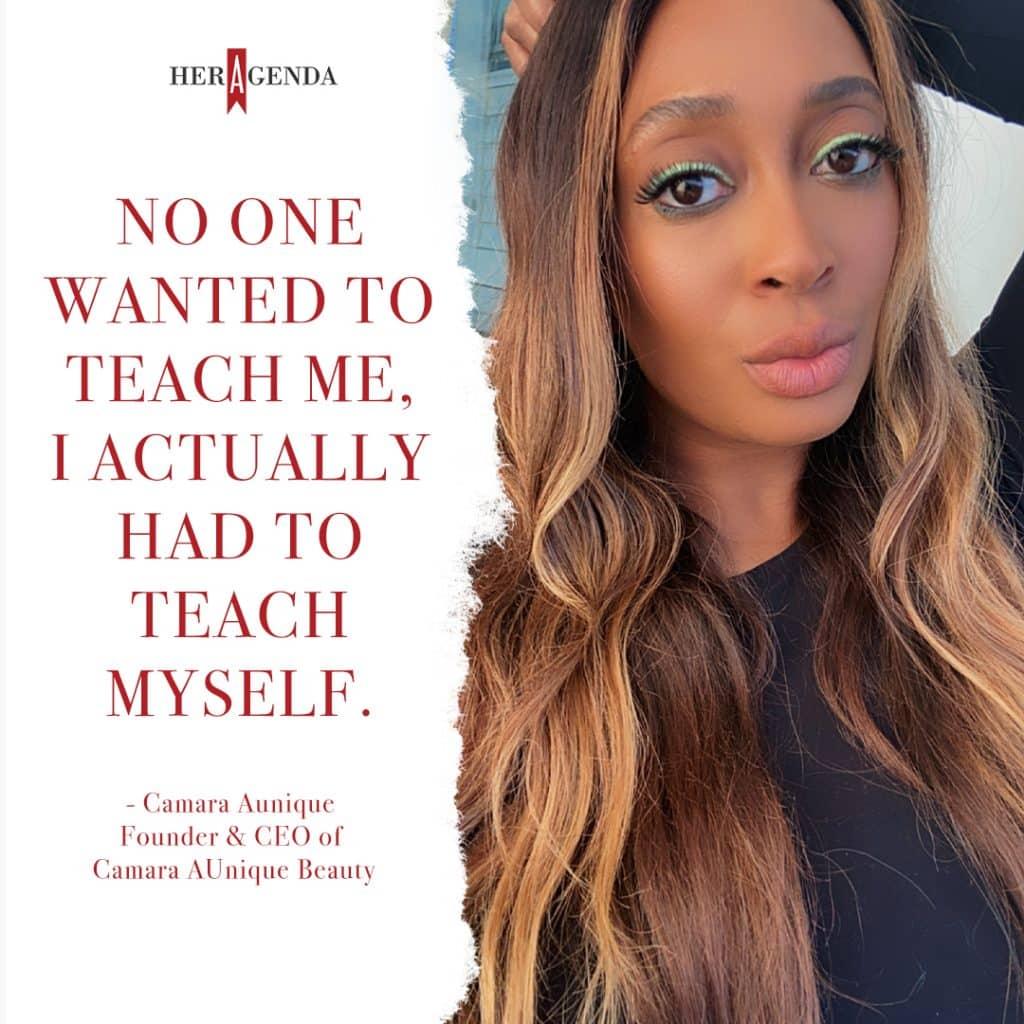 Another time I worked with Ms. Cicely Tyson, and I was doing her makeup, and I'm touching her face. She grabs my wrist and she puts my hand down and she holds it and she says to me, "You have assertive heads." And I said, am I hurting you? Because I'm like, this is a 99-year-old. I asked is that a bad thing? She said "that's a great thing, that means you know what you're doing. I feel safe with you touching me." I will never forget that.
Her Agenda: You've had such a remarkable journey over the last year! How has your life changed since you found God? And how has it impacted your work?
Article continues below advertisement
Camara Aunique: When I found God three years ago, I was broke. I had no money. All my clients were not booking me. My life has changed in many ways, like learning how to trust what I know through the ups and downs of entrepreneurship. What I learned last year was trust what you know, trust what you feel. Trust your gut. The first feeling in your gut, it's always Him. Feeling is the Holy Spirit leading you. Finding God has changed my perspective on makeup and beauty and just being. I used to be so excited to call myself a celebrity makeup artist and add all these different things to my name. Since I found God it is about always leading with Him and asking Him which way do you want me to go? What block do you want me to walk down today? What do you want? Today? What interview do you want me to do today? Do you want me to accept this person or not? Because I honestly tried to do things on my own before. And I found myself in the same place over and over again.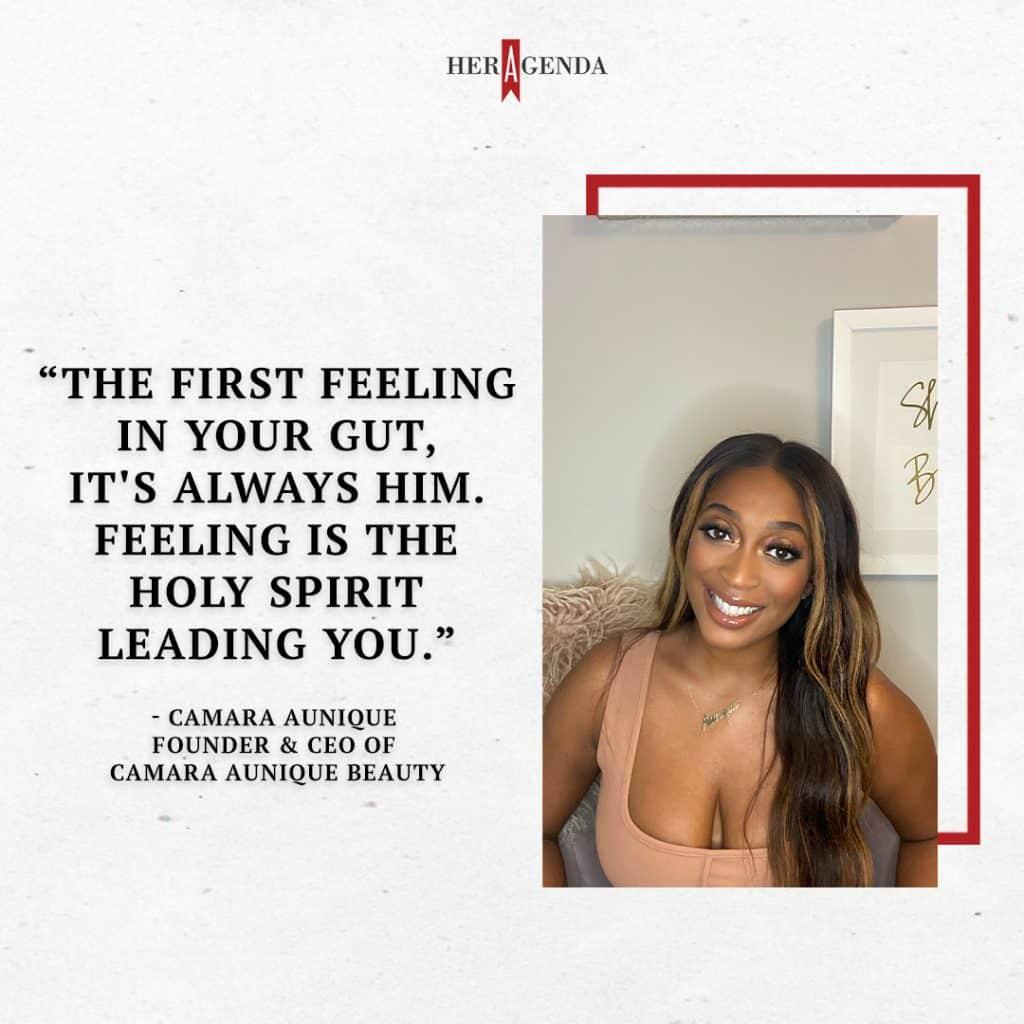 Article continues below advertisement
Her Agenda: How did you learn your purpose since finding God?
Camara Aunique: I learned that my purpose is not about me. My purpose is every room that I enter, every person that I speak to, and everything that I do. My purpose is not about me. It's about God! It's about how I can make people feel the presence of God, the love of God, and the compassionate kindness of God. Whether I am working with Angela Bassett at her home or any person's home that I'm walking into, I think how can I bring God into this place with me?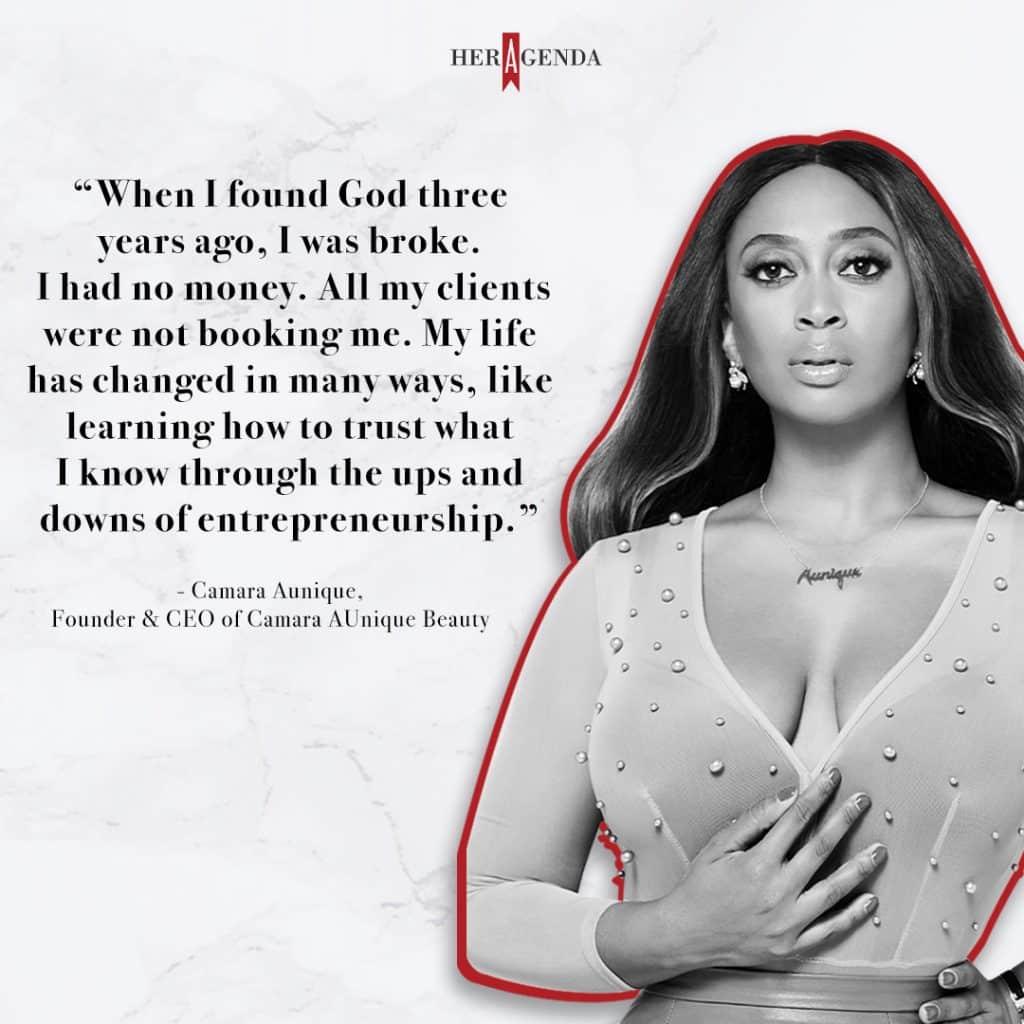 Article continues below advertisement
Her Agenda: Congrats on relaunching your lashes line at the end of 2020. How did that come about?
Camara Aunique: It was God's idea. Previously the lashes were named after women that I was friends with and that I worked with. During quarantine, I didn't feel as connected to those women that I named the lashes after anymore. Not saying that I don't love them anymore. I do love them still, but the connection wasn't there. God said to me, well, who do you feel connected to? I said, well, I've been studying and I've been studying the women in the Bible. I'm connected to Ruth and I'm connected to Naomi. It's so funny because I did a conference with my church and I literally talked about how Ruth is ride or die. Naomi is the one that is the mentor that we want. Naomi is the mentor that we all need. I wanted to introduce people to the women in the Bible and make them relatable.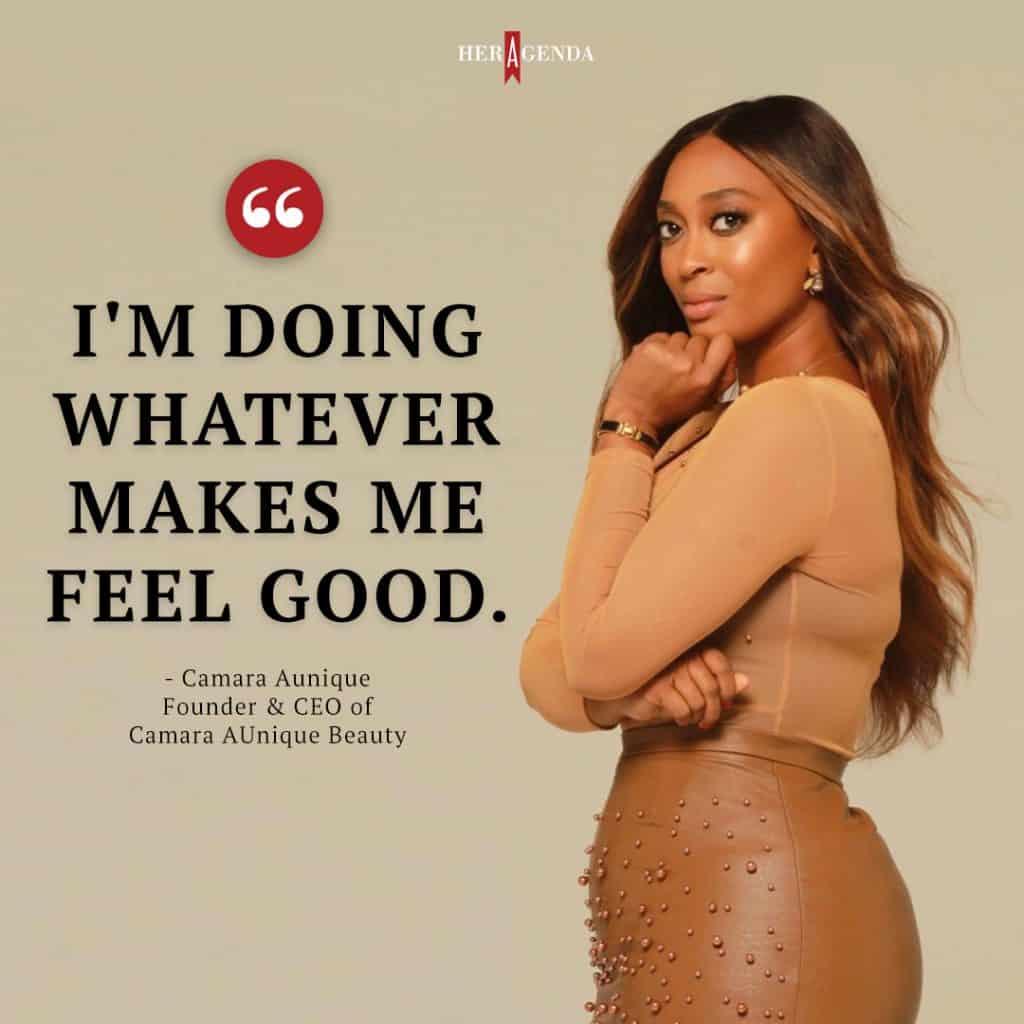 Article continues below advertisement
Her Agenda: In this season, how are you caring for yourself?
Camara Aunique: My body wakes up at 5:30 in the morning, the first thing I do is say my affirmations of inner healing. I read the scriptures that go with it. I thank God for the day. I write about my day. I start with what am I thankful for on this day? What do I want to see happen for the day? How do I expect the day to go? And then I ask God, what do you want me to get done today? I sit there and I get it and I listen to him speak to me. I study the word, I will post whatever I have to post on Instagram. And then after that, I go on my Peloton bike, workout for 20 to 30 minutes. I'm pushing myself every day to workout. I take a nice long shower after and then I make my morning smoothie. It's a simple routine that I have to follow. If I don't follow the routine, then my day is thrown off. It's a routine that I built and I love it, it really makes me feel like I am accomplishing something. From making my bed, fluffing the pillows, cleaning up the house, sweeping the floors a little bit, combing my wigs down. It just makes me feel good. I'm doing whatever makes me feel good.
[Editor's note: This interview has been edited for length and clarity.]