She thought she was in the driver's seat of her life. She had everything she wanted. A successful career in New York City, an MBA, and an education from an Ivy League university. But it all came to a crashing halt in 2007 when she collided with a concrete median going 55 mph. After the near-death experience, Moore woke up to the realization that she wasn't living her true purpose in life—to help others live the life they imagined.
After the accident, Moore's personal transformation included a health journey where she lost 300 pounds and became a triathlete. Through this year-long transformation, she learned how to become a better leader in and out of the boardroom.
Her Agenda chatted with Moore about her recently published book, CRASH! Leading Through The Wreckage Using Personal Power to Transform Your Leadership, tips on overcoming self-doubt, and some of her favorite go-to interview questions.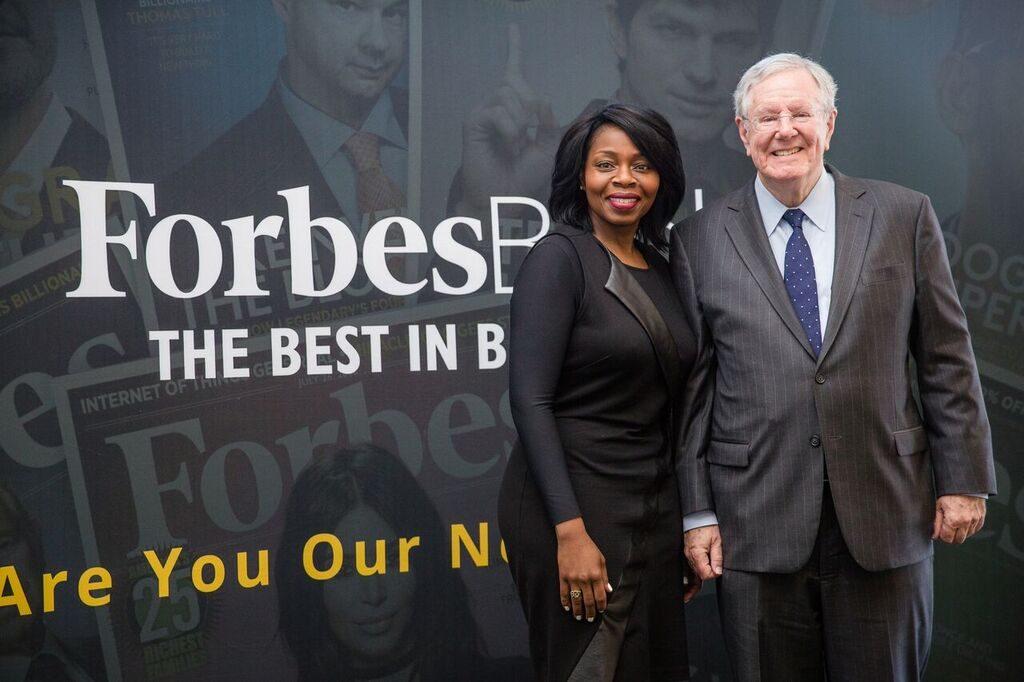 Article continues below advertisement
Her Agenda: After your car accident, you lost 300 pounds and became a triathlete. What are some techniques that continue to help you fit personal health and exercise into your life?
Carla Moore: It takes time to maintain a healthy weight. I'm still old school. I use a mini-physical diary to track exercise daily. My favorite app right now is My Water App. You key in how much your drinking and the more you drink it fills up. I need tools and I have to write in my exercise or it won't get done. You have to make time for yourself!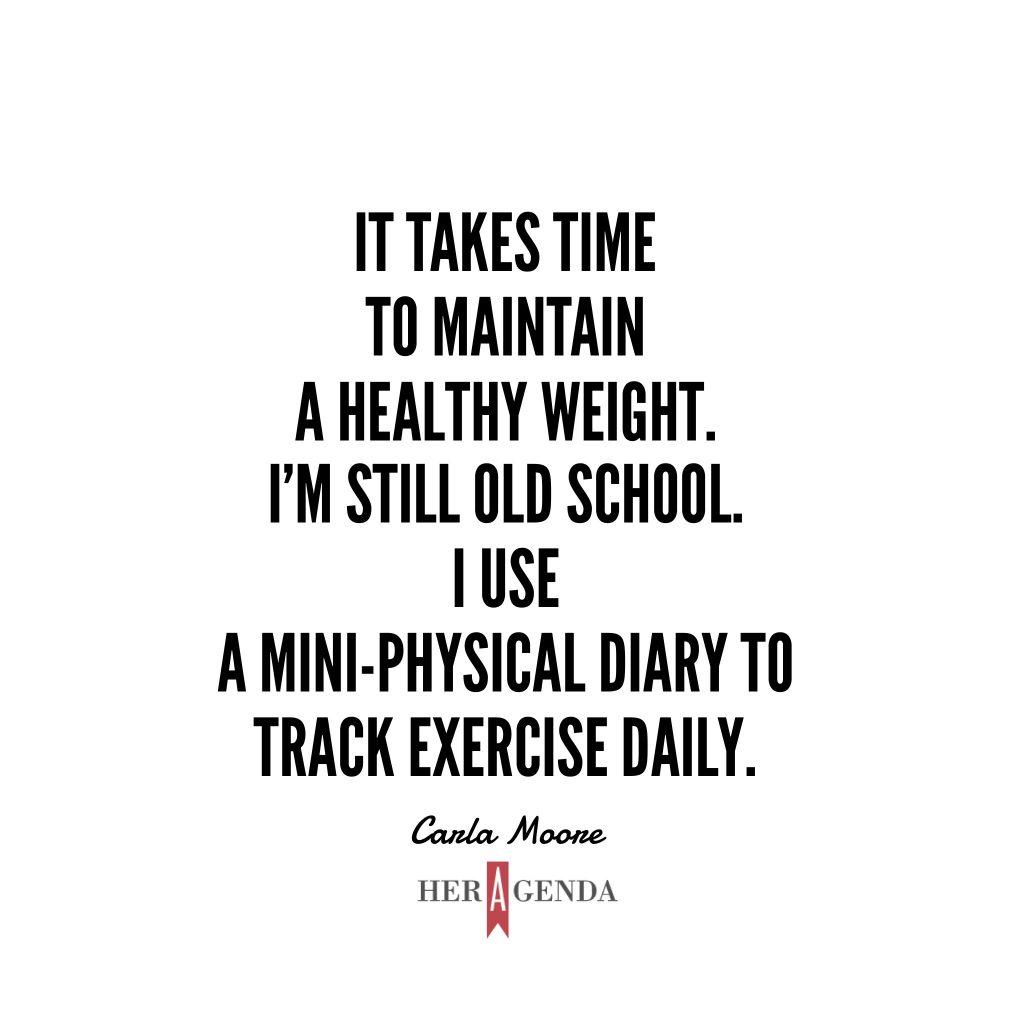 Article continues below advertisement
Her Agenda: You have a workshop called, "Leadership Lessons from Game of Thrones." That sounds amazing. What is your personal leadership style and is there a character on the show who aligns with it?
Carla Moore: I developed this workshop based off of the hit show and I have to say it's filled up every time I do it. My leadership style is what I call enlightened leadership. The leader who knows her power knows who she is and what they are going to do, she no longer needs to compete and prove. You are able to repurpose that energy to find success. It's important to share, teach, and mentor…to give your team the spotlight. Daenerys from Game of Thrones resonates with me. She protects her strongest asset—season 1-2 she's does everything to protect those dragon eggs. Your assets are your people. Nurture their desire.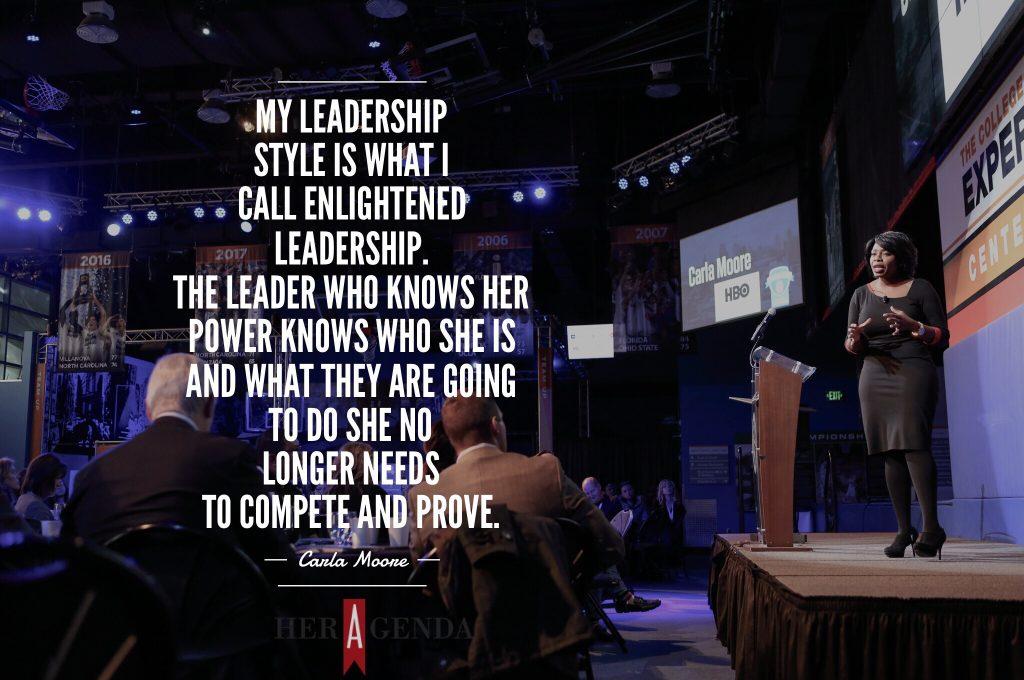 Article continues below advertisement
Her Agenda: Do you think humans are hardwired to must have a crash moment like you did or do you think there are other ways that can help people wake up to take charge of their lives?
Carla Moore: Crash moments are about life. They jolt you to move you in a new direction—could be a relationship ending, death in the family, job search not going well—what do you do in those dark times? Crash moments are a transformation in disguise. It's not about not having any, it's when you get them what do you do with them? I literally thought I was done that day and immediately I knew I was spared. I have a strong spiritual connection to my higher power. I knew that God kept me on this Earth to do something. At that point I was turning 40, despite having an MBA and great career trajectory, I had no purpose. No meaning. At that moment I said he kept me alive so that I can find my purpose.
I wanted to inspire others to live the life they imagined. If I can do all that in one year, I knew then that I was to use my story as a humble illustration to help others to get others to a path.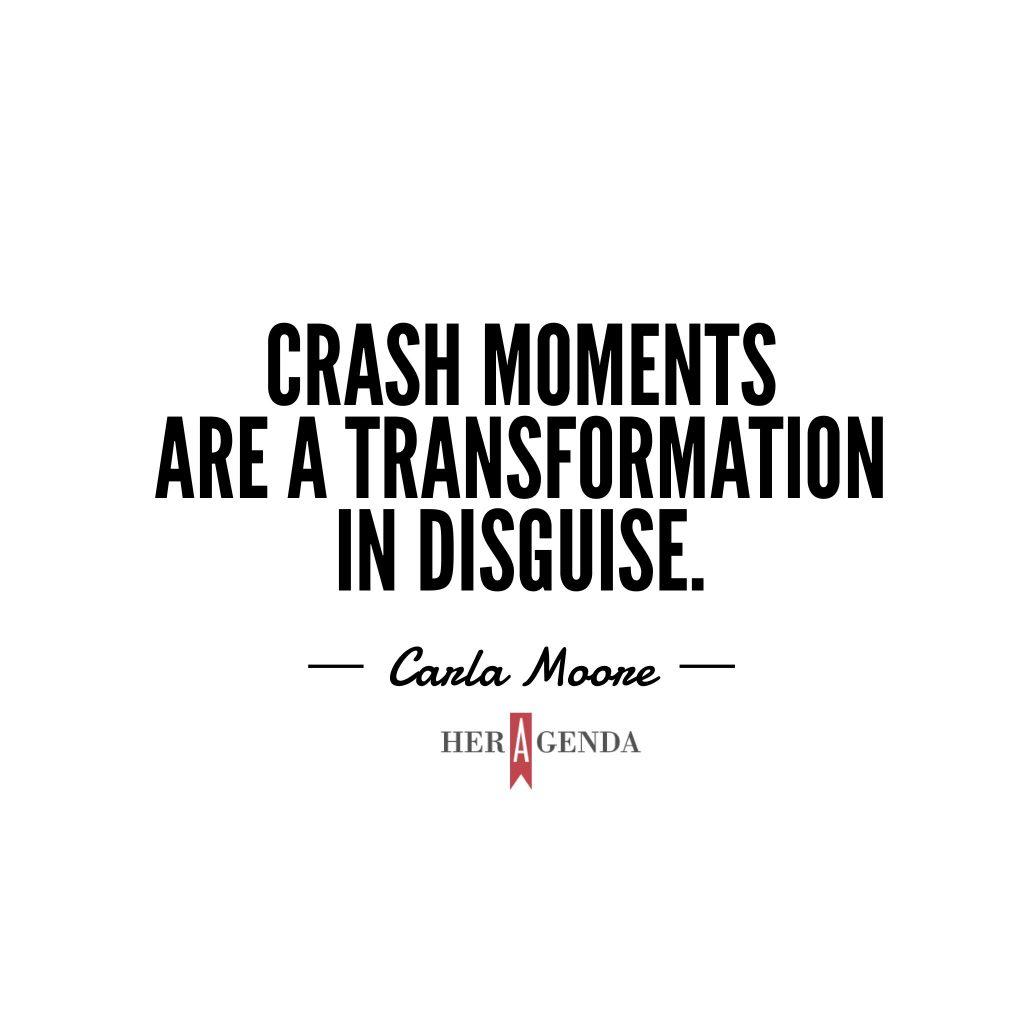 Article continues below advertisement
Her Agenda: With your HR background, is there a question that you like to ask candidates that gets at their problem-solving abilities?
Carla Moore: We do situational interviews at HBO. We are hiring the whole person not just someone who's good at numbers for example. A good one is, "Tell me about a problem you've had recently and what steps did you take to solve it?" That's getting at the solutions piece. Another top question that I ask and young people should be ready to answer, "Tell me what you look like when you are at your best." It gives me a full sense of who someone is and what they enjoy. Another one is, "What's something that you've done that you were not told to do, but initiated?" That speaks to having initiative.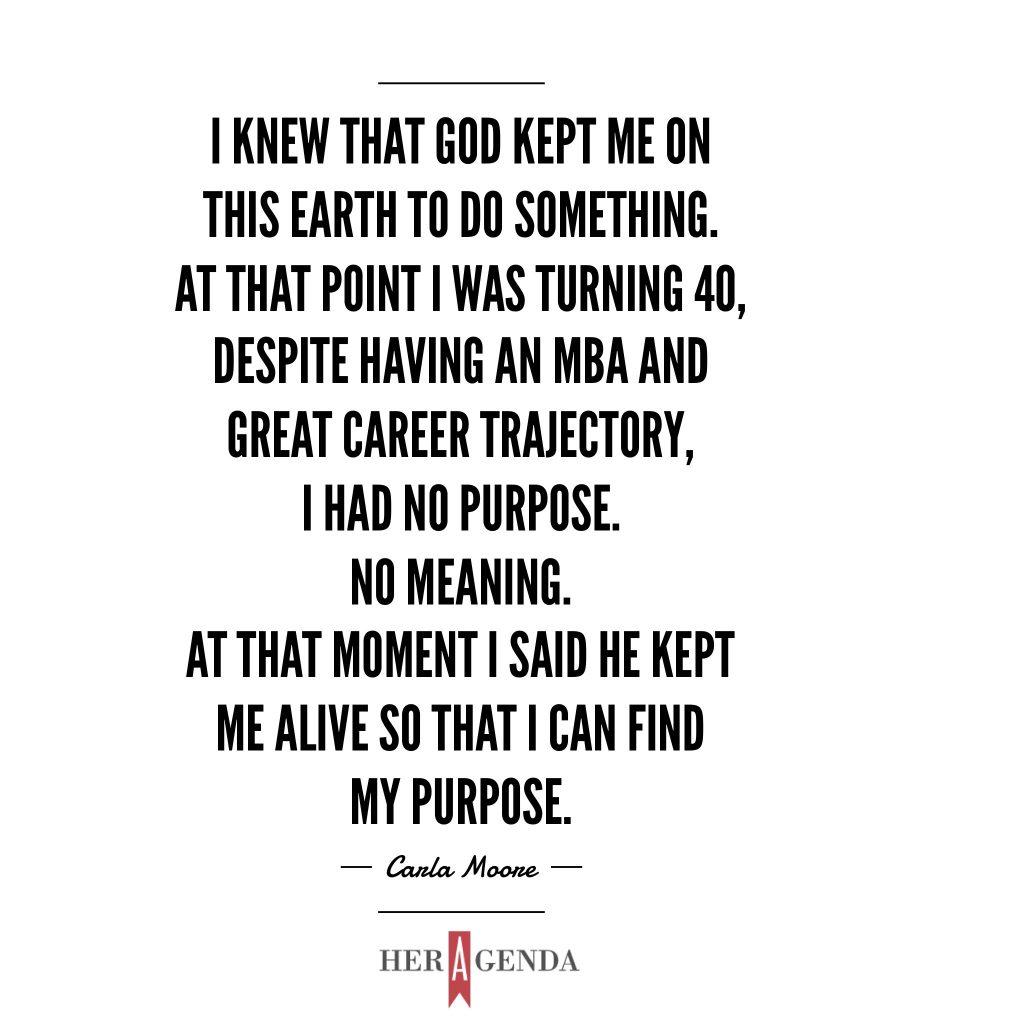 Article continues below advertisement
One of the biggest pieces of advice I can share with you is to tell a narrative. I'm passionate about teaching young people how to tell stories – learn how to tell your story and make it compelling and engaging. That's what we want to hear.
Her Agenda: Reflecting on your career (and human!) journey what do you think most contributed to your success today?
Carla Moore: Mama taught us how to look at things for not just what they are but to find deeper meaning.
Her Agenda: If you could meet any leader in the world who is living today, who would it be?
Carla Moore: No hesitation. It's Oprah. I'm not new on the bandwagon. We're both from Tennessee, no kids, no husband, and we both know it takes a strong spiritual relationship with God to secure success. I've met her before, but I want a conversation with her about life, spirituality. I want to have girl talk with Oprah.
Article continues below advertisement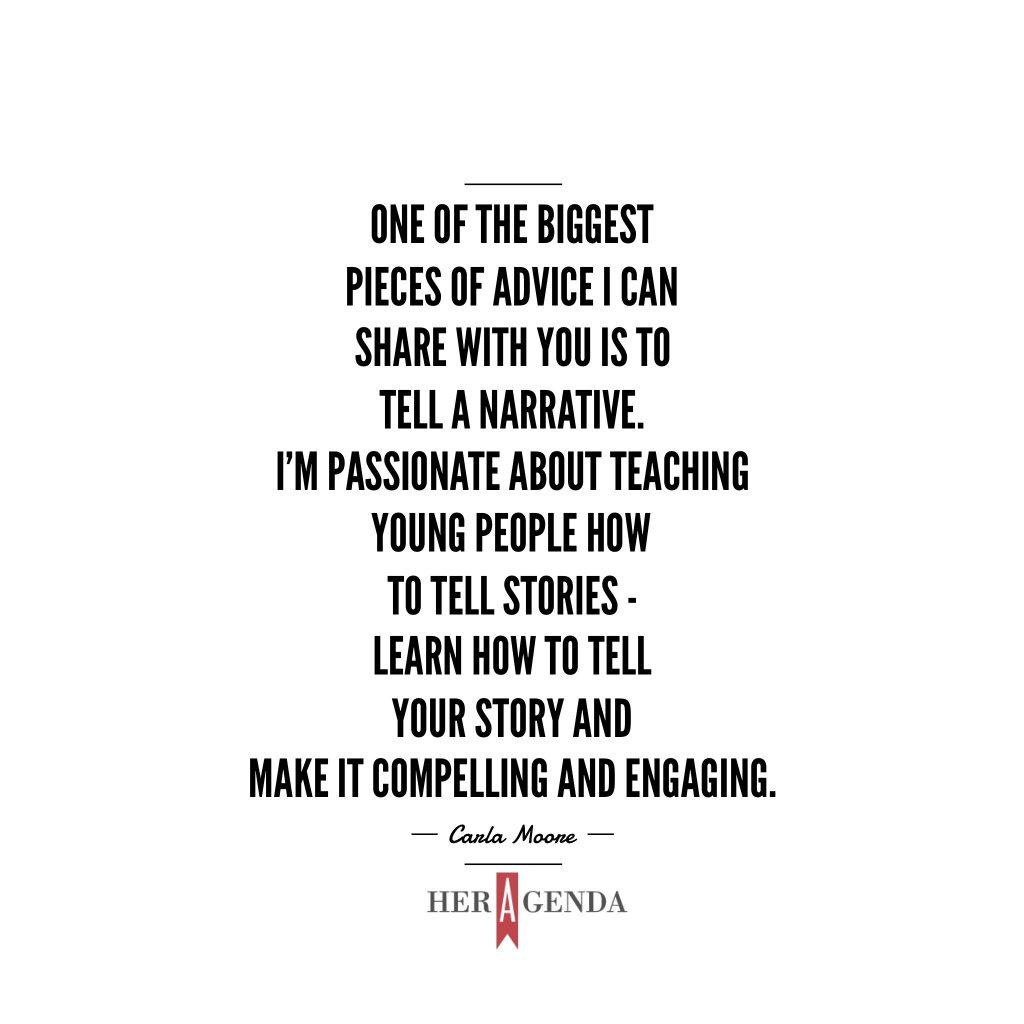 Her Agenda: When you're feeling self-conscious or self-doubt creeps in, how do you overcome it?
Carla Moore: There are a couple of things that I do. The first thing is if I'm about to share a keynote and I'm up about 5-10 pounds I can see that self-doubt. I close my eyes and I do a quick flash in my mind of things that I've accomplished. I run back all of the things that were peak moments in my life and I say them out loud to myself. I will affirm myself. "Carla you wanted to lose a 100 pounds and you did. You wanted to write a book and you did." The day the woman who starts the triathlon is not the same woman who finishes. I cursed the whole three months and asked myself, "Why am I doing this?" From starting at that waters edge to running through that tape, I knew instantly I was a new woman. Going back to those things and standing in a space of gratitude helps. I take a deep breath and then I say to myself, "I'm back on top."
Article continues below advertisement
Her Agenda: Have you ever been in a situation where your leadership style did not work well for an employee? If so, how did you deal with that conflict?
Carla Moore: The answer is yes, but on more than one occasion. I like to work with people who connect with my vision as a leader, who share in it and bring it to life. When I experience resistance from a team member we talk it out. I truly listen and hear them out. We then layout expectations and objectives. After that, the team member usually course corrects. If they disrupt the culture of the team we have to talk it out.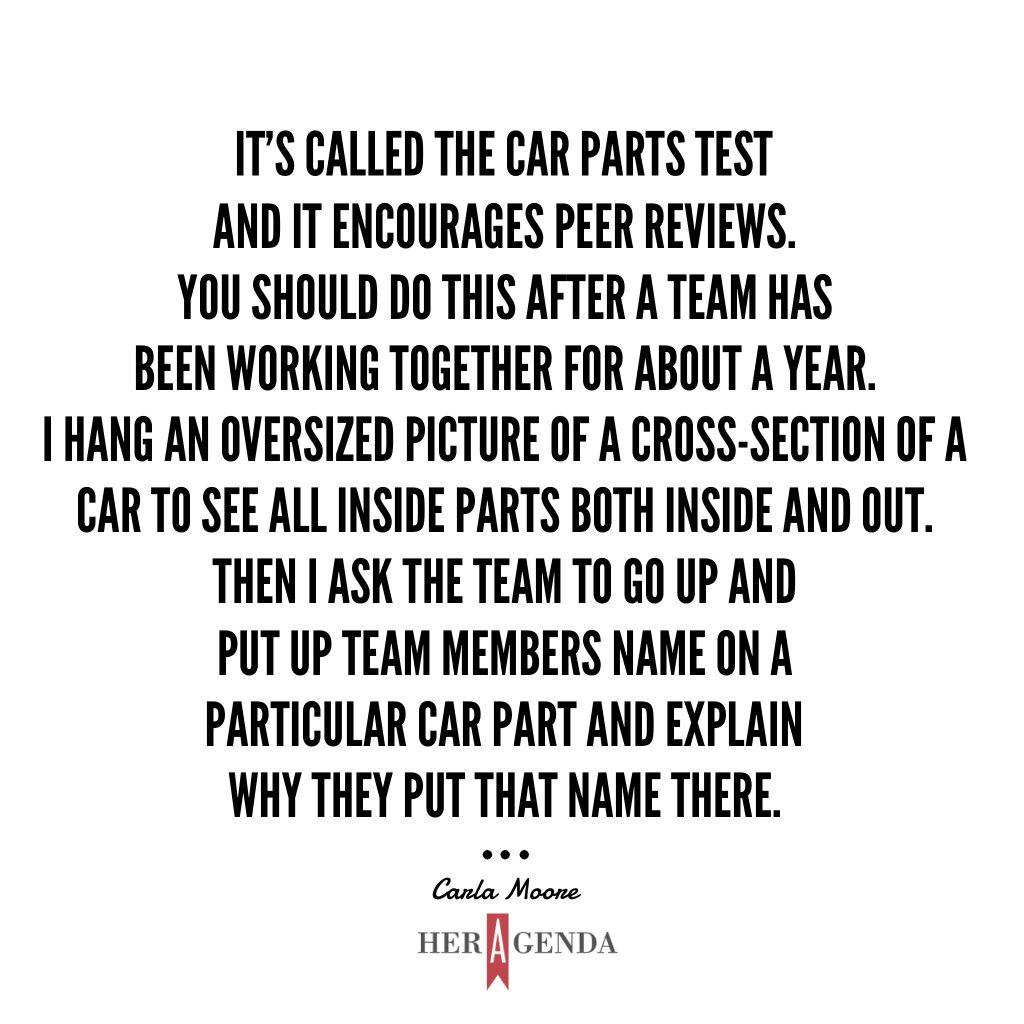 Article continues below advertisement
Her Agenda: Do you have a favorite or go-to team building activity that you would recommend?
Carla Moore: Yes! It's called the Car Parts Test and it encourages peer reviews. You should do this after a team has been working together for about a year. I hang an oversized picture of a cross-section of a car to see all inside parts both inside and out. Then I ask the team to go up and put up team members name on a particular car part and explain why they put that name there. So for example, you might see someone's name on the fuel tank and the colleague shares that she did this because she's the "Fuel of the team" and keeps them running. Or say, someone puts John's name on the brakes and shares it's because he shoots down new ideas. That's helpful feedback! All of this gives people a chance to see how peers see each other in a non-threatening way.
Her Agenda: Do you omit yourself from the activity because there's a power dynamic that you want to avoid?
Carla Moore: Yes! Hearing how others (peers) see you. That's important and there is often not space for that to happen.
Article continues below advertisement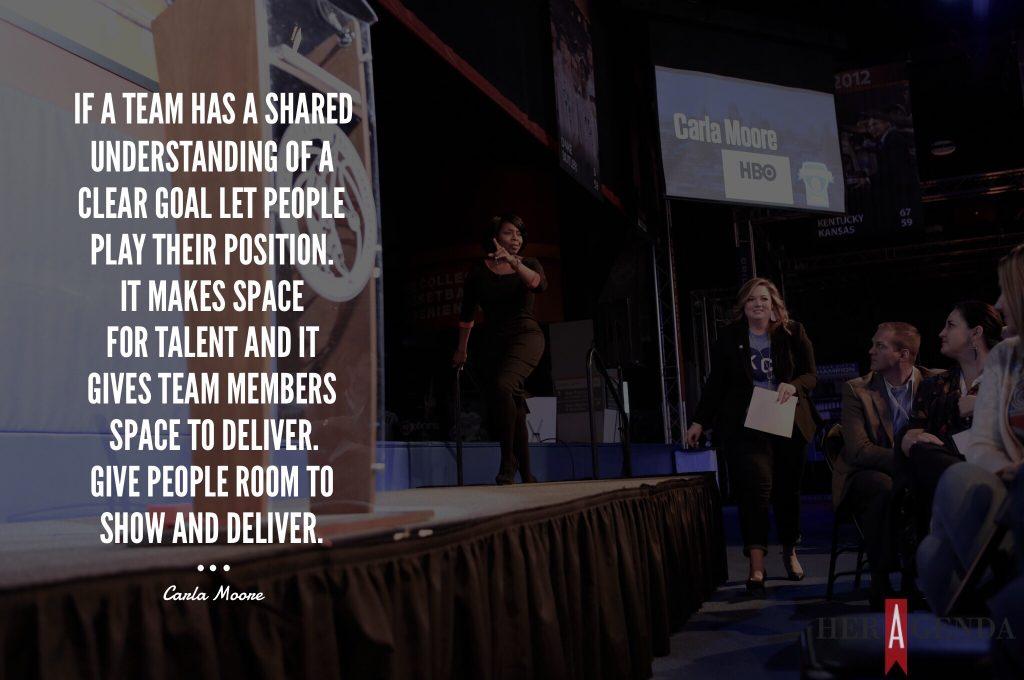 Her Agenda: What are you reading right now?
Carla Moore: "Master Your Cash Flow: The Key To Grow And Retain Wealth" by Albert Zdenek. Us women don't always pay enough attention to our financial health. I met Albert at a Forbes event and really liked his talk. He doesn't believe in wealth for wealth's sake. He believes in wealth, passion purpose and power. It's an interesting way to look at your finances. He believes it revving up your cash flow that can help bring your dreams to life. It's not about that extra pair of shoes. Women need to talk about money and finances more with one another.
Article continues below advertisement
Her Agenda: Do you have a favorite personal motto?
Carla Moore: My weight loss motto was, "Thoughts become things" and I still reference it because it's true that what you think about you bring about.
But my favorite is, "What you seek is seeking you." It's a reminder that you get to choose. You are thinking what you are seeking. It also creates hope and optimism in people. You have to be clear about the choices you make. Our choices shape our destiny.
Her Agenda: In this digital-first world, what are some actionable ways someone can create a strong personal brand?
Carla Moore: First and foremost, all social media platforms have to be clean. If you care about securing future jobs, clean it up. We always check your Facebook, Twitter, Instagram, and LinkedIn. If they are full of profanity, nudity, etc. we immediately eliminate you. Post your life, of course, but in a respectful way.
But even better, post and repost articles from industries that you wish to break into and that you find interesting. If I see that you've posted some articles on latest trends in recruiting and top trends for a job in HR…that's amazing.
Her Agenda: In your experience, what is the greatest motivator for people to do their best work?
Carla Moore: Freedom. If a team has a shared understanding of a clear goal let people play their position. It makes space for talent and it gives team members space to deliver. Give people room to show and deliver.
[Editor's note: This interview was published on May 28th, 2018. It has been edited for length and clarity.]