Christina Vuleta started carving her own innovative career path since her early advertising days, when she was one of the first account planners at an agency. Passionate about consumer behavior and insights, she moved across industries including futurism, research and consulting. Along the way, she picked up a passion that would end up being the cornerstone of her career – providing actionable advice and mentorship for women.
Christina created a series of startups, including 40:20 Vision and the breakout 7×7 Mentoring Salons program, which focused on intergenerational mentorship. Her latest high-profile move as the VP of the Women's Digital Network at Forbes positions her in the editorial world, where she pulls on her experience in the realm of consumer behavior and mentoring to lead the charge in giving women the answers they need to take their next career step forward.
Though Christina's trajectory is far from traditional and includes jumps into several different types of industries and jobs, by following her curiosity throughout her career, Christina shows us how you can connect skill sets to jobs, and create opportunities for yourself in new industries.
Her Agenda: You have a great, diverse background. You started in advertising, moving across the board from account, to strategy to planning, then into a futurist group, launched multiple startups and topping it all off, you lead editorial for Women@Forbes. Tell us a little bit more about what your interests were when you started your career? How did you originally anticipate your career growth?
Article continues below advertisement
Christina Vuleta: I think of my career as being a tree. You have the trunk and you're building [from that]. [So] all the rings in the in the trunk, those, to me, are all the portfolios of skills that you are building. When you think about the branches, those are the different paths you can take. Sometimes you go out on a branch and you find [that] if you actually go down to another branch, you're going to get onto a stronger branch line. Or that if you go too far out onto a branch, it isn't very stable and it's going to be hard to get back.
[Throughout my career] I actually had to take a step back to get on a stronger branch. Every time I've made a career move, I thought where can I go? What kind of work can I do next?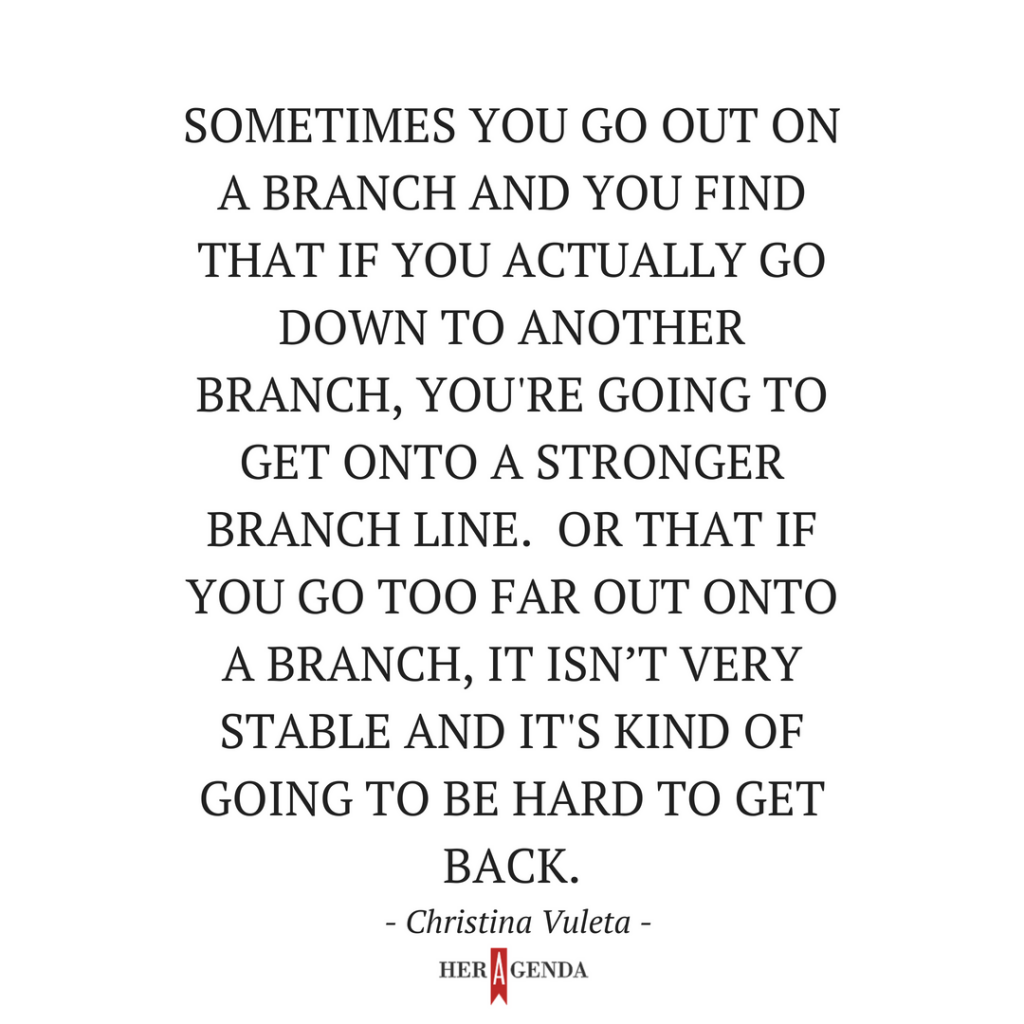 Article continues below advertisement
Her Agenda: You started out in advertising. What was that like?
Christina Vuleta: I was a marketing major and I was really into the consumer behavior and [the] psychology aspect. I thought I wanted to be in advertising, specifically in media planning [because] it's all about figuring out who the target audience is and how to reach them. I thought that was my path.
Then, I [discovered], 'oh it's actually, a lot of numbers and a lot of fun media parties' but it wasn't exactly what I expected in terms of delving into how consumers are [living], and how that's changing and how it intersects with where culture and brands are going.
I ended up moving into [account] management. I was writing the creative brief [strategy] and doing focus groups when that was still part of the account management function. Then [this role called] 'account planning' was born and I [thought], 'oh, they actually finally created the job for me!'
Her Agenda: Ahhhh… so you were there for the origins of account planning!
Article continues below advertisement
Christina Vuleta: Yes, I was an [account] planner at Saatchi and Saatchi when it started. I remember at the time, somebody [told me strategic planning] is the most entrepreneurial area of advertising because you're the independent eye, the voice of the consumer, you are seeing where culture goes. [The] point is to be objective and find out how consumers are filling their needs in new ways and how can you make this brand relevant. That's how I got into it. That was the beginning – that love of [the] consumer.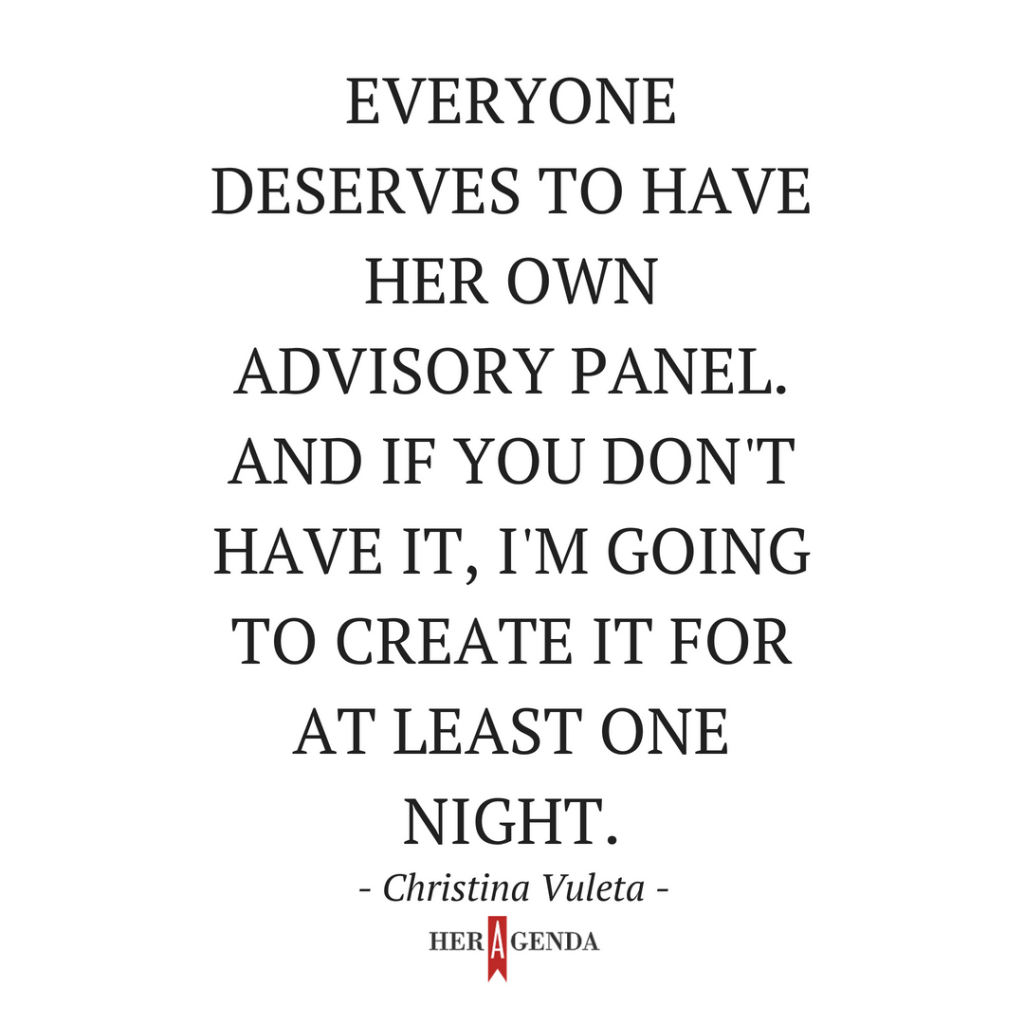 Article continues below advertisement
Her Agenda: What shifted you out of advertising for good?
Christina Vuleta: I had been at Saatchi for a while and I realized I'm really good at what I'm doing. I enjoy it. But, if I stay here for too long I'm going to be pigeonholed. [I realized] I don't want to just write strategies to create an ad for a television commercial or a print ad or even a website.' So, I left and went to a company called Faith's Popcorn Brain Reserve, which was all about trends. They were the first futurists.
Her Agenda: Was that when your entrepreneurial bug hit?
Christina Vuleta: [That] actually came about by accident. I went to brunch one day with a bunch of my friends. There was a long wait for a table and these young women started asking all these questions. I [thought], 'they're asking the same questions that we were asking 20 years ago. I really hope that 20 years from now we're asking different questions.'
Article continues below advertisement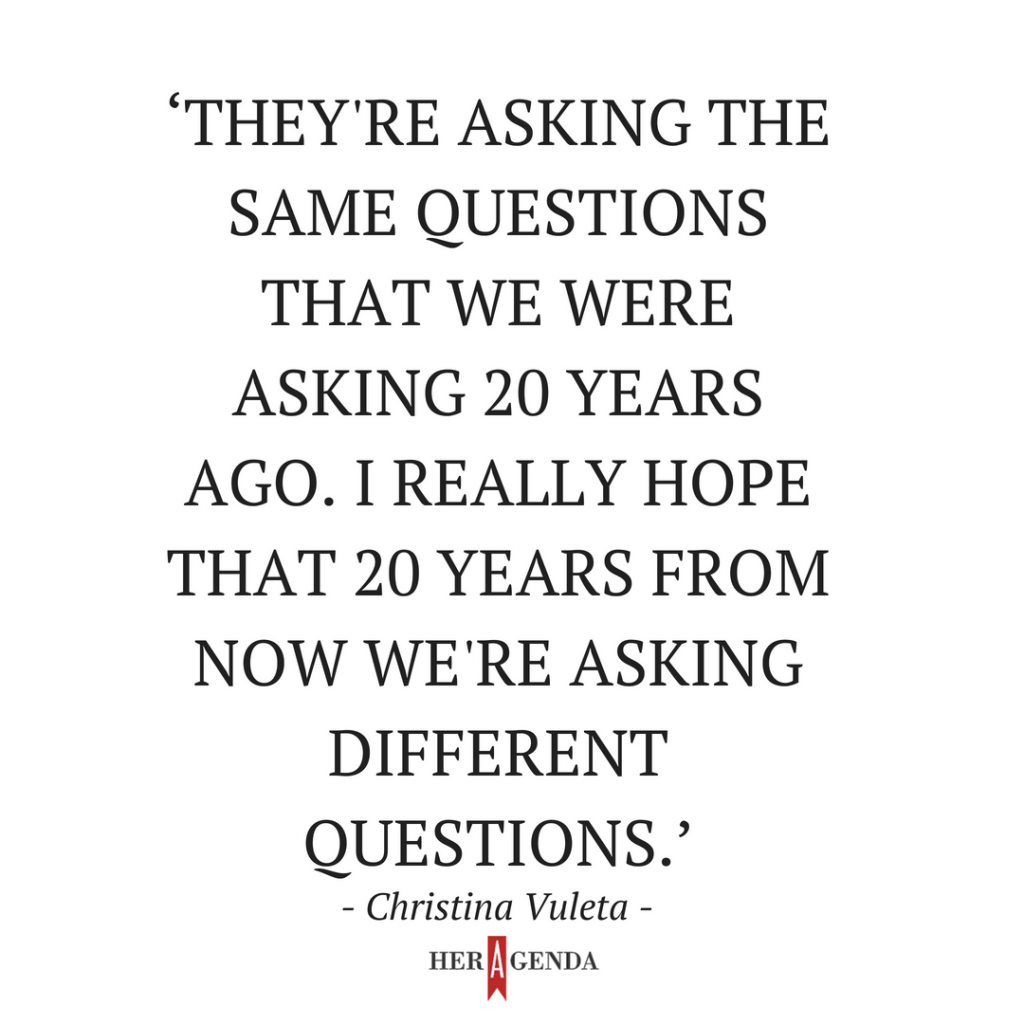 When we sat down [for brunch] I kind of said, 'I wish I could just bottle – everything we know now – it and give it to them.' Then [I realized], 'hey look at us! There's eight of us at this table having brunch. We've all gone in different directions. We've all gone in a different direction than our mothers did. We've had all these different choices – starting our own companies, not getting married, not having kids. But the one thing we all have in common now is that we're making tough decisions for ourselves and not for our parents, not for what the media says.
Article continues below advertisement
I thought, 'what if it's not really about telling 20 somethings what to do but actually just sharing the consequences of our decisions? Because we've all made different decisions. That would give people more perspective and a head start on making better decisions for themselves.'
[That's is when the idea for 40:20 Vision was born. A resource for sharing the advice of 40-something women with 20-something women.] I ended up quitting my job and ended up and going around the country interviewing about 160 women on what they know now that they wish they knew then. I call it my 40:20 Vision tour.
I came back to New York and was going to write a book. I talked to a couple of book agents and they loved the idea but told me that I needed a platform.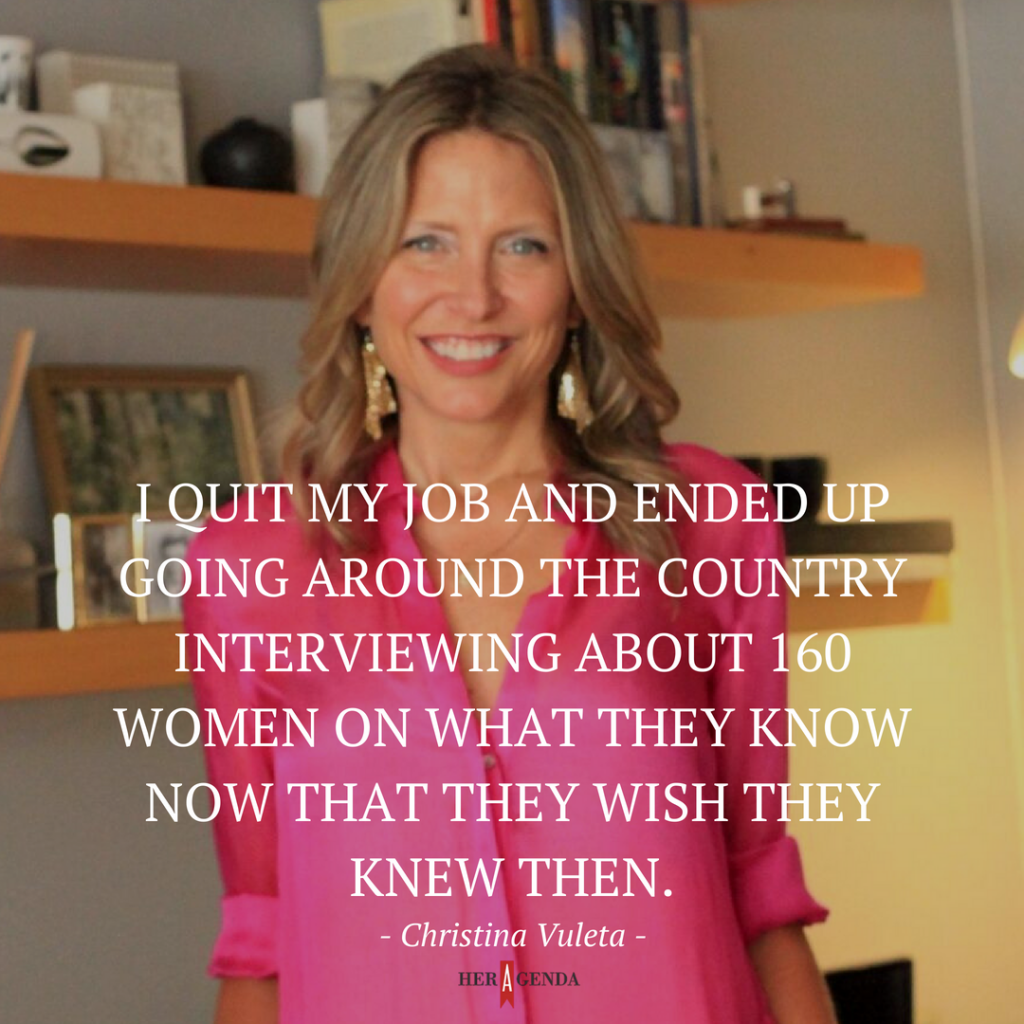 Article continues below advertisement
Her Agenda: Was that the start of 40:20 Vision?
Christina Vuleta: That's when I started the blog. It was right around when Lean In was coming out and when Anne-Marie Slaughter [wrote the article arguing that women] can't have it all.
But also, [I was thinking] 'I can't change the structure or the system. But I can try to help every woman I touch take her next step forward by sharing wisdom and also creating these mentoring salons [that are] very action oriented.'
I started these [7×7 Mentoring Salons] where I would get seven up and coming entrepreneurs and ask them what was the one thing holding them back from taking the next step forward? I would then curate a panel of seven advisors. Everyone deserves to have her own advisory panel. And if you don't have it, I'm going to create it for at least one night. I quickly found out that people got a lot out of just that one night because it was so action oriented.
Article continues below advertisement
I spent a lot of time trying to figure out how to build that into [a business] and create an online place where you could create your own advisory panel. I learned a lot about how hard it is to monetize mentorship. [Meanwhile], I started my own consulting business and and kept exploring different ways of doing [creating a mentoring platform]. I [also started doing] mentoring salons for corporations [and created a list called] 40 Women To Watch Over 40. I kind of found all these side projects that were in the female wisdom exchange/empowering mentoring area.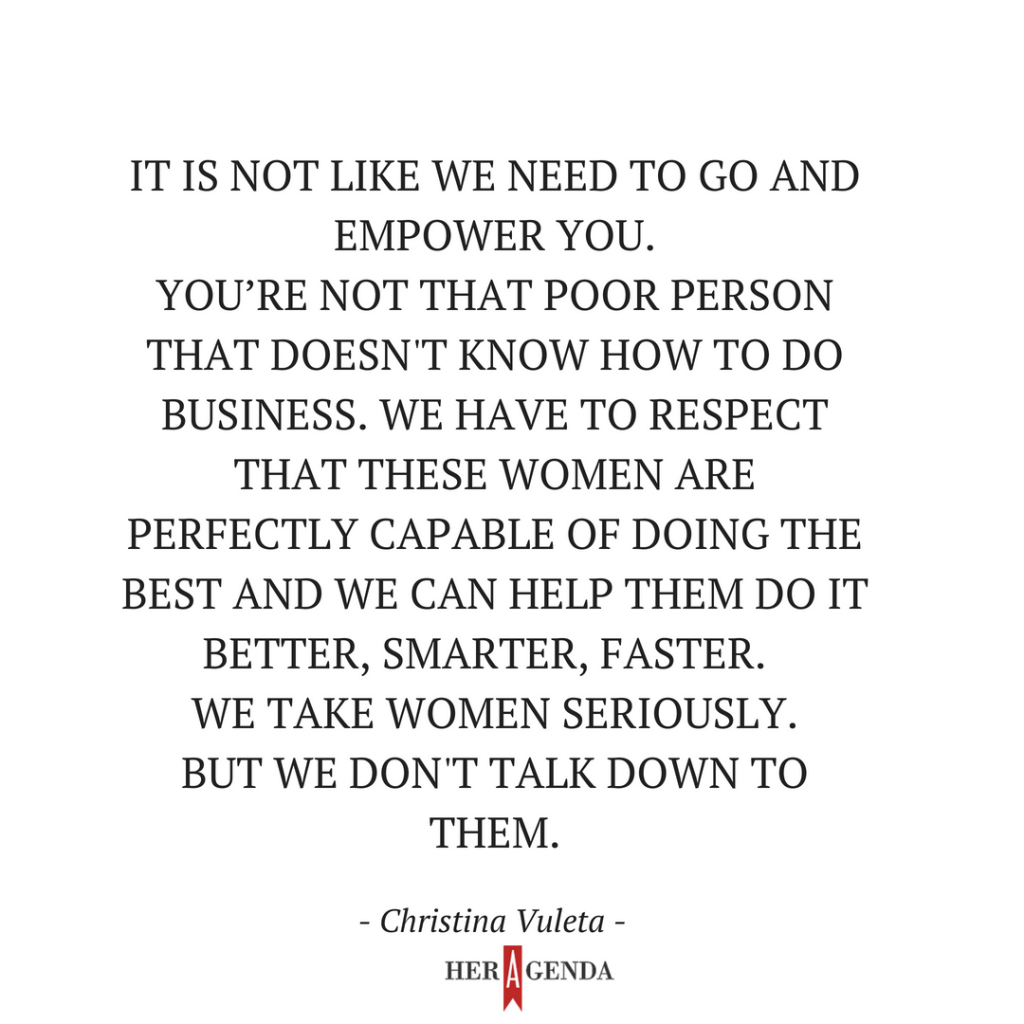 Article continues below advertisement
Her Agenda: How did you manage that workload?
Christina Vuleta: Well it's really interesting – when you are doing [work that] energizes you, you're energized by what you do. It filters over into [other areas of] your life.
I did come to a point where I was like, 'You know I kind of miss that energy I get from working with a team' and that's why I decided to go back to work full time.
I had a couple of different things going on but [then] I met [the man] that originally brought me to Forbes. [We saw the opportunity to take all the smaller entrepreneurial communities I'd been building on the side around women and amplify them.]
He wanted to relaunch the women's content to attract more entrepreneurial and millennial women and I had that expertise. He was very innovative in terms of wanting to bring in people from different backgrounds.
Her Agenda: Talk to me about the kind of work you guys have been doing over at Forbes and the type of initiatives you all have pushed out.
Christina Vuleta: Based on the work that I did with 40:20 Vision and the mentoring platform, I wanted to be action oriented. Our mission became that we want to help every woman take the next step forward because every step forward for a woman is a step forward for all women and for the economy.
Article continues below advertisement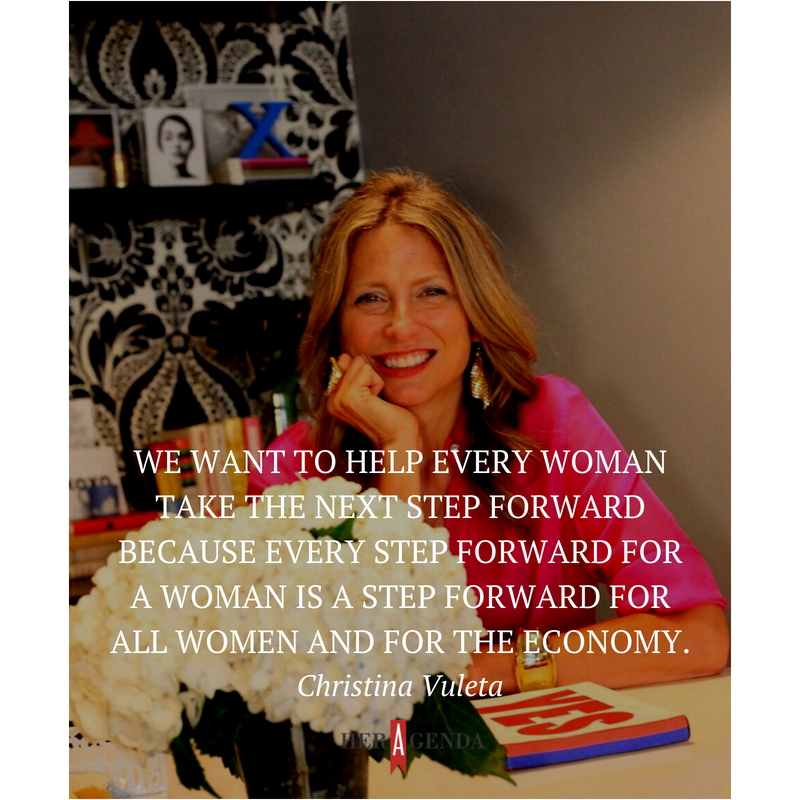 Christina Vuleta: We wanted everything to be very action-oriented. I want to talk about the problem, I wanted to talk about the solution. There's a lot of talking about the problems and issues and so forth and that's great. But other people are already doing that and they're good at doing it. I want [Women@Forbes] to be about taking that next step forward along the lines of what I did with the 7×7 Mentoring Salons.
Article continues below advertisement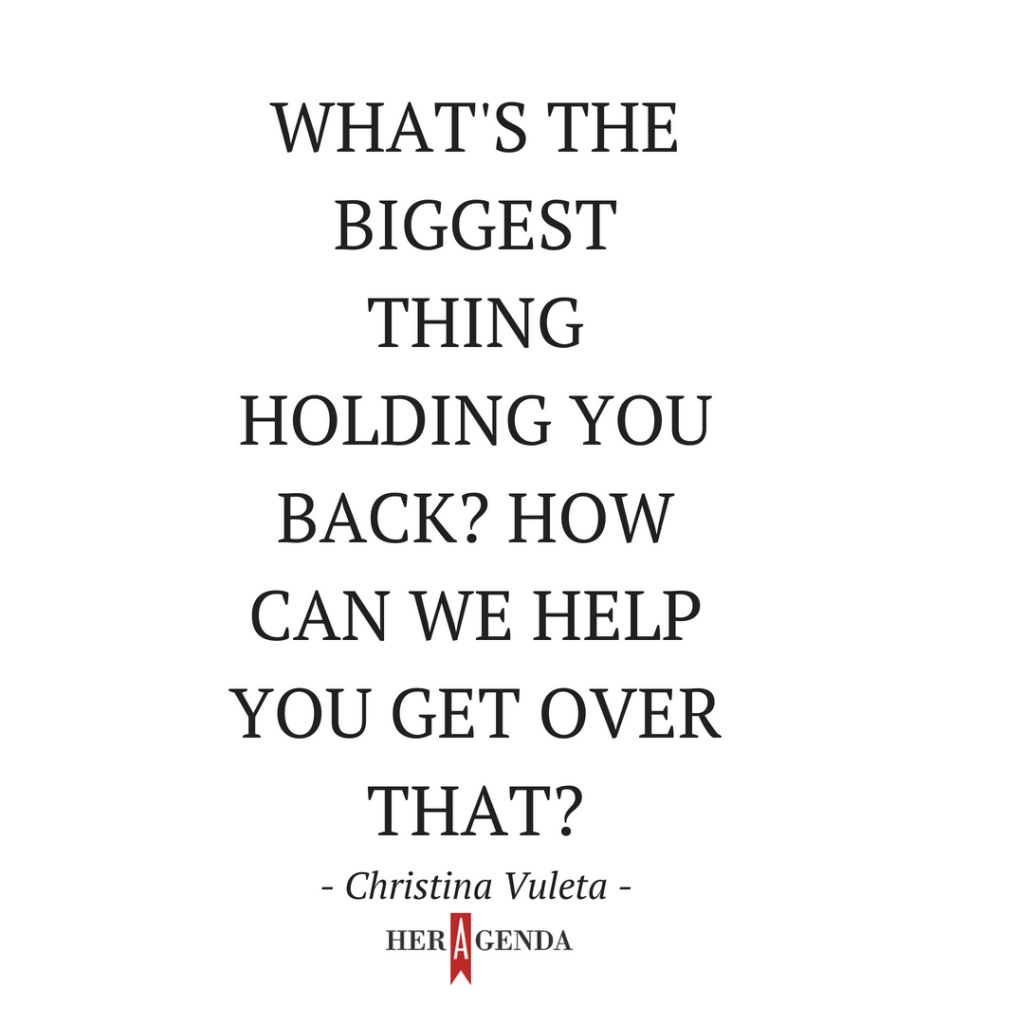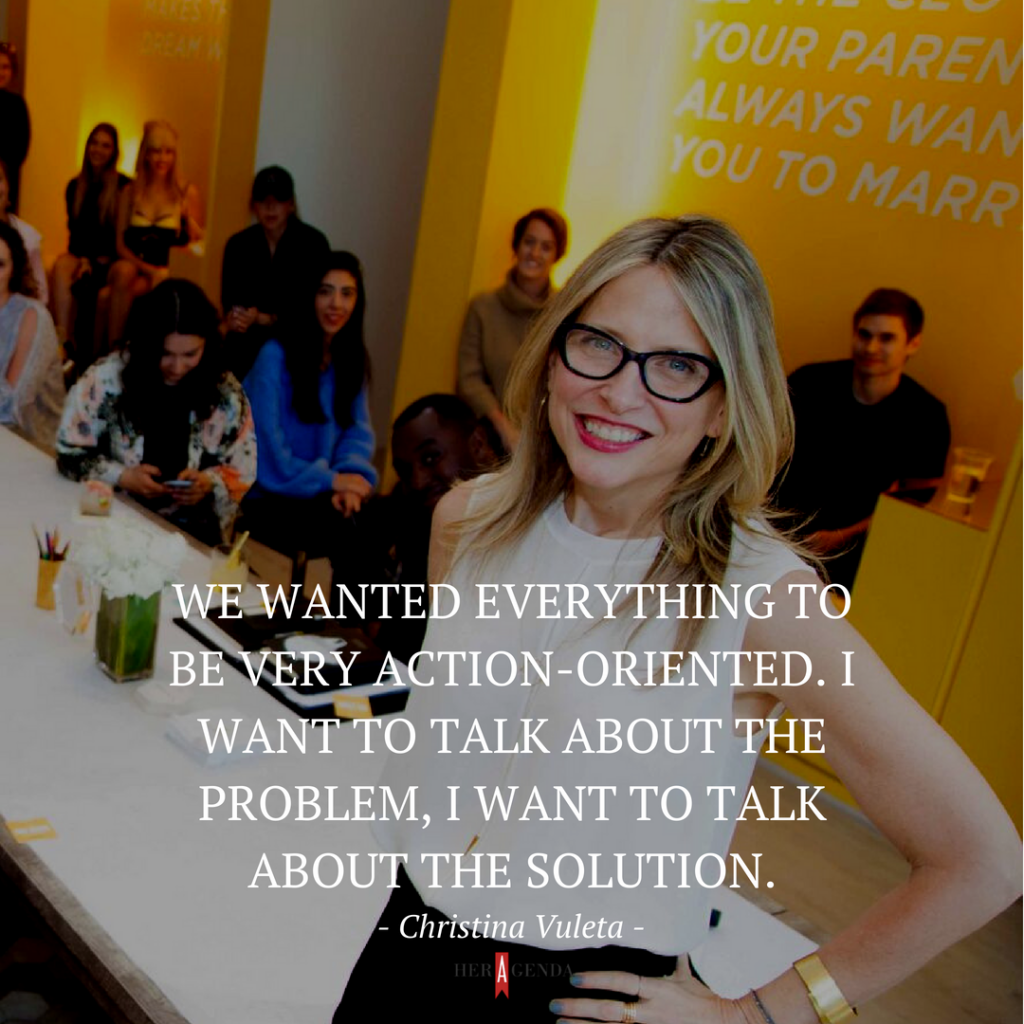 Article continues below advertisement
Her Agenda: Where is this all going? What is your ultimate goal for Women@Forbes and also for yourself?
Christina Vuleta: The work won't be done until the pay gap is equal, and women have taken all their steps forward so that we don't need a Women@Forbes anymore. I really hope to move that needle in terms of getting women to take the next step forward so that somehow we will eventually eliminate the need for it. I also want people to realize that there's something new happening, there's something different, [there are] interesting conversations happening at Forbes.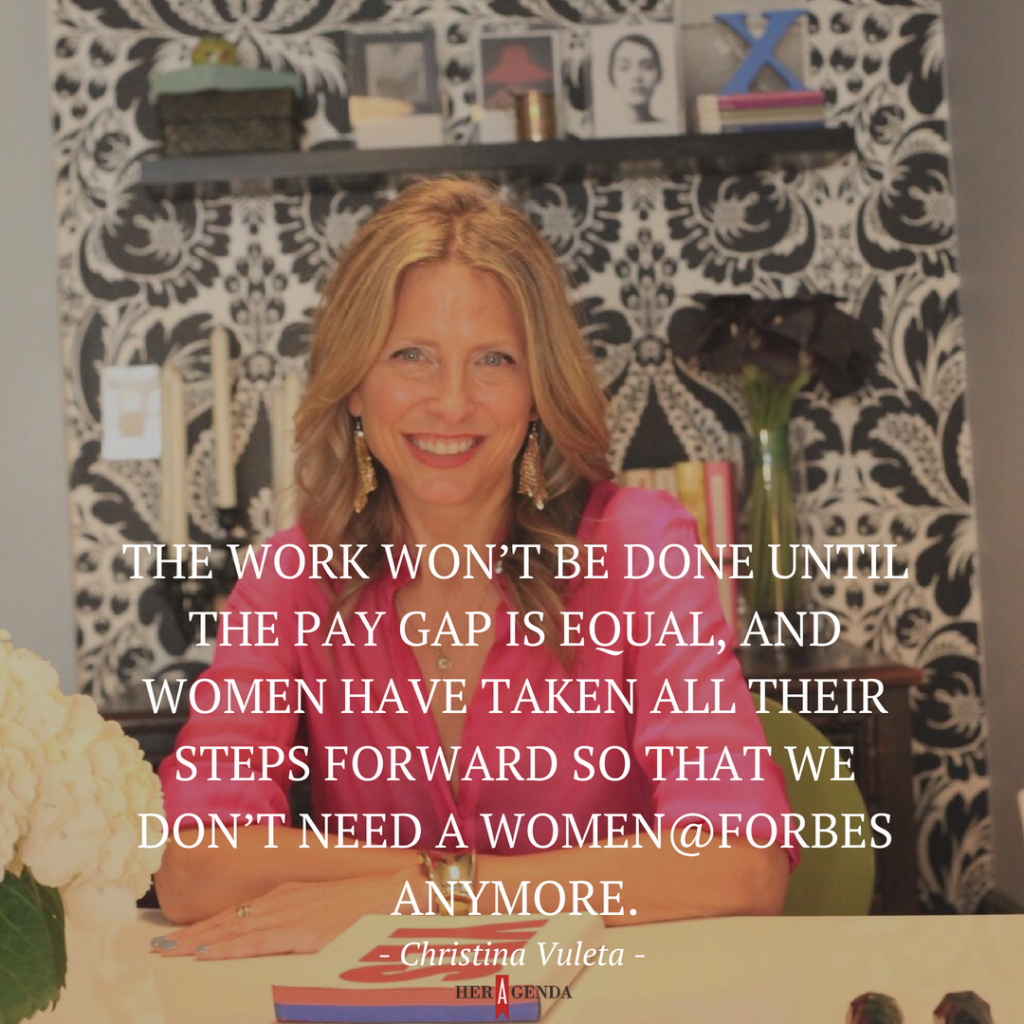 Article continues below advertisement
Her Agenda: Because we live in such a digitally disruptive time where industries like the media, advertising, are shifting at best and entirely crumbling at worst, what kinds of insight do you have around that for readers who are in those fields?
Christina Vuleta: So many millennials have the desire to continually learn. You need to apply that to yourself and keep that passion alive. [In my career, ] I continually asked myself, 'am I still learning'? If not, the choice was either to find passion elsewhere or find something new to add to my skillset that I was passionate about.
When you're learning something, that's what's exciting. I always think about a move in terms of what value can I add to this new job? This new position? This new company? What knowledge do I have? What have I learned from my experiences that I can add here? But also, what value can I get from them? What am I going to learn? What am I going to take away from this that I can then bring to the next job so it's that combination of what value I am going to get and what value I can give?
Always think about what your interests are and what is the intersection between your interests and your strengths and where that is going to be valued most. If everybody were to climb the exact same ladder, the world would topple over.
Article continues below advertisement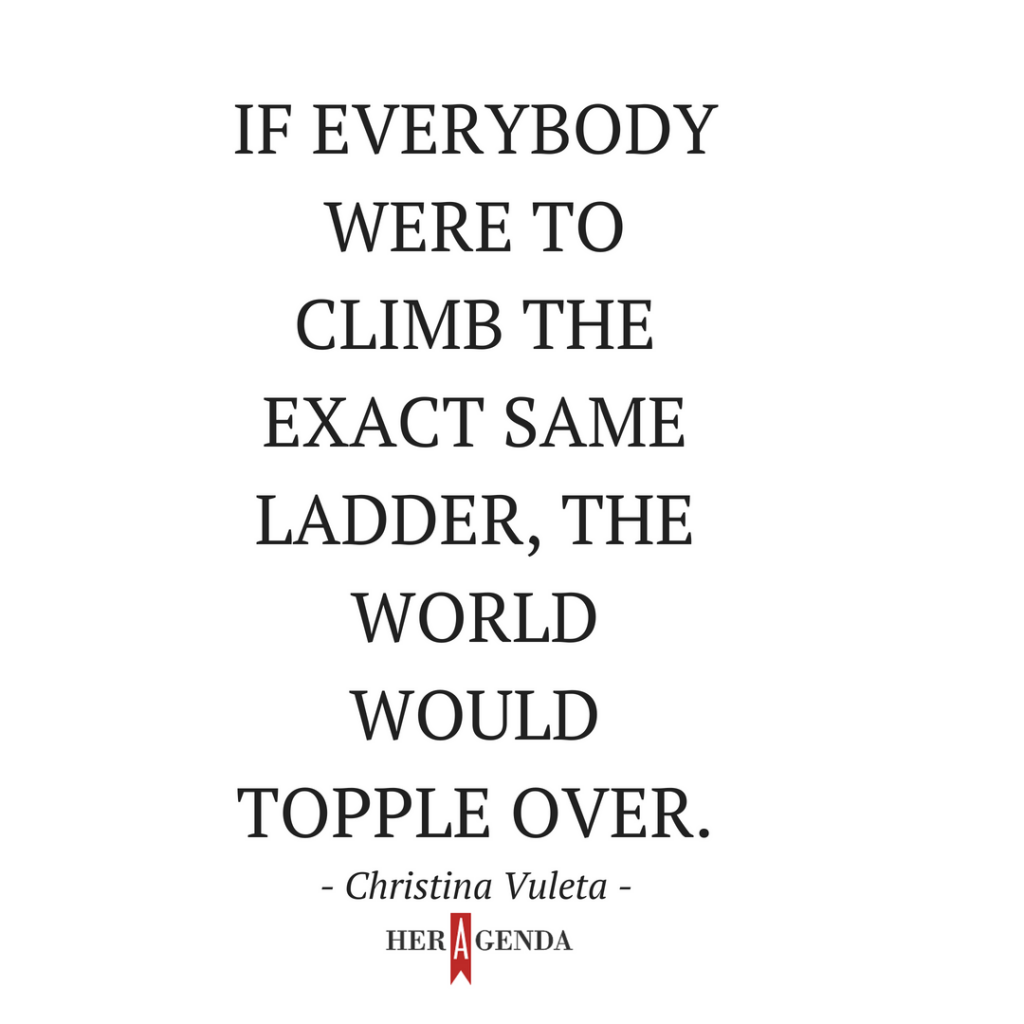 Her Agenda: You really didn't have one track you were following in your career, which is a trend we are seeing more and more in terms of how people are building their career trajectories. What advice do you have for those following in similar steps?
Christina Vuleta: Be able to connect the dots between what you've learned and how to apply that to another field. You're always just building bridges between where you are and where you want to go. I always say never leave a job without taking two things away from it, something you've learned and a great reference.
Article continues below advertisement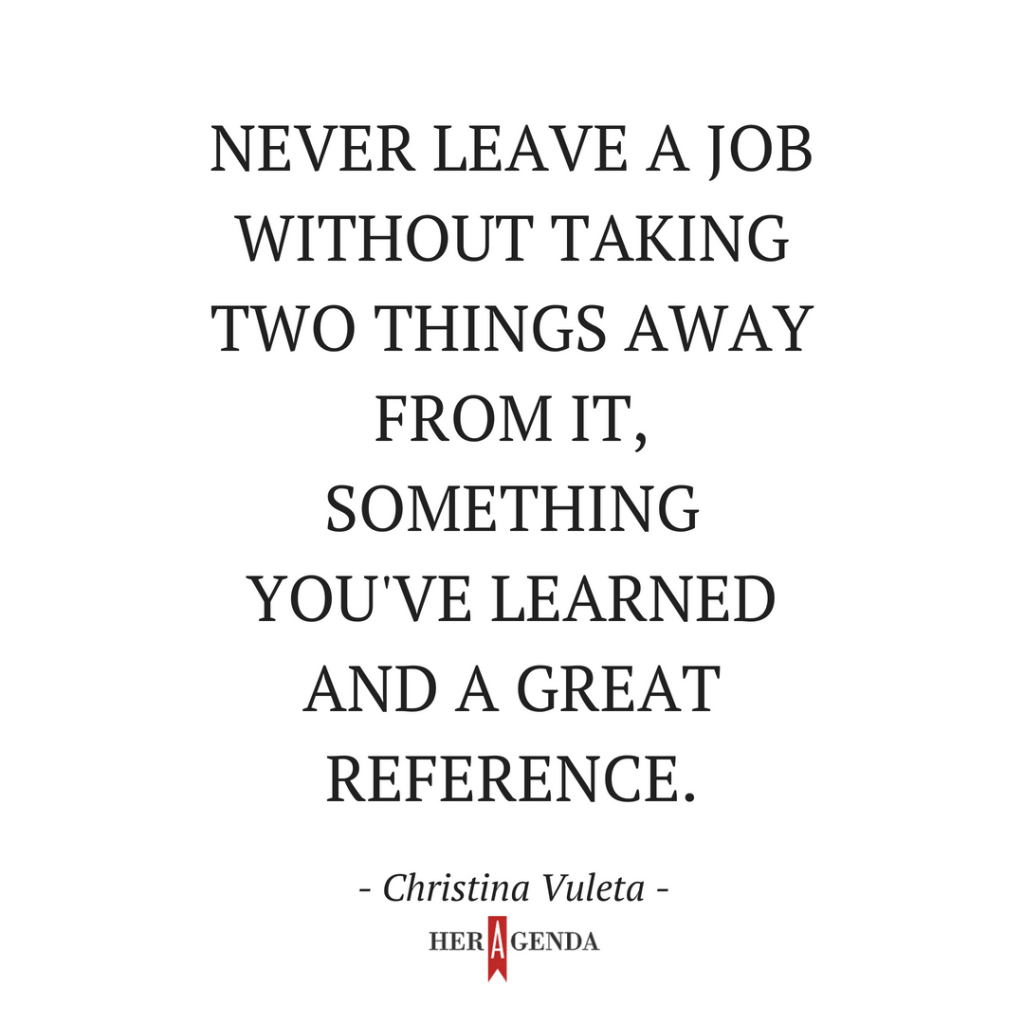 Her Agenda: Do you have advice for people around the fears of jumping into different industries?
Christina Vuleta: There's a lot of manufactured fear in terms of changing careers. Maybe not too much with millennials anymore. But there certainly was when I was younger. Even if [a move was] not the all-out success that you thought it would be, you're going to have a story to tell from that you can apply, that people are going to appreciate. As long as you have a track record before you went off and tried this new thing, it shows initiative and thoughtfulness. It shows drive.
[Editor's note: This interview published on September 3rd, 2018. It has been edited for length and clarity.]