After nearly ten years at the Webby Awards, Claire Graves understands the value in recognizing others for what they have done, not who we want them to be. As an extraordinary industry leader, Graves has a warmth that can be felt even via webcam. Even though our Zoom meeting granted greetings from her precious toddler and moments of technical difficulties, Claire remained calm with a friendly smile.
Within the internet's ever-changing landscape, it can be overwhelming to keep track of the web's best and brightest. While having high expectations is a path to maintaining excellence, Graves along with the rest of the world recognizes that she is not always in control. As the executive director of The Webby Awards, Graves understands that being present is the greatest solution to any challenge.
We recently had the chance to speak with Claire about the digital uprising, her favorite Webby Awards moment, and the importance of awards.
Her Agenda: I read that you began your career in the London advertising industry, but you are actually from Adelaide, South Australia. Though many people look at the United States as the entertainment capital, how does the creative industry differ in other countries?
Article continues below advertisement
Claire Graves: I think change is one of the best things about the creative industry. Creativity changes in each culture that you are in. What is funny and resonates in one place, like the United Kingdom, may not be humorous nor resonate in the United States. Oftentimes creativity is very cultural and that is because of the audiences who are paying attention. An audience has a huge impact on the types of creative work that is out there. For example, the United States has one of the biggest creative audiences and budgets in the world. The budget impacts what you can do and create because you are able to spend more with a bigger audience. However, when you have a limited budget, you have the hunger to make things work which can inspire creativity and make things more interesting.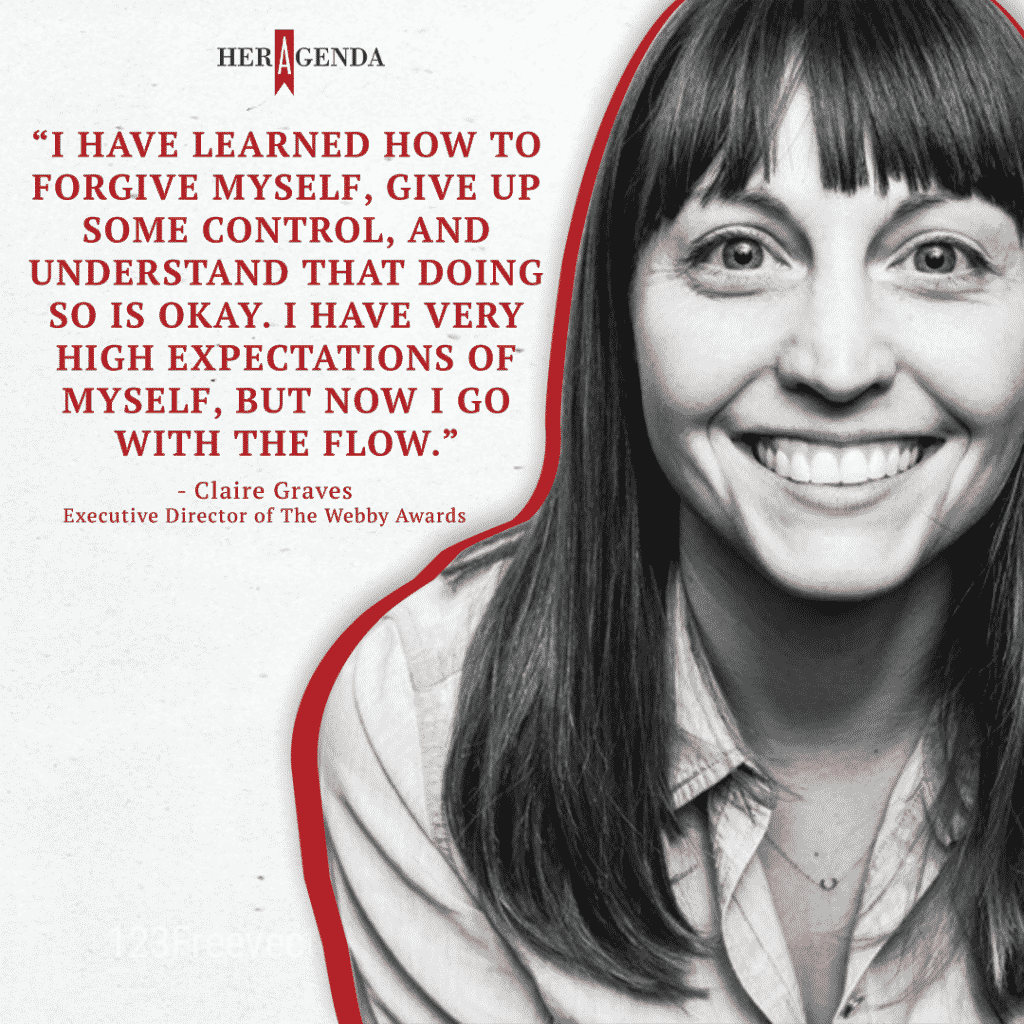 Article continues below advertisement
Her Agenda: When you first started out at The Webby Awards, the internet was a completely different entity. From witnessing the digital uprising, is there anything that has shocked you regarding human interaction with the web?
Claire Graves: When I started out at the Webby Awards, we honored websites, videos, mobile, and advertising. We did not even honor social media because brands were not using them nor trying to connect to their audience through them. I was in my third year at the Webby's when we added social media categories, which is a big area that has changed internet culture. We have also added podcasts, games, software, and other technical content development categories. And, though this has not shocked me, the internet has grown into a more complicated place. There is more hate and a rise of misinformation, which is upsetting and disappointing.
Article continues below advertisement
When you look at our winners, you can see the power of the internet, how it connects people and can be used for good. A lot of work is being done for movements that I am very passionate about, including climate change and #BlackLivesMatter. When you look towards the life-changing work being done, you can see the brilliance and power of the internet come to life.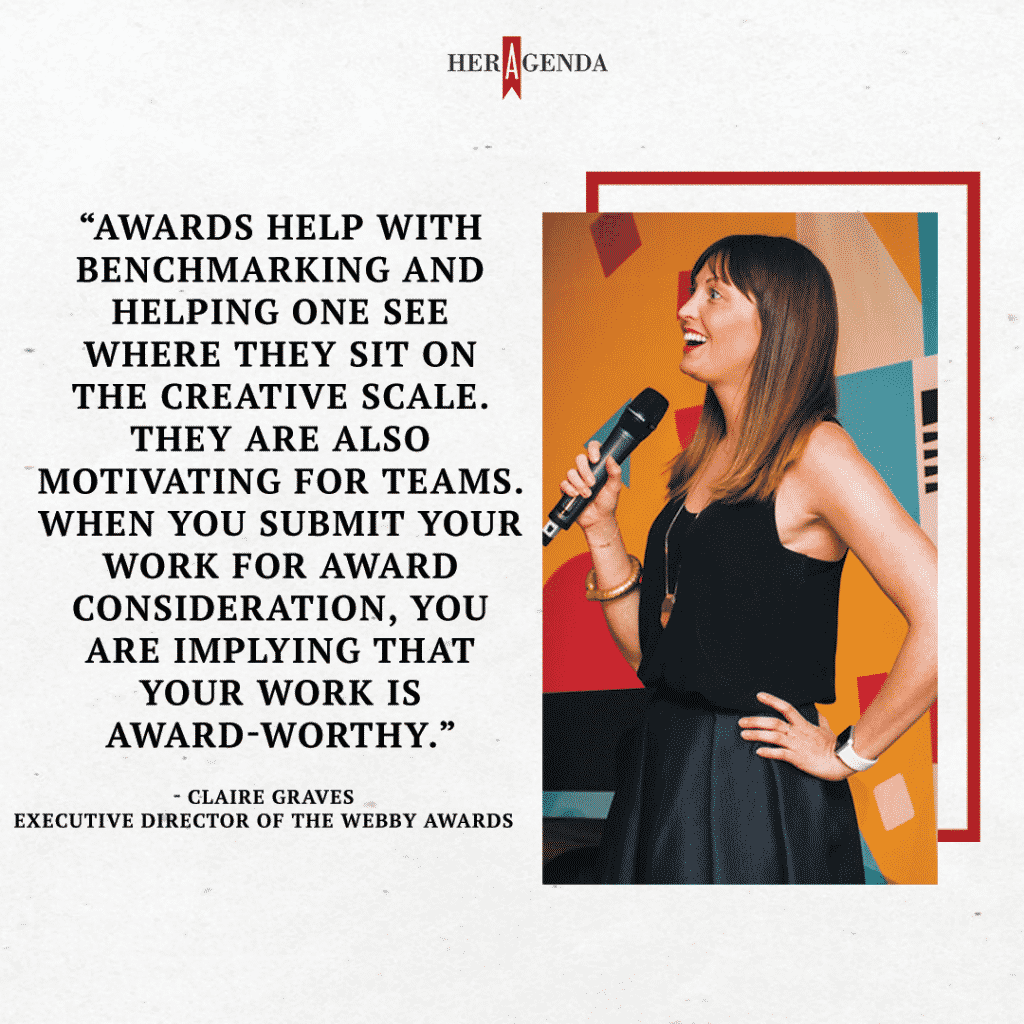 Article continues below advertisement
Her Agenda: For the past year, the world has been halted due to the COVID-19 pandemic. What have you noticed about the intersection of current events and digital media creation?
Claire Graves: One of the things that we noticed during the beginning of the pandemic is that the entertainment industry rushed to the internet. Platforms and creatives needed a way to connect with their audiences and share content. An interesting result of the pandemic is that when people do not have anywhere to go physically, they go online. Outside of the entertainment industry, there has been an outburst of educational content to keep people informed. For example, there is a website called OnwardUS, which is a resource for unemployed individuals. It offers resources, training programs, and opportunities to millions of people who lost their job during this pandemic.
Article continues below advertisement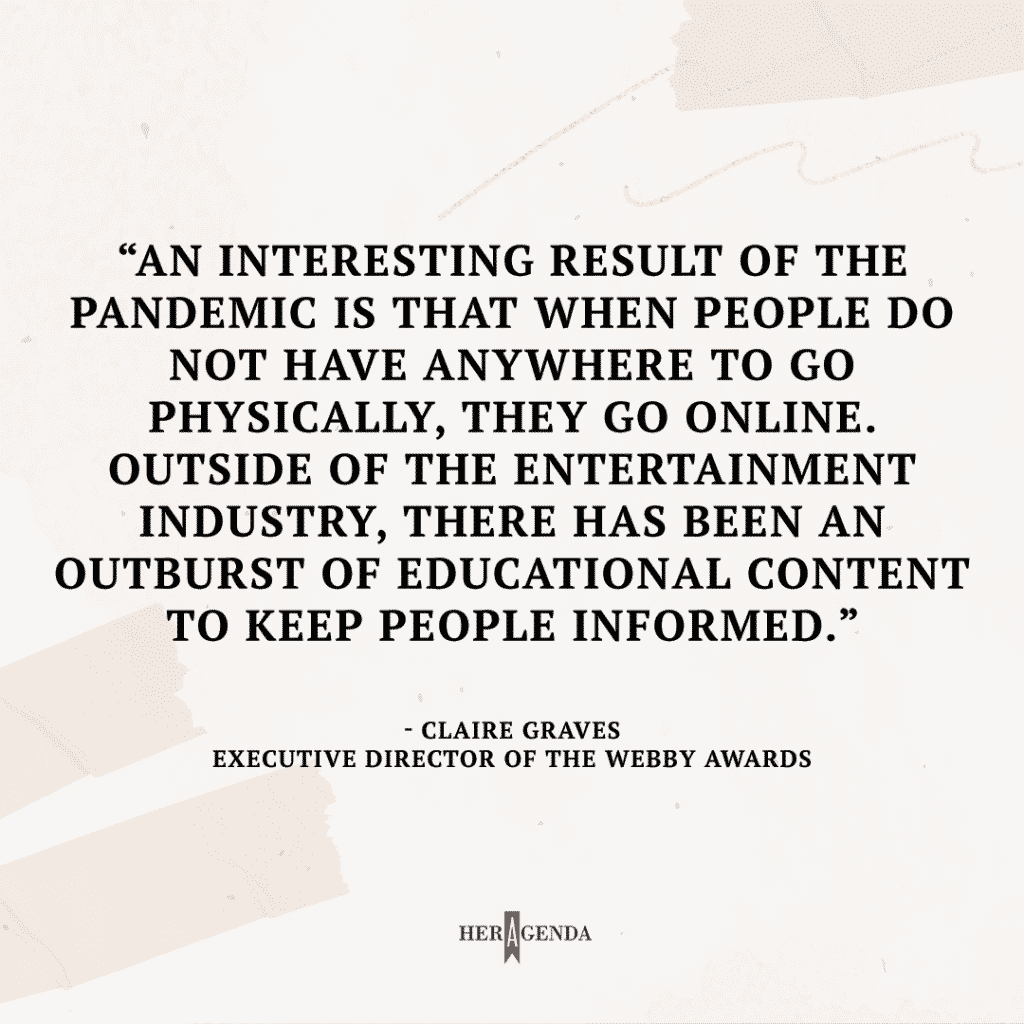 Her Agenda: We are in the midst of an accolade revolution, in which creators and their fans question award shows. From your perspective, how can award shows be beneficial for creative enterprises?
Article continues below advertisement
Claire Graves: It is important for people to keep in mind that creativity is extremely subjective. The ways in which agencies and creatives benchmark their work, in terms of how good it is, is limited. So, awards help with benchmarking and helping one see where they sit on the creative scale. They are also motivating for teams. When you submit your work for award consideration, you are implying that your work is award-worthy. Awards are also great for gaining awareness and getting new business opportunities. If you want more followers on Instagram or want brand awareness, winning an award is a great way to do that. About 80% of 2020 Webby Award winners claimed that their achievement led to new business engagements.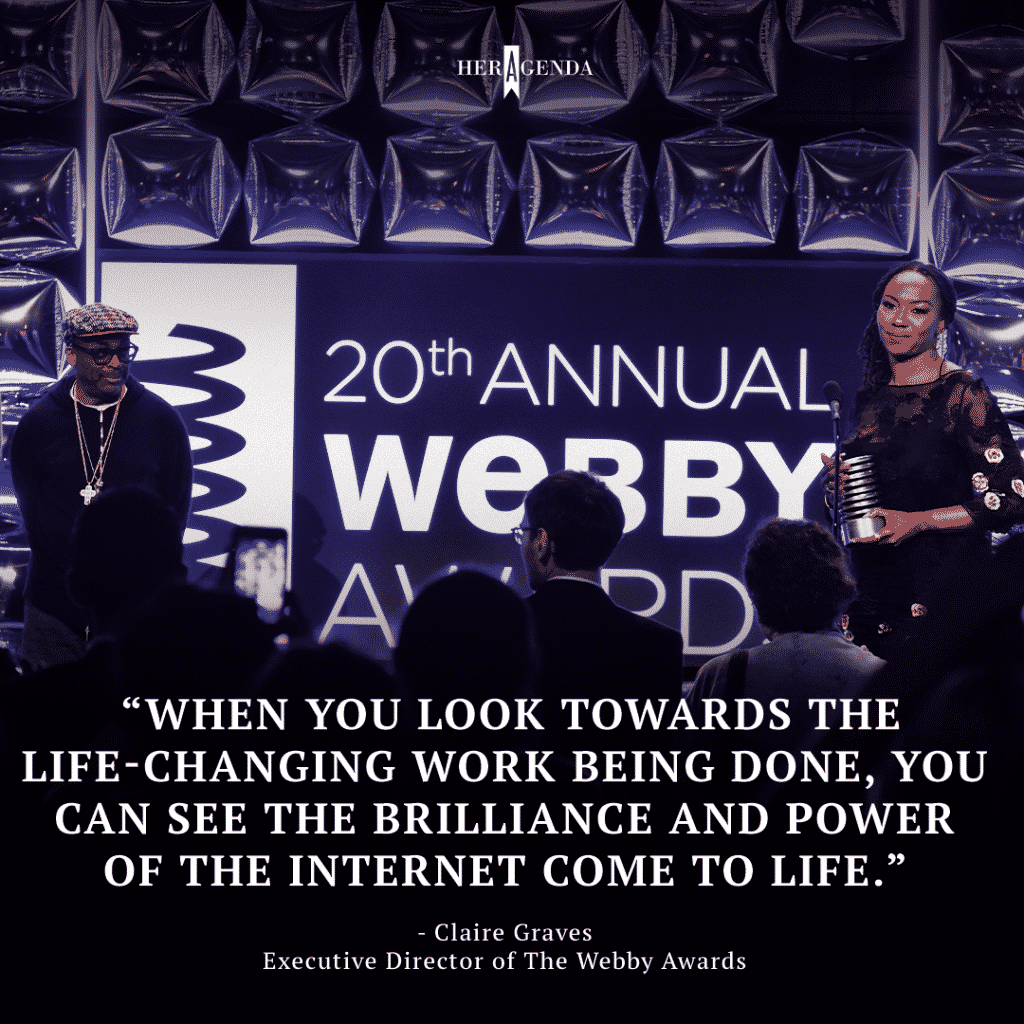 Article continues below advertisement
Her Agenda: In a world where the digital space is starting to look the same, where do you find the inspiration to produce innovative ideas?
Claire Graves: The first place that we always look at is our winner's gallery. Last year, we launched a new gallery which makes it easy to look at past winners and their content. And, I also look on Instagram.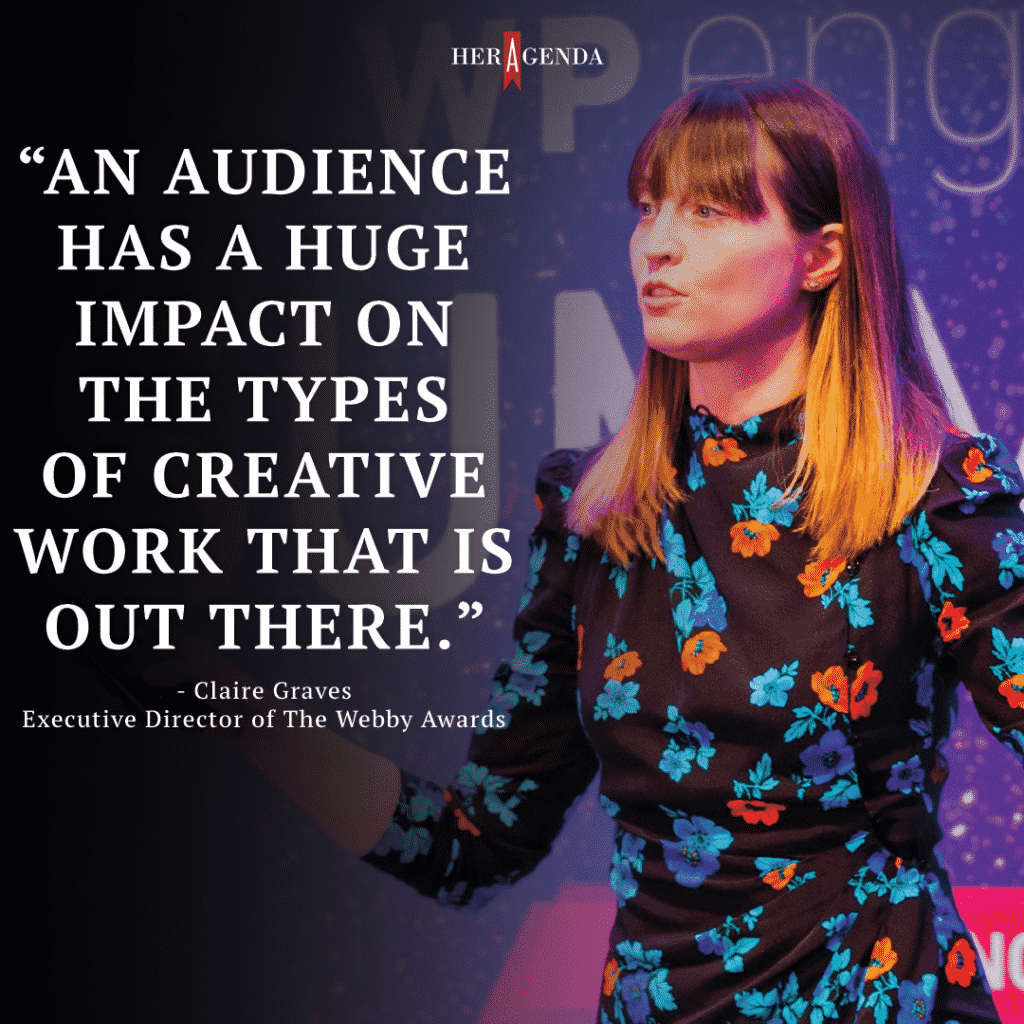 Article continues below advertisement
Her Agenda: From the countless years that you have worked at The Webby Awards, do you have a favorite memory that sticks out? And, what do you look forward to at the annual show?
Claire Graves: We are very lucky that the work we do plays out on a stage. We work really hard all year to get people to participate in the Webby Awards, we focus on the most important things happening on the internet, and we determine what we want to celebrate alongside our winners. Then, we have one day, specifically two hours, where we watch 1,000 people react to what we created. It is an incredible feeling and we believe what we do is valuable in the industry.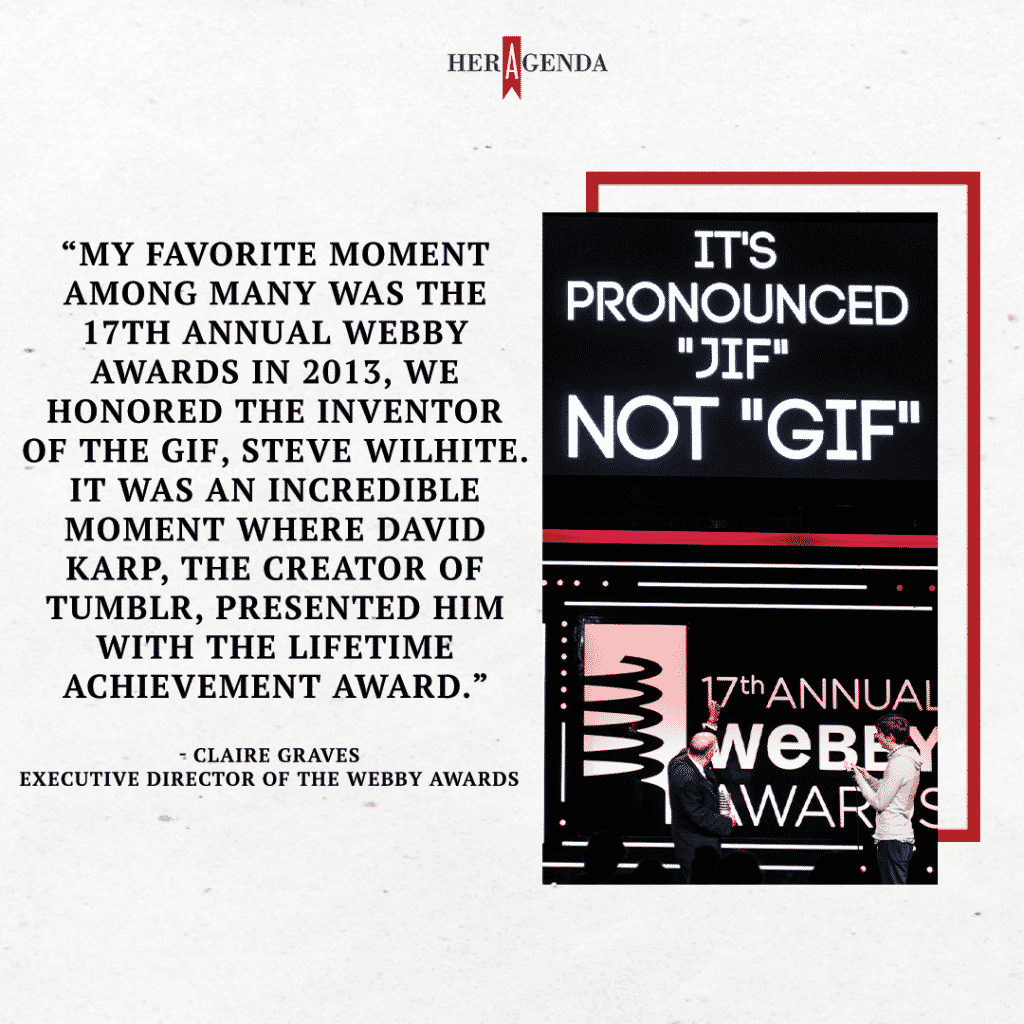 Article continues below advertisement
My favorite moment among many was the 17th annual Webby Awards in 2013, we honored the inventor of the Gif, Steve Wilhite. It was an incredible moment where David Karp, the creator of Tumblr, presented him with the Lifetime Achievement Award. It was also the day Tumblr announced that they sold their company for $1 billion dollars, which was monumental. And, when Karp presented Wilhite his award, everyone jumped to their feet as he stood to accept it. As he was accepting it, his wife who I sat next to, leaned over to me and said, 'It's about time.' That was an incredible moment for me.
Her Agenda: In ten years, how do you think the internet will look? And, how do you think we will use it?
Claire Graves: I think it will be faster which will allow us to use it in a seamless way regardless of location. I am hopeful that everyone will have access to it. One of the biggest lessons we have learned during this pandemic is that the internet is as important as heat and hot water. We need to work really hard to ensure that everyone, especially children, has access to it at home.
Article continues below advertisement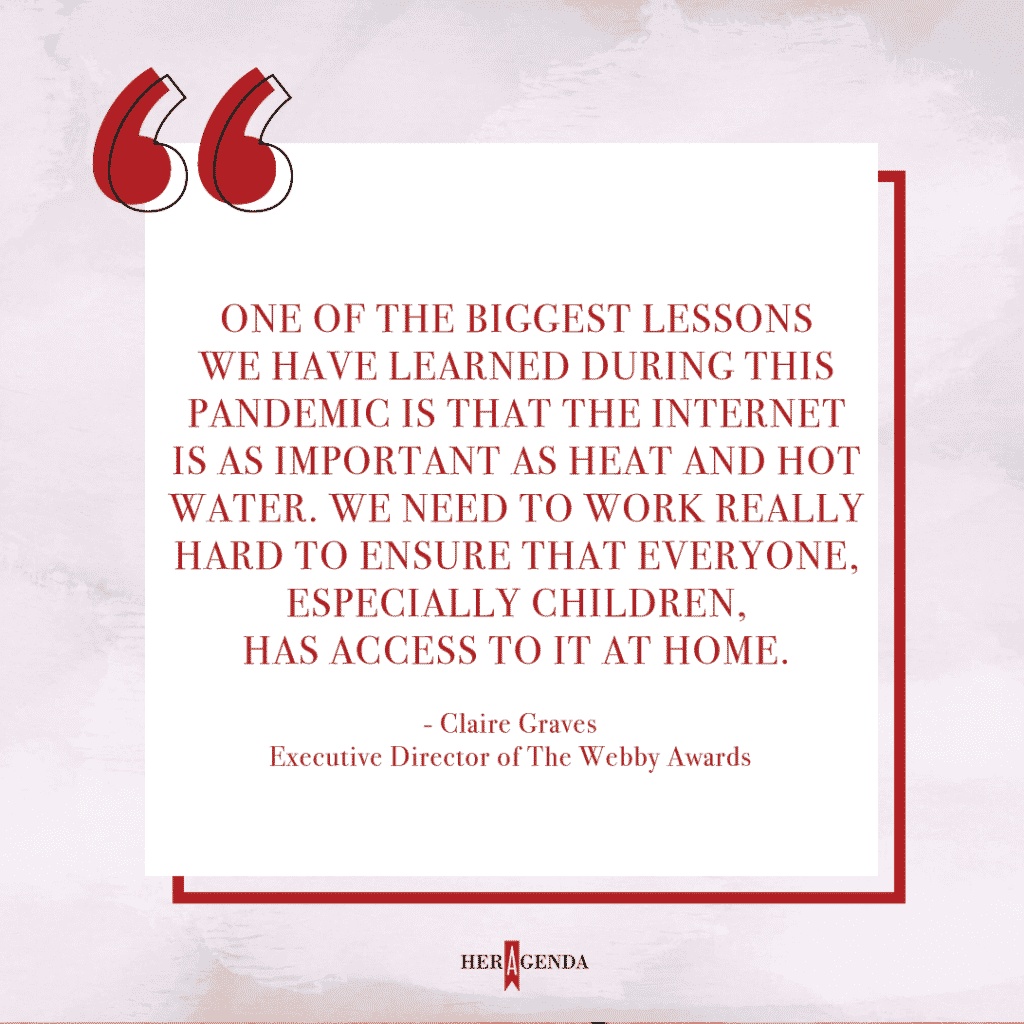 Her Agenda: During this pandemic, what is one thing that you have learned about yourself?
Claire Graves: I am a mom and have been working from home since March of 2020. It has been more work to do, organize, and keep everything on track. I have learned how to forgive myself, give up some control, and understand that doing so is okay. I have very high expectations of myself, but now I go with the flow.
[Editor's note: This interview has been edited for length and clarity.]