As a Black single woman in her late 20's, Codie Elaine Oliver found herself hearing the same narrative time and time again. According to the narratives being pushed out by mainstream media, being a Black woman meant that her chances of finding love and having it blossom into a beautiful marriage were slim. An example of the information circulating during those days included 2010 statistics from the Pew Research Center stating that just 33% of Black women ages 30 to 44 were married, down from 62% of the comparable age group in 1970. This stat was the basis of a number of articles and social commentary at the time and it was this narrative that birthed the idea for her hit docuseries, "Black Love."
But despite having a clear blueprint, the path leading up to having a hit series on OWN (the Oprah Winfrey Network) had its struggles. As an aspiring filmmaker working in an industry that can often take years to break into, Oliver held a variety of gigs to help keep her financially afloat while still pursuing her dreams. Later on, after meeting her husband Tommy Oliver, the pair came together to co-create the series along with their TV production company, Confluential Films. The filmmaker, mother, and wife got to chat with Her Agenda on her journey as a filmmaker, the creation of "Black Love," finding her balance, and more.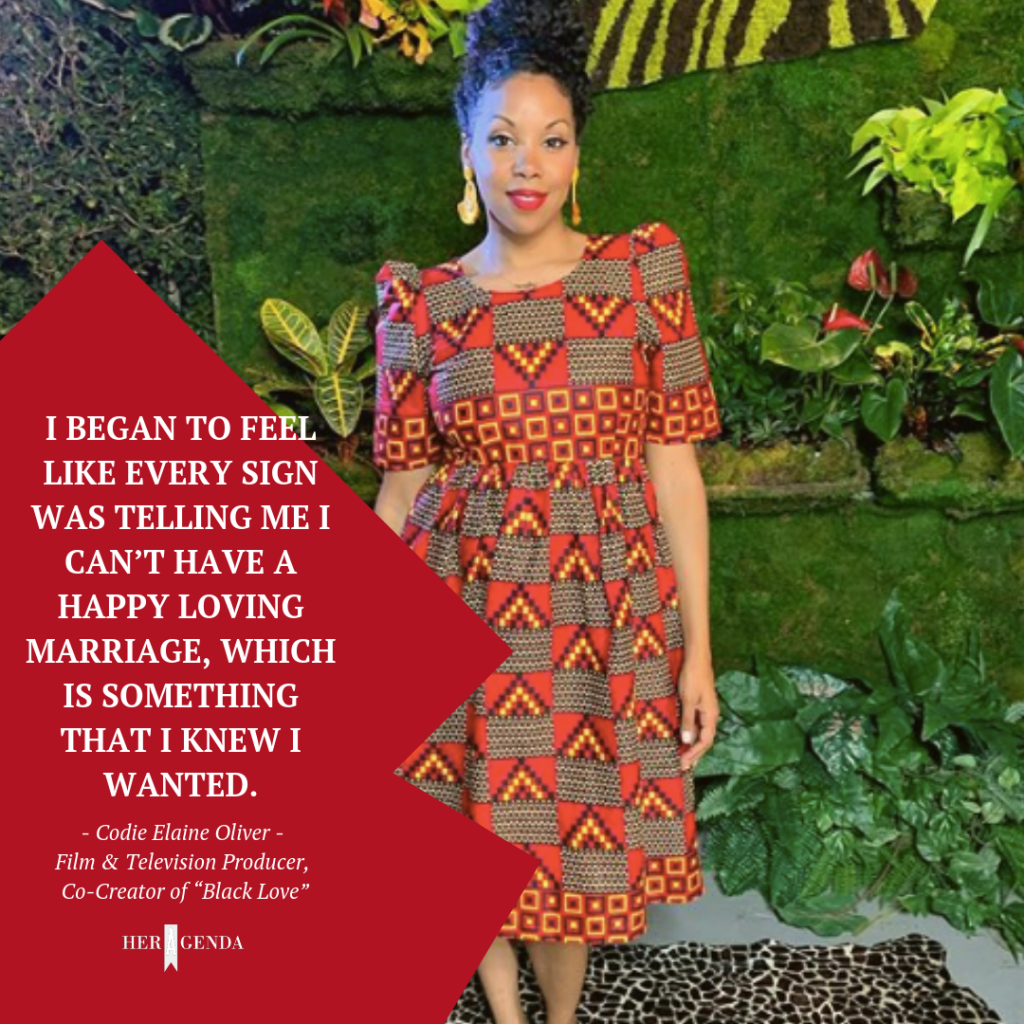 Article continues below advertisement
Her Agenda: What inspired you to become a filmmaker? How did you get to where you are now?
Codie Oliver: I would date it like all the way back to 6th grade. I was acting in 5th and 6th grade. I was even on a TV show. It was a small tiny role in Texas where I'm from. And so there was always a little bit of storyteller in me. And then when I went to college, I studied broadcast journalism. Even though it's the news, we're still telling stories and figuring out how to take a lot of information and make it digestible for people. But I didn't like the news because I felt like it was just really negative and sad. I realized that I wanted to tell stories that make people feel good.
So that's actually what led me to look up film school for grad school. Like I don't think I want to be a director, I don't think I want to be a writer, but what's producing? So I Googled "What Is producing?" and I found the Stark program at USC. Long story short, I studied film production at USC and worked at a studio, Fox Searchlight. I worked at a film festival, L.A. film festival and started falling in love with documentaries. Now, here we are all these years later. I feel like I'm combining everything that I've ever learned.
Article continues below advertisement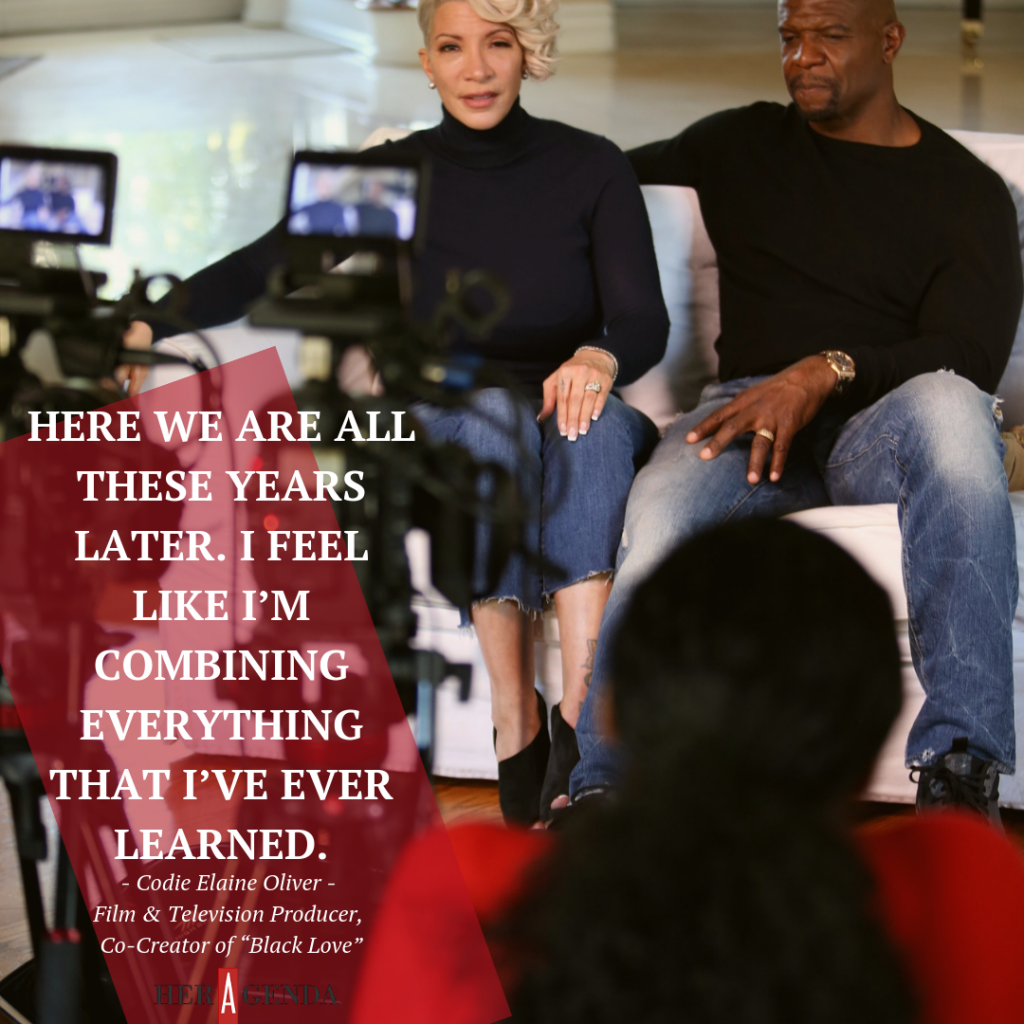 Her Agenda: What were some of the most difficult moments as a Black woman in film? How have you overcome them?
Codie Oliver: I'll be honest. Maybe it's going to Howard and having the mentality of 'I'm Black. I can do whatever I want.' I've always looked at being Black as an asset. I have a perspective and I know stories that are specific to my people, my community that I'm sure I can make resonate with others. But if I can speak to my community, then I feel like I can be successful. So I never looked at that as a handicap.
Article continues below advertisement
A lot of times, being a minority, being a Black female – certainly when I was pitching certain things in grad school or afterward, everybody didn't get it. But that was okay because I knew who would. So I would say the biggest challenge for me in film and television was less of being Black and a woman but more so really just trying to sustain a career in this industry where you deal with a lot of rejection, things move really slowly, and you don't make a lot of money. I would say that was the hardest part, trying to move things uphill with some self-doubt and with no money.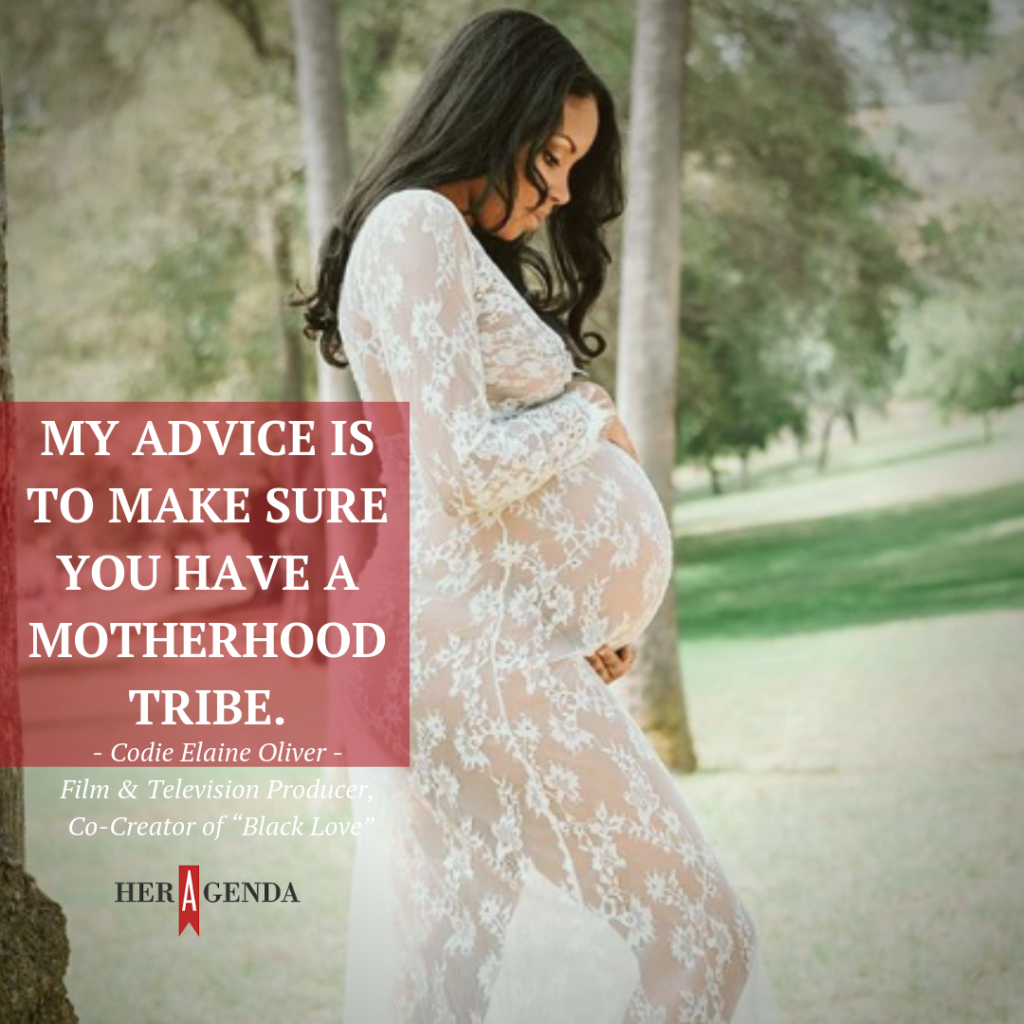 Article continues below advertisement
Her Agenda: So how did you overcome that and keep faith in your projects? Like you said when you are producing when you're in film when you are making docs, even if you had decided to stay in broadcast journalism there's not a lot of money in the beginning. How do you persevere through that?
Codie Oliver: My advice is hands down is to do what you love. Because if you love it, then you don't really question it. Sure, I had those moments. And I'd say, 'What can I do to make money? What can I do to combine things I know – like storytelling for example, which makes no money but maybe I know how to produce an event.' I ended up producing events for L.A. Film Fest [and a few other groups]. I was able to produce events and be around filmmakers, and meet a lot of people, and network. I was able to make money and do something that wasn't my top priority but it was within my industry. And the projects that I had during that time, "Black Love" being one of them, never went away. Sure, maybe I don't have the resources to do it this second. But the fact of the matter is, I'm pursuing things that I love so I'm always going to be working toward setting them up and being ready for the right opportunity.
Article continues below advertisement
Her Agenda: Now hopping into "Black Love," can you share your inspiration behind the series?
Codie Oliver: I was actually working at Fox Searchlight, and single in my late 20's like a lot of my friends. And there was this narrative of this Black marriage crisis in the media. My parents are divorced. And when your parents are divorced, people say you are more likely to get divorced. I began to feel like every sign [was] telling me I can't have a happy loving marriage, which is something that I knew I wanted. The news was saying we [Black women] are the least desirable according to data, we're the ones that are being swiped left on, etc… And at the same time, the Obamas were coming into office. And everyone was like 'Oh Black love. They're so beautiful. They're so amazing.' I'm seeing them and I'm going, 'I want to create a place where Black love stories live so that these couples that exist and thrive and raise families are not hidden. So that we can see it and know it exists.' And like I said, it evolved from a documentary to a docuseries.
Article continues below advertisement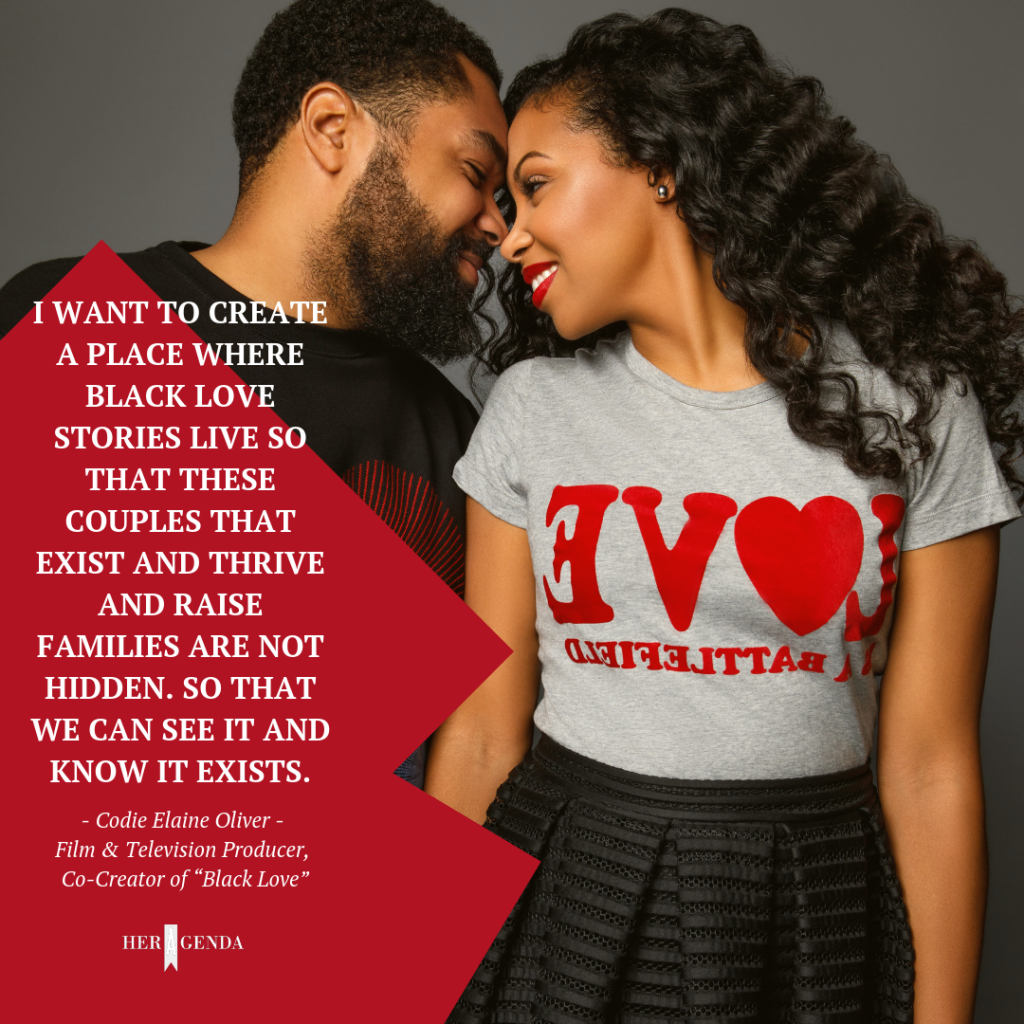 Her Agenda: So with that being the premise and really wanting to share the stories of positive Black love. How do you think that the series has shifted the narrative of Black love so far?
Article continues below advertisement
Codie Oliver: It's really an amazing thing to set out and make something and then it's received exactly as you intended. I couldn't have written that. The show came out and everyone received it positively. It was 'I needed to see these examples.' It was 'I needed advice. I needed to see that marriage and long term partnership aren't perfect. They are works in progress.' Everybody saw exactly what we wanted. It feels honestly, like I'm living in my purpose in that way. I'm just grateful to everyone who watches the show, who comes to our events, who know that what we're doing is greater than just entertainment.
Article continues below advertisement
Her Agenda: I notice that throughout your series, you've not only highlighted Black straight couples, but you also highlight couples in the LGBTQ community. Why do you think it's important to show these varying examples of Black love?
Codie Oliver: In short, because representation matters. The longer answer is that we set out to show Black people finding love wherever and whenever they find it. All people period, especially Black people because we don't get to see ourselves in the media and entertainment in loving relationships. We deserve to see that. I wanted to show interracial couples, I wanted to show couples in the LGBTQ community because I want any Black person to be able to turn this show on and see themselves.
Article continues below advertisement
Her Agenda: In addition to being the woman behind the series, you are also a mother of three and wife yourself. And you've also partnered with your husband, Tommy Oliver, on this project. How do you find your balance? What advice do you have for other women looking for their balance?
Codie Oliver: Well, I don't to be perfectly honest. I wouldn't say I'm figuring out balance on a day to day basis. I'm doing what needs to be done right now. And I'm thinking about balance but I certainly don't have a grasp on it. My advice is to make sure you have a motherhood tribe. Make sure you find people who are on the same journey as you. Looking to my motherhood tribe who has been doing it longer than me for their advice and tips has been the most helpful thing for me.
[Editor's note: This interview has been edited for length and clarity.]