Cristina Morais proves that it's not always about what you become, but who you become that truly matters.
Growing up, Morais' ambitions couldn't be further off from where she landed but through her determination, hard work and persistence she's managed to keep a promise to herself she made as a kid. She never anticipated a career in finance but financial security was the goal.
Today, she sits as Vice President at the largest mid-market investment bank with clients such as Advance Publications/Conde Nast, Deutsche Borse Group, Elsevier, Hachette, JP Morgan Partners, Microsoft, The New York Times, Time Inc. and more.
Originally from Roosevelt Island, NYC, Morais found her way back to NYC after attending Haverford College in Pennsylvania and obtained her master's degree from NYU. After making the leap into investment banking, Morais worked her way up the corporate ladder with only two things on her mind: to always add value and to become financially free.
In her interview with Her Agenda she shares insight on her career development, and how women empowerment has played a role in her professional choices.
Her Agenda: What were your aspirations in life growing up?
Cristina Morais: As any child, I had very different career goals and aspirations but the general thesis was that I was looking to achieve financial freedom. I was taught at a young age the importance of [financial freedom] for women so I wanted to achieve that freedom and have options professionally, while getting a well-rounded education. In high school I was really focused on the sciences and then when I went to Haverford College, I took some classes and ended up really liking philosophy and gender and sexuality studies. Then I [pursued] my master's degree in a completely different field because I did a lot of qualitative studies and I thought it was time to do something quantitative. I got my master's in Management Systems with a concentration in risk management. So I did have a diverse education, and I achieved my goal although it was a long road.
Article continues below advertisement
Her Agenda: What interested you about a career in finance and investment banking?
Cristina Morais: My first job out of college was an in-house consulting role, where I had an opportunity to work in the company's finance department at one point, and it really motivated me to get my master's. As I was getting my master's and taking finance courses, I decided this was something I was really interested in and I wanted to do it full-time. I found an opportunity with a growing company, which was really important to me because I wanted to see how their finances changed over time when they were going through that major growth phase, and the strategic initiatives they were undertaking.
Article continues below advertisement
After being in that role for a bit I realized I wanted to be in mergers and acquisitions. That's when I came to Oaklins DeSilva+Phillips.
The exposure to high profile transactions [and] getting to interact with some of the most talented and intelligent executives in the industry is something I found to be really exciting. I love to learn, and what better way to learn than working alongside these very bright individuals. Also, I was so impressed with how friendly, intelligent and modest the team was, it was very different from what I traditionally thought investment banking would be like.
I do enjoy a fast-paced environment and investment banking definitely offers that. [I have] the [opportunity] to learn something new about the different industries we cover, and it forces you to keep up with trends and technological advances and how they're impacting our industries.
Finally, I would say I was interested in the fact that women are traditionally underrepresented in finance. [From my gender studies courses], I was interested in going into a field where I wouldn't be the majority. I would be the minority and I thought there would be a lot of learning opportunities for me as a result.
Article continues below advertisement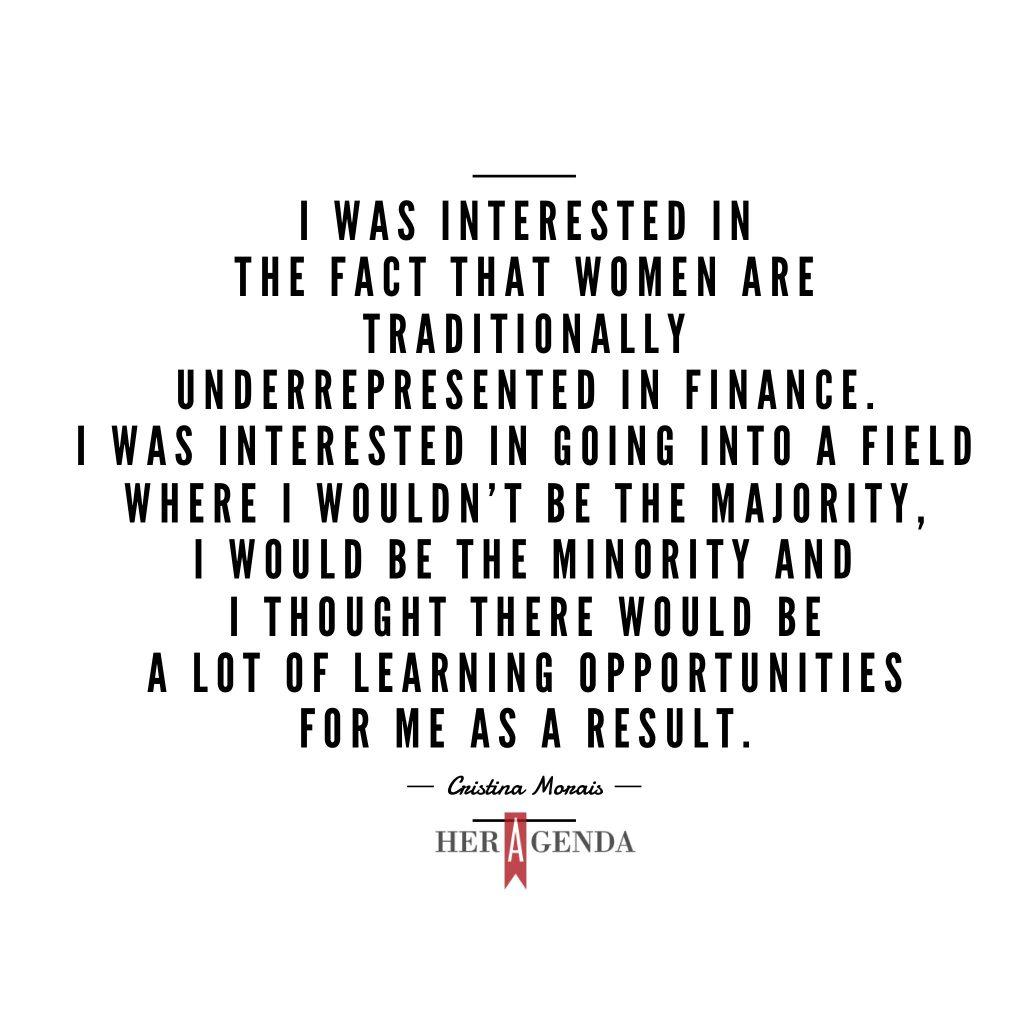 Her Agenda: What advice would you give someone who wants to get into investment banking, from another industry?
Article continues below advertisement
Cristina Morais: Definitely take advantage of your network, at the end of the day investment banking is a relationship business so it's really important to create relationships with people in the industry, and leverage those relationships to your advantage. Also attending industry events to learn more about the industry and [figure out] if it's something you really want to do. Speaking with alumni from your school who are in the profession and learning about their day to day; and thinking outside the box in terms of how to get in touch instead of just submitting your resume and cover letter. Pick up the phone and call someone a little more senior and say you're looking to learn more about their profession and what they do. I think our generation is very reliant on text and email messages and underutilize face to face meetings. Phone calls are important when it comes to connecting with people.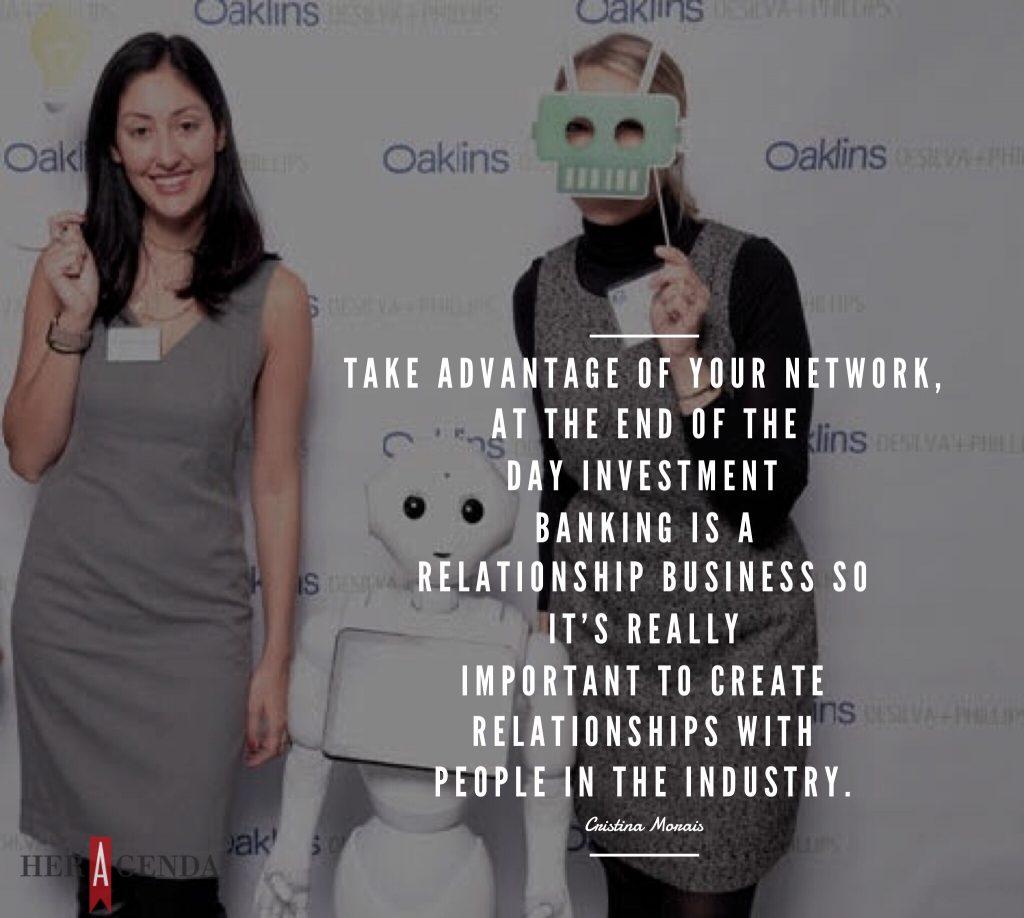 Article continues below advertisement
Her Agenda: What does a typical day look like for you?
Cristina Morais: It really varies but in a given week I could be working on upcoming pitches so putting together the market research, the potential buyers list, written evaluations on the company, also putting together confidential information memorandum for active clients and positioning them to potential buyers. Also attending client and buyer meetings, and executing our marketing related initiatives. We actually do a lot of industry-focused events, at our bank where we offer our clients different insights we've gained along the different industries we cover, we also publish a lot of whitepapers and market insights.
Her Agenda: What's something that surprised you about the investment banking industry?
Cristina Morais: How friendly the people at my bank are. My peers and people I went to school with had a very different impression of investment banking. The bank I found is a boutique and all of the executives were previously operators, at very big companies or they had corporate development positions, so very impressive people. Everyone is extremely nice, we have an open door policy and I really lucked out. Culture is very important to me and I was worried when I decided I wanted to go into investment banking that I wasn't going to find a culture fit that met everything I was looking for but I was definitely thrilled when I joined the company. They met all of my expectations and more.
Article continues below advertisement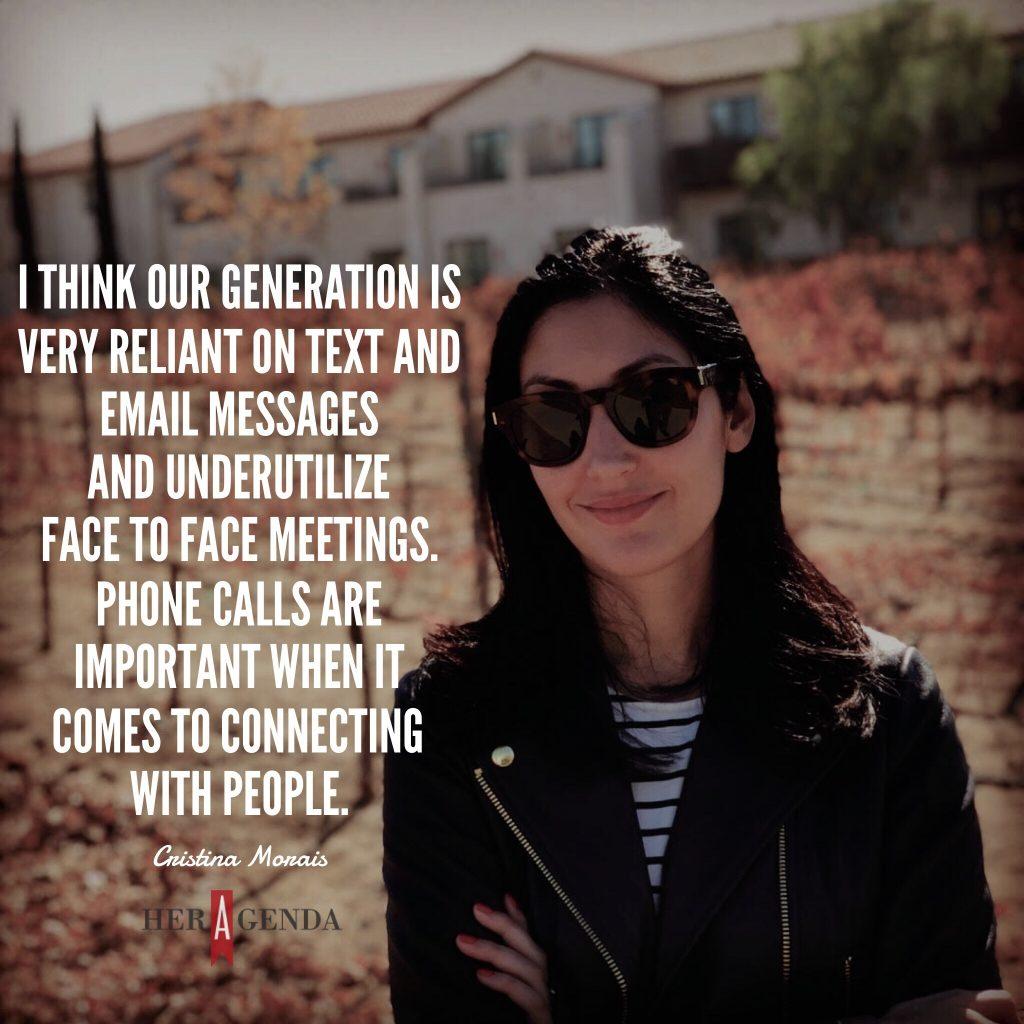 Her Agenda: Working in business development, you are always making deals and negotiating terms. Do you feel you've had to use those skills to advance your career? What does it take to become a VP in corporate America?
Article continues below advertisement
Cristina Morais: Yes, I think it's always important as you're trying to negotiate your next move to consider strategically what you want and what you're willing to give up. It's a negotiation at the end of the day so you're gaining something but are you willing to go work for a company that pays [you] a lot of money but you'll never be seeing the light of day? Are you willing to relocate to the West Coast and give up [seeing] your friends and family but there's a great deal of professional development opportunities? Being able to recognize what your long term goals are and strategically think about the advantages and disadvantages of different career moves is really important.
For me, it's always been really important to be proactive and consistently be thinking about how I can help my employer and also my clients. That has been the goal in everything I do so I think that has definitely helped in the advancement of my career. I've always been proactive in finding ways to help the company and satisfy my clients, but not just satisfy [I prefer to] go above and beyond.
Her Agenda: In terms of industry, which types of clients are most interesting and challenging to work with and why?
Article continues below advertisement
Cristina Morais: I'm really enjoying working within the media space, its constantly changing and consolidating, and there's so many trends. We're seeing traditional print companies investing more in digital assets and diversifying revenue streams, also [I'm] following the trends we cover in this industry like AI (artificial intelligence), augmented reality, the impact video is having on media, the convergence between technology and media. We're seeing a lot of print companies investing in technology and technology companies are investing in media assets, so it's an interesting space to be working in.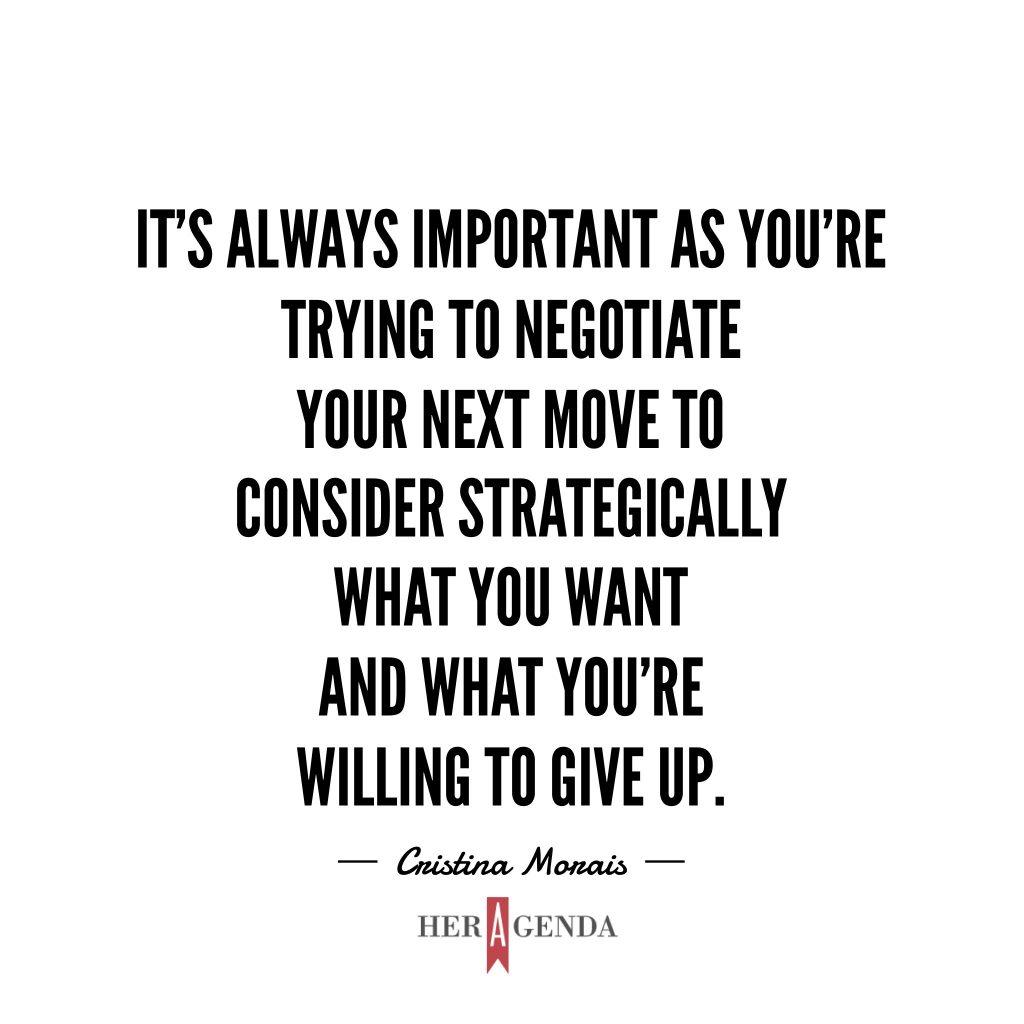 Article continues below advertisement
Her Agenda: What has women empowerment and sisterhood meant to you during your career?
Cristina Morais: I've made sure to work in environments that supported women and always looked at companies where there were many women in leadership positions. It's one thing for companies to say women have positions in upper management but it's another thing to see that in practice. I've always tried to work at companies where I've had female role models in executive positions. I currently report to a female partner at our firm who is very intelligent, with a very impressive background and I'm constantly learning from her. At a former company I also reported to a female CEO who was very supportive and until this day serves as a great mentor for me. [So I] have women mentors I can look to for career advice and also serve as a mentor to junior level employees. I've always tried to expose the women that I work with to other areas of the organization that they have shown an interest in, but would normally not gain that exposure, and give them opportunities they otherwise would not be given.
Article continues below advertisement
I really have enjoyed attending networking events that are geared towards female professionals, you end of up learning so much and that's actually where I met Rhonesha [founder of Her Agenda]. I met her at a Women VC event, there were several different women featured on that panel and you just learn about the challenges they faced in their career [and how they overcame them].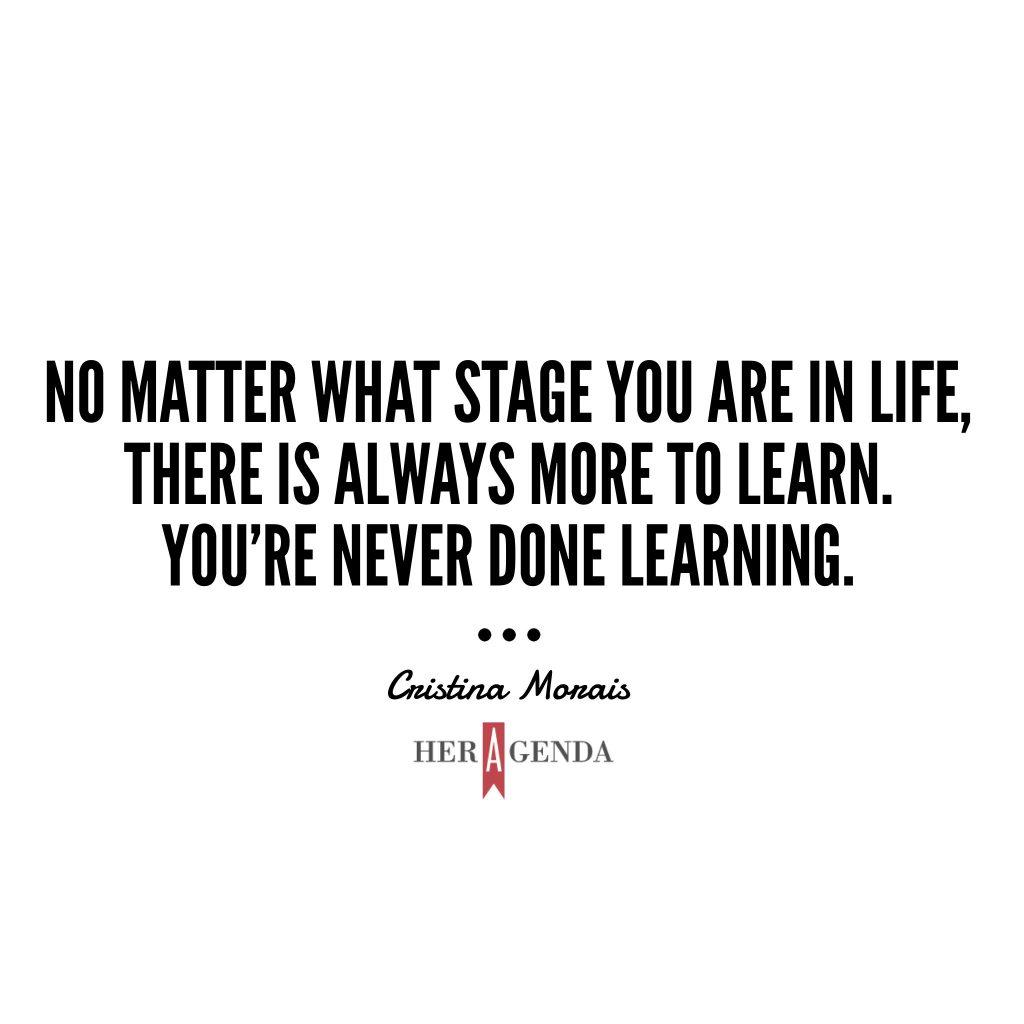 Her Agenda: What's a phrase or motto that you live by?
Cristina Morais: Going back to what my aspiration in life was growing up, the goal of getting a well-rounded education, I would refer to a quote that has really stuck with me Ancora Imporo, which is a quote by Michelangelo that means I am still learning. No matter what stage you are in life, there is always more to learn. You're never done learning. That has shaped me and motivated me to seek positions where there a great deal of learning opportunities. It's something that has always been extremely important to me and I can never say that I know everything because I never will.
[Editor's note: This interview was published on March 12th, 2018. It has been edited for length and clarity.]