Growing up, Daniella Kallmeyer always knew that she would end up in the arts, if not fine arts, fashion. Kallmeyer grew up in and around the theater which she credits to teaching her about the discipline of production early on. This paid off as she taught herself to sew as a child and created her first collection while in high school. Years later she's living in New York City and building a growing fashion label, Kallmeyer New York, where she's focused on the quality of her craft and constantly innovating her business in an ever evolving fashion industry.
Building up her e-commerce business and building a community on social media has proven to be priceless for Kallmeyer. Instagram has allowed her to connect with her customers in the most authentic way where she's able to see how her fans are interacting with her pieces. A completely self-funded endeavor, Kallmeyer is reinventing what high quality fashion looks like in a fast fashion market.
In our conversation, Daniella talks about her early years from being scolded by teachers for sketching in class to navigating her way through some of the industries top fashion houses before launching her own. She shares really practical advice for what it takes to start a line in the age of social media and challenges readers to be more disciplined by committing to self-education every day.
Her Agenda: Tell me about your background. Where are you from and where did you start your career?
Daniella Kallmeyer: My family is from South Africa and I grew up in the DC area and went to school at the London College of Fashion, but I always knew that I would end up back in New York. I grew up around the theater, design and around fine art. It was very deliberate that I ended up working in fashion.
I started working pretty young and worked for some really amazing designers and had some really supportive career advice early on in my career and that's what lead me to launching my own label.
Article continues below advertisement
My first internships were at Luca Luca, and Proenza Schouler. I did my work study at Alexander McQueen and worked on the McQ label as it was launching. I've worked for several different startups and young brands and contemporary brands and brands overseas I've had an array of different influences.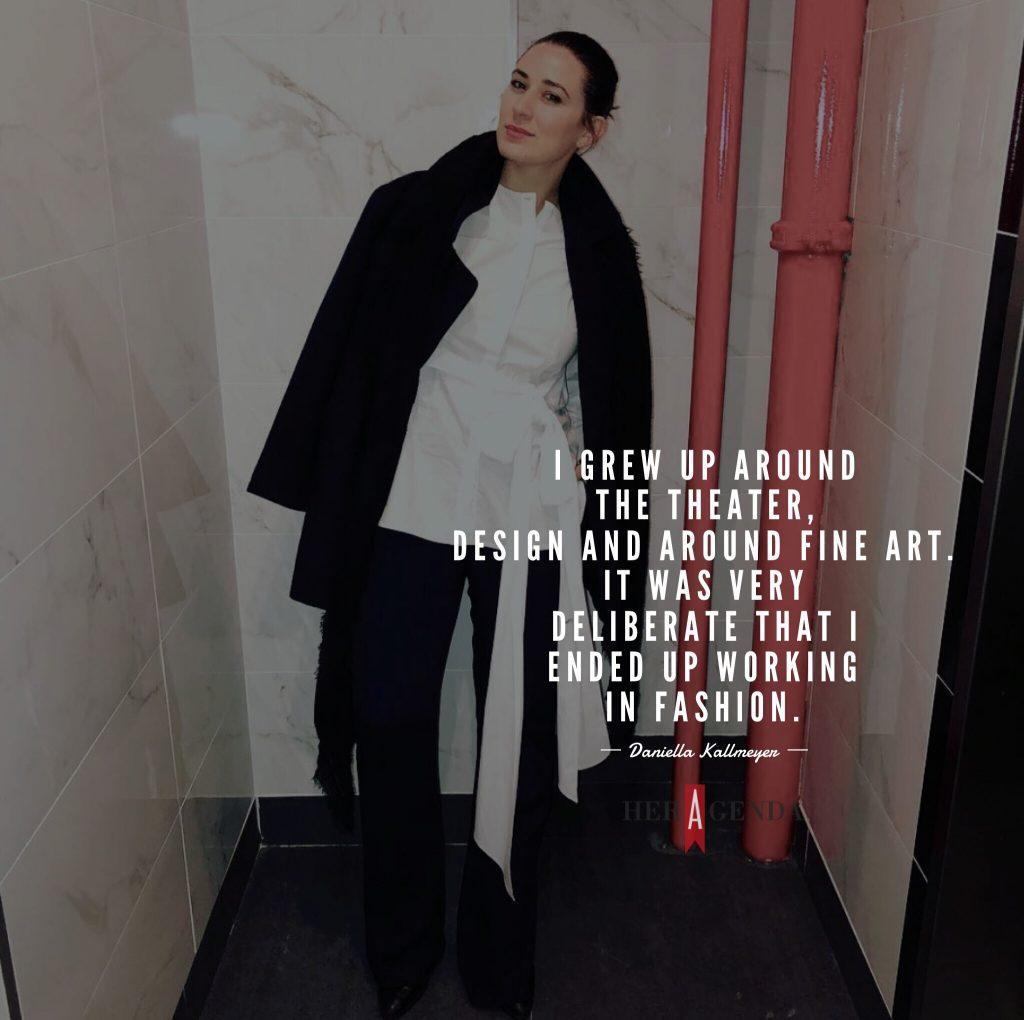 Article continues below advertisement
Her Agenda: Where did your art/design influences come from?
Daniella Kallmeyer: My background is in theater. The production of it, itself was a pretty substantial influence. When you grow up in theater, you really gain an appreciation for discipline and for all of the different components that it takes to put something like that together. You become very invested in the process and in the end result.
I was also artistic as a child. My mom has many stories of teachers calling to schedule a parent/teacher conferences saying, "Daniella is drawing when she's supposed to be doing other things." My mom was like, "Why would I stop her from doing that?"
My grandmother used to sew and tell us stories of working for a dressmaker after the war. Presentation was very important to the women in my family, so it was something that I cared about. I was creative and encouraged to be creative, but I was also encouraged to be presentable and to grow up understanding my own concept of sophistication.
Article continues below advertisement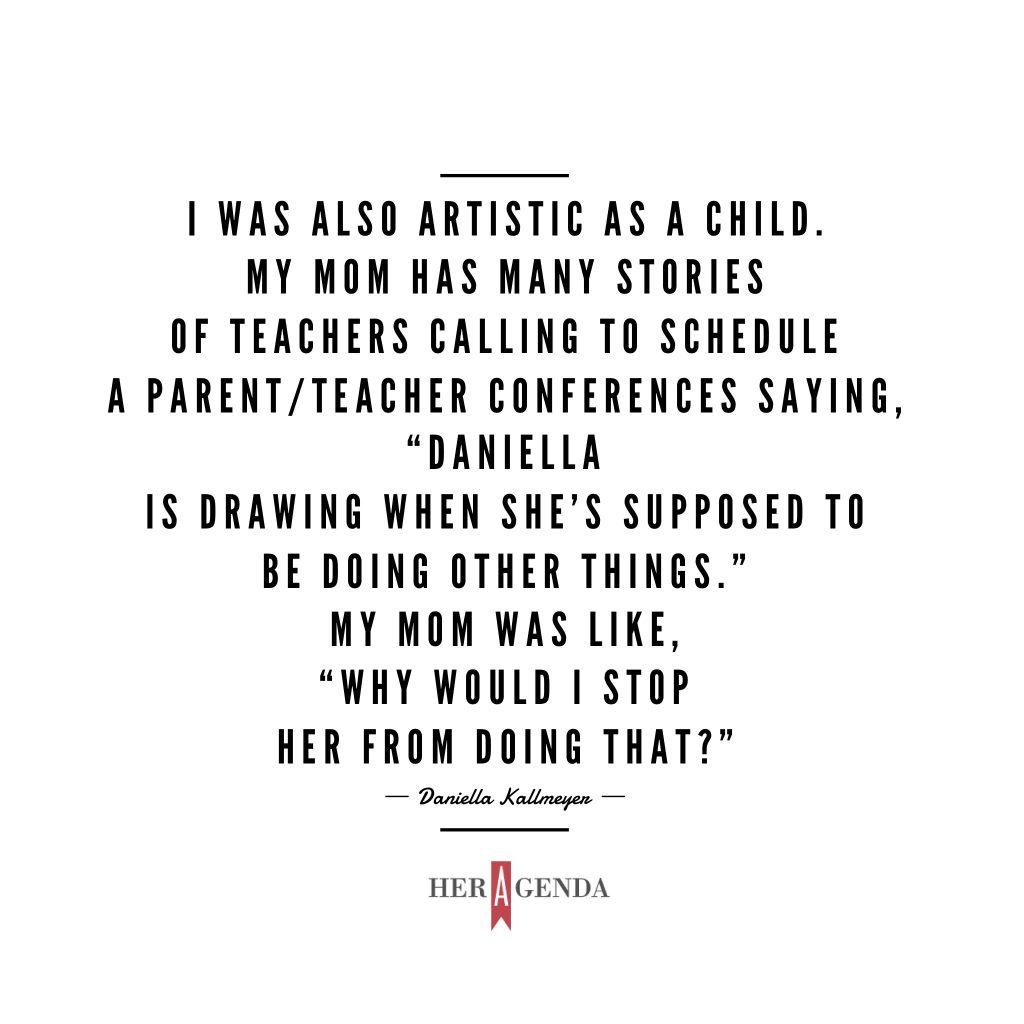 Her Agenda: What are you currently working on with the brand?
Article continues below advertisement
Daniella Kallmeyer: It's a very cyclical business; there's a saying that says you're late to one season before you're finished with the previous one. That's definitely true. There is never anything that I'm not working on. I'm selling spring/summer '18, while I'm producing fall/winter '18, while I'm designing spring/summer '19. So that's all built into the foundation of this business. At the moment we are really trying to make very systematic decisions about the brand and what it needs to be in this millenial market that is very touch sensitive and fit sensitive. We are figuring out how to make that happen. How do you create experiences that engage with customers when people are basically shopping of off Instagram, and are on to the next every 5 minutes?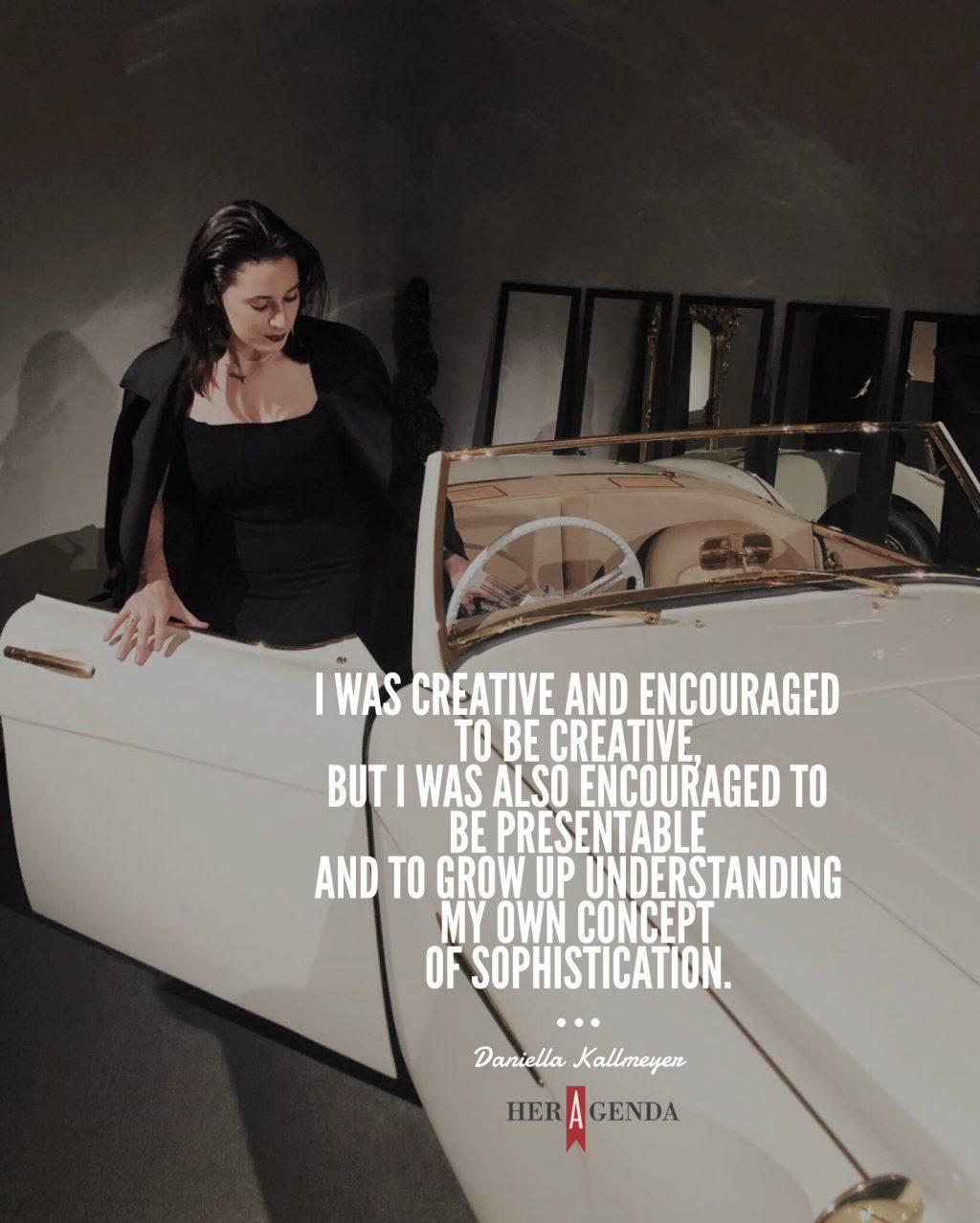 Article continues below advertisement
Her Agenda: Have you found new technology that's been helpful for you in your business?
Daniella Kallmeyer: We're still a relatively small team. So there are only so many different directions we can expand at once. However, building out our e-commerce has made such a huge difference. Not only have we seen a new and more sustainable revenue stream, but also it's given us an opportunity to connect more directly with the influences that are the inspiration behind this business which are the customers.
Just knowing directly what people are interested in and how they want to wear it is great. At least 50% of the people who buy items from the website actually reach out to us in advance with questions on fit, on color etc. Knowing how people are wearing our clothes and knowing what it means to have these items in their wardrobe is really inspiring. It's more interesting to me than feeding the brand through the filter of another curated source which are our wholesalers.
Article continues below advertisement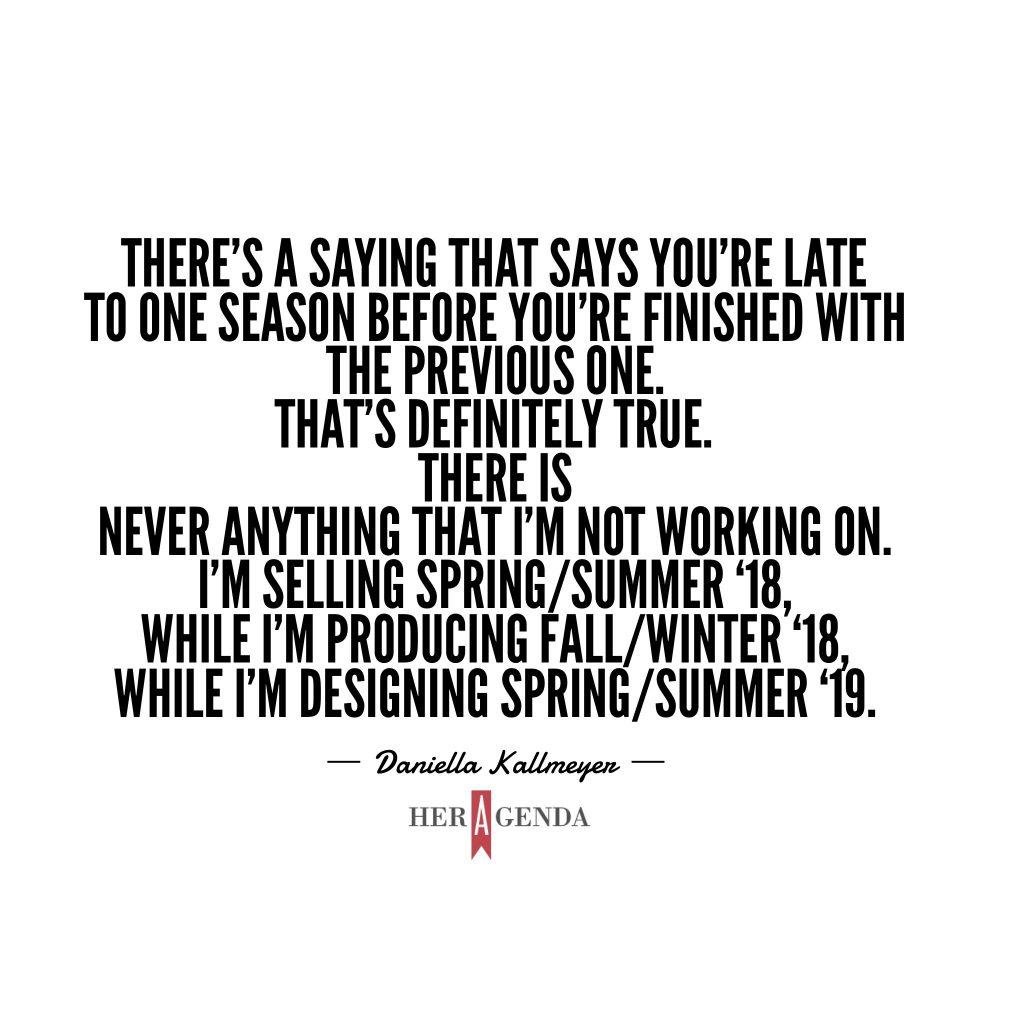 Her Agenda: What's been a highlight of your career? What are you most proud of?
Daniella Kallmeyer: Just the fact that we are able to sustain everyday and continue to build the business off of our own resources. We are completely self funded and I come from very modest means, so really the business is growing itself. That's something I'm most proud of. I'm very honored by some of the awards that we've won and certain press that we've had, but really it's the everyday grind that I'm the most proud of because it's not really about subjective perspective. We are still here, growing, and innovating.
Her Agenda: What advice do you have for women interested in starting a line?
Article continues below advertisement
Daniella Kallmeyer: We're very modest in the way that we spend. I try to be as innovative as possible about where the money goes, how we use the money, who we connect with and how we connect with them. First and foremost, it really is in who you know. There are a lot of amazing creatives out there and there who get a lot out of collaborating. I believe in paying creatives, but I also believe that creatives can help raise each other up and sometimes that's even more valuable. So it's a combination of understanding that if you want to be valued, you need to value other people but also, don't be afraid to ask and don't be afraid to collaborate.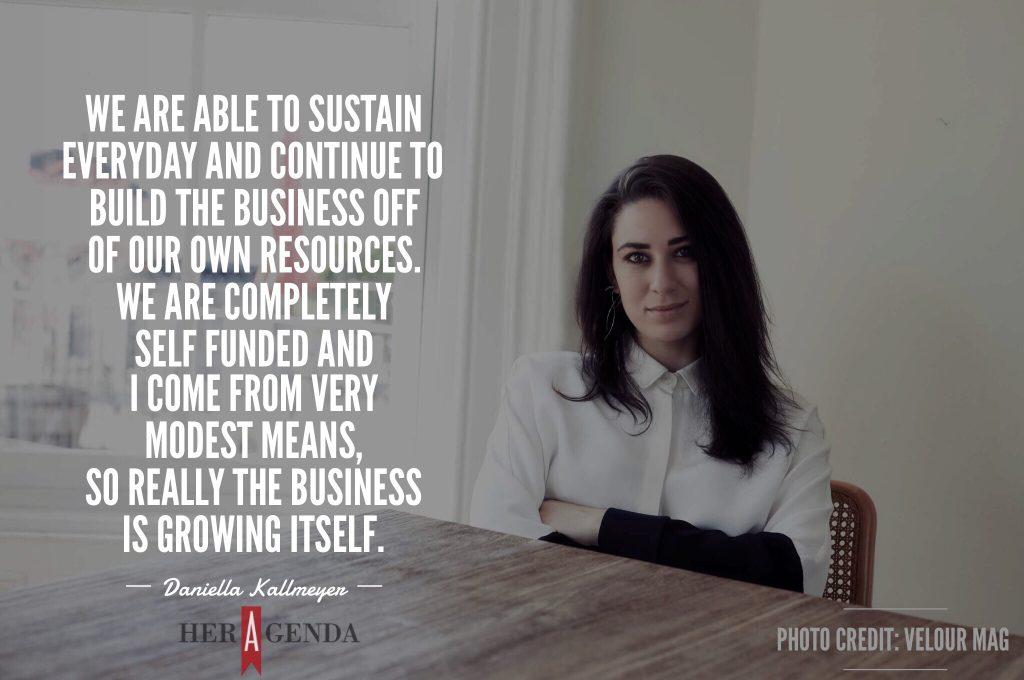 Article continues below advertisement
For someone to start a label in this climate is very difficult. There is a lot to consider, it's a very saturated market and there are a lot of nuances to making it work; unfortunately, a lot of it doesn't have to do with the quality of the design. If you really want to start a fashion brand, consider the market, what does it need? If that doesn't matter to you then you'll make beautiful clothes and you very well may struggle on where they land. But if it is important to you to have a business that's successful, then it is important to consider what do people want, what do they need, and what can't they not get right now? It's difficult to solve a problem right now in a market that basically has everything, but how can you solve a problem? Find new ways to approach it.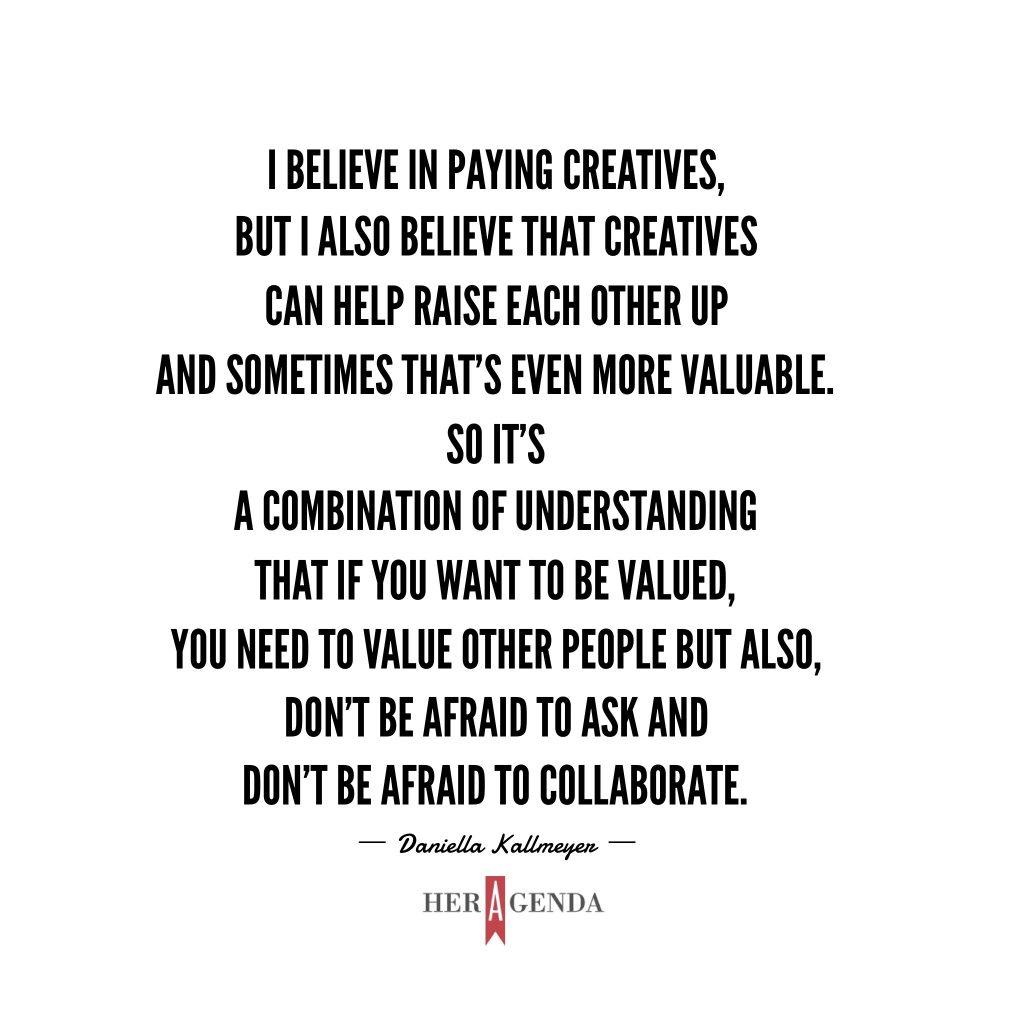 Article continues below advertisement
From a design perspective, limit your products, perfect them, think about sustainability, think about the fit, think about the quality and the details. Wholesale is not the only way to go; Amazon can be your friend, e-commerce can be your friend, Instagram can be your friend. International markets can be really brilliant; China is an amazing market.
Her Agenda: You've mentioned discipline a few times. In your opinion, what type of discipline do you need to start and grow a business?
Daniella Kallmeyer: Entrepreneurship is a choice so you need to be choosing to do the work every day. If you want to sustain the business and if you want it to grow, you need to be bettering yourself everyday. What are you teaching yourself? What research are you doing? How are you staying aware of what's out there in the market? You have to stay a few steps ahead because it takes time to plan things. It can become quite paralyzing to have all of these things you need to be thinking about at once, but decide what it is that you want to perfect and make every single day an education process for you.
[Editor's note: This interview was published on July 2, 2018. It has been edited for length and clarity. Image source: Kallmeyer Instagram | VelourMag | PlanDeVille | Alex John Beck.]