Born in L.A. and raised by a single father, Danisha Danielle Wrighster showed strength and determination by taking on studies in Mass Communication at UCLA at the young age of 16, specializing in Business Administration.
While it seemed as if all was going well, life hit Danisha hard when the father of her child was diagnosed with cancer and died not long after. Now a young, single mother, Danisha was determined not to let life bring her down. Then, two months after the death of her loved one, she was laid off from her job.
With a mouth to feed and hope seemingly lost, Danisha made the decision to stay positive, take life head on and make a way out of no way. After deciding to step out on faith and confidence, Danisha is now the real estate expert on the FOX series Home Free, and also the host of the #OWNShow on Oprah.com. Danisha shared her journey from single mother to multimillionaire with HerAgenda.com, encouraging women to stay motivated despite the odds and circumstances.
Her Agenda: For those who aren't familiar, tell us a bit about your show.
Danisha Danielle Wrighster : 'Home Free' is a real estate competition show. We have 9 couples who act as teams, all of whom have compelling stories and backgrounds. Each couple is trying to win a house by doing renovations and DIY projects. The ultimate prize is that the winning couples gets to keep the house they've been working on all season- with no mortgage or no taxes. The catch to this show is that every couple is a winner on 'Home Free.' For me, it's a great opportunity to share my expertise and participate in giving families a chance to get a great gift.
Her Agenda: You built your brand from the ground up and you're a self-made entrepreneur. What's behind such drive?
Article continues below advertisement
Danisha: It's been a process for me, that was birthed from me having a child and not wanting to live check to check. I want to give my child a different kind of life. I started off as an accountant at a real estate company, then I saw how much money and residual income was in real estate, and thought 'I need to be doing that.' So I got a job at a firm, which was risky, taking on a commission based income, but I just knew they payout would be greater than the risk. I just kept telling myself "no risk, no reward." As I achieved more success and my brand began to grow, I got a mentor and expanded my network and chose to go from there.
Her Agenda: How did you transition into media gigs?
Danisha: As far as doing media, I felt that my story and everything I've experienced would have been wasted and in vain if I didn't share my story with others. I share my life for anyone who thought the odds were stacked against them, that maybe I could give them a source of hope and inspiration. There's nothing extraordinary or extra-special about me and the work I do. It's all about being persistent and dedicated. I want to be a real life example of what hard work and passion can do.
Article continues below advertisement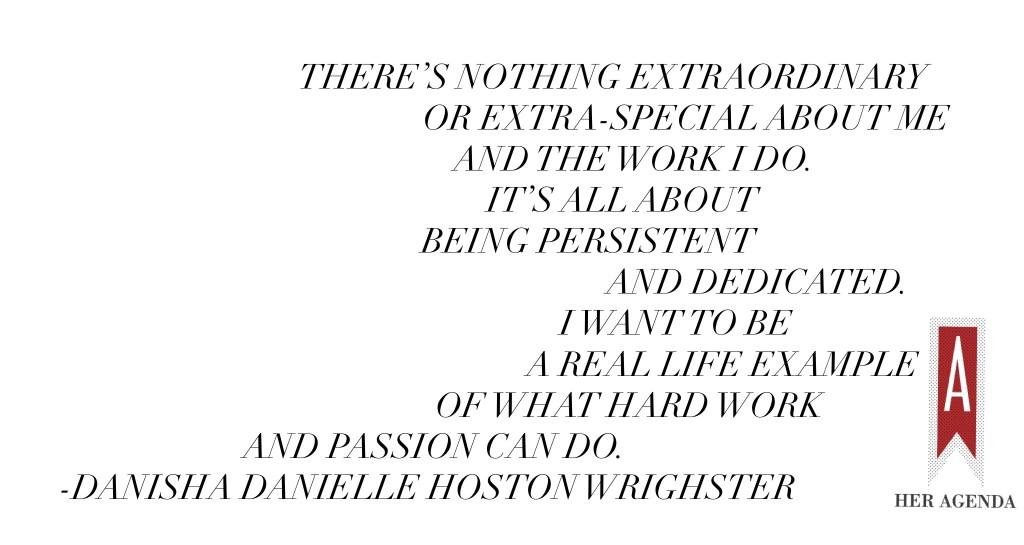 Her Agenda: What's your advice for those seeking to build their brand via the internet or through a blog?
Article continues below advertisement
Danisha: For one, and I can't stress this enough: be your total and honest self. Post accurate portrayals of yourself and your content. Don't fabricate your lifestyle, and don't fabricate what services you can provide to people. Let people know the real you and promote a real brand. Also, I'd say make an effort to follow and connect with people who are into the field you're in, or who talk about matters that interest you. Make sure you share your content, but also content that you're interested in. Engage with other users and followers, use hashtags, show your work- be interactive! The main goal online isn't to reach a certain number of followers or likes, but it's about who is genuinely and actively seeking you and your content out online, and that you post positive and impactful content.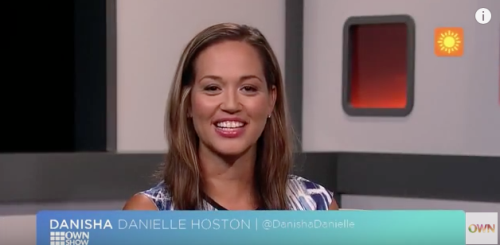 Article continues below advertisement
Her Agenda: How do you persevere through adversity and what seems like the end of the road?
Danisha: No matter how bad whatever you're going through seems to be, it can always be worse. Have a perspective shift and think about all the things that are going right instead of what's going wrong. Remember that nothing is ever perfect. I love this quote from that says "You can have it all, but you can't have it all at once."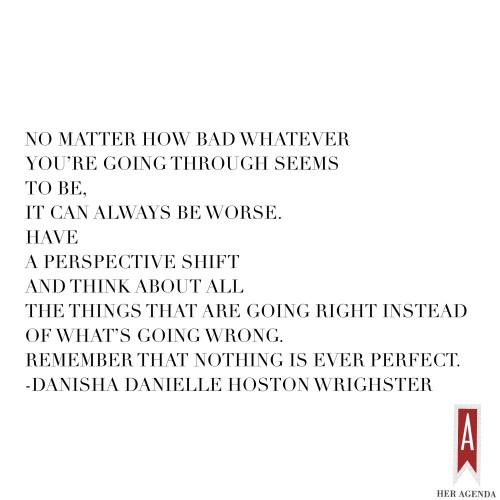 Article continues below advertisement
Her Agenda: One of your tag lines is that you hope to inspire people to shift their mindset from scarcity to abundance and gratitude so they can reap the benefits of a life that is greater than they ever imagined. Have you considered workshops/programs for that?
Danisha: I do speaking engagements with youth and women's groups. I share a lot of information about the value of investing and what wealth really is. I'd love to do that on a wider scale and I want to write a book [with] financial advice, life advice, real estate advice as well.
Her Agenda: What's one piece of knowledge you wish all women had?
Danisha: I want for women in particular to know that you don't wait to be married to invest your money or buy assets. Many women hold off investing their money or buying a home because they're waiting until they get married to do that. I say, if you have the financial capability right now, start taking steps to secure your own future. A lot of times women think a spouse is the clasp that secures their future when really the power is in your hands as soon as you start to make career and life moves for yourself. Really take time to think about your goals- long and short term, don't be afraid to start laying your own foundation for your life.
Article continues below advertisement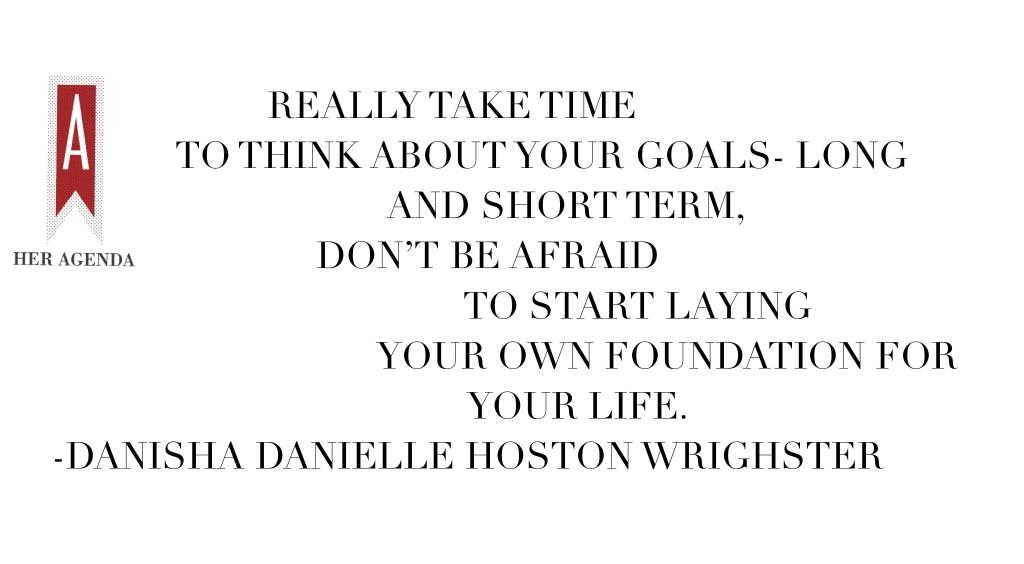 Editor's note: This post was published on September 1, 2015.