Dawoon Kang, co-founder of the online dating app Coffee Meets Bagel (CMB), believes that while dating has changed a great deal over the last 20 years — she also believes that the core of dating has remained the same; true connection. Kang who is the company's COO & Head of Marketing, overseeing overall vision, strategy, branding, and marketing, is working on how crack the code of facilitating genuine connection between users on the app.
Kang and her two sisters, started CMB in 2012 and have seen it grow exponentially since it's launch. Growing up with a father who was an entrepreneur became the motivation that she needed to explore entrepreneurship herself after graduating from Stanford Business school. When it came time to deciding between staying in a comfortable job or taking a leap of faith, it was her father's advice that helped her to make that decision.
In this interview, Kang shares some really great advice that all founders should take note of; from the three things that every founder should be focusing on, to the privilege of management, as well as the biggest threat to your journey as an entrepreneur.
Her Agenda: Where did you start your career, and how has it changed and led you to where you are today?
Dawoon Kang: I was one of those people in college who didn't know what I wanted to do, I just knew I wanted to work and live in NYC, so I was looking for jobs there. I was a psychology major so I really enjoyed designing experiments, I knew I liked social science work. I ended up getting a job at Avon in their strategic planning group which is basically an internal consulting arm that works with marketing, sales, and supply chain on their very high priority projects. In this role I got to have a hypothesis, do a lot of experiments, come up with an answer and make recommendations based on that.
Article continues below advertisement
I really enjoyed that team, it was a four person all female group. I got a great feeling about my boss, and I choose to take the job for the people. It's advice I like to share with people who are looking for the next thing 1) like Sheryl Sandberg said, you want to join a rocketship, with a team that's growing. When the team is growing, you never know where you'll end up. You might join as an associate and end up as something very different which is really exciting. 2) Find those who really care about your development. My boss (at Avon) was that for me. Two years into my job, she asked me if I had considered going to business school. I didn't think it was for me. She went to HBS, she told me that no matter what I wanted to do in life that B-school could accelerate that. I applied and got in, really thanks to her. My business experience lead me to all kinds of opportunities, eventually leading me to finance.
Finance was very interesting and very intellectually stimulating working with and looking at different industries, and being able to understand how an industry works very very quickly. What are the critical elements that any given company needs to have to be successful. I loved working with very smart driven people. I also quickly realized that finance is not something I'm interested in doing. Finance is really great because you allow companies to facilitate by providing capital, but your not creating anything yourself. I wanted to create myself. 2 ½ years into my finance career, my sister graduated from HBS and we started talking about working together on a company. It's something we've always wanted to do, our dad is an entrepreneur, we grew up watching him do his thing in his own business and it was very inspiring.
Article continues below advertisement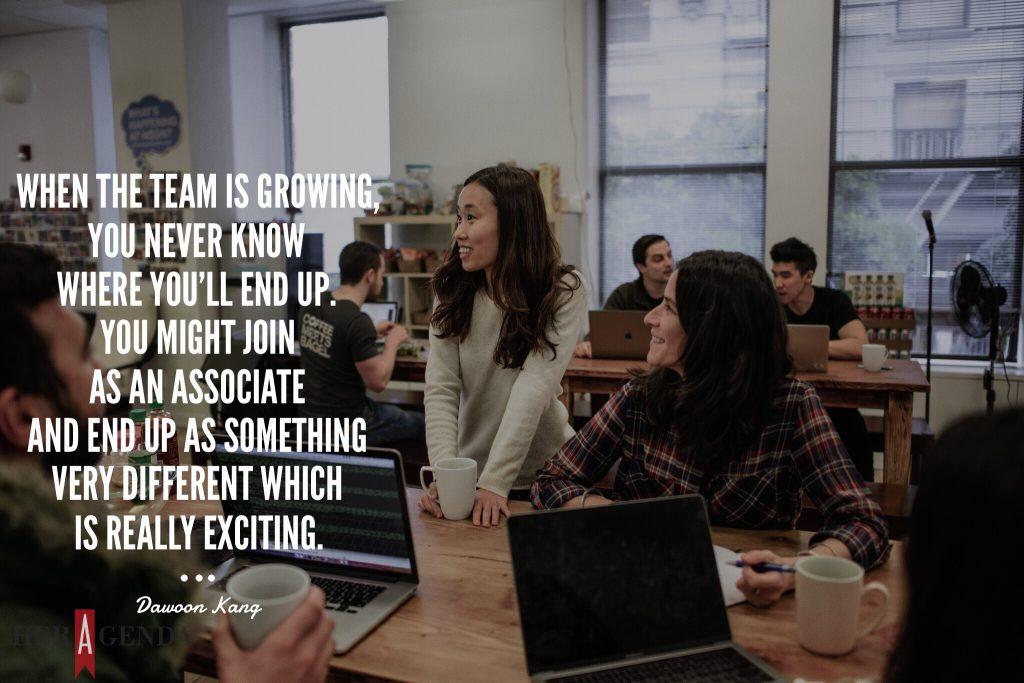 Her Agenda: Dating has changed a lot. Apps are more popular than they have every been before. How has dating changed and where is it going?
Article continues below advertisement
Dawoon Kang: Some things are different and some things are the same. The biggest change has been mass adoption of dating apps. Online dating has been around for so long, but it's always been this kind of niche thing. Even though Match was big and E-Harmony was big, it was still a niche thing that people did after work, when they were home and sitting alone in front of their desktop. I think this is why the image of online dating became thought of as dating for not so social people. That stigma has always been there, but the biggest change over the last five years has been mobile. Mobile makes things so much more accessible. You don't have to carve out an hour to sit in front of a computer, you can do it on your way to work, or while you wait for the bus. This really changed the perception that people have of online dating. It's no longer something that people do when they can't find a date, it's something you do when your single and want to meet more people.
There are things that haven't changed as well. Online dating still feels like work. I don't think much of online dating, besides CMB, is doing a great job at allowing users to really get to know each other on the platform. Back when Match started, when you connected with someone, it was via email. Now apps have moved into the chat feature within the app, in that way it's instant and faster, but it still feels like connection is something that happens after you meet. That experience still kind of feels the same.
Article continues below advertisement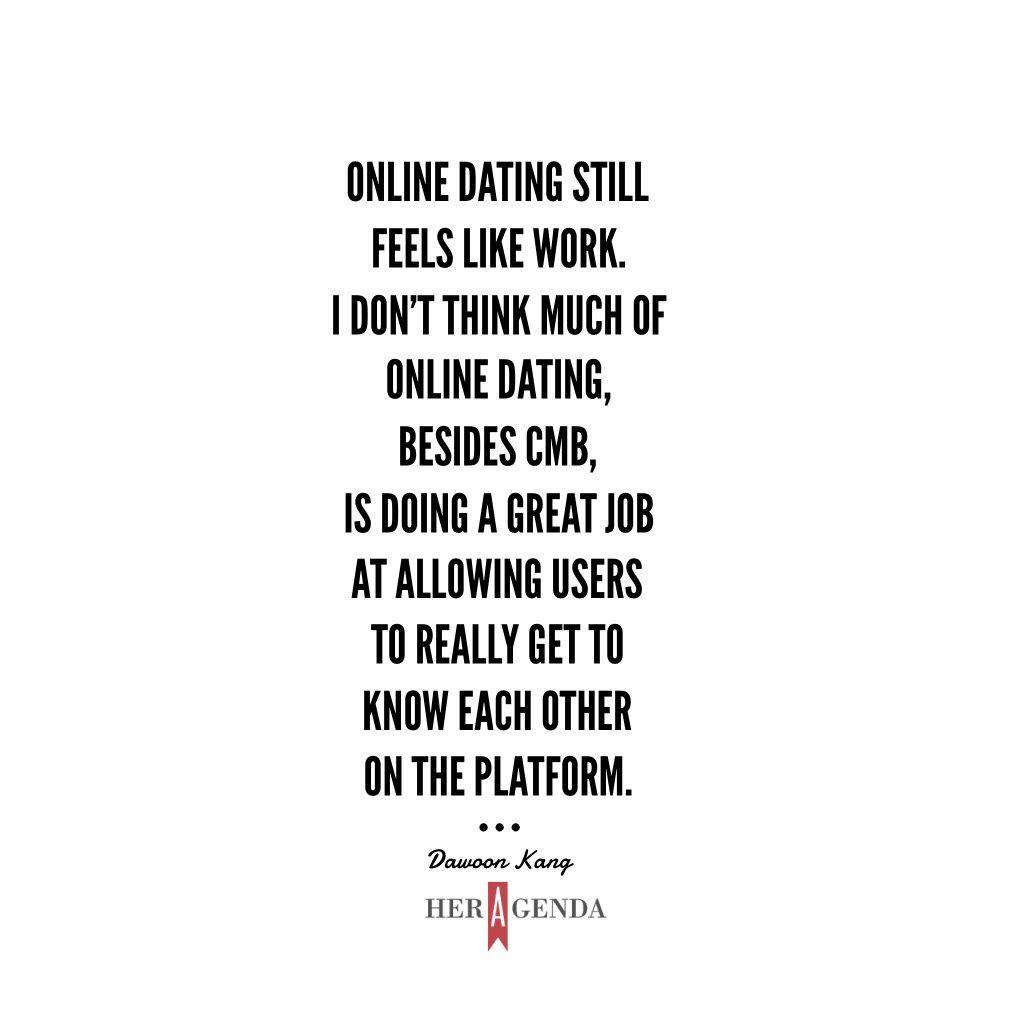 Her Agenda: What is the future of dating, and what are you learning from the users who are on the app? Are you seeing trends in user data, and are there things that you're looking forward to incorporating?
Article continues below advertisement
Dawoon Kang: Yes, definitely. The ability for users to connect and get to know each other on the app is something I'm most excited to transform, where people really do get to know one another and really do get to experience that on the app versus having to wait until they are in person to experience that. Wouldn't it be awesome that if once you meet someone that you already knew that person. I think that would be really cool. What makes dating fun? It's really about getting to know someone and really sharing yourself. Being able to create that for our users is what really excites me right now.
Her Agenda: What would you say has been your biggest lesson learned in starting and growing a business? What has been exciting and what has been challenging in building an idea from scratch and seeing it grow?
Article continues below advertisement
Dawoon Kang: What's really exciting about building a business is that you get to live a life where you're trying something new everyday and everyday you're learning something new. Every situation that you encounter is different so by the definition of being an entrepreneur, you're doing things for the first time that the world has never seen before, by that definition you're doing something new almost everyday, and that's really fun and exciting, and also scary because you're never going to get to the point of "this is it." There is always part of you looking for the next thing, at a certain point, you kind of need to take a leap of faith. As an entrepreneur you also get the opportunity to contribute so much to the people who work with you and for you. As a manager, you have the opportunity to influence someone's life so significantly, and that impacts them in other places in their lives. It's a privilege.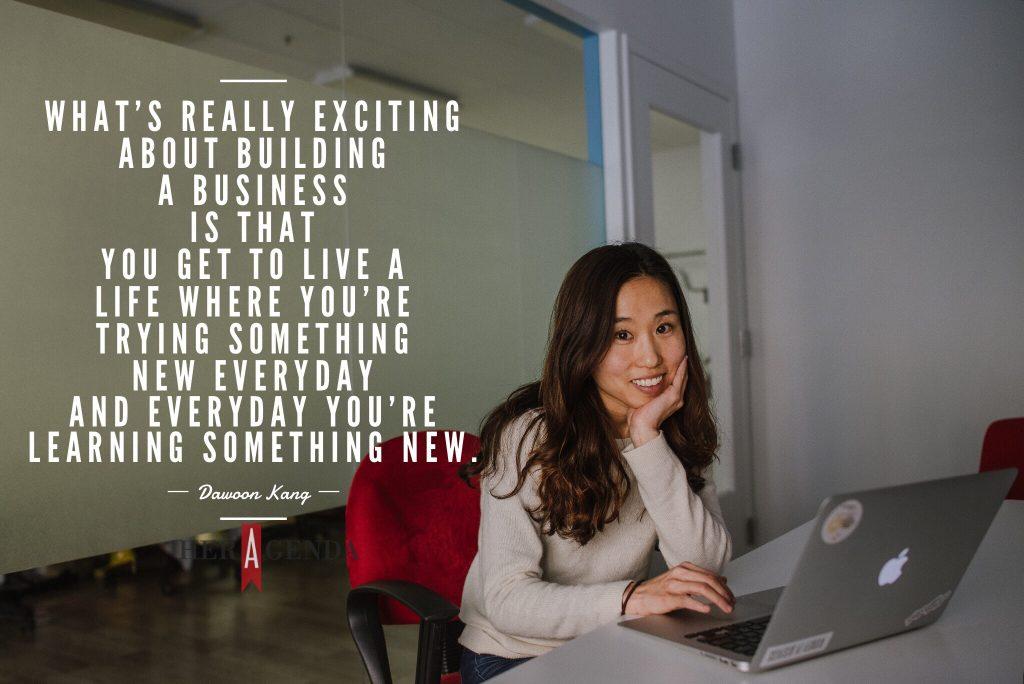 Article continues below advertisement
Her Agenda: What's something that you wish you knew when you were starting your business?
Dawoon Kang: At the end of the day, it feels like you need to do everything under the sun as a founder, but I realized that their are only really a three things that you need to do, everything else you should be outsourcing to someone who can do things better than you can. 1) Fundraising. Making sure that your company has the money to create resources that you need, 2) Crystallizing your vision, something that people can rally around. It will serve as that north star. 3) Recruiting, the best people who can actually do certain things to grow the business. Everything else doesn't really matter. Once you start to get overwhelmed, remember that your job really consists of these three things, if it's not these these things, find a way to outsource it.
Article continues below advertisement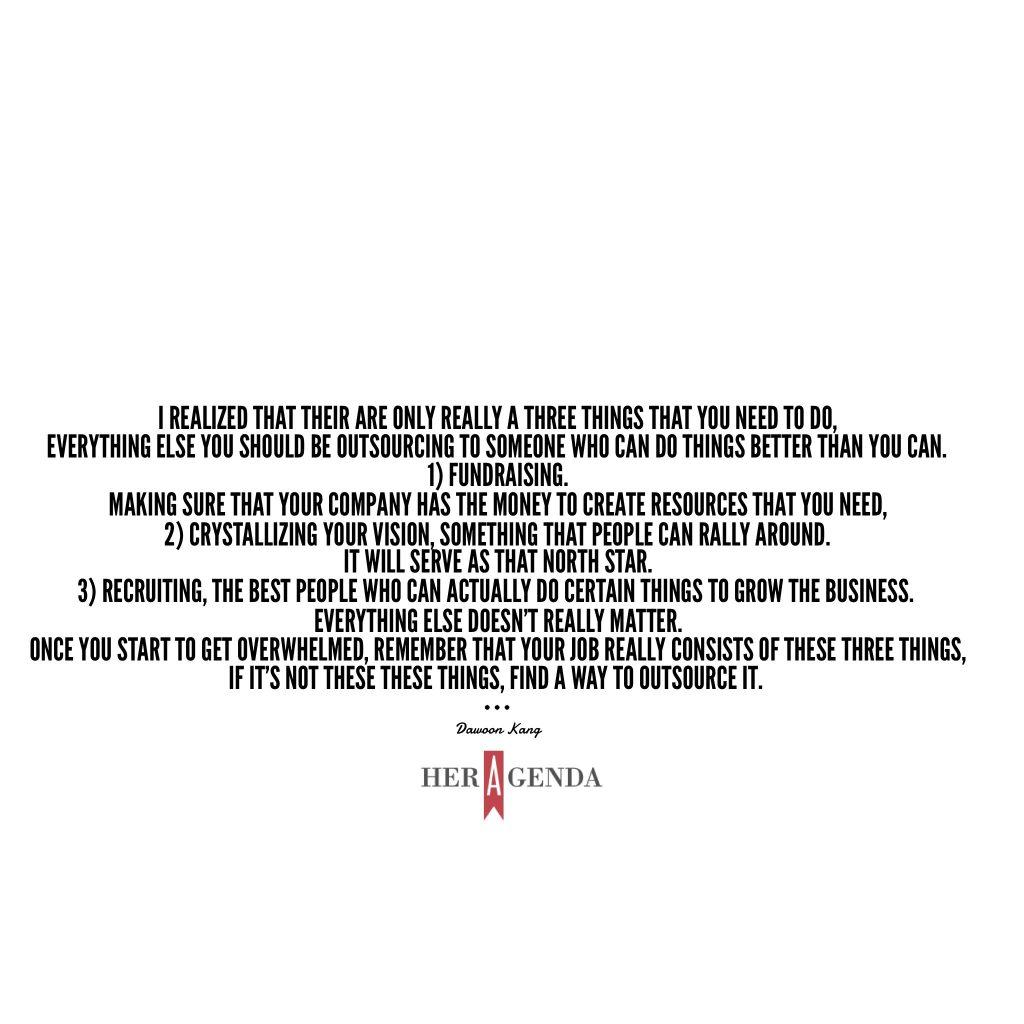 Her Agenda: How do you recruit the best people when you have a new young idea? How do you get people on board and get to believe in what you're creating?
Article continues below advertisement
Dawoon Kang: This is why setting the vision and telling the story is an important skill set for any entrepreneur to have. In the beginning, you don't have any money, so the investors – you're inviting them into your journey, your initial team – you're inviting them to be a part of the journey too. How do you actually paint the story so that it sounds like an amazing opportunity for them to be involved in? That's really hard, but it's something you need to do. I don't have the answer, but think about how you want to tell your story and what you can offer the person that you're sharing your story with. If it's an investor, speak to that, if it's another person that you're recruiting, what's in their world, what's important to them and speak to that. The most important thing is getting inside of their world.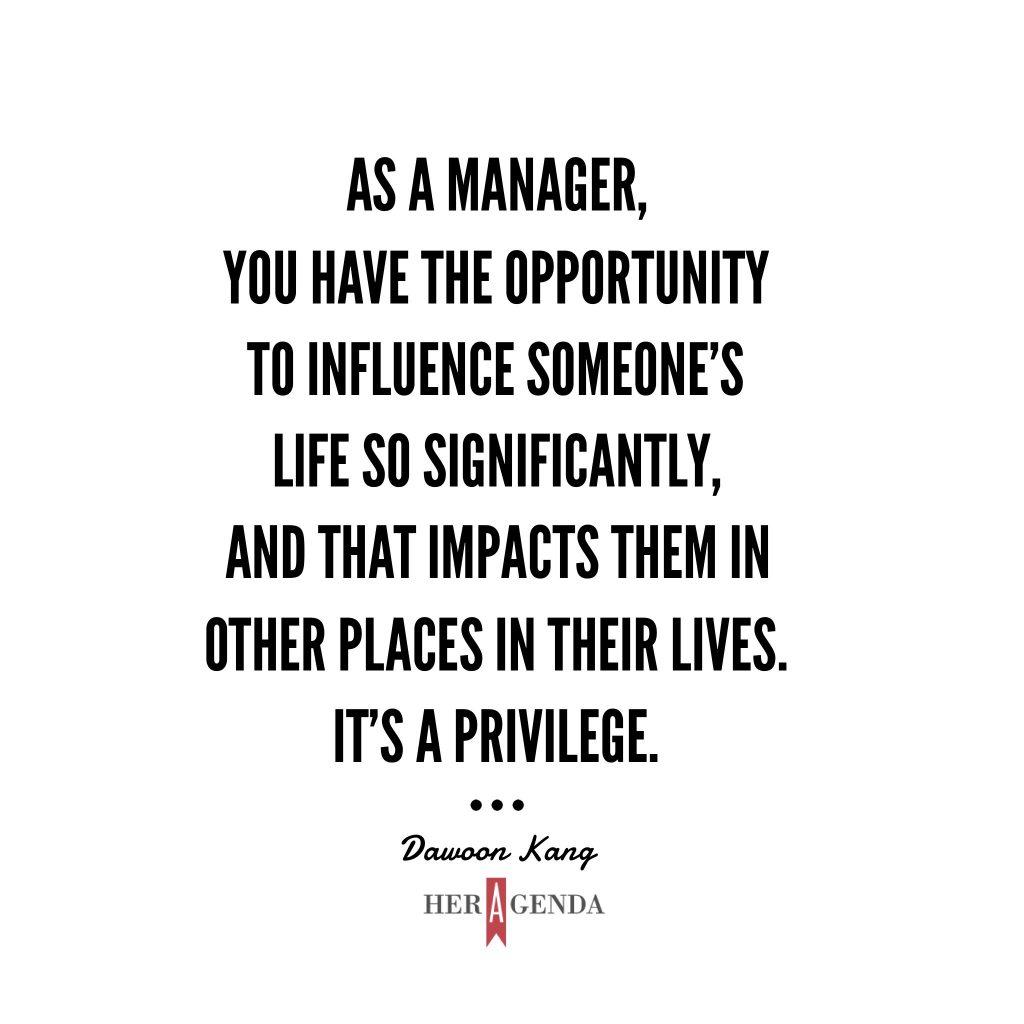 Article continues below advertisement
Her Agenda: What gets you out of bed every morning and what gets you excited to keep building what you're building?
Dawoon Kang: My dad shared a Korean proverb with me when I was trying to decide between leaving a stable and very lucrative finance job versus becoming an entrepreneur. It translates to something like, "a leaf in a still water eventually rots. If the leaf wants it to survive it has to be in moving water." He told me to do it. He said if I'm always doing the same thing, I'll eventually rot. He told me to be the moving water and change myself.
Article continues below advertisement
Also, remember that the greatest enemy lies within. In entrepreneurship, we talk a lot about competition and a lot of external factors, but I think the most important thing is being able to conquer your own inner fear. If you are able to not let yourself stop yourself, the world is your oyster. I invest a lot of time in mind building so that I don't let fear stop me. It's paid off for me.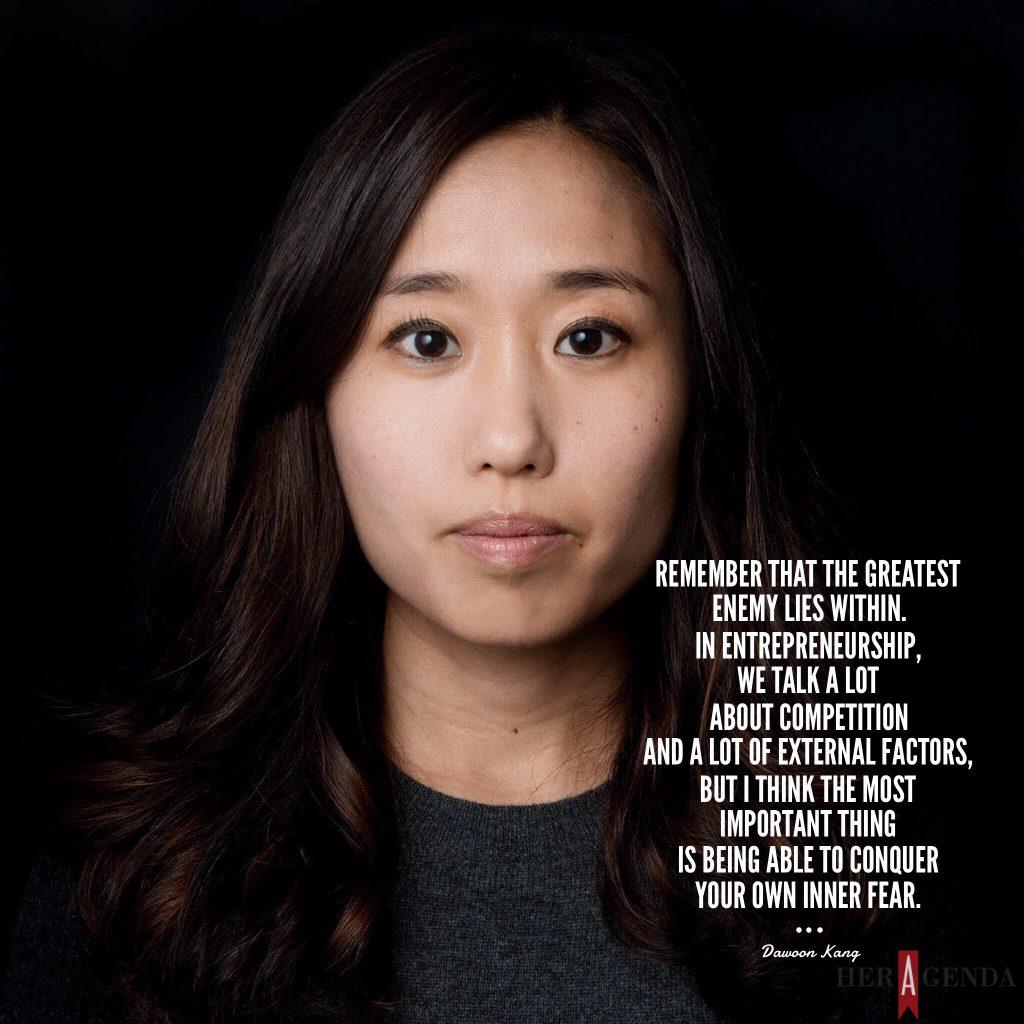 [Editor's note: This interview was published on June 4th, 2018. It has been edited for length and clarity.]