Deja Riley is a motivational force. As the daughter of famed music producer Teddy Riley, Deja has spent a lifetime being surrounded by music. Now, she is forging her own success by combining the things she loves most – dance and fitness. During Deja's career in dance, she has performed for the biggest names in entertainment such as Britney Spears, Lady Gaga, Katy Perry, Trey Songz, and Beyoncé. Although her decade-long career appeared to be a dream job, Deja made the brave choice to walk away.
By transitioning out of the dance world, Deja was able to finally focus on what made her happy – empowering others. Deja is a sought-after partner representing brands such as Lululemon, MIRROR, and more. She hosts her own YouTube channel where viewers can follow her newly developed workout method, DANCE OUT OF THE BOX – a workout that combines shadowboxing and dance in a music-driven cardio workout, making you smile while you sweat (it truly does). Her journey to inspire has without a doubt, only just begun.
Her Agenda: How old were you when you first started dancing?
Deja Riley: My parents will tell you that I started dancing the moment that I could walk. I'm from a musical family, my dad is a music producer and we were always playing music around the house. Wherever he was, there was always music playing and I was always moving. Even before I could walk I was finding the rhythm of the music. My parents put me in dance lessons at the age of three, and I started training in pretty much anything you could think of: ballet, jazz, tap, lyrical, hip hop. I started to add on more styles as I grew in the art form. Then at the age of 19, I moved out to L.A. and started my professional career.
Article continues below advertisement
I had almost a decade-long career in the dance industry. Dancing for artists like Beyoncé, Lady Gaga, J.Lo, Nicki Minaj, Katy Perry, Britney Spears, the list goes on. I had the pleasure of assisting and getting my start in the industry with an amazing choreographer by the name of Laurieann Gibson. I studied under her and she basically taught me everything that I needed to know about the industry before diving headfirst into it. She also gave me my first opportunity to dance on stage with a celebrity artist, which was Lady Gaga on Dancing With the Stars. That performance sent me soaring into an incredible career where I got to work with so many amazing dancers, choreographers, artists and really got to fulfill my dreams.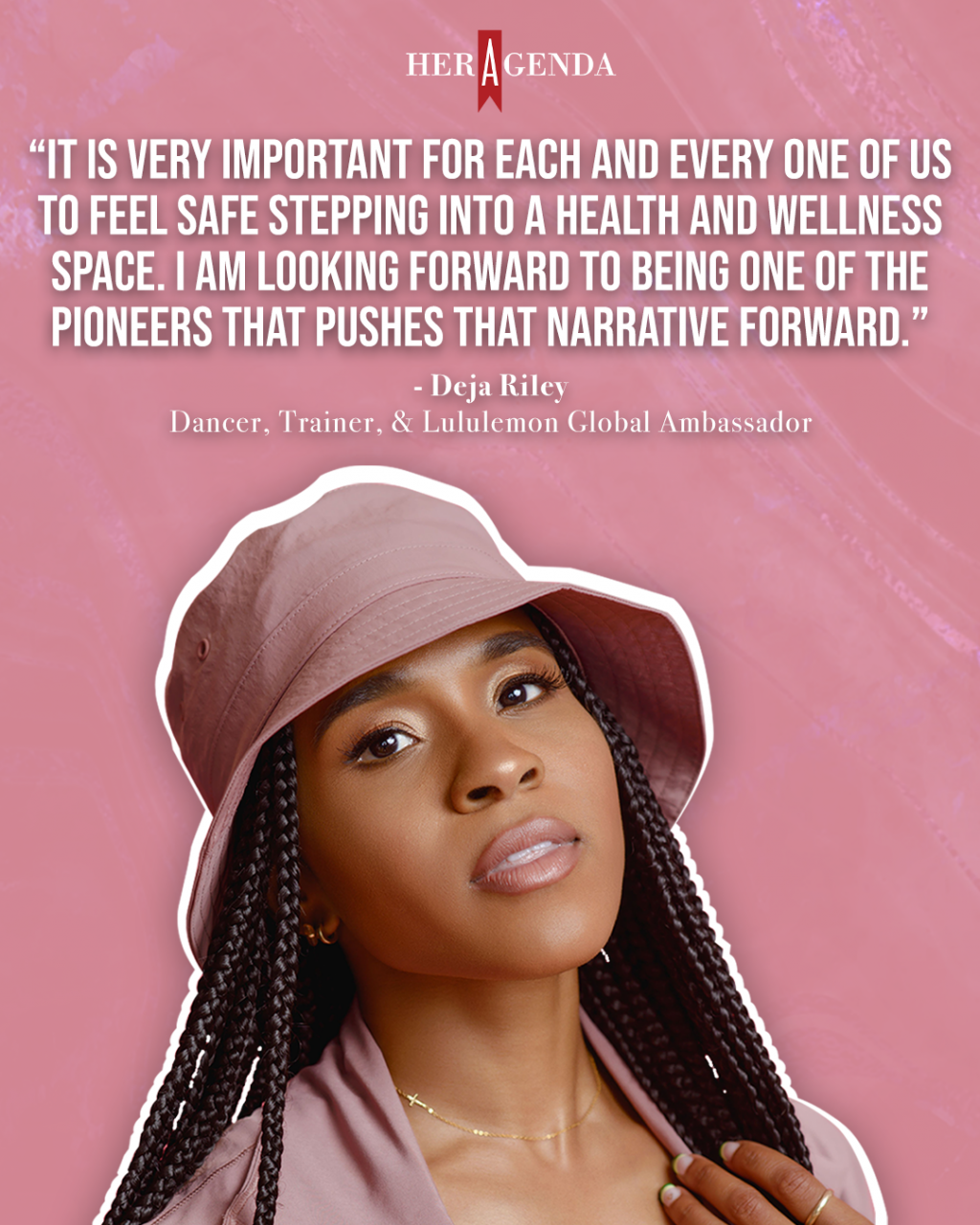 Article continues below advertisement
Her Agenda: What made you want to transition from the dance/entertainment industry to the fitness industry?
Deja Riley: I remember the exact moment where I decided I wasn't pursuing a career in dance anymore. I was at the Super Bowl and about to dance with one of the biggest artists in the world, Beyoncé. I was extremely excited to be there and grateful to be there, but I couldn't ignore what I was feeling internally. I was feeling so small, so insignificant. In my mind, I had the feeling like I wasn't enough, and I wasn't worthy of being there. I actually noticed this way later through lots and lots of therapy sessions. Later, I realized that a lot of that came from this pattern and the cyclical pattern of rejection.
I was told so many times that I'm replaceable, I'm not enough or I need to change my hair, my clothes, the way I'm moving. I didn't have the capacity to celebrate myself. I knew something was just wrong with that. So then, I decided that that was going to be my last major performance and I was going to transition out of the dance industry.
Her Agenda: Tell me more about "Dance Out of the Box." What were the motivations to create this workout?
Article continues below advertisement
Deja Riley: When I created "Dance Out of the Box," it came from me wanting to do something that blended all of the things that I love. Boxing had become my newest passion, dancing was still a passion of mine, and I wanted to find a way to really move again. I blended the two together and they just made the perfect marriage. Boxing is so similar to dance in the way that you feel like it's choreography or dancing around the ring.
I found the correlation between the two [dance and boxing], which inspired me to create Dance Out of the Box. Working in the dance world left me wanting more and I didn't feel completely fulfilled. So when I created this, I knew there had to be a way to make it all work together. People always ask me how I was able to pick up boxing so quickly. I always thought that boxing felt like choreography. After a decade in dance, it was much easier for me to pick it up. I wanted to make it accessible. I wanted to show people boxing, and dancing doesn't have to be intimidating. I wanted people to feel accomplished, inspired, and motivated. Then it all clicked for me. Taking boxing and taking dance and making it something that was digestible for the average person birthed Dance Out of the Box.
Article continues below advertisement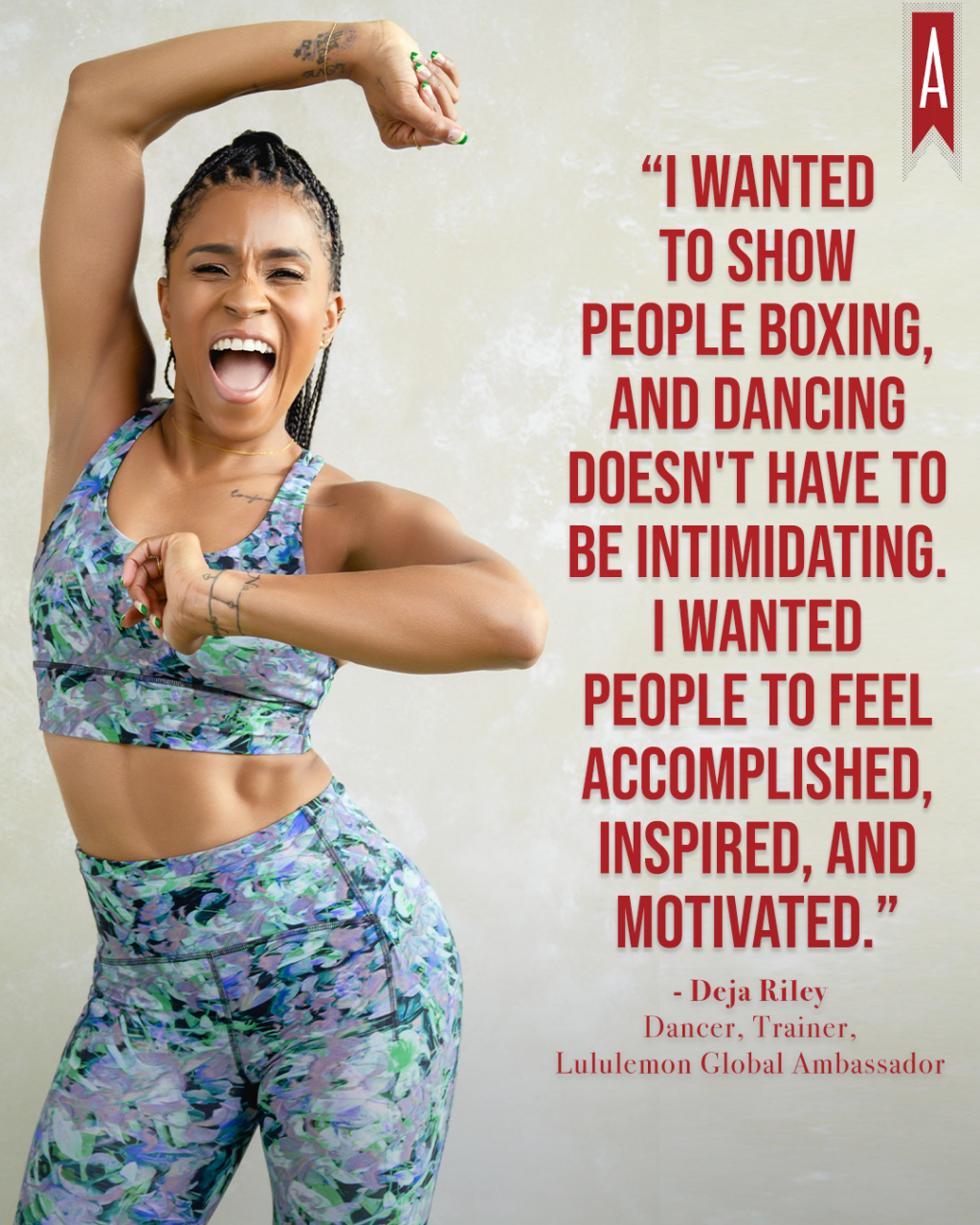 Her Agenda: What were some of the steps you took to form global partnerships with Lululemon and MIRROR?
Deja Riley: Honestly, it was all about working on myself. I know that it may sound redundant, but self-care is important. It's something that we keep hearing right now, especially in today's world and the state that it's in. But self-care is the key to everything that you want in life. Everything from attracting what you want in life, to representing your best self anywhere that you are. I think when I started really going deeper and really listening to my body and my inner voice and finding inner peace, that's what led me to a path of success. I tell people all the time that everything happens when it's meant to be, and everything happens for a reason.
Article continues below advertisement
I had worked with Lululemon a few times before in a much lighter capacity, so I already knew that I absolutely loved the brand. I love the clothes, the initiatives that they were taking in the community, and connecting with people.
Lululemon approached me about becoming an ambassador at the end of 2020 and a trainer for the Mirror. The process was seamless because I knew what I wanted from the relationship and I was able to communicate that mainly because I had done the self-work. I knew what I brought to the table and I wasn't willing to settle. That set the tone for our relationship and what I contribute to it. For me, that is the most beautiful part of it; I was working on myself, and then I attracted that. This is my advice to anyone who is reading this article, focus on you, and really pour into you. Everything else will gently fall into place.
Article continues below advertisement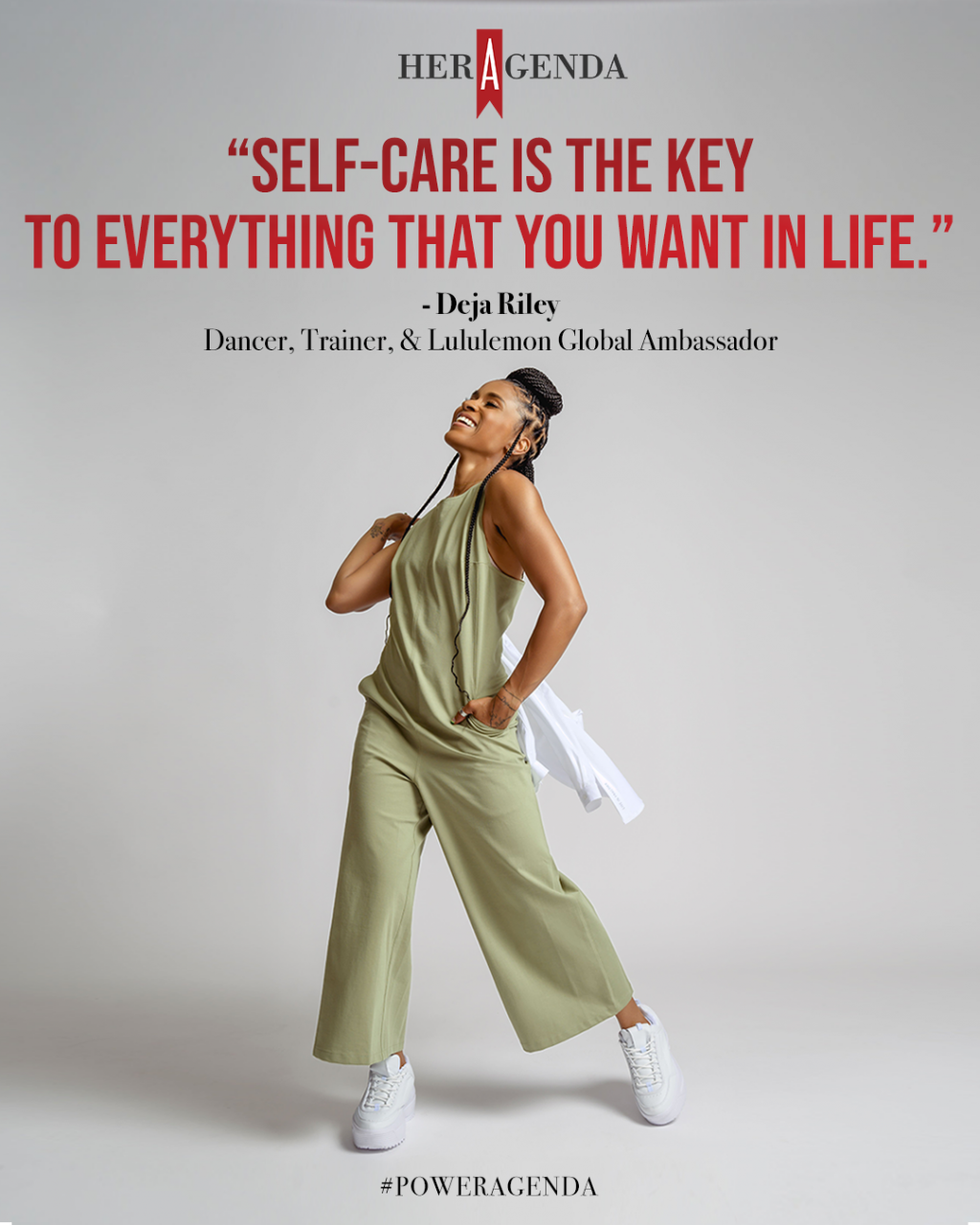 Her Agenda: What did you do personally to practice self-care?
Deja Riley: It takes a lot of trial and error. I have done everything from sound healing, meditation, to acupuncture and massage, to nature walks. I think that you just have to find what resonates with you and what fills you up. I noticed that for me, I did very well when I set the tone in my morning. So I created this thing called the Deja Daily. It's a list of things that I do as soon as I wake up before I pour into anybody else.
Article continues below advertisement
I start off with meditation. When I open my eyes, I don't grab my phone and go into social media and start receiving all these different energies. First, I go into meditation. The next thing that I do is I read and have quiet time with myself, and I usually do a little bit of journaling in the morning. I tend to listen to really soft mood music, sometimes jazz or R&B, and set the feeling for my day.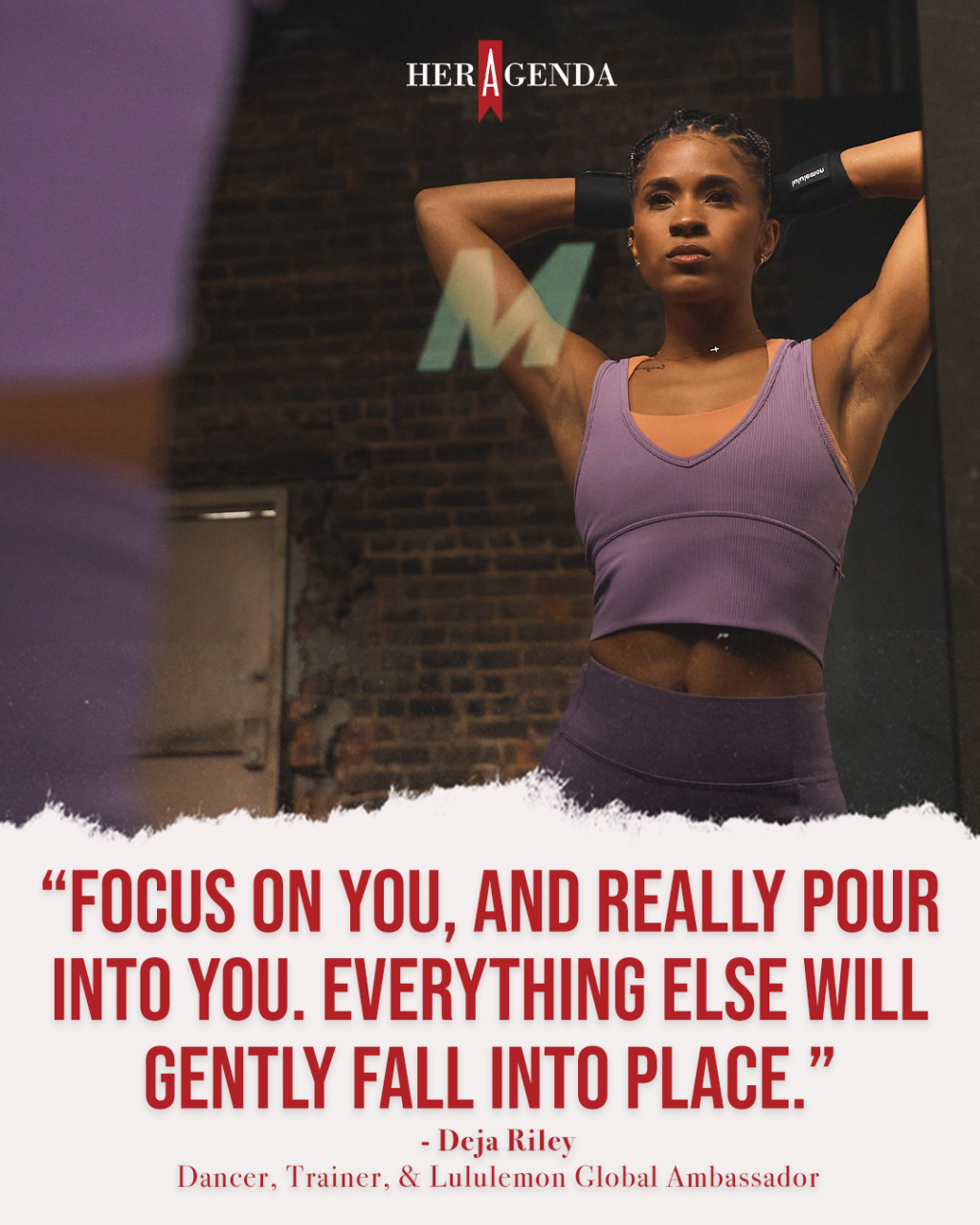 Article continues below advertisement
As you know, I've told you already that I'm a mover. So as soon as I'm hearing that music, I kind of trickle out of my reading and journaling, and I move. Then, I fuel my body. I eat something or make a smoothie, and I'm set for the day. I can roll into my routine. I can do all of this in under 30 minutes to an hour, but I make it a priority to get these things done before I go out into the world and I deliver my energy or pour it into others. It's so essential that I take that time to pour into me.
Her Agenda: What advice do you have for entrepreneurs and companies that are building brand ambassador or affiliate programs?
Deja Riley: I always say be as transparent and as honest with your audience as possible. If you are, you don't have to doctor all these different pieces of content. If you are being honest and who you are on a daily basis, and maybe sharing pieces of that along the way, then it's 'as this journey unfolds,' I get to be authentically myself and attract this audience along the way because I am just being me.
Article continues below advertisement
Before I am an ambassador for anything, I have to try it first. That is how I am authentic with my community and honest with them. Then I also do my research: Who is this company owned by? What do they truly stand for? What is their mission? How do they reach out to the community or connect with the community? What are they doing to better society? I also asked myself, do I align with the brand's values? I never try to sell or promote something that I don't believe in, and my audience knows that. That's why they trust me.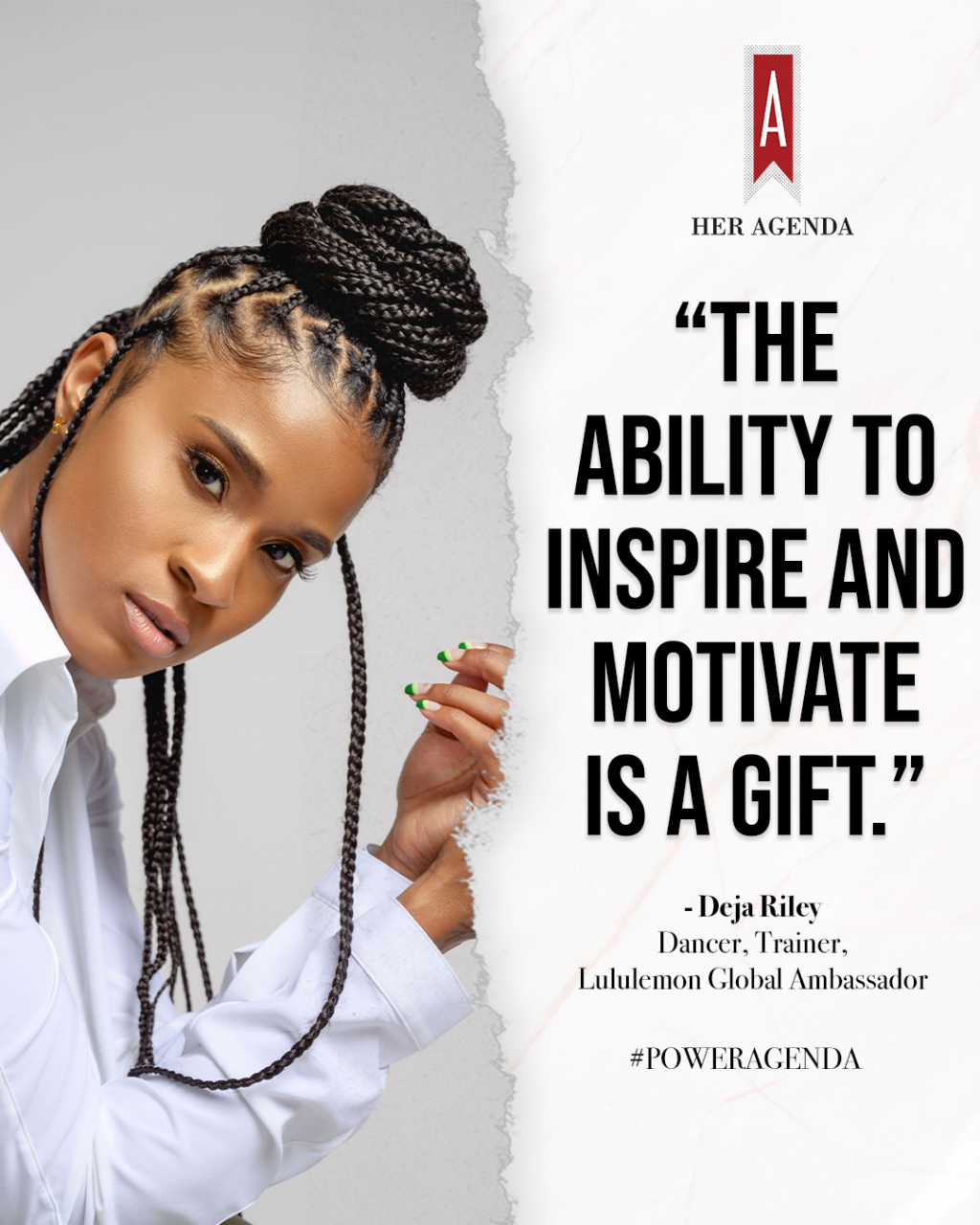 Article continues below advertisement
Her Agenda: What are your goals as an IDEA (Inclusion, Diversity, Equity, and Action) representative?
Deja Riley: I absolutely love being on the ambassador advisory board as an IDEA representative. I think it is one of the most innovative initiatives that Lululemon has put forward. I definitely want to encourage change, that's a given. But I've also discovered how much I enjoy learning, and how much I have to say through my own lived experience. I have a lot to teach.
I'm also really blessed that the other IDEA members and [advisory board] members are so diverse and they also have so much to teach.
Her Agenda: What is your favorite part about being in the fitness industry?
Deja Riley: Honestly, I love that I get to sweat for a living. I think it's incredible to be able to say, 'that's my career, that is what I get to do on a daily basis.' But also, the amount of lives I get to change is unreal, and it's not always in the physical sense. Some of the lessons I teach in a workout class [include] perseverance and self-love have been some of the cornerstones to my audience. They're making changes in the way that they look at themselves, their career path, and how they show up for themselves in every aspect of their life. I wouldn't trade that for anything. The ability to inspire and motivate is a gift. I have a dream job because it doesn't ever feel like work and that is awesome.
Article continues below advertisement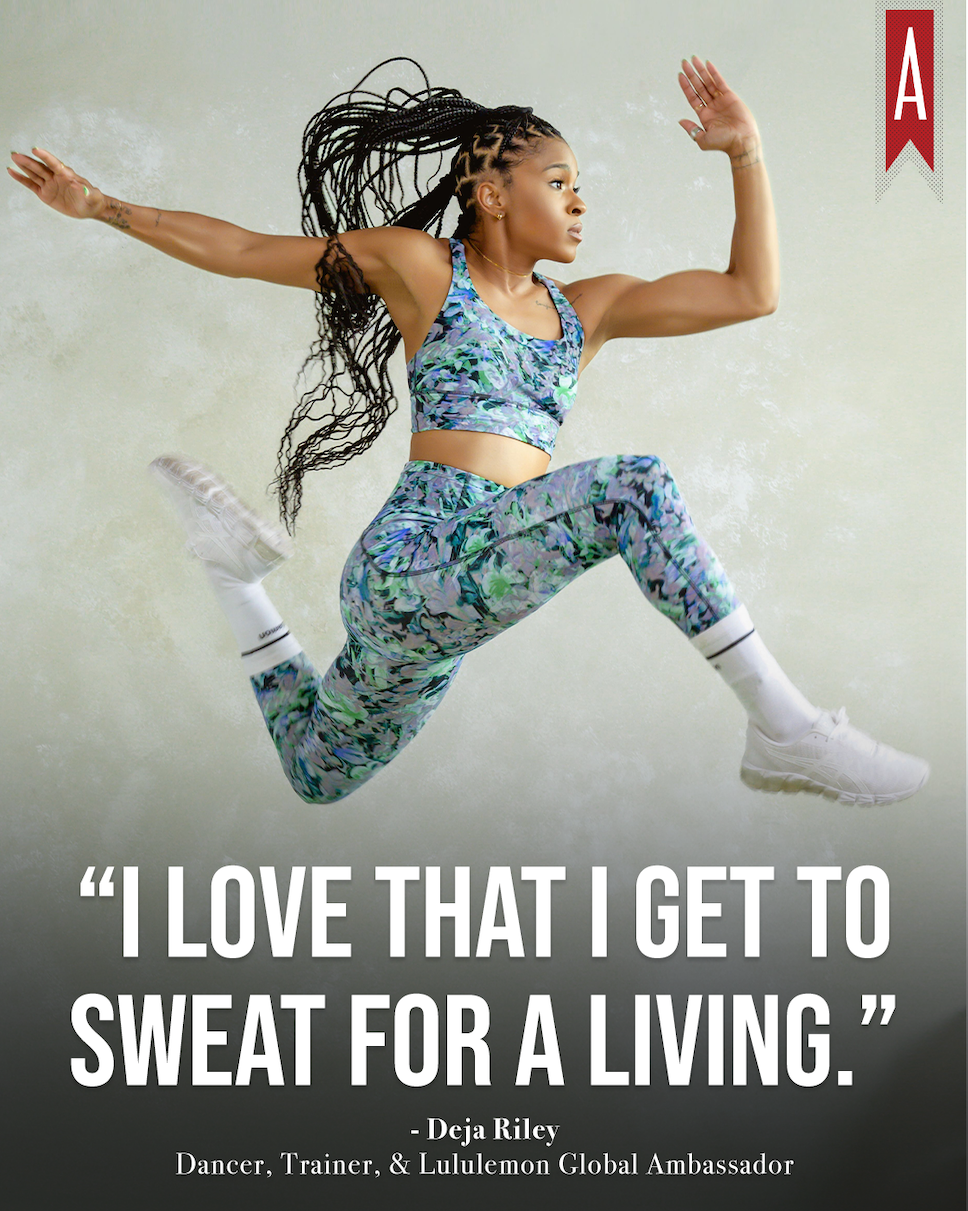 Her Agenda: What is your vision for the fitness industry as it relates to diversity and inclusion?
Deja Riley: In today's time, the fitness industry truly needs to be flipped on its head. I think we can all agree that the way it operates right now isn't working, or the way that it has operated in the past, isn't working. The main focus is on race, but my vision is that everyone will have access and feel welcomed into the fitness and wellness space, regardless of race, income, and ability. It will not be seen as a luxury but as a right.
Article continues below advertisement
I always tell people fitness and wellness is not a "one size fits all" format. It looks different everywhere you go, and with everyone that you meet. I'm looking forward to seeing a world in which we don't judge one another or how we interpret our wellness journey. It is very important for each and every one of us to feel safe stepping into a health and wellness space. I am looking forward to being one of the pioneers that pushes that narrative forward.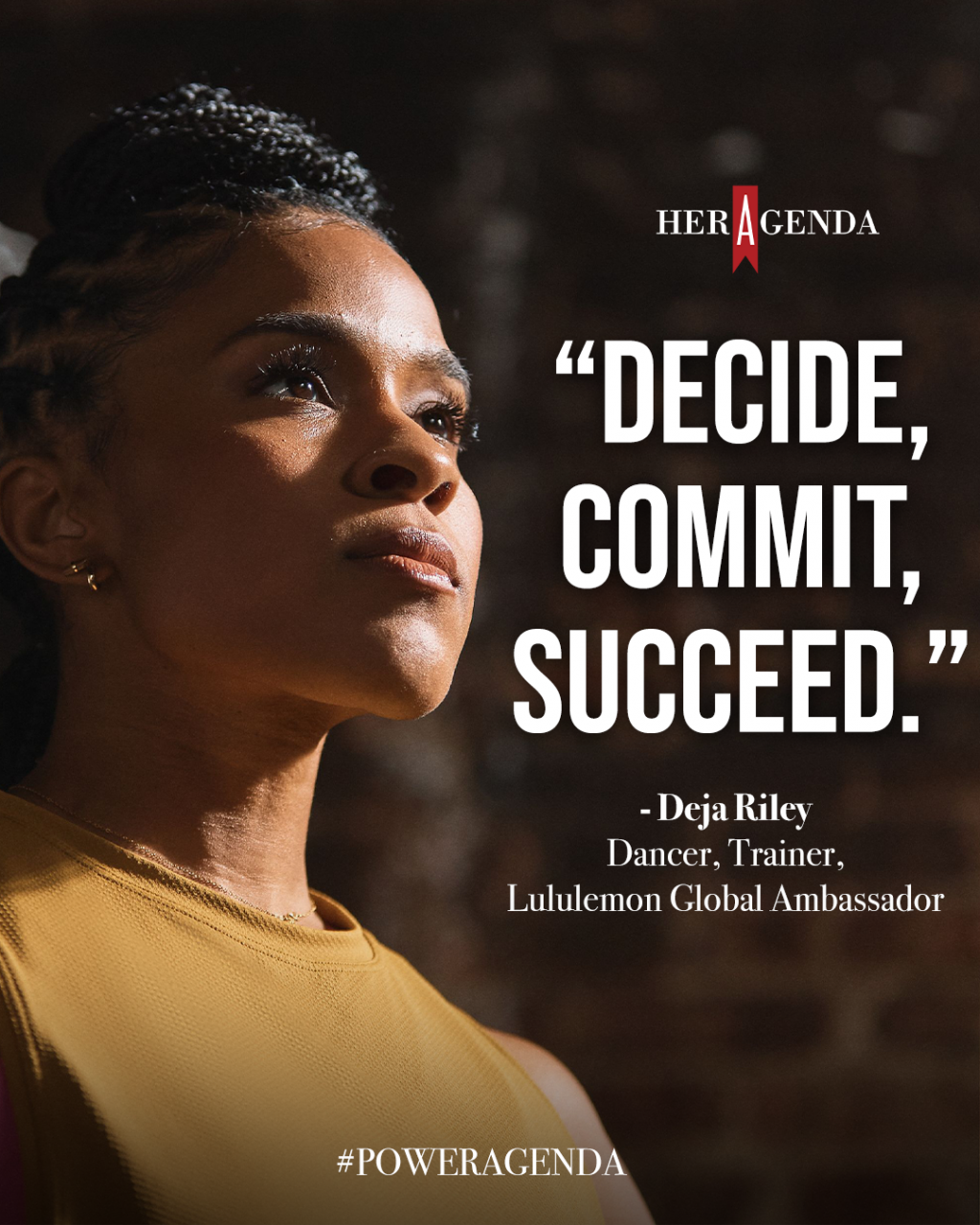 Her Agenda: What's your motto?
Deja Riley: Tattooed on my right hand is, "decide, commit, succeed." It has been the words I live by.
[Editor's note: This interview has been edited for length and clarity.]