Yes, beauty is in the eye of the beholder. But, in order to understand the beholder's perspective, you must dismantle the eurocentric, colonialist, and blurred beliefs that uphold it. As a trailblazing beauty entrepreneur, Diarrha N'Diaye-Mbaye is committed to reconstructing society's misconceived perception of Black beauty with her brand, Ami Colé.
As a first-generation Senegalese-American, Diarrha N'Diaye is in tune with the power of her complexion. Traveling a dilapidated road of colorism, bullying, and skin-bleaching advertisements, previously convinced Diarrha that her deeply melanated reflection was less than beautiful. Determined to be what she didn't see, Diarrha built Ami Colé, a "better-for-you" beauty brand made to celebrate melanin-rich skin. Though her career has led her to work for powerhouse companies such as Rebecca Minkoff, VIBE Magazine, L'Oreal Paris, and Glossier, it is evident that no job is more fulfilling to Diarrha than aiding other women to embrace their natural-born beauty.
Her Agenda recently caught up with Diarrha about the reality of being a beauty entrepreneur, embracing her heritage, and the celebration of melanin.
Her Agenda: I want to start off by congratulating you because the Ami Colé Lash-Amplifying Mascara is now an InStyle 2021 beauty editors pick. Tell me how you've been soaking up these accomplishments and stellar reviews?
Article continues below advertisement
Diarrha N'Diaye-Mbaye: It's funny because I turn and put my head down to work every day. We are already working on 2022 releases and things are always so far ahead. It's always good to have these reminders that we are doing a good job and need to keep going. I saw that we were chosen two days ago and thought, 'Oh my god,' because I wasn't expecting that at all. I was so happy! In the moment, I try to praise God and just remember that it's worth it. That re-energizes me to keep going because the journey to success can be a very long road. These reviews and awards are a really good booster for those tough days which are every day.
Her Agenda: I recently listened to the Afrolit Podcast episode that you were featured on and heard you recall your upbringing with Senegalese parents. How did being a child of Senegalese immigrants affect your perspective on beauty?
Article continues below advertisement
Diarrha N'Diaye-Mbaye: First off, Senegalese culture is so funny because the more over the top, the better. The more gold bangles you stack on, the better. I grew up in a household with a lot of girls. Even when I went back home [to Senegal], most of my cousins were girls who were really excited about beauty and trends. I can't put my finger on how it really influenced me because it's so innate to me, literally all I knew growing up. But, I definitely see how it infiltrated through the way I talk about beauty, the way I experience beauty in my household and products, and eventually with my company. It's hard to explain but I'm very much unapologetically proud to show who I am.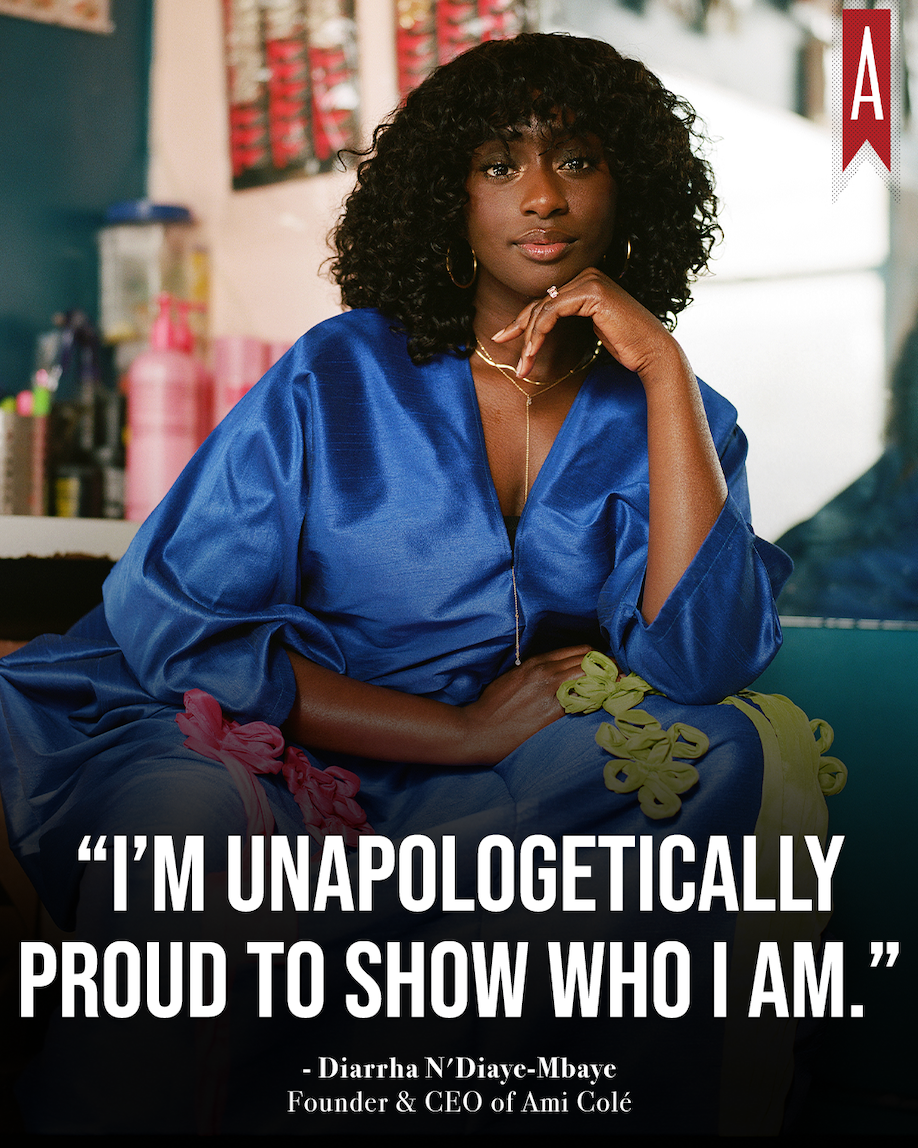 Article continues below advertisement
Her Agenda: There are so many women with melanin-rich complexions, who are finally being celebrated in the beauty world, modeling world, etc. My mom looked at the Ami Colé website and said, 'Wow, I wish this was around when I was younger.' In a world where eurocentric beauty standards are basically unattainable by Black women, what was your journey like to feel comfortable in your skin?
Diarrha N'Diaye-Mbaye: Wow, your mom's words are exactly why we call it the celebration of melanin-rich skin. It was tough. For one, I have a very, very dark skin tone. Even amongst my peers growing up in Harlem, I was still the darkest in many scenarios. The darkest in the classroom, the darkest in the playground. Kids are very mean and back in the day, there was no celebration of African culture. It took me a long time to actually fall in love with my skin versus just accepting it. At one point I thought, 'Fine I'm dark skin, I'll just take it.' Then there was a slight pivot that happened as I began to see my mom, aunties, and cousins who were so fly. I thought 'Wow, I want to be like them.' When I was ten, my sister coached me through what beauty meant back home. And, I learned that the U.S. version of beauty was just here and that there is a big world out there that celebrates me. I started thinking big and when it came to those who couldn't see the beauty in my melanin, I thought, 'You guys are actually late to the trend.'
Article continues below advertisement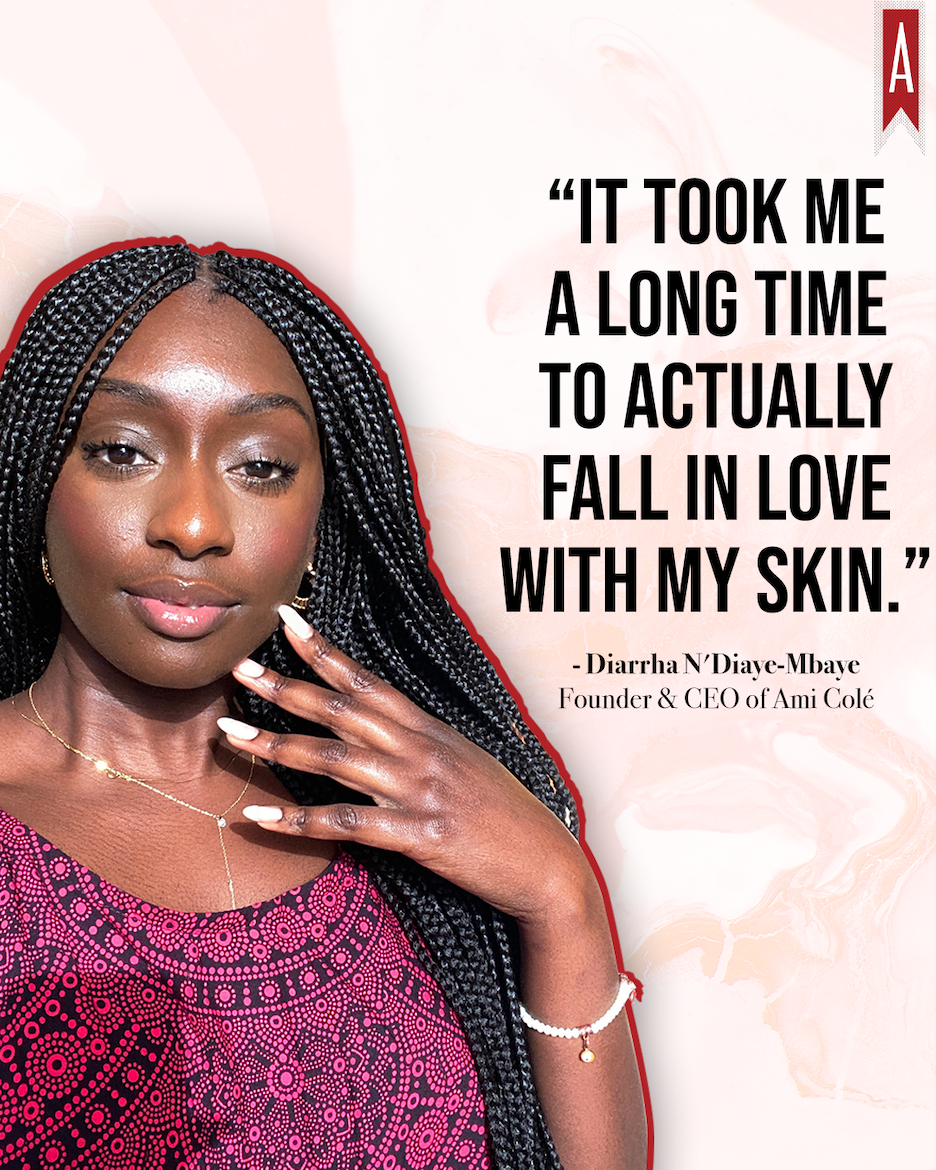 When I go back home, I'm celebrated for how dark I am. I remember one specific conversation with my father after being bullied at school. A boy said, 'I hope you know that you are ugly,' and I was like 'I do know that I am ugly, I'm owning it.' I jokingly told my dad that story and he was like, 'What are you talking about?' He literally explained where I come from and how rich my culture was. He told me what it meant to have dark skin in Senegal and the history that our skin carries. That perspective early on taught me that dark skin is beautiful and the eurocentric way of living is just an opinion on what is beautiful. It's a complex thing to explain to a seven-year-old who is starting first grade, but I'm very grateful that I had people who taught me that I am beautiful the way that I am.
Article continues below advertisement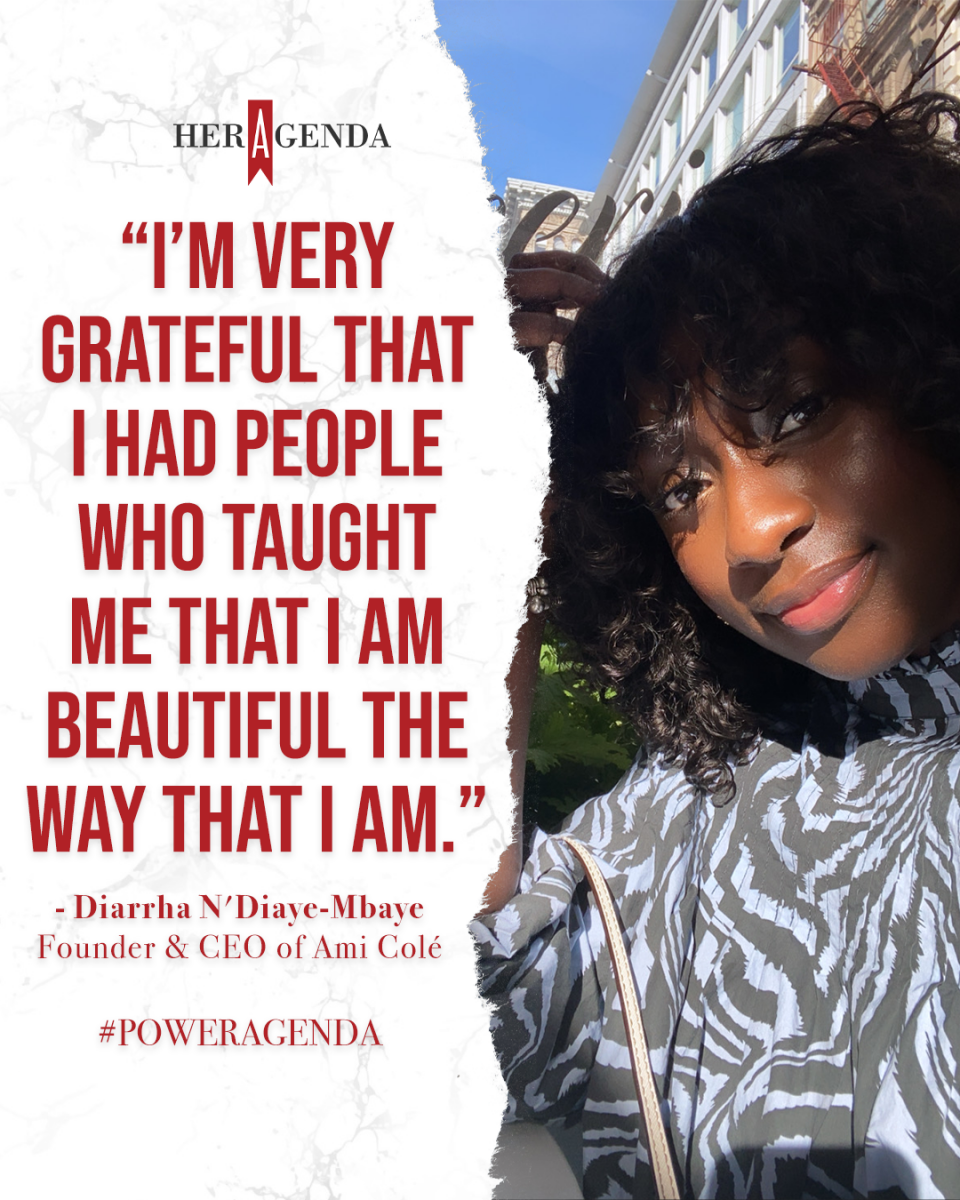 Her Agenda: As a beauty entrepreneur, everyone sees that you get to sign your own paycheck and make the rules. But, what are the sides of your role as a CEO that people would be surprised about?
Article continues below advertisement
Diarrha N'Diaye-Mbaye: There's so many! I think people assume that I'm mood boarding, playing with products, and walking aisles of Sephora all day. That's really not the case. A lot of my life right now is waking up and deciding to grind it out. There are days when you are skipping meals, having back-to-back emails and phone calls and a lot of small fires that you have to put out. Twenty percent (and that's being gracious) is what I actually enjoy, like putting products together, testing them, building marketing stories, and focusing on our community, which has always been so dear to me. But, the other 80% of my time is trying to figure out what is the best decision to make. Like, making sure that we have products on time, ensuring the best quality for our customers, and figuring out how to grow our brand.
It's a lot of work. My Saturdays, Sundays, and nights are not off-limits. At the end of the day, you have to make the decisions, because if you don't, you create a chokehold where no one on the team can do their job. It's really tough sometimes being at the helm of it, especially as a solo founder. A lot of startups have dual founders to split the responsibilities, but I'm the one pitching investors, bringing in the money, and running the company at the same time. It's not as glamorous as people think. This idea of 'Oh, I can pay myself whatever I want,' is also not true. You have to responsibly pay yourself a salary that works for the entire team because you just have one pool of cash.
Article continues below advertisement
Her Agenda: I know that your mission with Ami Colé is to enhance one's beauty, not transform it. How exactly did you define the mission of your brand?
Diarrha N'Diaye-Mbaye: It's something that I needed to hear when I was younger. Even when I think about the aunties that I love so dearly, when it was time for an event, they would literally change their faces. They would come in with beautiful, dramatic makeup that displayed whole new eyebrows, new eye shapes, and sometimes, a whole new complexion. I didn't want that on my skin. I really enjoy being me and the quirks of my features. Not to mention, after two hours, you start thinking, 'I can't wait to take this off.' I wanted makeup that lived with you, bent with you, was flexible, and let you comfortably exist in the world. We have enough pressure as women to show up a certain way. We are all about formulas that really enhance your beauty as opposed to masking it. We want you to still see birthmarks and things that literally make your face special.
Article continues below advertisement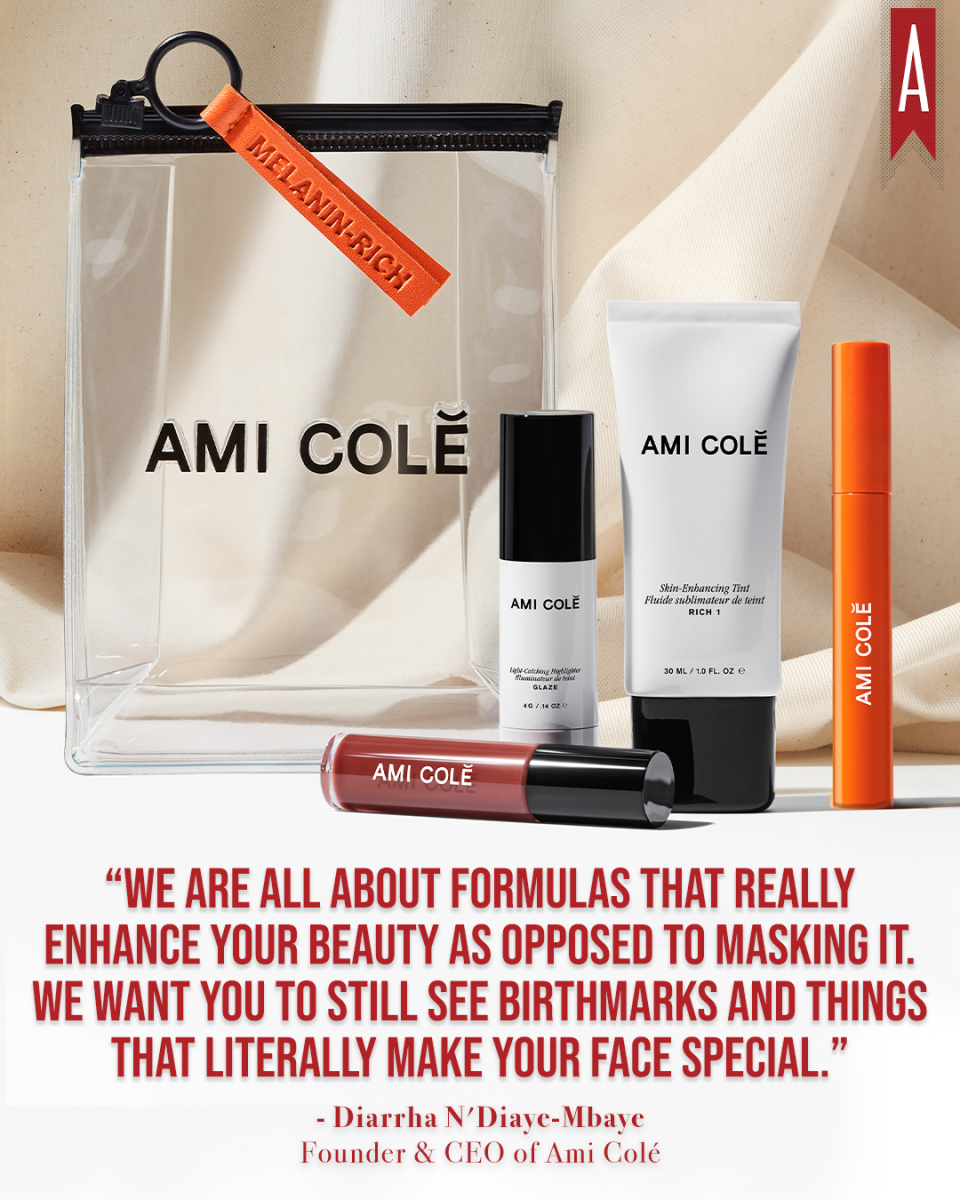 Her Agenda: Though the Ami Colé packaging is simplistic and products have clean ingredients, there are constant nods to Senegalese culture [with Baobab oil and the orange hints in the packaging] Was celebrating your culture always the mission with your brand?
Article continues below advertisement
Diarrha N'Diaye-Mbaye: Absolutely! That was the goal from the very beginning. The brand is named after my mother, Aminata. My mother has a hair salon in Harlem and it's been standing for about three decades now. My aunties are coming straight from Senegal and are just now learning English for the first time, in a brand new world. It's a very difficult transition for a lot of immigrants. For me, I'm Senegalese and wanted to share that with the world. When you think of West Africa or the diaspora, you always think of Nigeria or Ghana, but no one speaks of Senegal. It's such a special country. As soon as you land in Senegal, if you don't have a place to stay, you will by the end of the night. It's a very welcoming nation. Whether it's sharing a meal with a stranger, providing directions, or giving someone a cup of tea, you will find a friend very quickly. Senegal is a place that is thriving, very lively, colorful, and filled with people hustling back and forth.
I also understand makeup users and know that they don't want their products screaming at them. We kept the primary packaging for these products simple and timeless. Being able to marry those two feelings and emotions was very important for me, which you will feel everywhere within this brand.
Her Agenda: I know that one of your dreams is to make skin bleaching illegal, which I definitely hope happens. Are you able to share a message for women of color, specifically with darker complexions, who are still learning how to recognize their beauty?
Article continues below advertisement
Diarrha N'Diaye-Mbaye: It's so systematic and very much a mental thing. As much as we celebrate melanin-rich complexions, there's still a lot of work to be done back home. I don't even know if my brand would resonate back home because people desire that transformative look. A lot of people are turning to the West and looking at American pop culture, thinking this is the version of beauty that I need to attain. As a result, up to 60% of women in Senegal are still bleaching their skin and are starting as early as 11 years old. Then, when you are well into your adulthood and as you grow older, your skin health becomes terrible and you are prone to so many diseases and infections. Your skin's ability to heal is even compromised. It's very disturbing and it's trending even within my age group. You would think that it's an antiquated practice but it's still very much alive. At least 80% of the advertisements in between Senegalese television shows are about bleaching your skin; it's even on billboards in the nation.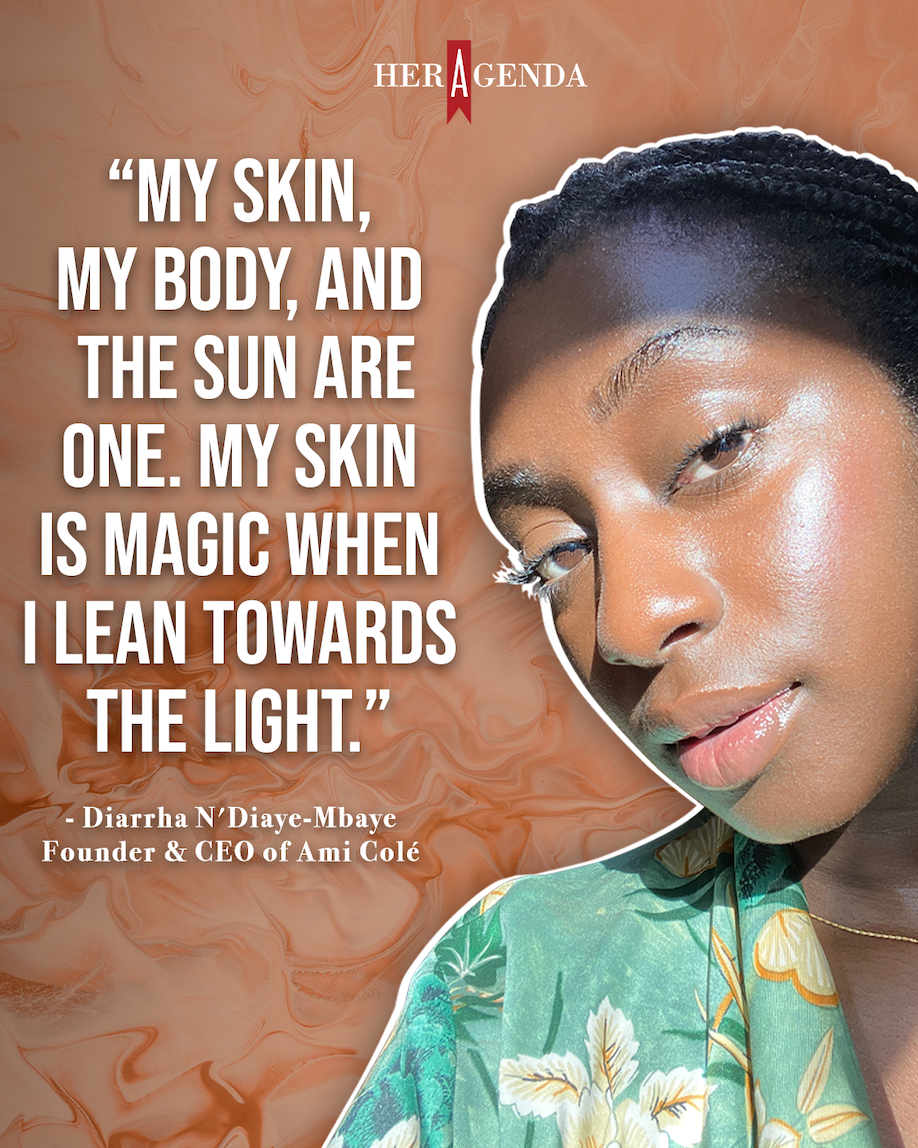 My message may be an overplayed slogan, but Black is beautiful. There really is nothing like it. My skin, my body, and the sun are one. My skin is magic when I lean towards the light. I just wish that I could wave a wand and brainwash people back into loving themselves. You are literally beautiful as is. God made you unique in this way and it's a disservice to any creator above to want to look European or white.
[Editor's note: This interview has been edited for length and clarity.]