With over 30 years of dance experience E. Denise Perry expects nothing but the best from her students because she's been taught by the best, and expectations are high. Some of her more well known students include the likes of Sean P. Diddy Combs and Wendy Robinson. Trained by the likes of Martha Graham, and Alvin Ailey, E. Denise Perry launched the dance program at Howard University and went on to launch her own dance school in Harlem called Millennium Dance Company. But it wasn't without both resistance and struggle. She launched her dance school with only 3 students in the basement of a church with limited funding. And while maintaining her position as matriarch of dance she underwent two kidney transplants. But through it all she maintains faith and continues to share her talents with her 200+ students ranging in age from 2 to 18. Read on to take a peek inside the agenda of this dynamic dancer and entrepreneur.
What inspired you to launch your own dance company?
After traveling the world teaching dance, I knew my calling. I was blessed to be taught by Mabel Hart, Alvin Ailey, Katherine Dunham (model) and Martha Graham personally. When you get training by these legendary professionals, you have an obligation to pass the knowledge. My church and God's calling is what led me to make the final decision. That is why the dance program started in the church with just 3 little girls. As word spread, we outgrew the space and relocated to where we are currently located.
You stayed true to your dream even while having to deal with enduring 2 kidney transplants. How did you make it through and stay focused?
Dancing was the inspiration that kept me together while I was on dialysis waiting for a transplant. Thinking about my kids at the school and what dance meant to them also kept me going. I would leave treatment and go to teach class. During this trying time in my life, I choreographed my signature dance, ABIDE. It is always the last piece performed at my annual show.
Article continues below advertisement
My first transplant was not successful. When death is knocking at your door, you learn to appreciate each and everyday that the Lord grants you. I made a promise that if I got the opportunity to get another kidney, that I would stay focused on providing a safe place where children could go to learn the technique of dance. My faith is what always carries me through and I know I am truly blessed and loved by God. Once you know and accept that, you can make it through anything.
What is a typical day like for you?
Waking up and tending to my immediate family and then trying to figure out how to make ends meet at the school; especially when it is payroll time because I have so many kids on some type of scholarship. I spend a lot of time worrying about the dance school and making sure the staff is okay.
What is first on the agenda?
Family is always first. After family is making sure all of my employees are fine because they are the ones who assist me in making sure that the children at the dance school achieve their greatest potential.
Article continues below advertisement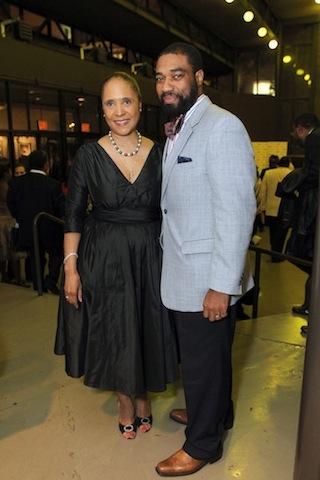 Do you have a motto that you live by?
Yes, my motto is – If you don't stand for something, you will fall for anything.
When did you discover what you wanted to be in life and how old were you?
I knew from an early age that I wanted to be a dancer. As a child, I modeled but dancing was what I loved doing. I enjoyed it so much that I would go to dance class under scholarship; which meant I had to complete chores like cleaning toilets. When my mother found out, she asked why didn't I just ask her to pay for classes. I didn't want to add a burden to her so I did what I needed to do to maintain a spot in my dance classes. I think taking on those responsibilities helped me to have the strong work ethic and character that I have today.
How do you overcome doubt?
My faith overrules all doubt.
Article continues below advertisement
Do you remember a moment where you had to prove yourself, not only to other people but to yourself?
I have to prove myself everyday. When I moved from the church to expand, a lot of people told me I was insane for opening a community dance school for kids and it wasn't going to amount to anything. People told me I was crazy for allowing children to come to classes for free or minimal costs. Deep down I knew I was doing the right thing and I fought even harder to prove that my dance school and the students would flourish. Yes, I wanted them to become dancers, but it was more important to me that they became positive individuals that contributed to society in a good way. A lot of my former students have gone on to become professional dancers for major companies around the country, lawyers, doctors, politicians, teachers and business owners.
Article continues below advertisement
I have to prove things to myself everyday. There are days when I ask myself if it is all worth it. The answer to that question is yes. If I can make a difference in one child's life then it is all worth it. I have to remind myself that I am walking around with the kidneys of two individuals who thought I was special enough to save my life. I owe it to myself and God to pay it forward.
What is something that women today still need to overcome?
Jealousy, low self esteem and to learn to love themselves first. Women tend to get caught up in what other women have going on in their lives, their husband/man, the things someone may possess and how they dress. They forget about their own self worth and base their lives on another person. What they forget is they don't know what that person maybe going through because all they see is face value.
What is one myth of success?
One myth of success is that you can work less once it is achieved. The truth is, you have to work harder and smarter to maintain it.
What's on your agenda for 2012?
My agenda for 2012 is to continue offering the highest standard of conservatory training for future generations of professional artists, while nourishing the creative spirit and personal development of every adult and child who walks through our doors. Our community-based Harlem dance center has been a feeder school for major professional dance companies around the country since 1994 and offers free classical dance training to those in need.