Elisa Camahort Page has always pushed an inclusive agenda. Through her many business interests—Consultant, Speaker, Board Member, Entrepreneur—her mission to further the advancement of society has carried throughout.
As a founding partner of BlogHer, arguably the largest celebration of women content creators, Camahort Page gave women a safe, shared space to come together and coexist. Since its inception in 2005, BlogHer quickly evolved into a diverse community of powerhouse online content creators, social media influencers, entrepreneurs, media makers, and brand marketers.
Her newest venture is serving as the Co-Author of Road Map for Revolutionaries: Resistance, Activism, and Advocacy for All, a guidebook on engaging in effective day-to-day activism and advocacy at all levels. With an excerpt written by veteran activist, Gloria Steinem, the book serves as a manual for those who are ready to take action in moving society forward but aren't sure where to begin or how to navigate through the chaos. Together with Carolyn Gerin and Jamia Wilson, Elisa work to tap into an audience that's often overlooked, and ultimately answer the question proposed by many who are outraged by the injustices we encounter daily: how do I respond?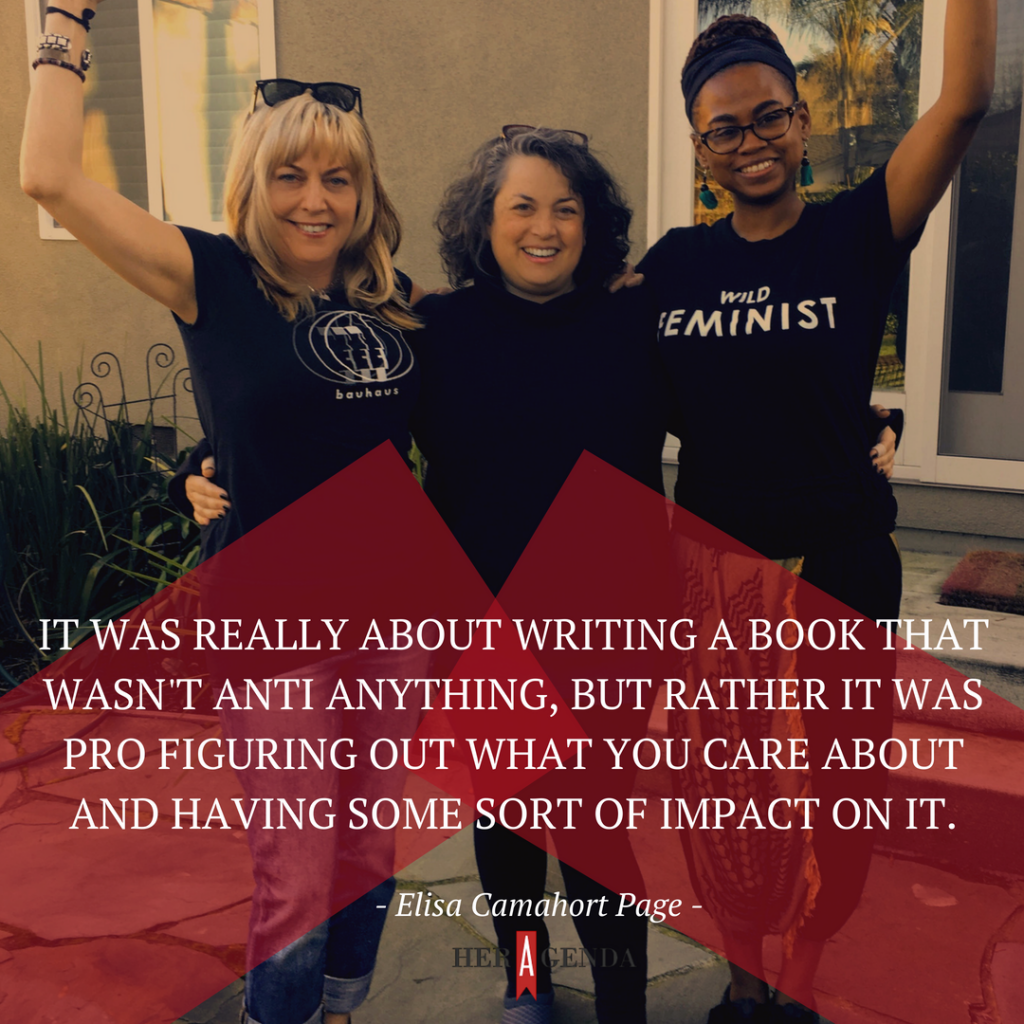 Article continues below advertisement
Her Agenda: Your new book, Road Map for Revolutionaries: Resistance, Activism, and Advocacy for All, debuted on September 18. Where'd the inspiration for this book stem from?
Elisa Camahort Page: The day after the election Carolyn [Gerin], one of my co-authors, reached out to me to see how I was doing. She said, "I had a dream last night. I have a vision and I know what I need to do," she explained further, "I need to write a guidebook for people to get through, to protect their democracy, and to get more engaged, and I want you to help me." I thought that sounded pretty cool, but I wanted to bring in a third co-author who would diversify our perspective and our reach. I think Carolyn and I were a little too similar. So I invited Jamia [Wilson] to join us and bring her prestigious skills to the to the table. It was really about writing a book that wasn't anti anything, but rather it was pro figuring out what you care about and having some sort of impact on it.
Article continues below advertisement
Her Agenda: The book opens with a Coretta Scott King quote, "freedom is never really won. You earn it and win it in every generation." That rings true for millennials, as it's now our "turn" to follow in the footsteps of our foremothers and fathers in the fight for equity.
Elisa Camahort Page: There's a graphic in the book that says "why marches and protests matter," and it takes you through the ages since the 1890's with marches and protests that galvanized change and civil rights. It takes you through the 1890's and the anti-lynching protests, along with marches and the laws that got passed, and on to the 50's with the bus boycott and other civil rights actions and how that led to laws being changed. Now, over the last five or six years, we've had the birth of Black Lives Matter, and each time it's trying to take the ball forward. I don't know when will ever be able to say we've made a touchdown.
Article continues below advertisement
Her Agenda: Gloria Steinem made a literary appearance in the book. Tell me about your relationship with her and the importance of her contribution to the overall story.
Elisa Camahort Page: Jamia is so lucky as to have Gloria as one of her mentors. I met [Gloria] a few times and interviewed her once for Blogher, but I don't have the type of relationship that Jamia does. The thing that's really important about Gloria, I think in the movement, is if you read her work, she was always aware and trying to push intersectionality forward before there was a word for it. I don't know if a lot of people know how instrumental she was, especially early on, on shining the light on what women of color were doing in the feminist movement. I think she has really championed that concept long before it became something we talk about now and have a word for.
Article continues below advertisement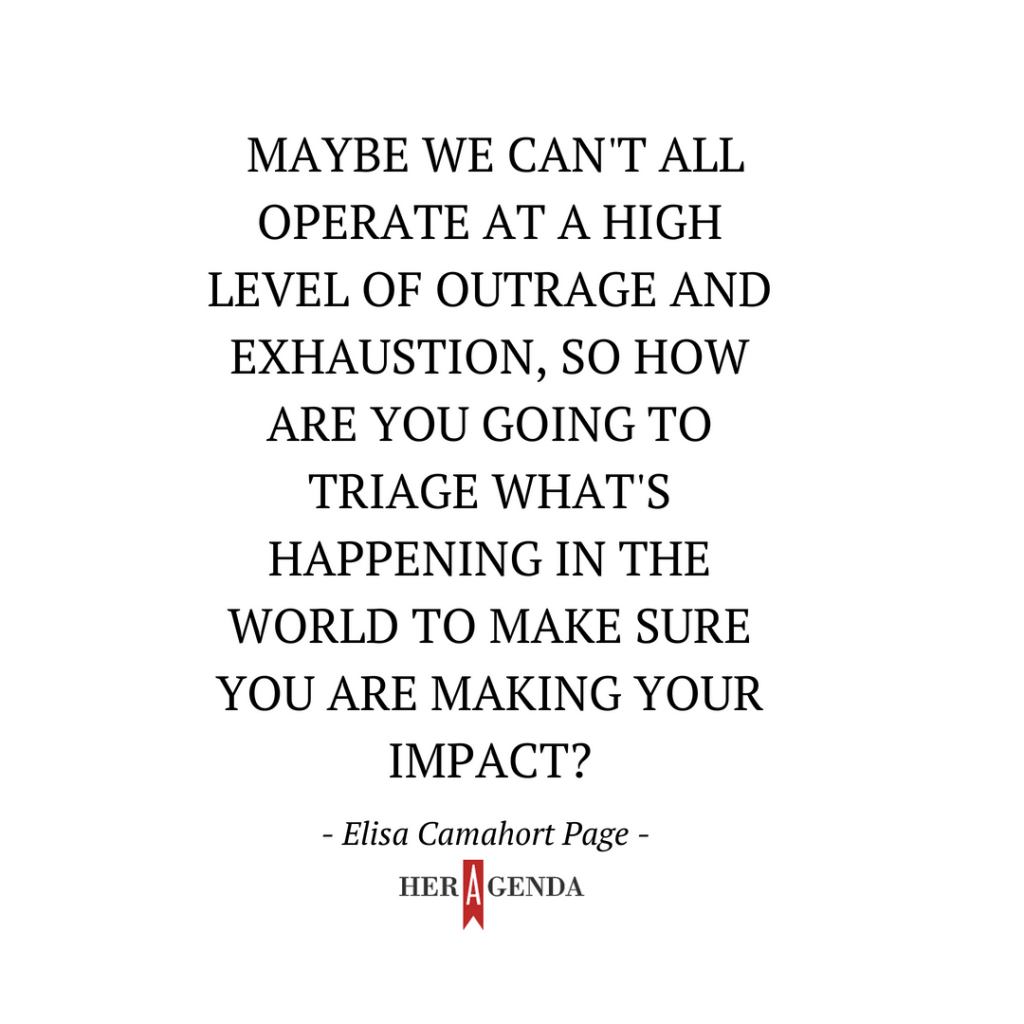 Her Agenda: What do you hope readers take away from Road Map for Revolutionaries: Resistance, Activism, and Advocacy for All?
Article continues below advertisement
Elisa Camahort Page: I hope everyone who reads this book realizes that no matter what happens in 2018, no matter what happens in 2020, if you have been shaken out of not paying attention, not being engaged, or thinking that we only ever go forward, I hope those folks read this and say, "okay, I've been more activated than I've ever been and I need to find a way to stay activated." Maybe we can't all operate at a high level of outrage and exhaustion, so how are you going to triage what's happening in the world to make sure you are making your impact? I hope readers say to themselves, "here are the issues that I care most about that I will make an impact around. I have a lot of different ways I can approach it, and a lot of different tools and resources." RMFR is about picking your path. We can't all take every path. We need to divvy it up and try to tackle something. Stay at it and not let it go.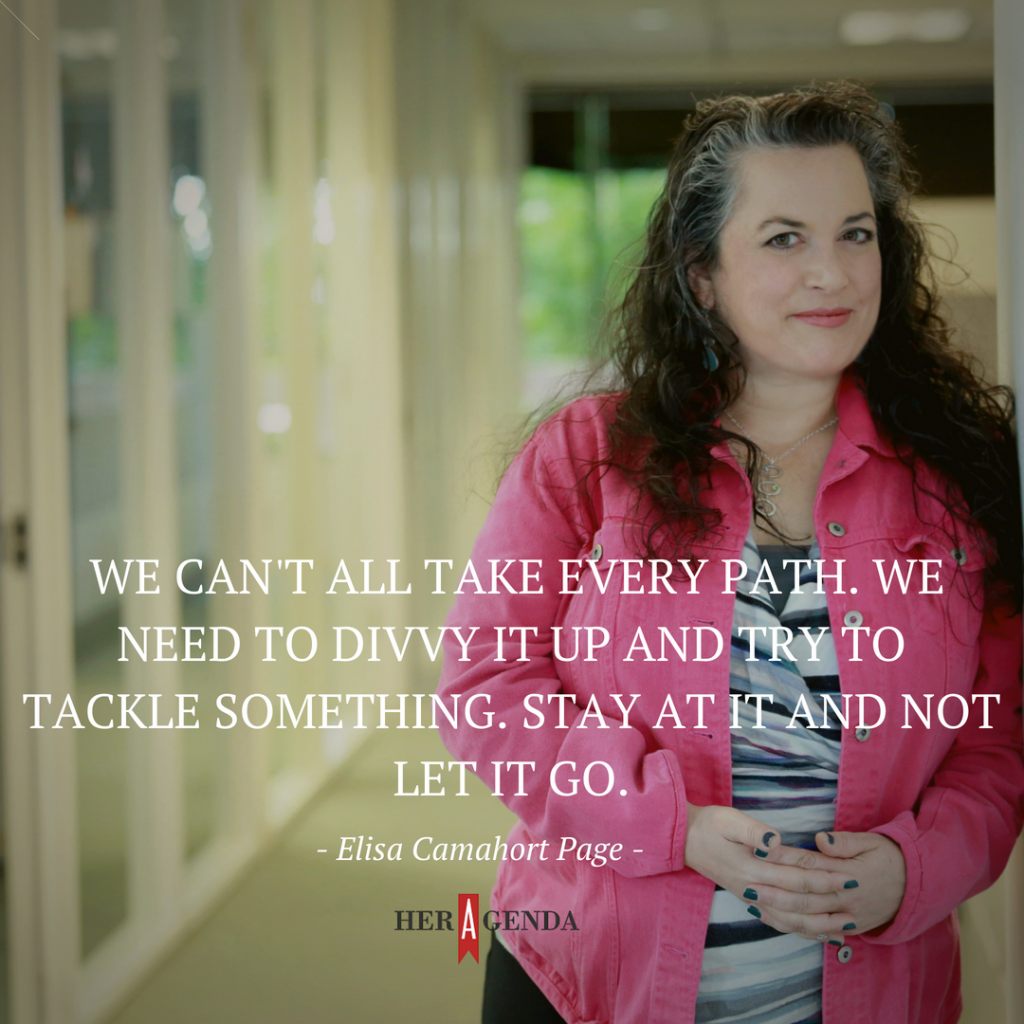 Article continues below advertisement
Her Agenda: It's funny that you say [we can't all operate at a high level]. There was a clothespin that said, "think locally, act globally," which in a way, is the message of RMFR.
Elisa Camahort Page: We have that in the book, we say, think globally, act locally, scale digitally. Part of it is about how to leverage the tools you have access to in order to have more impact and to get more scale. We're super interested in people being engaged at the local community level.
Her Agenda: How do you prepare yourself for new ventures? What steps do you take when you're prepping for huge projects like RMFR and BlogHer?
Elisa Camahort Page: One symptom of my introvertedness is that I do a lot of creating in my head. I'm not necessarily someone who does a ton of drafts our outlines, but I'm constantly thinking through what I want to say or do in my head. The down side is insomnia. The up side is once I do start putting things on paper they are usually in pretty good shape because I've already sent a long time obsessing about it in my head.
Her Agenda: How did the idea for BlogHer come about? Take us through the transition from idea to ultra-media-conference.
Article continues below advertisement
Elisa Camahort Page: Well, like so many companies, it started because we wanted something that we couldn't find. [Everyone was saying] "Where are the women in tech? Where are the women speaking at conferences?" and we thought, why don't we produce a conference where all of the speakers are women, but we're not going to talk about being women, we're just going to be women talking about our areas of expertise. After our first conference, we realized there was a community there that had passion for what they were doing and wanted to pursue it further and we thought we could help them achieve some of their goals.
We weren't a company when we did the first conference; we were just three women that put down our credit cards and did it as a project. [After that] we started the company, publishing network, continued doing conferences, started doing research, and really grew from there.
We bootstrapped for about two years, trying to grow as organically as we could, before realizing that we needed investment to scale because some of the more traditional women's media companies were starting to pay attention to what we were doing. We figured they had the money to leapfrog right over us and that would infuriate us because we were from that community. We made the decision to go for venture funding and raised four rounds of venture funding.
Article continues below advertisement
In 2014 we sold BlogHer to SheKnows Media. I stayed for almost three years before leaving a little over a year ago. I was there through the founding, funding, laying the eggs, and letting it go, which in a way, is the life of an entrepreneur.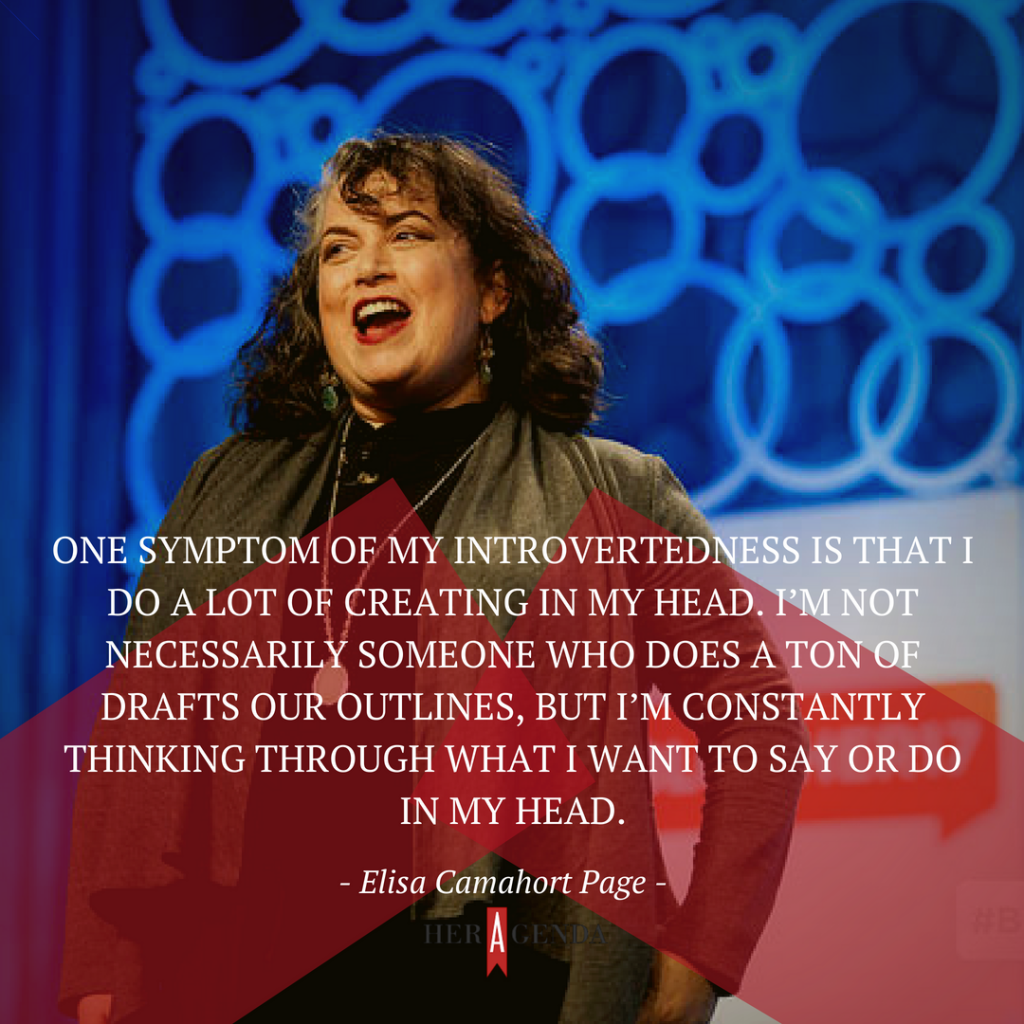 Her Agenda: As someone who produces mega projects, how would you suggest dreamers who don't have the capital to fund their projects move forward?
Elisa Camahort Page: Capital comes in many forms, certainly many more than just fundraising from your typical venture or angel investors. Think about bartering, friends and family, crowdfunding, small business loans, other kinds of debt (debt is not necessarily a dirty word), and, most importantly of all, revenue. What can you charge money for, right from the get go?
[Editor's note: This interview published on October 8th, 2018. It has been edited for length and clarity.]