Eunique Jones Gibson is the founder of Because Of Them We Can, a digital platform that dishes out regular content featuring stories about Black excellence. Since its inception in 2013, BOTWC has grown into a vast community of millions who join together to celebrate the daily wins of African Americans everywhere.
The brand recently debuted their subscription box for kids, wherein each month, kids everywhere get their very own hands-on history lesson delivered to their doorsteps. Comprised with lots of fun goodies, the box exposes the rising generation to their long line of ancestors that don't make it into the average Black history curriculum.
Eunique Jones Gibson spoke to Her Agenda about BOTWC, their new subscription box, and the power of social media when building a brand.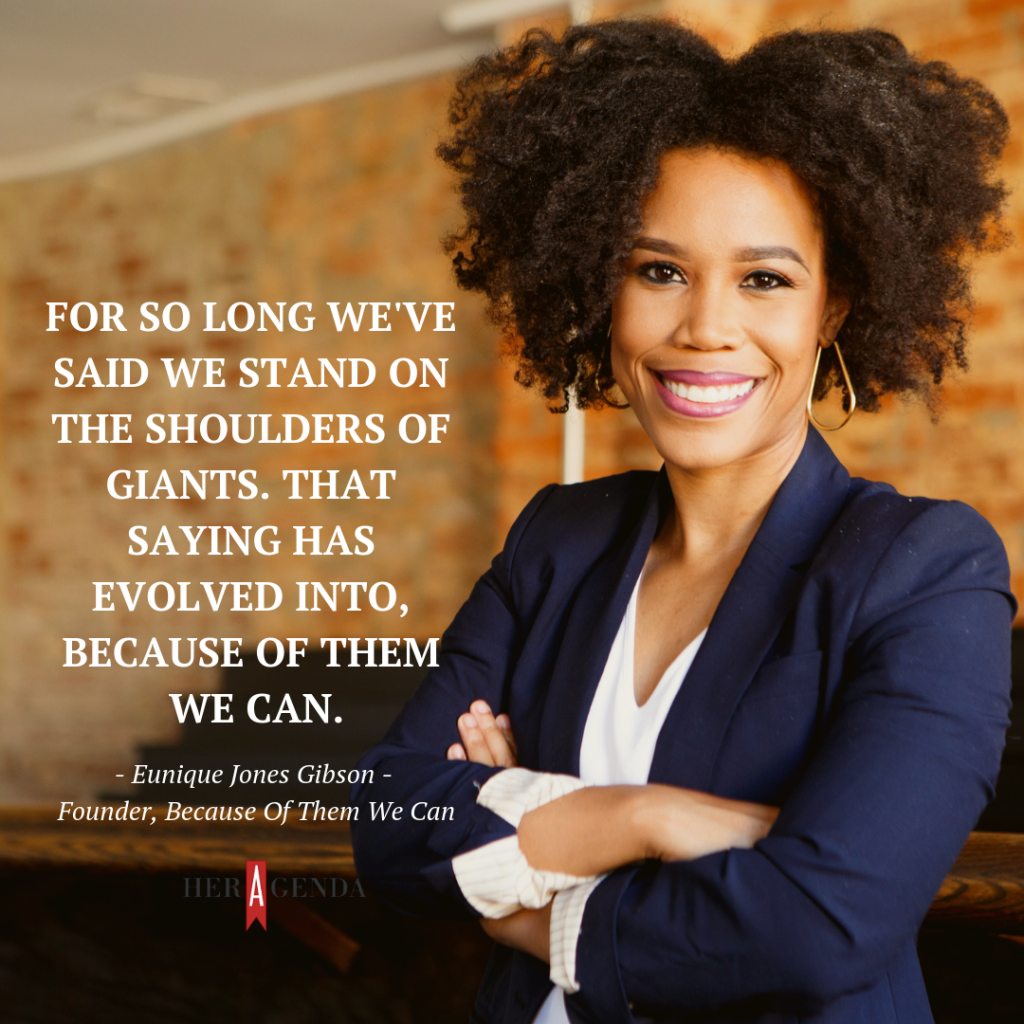 Her Agenda: Can you tell us a little about the origin of BOTWC and what pushed you to create this type of outlet?
Eunique Jones Gibson: It started about six years ago, a little before Black History Month of 2013. I was trying to think of a way to refresh Black history and was inspired by my sons, Chase and Amari. I started seeing Chase as a little Muhammad Ali as he was dancing around my kitchen. That idea evolved, and I began thinking of all the children that I knew who resembled Black History figures; so I launched that campaign in February 2013 and it went viral. During an interview, I was challenged by Tom Joyner to keep it going and I said that I would. I quit my job, and really worked to create those types of images for a full year. I told myself I would commit to 365 days of Black excellence in Black history through this campaign. That began to evolve because people started asking for products like calendars, books, t-shirts, and things like that allowed me to keep it going.
Article continues below advertisement
Her Agenda: You decided to quit your job after seeing the response from the kids campaign. What was your process of transitioning into entrepreneurship? What was the hardest part of that journey and how did you persevere?
Eunique Jones Gibson: I really didn't have a process. When I launched the campaign, I had only planned on running it for the month of February. When Tom Joyner challenged me to keep it going, I felt compelled to. And I knew the only way I could do it well was if I was 100% focused on it. I resigned from my job in March but one of the good things that helped me was that my employer asked me to stay on as a remote consultant. This allowed me to keep my salary or something close to it while I grew the retail portion of the business.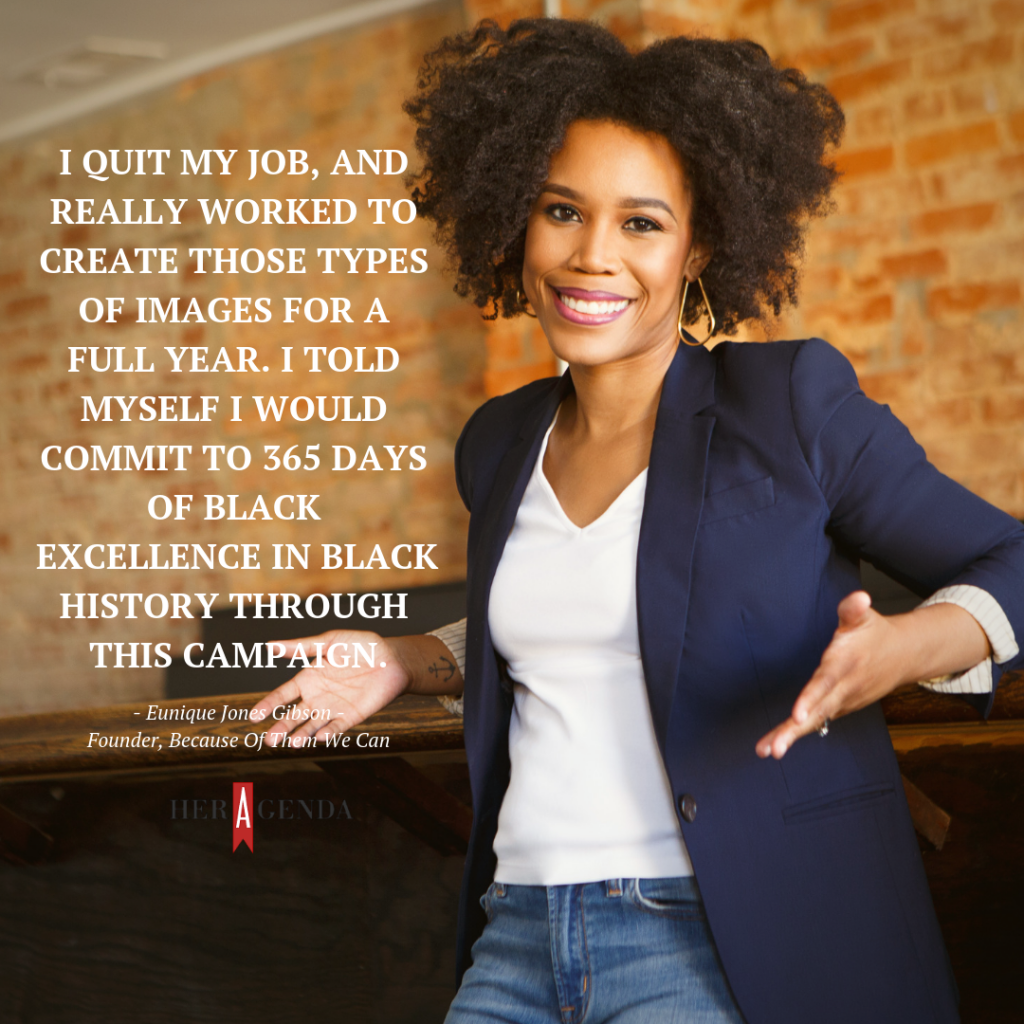 Article continues below advertisement
Her Agenda: What was your career prior to realizing your purpose with BOTWC? Did that experience play a role in preparing you for this moment?
Eunique Jones Gibson: I was in online advertising. I actually began my career with Microsoft. Having an advertising background helped me understand the importance of messaging and other necessary components for campaigns. I would say being in the ad industry also made me anxious to add color and more creativity that was reflective of my culture and background as well.
Her Agenda: In what ways has Because of Them We Can grown since the early days of the original campaign?
Eunique Jones Gibson: Present day, we've expanded Because of Them We Can beyond just the cute kid pictures and really saw an opportunity to highlight Black history and Black excellence on a full-time basis. Whether that was curating stories from the community from people who felt that their family members, friends, or relatives deserved to be highlighted, or creating our own content that leverages young people to deliver a message that could rattle the heart in order to tap the mind. Six years later, we reach millions of people online across our web site and across our digital media footprint through Facebook and Instagram with content that is solely focused on amplifying and highlighting Black excellence.
Article continues below advertisement
We've expanded Because of Them We Can beyond just the cute kid pictures and really saw an opportunity to highlight Black history and Black excellence on a full-time basis.
-
Her Agenda: In February you launched the Because of Them We Can box for children. What made you want to transition the brand from online content only to an actual hands-on experience for kids?
Eunique Jones Gibson: Seeing how successful the online content has been and how people love to see these images, we started going into schools. A lot of the things that we didn't talk about online was how I was doing programs and assemblies in schools, taking the same type of information to children on their level, in their neighborhoods, and their communities. When we were there sharing [these stories] about other individuals that they hadn't learned about, we saw their enthusiasm and their want and need to know more. We started to have conversations with parents and teachers and they were saying how much they loved our content, and how they used our videos and had done their own take on reimagining their young people as some of these trailblazers. I started to think, what if we just made it easier for the parents to get this content in their homes on a monthly basis by giving them their own version of a campaign every month.
Being online is great. It's how most of us consume media and get our information. But, young people aren't glued to those types of screens. I wanted to have a more meaningful impact. There's no Mr. Rogers on television teaching our children about Black history. This is the opportunity to fill that void and see where we can expand from there.
Article continues below advertisement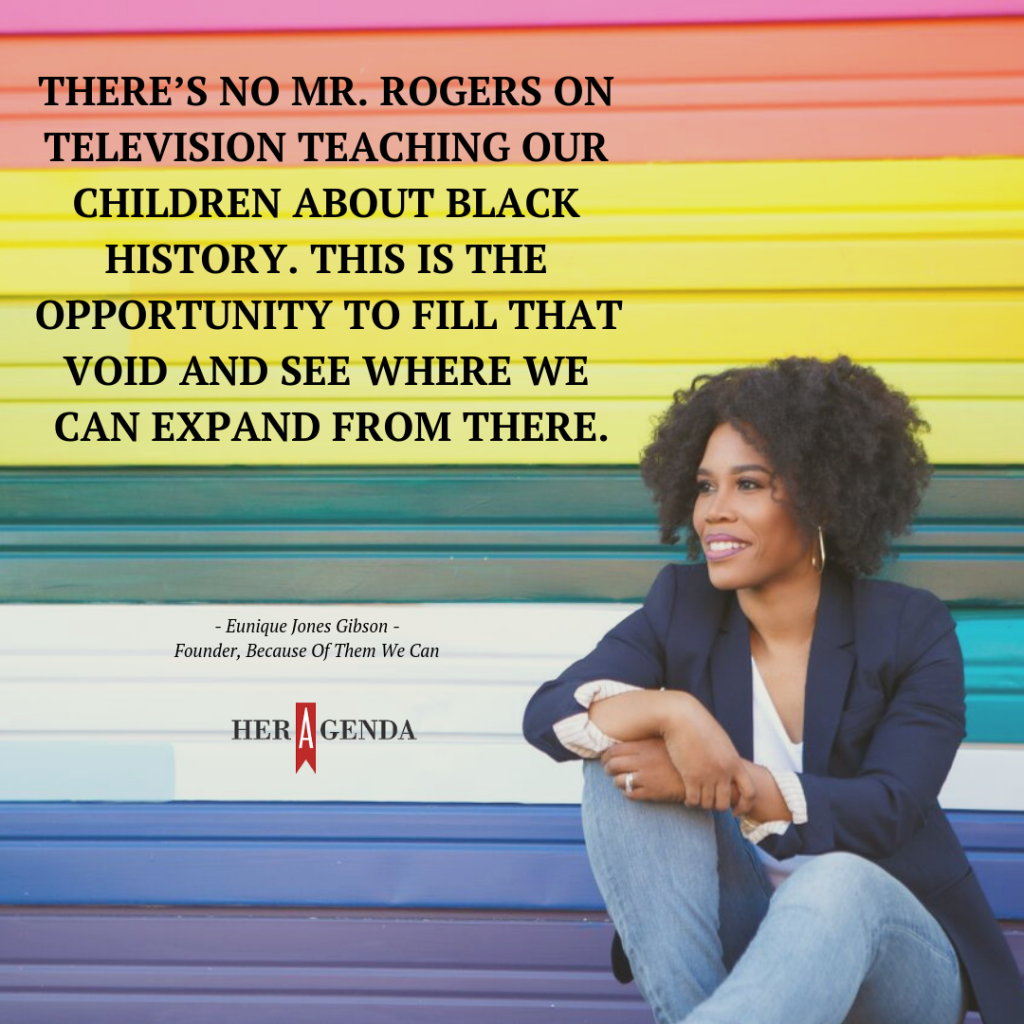 Her Agenda: Dr. Bernice King penned the inaugural letter for the Because of Them We Can box for kids. What was it like having such a prominent figure in Black History apart of this project?
Eunique Jones Gibson: Overwhelming. We've been able to cultivate a relationship through social media, so I was able to reach out and tell her what I was doing. I thought with her being the daughter of Dr. Martin Luther King Jr., and knowing that most kids, if they don't learn about anybody, they're going to learn about him. She agreed right away. She was so thankful that I reached out to ask her to have that type of role with the box. Any child who subscribes gets this letter from Bernice King welcoming them to the box because it really helps them frame what the box is for. It also helps them to visualize the impact that they can have in this world. She's encouraging them through that letter, so this is huge. We've seen kids that are so excited, thankful, and happy to have something from her because they know who she is and they know who her father is.
Article continues below advertisement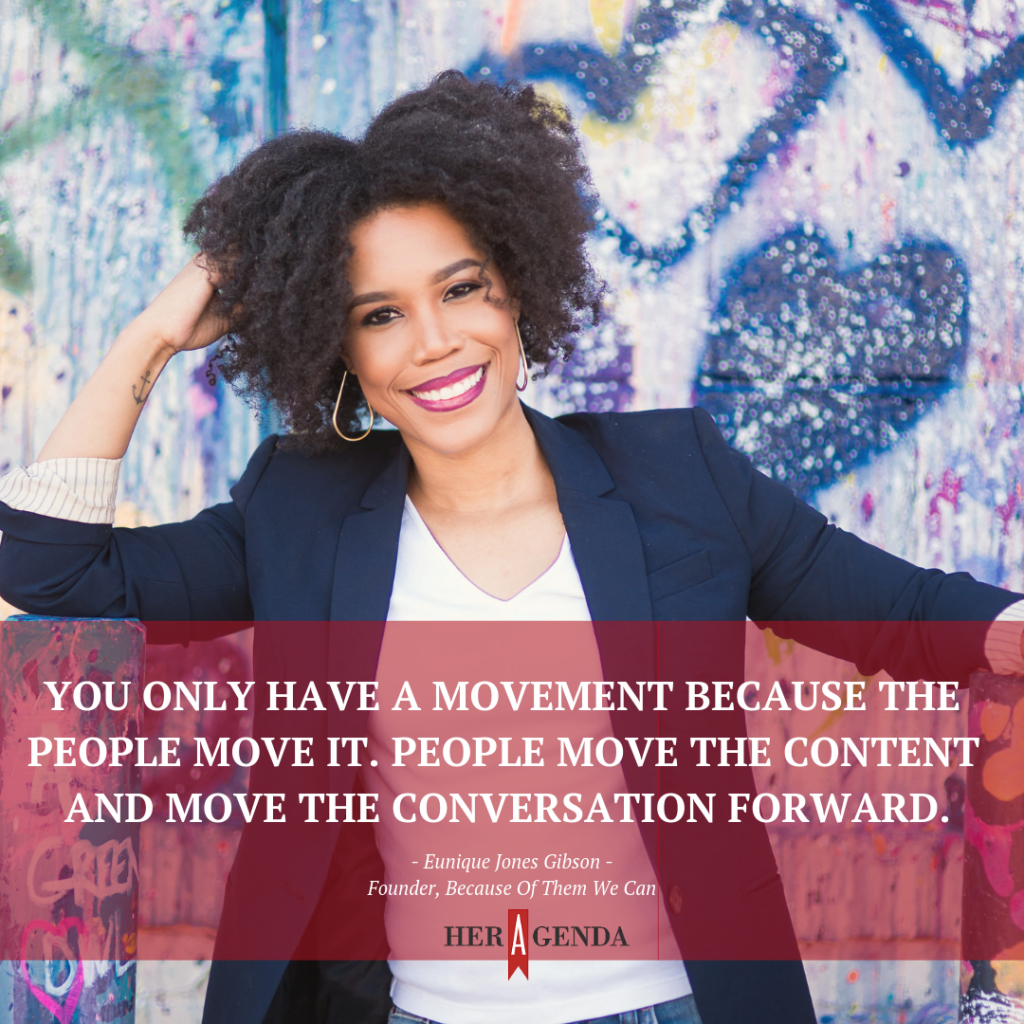 Her Agenda: What sort of items are included in the subscription box?
Eunique Jones Gibson: They can expect apparel items, they can expect an activity sheet that talks about that month's theme (person, individual organization, or movement), they can expect props and toys that help visualize that month's theme, and they can expect things that parents will typically buy in the stores. For instance, for Valentine's Day, they included cards that were for the culture. They said things like, "you're your ancestors wildest dreams, and mine too" or, "you have the right to be awesome".
Article continues below advertisement
Her Agenda: What has been your biggest obstacle since the inception of BOTWC? How did you overcome it?
Eunique Jones Gibson: My biggest obstacle has been getting out of my own way. There are times when I discourage myself or when I feel like quitting and those are the times when I work really hard to quiet the voice of doubt in order to keep forging ahead. Knowing why I'm doing this and that it is bigger than me definitely helps.
My biggest obstacle has been getting out of my own way.
-
Article continues below advertisement
Her Agenda: BOTWC does a great job at displaying Black Excellence from many angles; blacks in tech, education, family ties, and simply promoting people and organizations that otherwise wouldn't get mainstream attention. How integral was social media in the overall growth of BOTWC?
Eunique Jones Gibson: Social media was extremely important. Social media is how it became a movement. You only have a movement because the people move it. People move the content and move the conversation forward. They move the images to inboxes of people that we never knew or spoke to personally. They move it into their classrooms; from printing the stories, printing the images and using it to share. They get the stories in front of the individuals who need it the most. It is where our audience is most engaged. It is where they consume the most. We would not be having this conversation right now without social media.
[Editor's note: This interview has been edited for length and clarity.]