True story: It's never too late to start over. Just ask screenwriter and producer, Felicia Pride.
With more than 20 years of combined professional experience, Felicia has managed to carve out a name for herself in multiple industries including publishing and entertainment. She authored multiple books and did consultant work before pivoting to film and TV and earning coveted spots in both Film Independent Screenwriting Lab and NBC's Writers On The Verge Program. This led to Felicia selling her first feature, Really Love, to Charles D. King's MACRO, which brought audiences films like Fences and Mudbound. She also recently sold a TV pilot and is a writer on OWN's drama series Queen Sugar. And the best part of it all is that she's just getting started.
Her Agenda sat down with Felicia and discussed how exactly she made a career pivot, what other creatives she's inspired by, and how her digital brand Honey Chile is shining a spotlight on stories of Gen X women.
Her Agenda: So, tell me a little bit about your background. What inspired you to pursue this career path?
Felicia Pride: I didn't know that I wanted to be a writer for a long time. I remember in high school and college I had teachers who saw something in my writing, but at the time I didn't know how any writers made money or got a job. So, I stuck with my business degree. I ended up working in corporate America and I started writing on the side because I was bored. Soon I found this internship with this community newspaper out of Staten Island and the publisher would allow interns to write and get published. So my first published piece was reviewing the Mary J Blige album "No More Drama." Seeing my byline made me realize that writing is what I wanted to do. So I started like freelancing on the side and then I eventually went to Emerson for graduate school to study writing.
Article continues below advertisement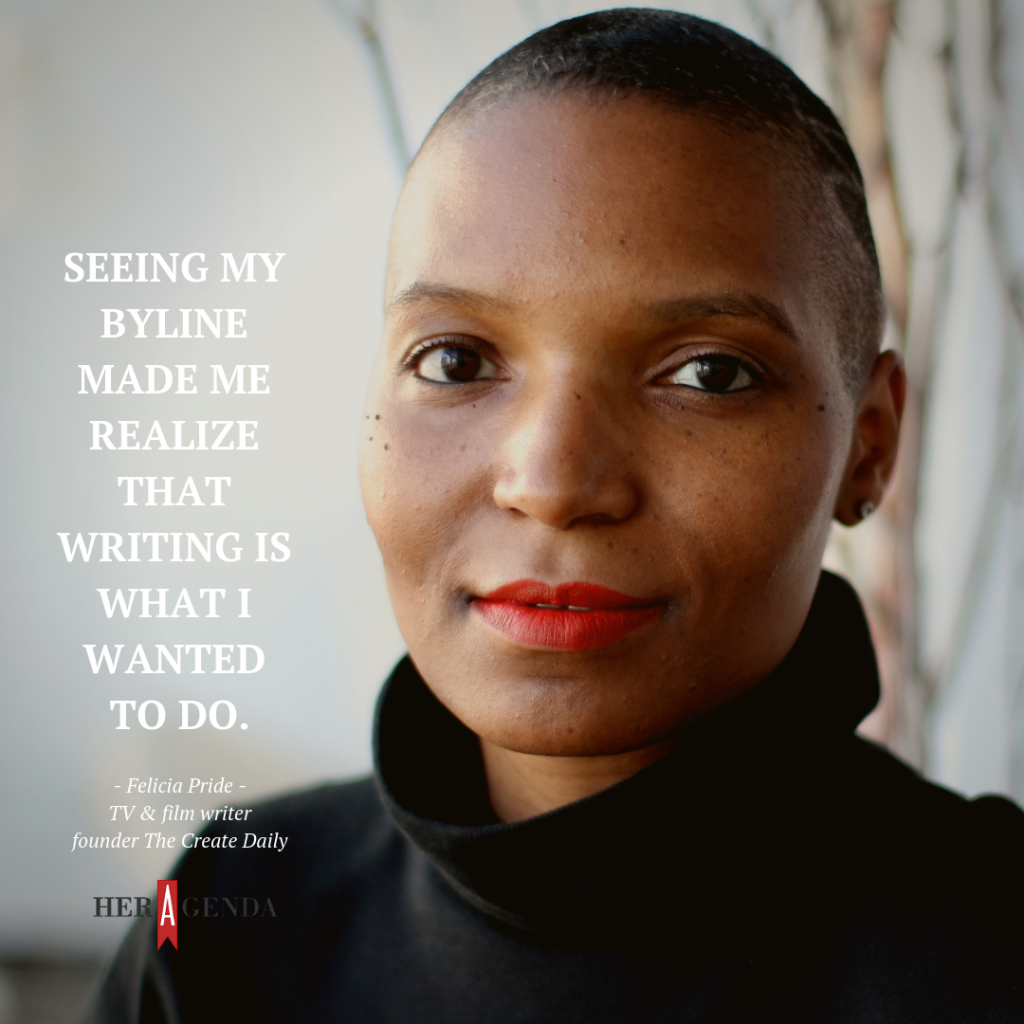 But then a voice in the back of mind reminded me to be practical. So I didn't get an MFA. I got an M.A. in writing literature and publishing. After grad school, I moved to New York and worked in publishing. I continued to write and eventually connected with my first literary agent. The first time we met she asked me if I had any book ideas – I didn't, but I eventually I pitched this idea of a lifestyle book on Hip Hop, which became my book The Message. Soon I became a full-time writer, but then that started to become hard to sustain. I was putting so much pressure on my writing to provide for me financially. So, I got a job and I stopped writing completely, which was the biggest mistake. I opened up a consultancy where I was doing marketing for books and eventually for films. I enjoyed the work, but in the end, I stopped writing for like seven years and it took everything out of me to get back to writing. If there was anything I've ever learned is don't stop writing, like no matter what, if that's your calling, don't stop.
Article continues below advertisement
I ended up working in corporate America and I started writing on the side because I was bored.
-
Her Agenda: So how did you find your way back to writing?
Felicia Pride: Fast forward I'm running this consultancy and I'm burned the f––k out. I'm creatively bored. It came to a point where I met with my mentor and she noticed my misery. She was like, what is it that you want to do. I said I wanted to write and create content. I was living in DC at the time and she's like, well why don't you move to the biggest market – L.A. Before, I had thought about it, but it always seemed crazy to me because it was so far away from my family. But at that moment when she said it, I was like, "yes, that's what I need to do." I realized I needed to shake sh–t up. I need to be pushed into a corner so I can come out swinging. And so that was four years ago. I moved to LA when I was 35.
Article continues below advertisement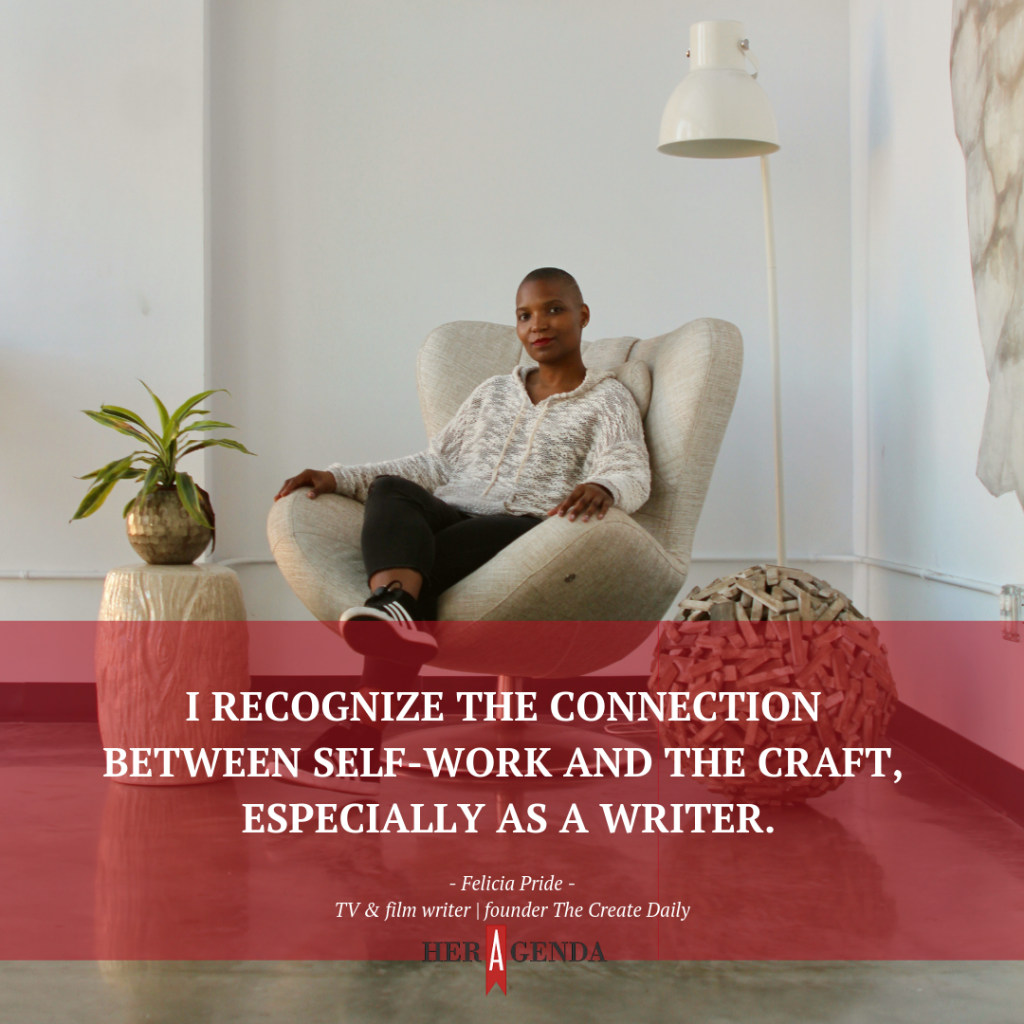 Her Agenda: What would you say to other creatives who want to make a career pivot, but are hesitant?
Article continues below advertisement
Felicia Pride: Well, having freelanced for so long, I have a high threshold for taking risks that some people don't have. So, I definitely don't recommend moving across the country if you can't handle [uncertainty] and you don't know how to make money quick and fast. And I'm not talking about being like ballin', I mean like knowing how to like scrounge around for some articles or some new clients or something like that because it's going to be difficult. But bigger than that, it's interesting because people are like, oh, 'you've done a lot in your career.' And that's true. But a lot of it was me running away from writing. A lot of it was just fear. Even though all those other things I did before I made a pivot helped me in the end, it was still me running away. The faster we can acknowledge fear and deal with it, the better off we are. It's going to happen. We're going to be fearful. But we put off the confrontation longer than we have to.
Article continues below advertisement
Her Agenda: So tell me a little about your writing process? How often are you churning out words and working on projects?
Felicia Pride: Now, because I'm in a [writer's] room I can't write for hours, but at least I try to write like 20 minutes each day. I write better in the mornings even if, again it's only 20 minutes. If I'm not in the room I definitely write for hours. The goal is to stack projects and I learned this from one of my teachers at Script Anatomy – that's where I took classes at. He described this process of stacking projects where you kind of always have one project in different positions. One you're developing, one you're writing, and one you're polishing and pitching. So I use that to move projects along. When one of my projects is out for feedback, with my writer's group, I'm working on another.
Her Agenda: What other creatives are you inspired by?
Article continues below advertisement
Felicia Pride: Barry Jenkins. He's amazing. I am definitely inspired by his work. The way that he cares about Black imagery is unparalleled. I thought Moonlight was f––––g flawless. I'm also inspired by Dominique Morisseau, the playwright. She's what I call a triple threat. She's an amazing talent, she does the work, and she loves Black people. I am also digging what Reese Witherspoon is doing with books having worked in book publishing and marketing, and also having written books. The fact that she built this community on Instagram and is now dedicated to creating content from these books is pretty brilliant.
If there was anything I've ever learned is don't stop writing, like no matter what, if that's your calling, don't stop.
Her Agenda: How good are you about implementing self-care into your daily life? And why do you think doing so is important as a writer?
Felicia Pride: I don't struggle with self-care at all. I hike. I do hot yoga. I go to the beach. I go to therapy. I do all of those things. If I don't do one, I'm off. And of course, there's also online Church. Every morning I write in my journal. Being in Los Angeles, I recognize the connection between self-work and the craft, especially as a writer. One of the things that people out here want in [writer's] rooms are people who are able to be vulnerable, you know? So, I really recognize the connection between the self-work, the craft, and then the opening up of abundance for myself.
Article continues below advertisement
Her Agenda: What is Honey Chile and why was it important to you to launch this brand?
Felicia Pride: I see a lot of attention paid to millennial audiences and I'm Gen X. I'll be 40 this year. I'm interested in that group and creating material that gets us. I think Being Mary Jane was a great example of a Gen X woman and what she's going through. I think that there are tons of stories just waiting to be told in that space and that's what Honey Chile is. It is me testing the waters with social content, digital content for Gen X, women of color, mainly Black women.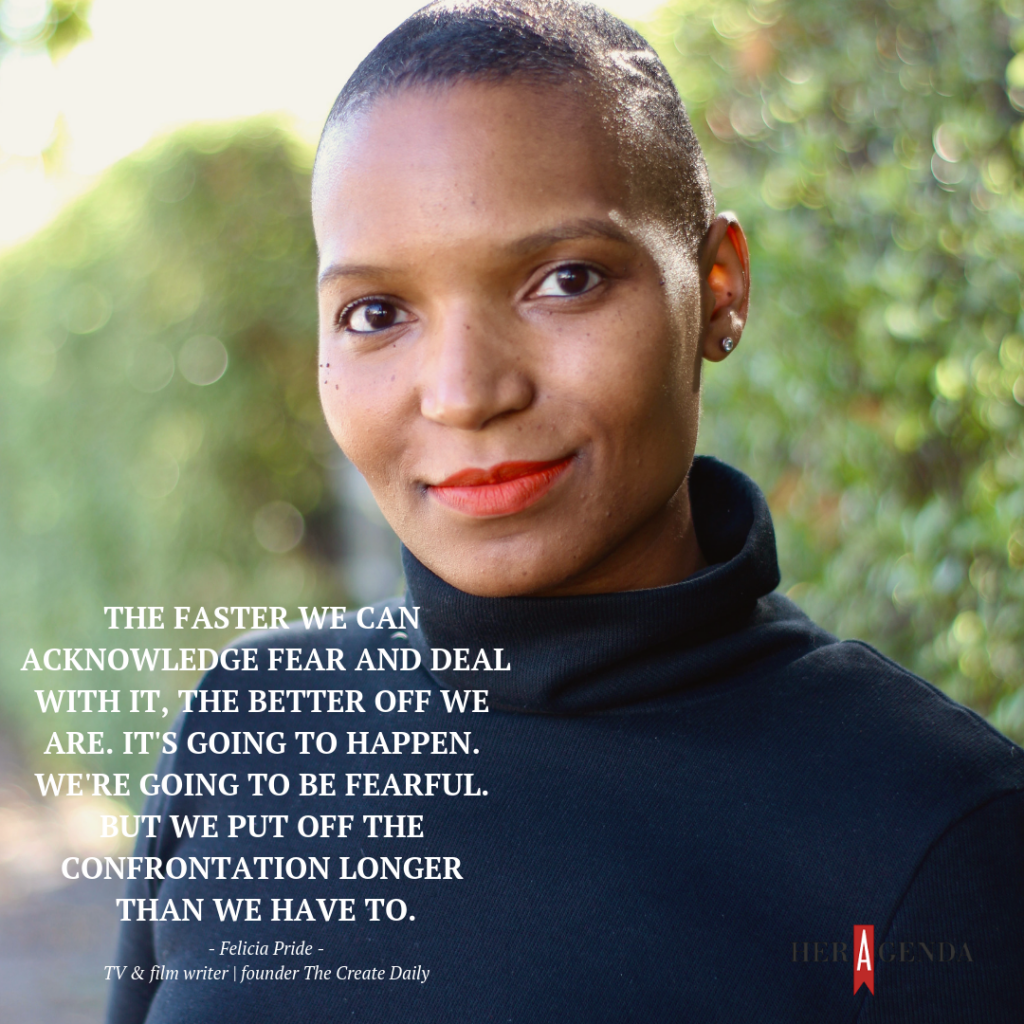 Article continues below advertisement
Her Agenda: What is your personal definition of success?
Felicia Pride: Ultimately it would be freedom. That's creative freedom, professional freedom, financial freedom, mental freedom. Oprah once said that she didn't want to be owned by anyone and that sort of stuck with me.
Her Agenda: What's a motto, or mantra you live by?
Felicia Pride: 'It's about the work.' I realized early on out here, later in life, but early on out here that everything comes from the work. Joy, creativity, freedom. Everything comes from the work and when I put the work first, everything opens up and it makes me unstoppable.
Her Agenda: And just for fun, what are some shows you really love? Classics or newbies.
Felicia Pride: I love Atlanta. I love The Good Place. I really like Superstore and Claws. I like quirky shows and shows that can blend tone in a way that's really unique. Oh, and of course Queen Sugar.