A student turned teacher, Gabrielle Simpson is a master storyteller.
Simpson's talents for telling stories have propelled her career forward, and her passion for learning and education proves to be the common thread pulling her throughout her career.
Today, Simpson uses the "gift of gab," to empower her natural ability to tell complex stories for brands and companies. She is a communications, branding and media professional with credits at many of the biggest media giants in the world, including CBS Corporation and ABC.
Simpson comes from humble beginnings and grew up in Los Angeles, and first discovered her skill and passion for telling stories in high school, as Editor-in-Chief of her high school's newspaper, "I followed what I was good at. It helped to know what I wanted to do by recognizing my talents early."
After moving to New York at the age of 17 to attend Iona College, she worked in a variety of industries and understands the importance of a strong mentor network, crafting brand stories and effectively communicating. Gabrielle presently serves as a career mentor and a board member of the Sports, Entertainment and Media Innovation department, as well as a graduate adjunct professor at her alma mater, Iona College. Likewise, as a graduate adjunct professor at New York University (NYU) and College of New Rochelle, Gabrielle teaches courses such as advanced integrated marketing, digital and social media, public relations, media relations, corporate communications and many more.
Article continues below advertisement
As she enters her new role as Vice President, Head of Communications at Barnard College, Her Agenda asked Gabrielle what she's most passionate about, how it feels to be making history as the first Black woman leading the communications team at Barnard College, and the value of telling stories and the power of education.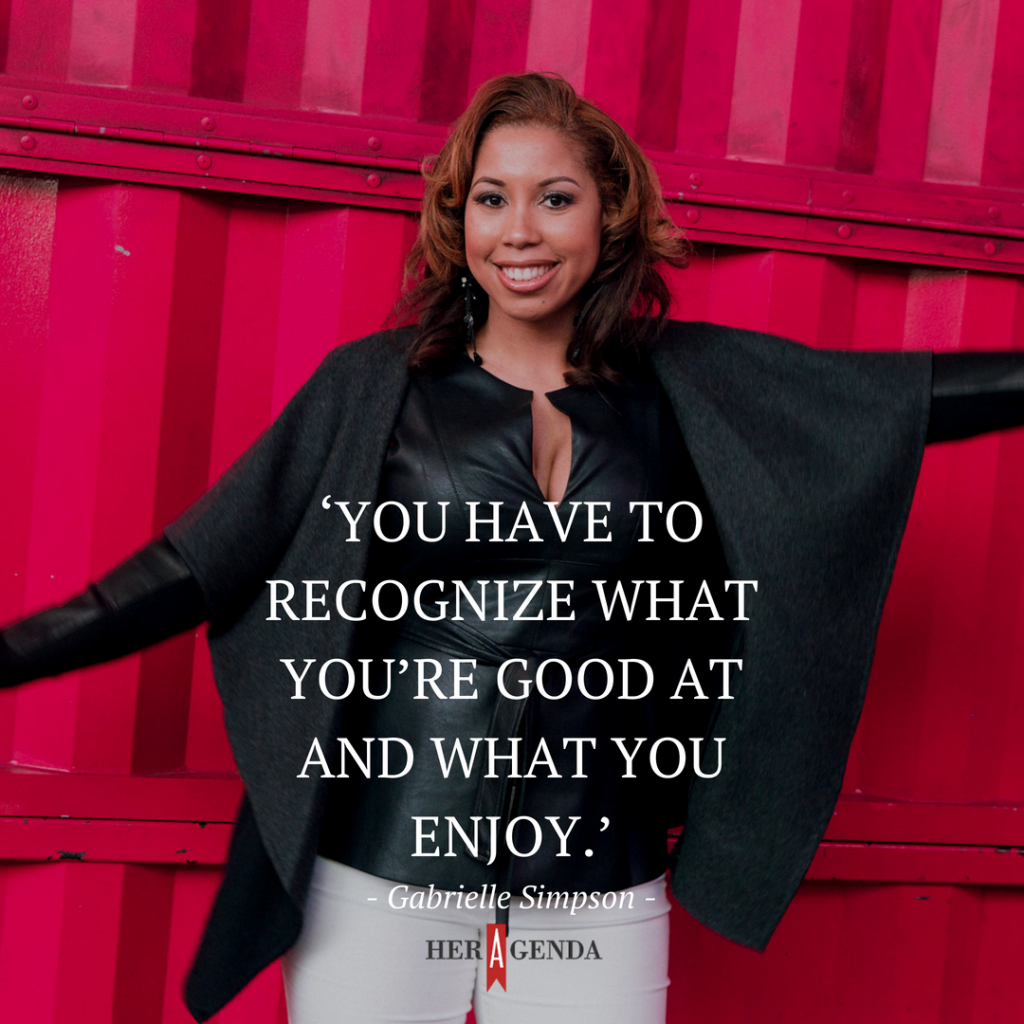 Article continues below advertisement
Her Agenda: In 2007, you began your career as a production assistant on ABC's morning show Live with Regis and Kelly. Can you tell me more about that? Did you want to work in TV? (After all, you received an undergraduate degree in Television, Video Productions, and Film from Iona College).
Gabrielle Simpson: I always knew I wanted to work in media because I've always loved telling stories and loved television. I learned in high school that I had the 'gift of gab,' and that telling stories in a passionate way and with enthusiasm, or telling difficult stories was a strength of mine, I first discovered this when I was Editor-in-Chief of my high school, Palisades Charter High School's newspaper called, "The Tideline."
One of the goals while attending Iona College was once I landed an internship, I would eventually leave college by securing a job from that internship. I was active on campus even though there was competition from students at NYU, Syracuse, Columbia, etc. I still managed to land an internship at ABC since I was the president of the television station and the radio station. So, being active on campus helped me get that internship.

I went to an Internship Day at ABC and you could choose three departments that you were interested in interning for at ABC, one was live with Regis & Kelly. I grew up watching this show and Good Morning America. Over 1,000 people applied and I was very fortunate to get the internship.
On my first day, Jane the woman I interviewed with told me to always ask questions. (I didn't ask any questions at the end of the interview), and I learned at that moment to always ask questions and send handwritten thank you notes. And, I teach everyone to not just ask questions but ask intelligent questions, that shows you've done research on the company or the person you're speaking to.
After my internship I was offered a position to be a production assistant, it was an amazing experience.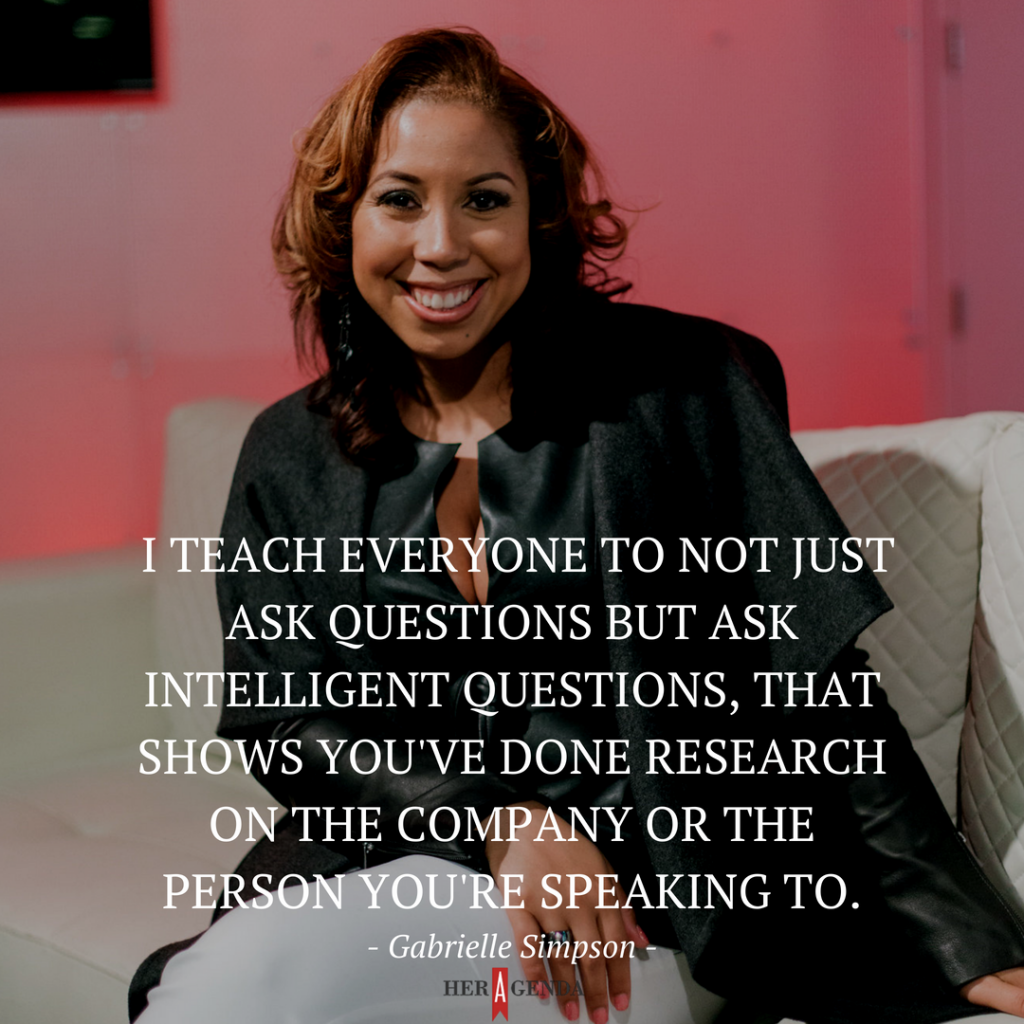 Article continues below advertisement
Her Agenda: It sounds like your mentors were critical in some of your career moves. How were you able to attain a mentor, and how do you sustain your mentor relationships throughout your career?
Gabrielle Simpson: Yes. Martin Daly, he just retired from CBS. We still keep in touch. I've had mentors since junior high school. Mentorship is something my parents taught me at an early age. Networking is something I've known my entire life.
My parents taught me how to look people in the eye. They instilled the essence of networking and the benefits of networking at a very early age. And one of my strengths is relationship building. My mentors got me through the adversity. My mentors got me through in college when my family was so far away.
I approached mentorship strategically, such as Alumni night at Iona College. That was an opportunity to network and meet potential mentors. And, their attendance shows they're invested and want to help as Alumni.
I also made sure the professors knew who I was. If you really want to connect with someone, you should always Google them. And, that's what helped me at CBS. I started as a Network Sales Assistant and the role that was created for me on the PR team, was based on mentorship, networking, and doing informational interviews.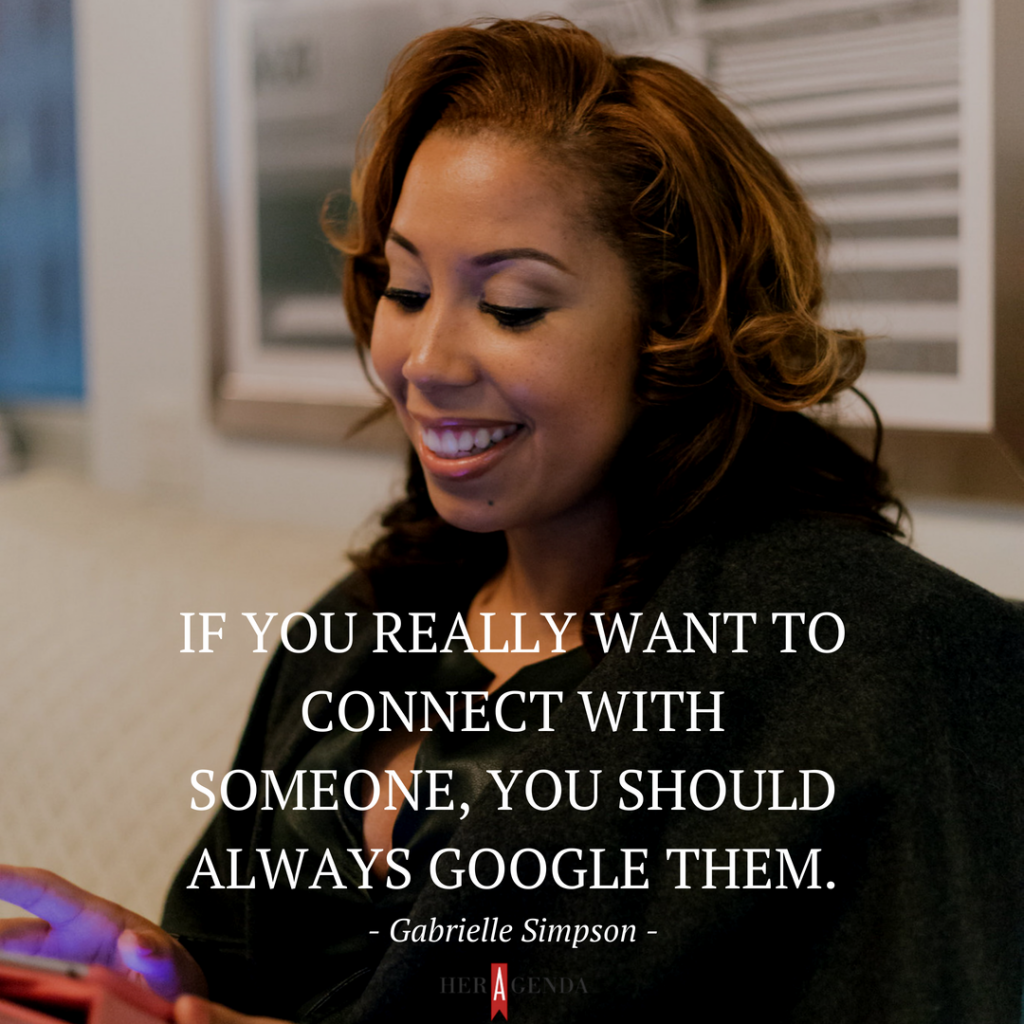 Article continues below advertisement
Even now, doing public relations at an established college that's one of the most elite women's college in the country, I still do informational interviews. And, I still Google the person and covey organically that I've done my research.
I always follow up with handwritten thank you notes, and emails. A part of being mentored is that the mentee should do more work than the mentor. People think it's the other way around. If someone is mentoring you and you hear something great about their company, you should reach out to them and say, hey, I read this, congratulations… or I think you would love to know about this…As a millennial, a lot of my mentors weren't social media savvy. I would meet them for coffee and show them how to utilize social media. Then, I would explain the benefits of something like Twitter and how it would help them in their professional career.
Article continues below advertisement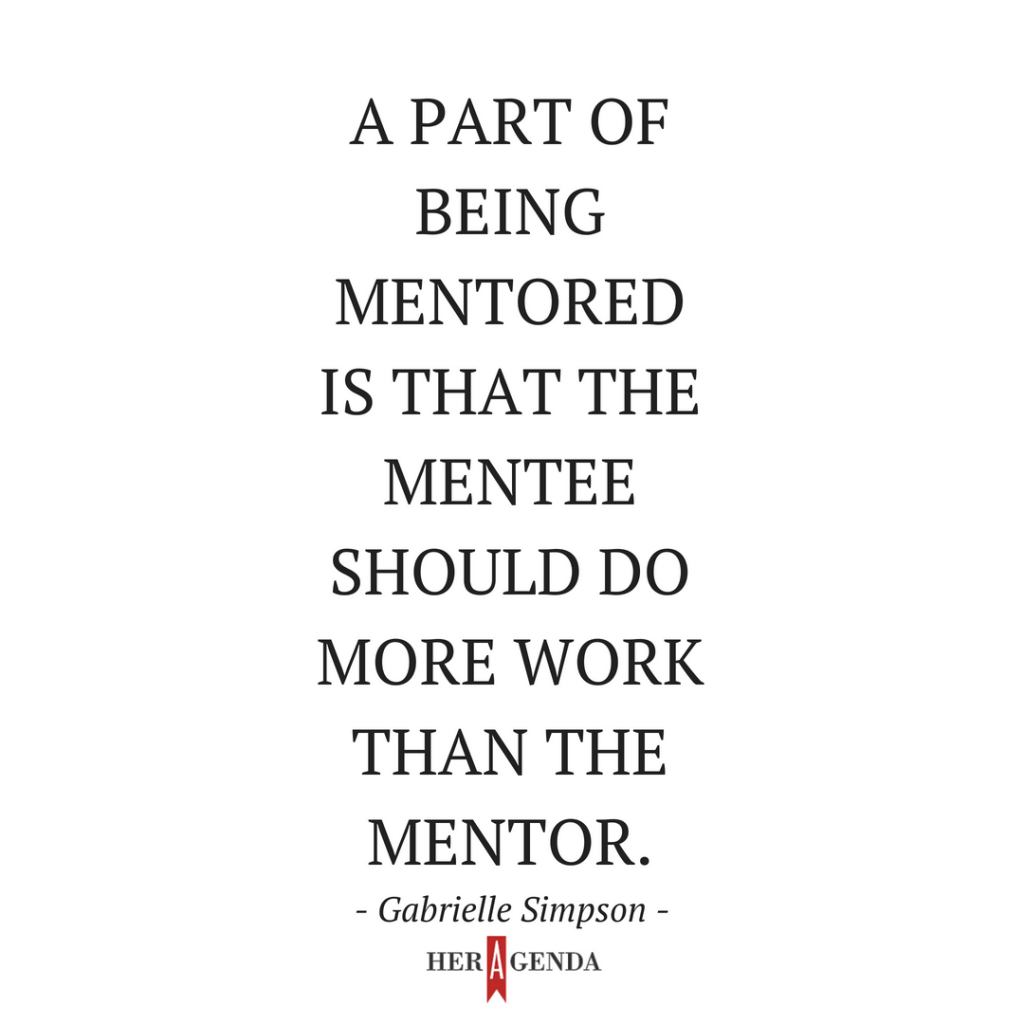 Her Agenda: With your extensive experience in many different areas and expertise, how do you stay on trend and maintain a strategic mindset?
Gabrielle Simpson: The first thing I do when I wake up is turn on the television because the news is on. I do not leave my house, without consuming the news. As I'm getting ready for the day, I'm listening to what's happening in the world to be informed—there is no way you can be in PR/communications (in particular) and not have a perspective in a global world or be knowledgeable about what's happening in the world.
Article continues below advertisement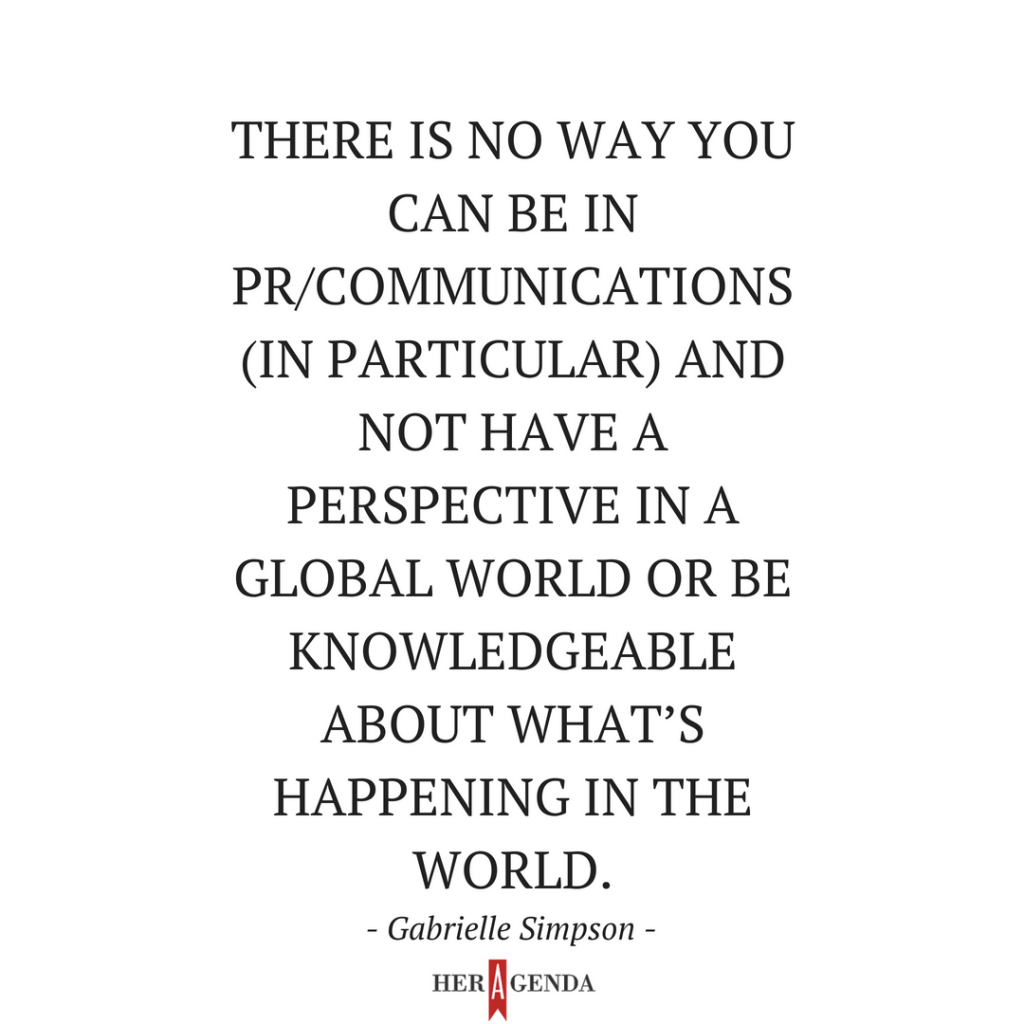 For example, I talk to my students about the Beyoncé and Red Lobster incident. When Beyoncé dropped her song, Formation and Red Lobster was trending it took a while for Red Lobster to respond. It took so long, and when they finally did respond, they said, "Bey Biscuits has a nice ring to it." And, people were disappointed and expected more.
Red Lobster is a food chain, and why would they be concerned with, Beyoncé? Well, she's one of the greatest artists and one of the most famous in the world, someone at Red Lobster needs to know that and respond.
So, consuming news is imperative to know what's going on. I have Google alerts for the college I work at—for our competitors, for influential people at the college—it's imperative for me to know what's going on. You should never be blind sighted.
Article continues below advertisement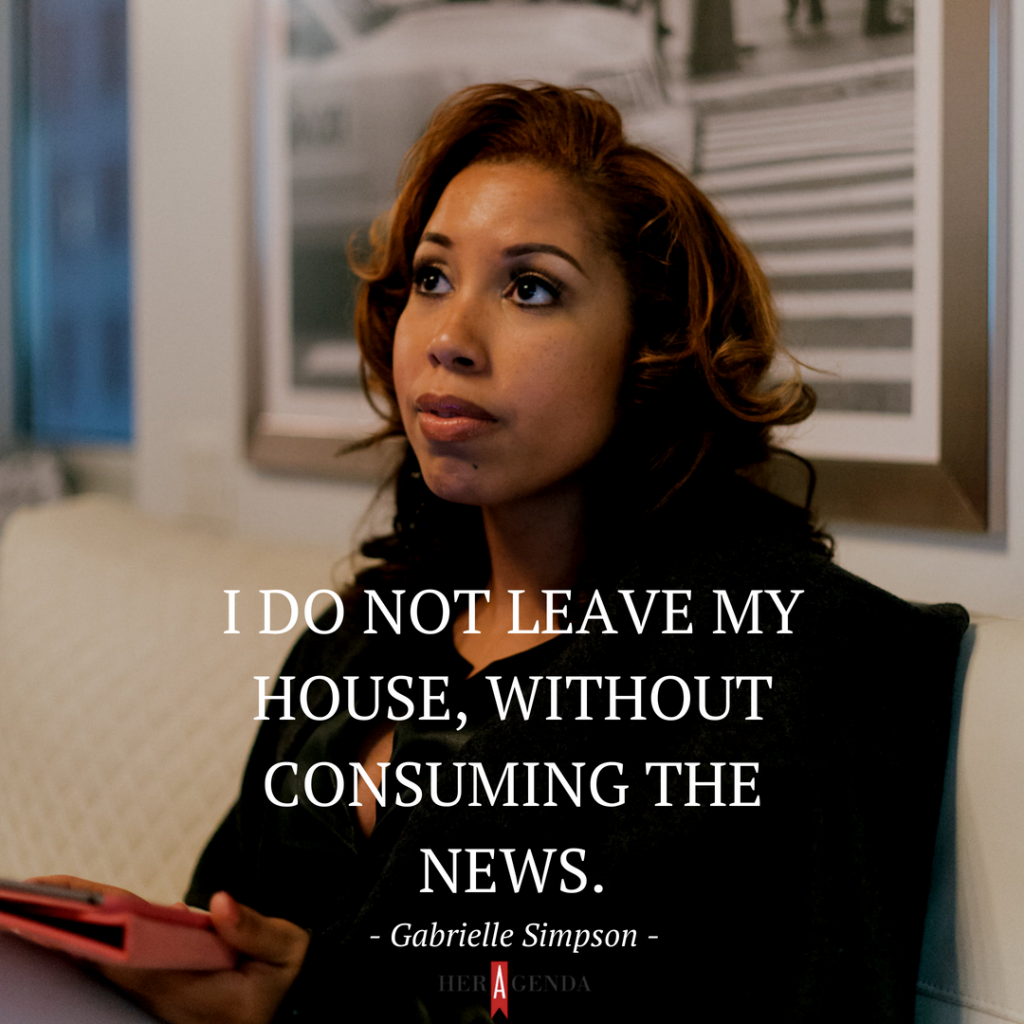 Her Agenda: What keeps you going?
Gabrielle Simpson: When I was in high school, as the Editor-in-Chief I was also teaching that journalism class, at 16 years old I shouldn't have been giving out grades, but I was. And that's when I realized I loved teaching. People ask me, what do you do for fun? And, I say, I teach. It's fun and it keeps me in tune to what's going on, and that's how I stay on trend.

Article continues below advertisement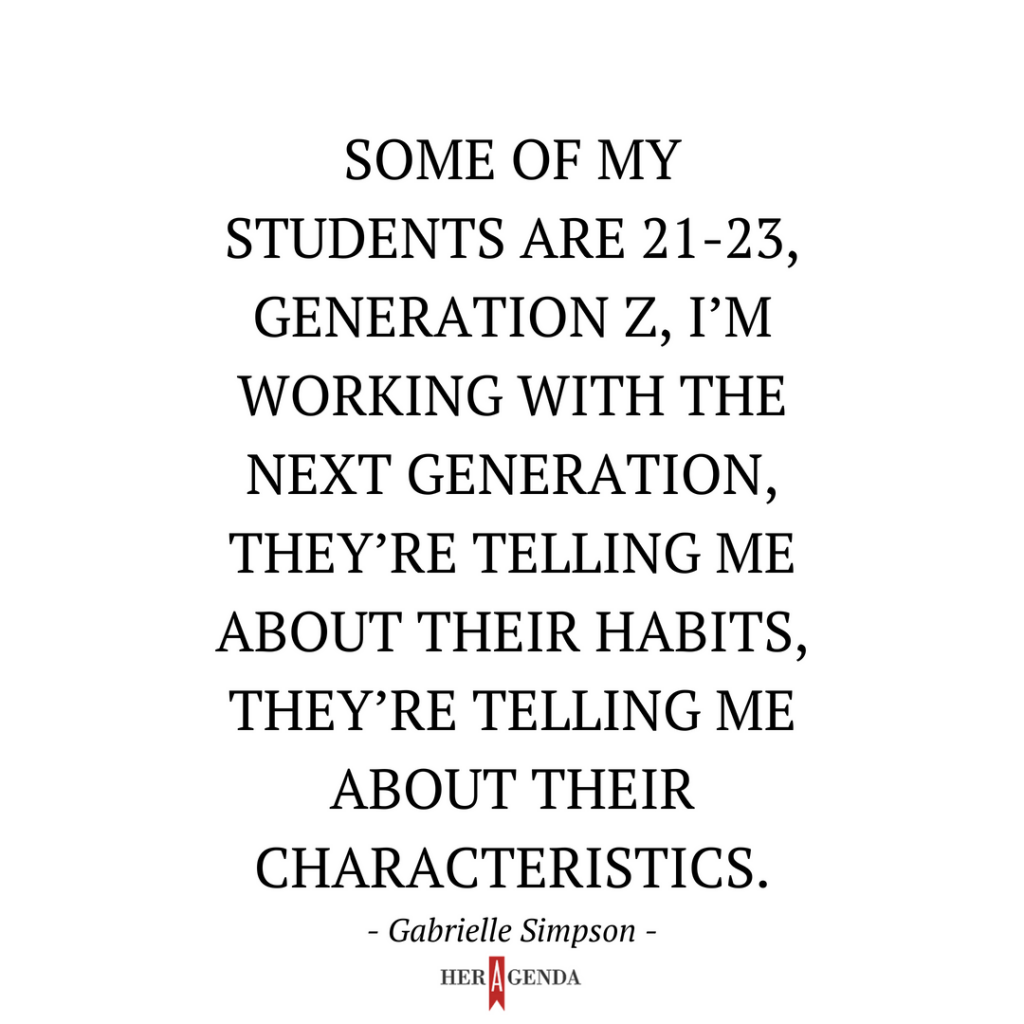 That's when I realized I teach for fun. Some of my students are 21-23, Generation Z, I'm working with the next generation, they're telling me about their habits, they're telling me about their characteristics. And that helps me during my day-to-day role leading PR/Communications at a college. I tell my students from the first day of class, 'I expect to learn as much from you, as you do from me. so, teach me, come to class with ideas.' My students want to do PR, I challenge them and ask what did they learn? What did they read, and what's going on in the news? What's happening in the industry that going to impact the future of marketing, advertising, public relations.
Article continues below advertisement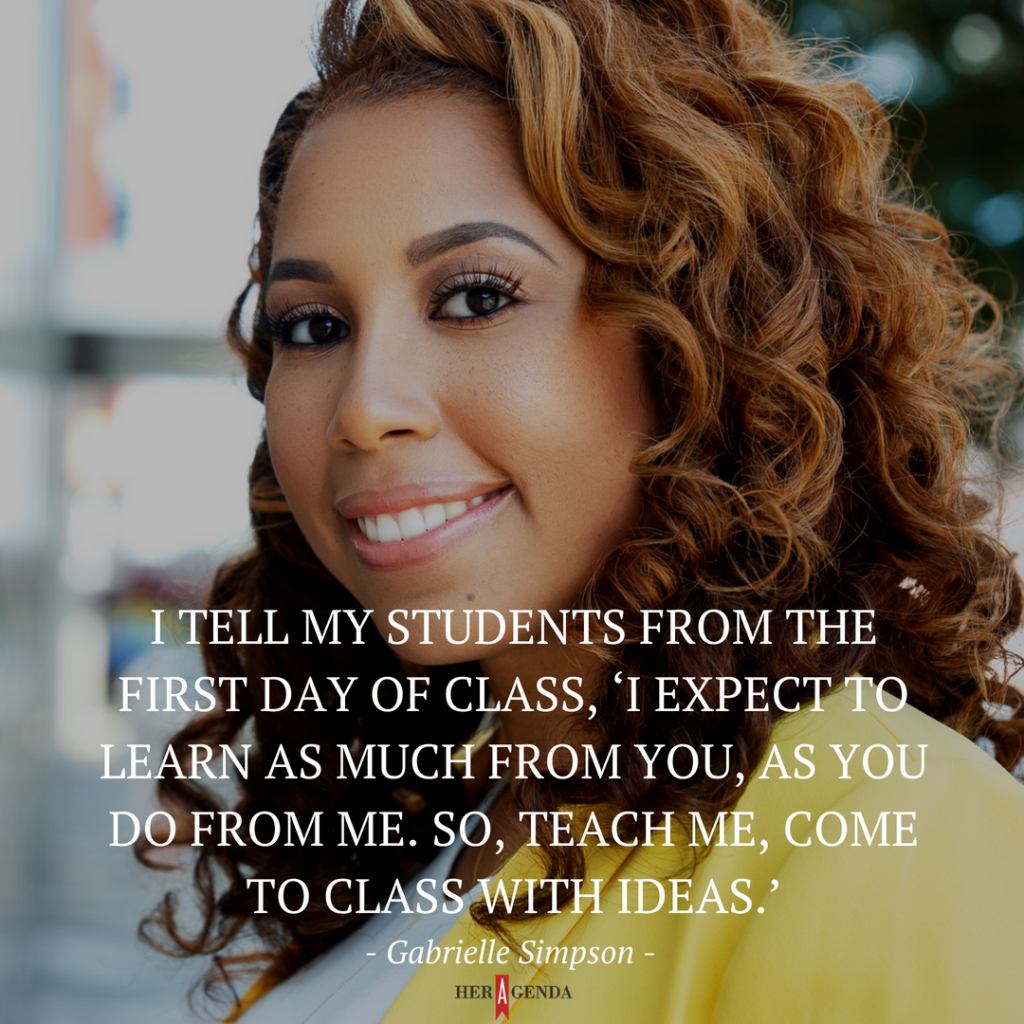 Her Agenda: Congratulations on your new role at Barnard College, as the first Black woman to fulfill this role, what are you most excited about?
Gabrielle Simpson: I'm honored. The college has a legacy and has produced a lot of very successful Black women who have done phenomenal things in society. Whenever you are the first, it's amazing and it's not something I take for granted. I'm most excited about what every day will bring.
It's an interesting time for the college, we have a new President, Sian [Beilock]. [President Beilock is one of] the youngest presidents at the college, she's a published author and a cognitive scientist.
My advice for any working professional would be, 'Choose your boss.' With, [President] Sian [Beilock] I did that. [President] Sian is so brilliant, and she specializes in children and adult behaviors specifically how they perform under stress. She has a phenomenal vision of where she wants the college to go. She is fierce and dynamic, and I look up to her.
Article continues below advertisement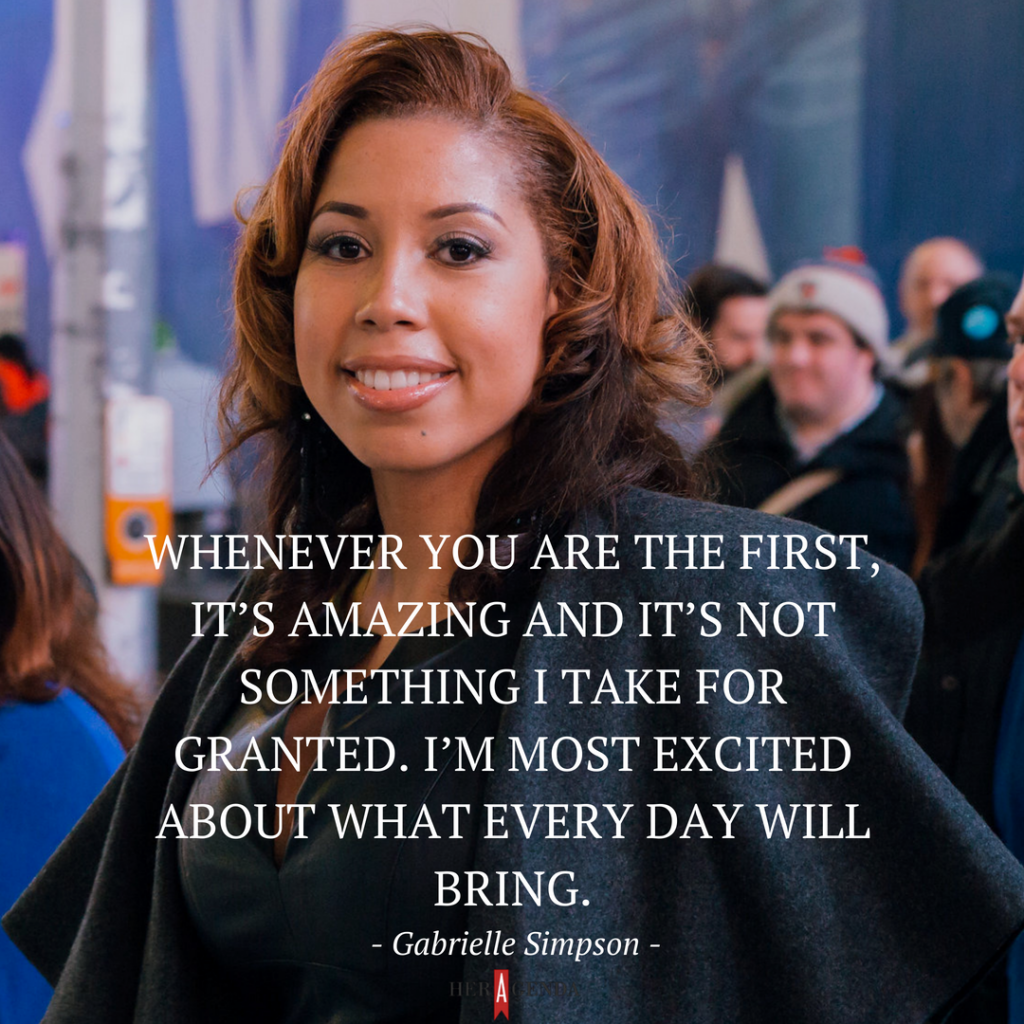 Her Agenda: Leading a Communications team, and teaching college students, how do you practice self-care and find time for yourself?
Gabrielle Simpson: Everyone has to take a lunch break. So, when I'm taking lunch I make it a point to connect with my close friends. I enjoy my relationships and my friendships. I try to keep them fresh. My friends are awesome, successful, and seeing them thrive keeps me alive—it's inspiration for me. To say I have a winner's circle is an understatement. So, that keeps me going.
Article continues below advertisement
Her Agenda: What is one piece of advice for other young Black women to tap into their power?
Gabrielle Simpson: Figure out what your power is. If we pay attention to ourselves, what makes us happy, what makes us smile, what comes to us easily, to the things we've been praised for, or recognized for, that will help you to realize what that 'it factor' is.

I truly believe that everyone has a talent, that everyone has something that is unique about them, that no one can take away. Unique about them that makes them different from anyone else, so that unique attribute that is you, and once you tap into that and concentrate on that and development, the sky's the limit.

Her Agenda: What's your motto or personal mantra?
Gabrielle Simpson: I personally tell myself that, 'You can do all things through Christ who strengthens you.' And, I also tell myself that nothing is impossible. Even the word—when broken down—says, "I am possible."

Article continues below advertisement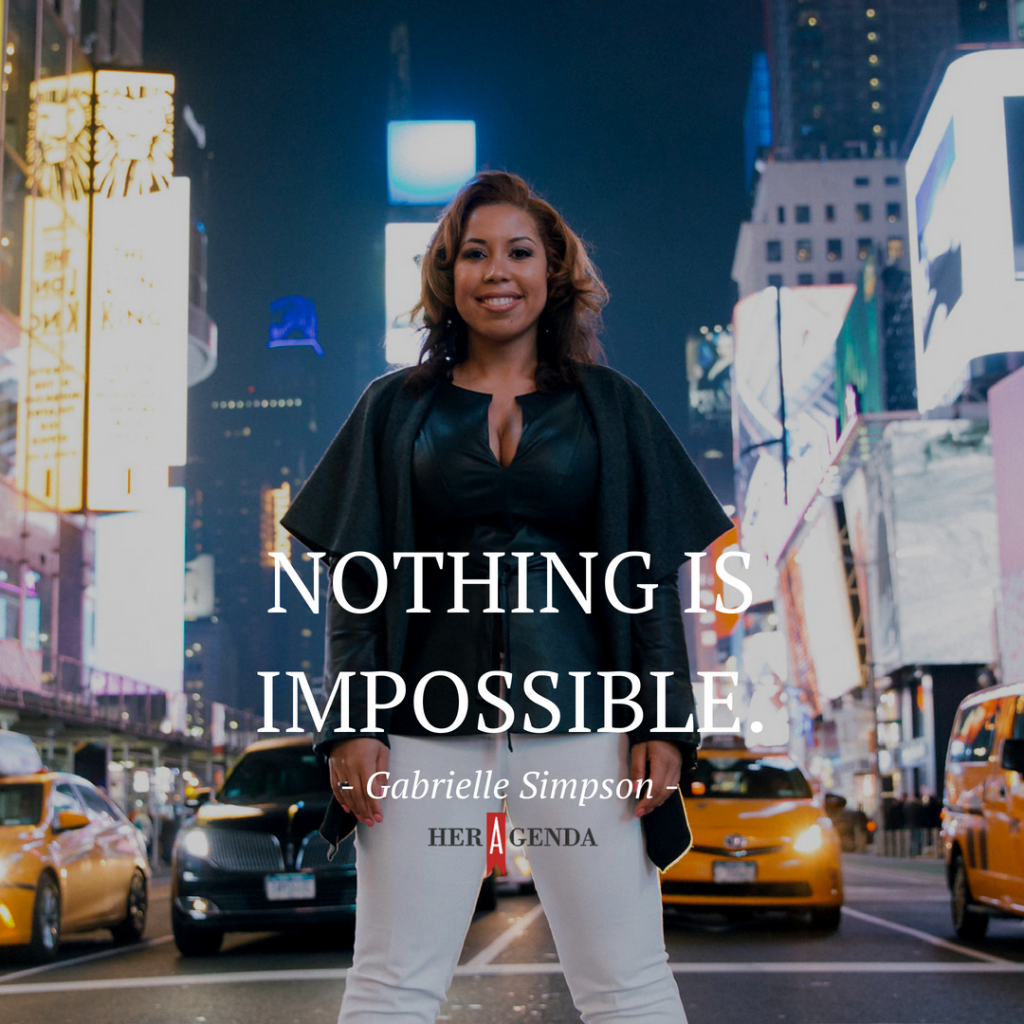 Her Agenda: Who do you look up to? Who is your role model?
Gabrielle Simpson: I look up to two people, first my grandmother who was a Black woman born in 1912, who is no longer living. My grandmother was so successful. She was a phenomenal storyteller. She was an accomplished writer who published books of poetry and beat all odds to earn several degrees at Eastern Michigan University as well as Howard University. She had a thirst for knowledge, and she was a kind and good person. And, I think she did a really good job at using her wisdom to navigate the world in being successful because she was so brilliant.

I continuously strive to learn because of her. And then, my grandfather, her husband, who is no longer living—his father, (my great grandfather) was hung and killed right in front of him by the KKK. He witnessed his father's death as a young child, he did not let that [tragedy deter him]. He went on to be a very successful man. He was the first person in his family to graduate from college with several degrees from Eastern Michigan and Howard as well, my grandparents went to college together. Both my grandparents received post degrees. And, my grandfather was the first Black couture fashion designer and produced a fashion show in Paris, France. He was a designer for the stars, he made some of the capes that James Brown wore. And, he made clothes for Sammy. Davis. Jr. He was an artist and a designer, he would draw designs and make them by hand—he made all his garments by hand. It was called House of Walter specializing in leather/suede and it did very well.

So, I look at someone like him, someone who came from nothing and became [wealthy]. He was successful, but education was always important to him. Both of my grandparents had several degrees.
I am a fourth-generation college graduate and I don't take that lightly. I admire my grandparents tremendously. I look at them and think even on my worst days, how can I ever complain?

Article continues below advertisement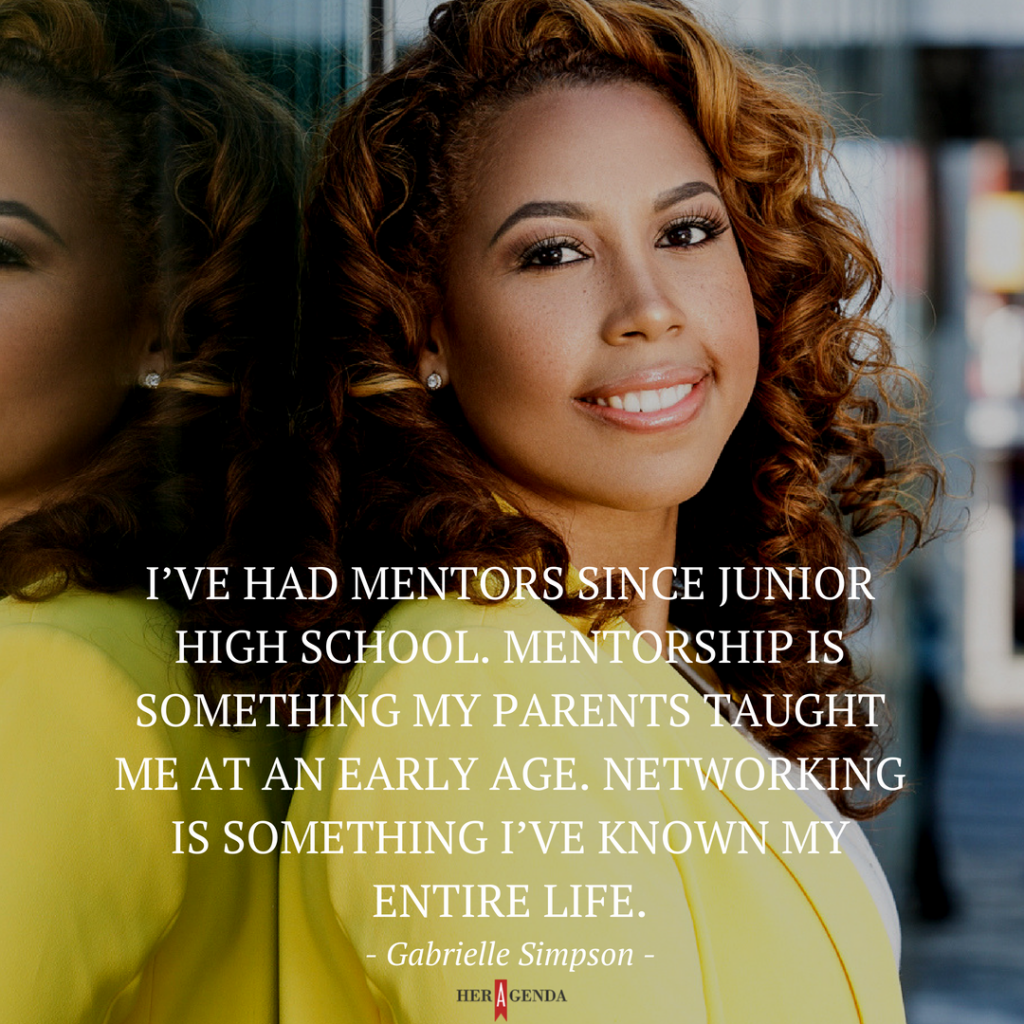 Her Agenda: What would you say to someone who wants to go back to school a little later in life, but just isn't sure?
Gabrielle Simpson: I love education, and I love learning, I look forward to getting my Phd one day. I think education comes in different ways. Let's say when I have children, that my child wants to become a musician, there are phenomenal music programs out there such as Berklee College of Music. But that may not be necessary.

I look at LeBron James. Lebron James is someone who does not have a college degree, and I look up to him. He just built a school and invested 50 million dollars, and that's not someone who is college educated, but he believes in the power of education. I say that to say, you personally don't have to have all these degrees, education comes in different forms. Beyoncé doesn't have a college degree. And, she is phenomenal at what she does.
Article continues below advertisement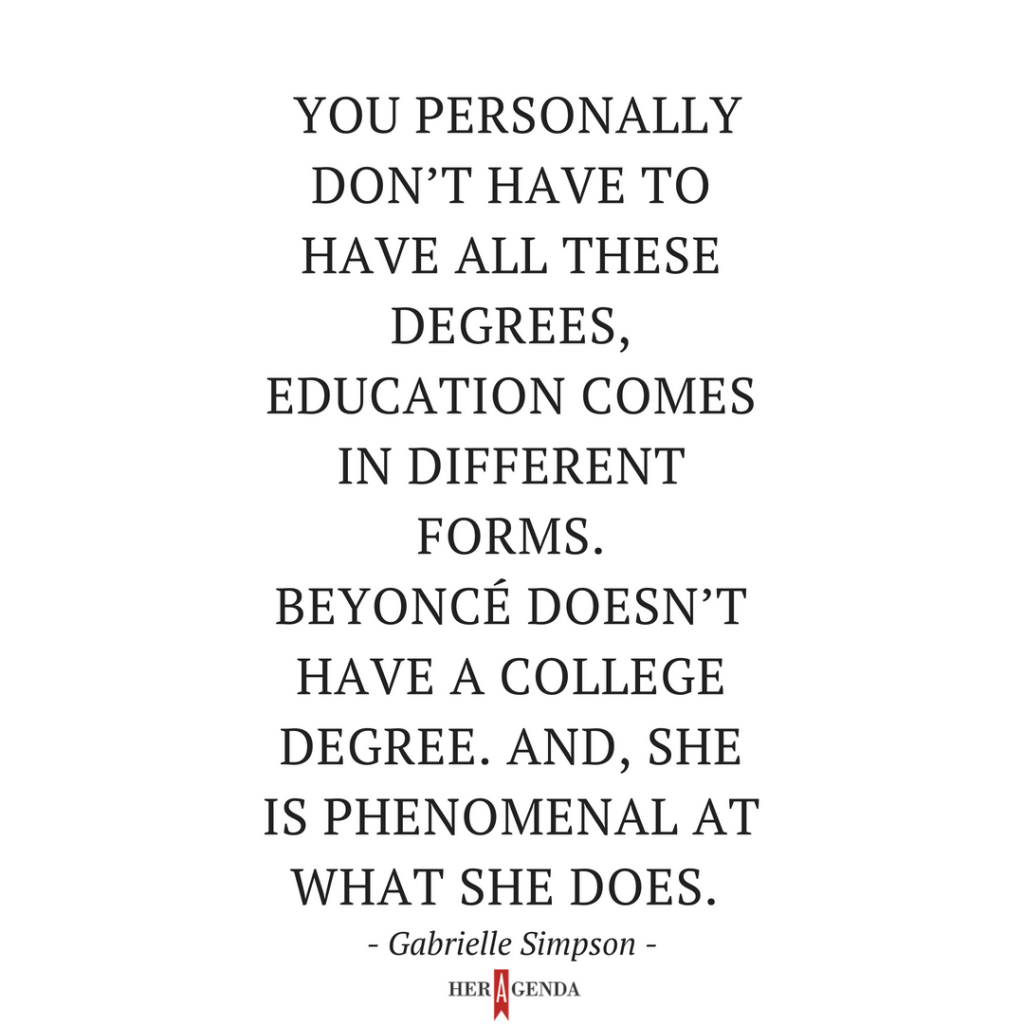 [Editor's note: This interview published on August 20th, 2018. It has been edited for length and clarity.]