Glynnis MacNicol is a writer and co-founder of TheLi.st. She is the author of No One Tells You This: A Memoir, which was named by TIME as among one of the "best memoirs of 2018 so far." Her work has appeared in print and online for publications including ELLE.com, The New York Times, The Guardian, Forbes, The Cut, New York Daily News, W, Town & Country, The Daily Beast, Shondaland, and Capital New York.
Glynnis originally from Canada, currently lives in New York City. In addition to her breakout memoir, MacNicol co-wrote HelloFlo: The Guide, PERIOD: The Everything Puberty Book for the Modern Girl, with HelloFlo founder Naama Bloom. She co-edited and contributed to the best-selling Amazon Kindle essay collection The 10 Habits of Highly Successful Women. Previously Glynnis was the media editor at Business Insider and a founding editor of Mediaite. During the 2008 election year she was a regular contributor to Playboy.com. MacNicol began her media career as the editor of FishbowlNY, and prior to that she was an associate editor at the Huffington Post media blog Eat the Press. Glynnis has spoken frequently on the intersection of media and politics and has appeared on Fox News, MSNBC, NBC, CBC, Al Jazeera, and CNN's Reliable Sources.
In our interview Glynnis takes us through her writing process, discusses the phenomenon of self care, the importance of women sharing their experiences, and failing healthcare system in the United States.
Article continues below advertisement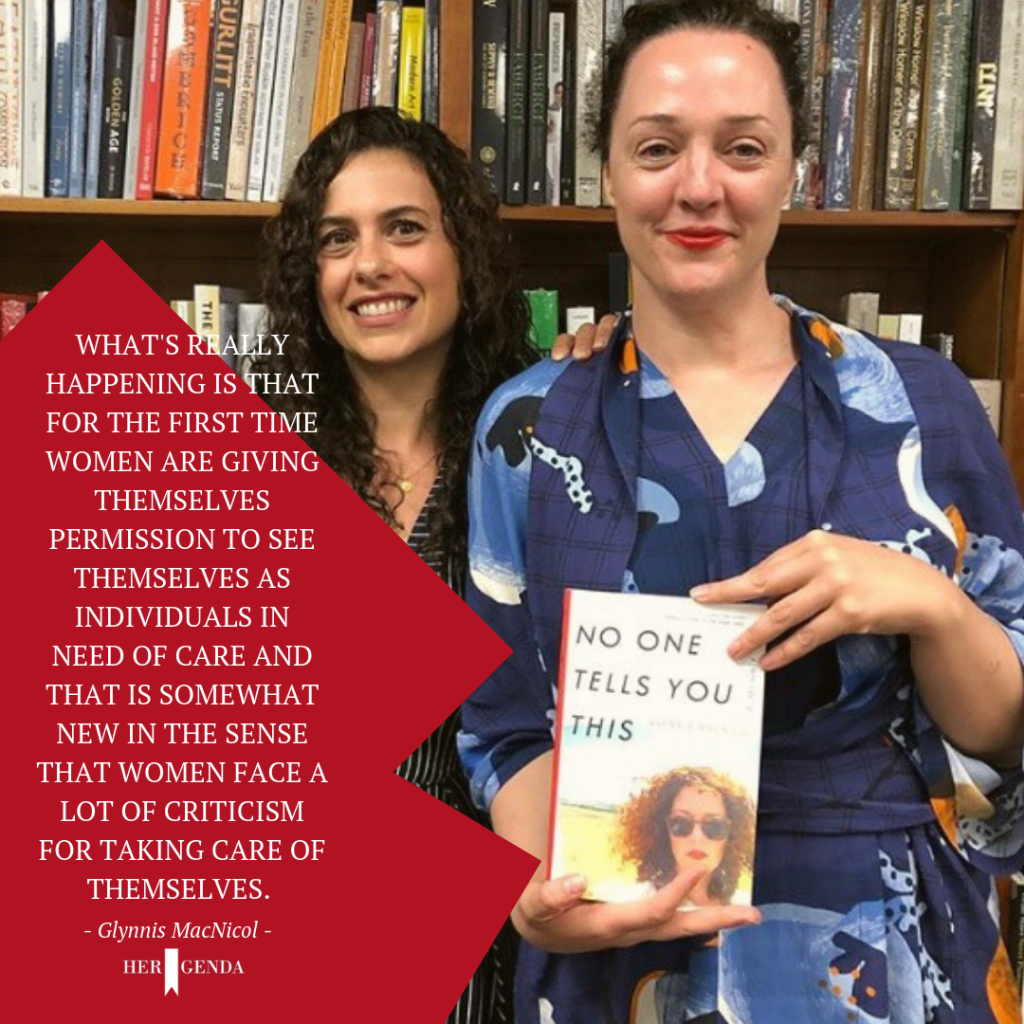 Her Agenda: You co-authored "HelloFlo: The Guide, Period" with Naama Bloom. Why was it important to get this project out, and what kind of responses have you gotten from the book?
Article continues below advertisement
Glynnis MacNicol: The book came out a year ago now, and I co-authored it with Naama Bloom who is the founder of the company Hello Flo. They did all those amazing videos [about periods], and one of the things she was trying to accomplish with the video that we tried to accomplish with the book was to have a really honest conversation about what happens to girls' bodies during puberty. There's a lot of shame attached to just about everything to do with women. But there's [even more] shame attached to developing and confusion. You may remember, certainly when I was a kid, how all of the Tampon and Maxi pad commercials used blue dye in lieu of you getting your period. And, we knew we were dealing with a really savvy audience. Kids today have access to so much information from such a young age. They're still kids, but they're really savvy and can see through things easily. At the same time, if your go to when something's happening, (and this includes questions like "why am I getting hair down there, why am I getting hair under my arms?") if you Google that stuff 90 percent of the Internet is porn and so the results that you get from being curious about your body on the internet are not the results you would want a nine year old to be exposed to. So we really wanted to write a edgy, savvy, honest book that would appeal to kids and hopefully be something they could turn to as opposed to Google.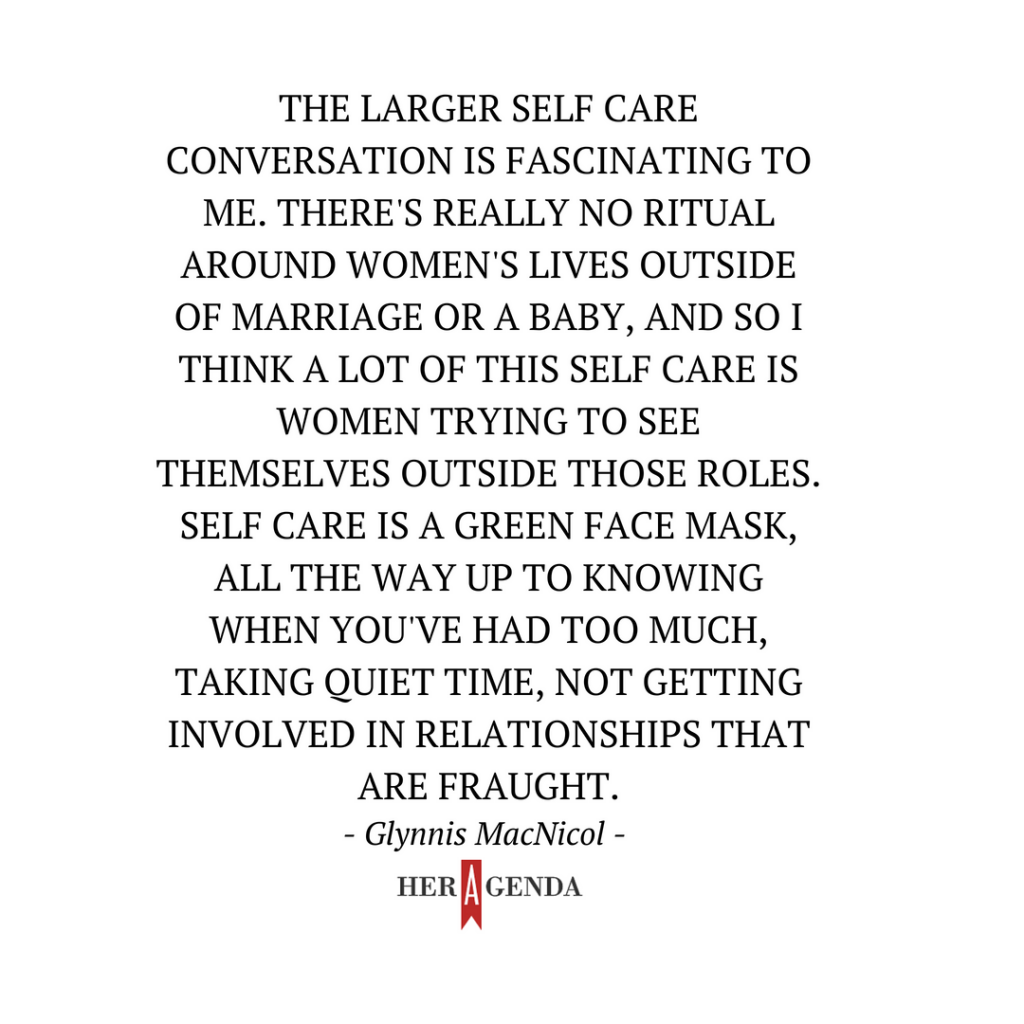 Article continues below advertisement
Her Agenda: We live in a society where a woman's narrative is not really valued. What do you say to women who want to share their experiences but do not know where to begin?
Glynnis MacNicol: We just have some fairly narrow narratives around women's experiences that generally skew to marriage or babies. You can walk into any magazine store and everyone on the cover is under a certain age and most of the articles are aimed at getting women to buy into it. I encourage more women to talk about their experiences, all of their experiences, the joyful ones and the difficult ones, and the ones that we tend to attach shame to, which are not shameful. It's better for everyone. The more evidence we have out there of the complicated, messy, amazing, and powerful experiences of women, the better [it is] for all of us. I'm not sure I would suggest sharing it on Twitter per se but if you're somebody that wants to share your story [there], I'm all for it. There's an endless amount of platforms.
Article continues below advertisement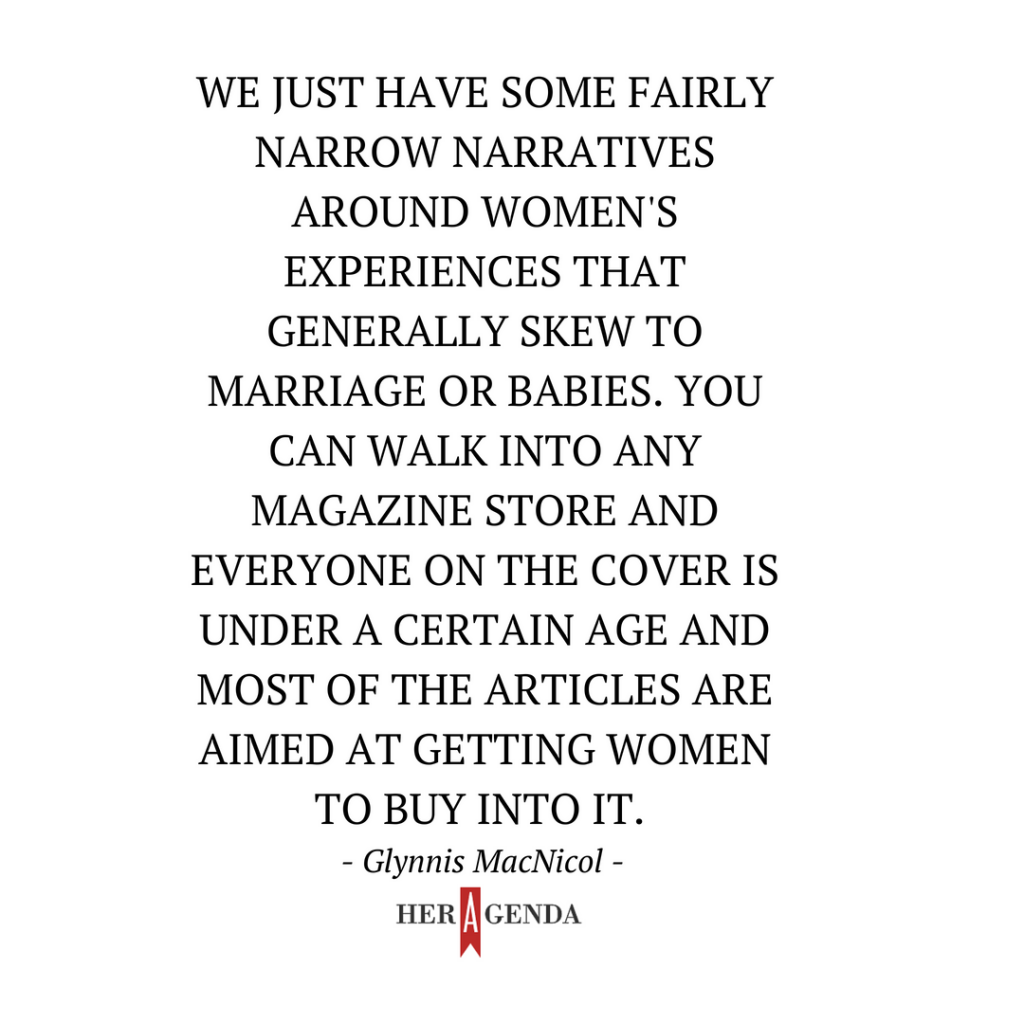 Her Agenda: In a previous interview you mentioned that you journaled for most of your life and I think a lot of women can relate to that. Do you think the practice of keeping a journal helps make the process of writing your memoir easier? And what obstacles did you face when writing your memoir?
Article continues below advertisement
Glynnis MacNicol: I have kept a journal for most of my life. I think of writing as exercise the same as anything else. It's a matter of keeping in shape. It's getting into a habit of taking down your thoughts. I really tried to force myself, and thought it was important to describe things I'd seen that day. I really didn't want it to just be "oh, I feel this. I feel bad." No, I wanted to really describe what had happened and quote what I'd heard people say. I just approached my journaling as a little report of my day, as opposed to just being about how I'm feeling. The interesting thing is that I didn't keep a journal during the year that I ended up writing about for the book. I was just overwhelmed with so much going on that I didn't have a journal.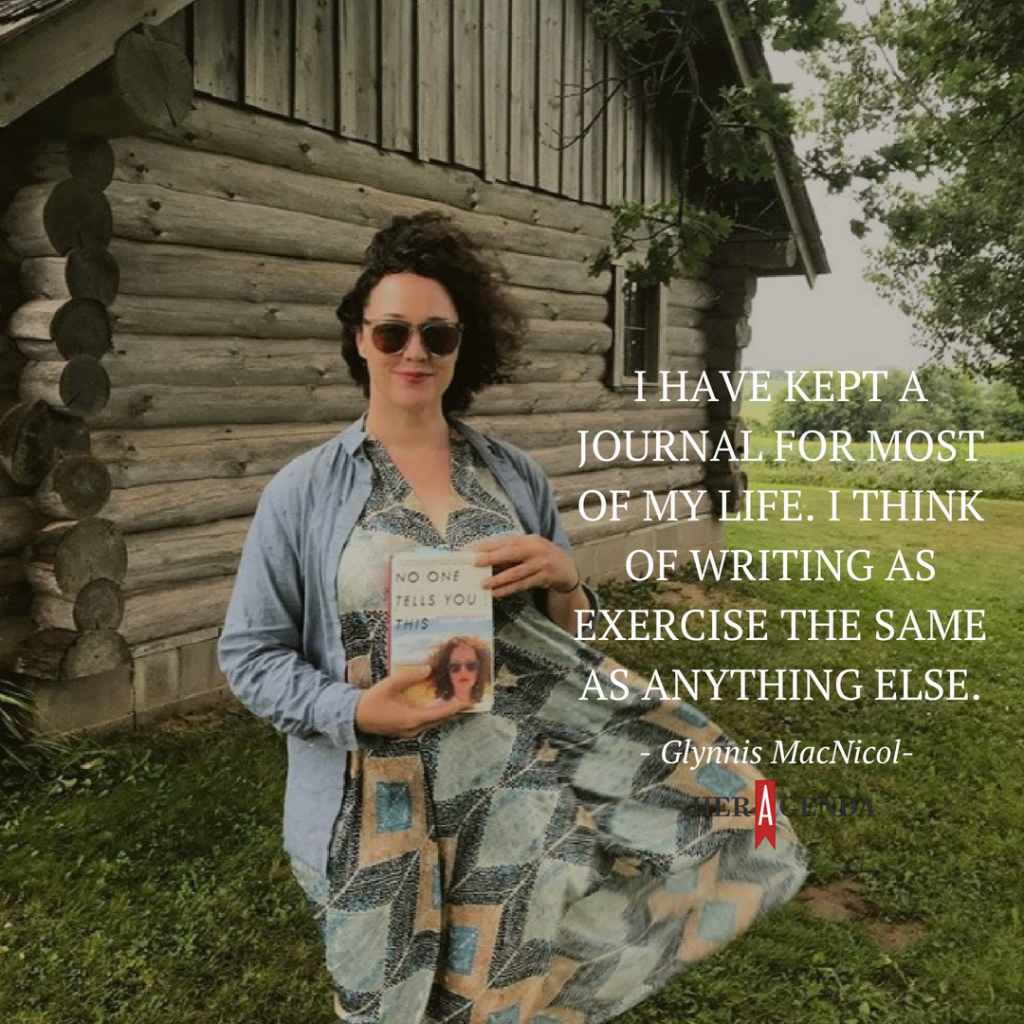 Article continues below advertisement
The book was written in the immediate aftermath of the year I was talking about. So I really had to struggle for perspective. My mother died shortly after I handed the first draft in so it was revised from a place of real grief, which was difficult. I had a writing teacher who always said 'wait five years before you write about anything.' And there's a lot to be said for that argument. But I'm glad that I didn't in this case, I really wanted to capture the messiness of that year and sort of the immediacy of a lot of anxiety and feeling. But, it made for a much more fraught process. I think perspective is very valuable and not having it by the passing of time, you run into the risk of some overly emotional bad writing.
Her Agenda: In your memoir you talk about taking care of your mother and helping your sister care for her children. A lot of women can relate to taking on the role of caretaker, which can be overwhelming and historically society has always placed the role of caretaker on women. Because of this societal pressure to always be available, there can be a lot of guilt attached to saying no or taking a step back. Do you think sometimes we as women take on too much and have a hard time gauging when we need to take a step because of the societal role of being a caretaker?
Article continues below advertisement
Glynnis MacNicol: Yes, absolutely. I think that's such a complicated question in this country. My family lives in Canada and I really benefited enormously from the Canadian healthcare system and I write a lot about it. I try to imagine taking all that responsibility in the American healthcare system, and I don't know how we would have dealt with it. I think women in general are conditioned to never complain. We tend to not speak up for ourselves. It can be really tough. But the flip side is are you in a position to hire help? Are you in a position to afford help? I do interviews outside the [United] States where I'd have to try and explain to people what the American healthcare system looks like and they're always so puzzled. A lot of the support that women are called on to provide right now in the states, in many countries is provided by universal health care. So yes, absolutely learning to say 'this is too much, I'm overwhelmed,' is important. I had to learn to do it too. I was overwhelmed, but at the same time learning to look around and ask 'why is all of this falling on me as opposed to the healthcare infrastructure?' is another conversation. So those things get very intertwined. That conversation in the [United] States I think is very complicated and upsetting.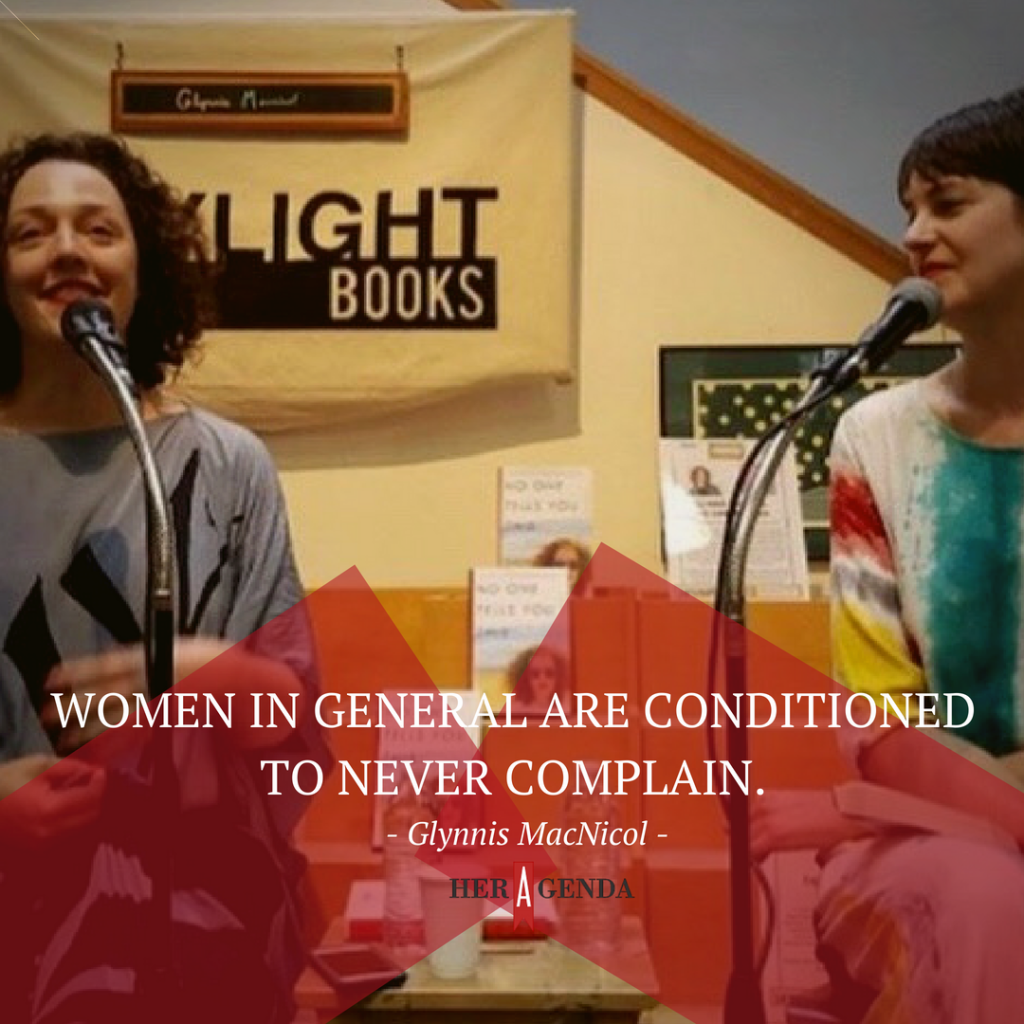 Article continues below advertisement
Her Agenda: Would you say that our society is starting to expect men to equally take on the role of caretaker? If not, what steps can we take to making this expectation an equal one?
Glynnis MacNicol: The thing about this book that's so interesting to me is that I wrote a very personal memoir about my experience and I hope there'll be many people coming up behind me writing similar books, but I just happened to be more or less first out of the gate. I'm getting bombarded with a lot of people asking advice, it's not a prescriptive book. I'm not sure I have any advice. The book was 'here's my experience.' I find myself lacking because I don't have the answers people are hoping for and all I can say is that I recognize the challenge. In general right now we're going through a real shift in how we look at gender and gender roles and that's a conversation that's happening constantly across the board. It's happening in regard to who takes care of the children? Who does the dishes? Who takes care of the garbage? I hope and imagine the conversation is the first step toward a larger shift but I suspect that the reality is a lot of this is still falling on women and the only way to shift it is to continue to talk about why it's important for the burden to fall on everyone equally. Whether it is or not, I haven't got a clue.
Article continues below advertisement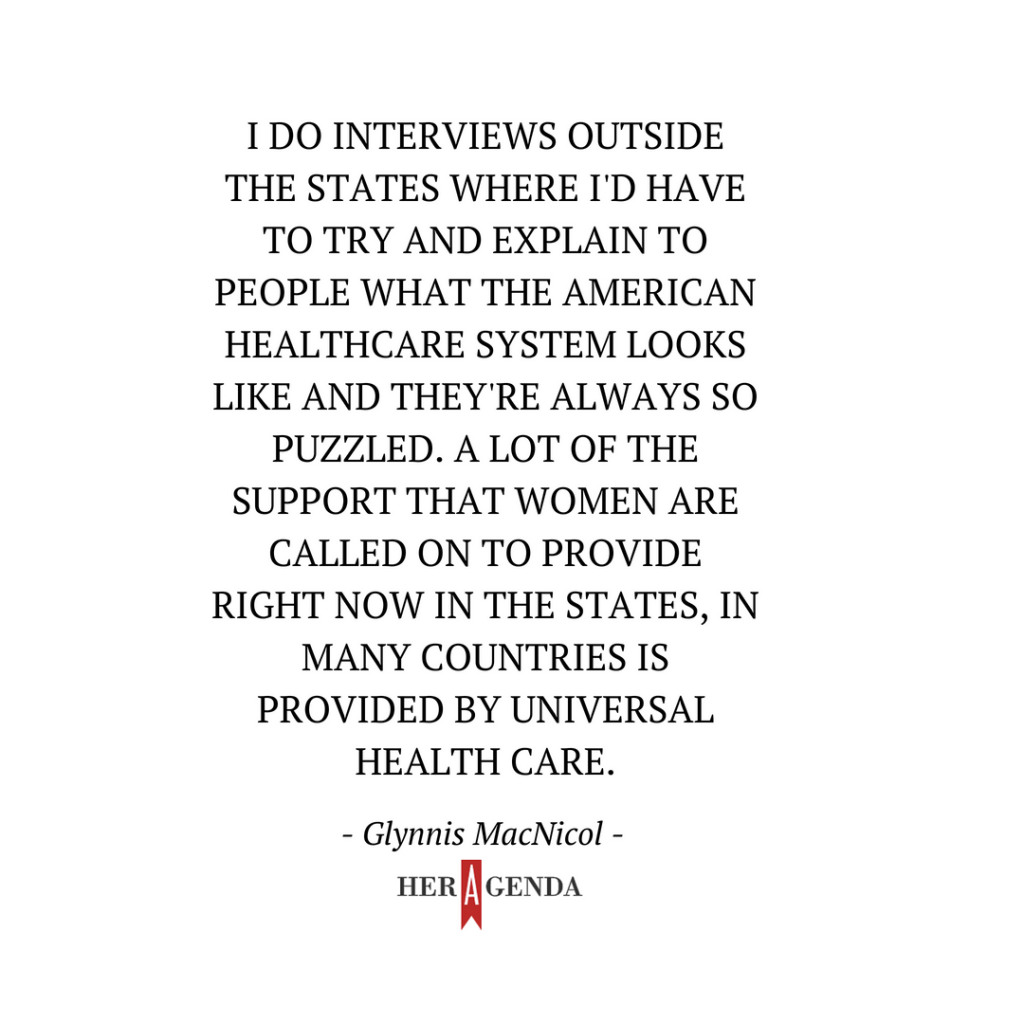 Her Agenda: What do you do for self care, and do you believe self care is important?
Article continues below advertisement
Glynnis MacNicol: The larger self care conversation is fascinating to me. There's really no ritual around women's lives outside of marriage or a baby, and so I think a lot of this self care is women trying to see themselves outside those roles. Self care is a green face mask, all the way up to knowing when you've had too much, taking quiet time, not getting involved in relationships that are fraught. There's a whole spectrum of self care and sometimes we minimize it to 'I need to steam my face,' which is perfectly valid, but what's really happening is that for the first time women are giving themselves permission to see themselves as individuals in need of care and that is somewhat new in the sense that women face a lot of criticism for taking care of themselves. There's a chapter in my book titled '[Don't forsake those duties] that keep you out of the nut house', which is actually a quote from Katherine Hepburn, and I think self care often comes down to knowing yourself well enough to know what you need and then feeling confident enough to get that, and that is important. Just knowing what you need and then not feeling like you have to apologize for going and getting it for yourself. I see it as a much bigger thing than skincare, which is what it is currently being distilled down to.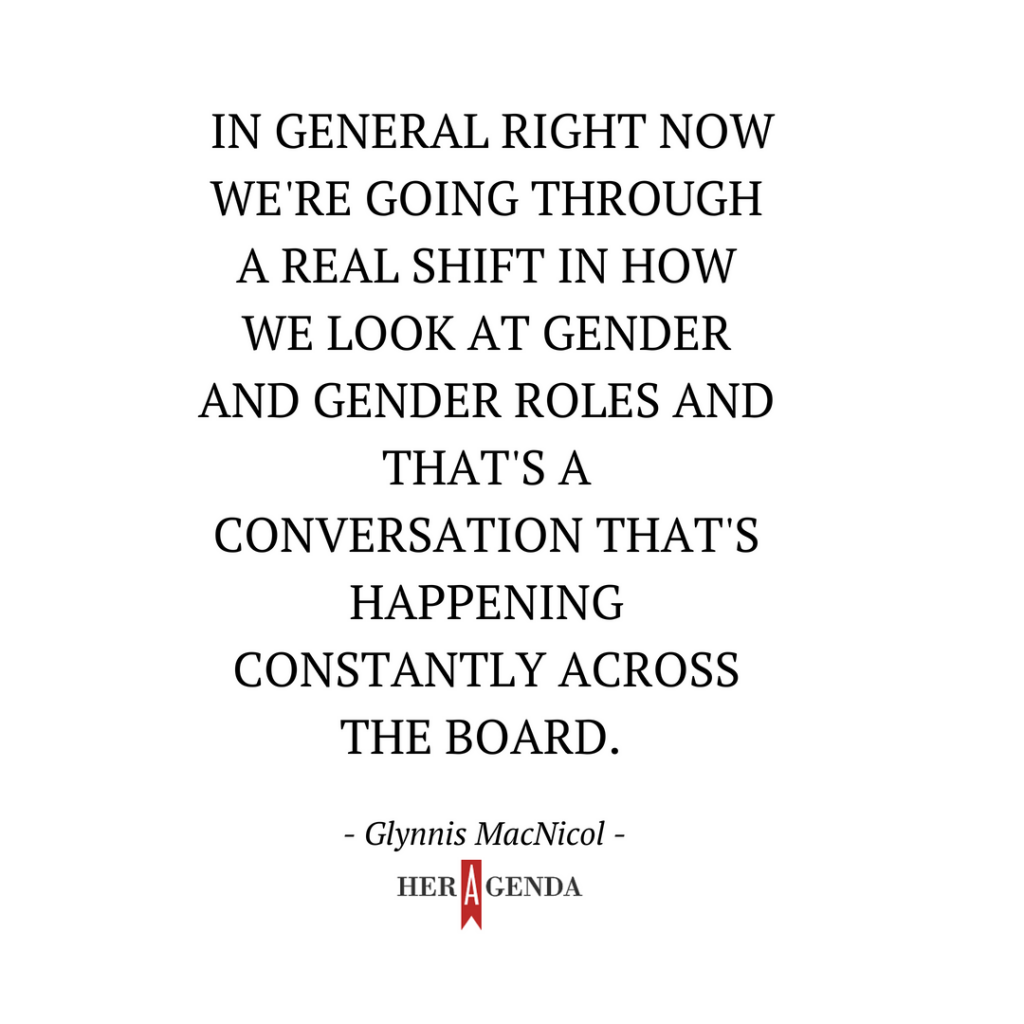 Article continues below advertisement
Therapy is self care, and that takes us right back to the healthcare conversation. Some of the reaction I'm getting to this book is long lineups of women telling me a lot about their stories and its reflective of the general lack of access to therapy and the taboo that is attached to therapy which is self care if you can afford it.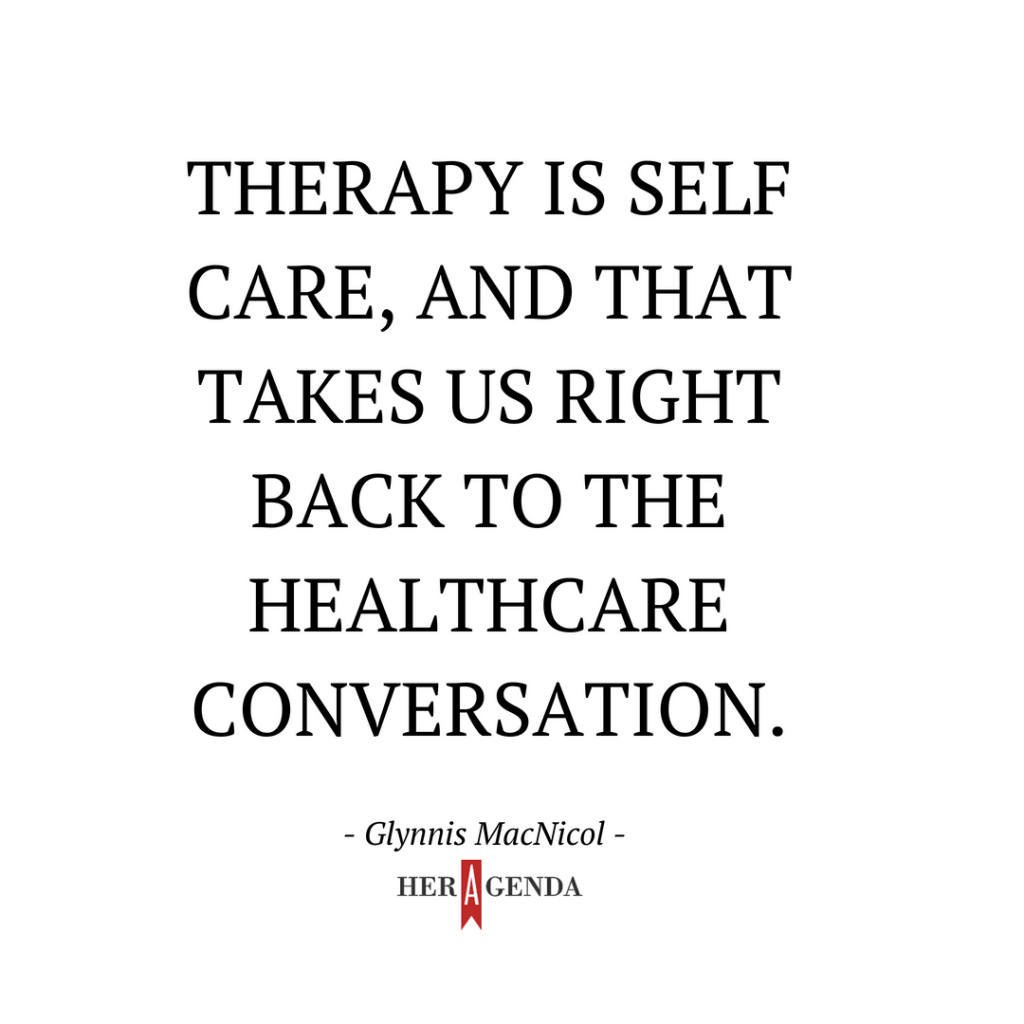 Article continues below advertisement
Her Agenda: What is your advice to women who essentially do it all but still feel invisible?
Glynnis MacNicol: I don't have advice. I'm a terrible advice giver. I give advice to my friends, but these are much bigger questions and when I say that, I mean we're living in a country that does not in its laws recognize women and how they operate respectfully. We don't have it in a healthcare system, we don't mandate that women get paid the same. We don't demand all of these things that recognize the value of women's lives and the struggle, and how much they have to deal with, particularly women with children. We have terrible maternal healthcare. We have a terrible maternity leave policy. Again, I'm Canadian where everyone gets a year maternity leave. My advice is to investigate who's running for office wherever you live and to start thinking about the bigger picture and how we need to demand from the country recognition of all the things women are dealing with, because that is fundamentally what needs to happen. None of these things are going to be fixed by two extra massages a week or by going to get a facial. These are huge, deep seeded problems. We're in a moment where I really feel very strongly that we need to start thinking and demanding big picture changes. Women are not treated as equals at all in this country on nearly every level.
Article continues below advertisement
[Editor's note: This interview published on October 29th, 2018. It has been edited for length and clarity. Headshot credit: Naima Green.]