When Imani Ellis noticed the absence of safe spaces for creatives of color, she took matters into her own hands. Four years after launching the Creative Collective NYC in her one-bedroom apartment, Imani's efforts grew into one of the fastest-growing creative communities in New York City.
Despite the challenges associated with entrepreneurial efforts, Imani's wit and hustle birthed CultureCon, one of the most celebrated and anticipated conferences for creatives of color. From her role as the Director of Communications at NBCUniversal's Lifestyle Networks to establishing the Creative Curriculum for entrepreneurs, Imani continues to contribute the blueprint for greatness.
Her Agenda recently spoke with Imani on how to turn your dreams into reality, how she celebrates her accomplishments, and what creative people have in common.
Her Agenda: You currently hold an executive role at NBCUniversal but first started in their Page program. As you advanced in ranking, did the way you navigated the corporate space alter?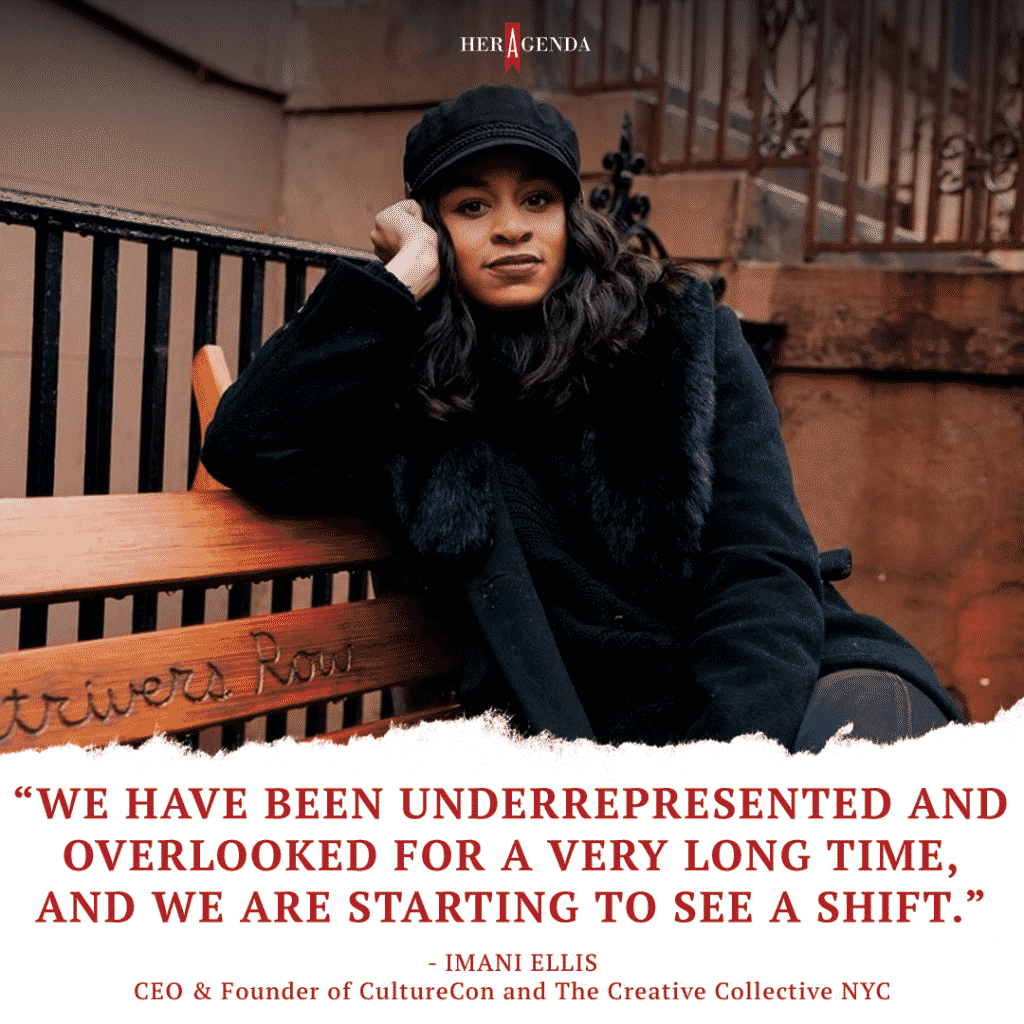 Article continues below advertisement
Imani Ellis: The more time I spent, the more I became myself. When I was first starting out, I tried to understand the world and how to navigate it. And, I remember wondering if I could bring my authentic self to work. Over time, I realized that all of the experiences I had as a Black woman from the South who loved entertainment were not only valid but instrumental to my success. When I realized that it was a win-win for me. I was able to stop second-guessing my opinion as I realized my knowledge came from a place of experience. No one can tell you that your perspective on the world is wrong and there is power in that.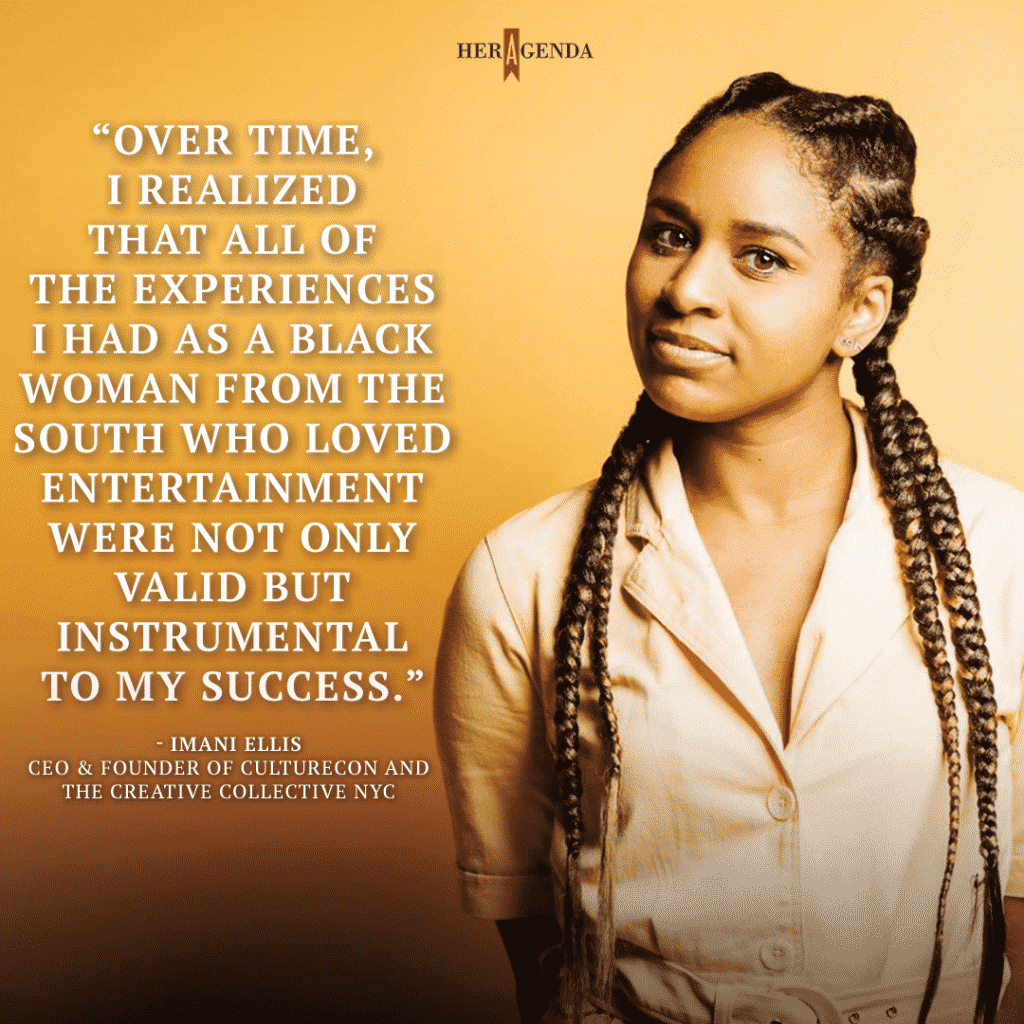 Article continues below advertisement
Her Agenda: How has working from home and interacting with the world digitally affected your mental health?
Imani Ellis: It has put a spotlight on prioritizing mental wellness. I think we were all on autopilot and never realized how tired or on the go we were. When the world stopped everyone had to stop. And, this allowed me to focus on my family and nature. We are all still trying to delineate the line between work and home because it gets so blurry since the computer is there, and we think 'I'm going to keep working.' Whereas in the office, you could physically leave the space. That is something that I have been working on, the boundaries of it all which affects one's mental health. It has been a double-sided coin. On one side I have been able to prioritize prayer, mediation, and family. But on the other side, I have created a near liquid schedule that can lead to not escaping the office.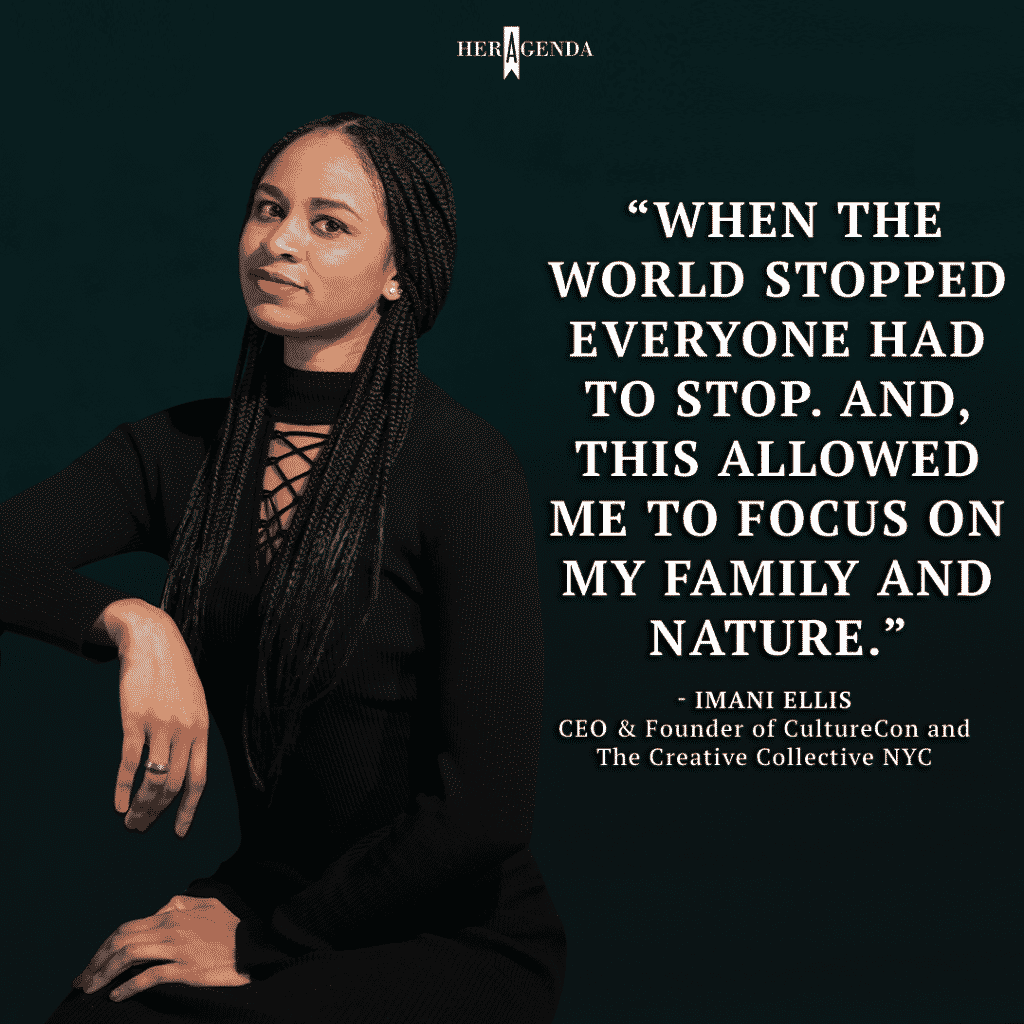 Article continues below advertisement
Her Agenda: What are the first steps an entrepreneur should do to turn their dreams into reality?
Imani Ellis: I think the first step is really figuring out your 'why?' I know that can seem vague but when you first think about what you want to bring to the world, answering the why will be the engine inside of your dream. The 'why' will keep you going when it's not so sexy of an endeavor. I aimed to create a brave space for creatives of color where we could be ourselves. I also wanted to celebrate our happiness, achievements, and each other without being subject to the world telling us who we are. Creating those resources and access is my why and everything that we do comes from that why.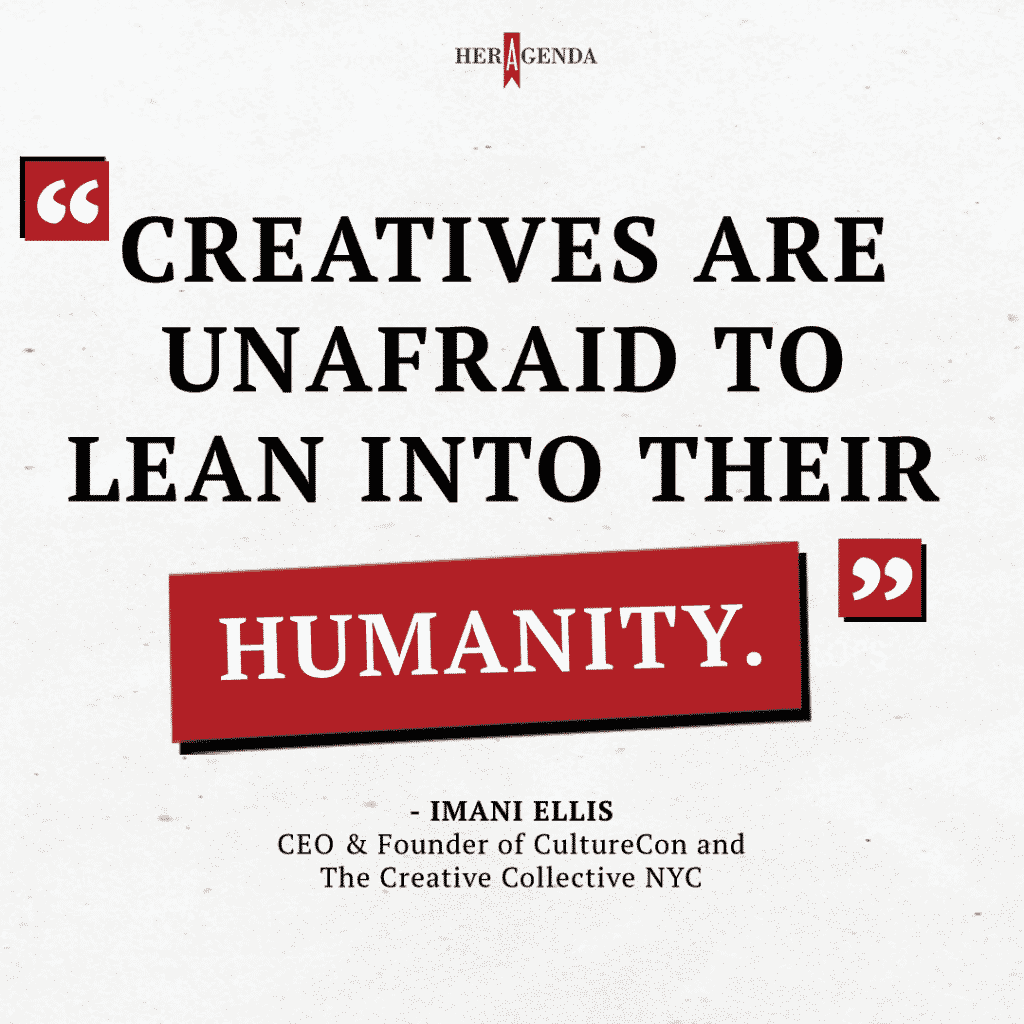 Article continues below advertisement
Her Agenda: You once stated that you launched the Creative Collective NYC, not because you wanted to start something but you wanted to end something. Now that your agency is diversifying the creative landscape for people of color, what is something that the industry is still behind on?
Imani Ellis: I think something the industry is still behind on is recognizing the source of a lot of talent. We have been underrepresented and overlooked for a very long time, and we are starting to see a shift. But, we need to allow authentic voices to lead. Instead of trying to come in and tell other people's stories for them, allow them to tell it themselves. Also, make sure that you have diverse viewpoints to speak on many different subjects. It seems so obvious that people should tell their own stories to authentically resonate, but it's something that we aim to see happen as a cosmic shift, not just as an outlier. It can't just happen during Black history month or on Juneteenth. People of color should be telling their stories all of the time, not just on holidays. I'm looking forward to seeing storytelling shine through in an authentic way.
On one side I have been able to prioritize prayer, mediation, and family. But on the other side, I have created a near liquid schedule that can lead to not escaping the office.
-
Article continues below advertisement
Her Agenda: CultureCon is swiftly approaching and we are super excited. When you look back at the first CultureCon, did you have a memorable moment when you knew that you created something special?
Imani Ellis: Looking back at the first CultureCon, we were using our cell phones as walkie talkies. But, we put everything together with so much love and attention. I knew it was something special when I looked at everyone in the audience. They showed up for us, we built something for them, and it felt like we were there for each other. Yes, there were 300+ people there, but it felt like a room of 20 because everyone was so supportive.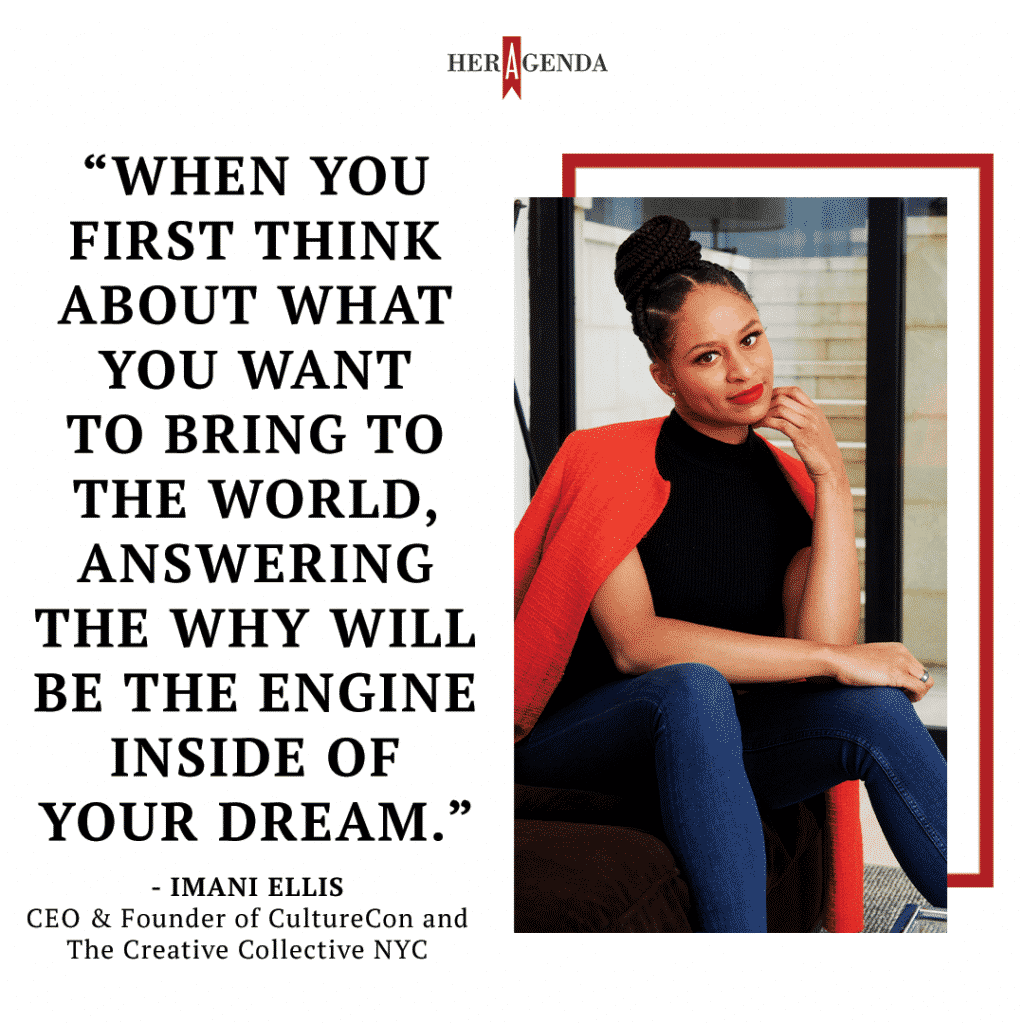 Article continues below advertisement
Her Agenda: The Creative Collective NYC's catchphrase is 'Creative AF.' Considering your history working in the creative industry, what do you think all successful 'Creative AF' people have in common?
Imani Ellis: I think a lot of creatives are unafraid to lean into their humanity. There are common things that bring us all together that makes you feel a gut reaction or an emotional reaction. For example, it's why when you hear a beautiful symphony, you cry. Or, when you see a beautiful picture, it moves you. That ability to move people is a common creative, 'can't put your figure on it, but you know it when you see it,' trait. It comes from a place of authentic storytelling, so when you share what you know and where you come from regardless of the medium, it moves people. The reason we say, Jay Z's quote, 'Nothing moves without us,' is because I believe that our culture moves people. There's a reason why you can go to Paris and hear Beyoncé because people are moved by the art. I think creative people have that special, secret sauce, but it comes from human energy and emotion.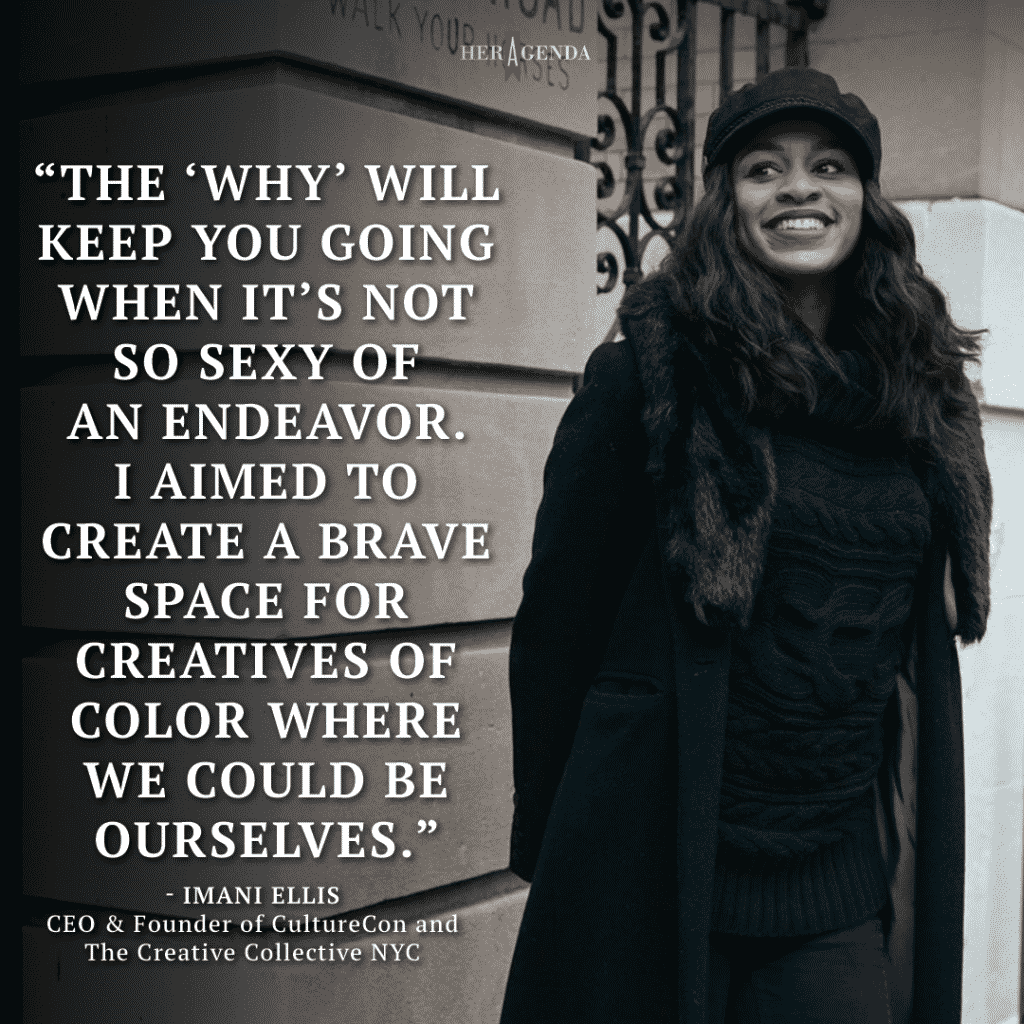 Article continues below advertisement
Her Agenda: You have accomplished a lot and are constantly moving the envelope. What do you do to congratulate yourself for your accomplishments?
Imani Ellis: It 1000% has to do with food. As I've gotten older, I've loved experimenting so much. I have such a sweet tooth and love to eat. I have also learned how to detach from work. I used to sit at dinner thinking about my to-do list, but now I allow myself to put it in the back corner. I also love history and anthropology. My thing is going to museums and estate sales. Sometimes, I go to these big mansions that are on sale where you can walk through and buy interesting pieces. It's so much fun since I love history and studying how people live. I'm a total nerd, but I love it.