With just five minutes to spare before going live on air in the midst of the constant buzz on NBC's New York Live set, journalist Jacque Reid still finds a moment to catch up with her co-host, greet her guests, and make changes to her script. It's clear that Reid, who has anchored and reported for networks like BET and CNN, literally embodies our motto of no one ever slows her agenda.
In addition to co-hosting NBC 4 New York's lifestyle show New York Live, Reid also contributes regularly to The Tom Joyner Morning Show. On top of it all, she's launched her own website and runs a non-profit organization.
While most would panic under a busy schedule Jacque Reid is always able to navigate her days with structure, and patience fueled by her passion for storytelling. What's a New York minute to a media maven? Certainly not much, as she monitors her schedule and balances her time with ease. We recently caught up with Reid to hear how she get's it all done.
Her Agenda: You've come such a long way from your humble beginnings as a an anchor for WBSG-TV in Brunswick, Georgia. Would you have ever imagined your career taking off the way that it has?
Jacque Reid: No, I never knew what it would turn into but I was very determined like most people starting out in the industry about moving to New York City. I knew that was my goal and I was very driven and hungry to get there, so did it surprise me? Not completely, but I was delighted that I did achieve the goals that I set out for myself.
Her Agenda: Being able to be apart of such powerful programming, what has been your favorite story or most memorable moment thus far?
Article continues below advertisement
Jacque Reid: It's so hard since there's been so many stories that I've done between TV and radio and even some of the stories on my website. I've been doing this for so long, it's hard to pinpoint an interview. I've interviewed Trayvon Martin's mother, I've interviewed mothers and family members of murdered and missing family members. I can't, it's too many.
Her Agenda: Are there usually any general takeaway messages?
Jacque Reid: The big take away for me in a lot of situations when I do interviews is I walk away invigorated, excited and inspired that I was able to share their story; that I was able to connect with them in a particular way. I'm just like everybody else, I read about something, I hear about something, and I'm curious to know more. To be a part of bringing that story to light or those details to light or being able to connect with the person in a particular way it really excites me and invigorates me and lets me know that I'm doing the right thing.
Article continues below advertisement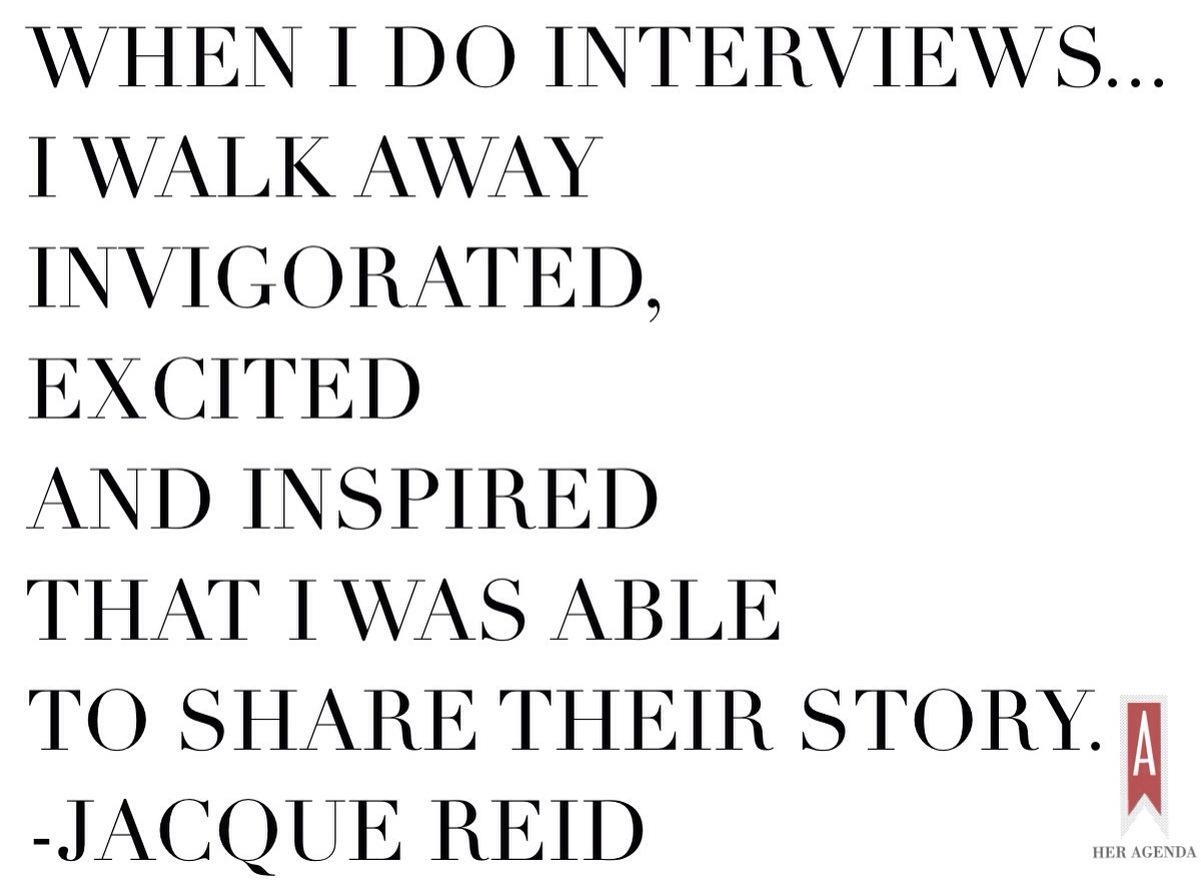 Her Agenda: You've had the opportunity to interview some amazing people including Presidents Bill Clinton and Barack Obama, what was that experience like and what kind of lessons do you learn aside from the intended subject matter?
Jacque Reid: It's the same, it's like touching the hem of history. It's even more exciting to interview someone like that–[someone] a lot of people don't really have an opportunity to have a conversation with. And when you get to talk with them off camera, you get to see a more human side of them it's interesting as well.
Article continues below advertisement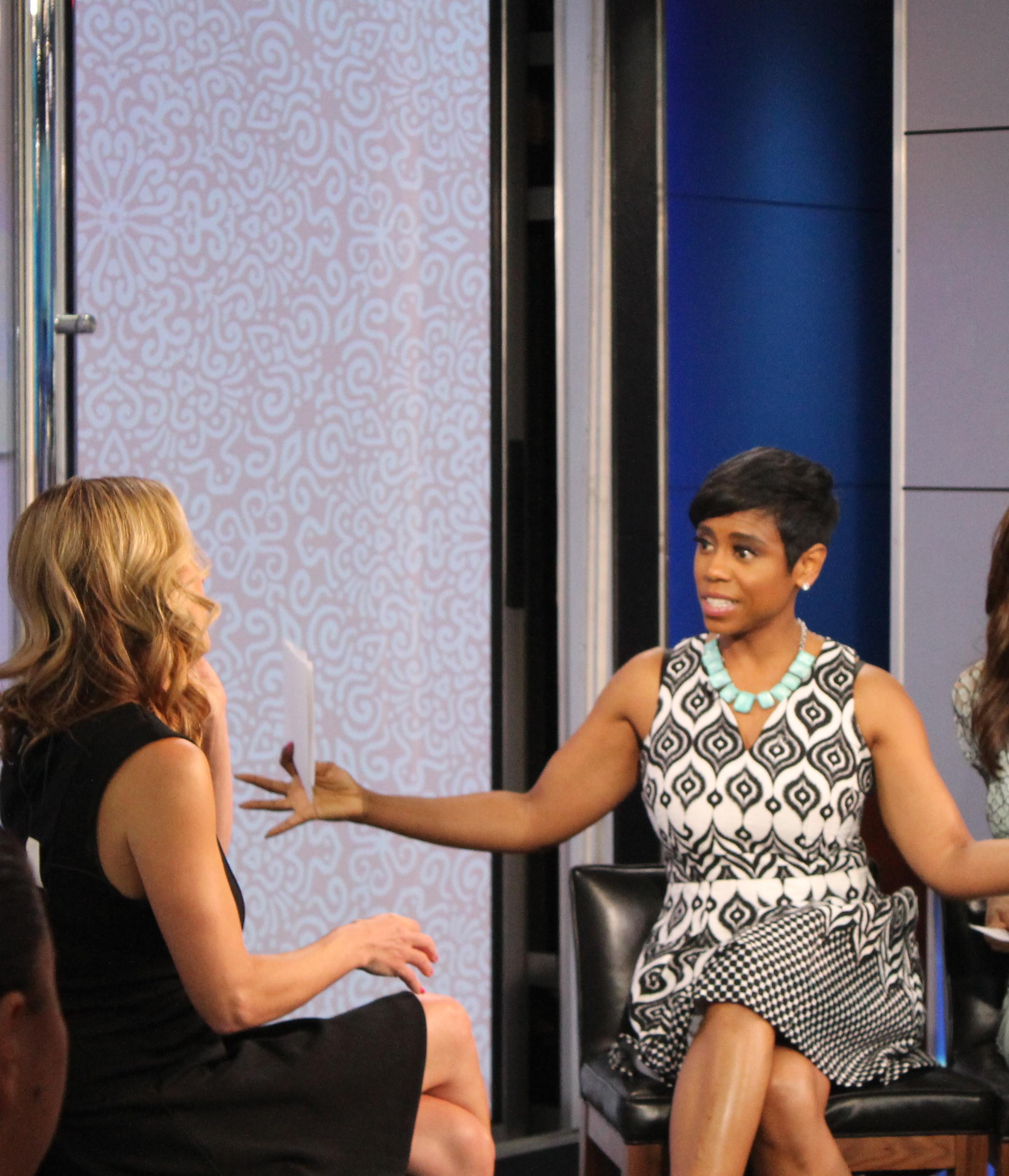 Her Agenda: Since you've worked in both entertainment and news, what would you say are some of the biggest differences for women working in each of those industries? Or what are major differences for both?
Jacque Reid: I would say the biggest difference is ageism! I think that what society deems as attractive. Men can evolve and become obese and they can grow older [while] women in this industry particularly on camera have to fit society's standards of attractiveness and youth. You know there are not a lot of Barbara Walters around but I think that's the biggest difference because women are just as qualified but that stuff still exists.
Article continues below advertisement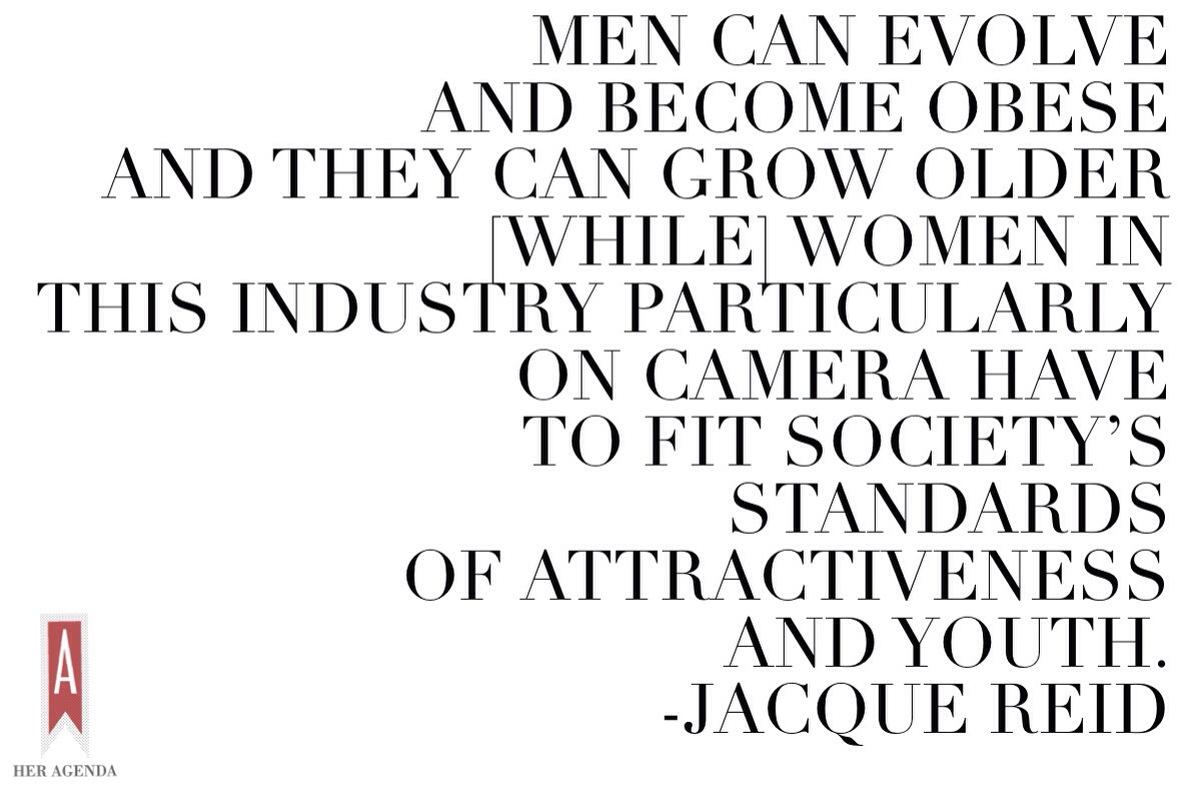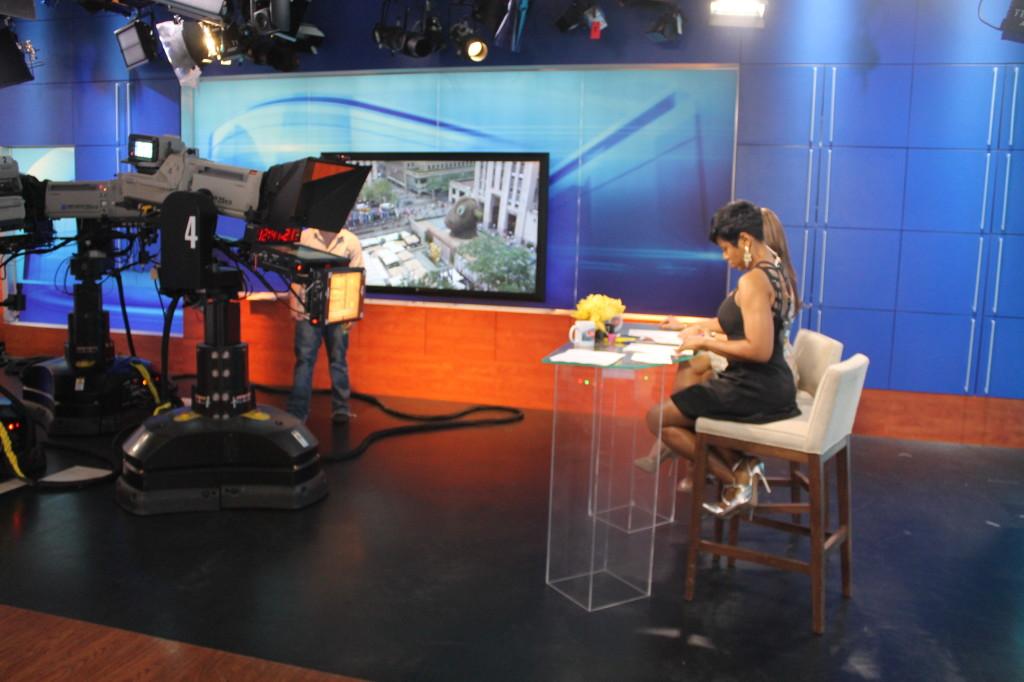 Article continues below advertisement
Her Agenda: I know that you've had a hand in several service initiatives, tell us about the Reid Group.
Jacque Reid:The Reid Group is modeled after a program that I was in when I was in undergrad sponsored by Northeastern University where I ended up going to graduate school and it focused on leveling the playing field. Northwestern did it for minority students across the country because a lot of times we don't have the same access or opportunities as other students, so I was lucky to be a part of that program it definitely made a difference. Even with one summer that I had the kind of journalist that I was before and after evolved tremendously so I wanted to provide that same opportunity for students of color.
Her Agenda: What's your daily motto?
Jacque Reid: My daily motto would be something that I try to adhere to on a daily basis: try to do the right thing. I know it's the anniversary of the movie and everything but I really try to focus on doing the right thing. A lot of times you're going to be in a situation where you would have to make choices. I try to do the right thing and I try not to hang on to negativity whether it's my reaction to [a situation] or something that rubs me the wrong way. I try not to hold onto things, I try to let things go.
Article continues below advertisement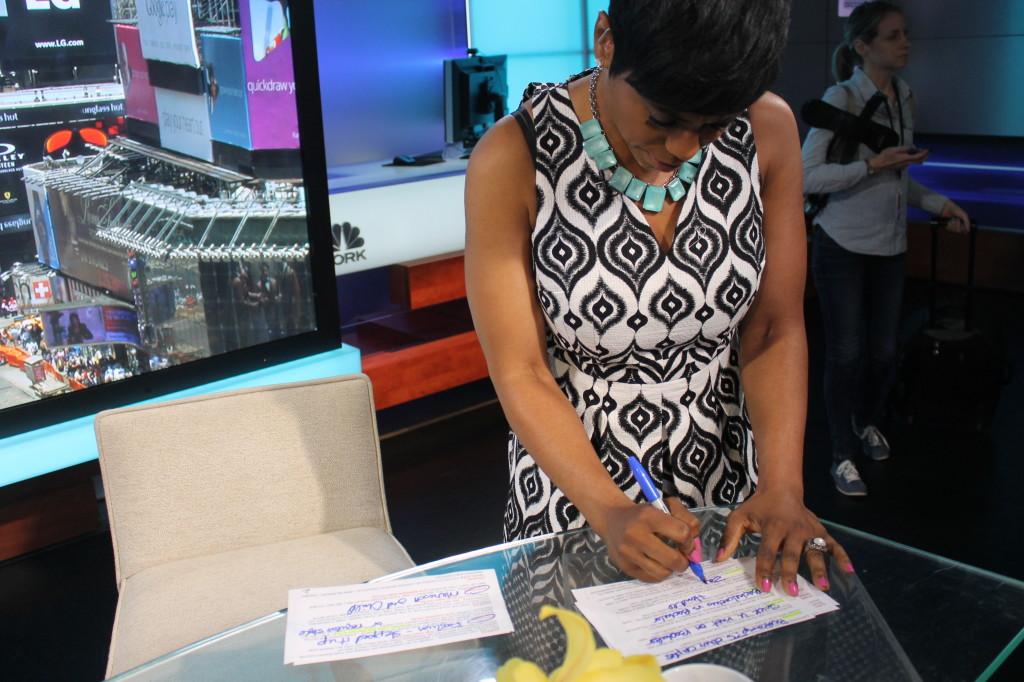 Her Agenda: Was there ever a time where you've experienced a disappointment that threw you off and caused you to redirect your focus?
Article continues below advertisement
Jacque Reid: Not being selected to be a part of The View. I really thought that was going to be my job and was pretty much kind of told that unofficially. And really, who could not be excited about being a part of that team? So I was excited and I really started planning for it and so it threw things off and initially, it really disappointed me. It made me doubt myself but I really had to get over that and had to push and tell myself and believe that everything that's out there is not for you. At that time it was probably best that I was not put in that position. God knew I wasn't supposed to be in that position, so that did not work out for me. As far as re-directing I just stayed focused on the fact that I'm talented and that I'm qualified with a mind to think for myself and I can do amazing things. I didn't need to be employed by The View to be a success in my eyes and those were the eyes that mattered.
Her Agenda: I know you are very invested in your Single and Living Fab brand. Can you tell us why you felt it was important for women to have access to the type of content that you post on the site and be immersed within the network?
Article continues below advertisement
Jacque Reid: Women need to remember that loving yourself is key. Too many of us get caught up in what society deems important for us to have a fulfilling life and a lot of times that's attached to having a man in your life and having children. Society teaches us that if you don't have these things then your life is not meaningful, it's not valuable and I don't think that. That's saying that you're not valuable on your own. I'm in no way discouraging women from getting into relationships and getting married and being mothers, I'm not saying that. I'm saying know your self-worth and while you are single and looking for those things don't be so desperate and caught up in that mindset that your value is wrapped up in your relationships with men that you start making desperate decisions. My blog is about living fabulously right where you are, so if you're single to realize that God gave each of us purpose and your life has meaning every day that you're alive and breathing. That doesn't diminish because you're not in a relationship.

Article continues below advertisement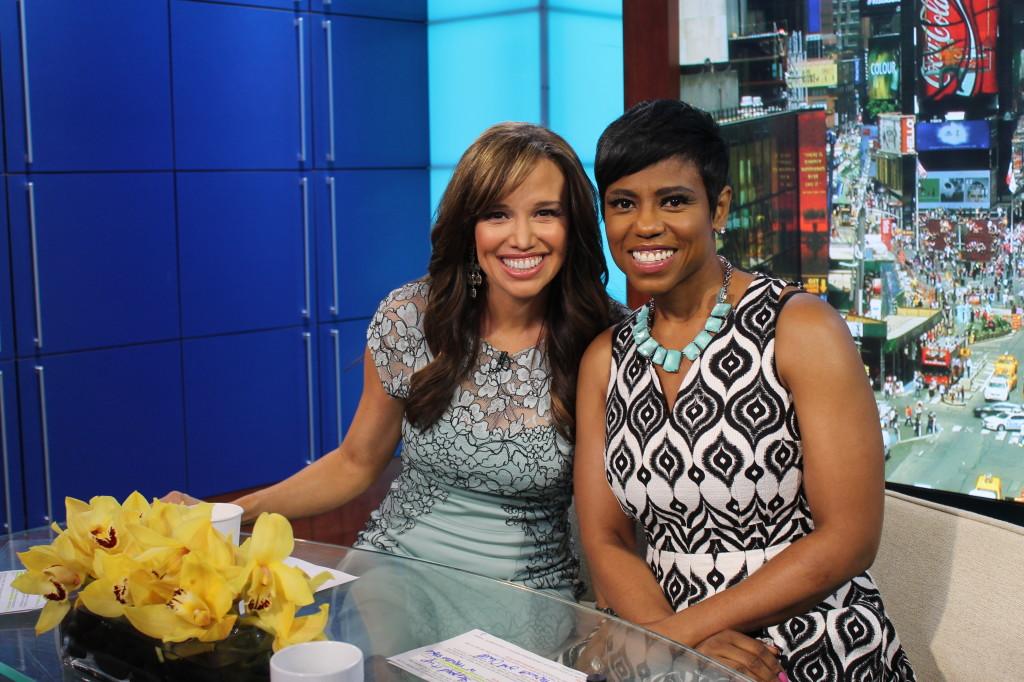 Her Agenda: What is some advice that you would offer our readers?
Jacque Reid: The biggest piece of advice that I can give to young people starting out in this industry or in any industry is to be hungry. I cannot tell you how disappointed I've been in the number of millennials that I've met, encountered and interacted with who have no sense of being hungry. They have no sense of what that means. They want instant gratification, they think just because of social media and YouTube or that they've got good numbers on Facebook or twitter that they have "arrived" and they really don't want to put the work in or feel they need to put the work in.
Article continues below advertisement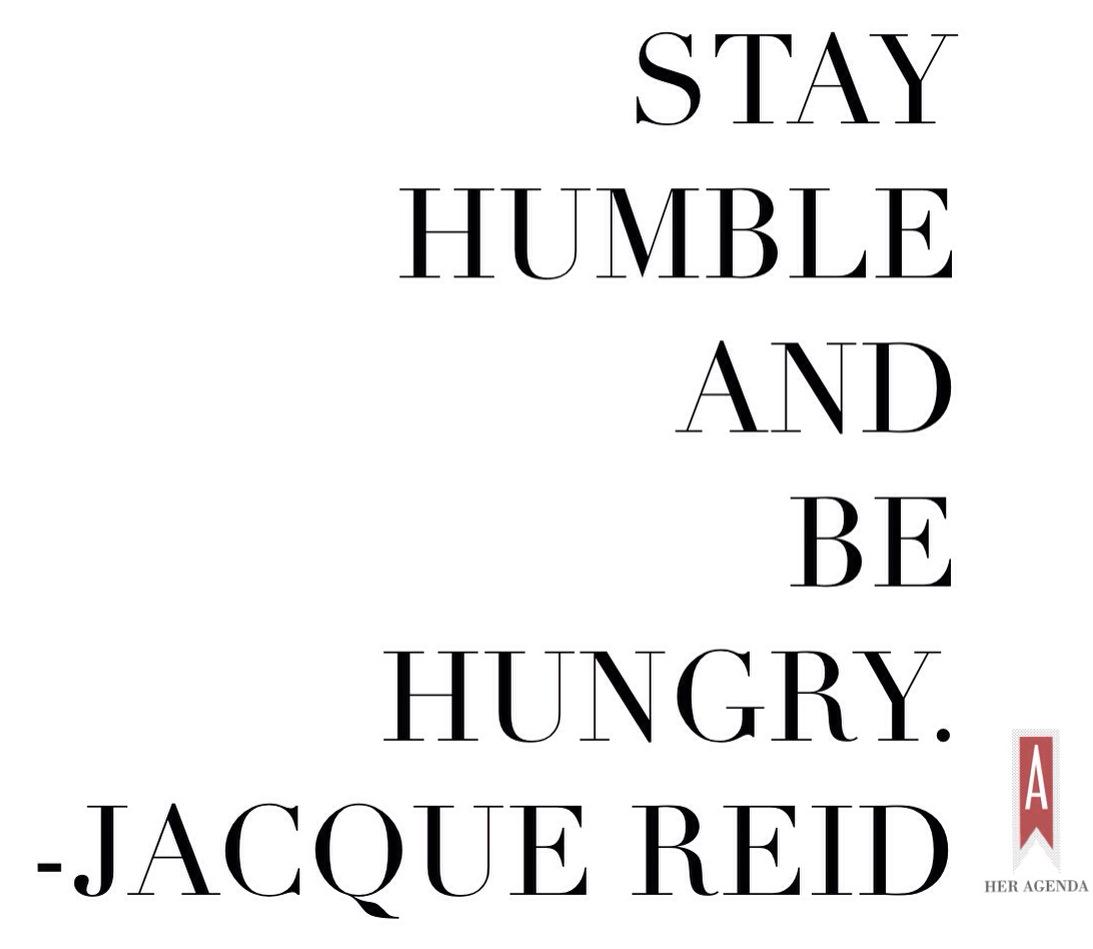 Experience is really important. Knowing who you are and how you should handle things come from experience. Even if you think you know everything, don't lead with that. Be humble, be willing to put in the work and don't think that you are more than you really are. Stay humble and be hungry. I have an intern now who has that combination and I guarantee you that girl is going to go so far because she's humble and she's hungry.
Editor's note: This feature was published on July 9th 2014.