Creating a product in your kitchen, scaling it, successfully getting it into 30,000 retailers and then going through an acquisition with Unilever is no small feat. But it's possible. That is exactly what Jaime Schmidt did with her natural deodorant brand Schmidt's Naturals.
Jaime is still involved in the company post-acquisition but she is now sharing what she learned in more ways than one. First through Supermaker, "a media company that celebrates diverse, independent brands, and provides an alternative to homogenous business media."
Jaime and her husband Chris Cantino launched a fund called Color with the aim of "investing in things people buy and the way that they buy them" with a focus on consumer packaged goods. As a woman with first-hand experience in creating a customer conscious product and getting it scaled in a profitable manner, Jaime is a true leader in a growing area of business.
She is now paving the way for others in this hugely impactful space. Jaime recently joined Her Agenda on the phone to talk through her passions, and share some valuable insights on how you can get started with building out your own business.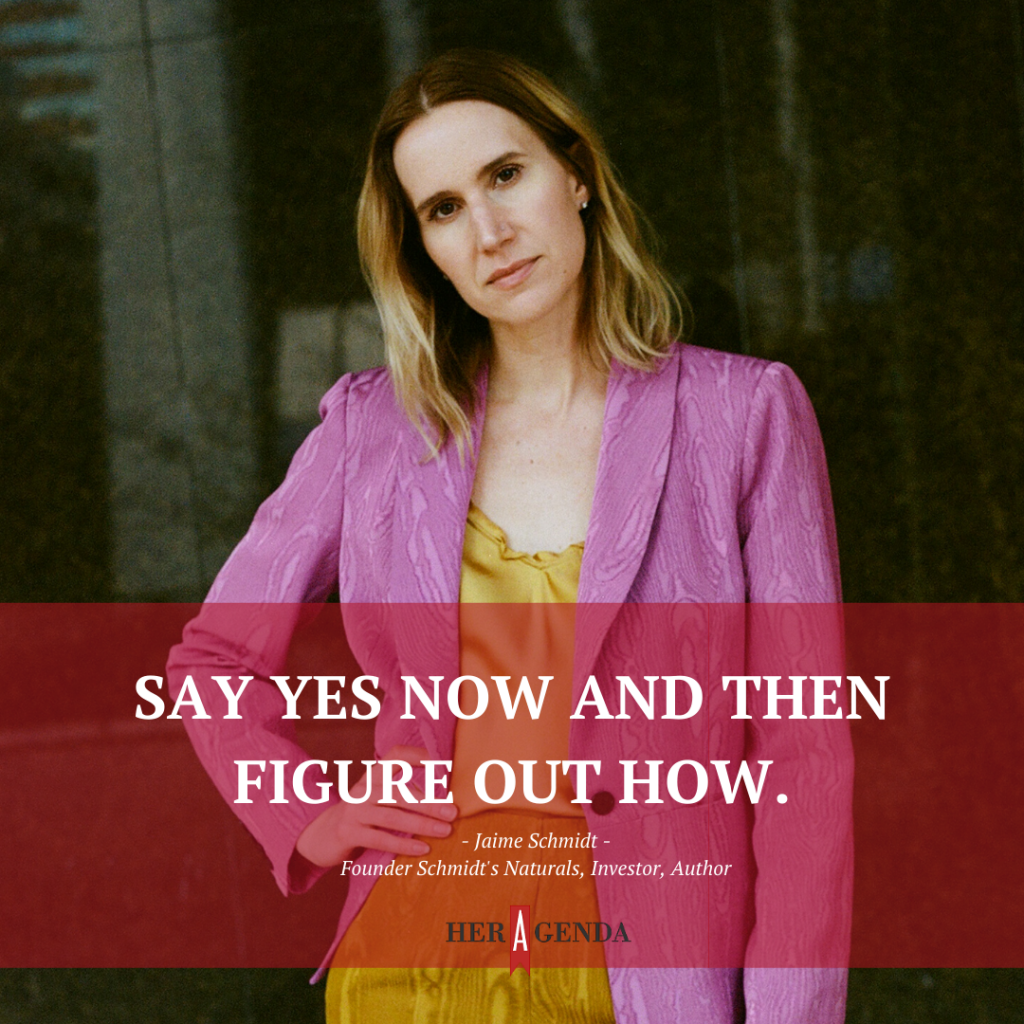 Article continues below advertisement
Her Agenda: What does a typical day look like for you?
Jaime Schmidt: I have been working from home for the past few years, since the Unilever acquisition, and that was certainly a shift from going into the office. It ranges so now I spend some days writing, other days conducting calls, managing the fund, [taking] press phone calls and email management. Email management can include inquiries including people looking for different things whether it is investment in their companies or business advice and [those kind of inbound requests] is really where my first two businesses started. [Outside of work] I try to get in-home exercises done in the morning. Also my husband works from home as well so we are sharing a workspace which is what we are used to. And we also have the media company Supermaker that we started together.
Article continues below advertisement
Her Agenda: Share more about Supermaker and the goal.
Jaime Schmidt: That is a business we started last year and our goal with this platform was several things. One was to really disrupt business media. We saw the opportunity to do something different and more inclusive. From looking at media platforms that were out we saw the potential to make it more inclusive and share stories about founders and brands that have not made millions in revenue or had their story told yet. So we wanted to bring attention to these earlier stage companies. We also wanted to allow some of the companies in the later stage to tell their stories in a way that hasn't been told yet.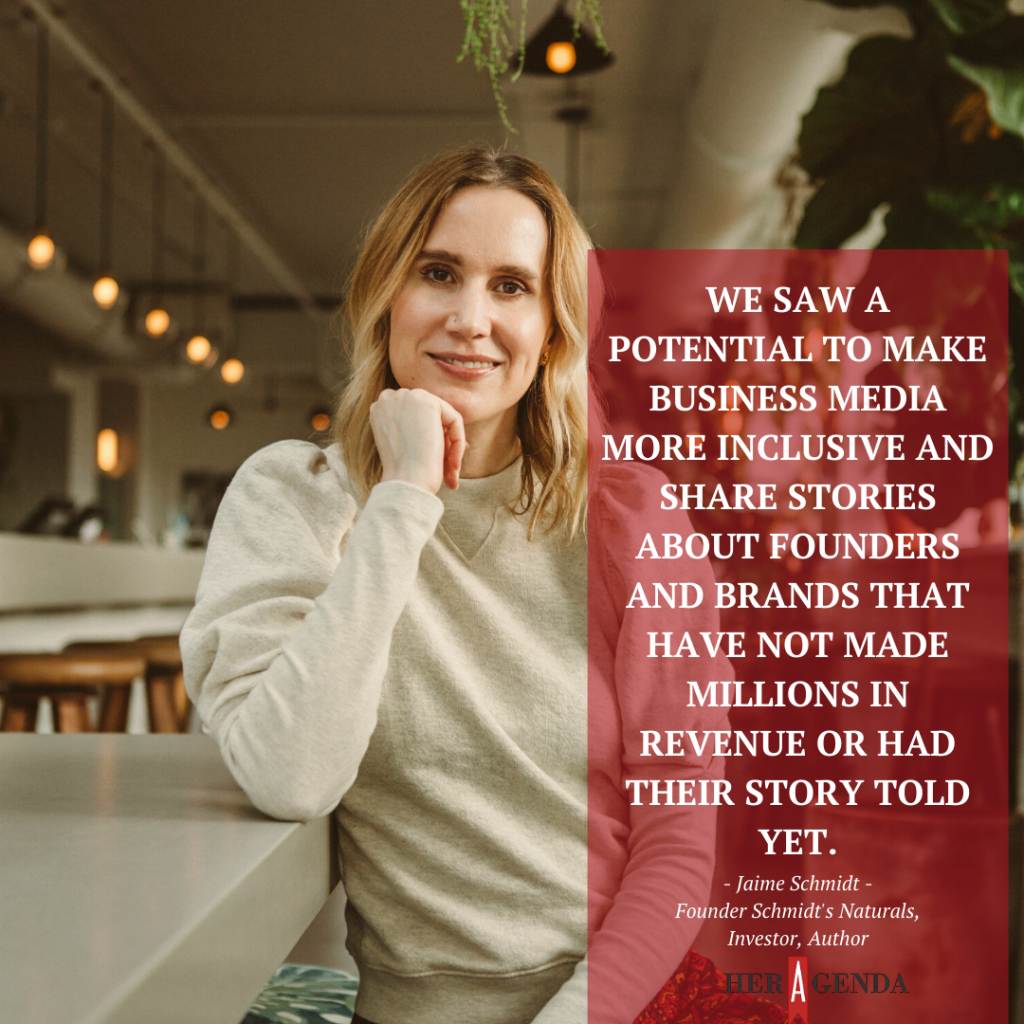 Article continues below advertisement
On the platform, we are having conversations around workplace issues and things of social and political relevance in regards to work and career advancement. That part has been really powerful and helped us build our community and be a resource with collections around different topics such as financial matters, and women founded business.
Her Agenda: With your fund Color what makes it different from others and what is your main goal with the Color fund?
Jaime Schmidt: With Color my husband and I really found that opportunity to have an impact on these companies in a way that other investors might not be able to. We have been through it, building this brand from my kitchen, bootstrapping it and growing it over seven years up to an acquisition. There was so much that we learned. It is really great to be in a position to help others through those rocky times. With our fund, our focus is primarily on women and people of color. [We focus on] underrepresented entrepreneurs where we can have a bigger impact. We look at all types of companies, but that's at the forefront of our thinking always. We specialize mostly in consumer packaged goods in an area where we can offer the most hands-on help.
Article continues below advertisement
We have been through it, building this brand from my kitchen, bootstrapping it and growing it over seven years up to an acquisition. There was so much that we learned. It is really great to be in a position to help others through those rocky times.
-
Her Agenda: What is the main goal of your book, what can we maybe expect to walk away with from reading Supermaker?
Jaime Schmidt: Supermaker tells my story of starting and growing Schmidt's and everything that happened along the way. There is a lot of good takeaway advice in there for entrepreneurs. The feedback that I have been getting about the book is that it's really powerful that all the advice is backed by storytelling, so it is advice that you can actually use.
Article continues below advertisement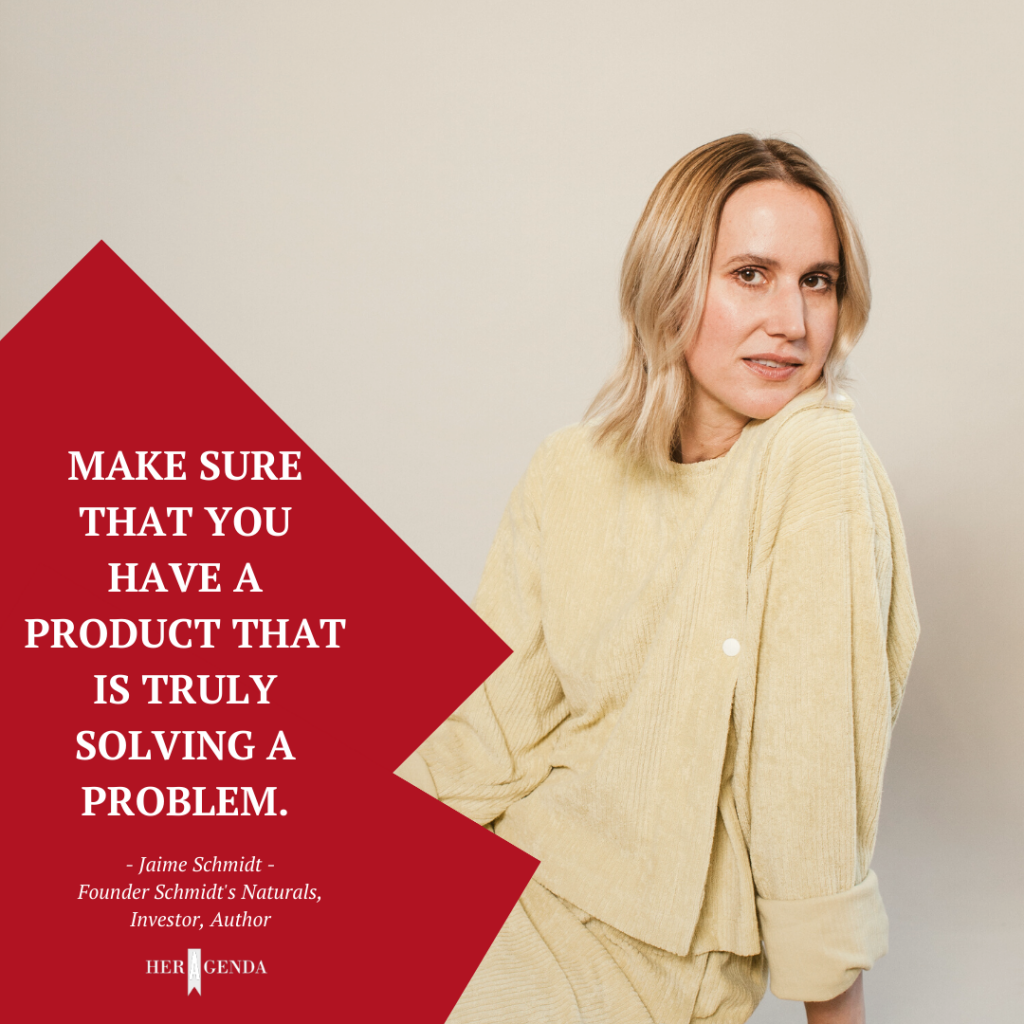 Her Agenda: How do you hope to impact the consumer industry? Are there things that you hope to change or that will change?
Article continues below advertisement
Jaime Schmidt: That is a really good question. It is definitely a volatile time, especially for the direct to consumer approach. I was reading somewhere "it is an easy time to start a business but a challenging time to grow it, sustain it and be successful." That's real. There are a couple of ways that I can help. Getting investment has become a sign that you have made it when it is not always the right approach. It can at times lead to overspending. So even though I have an investment fund myself I find myself talking a lot of people out of investment. When I was starting I did not have funding, instead, I was really fortunate that I made strategic choices to scale that did not require outside funding.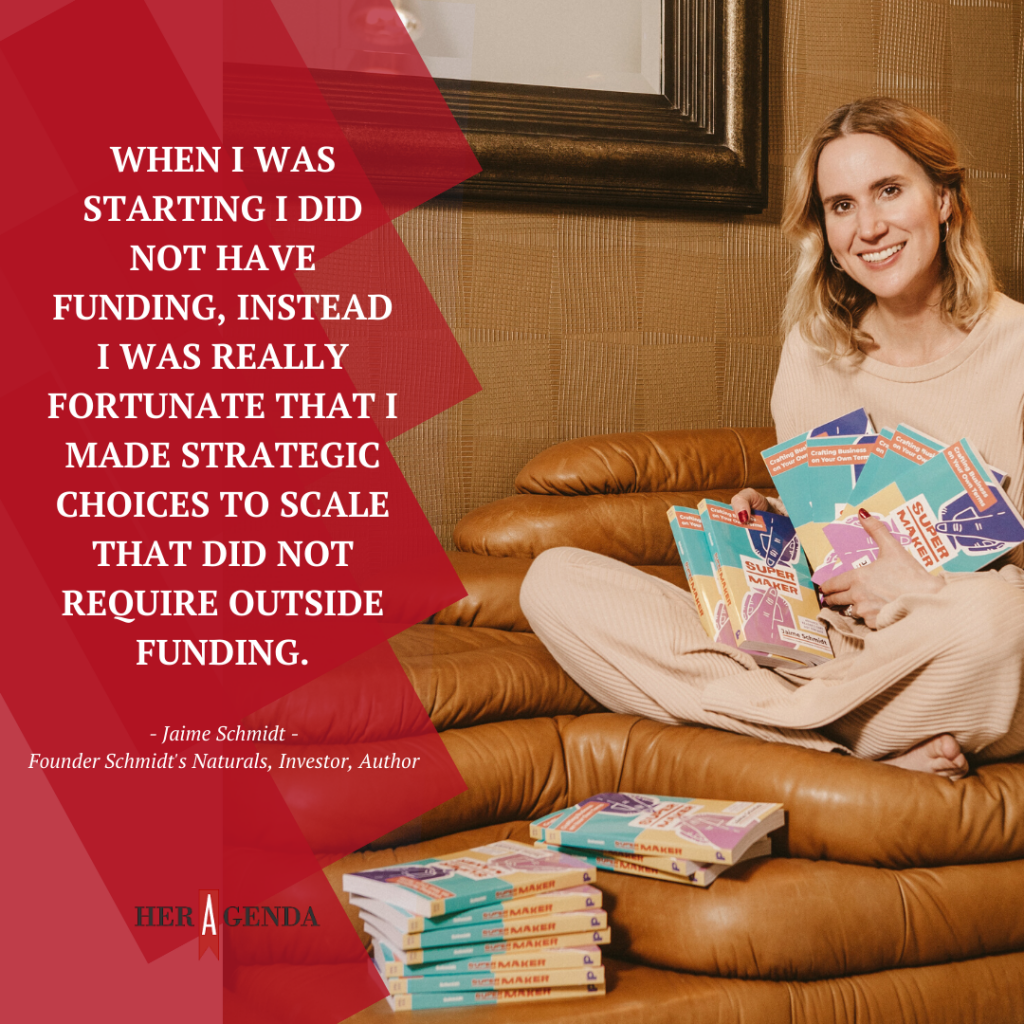 Article continues below advertisement
Her Agenda: What strategic choices would you recommend as ways to scale? There is so much noise and it can be easy to get lost.
Jaime Schmidt: One thing that worked well for me in the early stage was setting up a strong direct to consumer strategy with direct to consumer website sales. The money from website sales provided me with access to revenue immediately that could be invested right back into the business. In comparison, if you are starting with a strategy heavy in wholesale that money is a little harder to get to. First, because you have to wait for payment and second you are not getting the full price (you have to lower margin than if you are selling on your own platform). With Schmidt's, I did a bit of both, and it was called an omnichannel strategy. The strategy consisted of a little bit of direct to consumer as well as a retail element. This strategy was really powerful for us and helped our growth.
Article continues below advertisement
additionally, with hiring, there is a lot that you can do with a small team. With Schmidt's, I had a very lean staff and we did a lot with very little. This can help with saving money as well as maintaining control as a founder. In a bigger picture sense make sure that you have a product that is truly solving a problem. Every industry has its moment for innovation and opportunity, as an entrepreneur being on the lookout for that is what is going to lead someone to success. When I started Schmids in 2010 it was more of a niche product but when I sold it there were so many more brands in the market.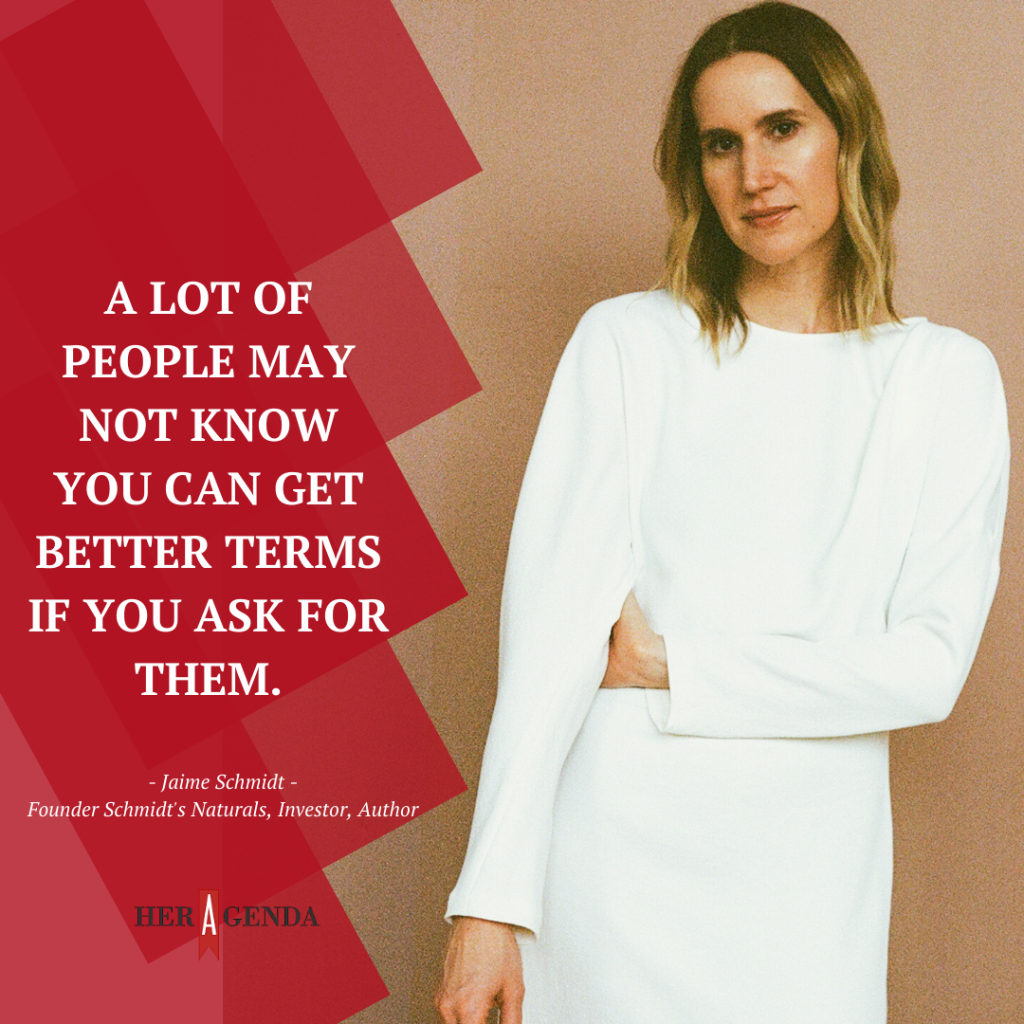 Article continues below advertisement
Her Agenda: What are 3 of your favorite quotes?
Jaime Schmidt: 'You remind yourself why you started' bringing yourself back to those earliest days of when you started and that enthusiasm of why you started your business in the first place. When businesses are born out of a genuine love for what you are doing that is everything. My second quote is "5 for 5" if it is not going to matter five years from now then don't spend more than five minutes thinking or worrying about it.
Lastly, this is a mantra that I developed throughout my business and is strong messaging in my book 'Say yes now and then figure out how.' That is really what helped me embrace every opportunity that came to me because when you start a business we don't always know everything that we are doing or getting into and it can be overwhelming and intimidating. So know and trust that you will figure it out and that will lead you to more opportunities. That has been kind of a guiding principle of mine too.
Her Agenda: Many Her Agenda readers are women who are trying to start their own businesses and have a product that is natural or small in batch. What is your advice on how to navigate the journey of business success with resilience?
Article continues below advertisement
Jaime Schmidt: Let demand dictate the pace at which you scale. I never obsessed over forecasting. I took things day by day. Take things step by step and be prepared enough as well. Be bold, negotiate payment terms and maintain strong relationships with your suppliers. For example, when you land a big account bring that to your supplier and don't be afraid to negotiate. A lot of people may not know you can get better terms if you ask for them. Sometimes I was surprised by how bold I was at times.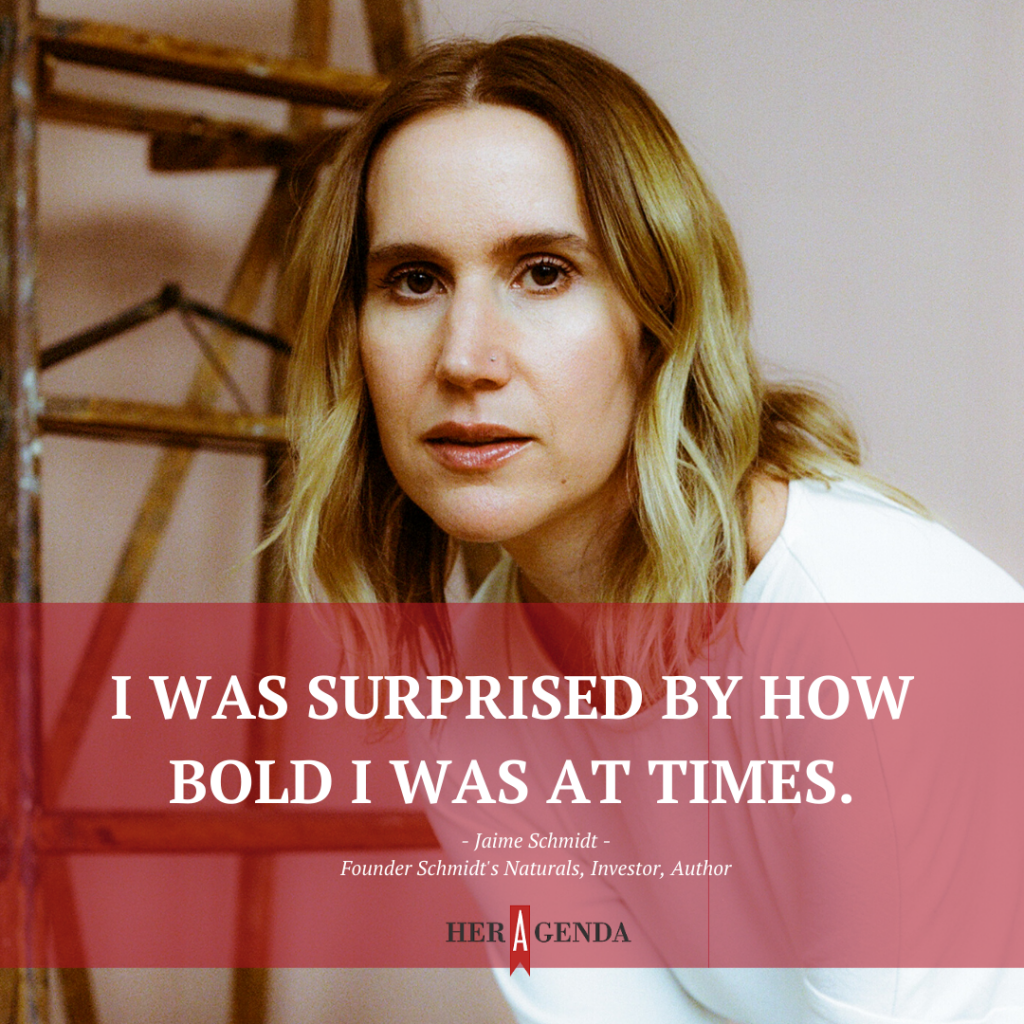 Her Agenda: What is one book or resource that has tangibly ignited your work and achievement of goals?
Jaime Schmidt: Having a healthy rotation of books is helpful. The book Atomic Habits is a perfect mix of self-help and business. It shows how powerful our habits are. I also like wisdom books including those by Thich Nhat Hanh. These [kind of books] help remove you from the monotony of work and allow you to pull things from the reading that can be applied to your work. And lastly, I do like some complete fiction that transports you into a different world. I usually choose the whole classic old school mystery series by Agatha Christie.
[Editor's note: This interview is edited for length and clarity. Image credits: Nicolas Peter Wilson, and Amamda Leigh Smith.]