Too often, people don't learn financial literacy and they live paycheck to paycheck, and depend on their 9-5 to bring them financial freedom and wealth. It isn't until we learn how to invest and grow our money that we truly receive financial freedom and no longer have to solely depend on bi-weekly paychecks to keep us alive.
The idea of investing is very foreign and intimidating for some people and as a result those same people intentionally stray far away from it. There is a common misconception that only the rich invest, and that you have to have loads of money in the bank to invest. This is where GoldBean comes in. GoldBean is an online investing platform that helps people start their investment journey. As the CEO of GoldBean, Jane Barratt is an advocate for financial literacy and she believes that anyone can successfully invest their money if they are educated properly on it and have the right resources. According to Jane, "you don't have to have a lot of money to start investing."
Here Agenda recently spoke with the Australian born CEO about her company GoldBean, her thoughts on why college students should invest now, and her advice for individuals in debt on investing:
Article continues below advertisement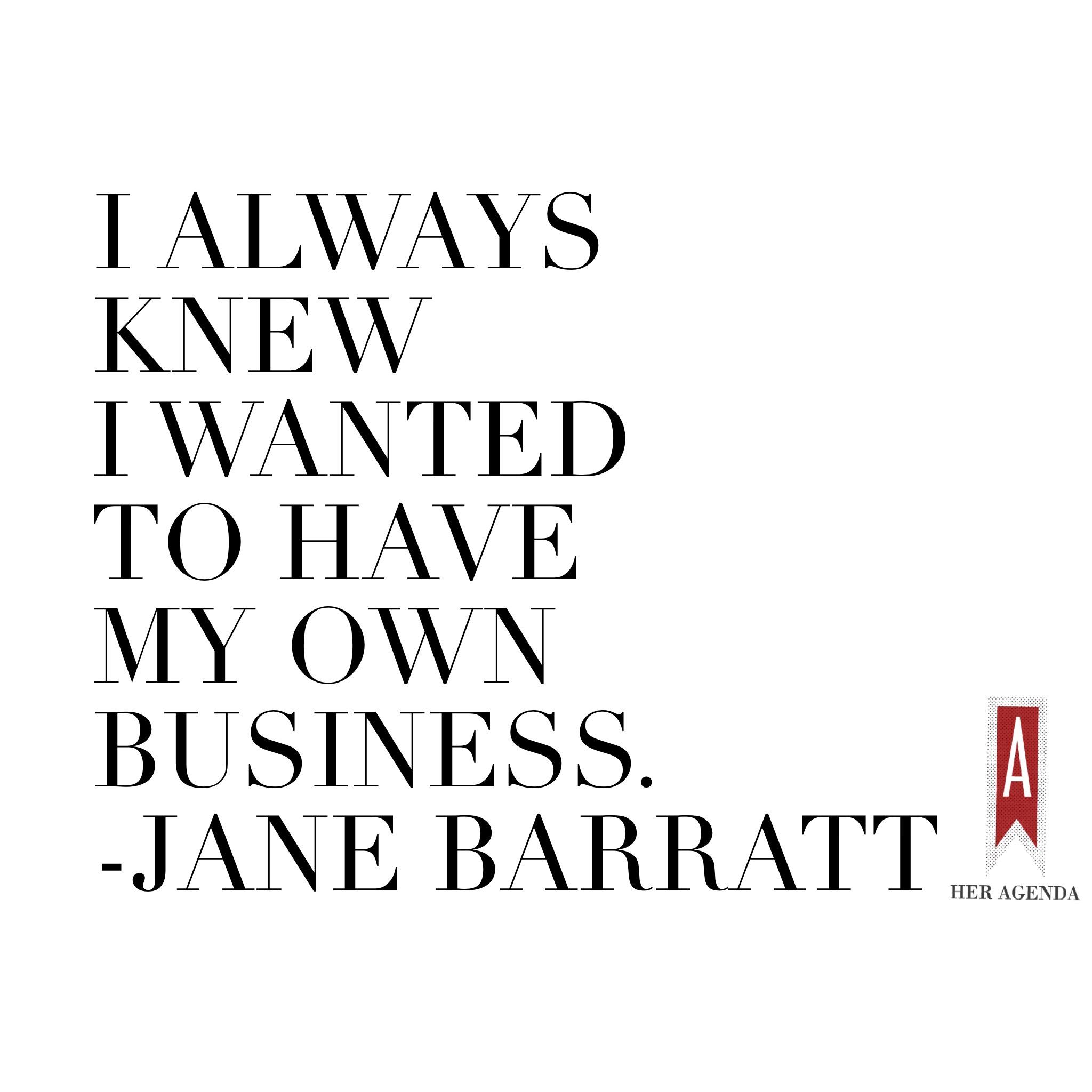 Her Agenda: Tell us about yourself and your inspiration for starting GoldBean.
Article continues below advertisement
Jane Barratt: Growing up, I always knew I wanted to have my own business. I started out my career in Australia, but then I realized very quickly that I needed to be very aggressive in terms of charting my career path. So when I was still quite young in my 20s, I lived in several areas. I lived in Malaysia, Singapore, and Hong Kong. While living in Asia, I experienced something extraordinary. I experienced being amongst a culture where the talk of money was more open, people had genuine curiosity about it, and there was no guilt or shame on talking about money. Living in Asia, I was quickly reprogrammed out of my Western way of thinking and I adopted what I felt like was a much healthier way of thinking about money. I spent about 7 years in Asia and then afterwards I moved to New York.
In my mid-20s, I already started investing my money in things (because one thing that I learned from living in other countries was that investing was the norm). When I moved to New York, I had years of investing under my belt and I ended up getting a career in my desired career path. Waking up everyday, I felt empowered in my career and finances because I knew I could make money in other ways besides my normal salary. This gave me the confidence to take bigger risks, and to even go after opportunities that I wasn't necessarily qualified for.
Article continues below advertisement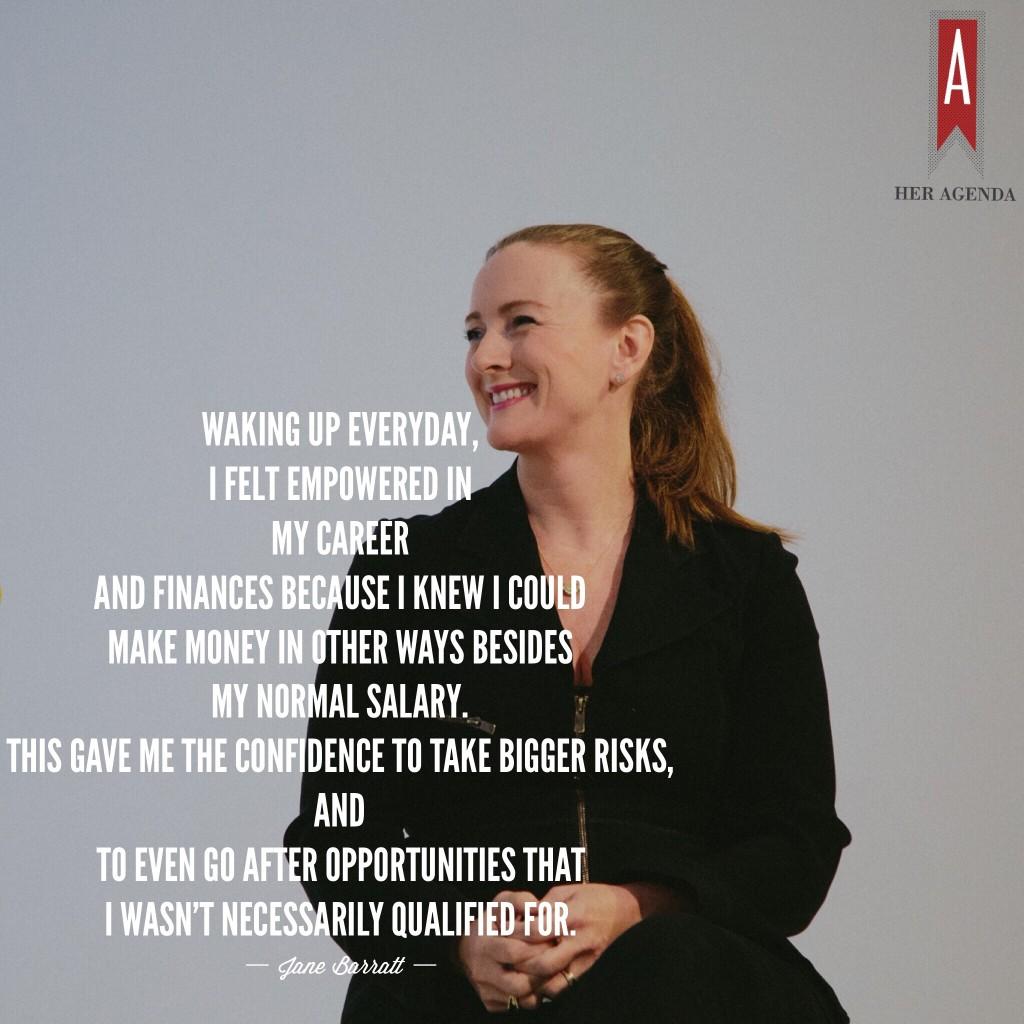 Within my work, I made it my personal mission to talk about money and see how people were taking care of themselves. I want to inspire others to do more – surpass the idea of just earning money and spending it. Overtime I learned that most people had the money behavior of when you earn more, you spend more. Talk about lifestyle inflation! The idea of lifestyle inflation is not one that is very much discussed, but it is very real, especially in American culture. You get a raise, and the money is gone -you get a new car, new home, new clothing, you name it. You reward yourself. You tell yourself that you are doing so great and that there will always be more money.
Article continues below advertisement
As a professional that was surrounded by people everyday, I took the opportunity to talk to colleagues and friends and taught them that there are more ways to get money and be financially educated. This also spearheaded the inspiration behind my company GoldBean. Not only did I have a desire to help people that didn't know much about money, but I also wanted to give budding investors a better platform to invest with. Before GoldBean, I would teach people about investing and then I would send them over to investment sites. Unfortunately with those sites, they just ask for your money and manage your money, but you are not fully educated. The importance of having financial education was key for me, and I knew I wanted to educated others. I saw that it was a real gap in the market for people to learn about money in a very beginner way, and with my team, my clients have various tools and resources to teach them along the way.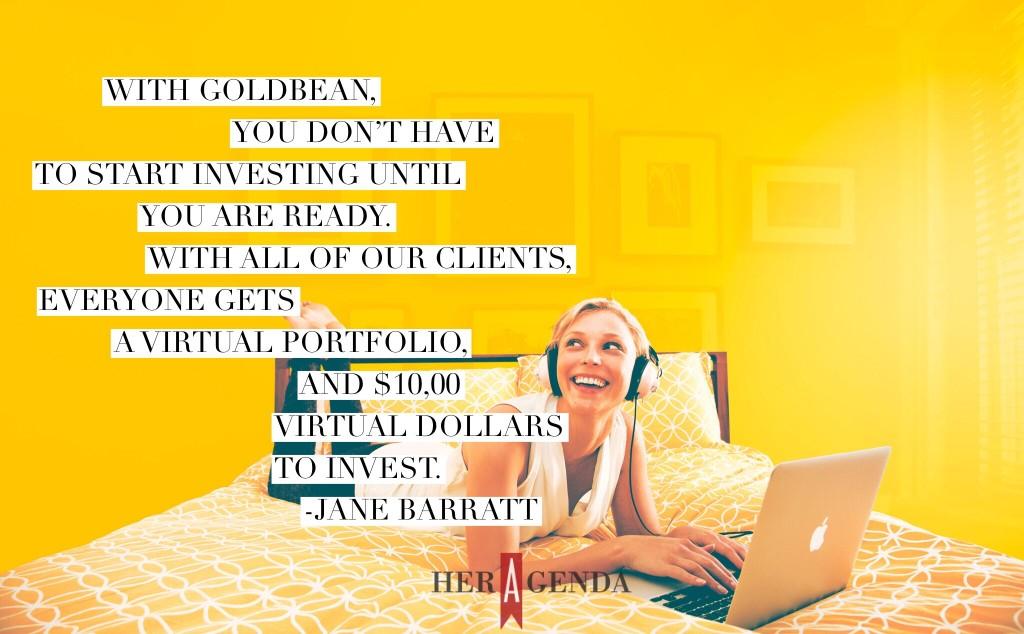 Article continues below advertisement
Her Agenda: How is GoldBean different from other investment sites?
Jane Barratt: GoldBean is one of the very few companies that combines education with advice. The education that we provide is very human friendly. If you look at the education content with the bigger companies, it is very formal, very dry, and frankly not that interesting. For GoldBean, instead of making learning about money very difficult, we do it through storytelling. When you sign-up, you get emails twice a week that talks about what's going on in the news and we talk about what that means in business and in investing. With GoldBean, our team went to the extent of becoming investment advisors so that we could go past giving generic advice, but actually really helpful and specific advice. So that's another thing that sets us apart – since we are all investment advisors, we give a level of advice that is set to a higher standard and we combine it with education. Also, we offer low-cost training so once you are ready to buy and start investing, it costs you half the amount to use our services. If you go to a site like eTrader or Scwabb, its about $10 to make a trade, so that means to buy or sell a share. Through our site it is $4.99. Also, our annual membership is priced beneficially (it's $50 a year – and that's even cheaper than a Netflix membership per year).
Article continues below advertisement
Furthermore, with GoldBean, you don't have to start investing until you are ready. With all of our clients, everyone gets a virtual portfolio, and $10,00 virtual dollars to invest. Now once you are more comfortable with investing, then you can start investing with your real money. And with GoldBean, you can invest directly from the site.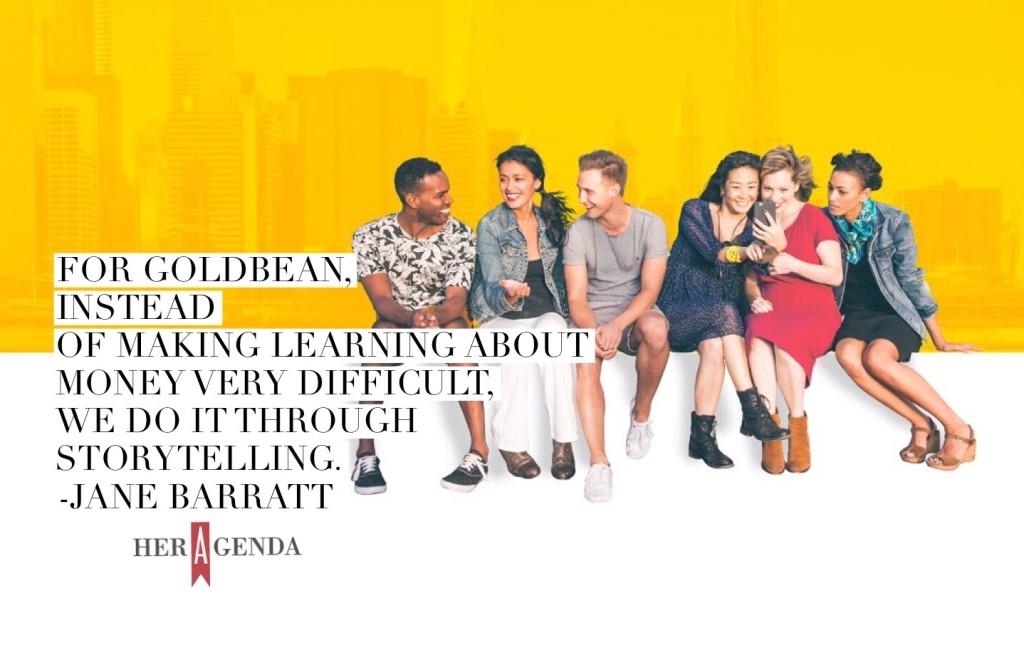 Article continues below advertisement
Her Agenda: Starting a business can be tough, did you encounter any challenges starting GoldBean?
Jane Barratt: I've known my whole adult life that I wanted to start a business. It's always been in the back of my head. From the time I said was going to start my business until the moment that I actually did it, it took a while. I did what I thought was a lot of planning, and prep work before I left my last job, but even still from the time that I dedicated myself full-time to it, to the time GoldBean hit the market, it was a year and a half. It took a long time to build. It is so important to be prepared before you go full-fledged when starting your business.
When GoldBean was thought of, my initial idea was to be like an educator or advice layer on top of some of the bigger companies. The idea would've been, come to GoldBean, get educated, and then we would use the technology of some of the bigger partners and they would take care of you from there. It wasn't until I really got to know some of these partners that I realized that wouldn't work. The technology wasn't there, the flexibility wasn't there. The ability to handle people with all amounts of money (including those with barely any money) wasn't there. Those bigger companies like to help people that already have big money – if you are not one of those, they don't want to help you get there. Helping those without much was my heart. So we ended up having to build a lot more than we thought. We thought we could just be apart of an existing infrastructure, but from a technology perspective, we really had to start from scratch, which was quite a surprise and challenge. Things took a lot longer, it was definitely more difficult than we thought it would be. In the end, we ended up with a site and system that we can now sell and license to other people.
Article continues below advertisement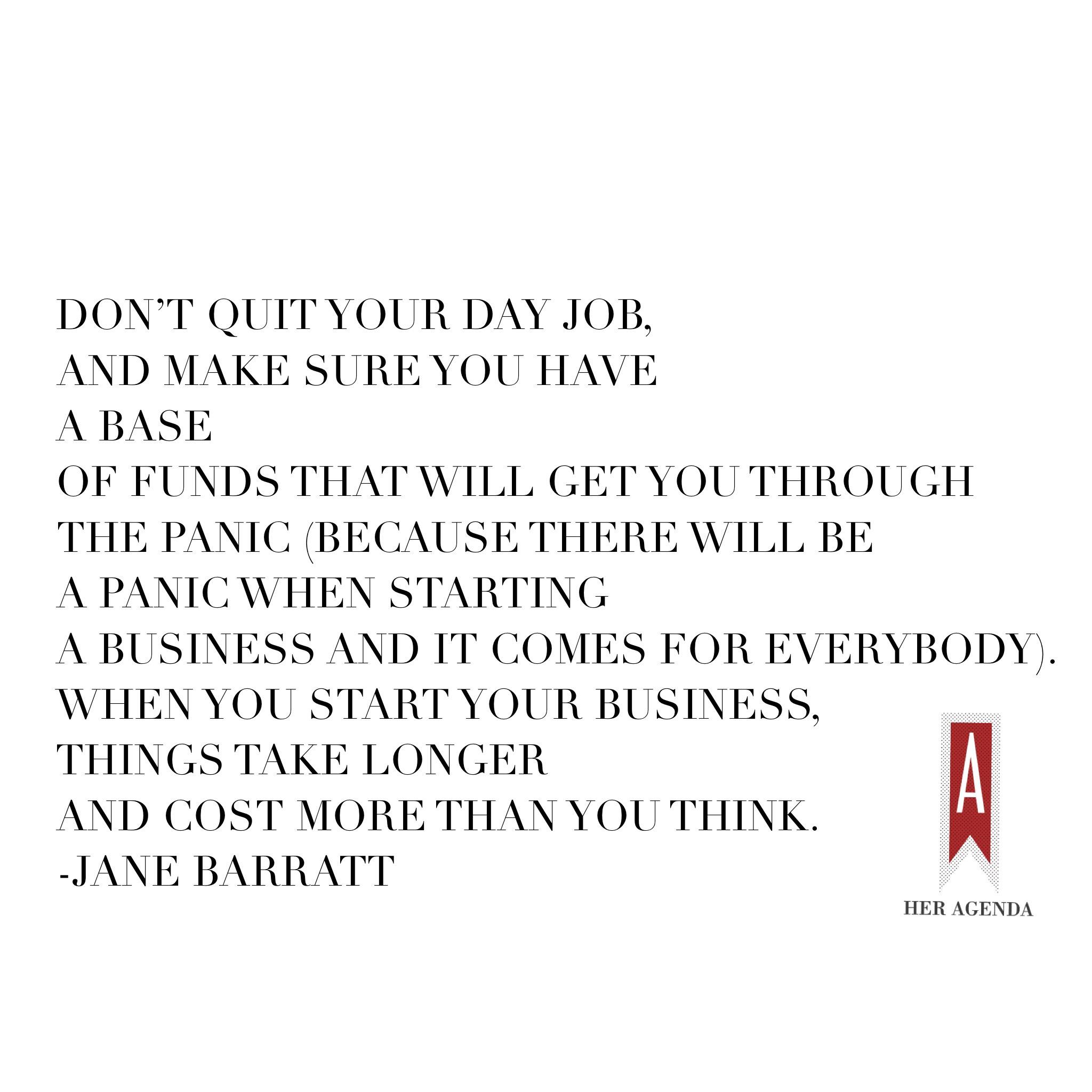 Her Agenda: Wow, that's crazy! It's great that you still were able to succeed, despite the struggle. What kind of advice do you have for budding entrepreneurs?
Article continues below advertisement
Jane Barratt: Don't quit your day job, and make sure you have a base of funds that will get you through the panic (because there will be a panic when starting a business and it comes for everybody). When you start your business, things take longer and cost more than you think. So unless you have a separate income stream, it is a very dangerous thing to start your own company. The world is filled with so many people who speak of how easy it was to start a business and receive funding. But the majority of people that tell those stories of how easy it was to get funding are the people that are already privileged, they already have those connections, or a rich family. They don't show the struggle that you can go through for months, if not years, without receiving revenue from your business. And that is the harsh reality. On the same note, when you are starting a business and need a site, go with the most cost-effective way. You don't have to spend all of your money on paying someone to build the site for you. If that means using SquareSpace or WordPress, then do it.
Article continues below advertisement
Her Agenda: What kind of advice do you have for the college student on investing?
Jane Barratt: If you are in college right now, you have the most wonderful opportunity. You haven't formed bad habits yet so you can start off now with the right money story and money habits. You have the gift of time to learn how to grow in your desired career, and how to invest in the money that you make early on. I recommend that you start a direct deposit for investing. Whether it is $50 or $20, make an intentional effort in saving to invest. We are stuck in the mindset of 'pay down your debt and then save your money.' We need to be in the mindset of 'pay down your debt, save your money, and then grow it.' That's how rich people think, but this is not taught to everybody. Just like my old boss told me, 'no one gets rich by working.' This is so true. You can only save so much, so investing your money and learning financial literacy early on is key.
Article continues below advertisement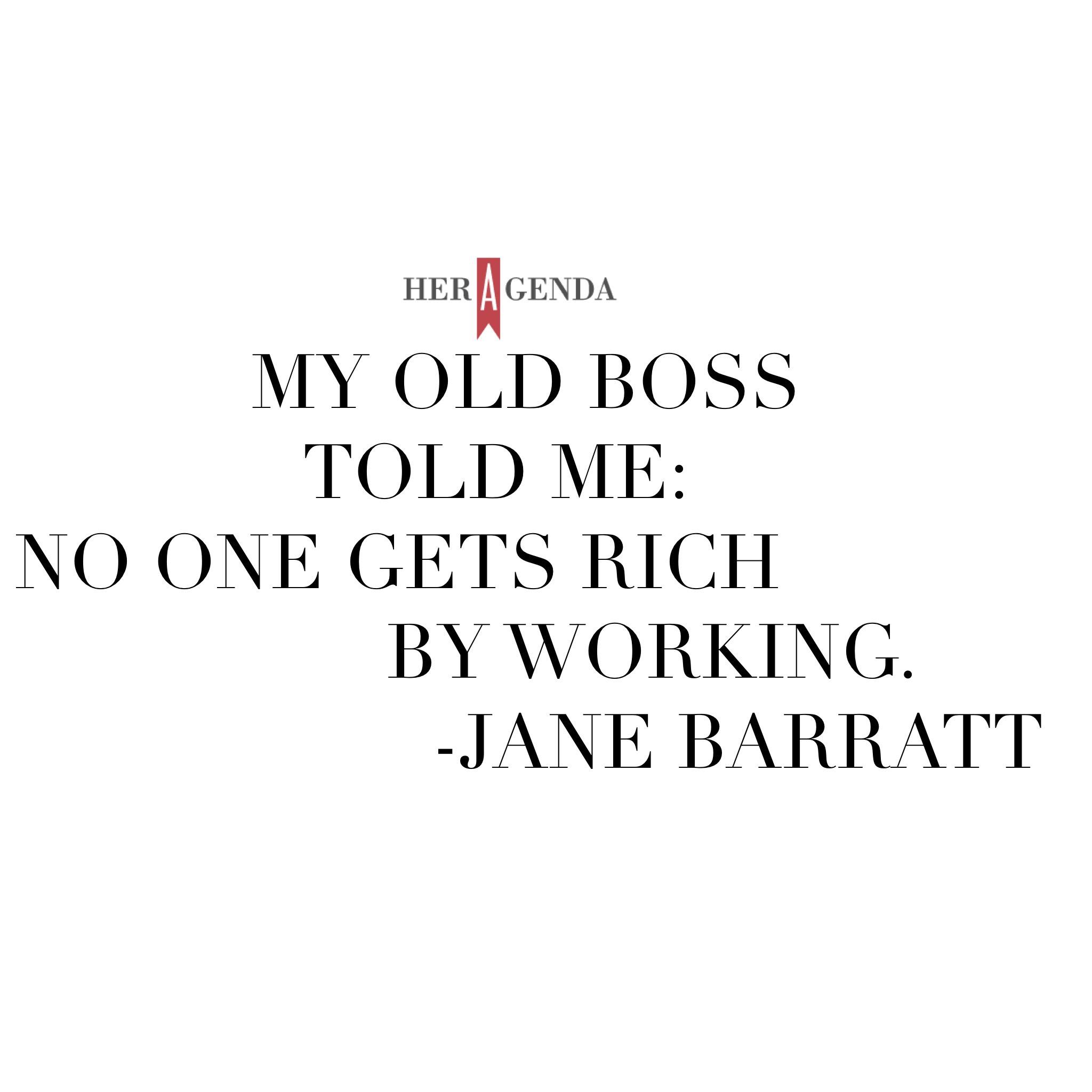 Her Agenda: Any advice for the adult that has debt and little to no money, but wants to start investing?
Article continues below advertisement
Jane Barratt: Step one is to look at the math. People will use all of the credit that is given to them. Even if you use up to the maximum amount and your bank gives you more, history has shown that people will use it. It's basically human nature that once you go down the slope of abusing your credit card, you will go further into a hole. So step one is to write out how much you owe and how much you are paying on it. I think that is the biggest surprise to most people is that their actual credit card debt is costing them on average about $2,000 a year. When you think about what that means, it's like a month's wage. You are working a month a year just to hold this debt, which is insane. We tell our clients that once you figure out how much your debt is costing you, you can do two things. There are services like eCredit hero and they will go in and try to help you improve your credit score.
Next, figure out if you can save any money by consolidating some of the debt, and figure out if it will impact your credit score. One thing that many people don't know is if you close a credit card, it can hit your credit score really hard. Next, figure out how you can change your behavior or your living circumstances to help accelerate your money behavior. Analyze your group of friends and your behavior with them. If you have a group of friends that love to spend (always wanting to go for brunch or happy hour), find a way to say no or think of alternate things that you all can do to flip the behavior of spending money to have fun to spending no money to have fun.
Her Agenda: What is your work philosophy? What keeps you going?
Jane Barratt: I like to think of my life in abundance. I tell myself and remember that there will always be more next year. My work philosophy is to build something with meaning and have a positive mindset that there will always be more. Always move forward with a spirit of positivity, and believe that something greater will happen. Have an "I can do this mind," and a mindset that believes in helping more people.